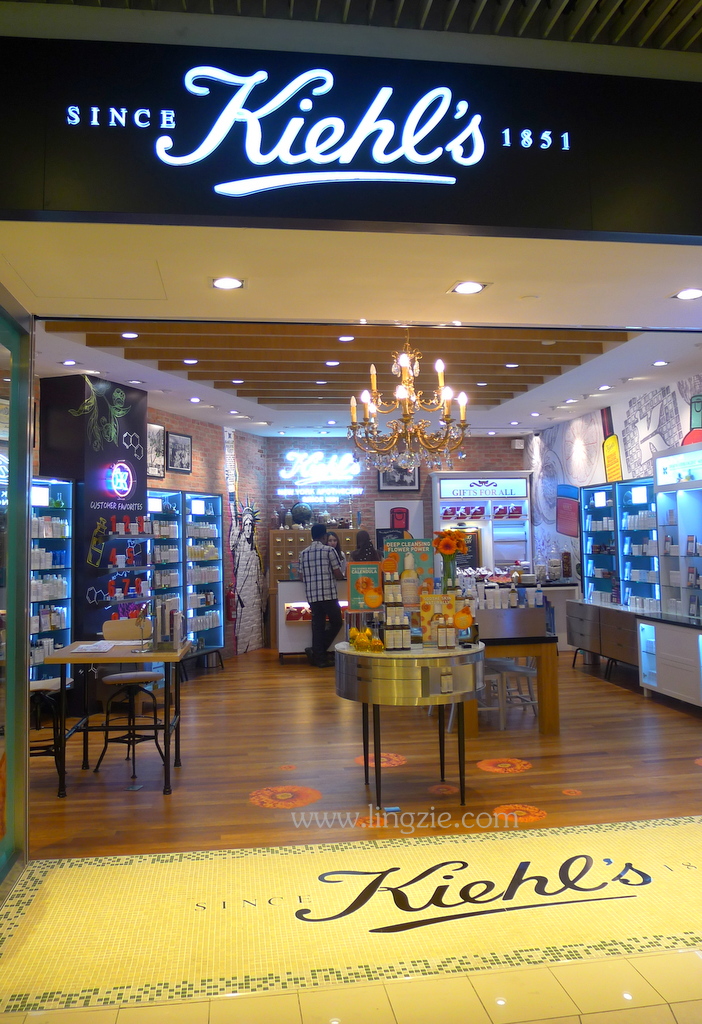 I was recently invited to have a tour of the new Kiehl's store in Queensbay Mall, Penang. This is the 2nd out let in Penang, the first being in Gurney Plaza. I took the opportunity to satiate my curiosity about this brand. I had previously just known the brand name and noticed that they had a skeleton (Mr Bones) at the entrance of the store. So that was the extent of my knowledge of Kiehl's prior to the store tour!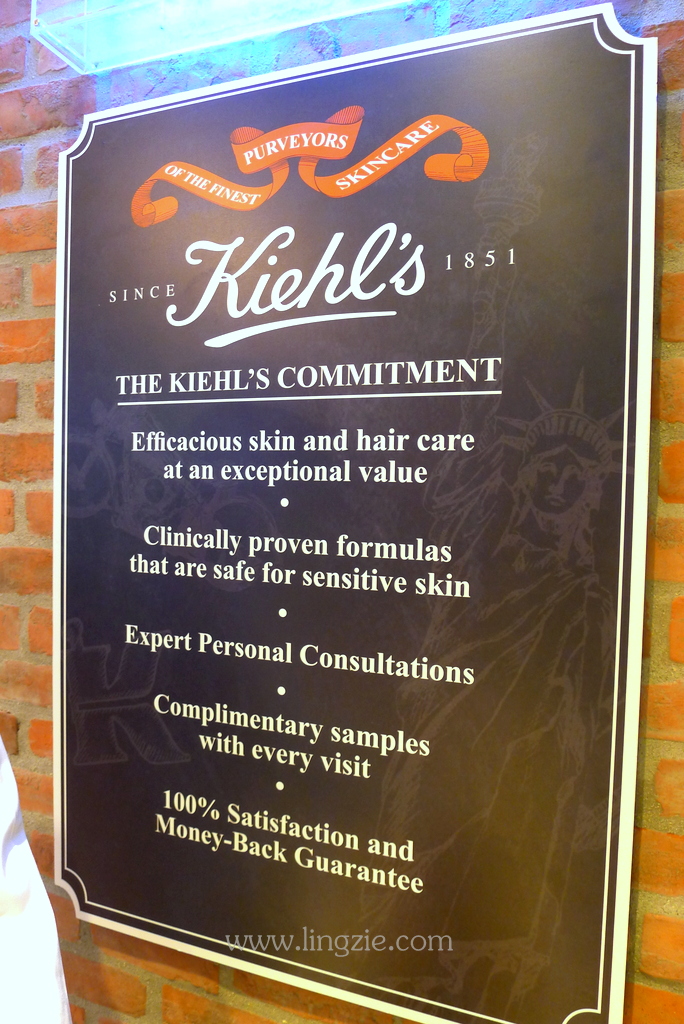 To kick off the store tour, we had a brief introduction into the history and philosophy of the brand. And I was surprised to note that Kiehl's is not an advertising brand. Their brand strongly supports sampling and their form of 'advertising' is through word of mouth. Kiehl's started out in 1851 as an apothecary and community pharmacy in East Village, New York at the "Pear tree Corner" (because there really was a Pear Tree outside their shop. :P) Back in 1851, Kiehl's founded by Mr Kiehl's, was a full fledge pharmacy, supplying customers with herbal remedies, over-the-counter drugs and essential oils. It's deep roots in the medical community explains why there is Mr Bones (the skeleton) at every Kiehl's store today 🙂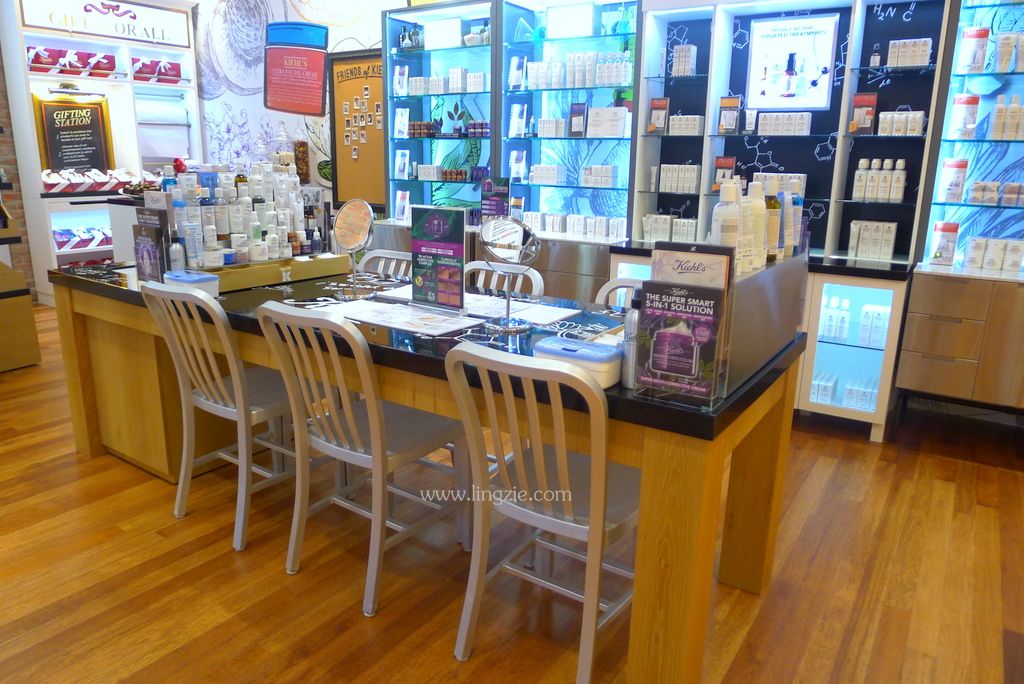 In line with their signature sampling programme, its not surprising to see a big consultation table at the Kiehl's store in Queensbay Mall. As a potential client, we can walk into a Kiehl's store, get a consultation from the Kiehl's skincare experts and some sample products to try at home before we decide if we like the products and if we'd like to buy the actual size product. Pretty cool eh?
Kiehl's also places utmost importance in using naturally derived ingredients with as little preservatives as possible. What makes Kiehl's unique is their blend of knowledge from various fields – cosmetic, pharmaceutical, herbal and medicinal, to produce a skin care range that is both high in quality and effective.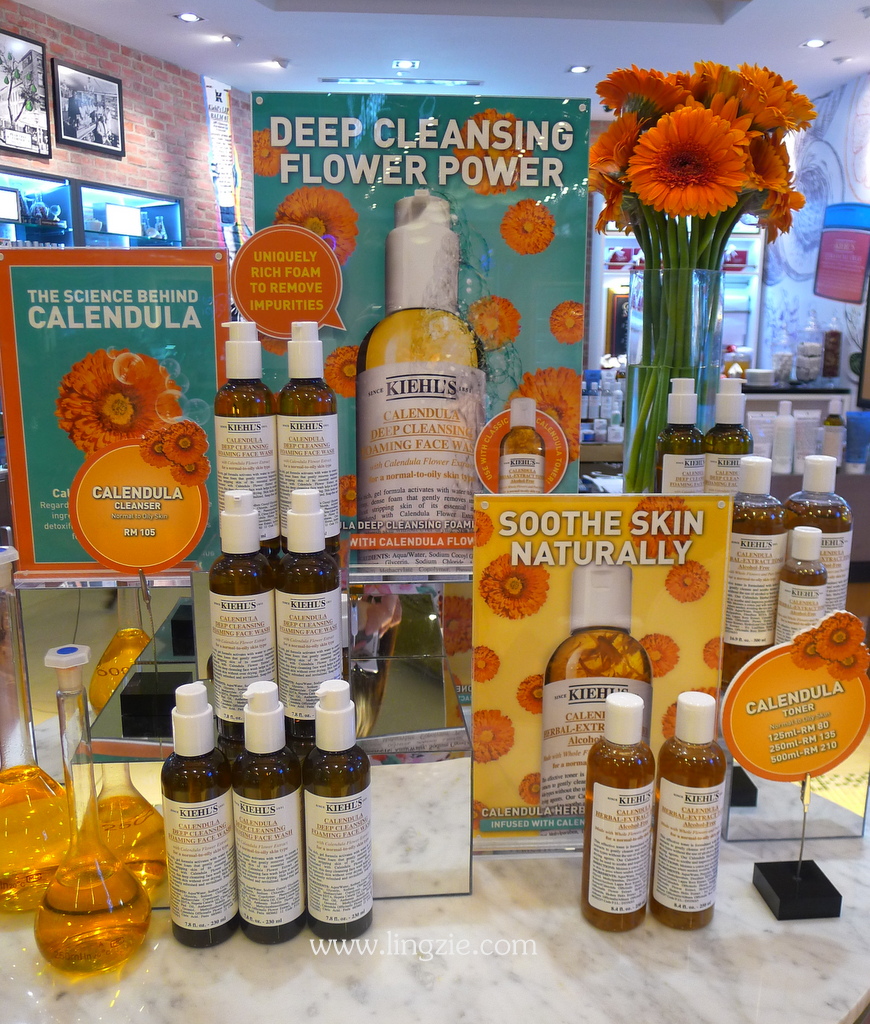 Kiehl's updated line of Calendula Products – Calendula Deep Cleansing Foaming Face Wash &                                       Calendula Herbal-Extract Toner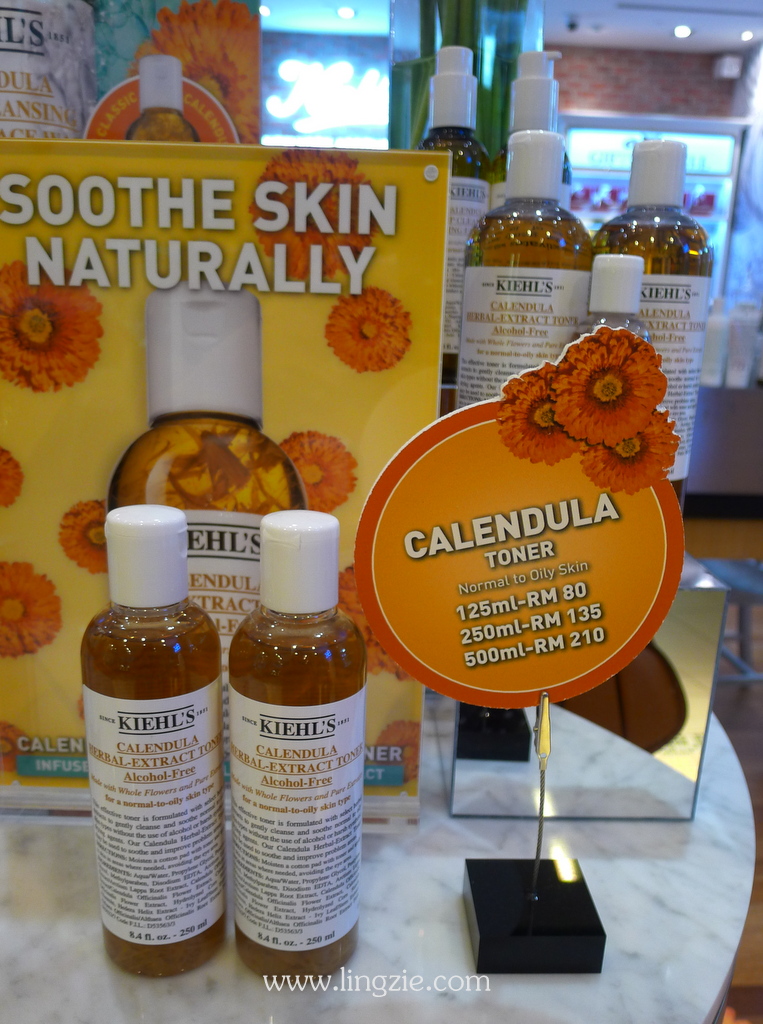 Calendula Herbal-Extract Toner – Alcohol free! and has the actual calendula flower petals inside too!  🙂 I love the subtle flower-y scent of this toner and the fact that it doesn't make my skin feel tight after use. We can also use it as a quick mask to bring some calmness to our skin – soak a few cotton pads in the Calendula toner and place all over your face – relax for 15-20mins! 🙂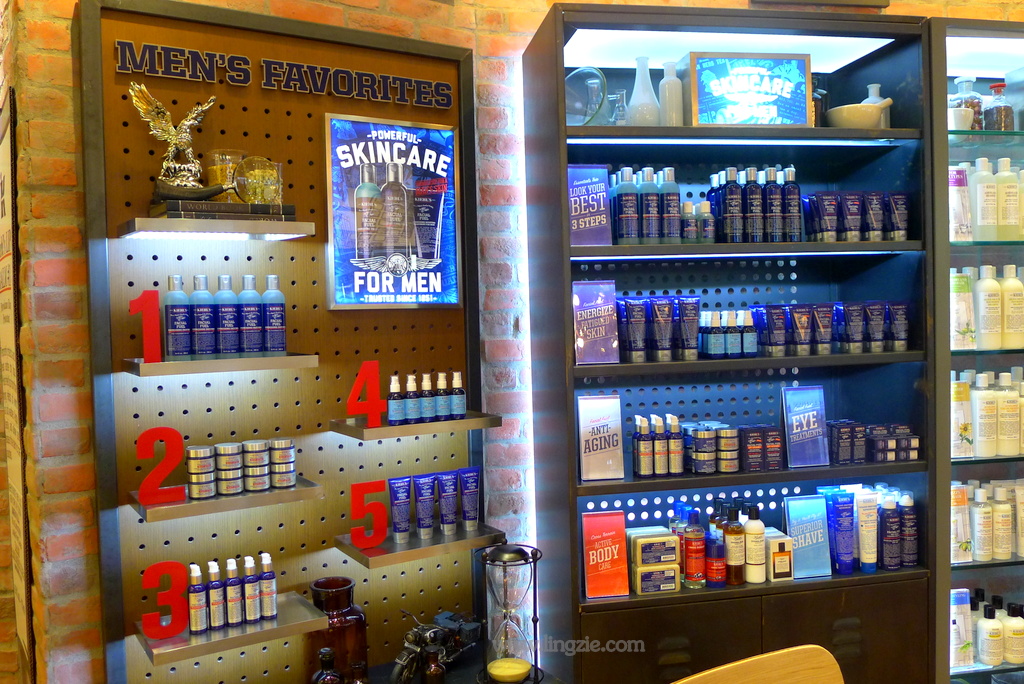 Kiehl's For Men range – complete with their Men's Favourites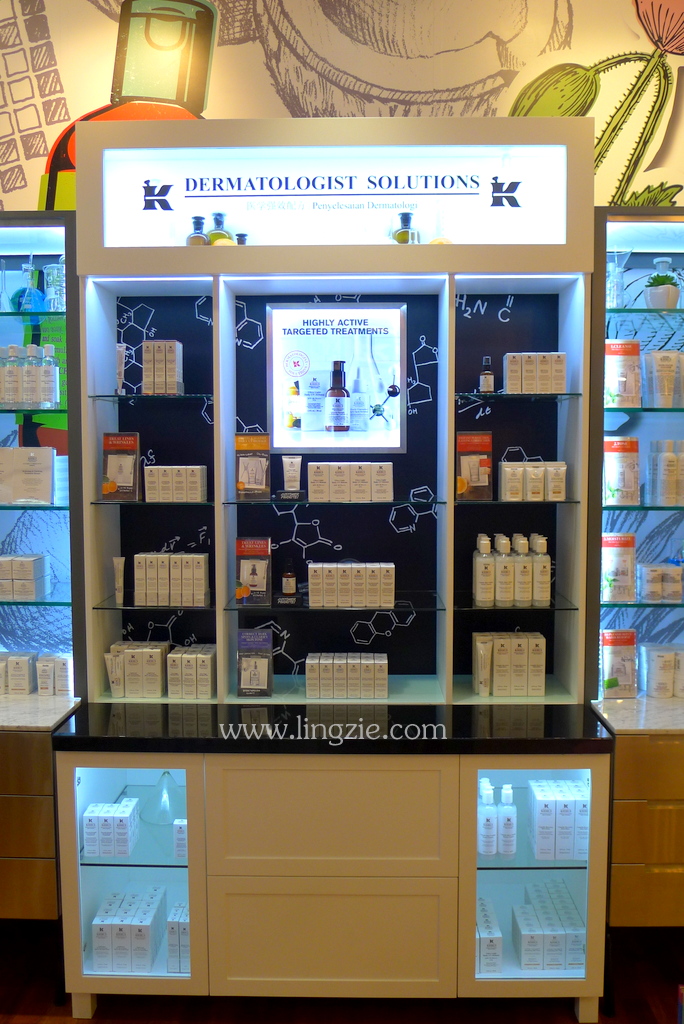 Kiehl's Dermatologist Solutions range – a collection of specifically targetted treatments developed by Kiehl's to combat specific skin concerns such as pre-mature aging, sensitivity and irritation.
The Kiehl's Dermatologist Solutions collection houses it's top best seller in Malaysia – the Clearly Corrective Dark Spot Solution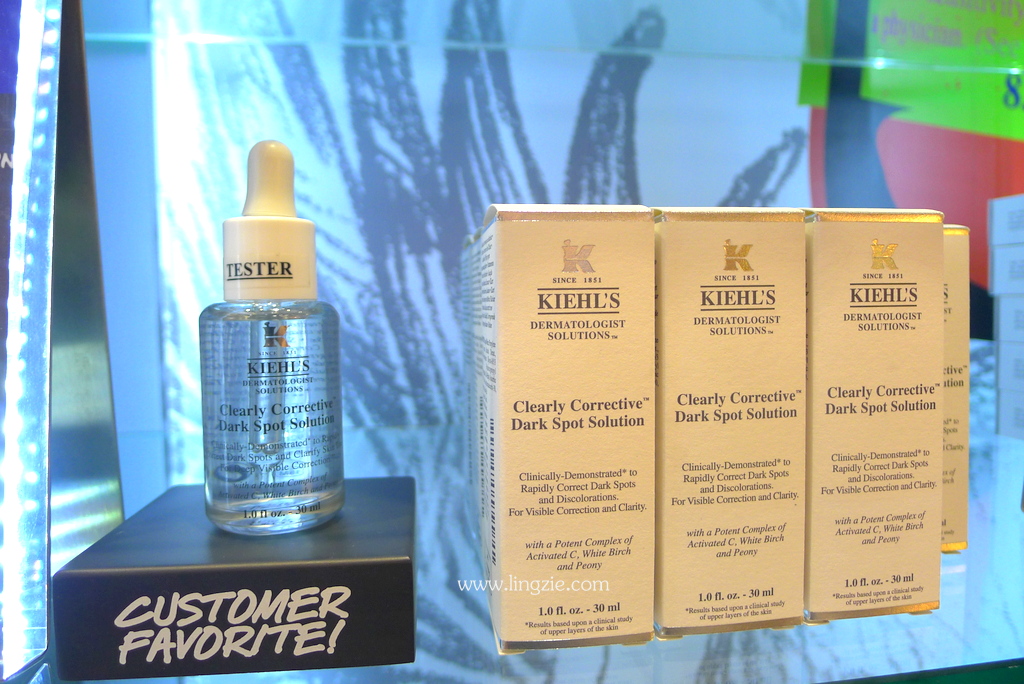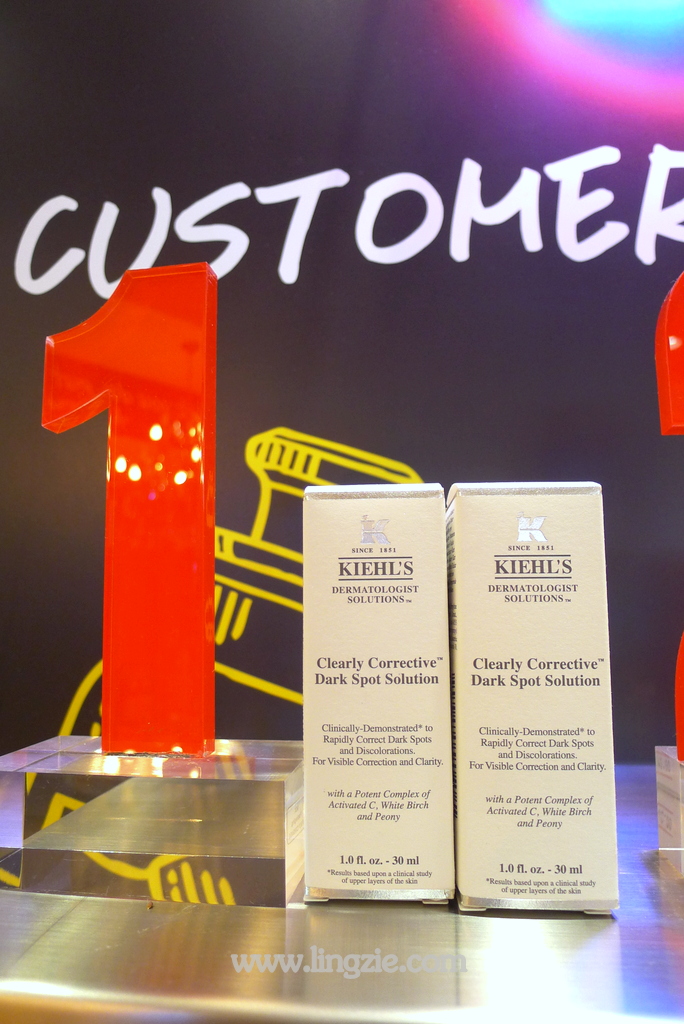 The Clearly Corrective Dark Spot Solution (30ml, RM205) is a serum that promises to diminish dark spots and even out skin tone, resulting in a more radiant skin. It's also said to be effective in reducing acne scars. And daily use can prevent formation of future dark spot clusters (yay!) While I don't suffer from dark spots yet (or at least I think I don't) I would think that prevention is better than cure and this would definitely be a good addition to my skin care arsenal 🙂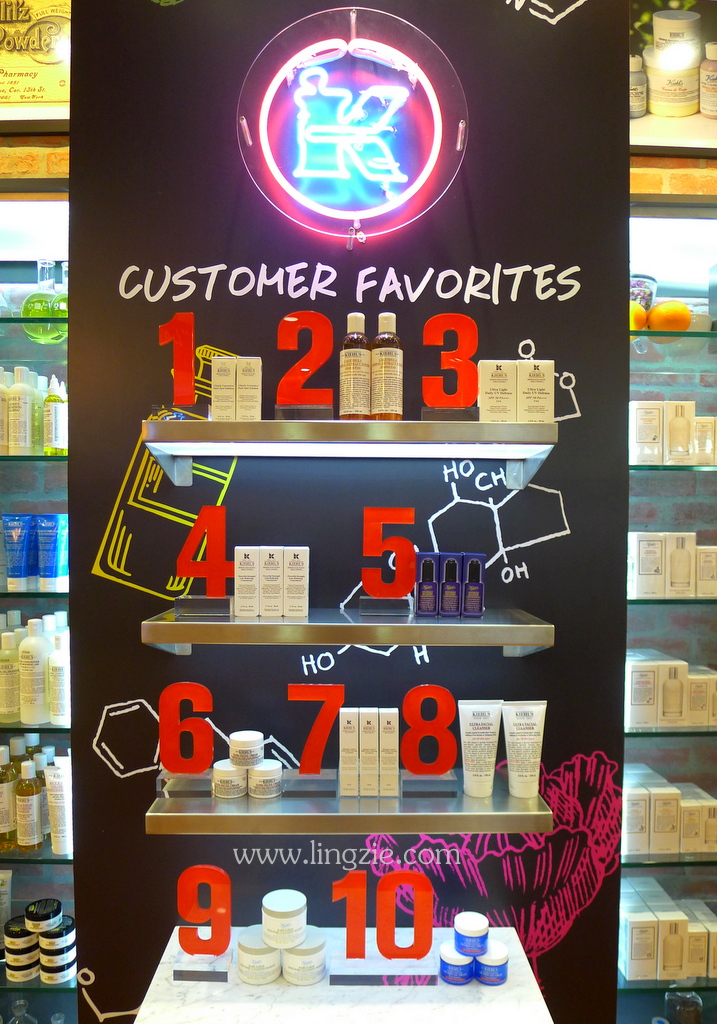 Kiehl's Malaysia Top 10 Customer favourites  – No.1 being the Dark Spot Solution, no. 2 the Calendula toner and no.3 the Ultra Light Daily Defense sunblock
I found this top 10 most helpful as a quick introduction to the brand's skin care products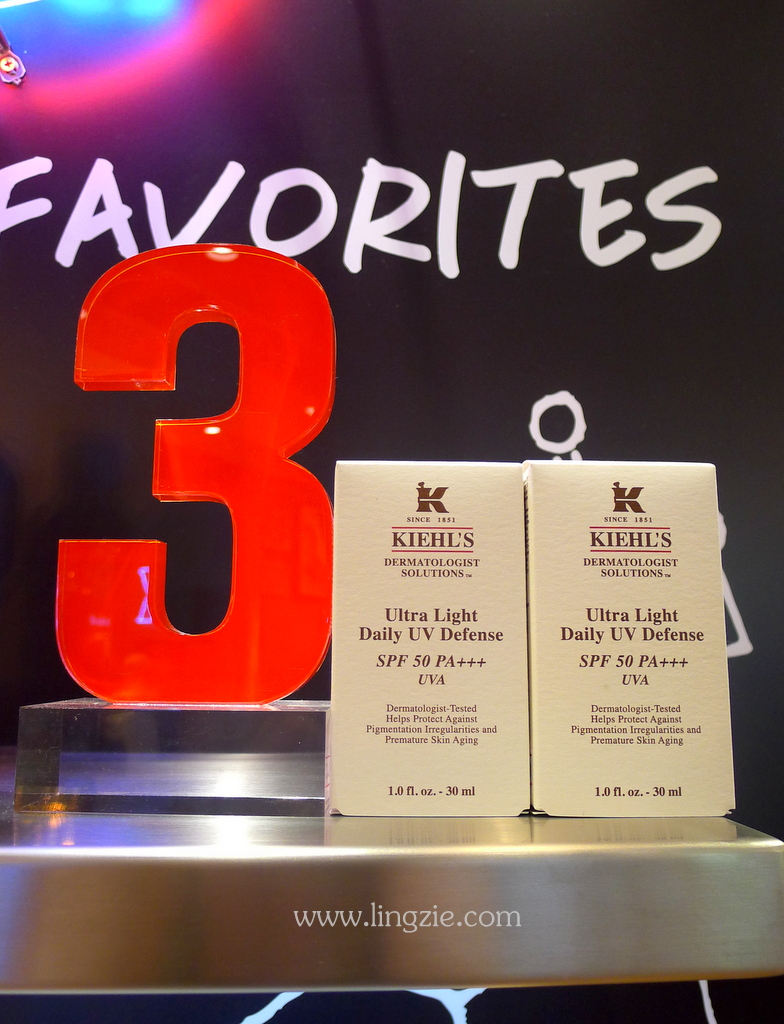 Ultra Light Daily UV Defense sunblock SPF 50 PA+++ – I was really interested in this product because it would seem like I am never really quite satisfied with my facial sun blocks (either its too greasy or doesn't offer high enough SPF)
So I was pleased to note that this product had a high SPF (50) and PA+++ (the  highest PA rating which means very good protection against UVA rays that cause long term sun damage)  I also got to try this product during the skin consultation and found that it absorb fairly quickly into my skin 🙂 no greasy coat of 'stuff' on my face!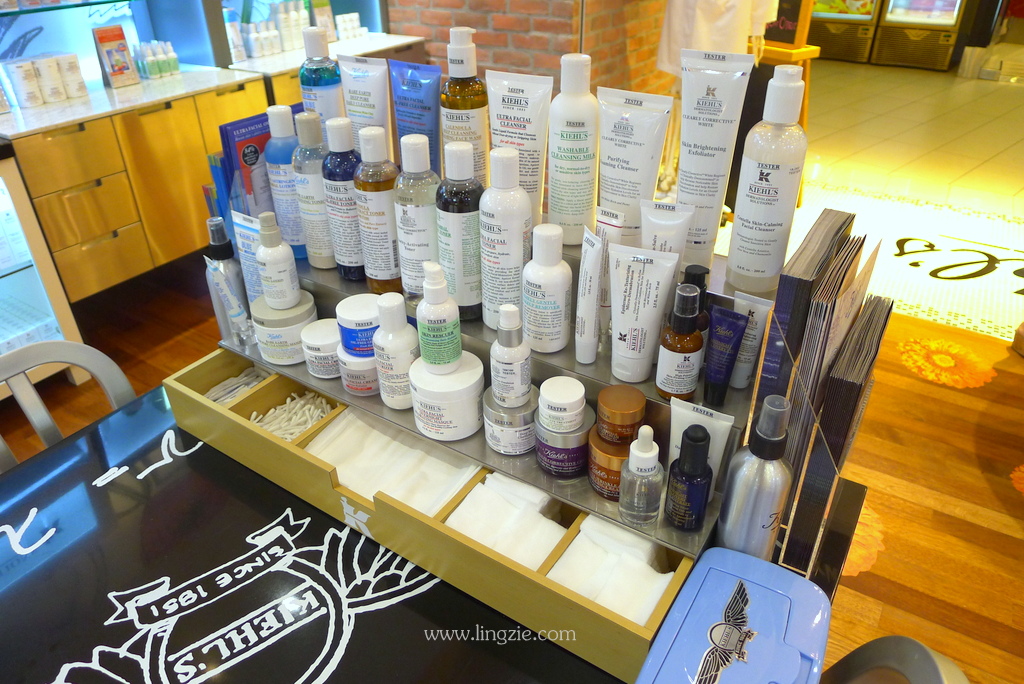 Kiehl's products… all ready for sampling during the skin consultation
After the quick store tour and briefing on the history & brand philosophy, I got a skin consultation from the Kiehl's skin experts.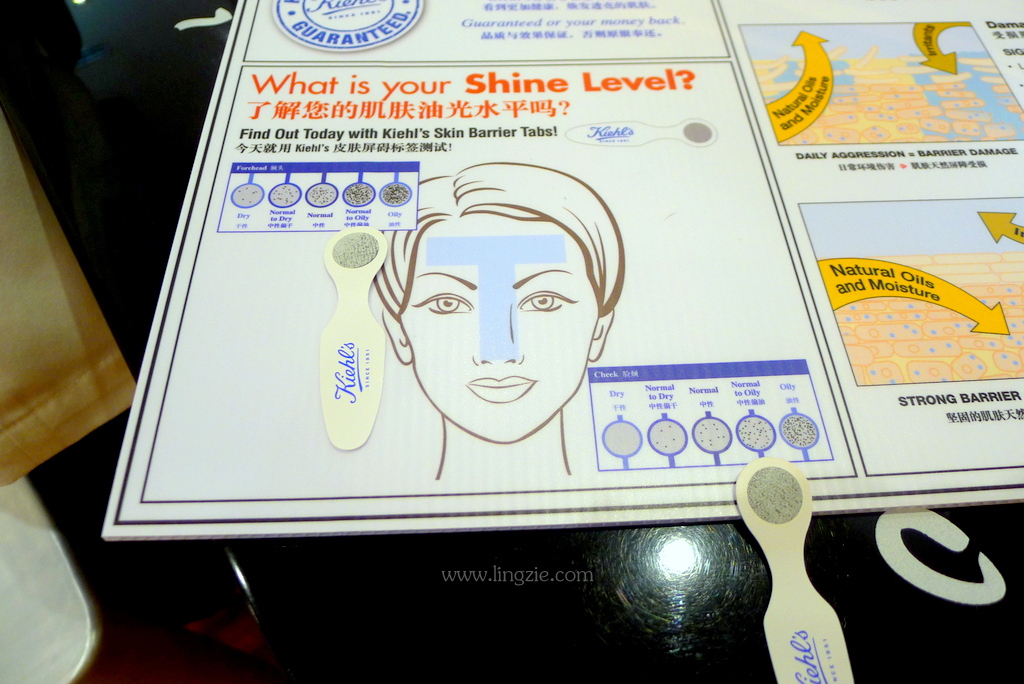 The Shine Level test
Basically I was giving a quick Shine Level test on the cheek as well as the T-Zone and when compared on the charts,  I was told that both my cheeks & T-Zone were normal to oily. I was then asked if I had any specific skin concerns that I plagued me.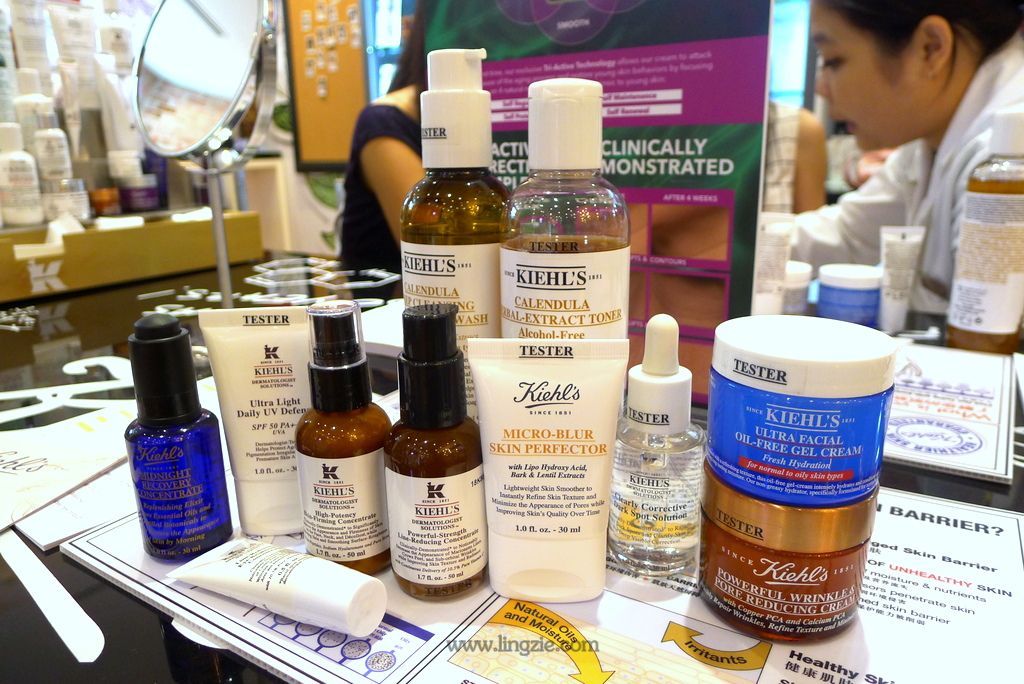 Lots and lots of products for me to try based on my skin type and concerns…. I then went home with small sample packets of each (well nearly… there were a lot of packets!)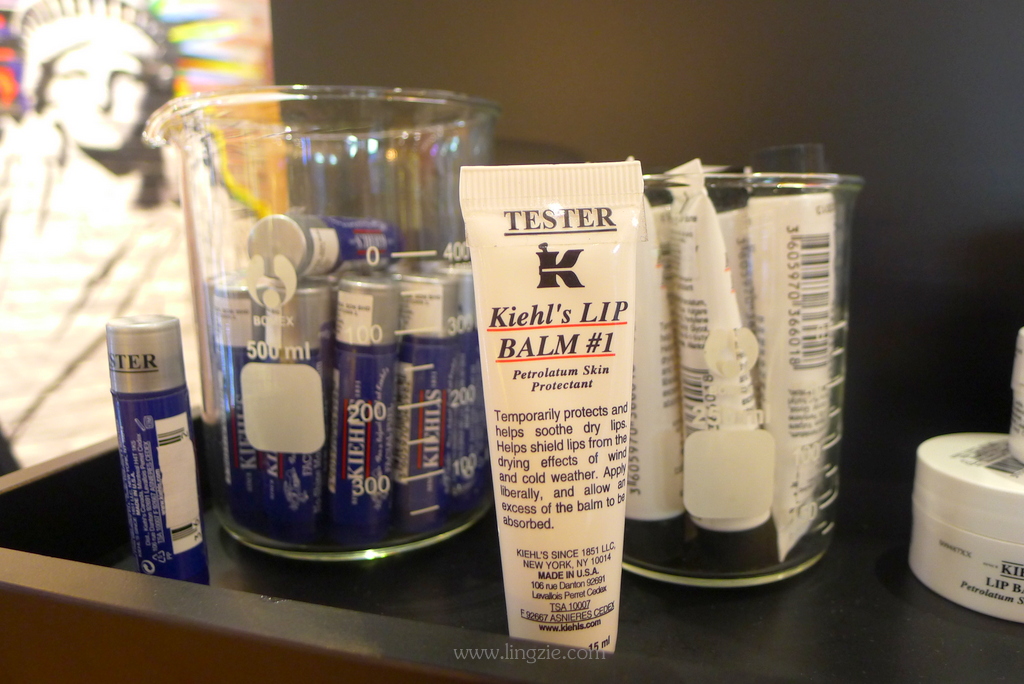 Other items that caught my eye was their signature Lip Balm (I also love how they display their lip balms in a glass beaker – in line with their pharmacy & scientific background) 🙂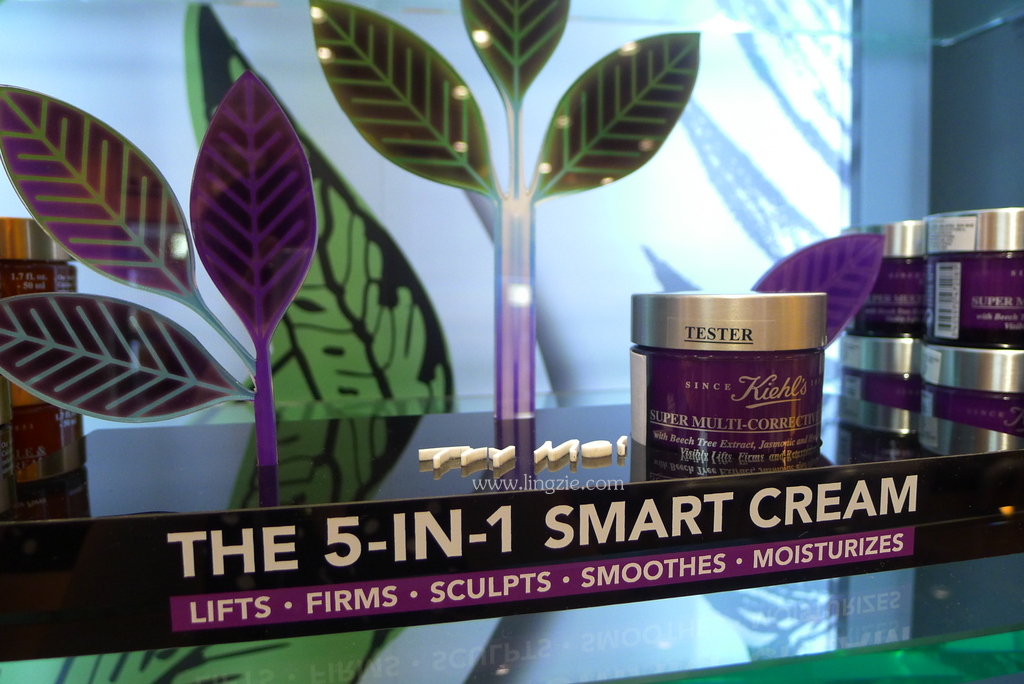 5-in-1 Smart cream sounds really really promising too! Will have to ask the Kiehl's Skin Care experts more on this the next time I'm at Kiehl's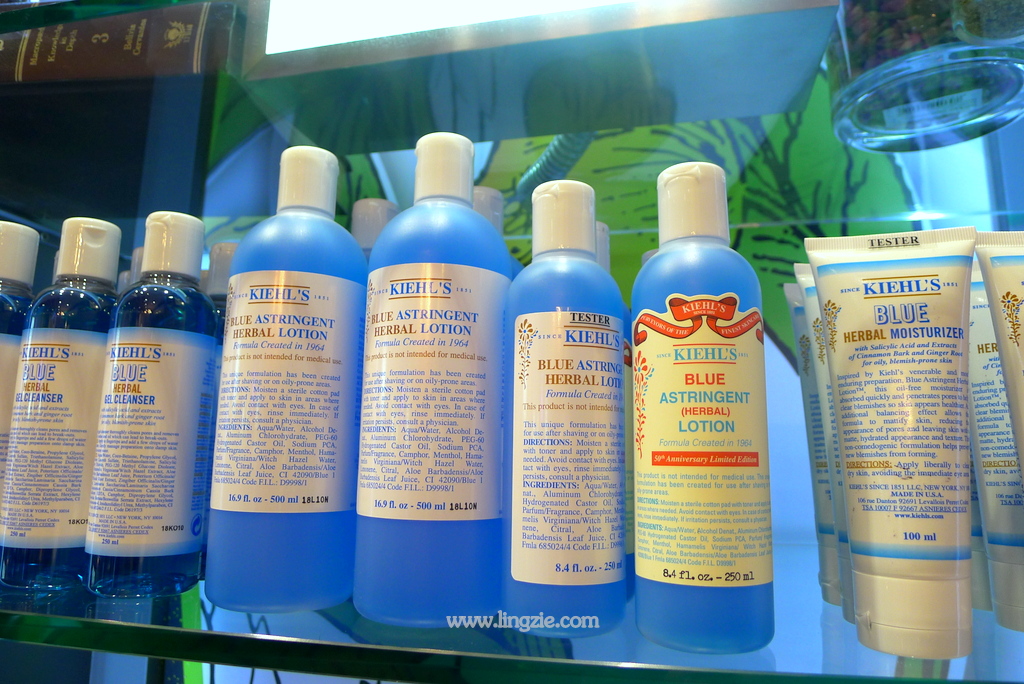 Kiehl's Iconic Blue Astringent Herbal Lotion (with its special 50th anniversary packaging) aka the "Blue Stuff" created for oily, blemish prone skin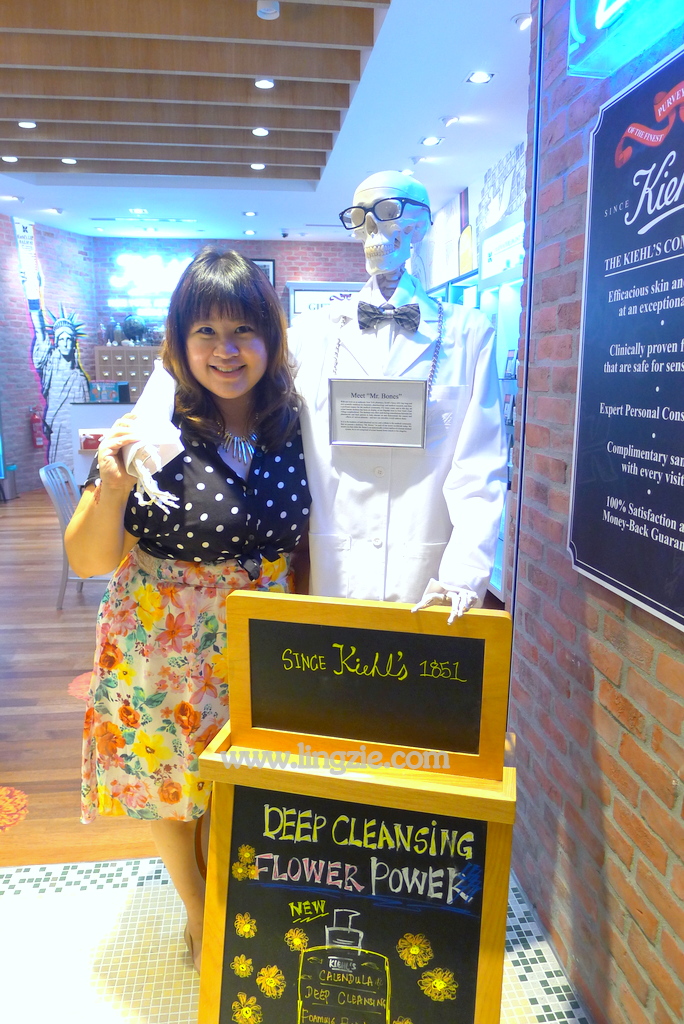 Mr. Bones & I 🙂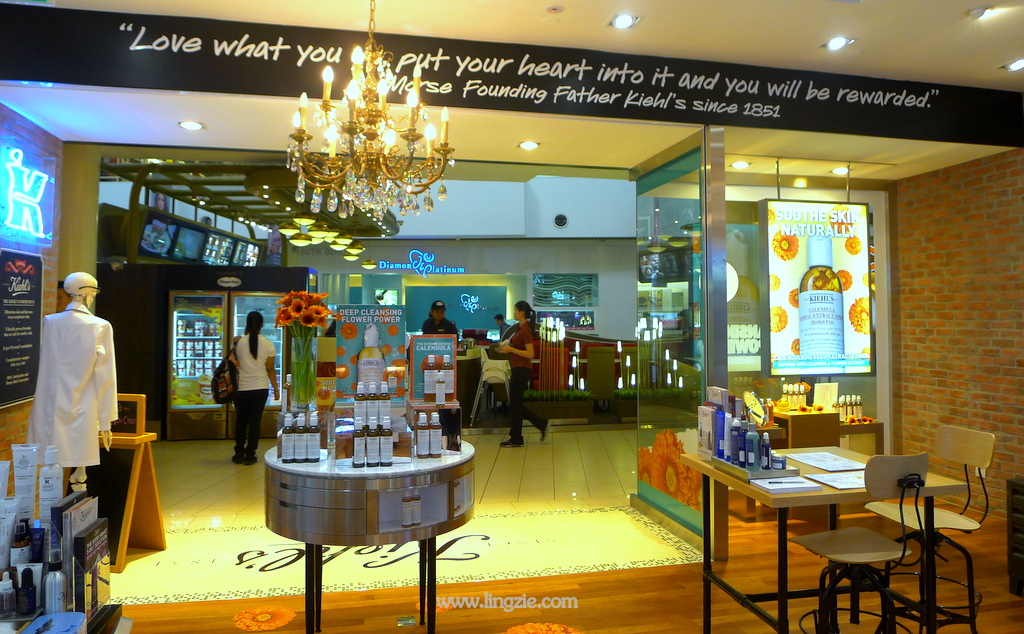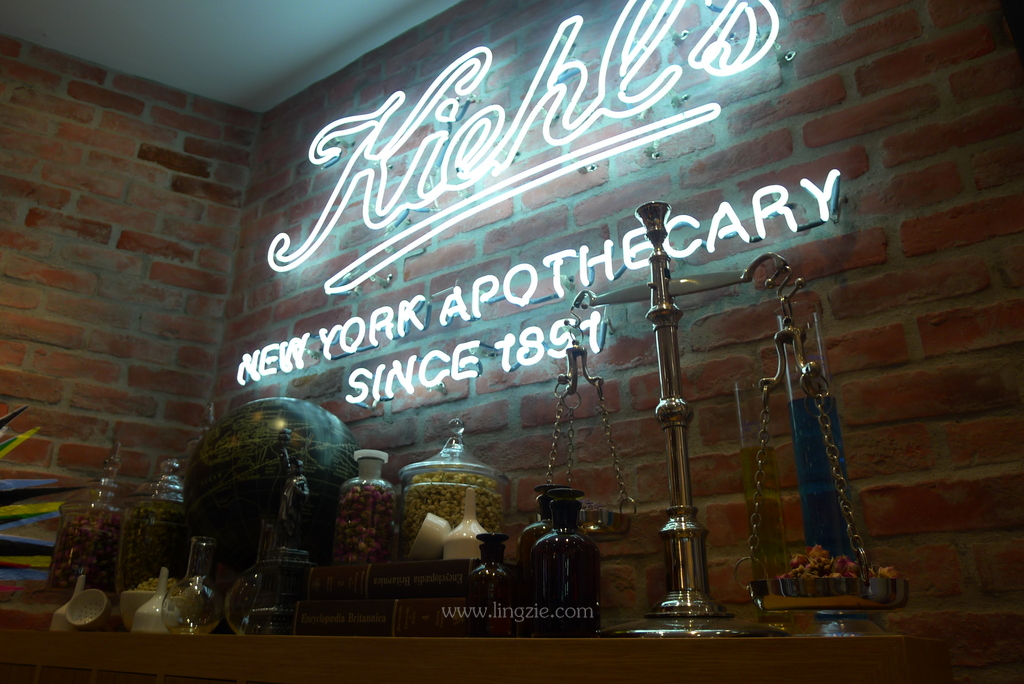 Thank you so much Kiehl's Malaysia for the invitation to tour the new store. Do check out Kiehl's for a free skin consultation and skin care samples. Who knows, you might find your favourite skin care product at Kiehl's? 🙂
Kiehl's In Penang:-
Kiehl's Queensbay Mall Penang
Lot GF-31A, Grd Floor
TEL: 04-6448600
Kiehl's Gurney Plaza Penang 
G22 Ground Floor
TEL: 04-2288911
Other store locations in Malaysia