For those hankering to sink your teeth into some good barbequed meat, do check out the picturesque Bangkok Lane's latest addition – Beep Beep Q Restaurant.
Beep Beep Q Restaurant serves US style Barbeque in the form of an all you can eat buffet!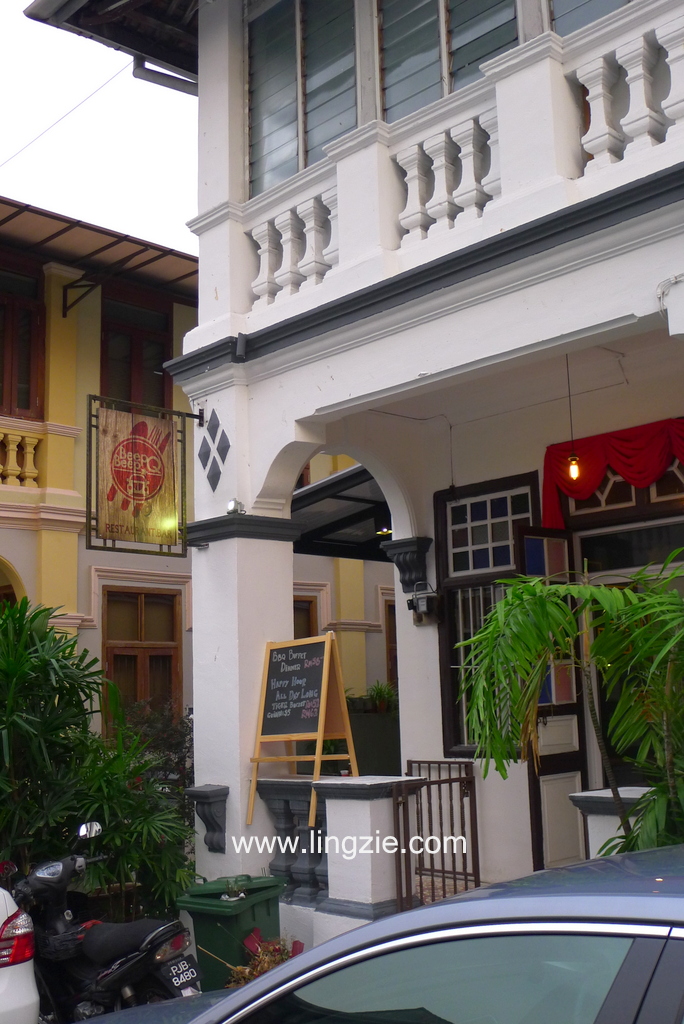 Situated further down the end of Bangkok Lane (nearer to Kelawei Road end, on the right), Beep Beep Q's small signboard may cause it to go unnoticed by most, but the interior definitely leaves an impression. Upon entering the restaurant, we were greeted by an actual VW Beetle hung up on the wall.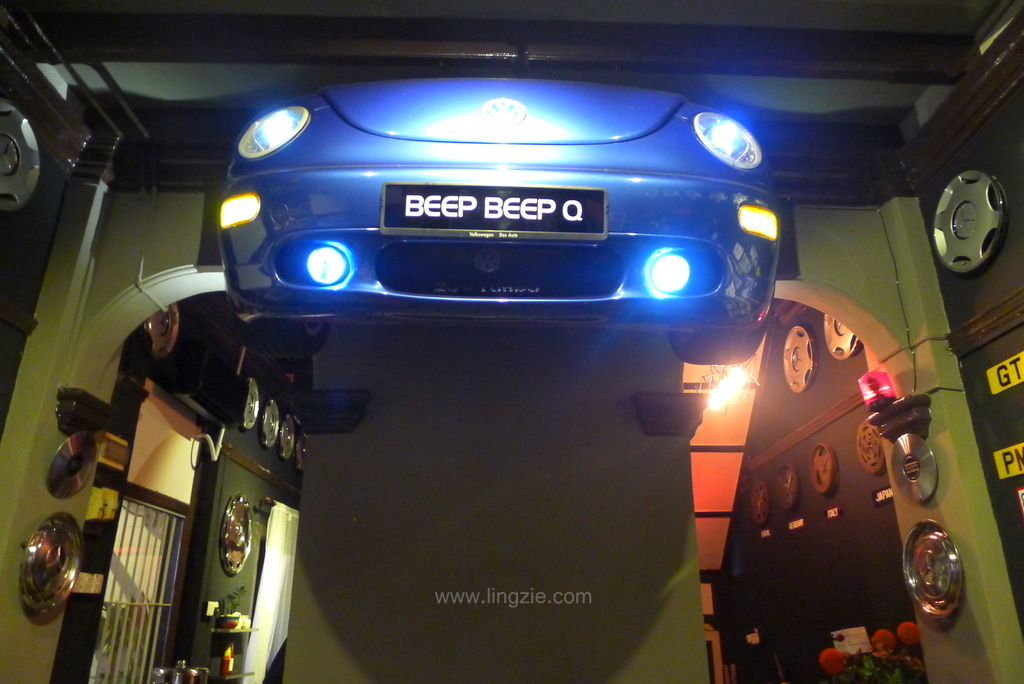 And all the car related deco items all round the restaurant ties in with the clever word play on the name of the restaurant. We were told that the owners of the place DIY-ed the decorations as well as the tables. Impressive indeed!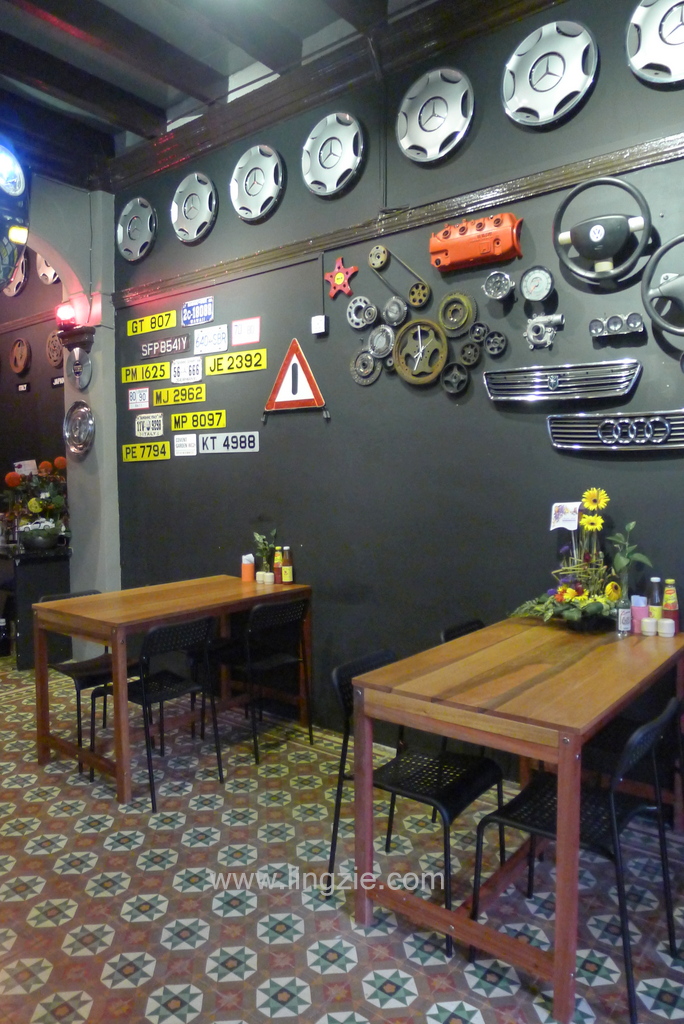 Interior deco – I like!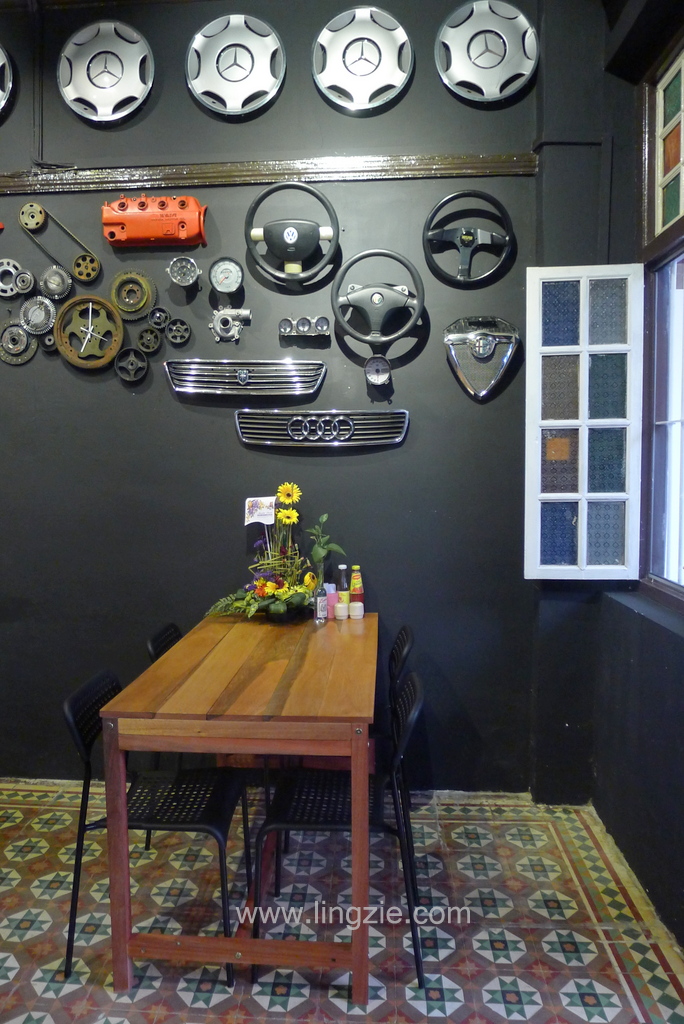 So what does Beep Beep Q offer in their bbq buffet menu?
Beep Beep Q's bbq buffet is offered at RM58 nett. Choose any (or all) the items on their menu (as many times as you want), they BBQ in their kitchen and bring out the items for you to enjoy! So you get to indulge in BBQ and go home not smelling of food! Yay! I'm sure the girls would love this, cos in the past I've always had to go home and wash my hair after going for BBQs!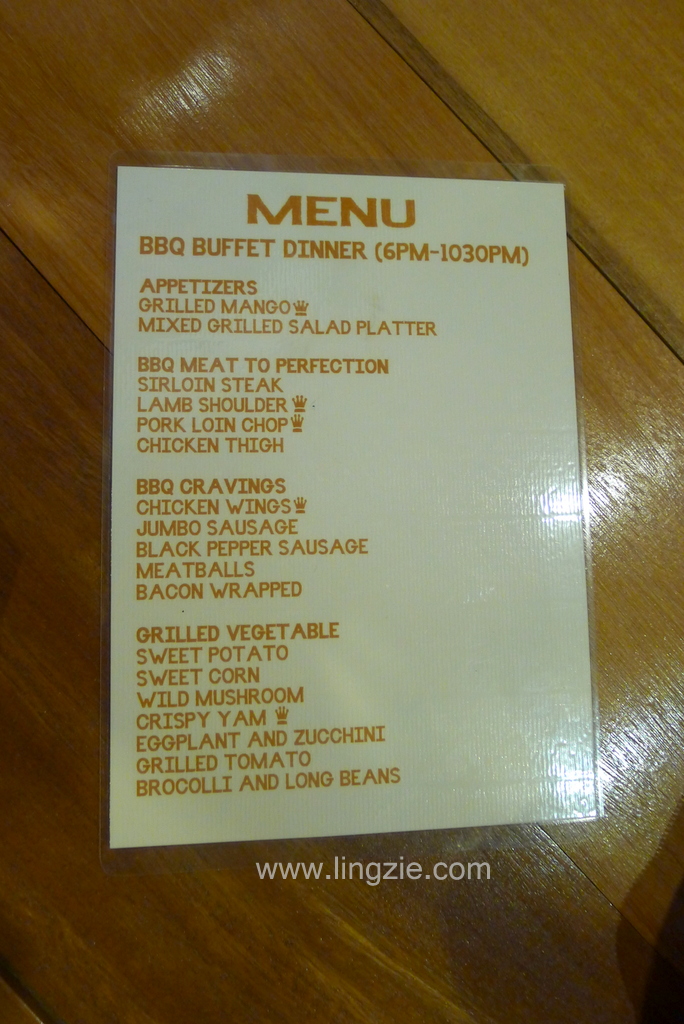 Beep Beep Q BBQ Buffet Menu (RM58 Nett per pax)
What caught my attention was the grilled mango. I immediately zoomed in on the crispy yam as well, and was rather impressed with their veggie selection. Meanwhile, the bbq meat selection seemed decent enough. We selected a few items to try and headed for the free flow salad & soup bar.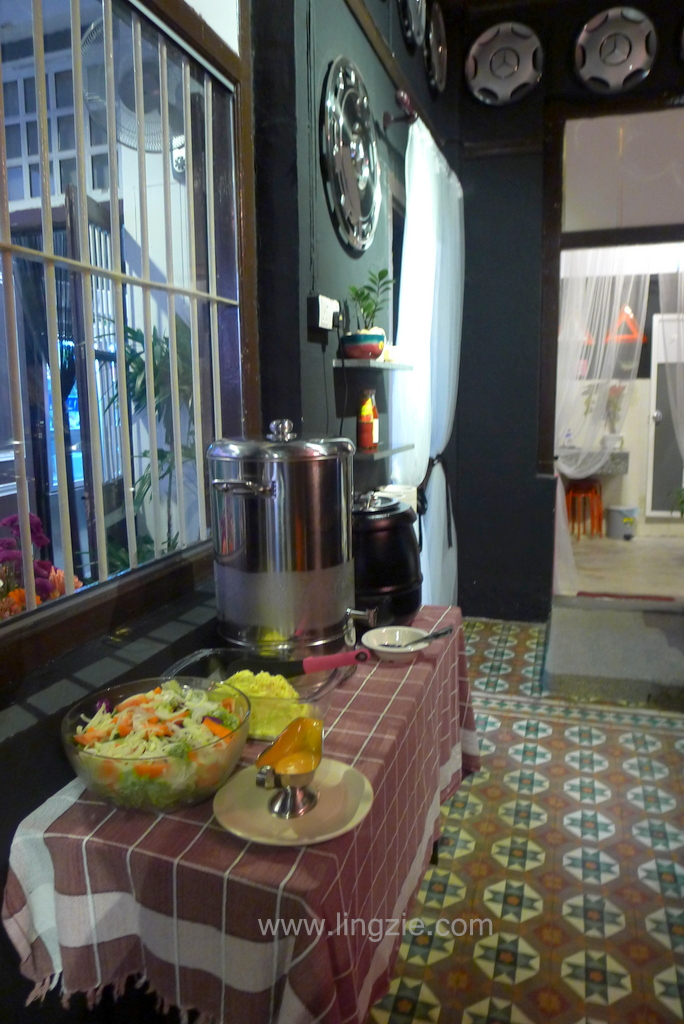 Free flow fresh salad, soup and drinks (cordial & Ice lemon tea)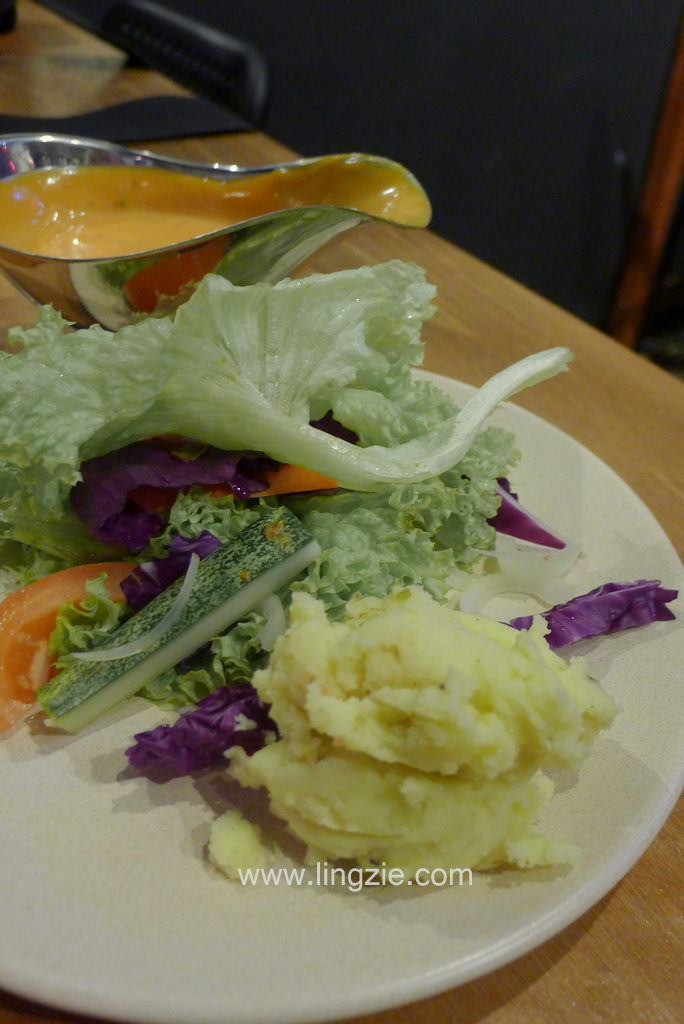 Fresh green salad with thousand island dressing and home made mashed potatoes. The mash potatoes were pretty good!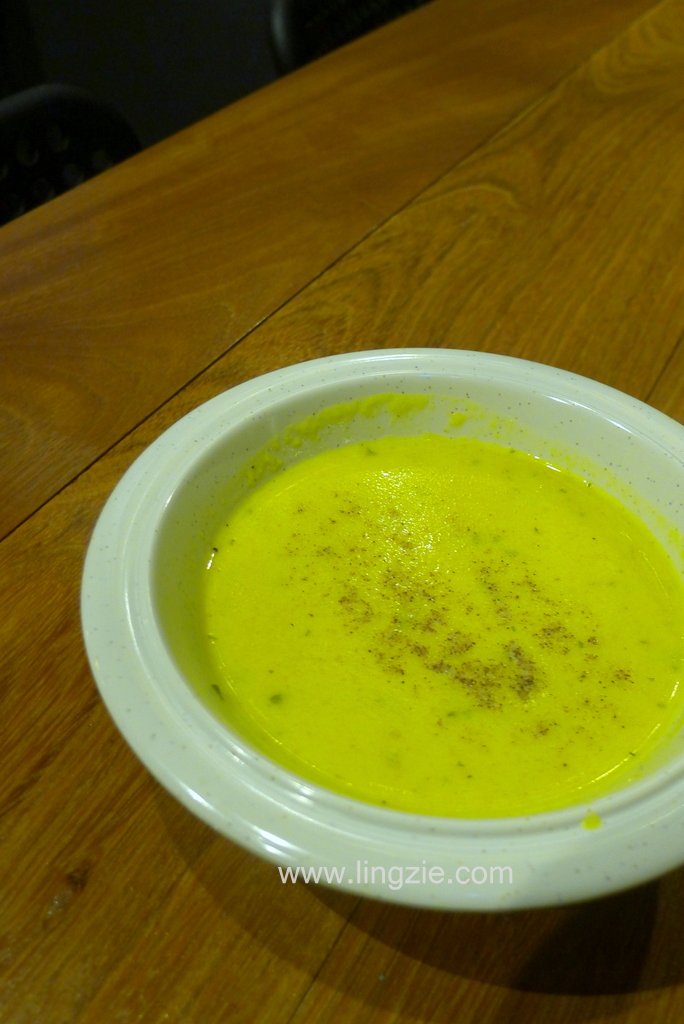 Soup of the day was Pumpkin Soup! *yay* I loveeeee pumpkin soup so was really happy to see this being offered.  The soups are on a rotation basis and currently Beep Beep Q serves mushroom soup as well as chicken mushroom soup in addition to the pumpkin. They also have plans to include more varieties in the future.
I found the pumpkin soup to be thick and creamy with hints of sweetness from the pumpkin. Enjoyable, but would have been better if it was served a bit warmer (but that's just me nit-picking)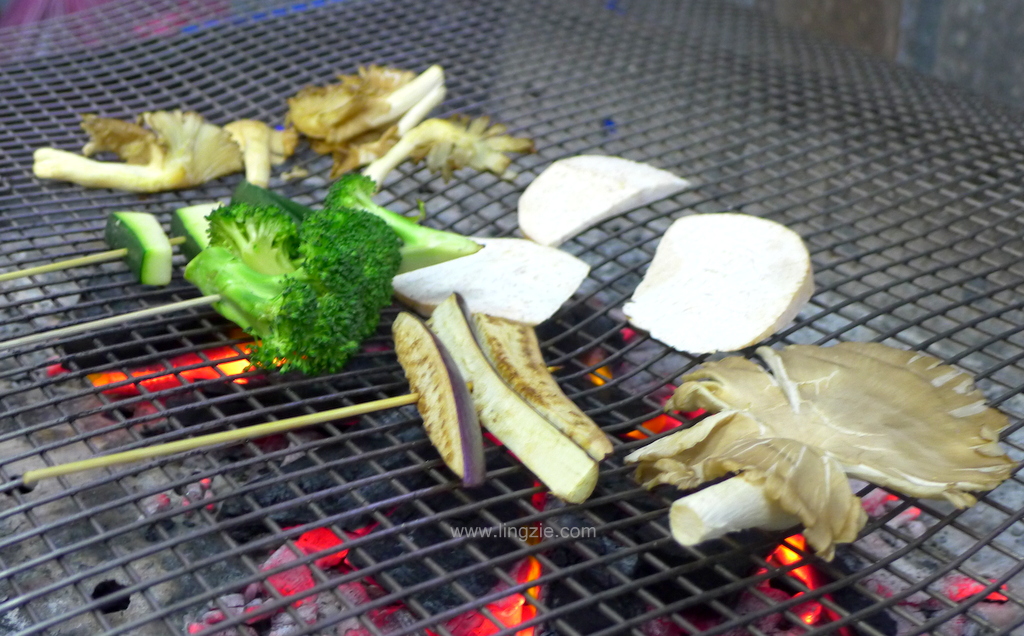 Veggies on the grill….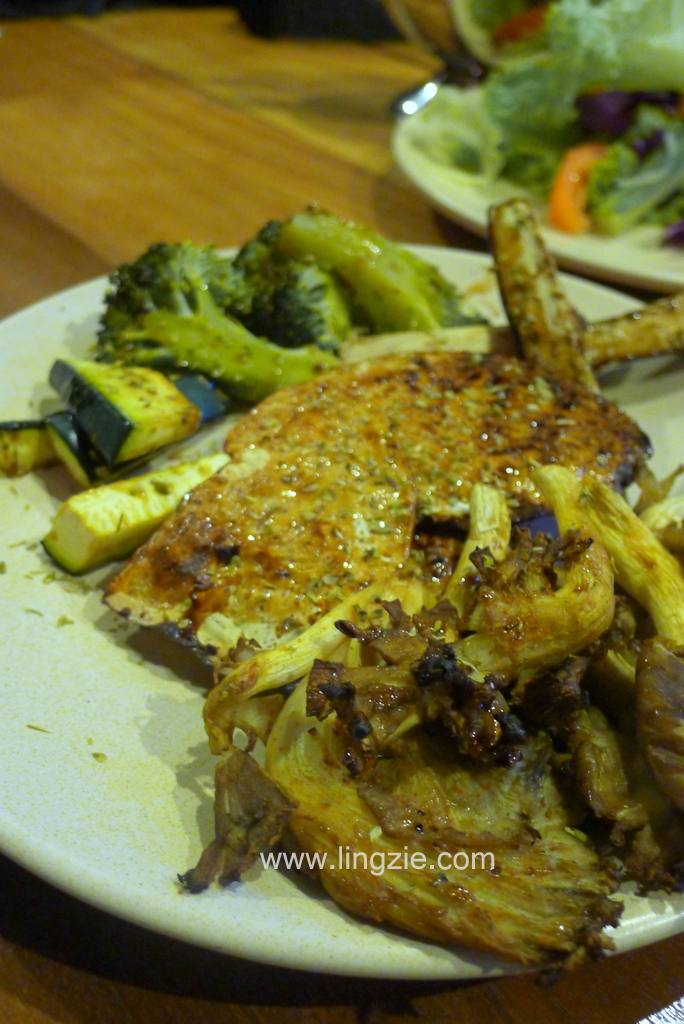 Our selection of vegetables – crispy yam, wild mushrooms, zucchini & eggplant and brocolli
I wasn't quite sure what to expect from barbequed vegetables, but what we got served at Beep Beep Q definitely impressed me. The crispy yam was delicious, sliced thinly and glazed with a sweet honey and savoury sauce and sprinkled with herbs. While the mushrooms had a lovely earthy flavour. While the brocolli and zucchinis were grilled just right to still have some bite to them. I honestly can't remember the last time I enjoyed vegetables this much! 😛
The grilled veggies hinted at more delicious-ness to come and I could hardly wait!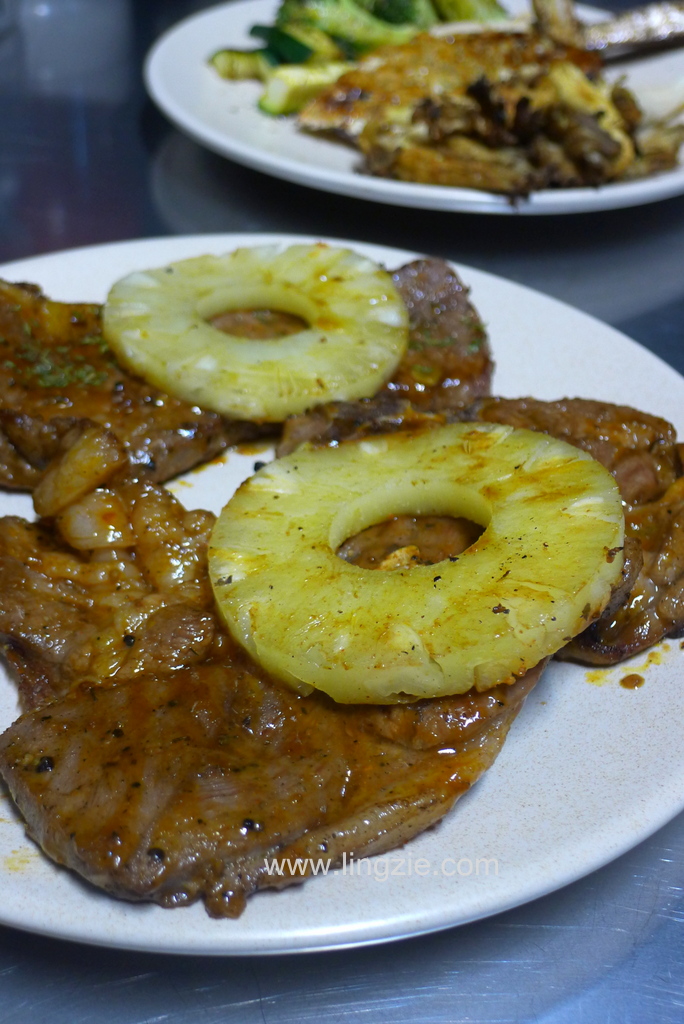 Next, we moved on to the meats….. sirloin steak and lamb shoulder. I was delighted to note that the steak & lamb were marinated with a different sauce from the vegetables. Their home made butter garlic marinade was utterly delicious. The meats were grilled just right with the sirloin steak still a bit pink in the middle. I would have preferred a better sear on the outside of the steak, but nevertheless, I happily dug in.
Similarly the lamb shoulder was tender and juicy. Served with grilled pineapple, it helped lighten the dish and really had me wanting more.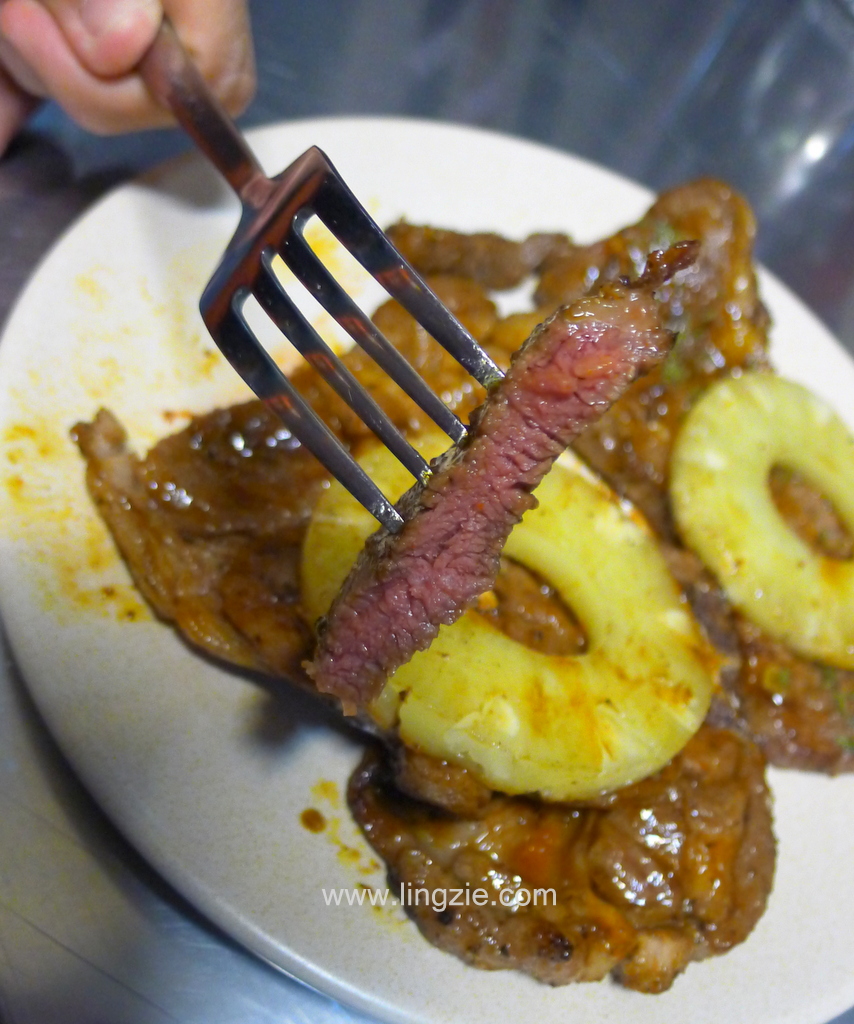 Sirloin steak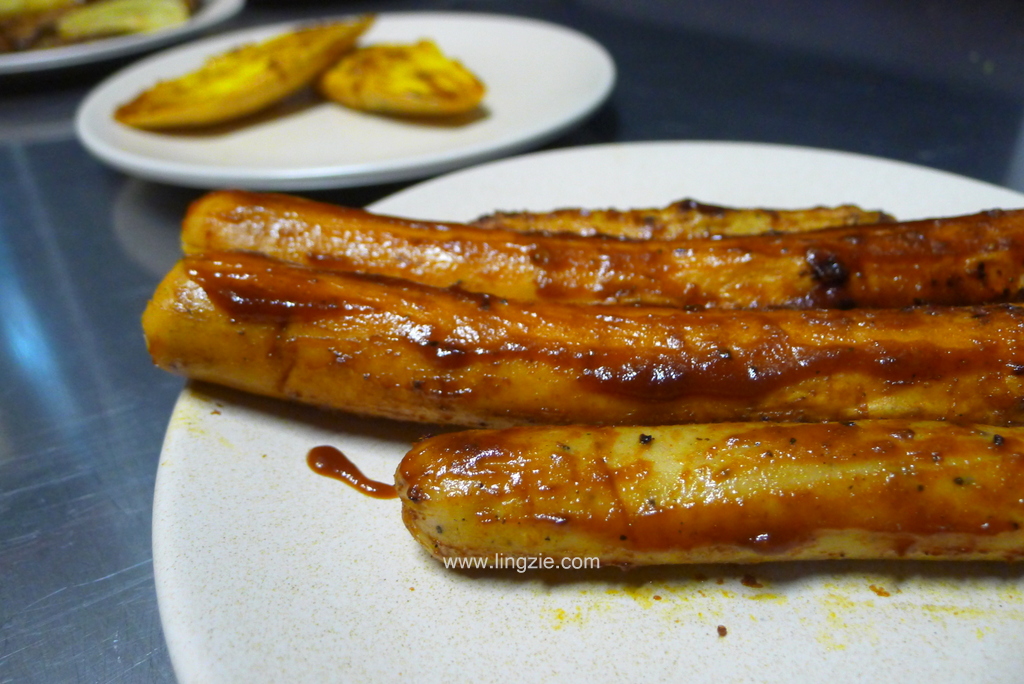 Jumbo Sausage & Black pepper sausage
While the sausages were not homemade, I found that the home made BBQ sauce marinade brought them to another level. Beep Beep Q's BBQ sauce was not too tangy and was very well balanced. Therefore, I wasn't surprised when we were told that the chef had been cheffing overseas for a few years before returning to Penang.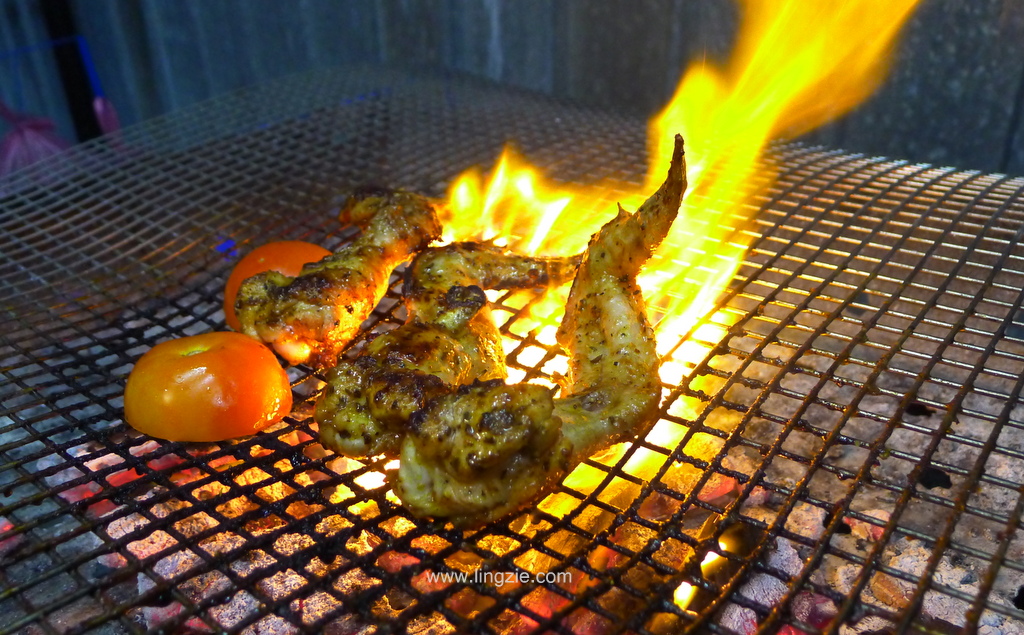 Chicken wings on the grill…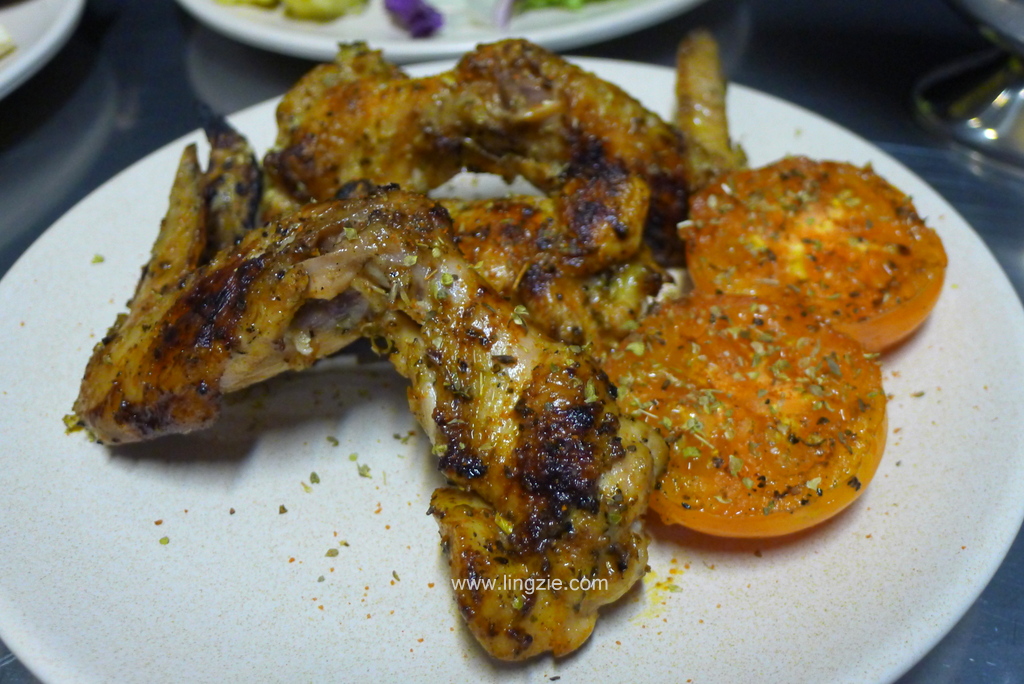 The chicken wings – a perpetual BBQ favourite, did not disappoint.  I was pleased to find that the chicken wings did not have the same marinade as the steak and lamb. It would have been so easy for the chef to use the same marinade for all the meats, but I'm so glad the chef here showed more ingenuity. The bbq chicken wings here had a more savoury taste compared to the steak and with a hint of spiciness.
My only gripe about the grilled tomatoes would be that I would have preferred it with more char (but I'm sure the more health conscious diners would disagree with me! lol)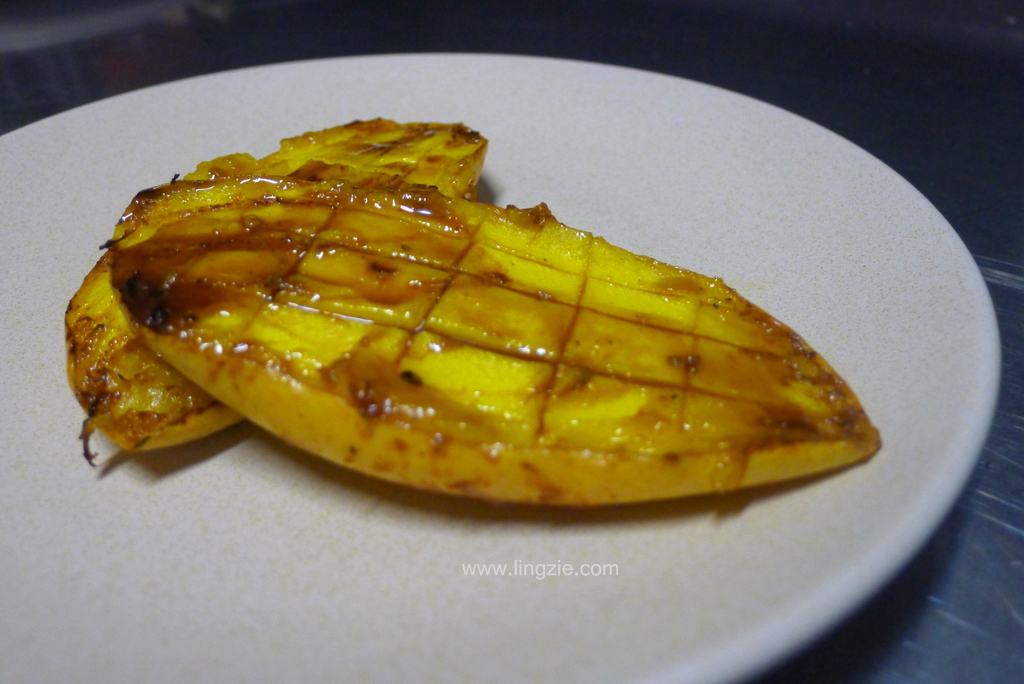 Grilled mangoes with sweet BBQ sauce
And finally….we had the grilled mangoes. They were sweet and juicy and very enjoyable. Although listed as an appetizer item, I thought it was the perfect sweet ending to our meal.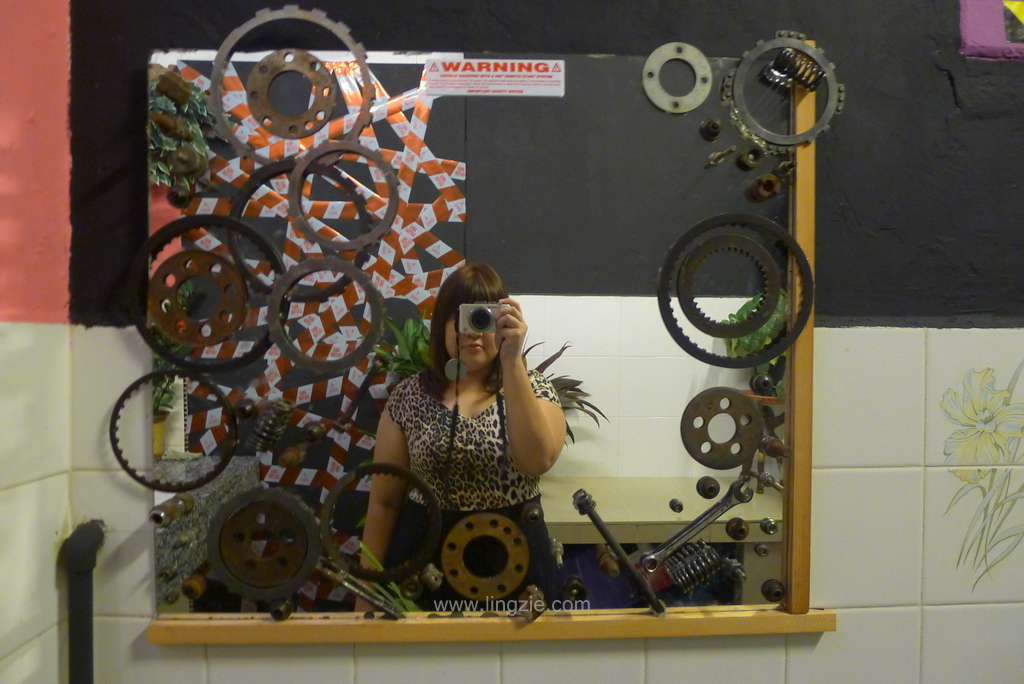 Love the DIY mirror deco that carries on the vehicle theme of the restaurant! 🙂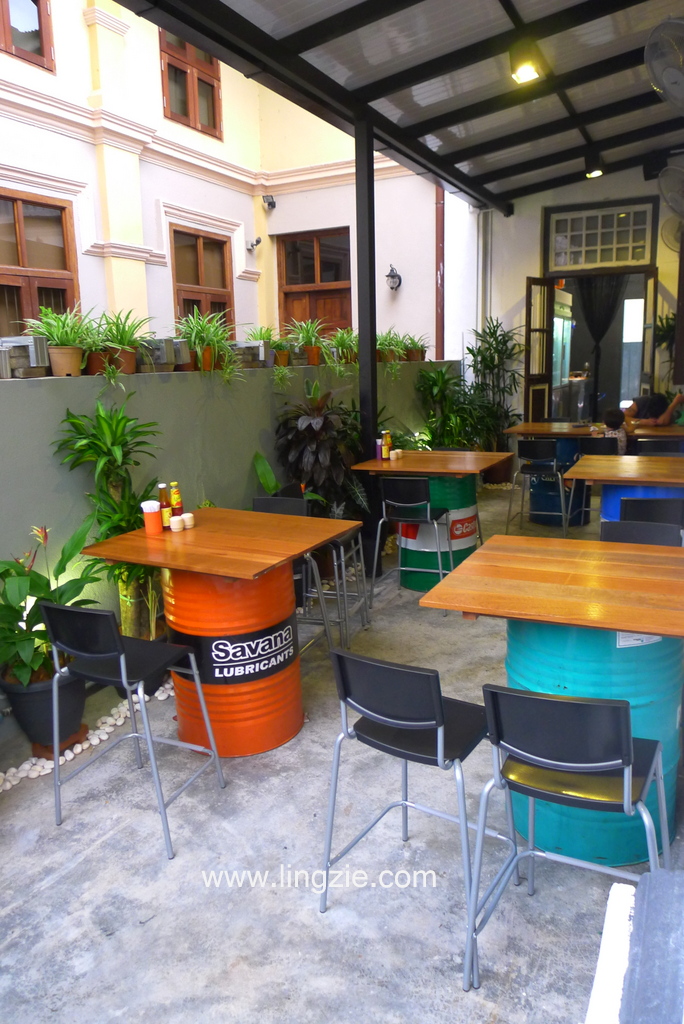 Al fresco dining area
We had wanted to try more items on their buffet menu but were so stuffed! I definitely look forward to coming back again.
Beep Beep Q is currently offering their BBQ buffet for dinner only (6pm – 10.30pm)
But they do plan to offer set lunch menus soon.
Happy hour beer bucket is all day long :-
Tiger RM52 nett 
Tiger radler RM45 nett
Heineken RM65 nett
Guinness RM62 nett
The Essentials:-
Beep Beep Q Restaurant
11 Bangkok Lane,
Pulau Tikus, 10250 Penang
TEL: 017-7541228 / 012-4211134
Opens Daily
Connect with Beep Beep Q Facebook for latest news and promotions!