Hotel Jen Penang's location is no stranger to most Penangites. Formerly Shangri-La hotel and Traders Hotel, Hotel Jen was rebranded in late 2014. The hotel's coffee lounge – The Islander has always been a firm favourite in the Penang dining scene, offering quality buffet spreads as well as all-day dining.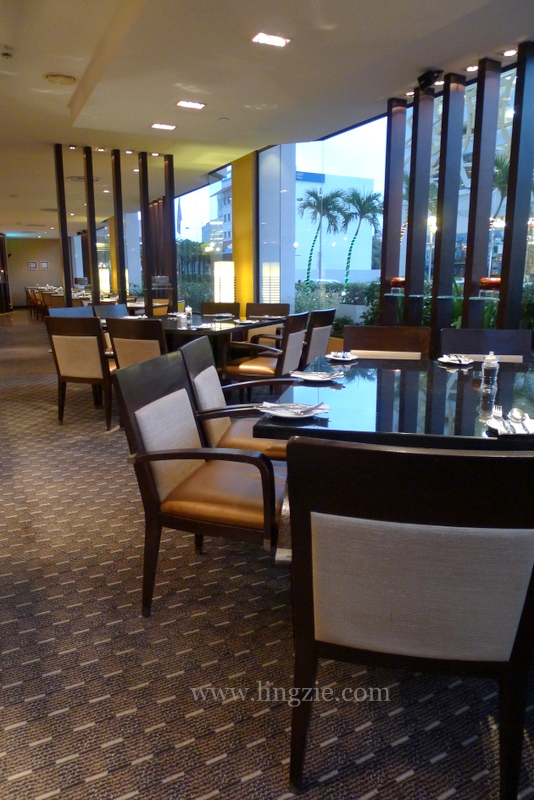 The Islander, Hotel Jen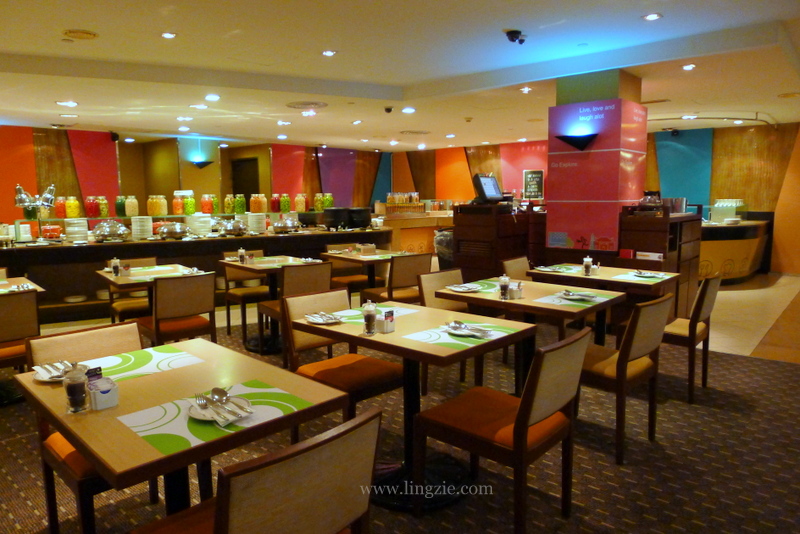 Hotel Jen has recently launched its new menu at The Islander and I was fortunate enough to sample their new offerings. Many thanks to Hotel Jen for extending this invitation!
I was delighted to note that there are quite a number of dishes catered to vegetarians (cos my mom is a full-time vegetarian).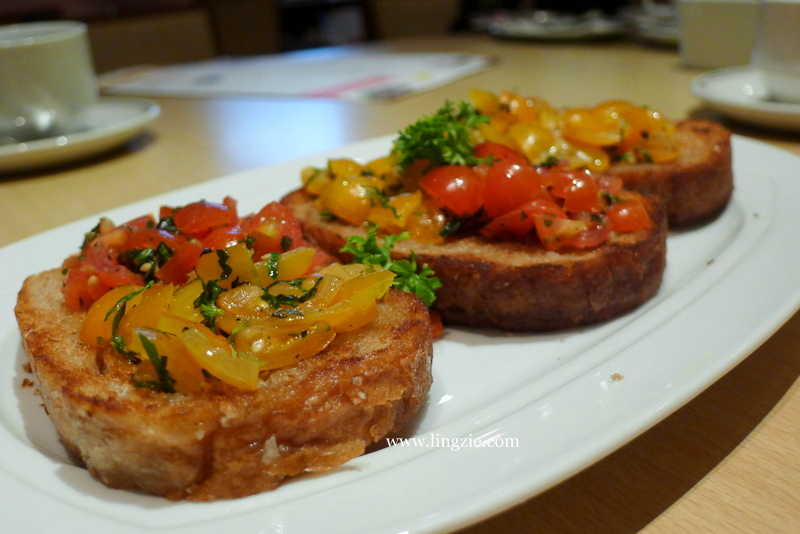 Bruschetta (RM17nett)
Kicking off the meal was their Starter – Bruschetta with red and yellow cherry tomatoes tossed with olive oil and garlic on a crisp and lighted charred rye bread. The garlic flavour was light but hints of basil came through with a lovely fragrance of cracked pepper. I always have a soft spot for Bruschetta so this is perfect for a quick bite.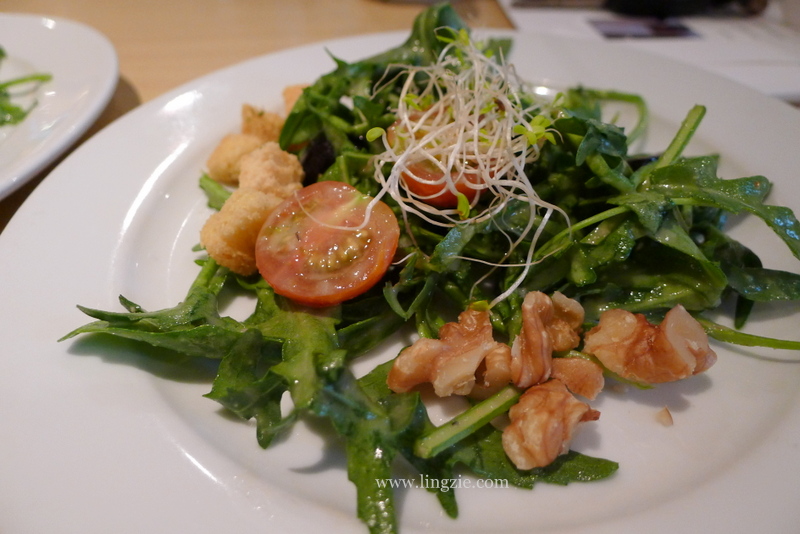 Arugula salad (RM16 nett)
Normally I'm not a fan of arugula because I find it to be bitter. (PS: I can never understand why all the chefs on Chopped describe Arugula as 'peppery'! It just tastes bitter to me…. sorry my tastebuds not very atas! lol)
Therefore, I tried this Arugula salad with a sense of trepidation… however, the Chef at The Islander paired this salad with a honey sesame dressing to offset the bitter arugula. And I must say that it really takes off the bitter edge.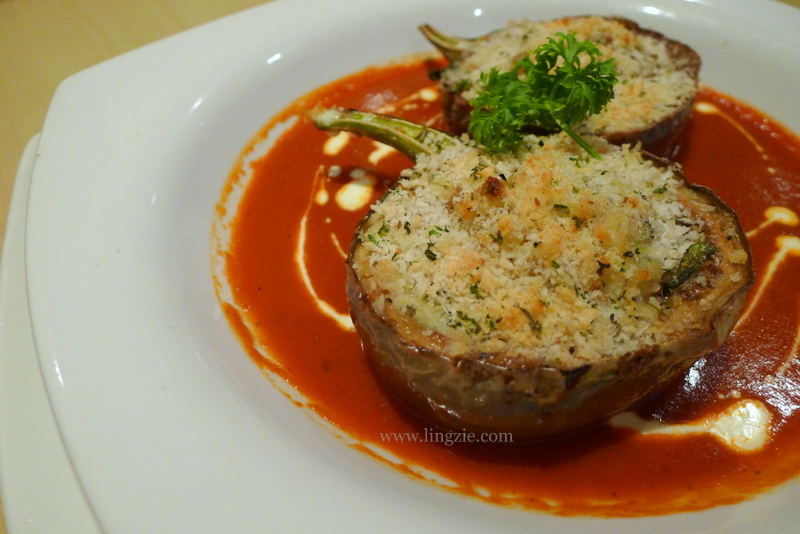 Pan Fried Stuffed Aubergine (RM45nett)
Next up – The Pan Fried Stuffed Aubergine. A very unique vegetarian dish that I've not seen thus far. The sweet aubergine is stuffed with cous cous and topped with cheese and Provencal herbs. It is then oven baked and served with smoked tomato sauce. The portion is also very substantial. I was stuffed after eating one half of the aubergine! I loved the smoked tomato sauce and the baked cheese & cous cous lent a nice crunch to contrast the soft texture of the aubergine.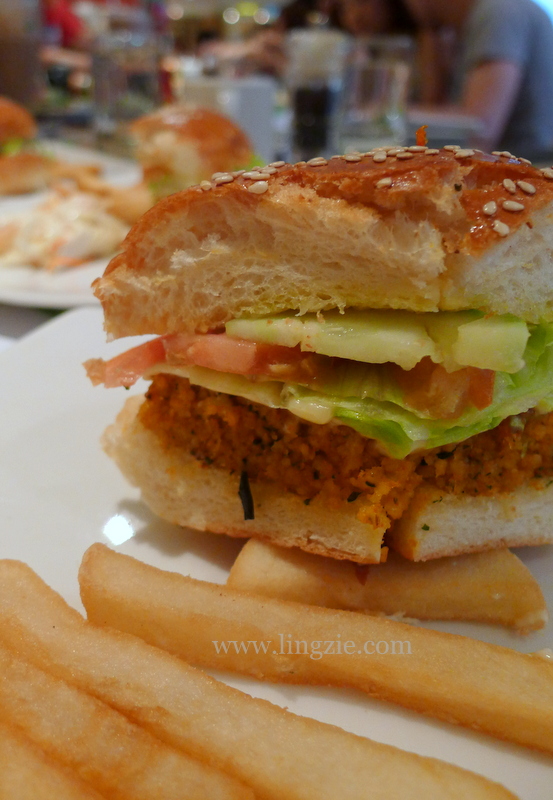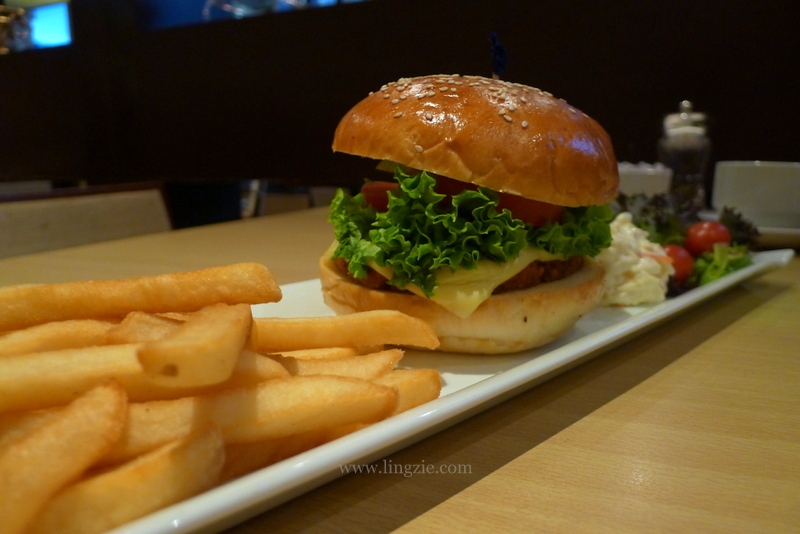 Grilled Burger with Vegetarian Patty (RM20nett)
For vegetarians who miss having burgers…. well The Islander serves up a grilled vegetarian burger to whet your appetites! The patty is made from couscous and potatoes and seasoned with Chef's special seasoning. I found the patty to be a bit salty for my tastebuds. Though it was an overall enjoyable burger. Perhaps the chef could consider adding some mushrooms for more bite and depth of flavour? hehe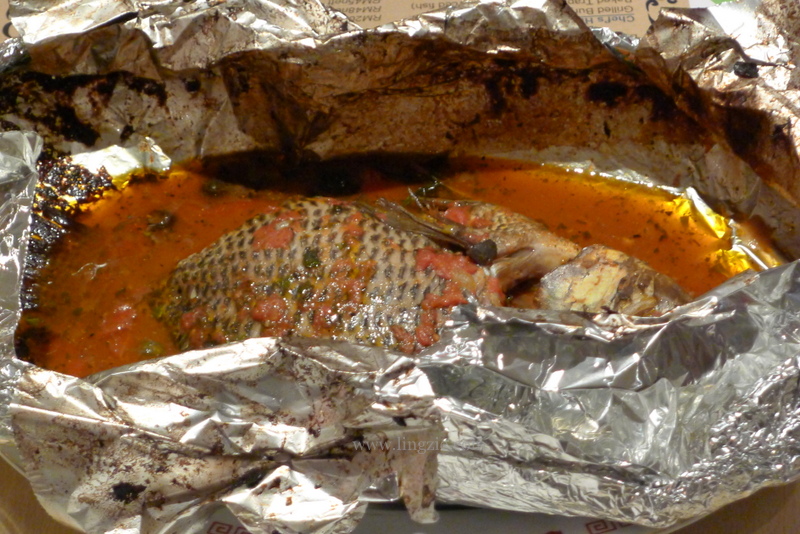 Baked Trapia (RM48nett)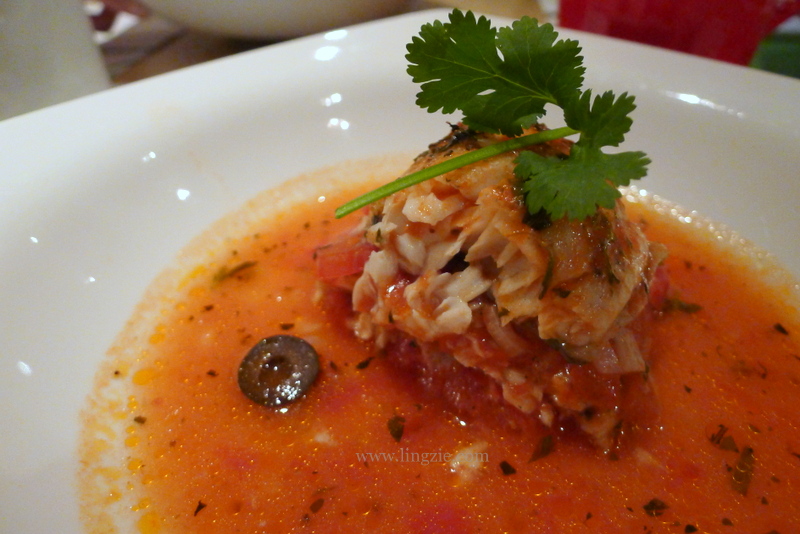 Next, we indulged in a whole fish (Hotel Jen uses sustainably-sourced fish Trapia sourced from local farms). The fish is seasoned with fresh herbs, olives, capers and tomato coulis, wrapped in foil and baked. When you open up the foil, a wonderful whiff of flavours come through. Do not be deterred by eating whole fish, for this dish is thoroughly enjoyable. The tangy soup has absorbed the sweetness from the fish and baking it has resulted in a deep smokey flavour. Eaten hot, this is definitely a comforting dish!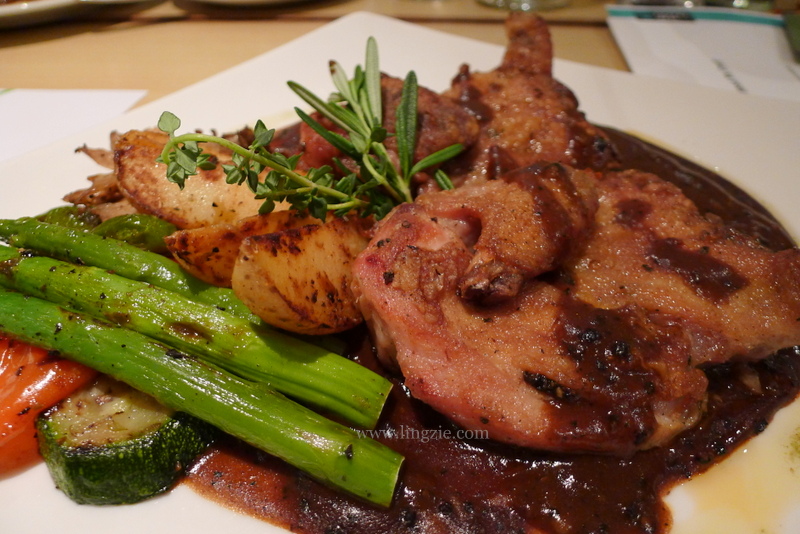 Chicken Rosmarino (RM53nett)
For diners who prefer something more meaty, the Islander also serves a delicious Chicken Rosmarino – spring chicken marinated with rosemary oil and served with balsamic pepper jus. Served with oven roasted potatoes, asparagus and greens. The spring chicken was well cooked and had a nice crispy skin!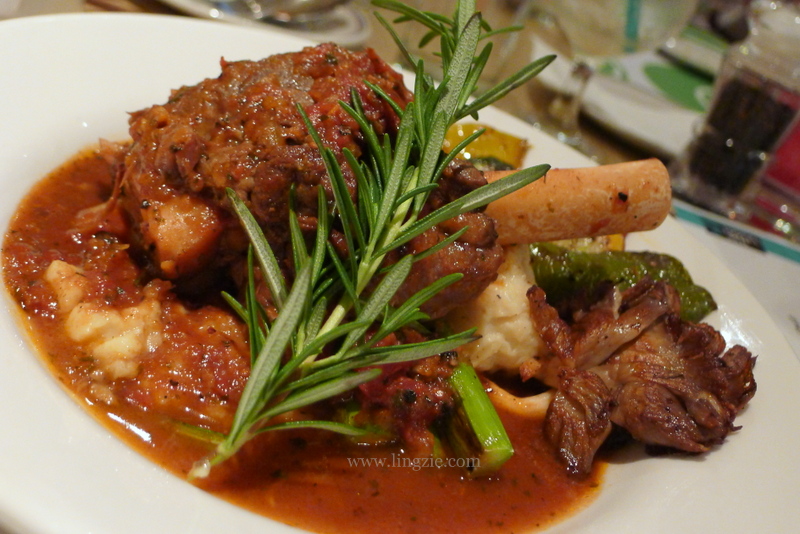 Lamb Osso Buco (RM58nett)
Meanwhile, the Lamb Osso Buco did not disappoint. The meat fell off the bone easily. This 400gm whopper is served with homemade creamy mashed potato, mushrooms (yay!) and greens.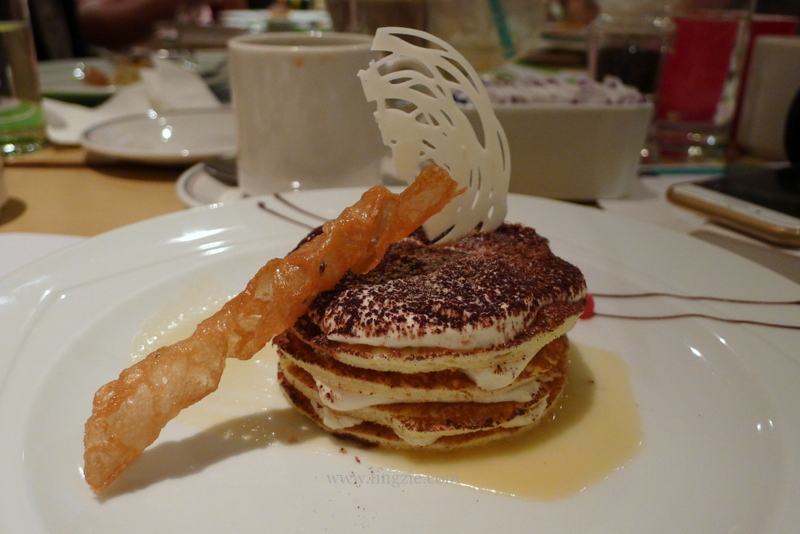 Tiramisu Pancake (RM20nett)
Last but not least…. dessert! We had TWO! ~happy dance~
First – The Islander's Tiramisu Pancake (or I like to call it Tiramisu with a twist!) Slices of sponge pancake are layered with mascarpone and cream and served with a espresso butterscotch sauce. This was an utterly divine dessert. The espresso flavour was prominent while the sponge pancakes were light and fluffy. A cup of coffee would go very well indeed with this dessert.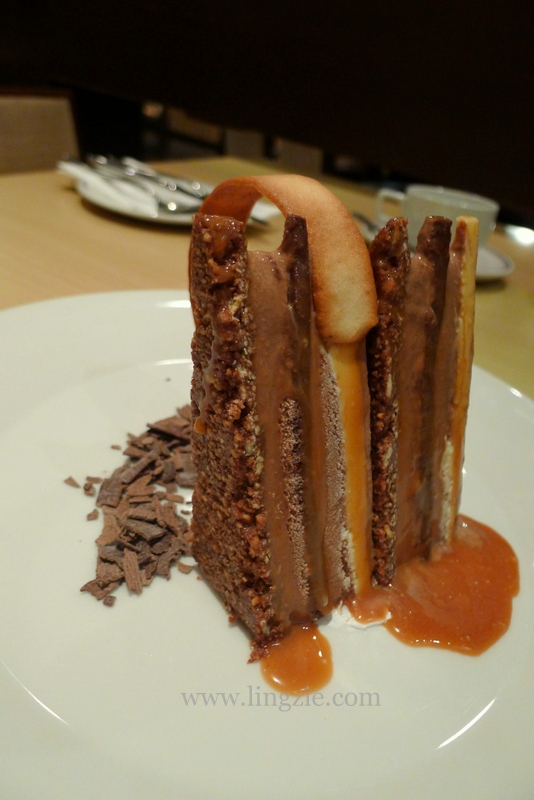 Jen's Signature (RM18nett)
I thought the Tiramisu pancake was divine….
Then came… Jen's Signature! At first look – definitely a very unique looking dessert.
Chocolate, check.
Ice cream, check.
Some nutty crunchy layer for texture (lol), check.
Caramel sauce, check.
~mindblown~ Now THIS is what you call a divine dessert.
Based on a traditional mud pie, Hotel Jen amps it up and gives it their very own twist. It is sweet and decadent. So chocolate lovers, please indulge with caution! ~evil grin~
The Islander is open for all day dining from 6am-11pm 7 days a week.
For reservations, do call 04-2622622 (ext 8010).
Hotel Jen Penang
Magazine Road
10300 Georgetown, Penang.