New to the Penang food scene is La Bella Ristorante, housed at 36 Leith Street in the heart of Georgetown, Penang. Some might find the building familiar, as it was previously Kwong Sang House cafe.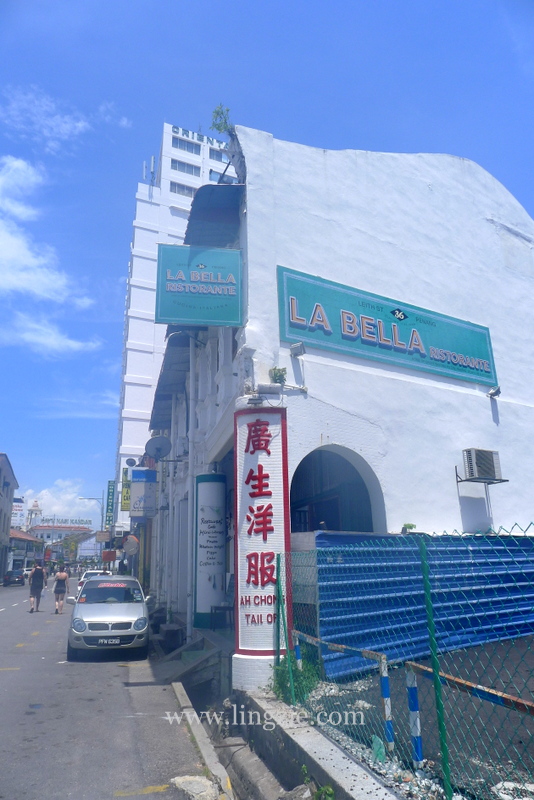 La Bella Ristorante still maintains the old tailor shop signboard on its facade, as well as the tailor themed decoration in the interior with some tweaks and updates. As the name suggests, La Bella serves Italian cuisine with pastas and pizzas as well as cocktails and wines.
Many thanks to La Bella Ristorante for hosting us. 🙂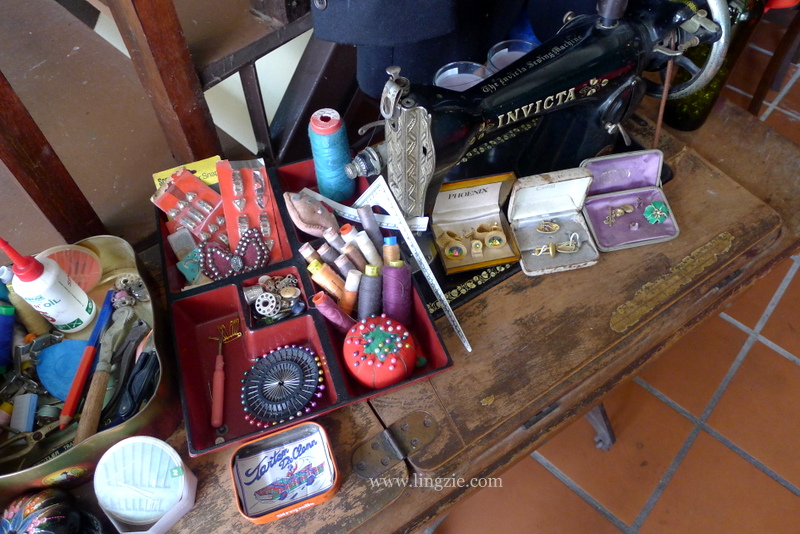 Tailor shop themed decoration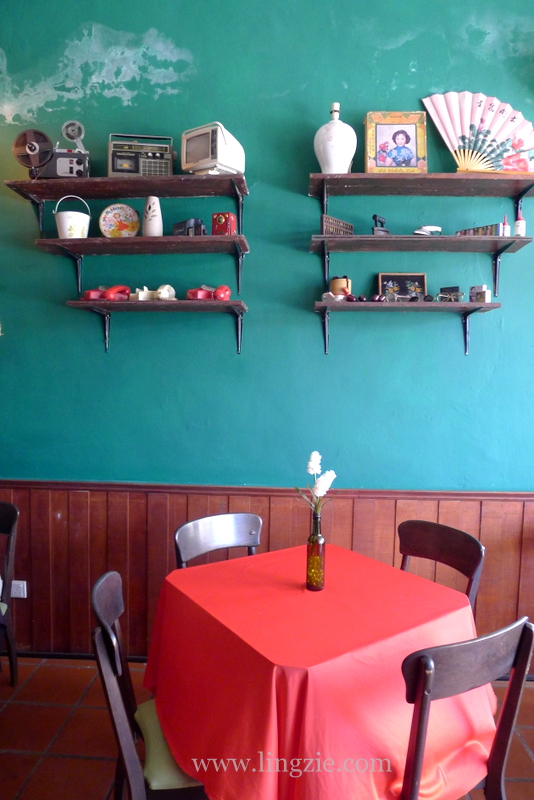 There is a lovely laid back vibe to the place and I was delighted to note that La Bella also hosts local musicians from time to time to play at the restaurant for a night of drinks, tapas and music. An awesome way to chill out~~ Do check their Facebook page for updates.
Our lunch started off with some delectable drinks…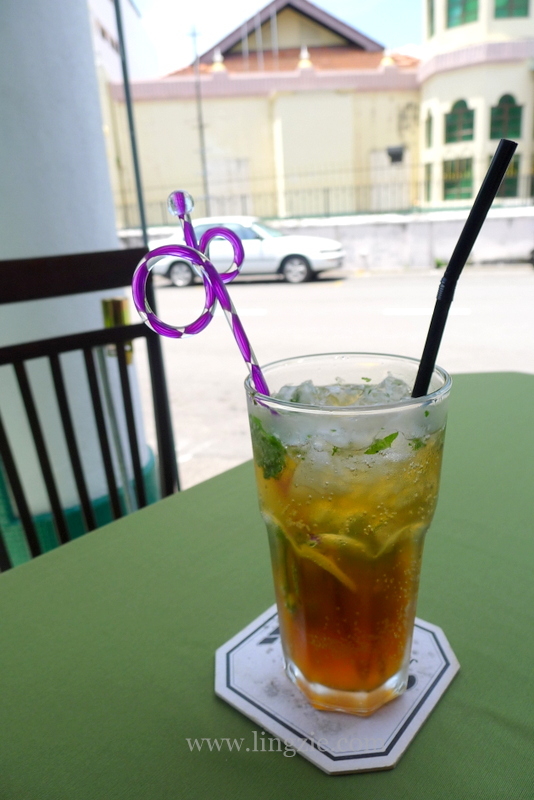 Mojito (RM16) – this drink packed a punch, with a strong but not overpowering taste of rum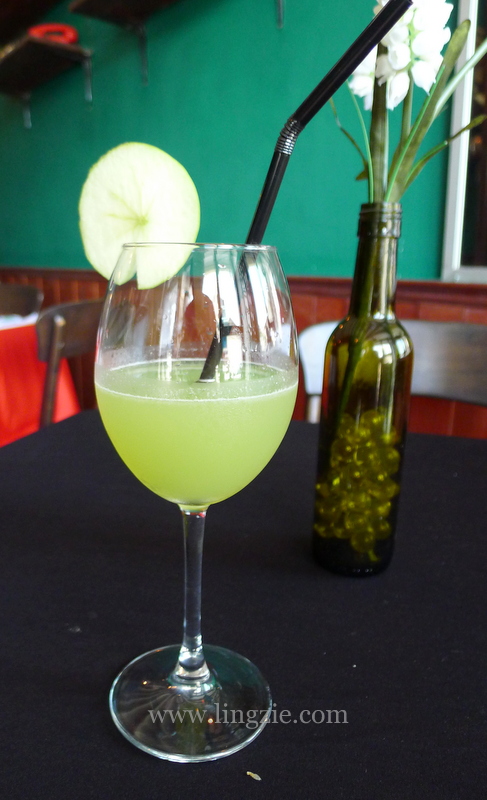 As good as the Mojito was, I would recommended this Sangria Bianco (RM16). A fresh apple juice and white wine concoction with hints of lime and whiskey, this drink hits the spot. It was light and refreshing. Perfect for Penang's hot weather. I'm betting that most ladies would love this drink too! 🙂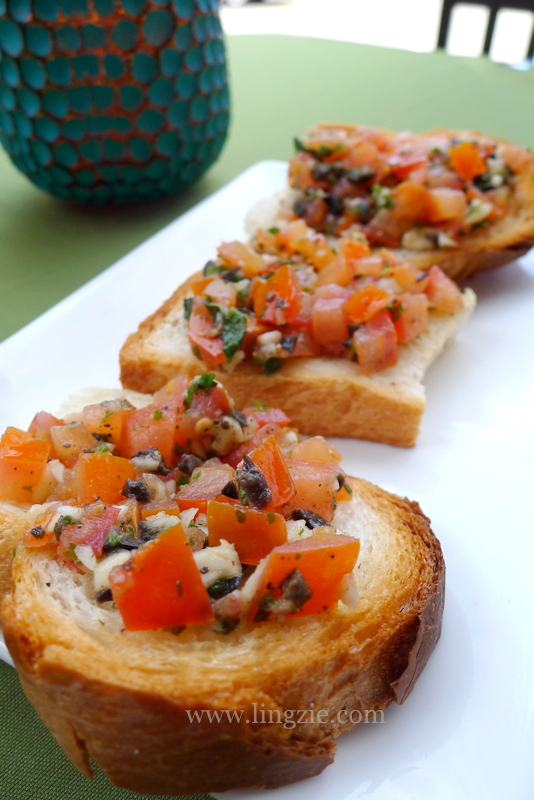 For appetizers, we tried the Bruschetta (RM8 for 4pcs) and Garlic Bread (RM6). Both were served using local Benggali bread instead of a traditional baguette, which I thought was a nice local touch. The Bruschetta had well balanced flavours of garlic mixed with the juicy tomatoes and olive oil. I love bruschetta and La Bella's is definitely worth trying.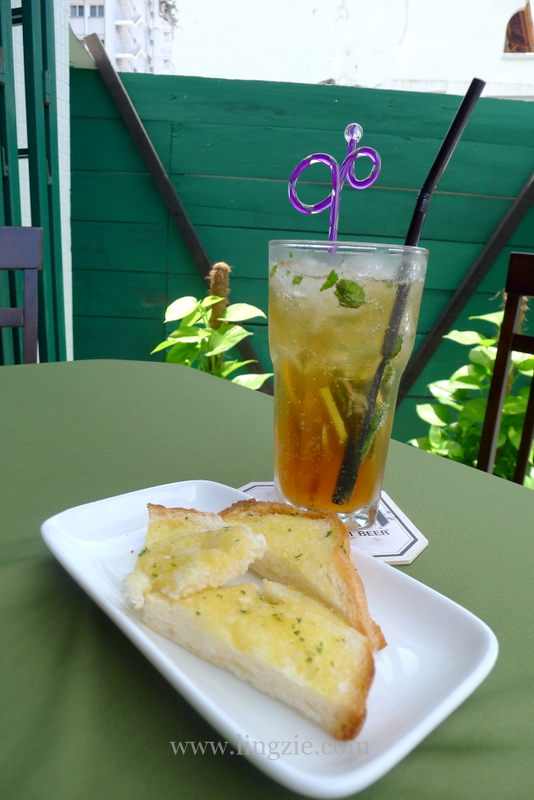 Garlic Bread (RM6)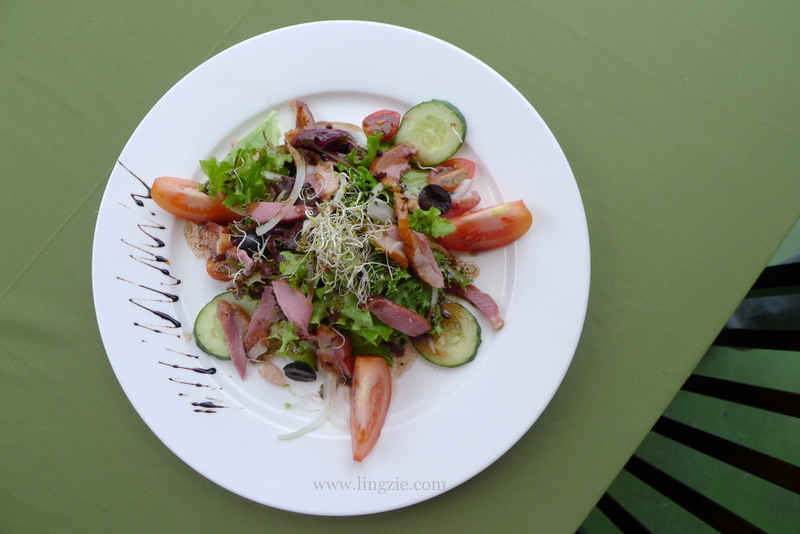 Smoked Duck Salad La Bella (RM12)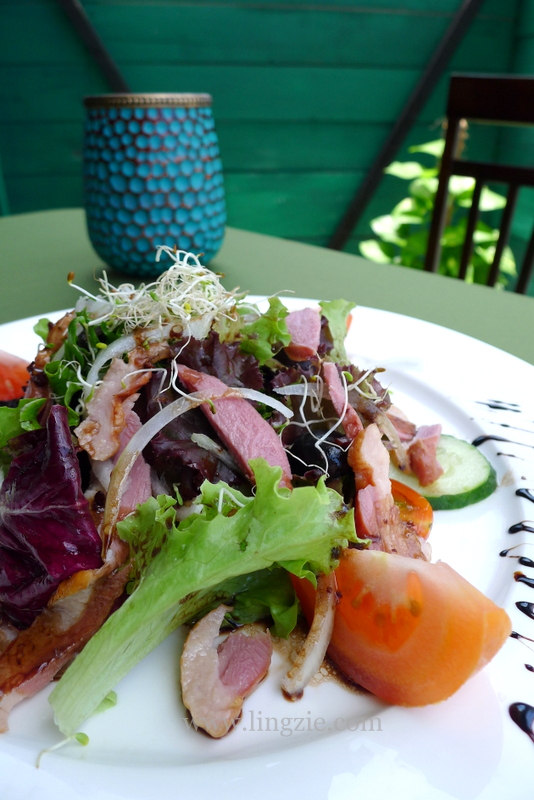 Next, we tried Smoked Duck Salad La Bella. This salad came in a hearty portion with generous slices of smoked duck. The balsamic vinegar dressing lightened the richness of the smoked duck, and was thoroughly enjoyable. I reckoned it would be a great appetizer for sharing before diving into the mains 🙂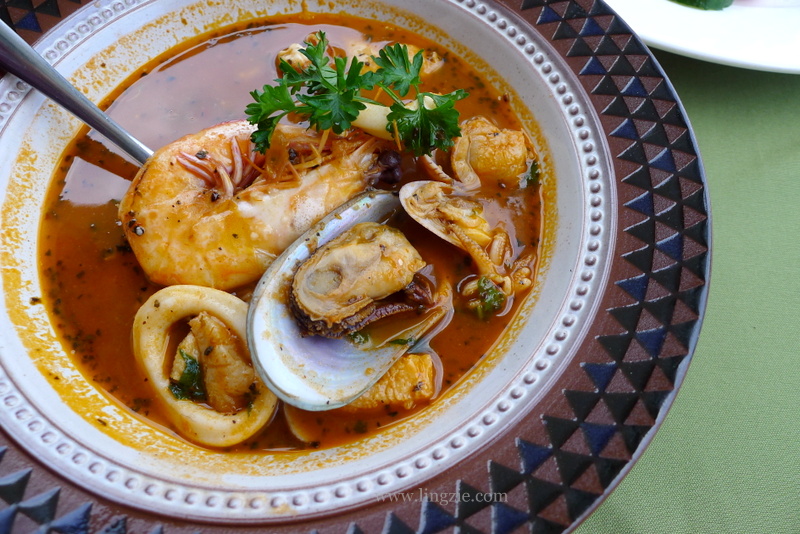 Zuppa di Frutti di Mare (Seafood Soup) RM14
Next came La Bella's Seafood soup – it was filled with mussels, squids, clam and tiger prawn. The soup broth was flavourful and tasted of the sea without being 'fishy'. Plus the tiger prawn was really fresh. A hearty soup indeed!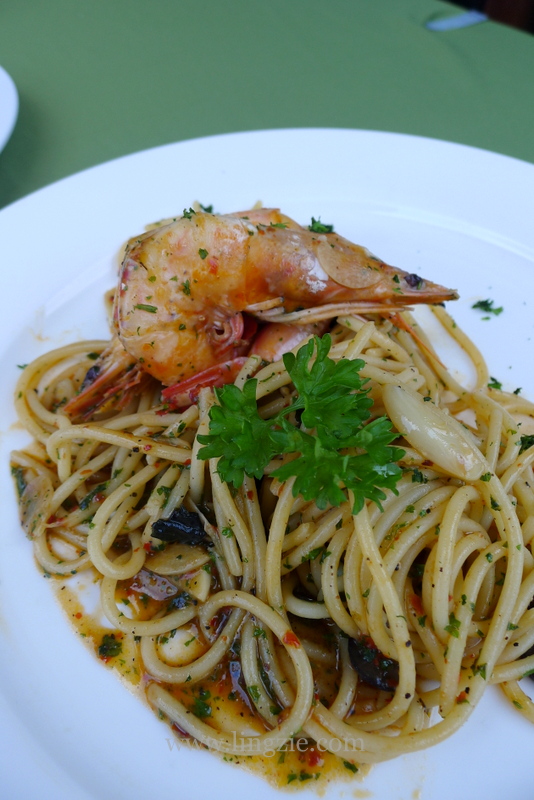 Aglio Olio Prawn RM22
Moving onto mains, we tried the Aglio Olio Prawn. A traditional Italian pasta dish with simple flavours, La Bella's  version has chilli flakes and freshly ground pepper for an extra spicy kick. Topped with prawns which were super fresh. The Aglio Olio was a bit more wet with a bit of sauce. However, personally I would have preferred my spaghetti to be a bit more al dente.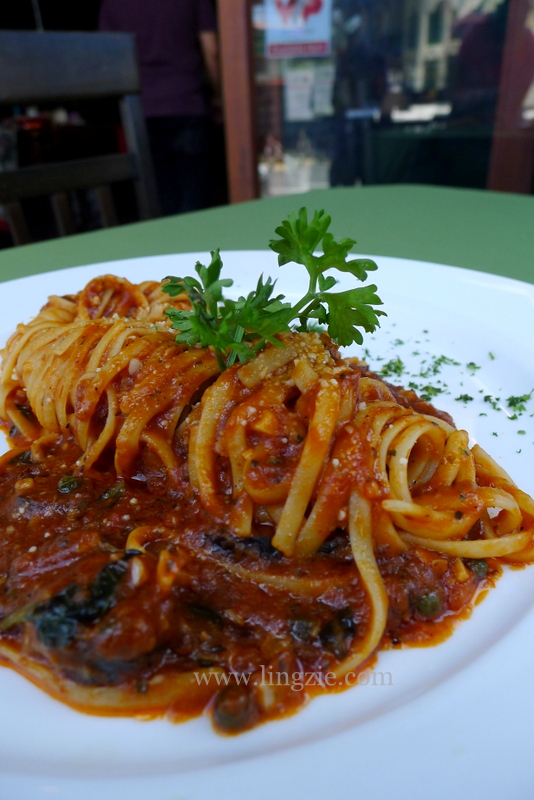 Puttanesca pasta (RM26)
La Bella has about 12 pasta dishes, so it was tough picking another choice of pasta to try. But we were urged to try the Puttanesca – a pasta dish that's not commonly found in Italian restaurants on the island. Served with premium anchovies, capers and black olives, I was worried that the anchovy would be too overpowering and too salty for me. But I was pleasantly surprised. The pasta sauce was briny but full bodied and went perfectly with the linguine. La Bella also serves Squid ink spaghetti (surcharge of RM2) and I would love to try the Puttanesca with the squid ink spaghetti on my next visit!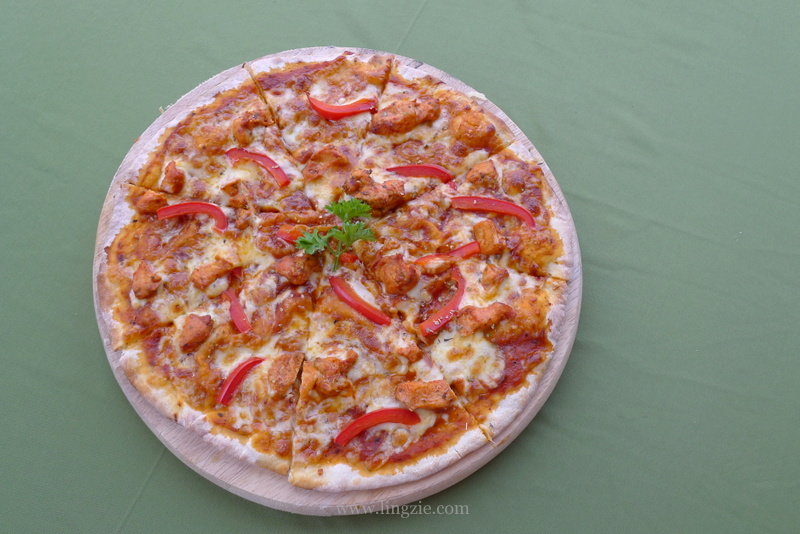 D' Pollo Pizza RM18
And of course, we can't miss out on the pizzas at an Italian restaurant. We tried D' Pollo pizza – chargrilled chicken pieces with red peppers on a homemade pizza dough and baked in a stone oven. I enjoyed the pizza dough and the generous amount of chargrilled chicken pieces. However, I would have preferred a stronger taste of Italian herbs.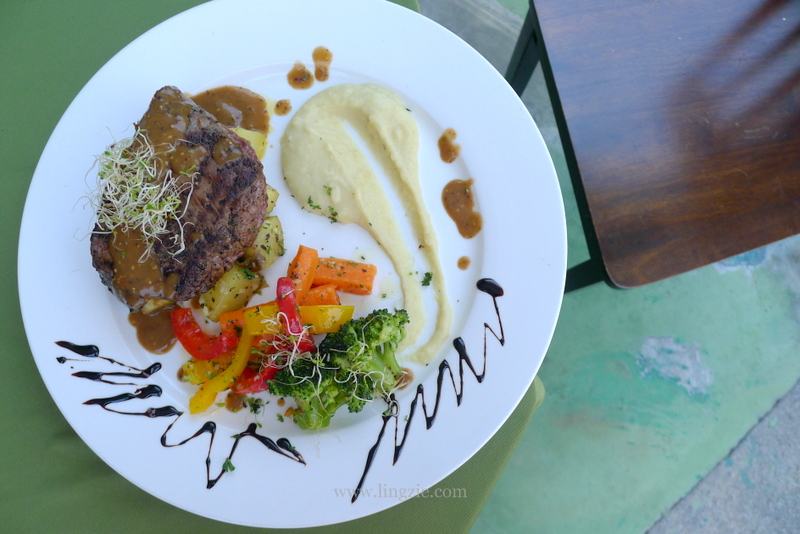 Filleto di Manzo RM38 
Beef fillet cooked with balsamic and rosemary sauce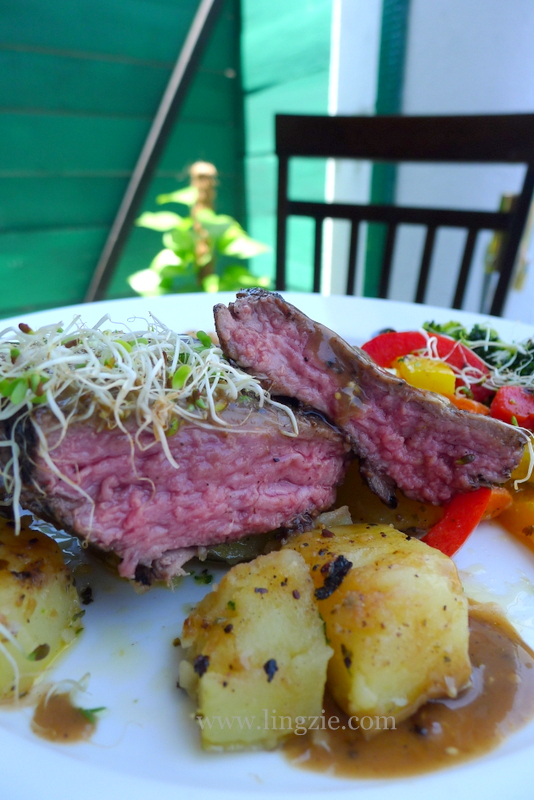 I must say that the star dish of the meal was the Filleto di Manzo – a 220g grain fed chilled beef fillet cooked to perfection. See how pink, juicy and succulent it is on the inside? The beef was so easy to cut through with a lovely sear on the outside. The steak was flavourful with hints of rosemary and melted in my mouth. Served with roasted potatoes and greens – this was easily my favourite dish of the meal. Priced at RM38, it is indeed a steal. So the next time you have a steak craving, La Bella Ristorante is the place to go to!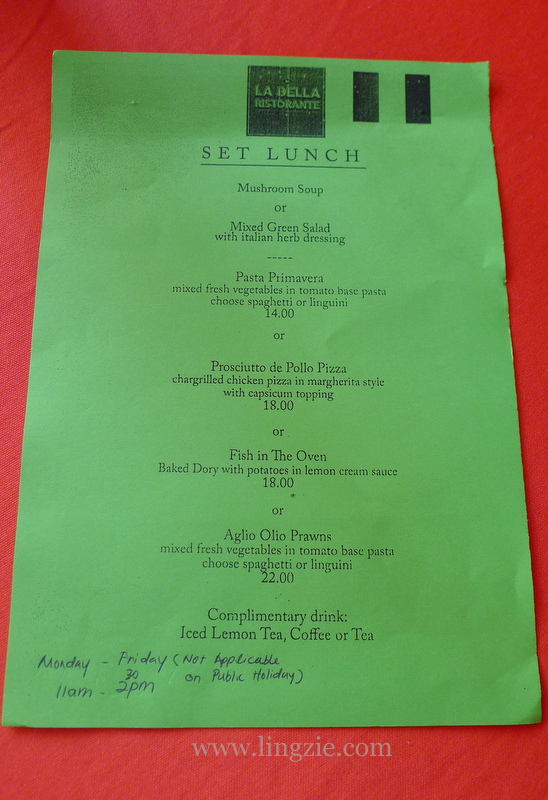 La Bella Ristorante's set lunch (starting from RM14) Available from Mon- Fri 11am-2.30pm
Overall, we had a lovely meal at La Bella. My personal favourites include the Bruschetta, Smoked Duck Salad, the Seafood soup, Puttanesca pasta and that amazing steak (Filleto di Manzo). ~drools~ 😛 😛 😛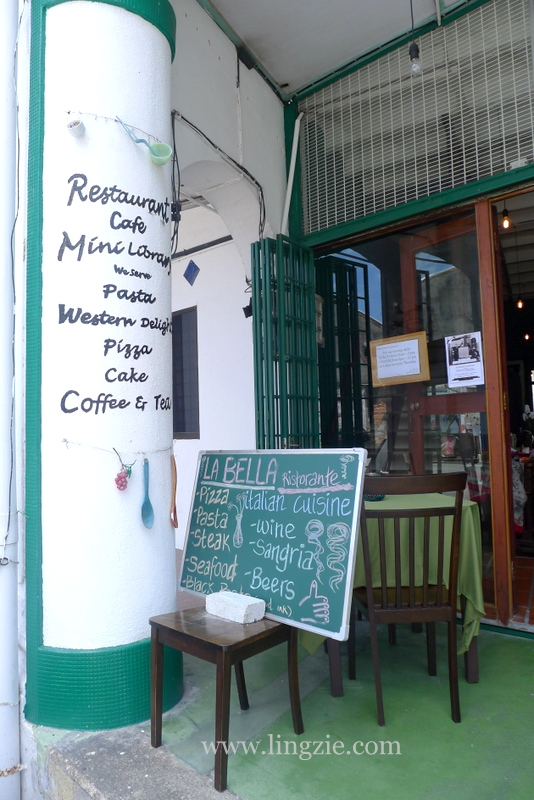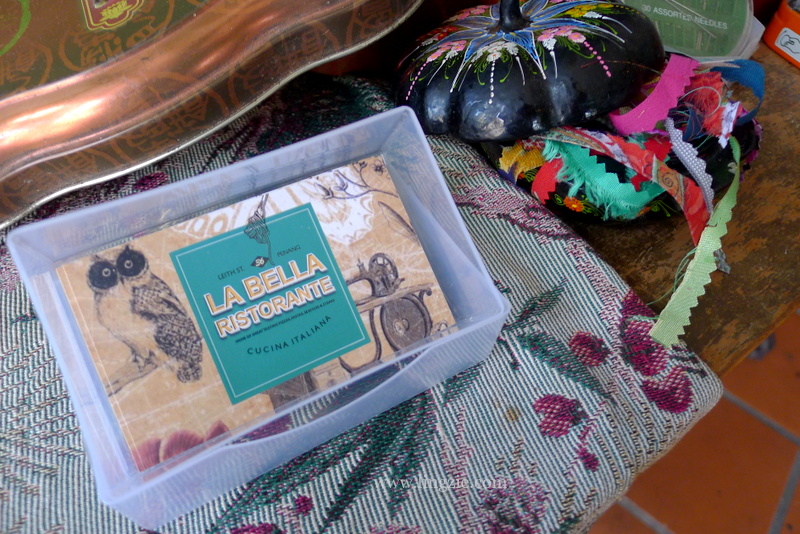 The Essentials:-
La Bella Ristorante
36 Lebuh Leith, Georgetown, Penang
TEL: 016-416 0717
Opening hours: 11am-3pm, 6pm – 11pm (CLOSED ON THURSDAYS)
http://www.facebook.com/labellapg
All Prices are NETT. No Service Charge. No GST