I'm a big fan of Thai food, so when the invitation came to try out a relatively new Thai food eatery along the ever busy Perak Road, I cleared my schedule and said YES! hehehe…
My excitement was also due to the fact that I haven't had Thai food in a while, so I arrived at Khidthung Thai Seafood Tomyam place with high hopes, anticipating a sour-y spicy night!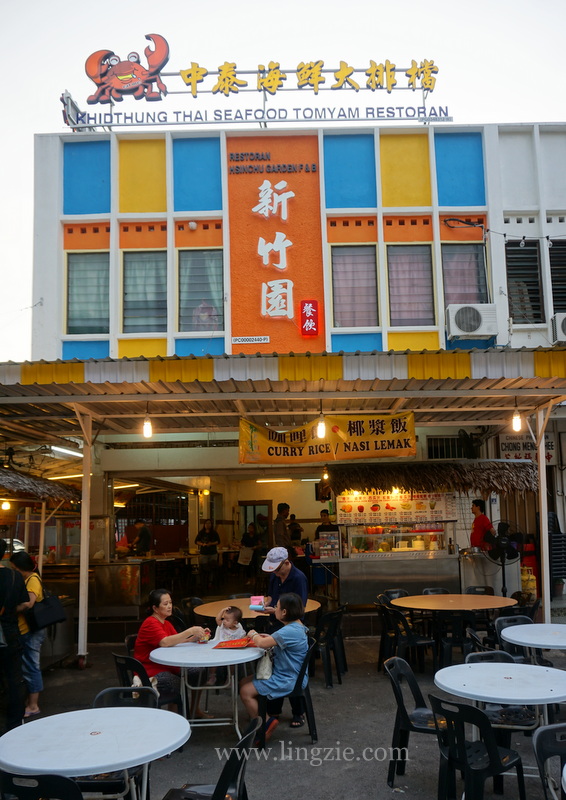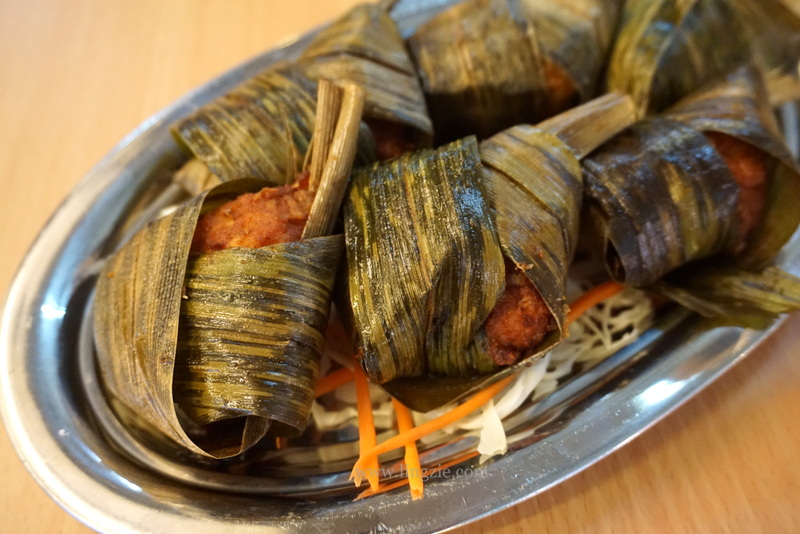 Pandan Chicken RM13 (Small)
We kicked things off with a perennial favourite – Pandan Chicken. Served with sweet Thai chilli sauce. The portion was generous with 6 pieces for the small size. The chicken came out hot which was a plus. Would be a hit with kids, I reckon. We seem to be off to a good start.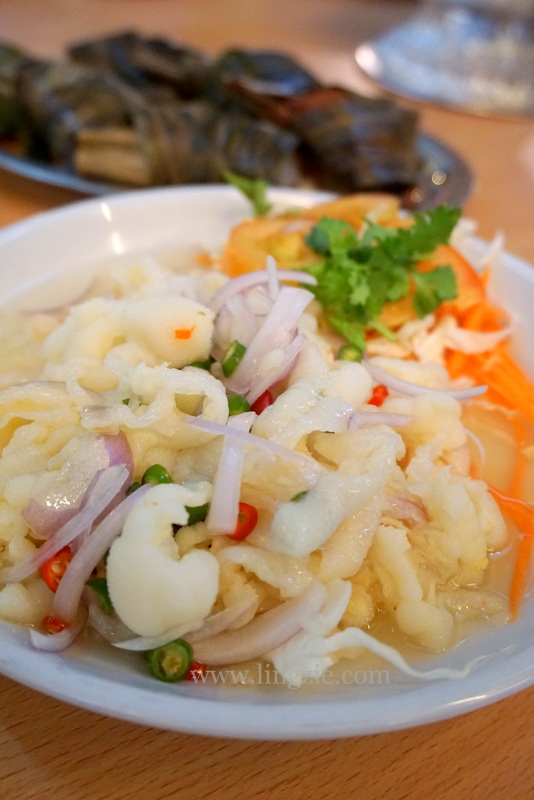 Chicken Leg Kerabu RM13 (small)
Next appetizer was the Chicken Leg Kerabu. I'm not a fan of chicken leg (even though it's got lots of collagen!), so I just had a small bite of this. I would have liked the chicken leg pieces to be smaller, but the sour and sweet flavours were pretty good.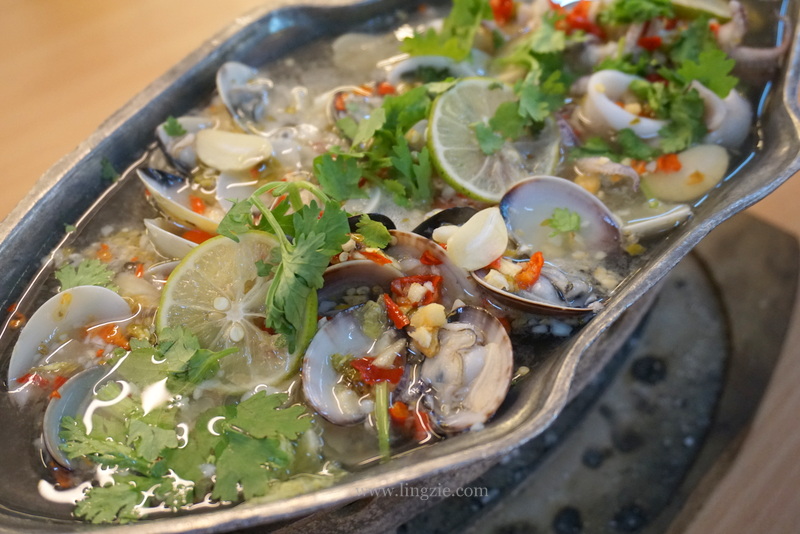 Then came my favourite dish of the night – their Thai Lemon Steamed Seafood… there is an option to select the seafood that you prefer (fish, prawns etc) but we were served the squid & 'kappa' (clams) combo. This is one of Khidthung's signature dishes as we observed that 90% of the other patrons ordered this dish.
And I could easily understand why. The flavours are well balanced, sweet, sour and spicy at the end. As the soup boils down, it gets even sweeter as the soup stock has absorbed the sweetness from the seafood. I kept going back to this dish throughout the dinner (& was so tempted to 'tambah nasi' just so I could douse the white rice in the soup stock!)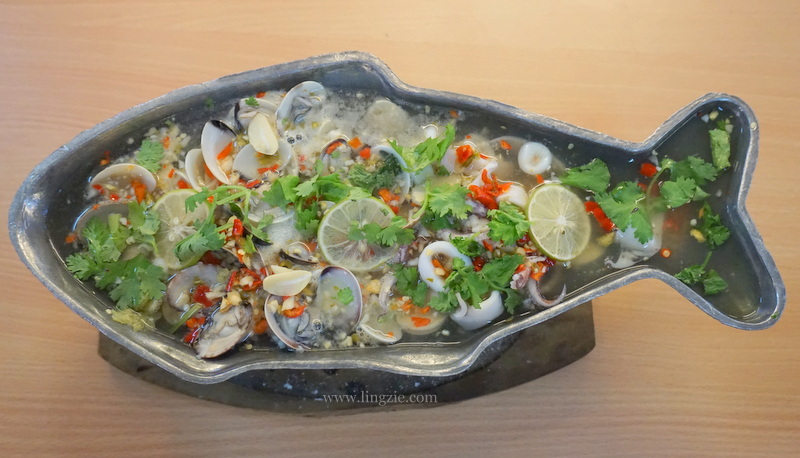 Thai Lemon Steamed Seafood – Squid & 'Kappa' RM23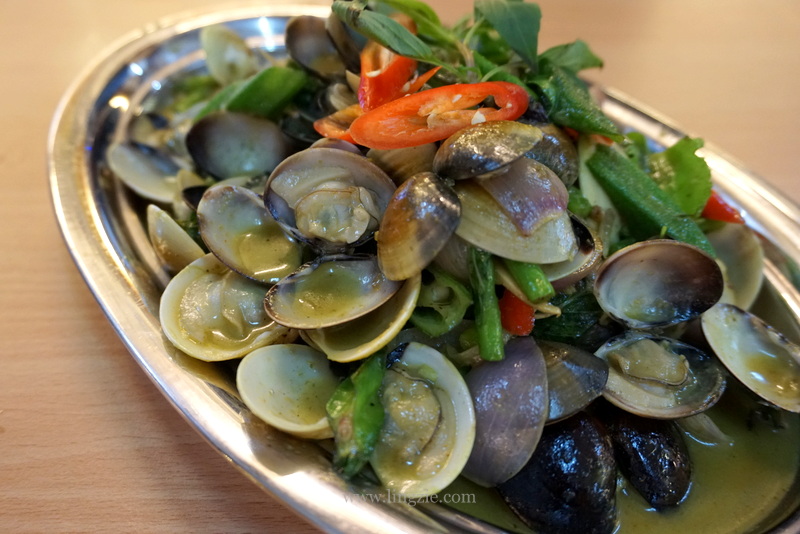 Green Curry Kappa RM18 (small)
Next was an interesting dish, 'kappa' (clams) again. But this time cooked with green curry! I was quite delighted with this dish, the green curry was flavourful and light, not as thick as the ones I'm more used to. But delectable nevertheless. I also liked the addition of four angled beans and ladies fingers in this dish for some crunch.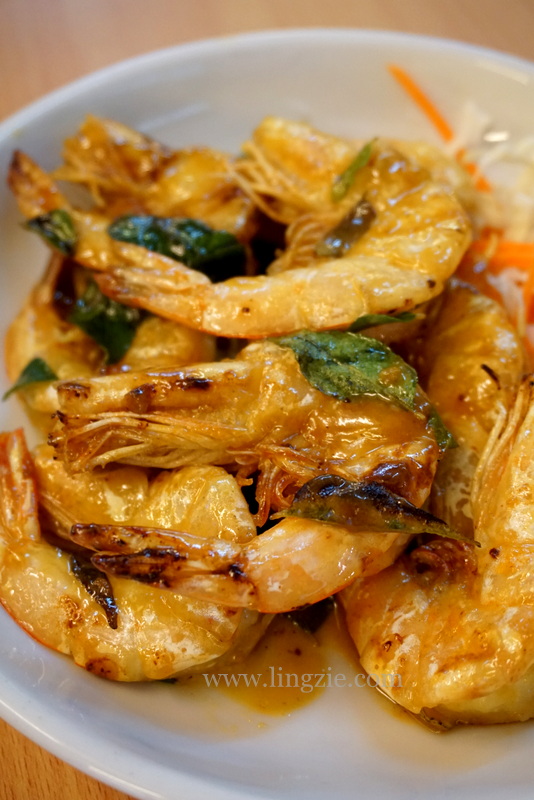 Fried Prawn with Signature Sauce RM22 (small)
What is Khidthung's signature sauce? Their own concoction using Sunquick! The fried prawns dish was enjoyable and while I couldn't really discern the Sunquick taste in their sauce, I found that the prawns were well cooked and aromatic. A good option for diners who prefer something non-spicy.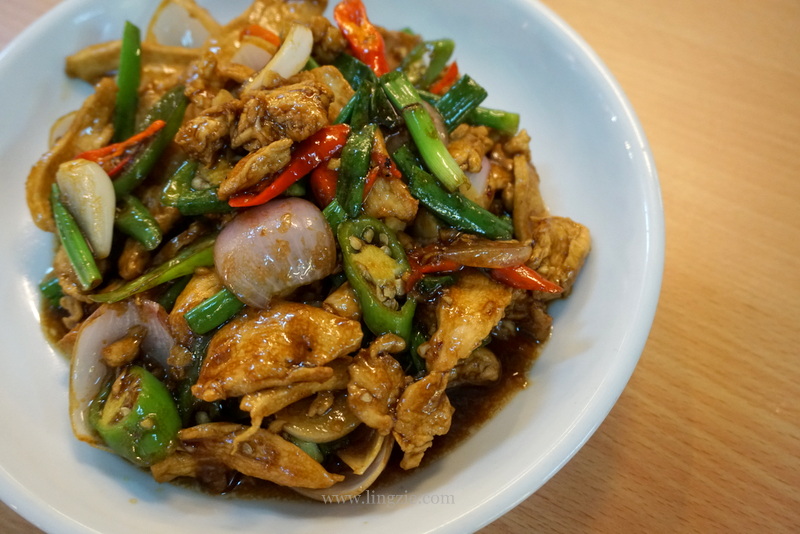 Phad Phed Chicken RM14 (small)
Next, we tried the Phad Phed chicken. This is a mild dish cooked with Thai Soya Sauce, so its suitable for diners who prefer something non spicy. The chicken pieces were tender and juicy. Not bad, but my attention was being diverted to… the roast pork dish!!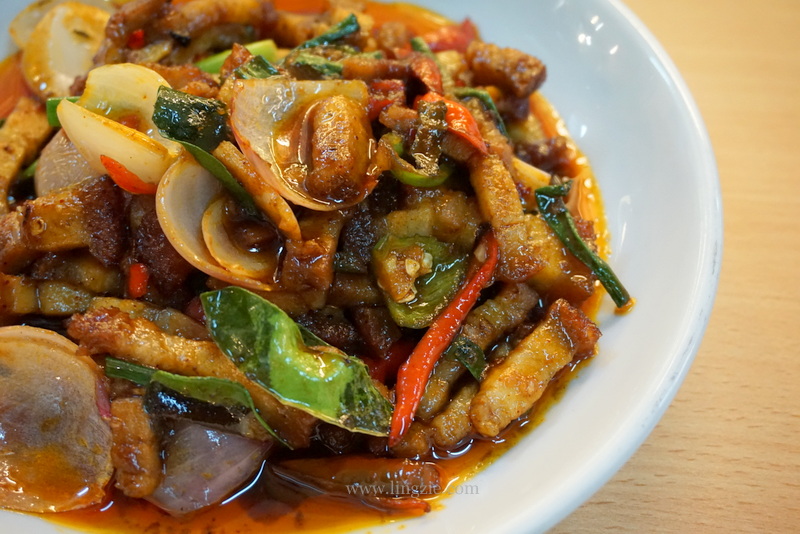 Phad Pi Pau BBQ Pork RM15 (Small)
Phad Pi Pau BBQ Pork dish may have a difficult to pronounce name. But it is a thoroughly enjoyable dish with slight hints of Thai basil. I did not find this dish spicy too despite its fiery red colour. Rather sinful dish but the flavours stand out making it worth a few calories 😛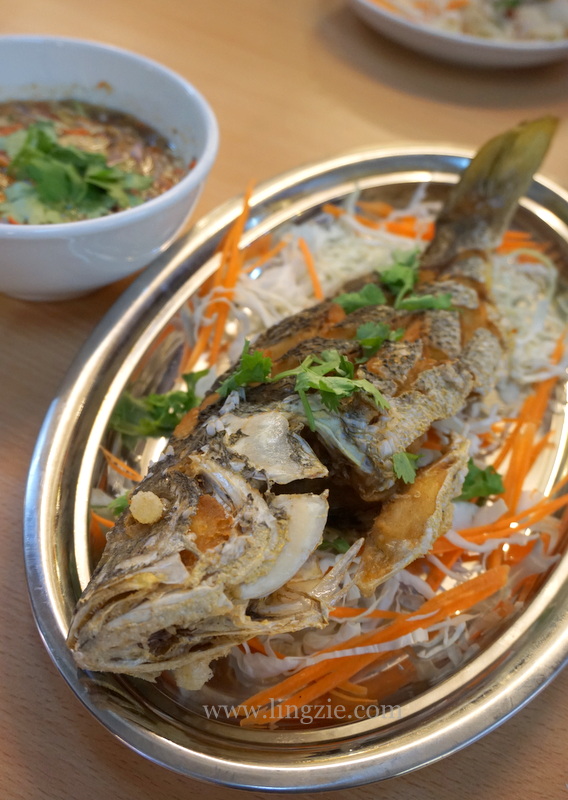 Thai Kerabu Fish RM48
(pricing is in the range of RM45-52 depending on the size of the fish)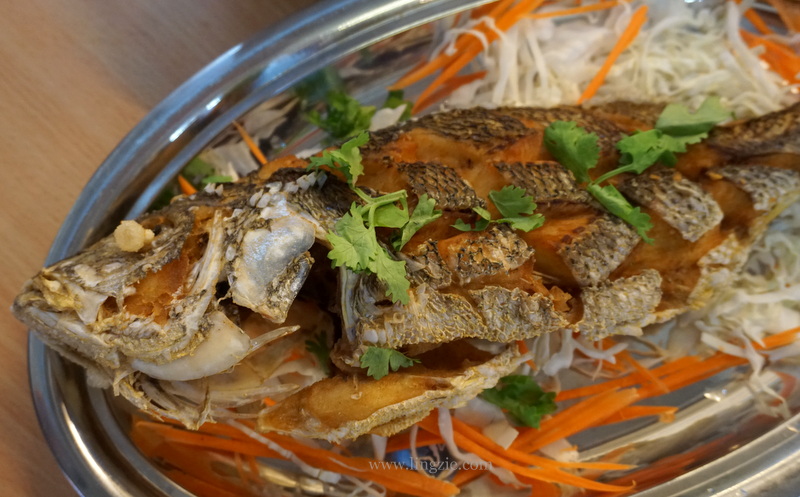 The Thai kerabu fish was another hit. The fish is deep fried and I like that small incisions were made to portion out the fish, making it easier to eat and also for the sauce to coat through the fish. The fish was not overly deep fried and still maintained its juiciness. The accompanying sauce is tangy and delicious – made up of sliced mangoes, onions, nuts, dried shrimp (and a host of other yumminess)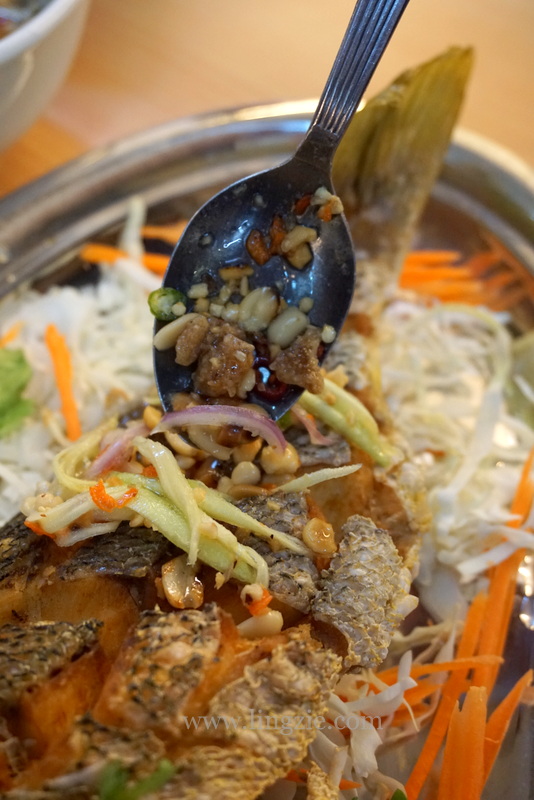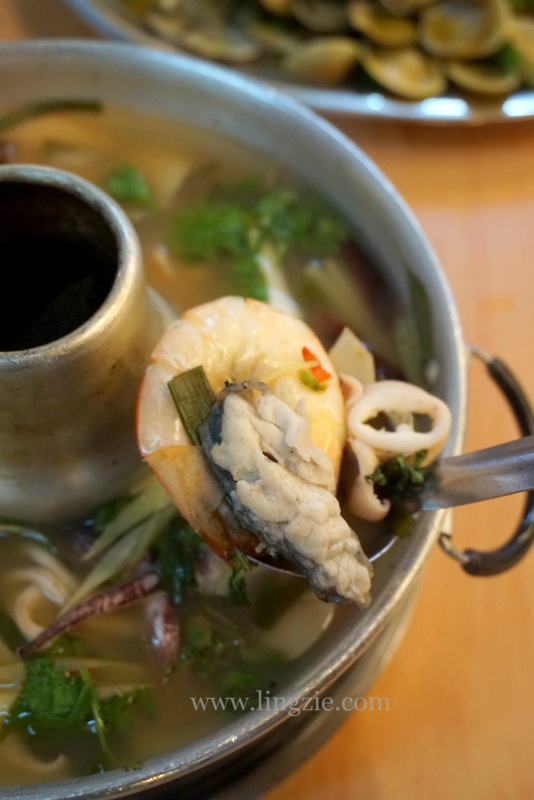 Seafood White Tomyam RM22 (Small)
And of course, not forgetting…. Tomyam!! We had the more unique White Tomyam with seafood. The tomyam broth was light and clear with a lovely sweetness from the seafood. I found the sour-ness just right for me (I don't really like overly sour or tongue numbingly spicy tomyams) So this white tomyam agreed with me very well.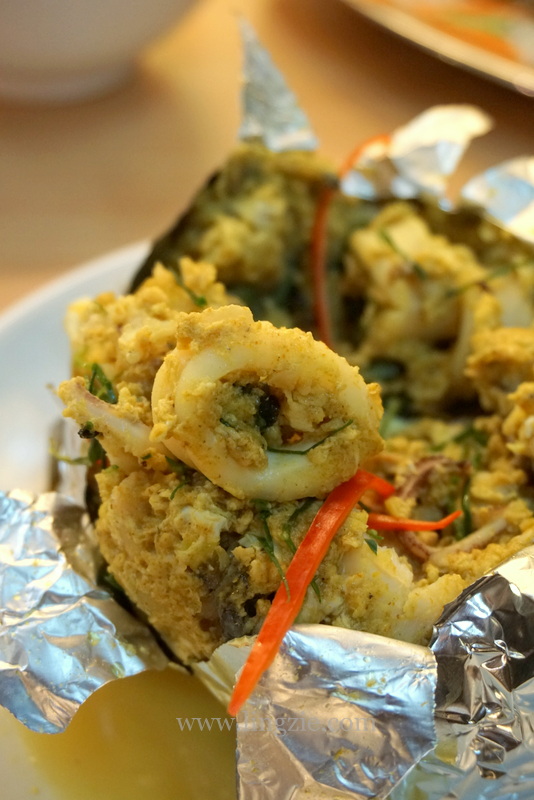 Thai Otak-Otak RM22 (Small)
Last but not least, we also tried the Thai Otak-otak. This wasn't really outstanding for me. Perhaps I found the filling a bit dry – would have preferred a silkier and richer otak-otak. It wasn't a bad dish. But to my personal tastes, just not as outstanding as the other dishes we had prior.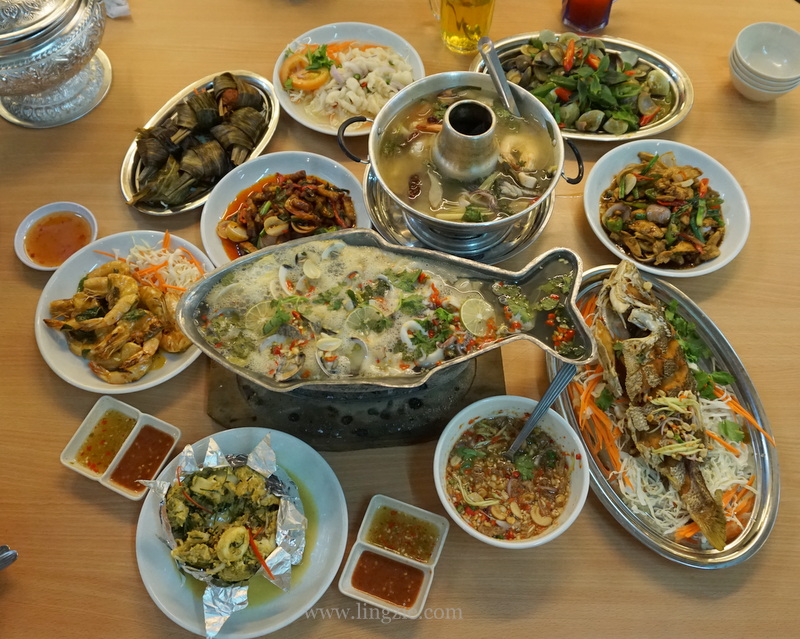 Group shot! Yummeh~~
Overall, I was definitely impressed with the food that we tried at Khidthung. Most of the flavours were intense and yet balanced. So I was not surprised when we were told that the chefs at the helm of Khidthung are from Thailand.
The portion sizes are generous and I find the prices reasonable.
I'm looking forward to coming back again soon especially for that Thai Lemon steamed seafood dish and the white tomyam, oh wait! and the green curry clams~~~ 🙂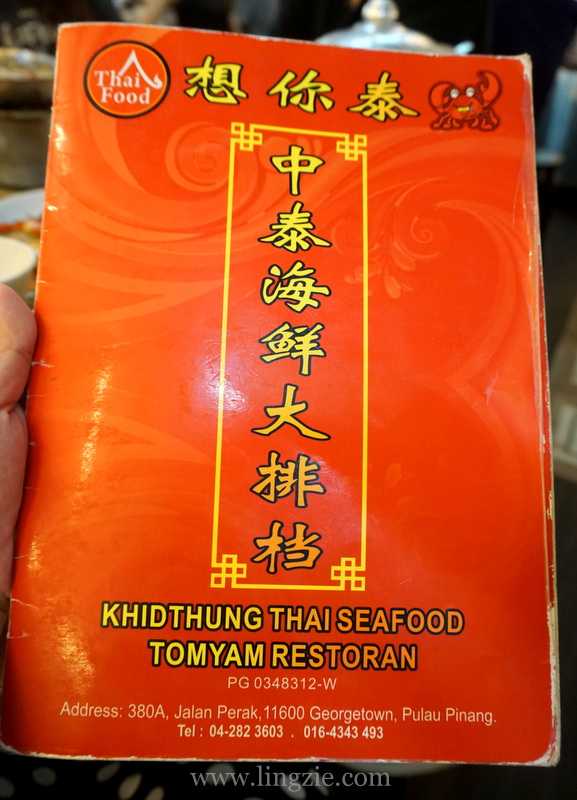 Khidthung Thai Seafood Tomyam Restaurant
380A Perak Road, 11600 Georgetown, Penang
Opening Hours: 5pm-10.30pm DAILY
TEL: 04-2823603
Connect with Khidthung Thai Seafood Tomyam Restaurant