We noticed a new eatery at Gurney Plaza recently – Arashi Shabu Shabu. Having opened its doors on 1st May 2016, we managed to get a table one evening and were greeted by the friendly head chef who kindly gave us a short introduction of the menu. Turns out that Arashi Shabu Shabu originates from Johor with 6 branches and this is their first branch out of Johor.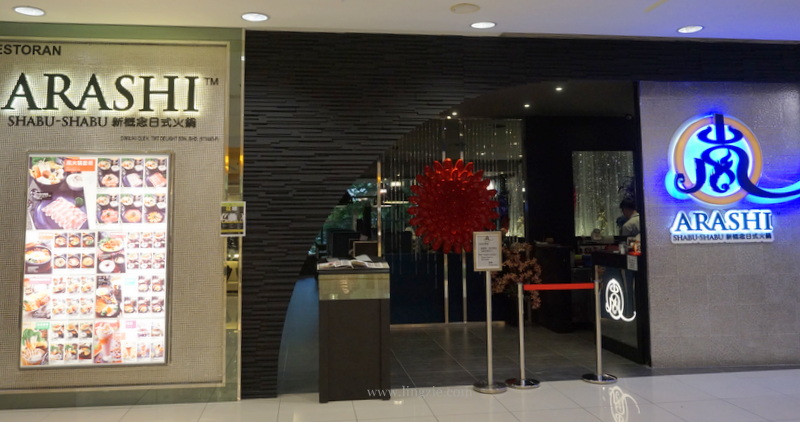 Arashi Shabu Shabu, Level 3, new wing of Gurney Plaza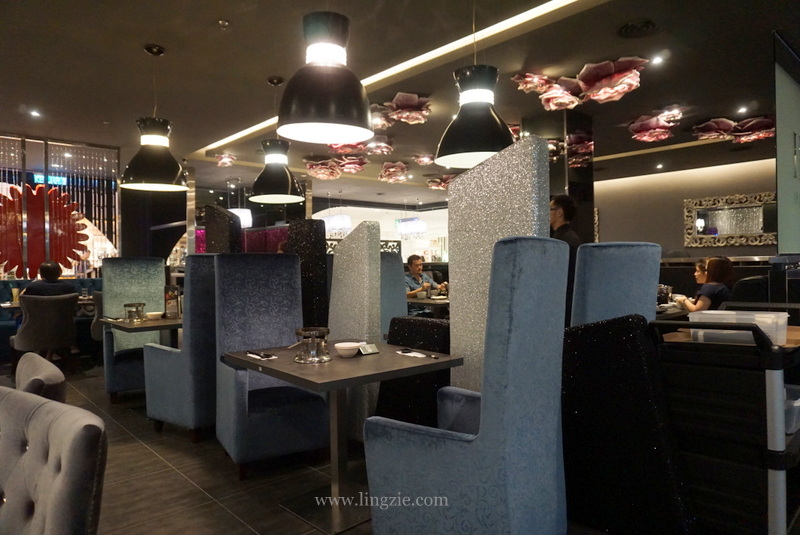 Opulent, classy interior
Thumbing through their rather extensive menu, we were delighted to note that they have TEN different soup bases for their Shabu Shabu. For those not so inclined, Arashi also offers bibimbap and teppanyaki.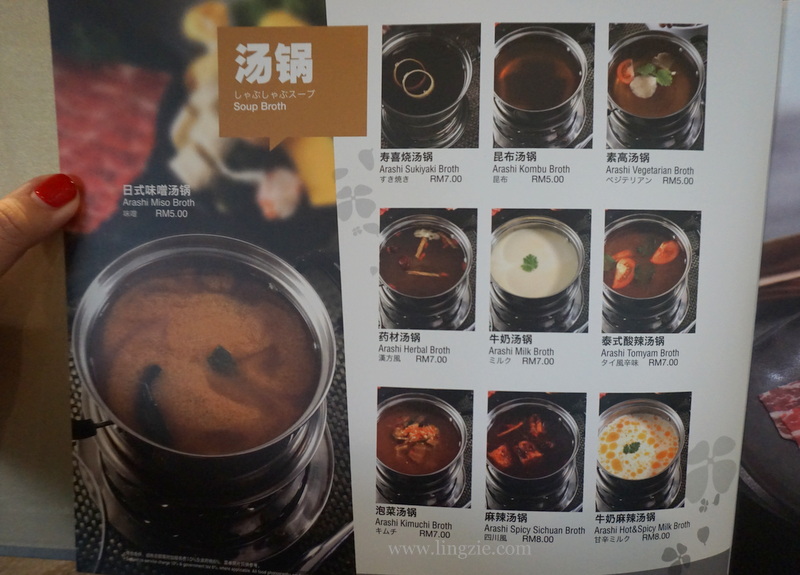 10 different soup bases 
– Arashi Miso Broth
– Arashi Sukiyaki Broth
– Arashi Kombu Broth
– Arashi Vegetarian Broth
– Arashi Herbal Broth
– Arashi Milk Broth
– Arashi Tomyam Broth
– Arashi Kimuchi Broth
– Arashi Spicy Sichuan Broth
– Arashi Hot & Spicy Milk Broth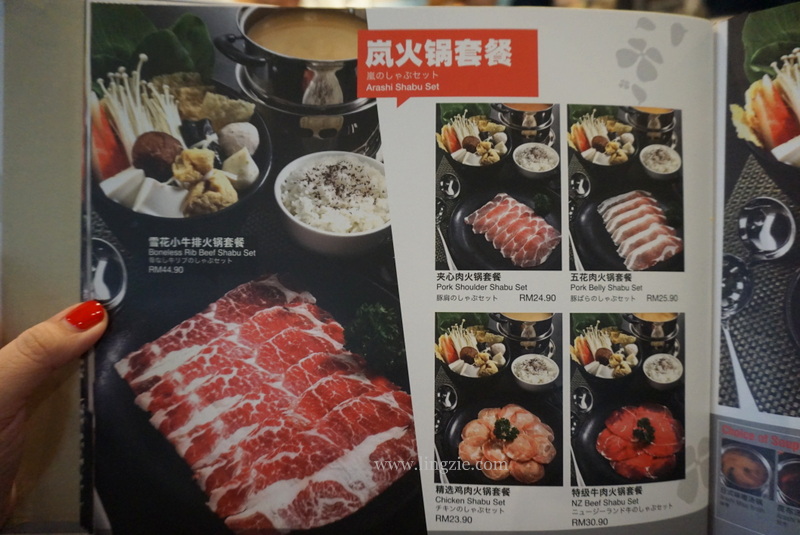 Arashi Shabu Set
The Shabu Shabu here is served in individual pots (ala carte or set is available). I like the individual shabu shabu portion as some will deem it more hygienic. For me personally, it means having the option to try more different soup bases! hehe
The Set Menu seems to be the easiest choice as diners simply pick the protein that they prefer.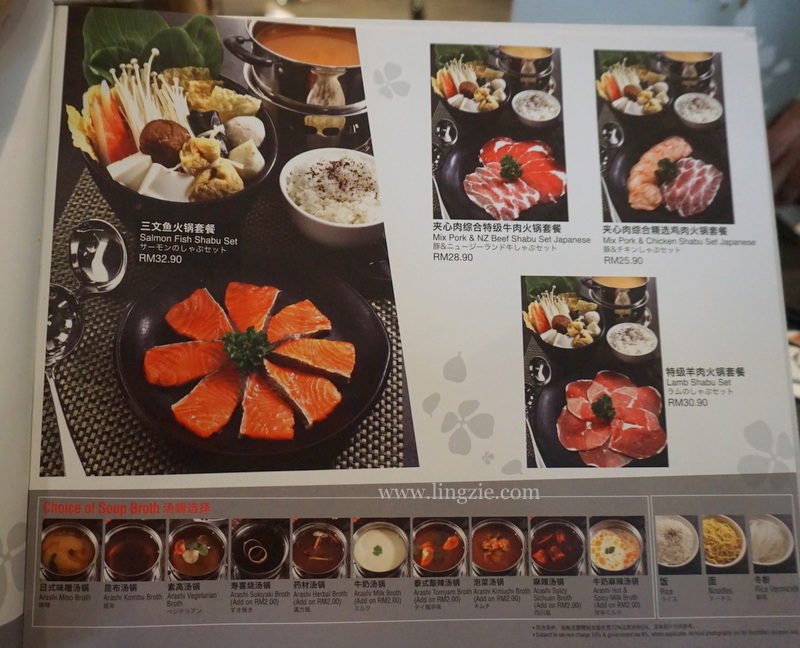 Each Arashi Shabu Set comes with a choice of broth (Miso Broth, Kombu Broth & Vegetarian broth) Additional charges apply for the other 7 types of broth (Sukiyaki, Milk, Herbal,Tomyam, Kimuchi, Spicy Sichuan, Hot & Spicy Milk) 
All broths are refillable.
There is also a choice of Rice, Pumpkin Noodles or Vermicelli.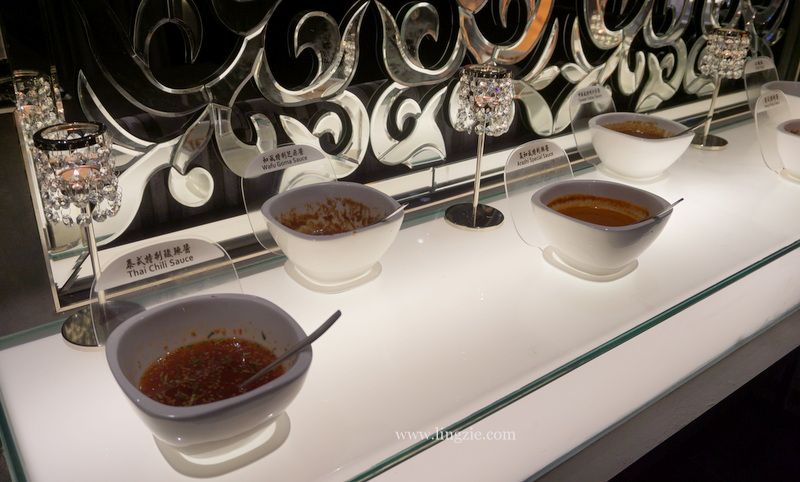 Free flow Sauce bar with 7 types of sauces
Initially I was planning to take one or two sauces to try, but the head chef saw me hovering over the sauce bar and swiftly came over to explain how to mix their 'master' sauce. It's a mix of 5 types of sauces – home made Thai Chilli sauce, Wafu Goma Sauce, Arashi Special Sauce, Taiwan Satay Sauce & Hong Kong Sauce.
For first timers, it is recommended to mix all 5 sauces in equal portion except for the Arashi Special Sauce which is very spicy (so just a small dollop of this will do!) Once you get a taste of the sauces, you can then adjust the mixture to your liking.
The other two options available are Chili Padi in soya sauce & Chinese parsley condiment.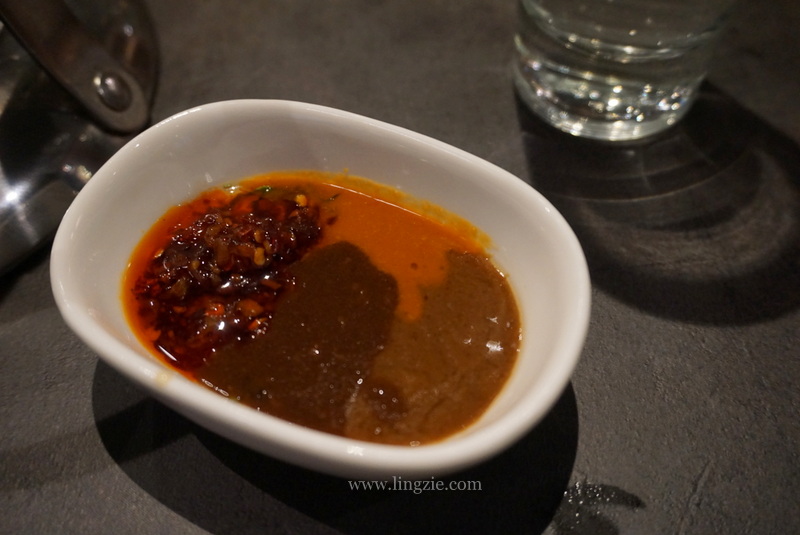 "Master" sauce mix 🙂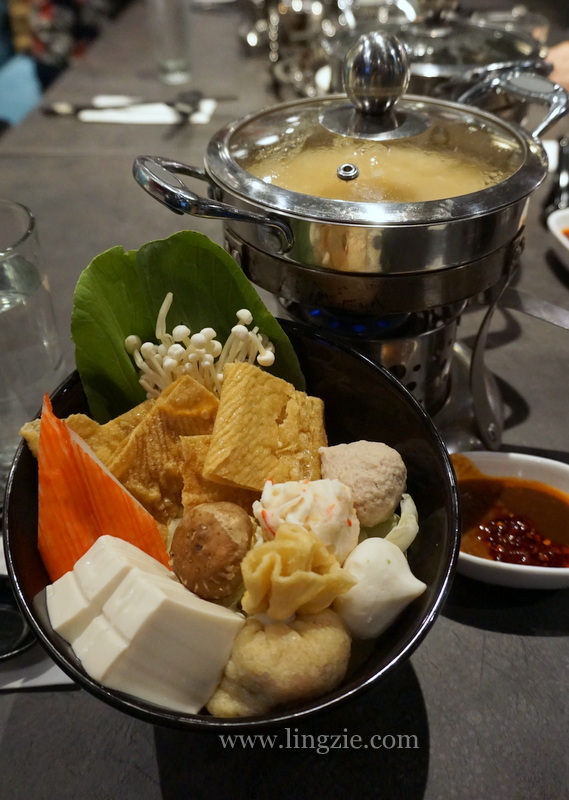 Each Shabu set comes with a bowl of mixed vegetables, tofu, mushrooms and various fish ball/pork balls.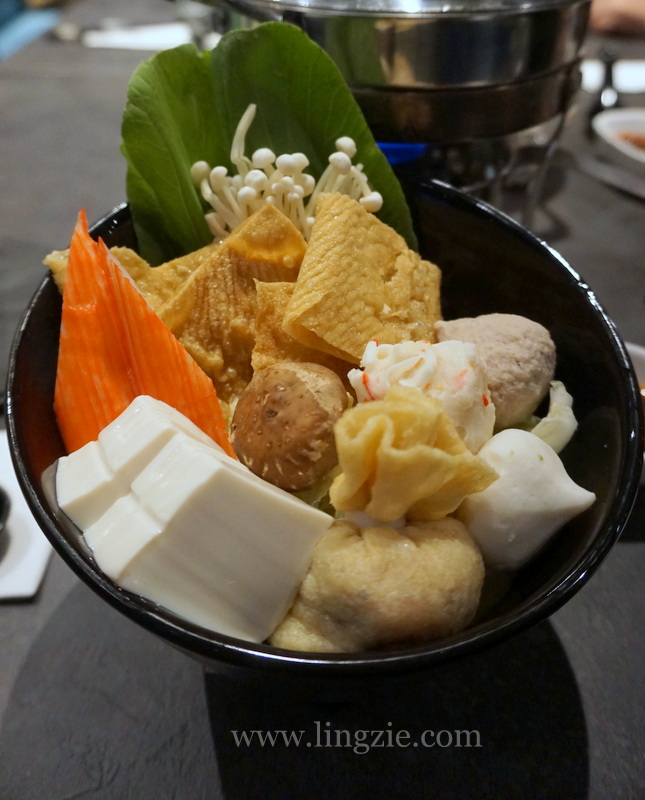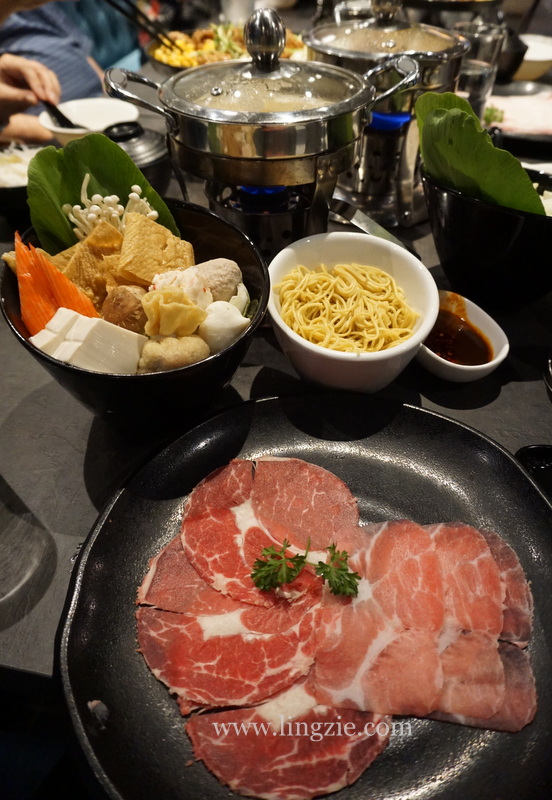 Arashi Shabu Set – Mixed Pork & NZ Beef Shabu Set Japanese RM28.90
with Arashi Miso Broth & Pumpkin Noodles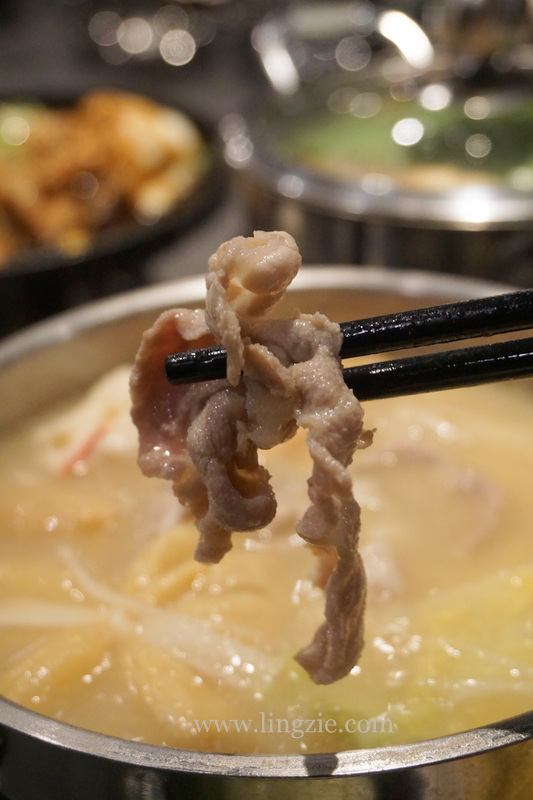 Pork Slice – the pork slice was very fresh and was the perfect vessel to be dipped into their sauces.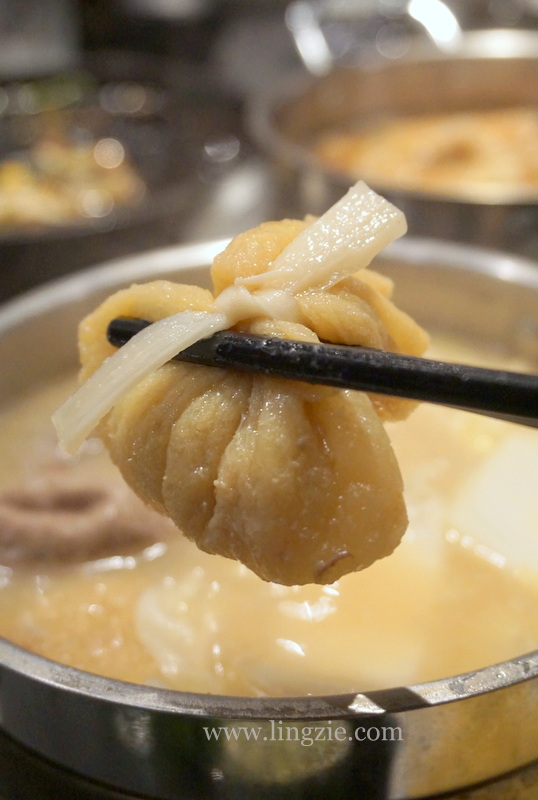 'Treasure Bag'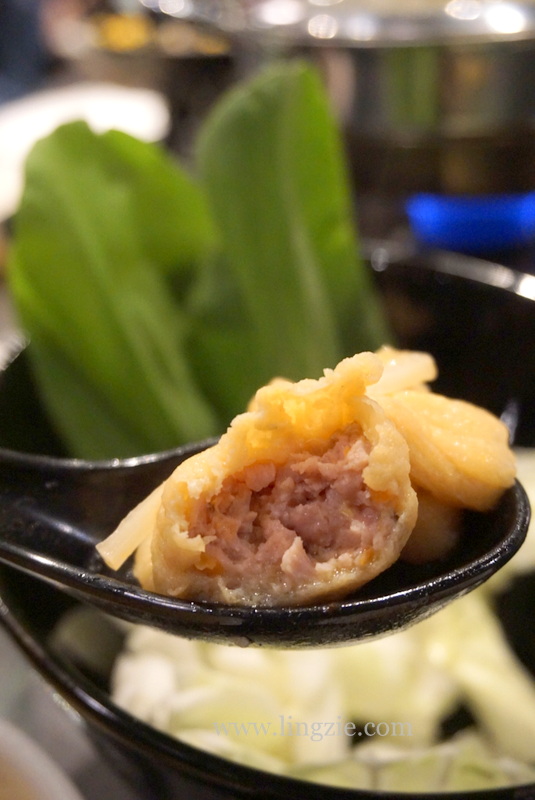 Juicy minced pork inside the Treasure Bag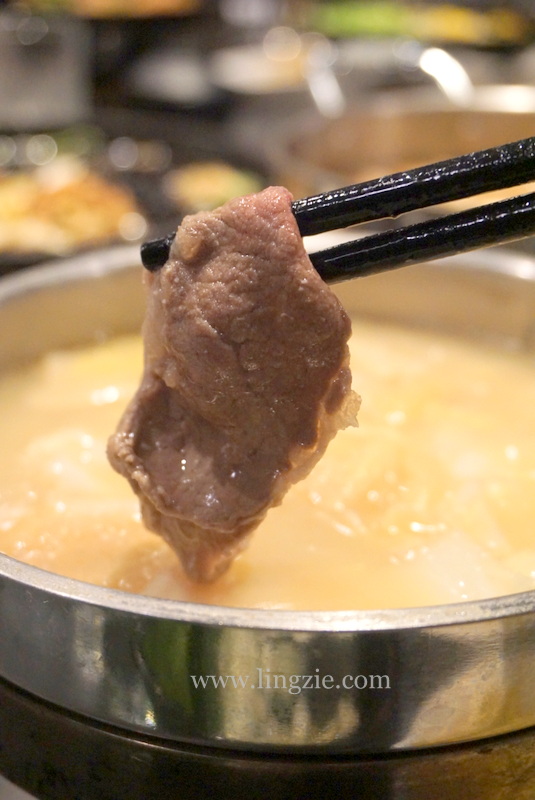 Beef slice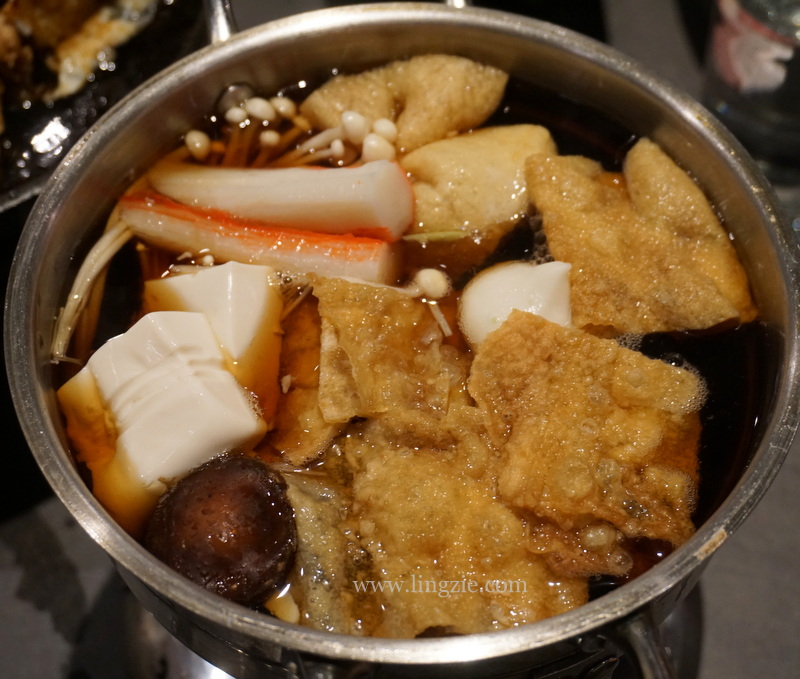 Arashi Shabu Set – Pork Belly Shabu Set RM25.90 
with Sukiyaki Broth (add on RM2) Served with raw egg & pumpkin noodle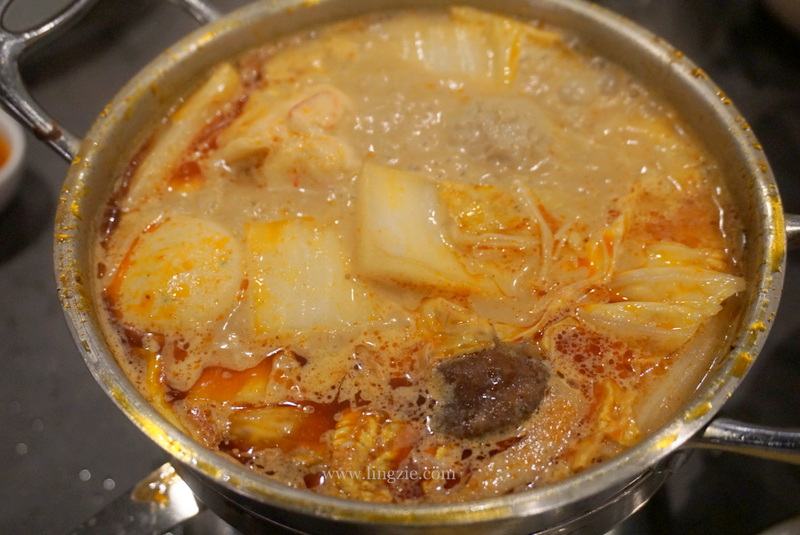 Arashi Shabu Set – Mix Pork & Chicken Shabu Set Japanese RM25.90
With Arashi Hot & Spicy Milk Broth (add on RM2) with rice
We were told that the Arashi Hot & Spicy Milk Broth is a best seller and so it was a must try for us. We found the broth to be pretty tasty.The broth was flavourful and rich due to the milk. The soup base tastes somewhat like ?? (mala -'numbing hot') with milk.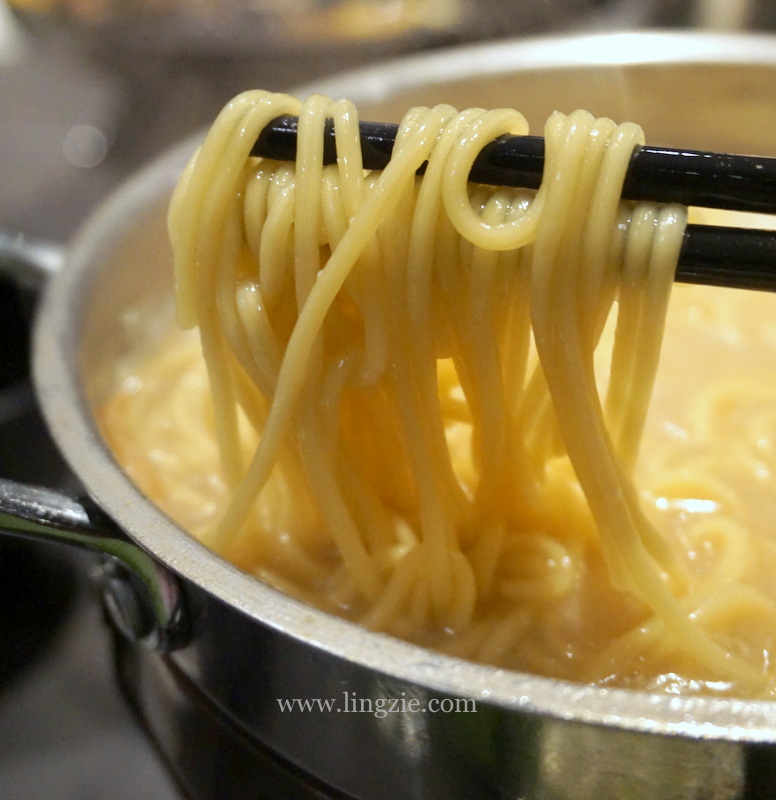 Pumpkin Noodle
I didn't quite discern the pumpkin taste in the noodles but it had a lovely smooth texture which was not overly soft. It had a faint sweetness which I guess is from the pumpkin. I enjoyed the noodles and would choose this option over the rice and vermicelli. Also the portion of the noodles were very generous indeed!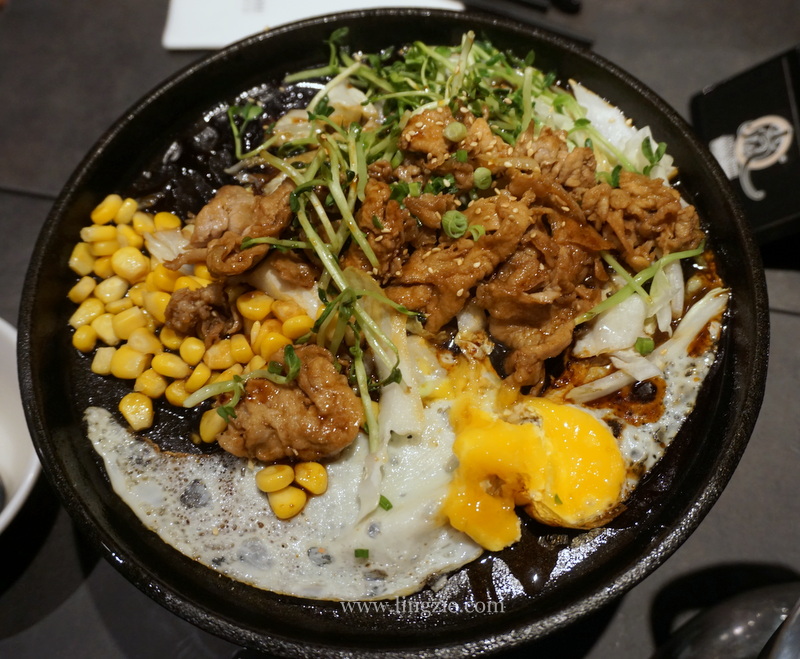 Pork Teppanyaki Set RM21.90 
Meanwhile, we also tried the Pork Teppanyaki Set which comes with egg, corn and green veggies. There is a choice of Teppan Original Sauce or Teppan Spicy Sauce. The set is served with rice and miso soup. We chose the Teppan Original Sauce and found it very pleasing on the palate. The sauce was well seasoned but not overly salty and lent much flavour to the tender pork slices. One thing to note is that diners would have to stir the teppanyaki once its served as the heating element at the bottom will cause some of the food to be burnt if its left un-stirred. The servers were considerate enough to remind us of this fact upon serving the teppanyaki.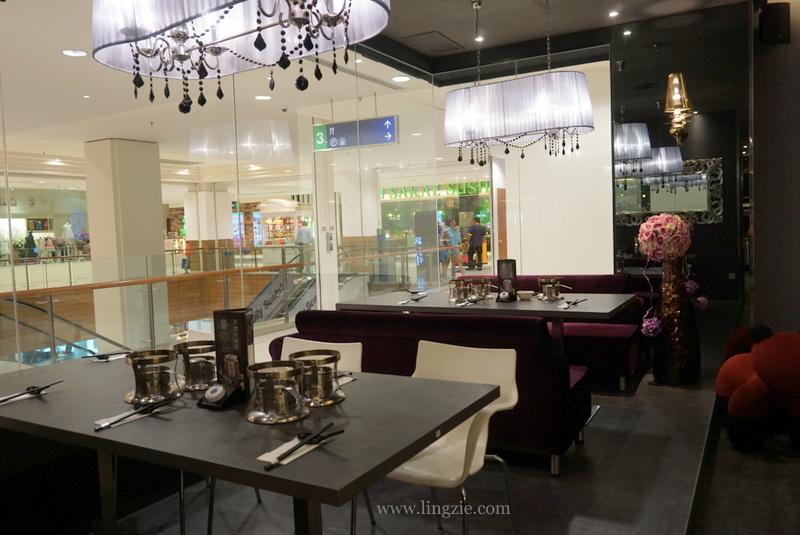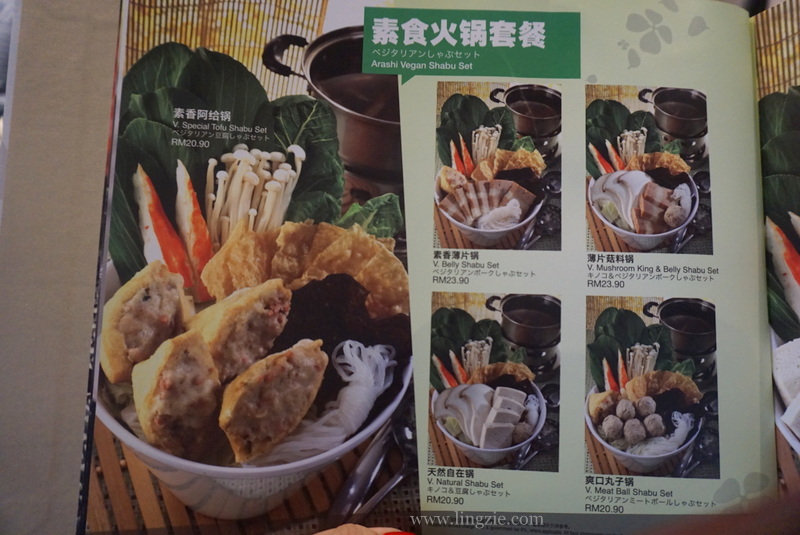 Arashi Vegetarian Shabu Set
I'm also pleased to note that Arashi has vegetarian shabu set using their Vegetarian broth. This is a great option especially when dining out with friends and family members who are vegetarian.
Overall, we enjoyed our meal at Arashi Shabu Shabu and look forward to returning. I'm keen to try their Bibimbap and the other soup broths as well!
Arashi Shabu Shabu
170-03-85 Gurney Plaza (Level 3)
Persiaran Gurney, 10250 Penang
TEL: 04- 2298688
10% service charge & 6% GST applies
Arashi Shabu Shabu Facebook page