I've been a fan of Yin's Sourdough Bakery for quite some time now. They were one of the first few bakeries that introduced sourdough bread to Penang not too long ago. After enjoying the breads from their bakery in the heart of Georgetown, I've been wanting to check out their new pizza outlet – Yin's Sourdough Pizza when it opened it's doors late last year. However I never got around to visiting until recently.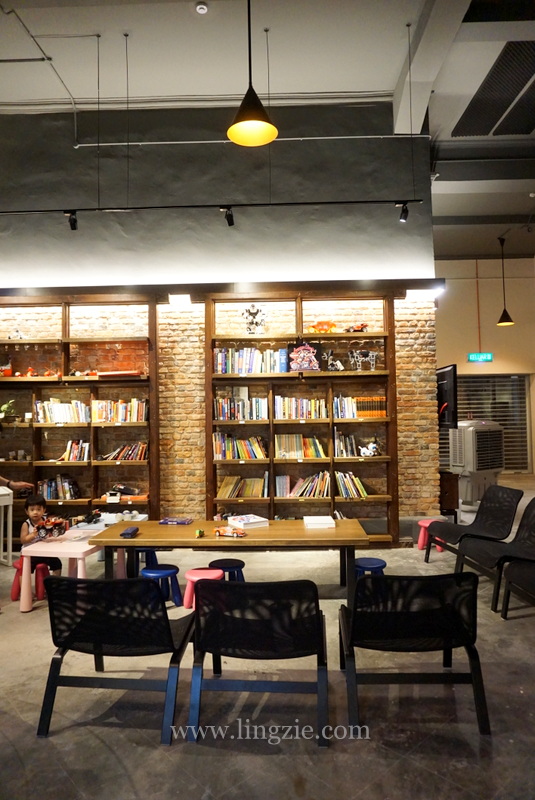 Large 'kiddy corner'
Yin's Sourdough Pizza is in the same premise as the Penang Science Cafe @ Heritage which is a social space for the young and old to interact and have fun with science. Hence you will find some interesting interactive displays at the space.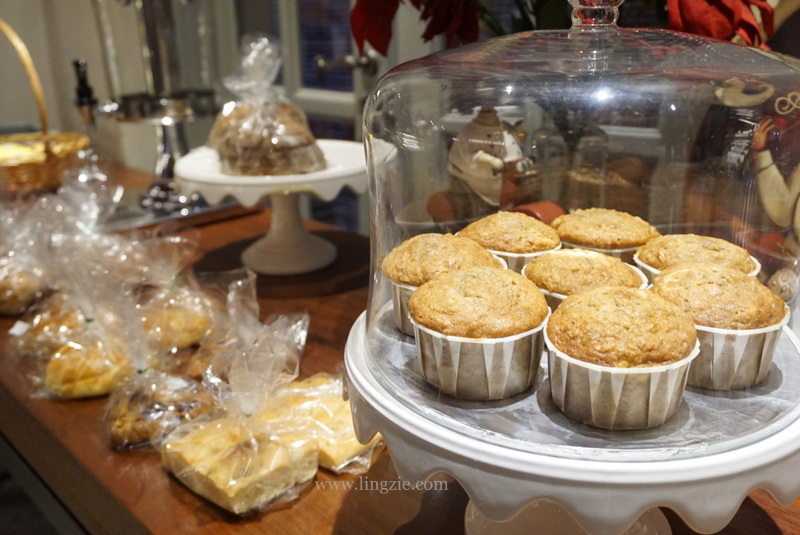 Various Sourdough breads and cakes are available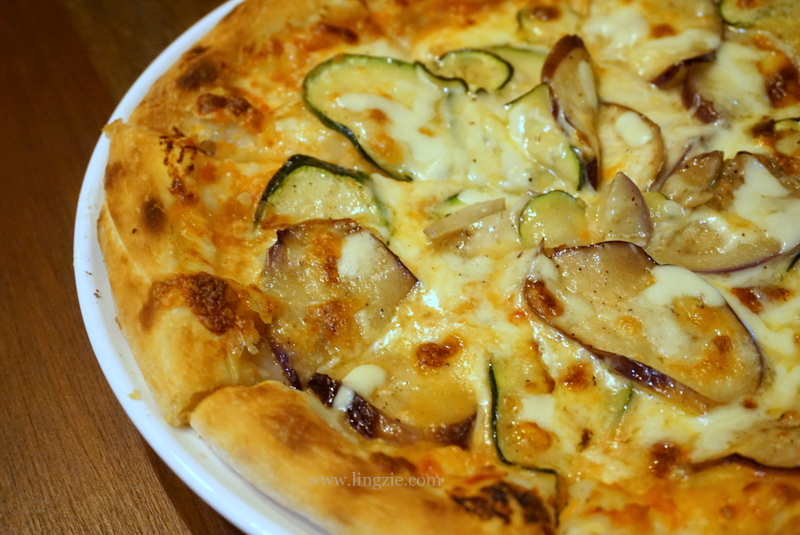 Zucchini & Eggplant Sourdough Pizza RM30
Yin's Sourdough Pizza have a modest menu as they believe in Slow Food that is cooked from scratch. There are about 5 types of pizzas on their menu and we decided on the vegetarian variant – Zucchini & Eggplant Sourdough Pizza with homemade tomato paste. 
Yin's Sourdough Pizza offers Neapolitan style pizza, baked in a stone oven, with a chewy slightly charred crust and 'soup-y' center. I had no qualms about the soup-y center and found the chewy crust to be utterly enjoyable. There is a slight tangy taste of the sourdough but not overwhelmingly so. Most enjoyable was the slow cooked tomato paste which married beautifully with the sweet zucchini and eggplants. The usual carnivore in me hardly missed the absence of meat in this vegetarian pizza!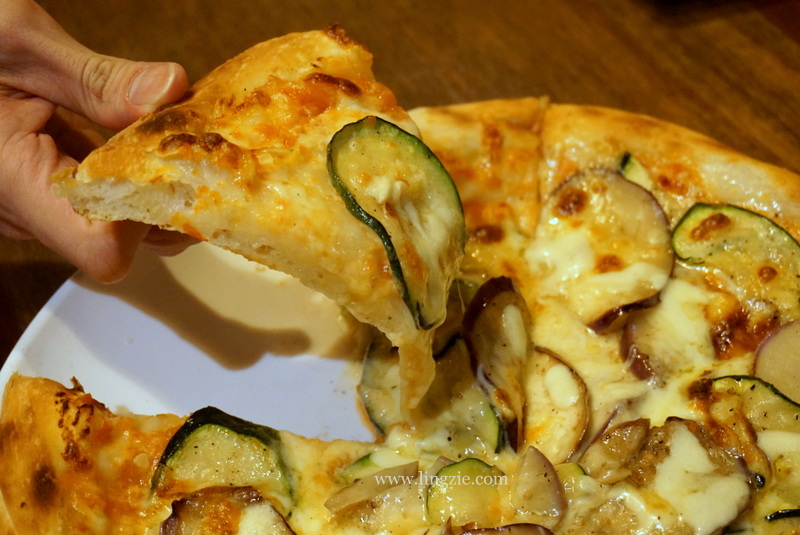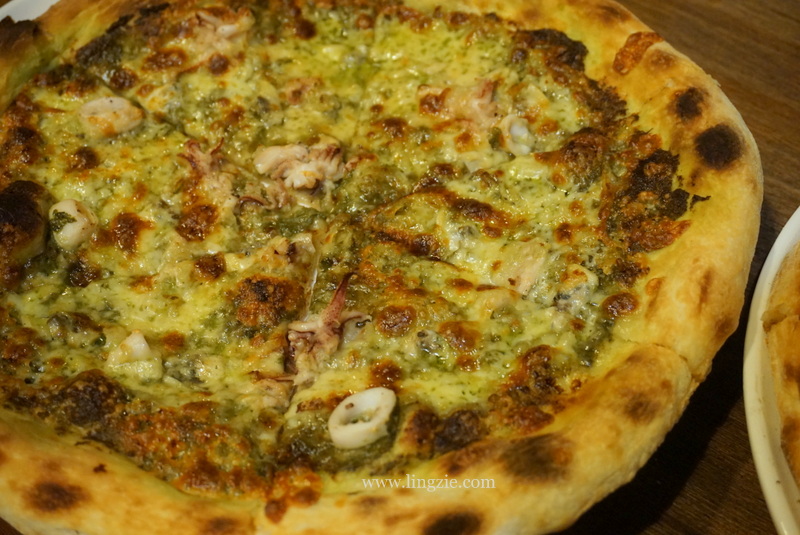 Seafood Sourdough Pizza RM38
Next, we tried the Seafood Sourdough Pizza with homemade basil pesto sauce, mixed seafood and mozzarella cheese. There is an option to upgrade to Buffalo Cheese for all pizzas (Additional RM10)
While I enjoyed the freshness of the basil pesto sauce, I found the seafood rather lacking and would have preferred a more generous portion of seafood.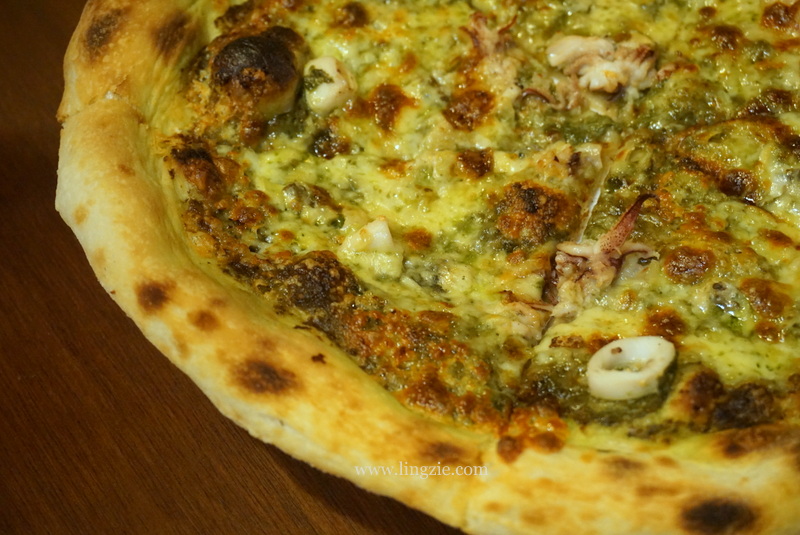 Other than pizzas, they also have pastas, big breakfast and sandwiches on the menu. We spied the Paella which we originally wanted to try but was told it was not available during our visit. Perhaps next time 🙂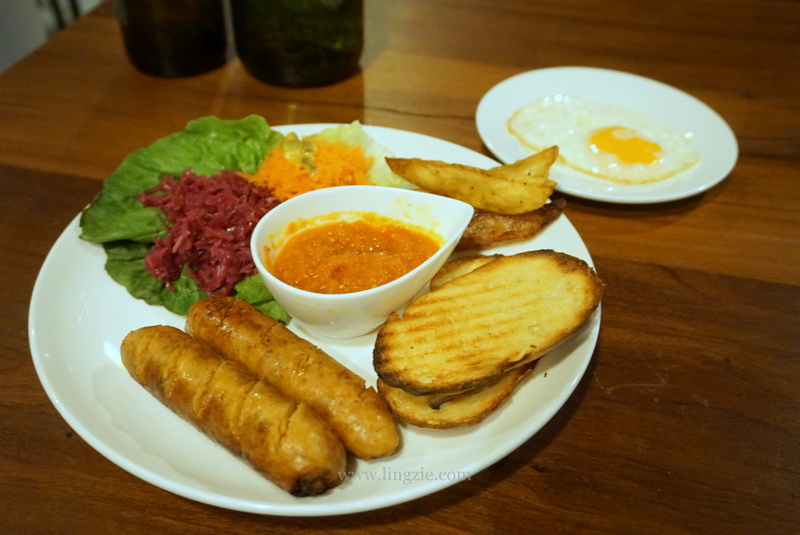 Yin's Big Breakfast RM25
Yin's Big Breakfast consists of two homemade sausages (made using natural sheep casing), potato wedges (roasted in stone oven), mixed salad with rotkraut, slow cooked tomato sauce, scrambled eggs and toasted sourdough bread. We asked for the eggs to be cooked sunny side up instead and the kitchen gladly accommodated our request. The sausages were flavourful without being too salty and had the fragrance of herbs permeating through them. The toasted sourdough bread was lovely dipped into the home made tomato sauce. Meanwhile the tangy rotktraut salad uplifted the otherwise heavy tasting dish.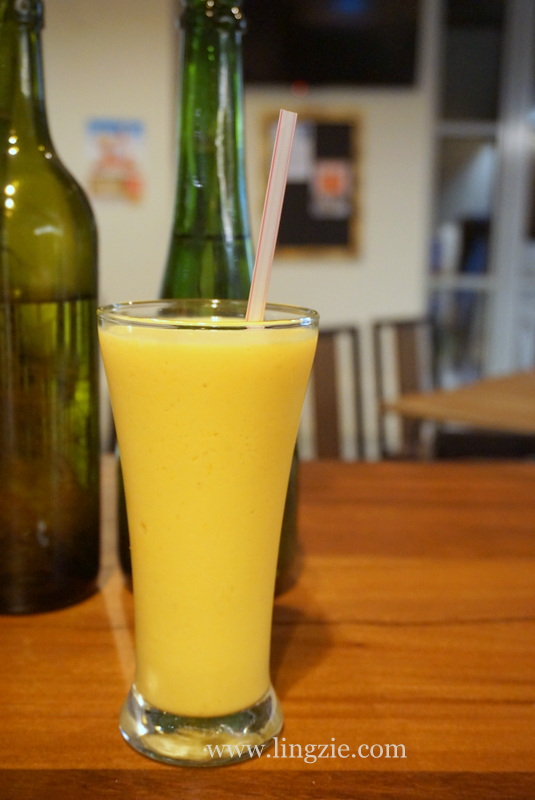 Mango Kefir Smoothie 
Kefir is one of the latest superfoods –  a fermented drink made from kefir grains said to contain beneficial yeast and probiotics. The mango kefir smoothie was sweet, thick and tangy.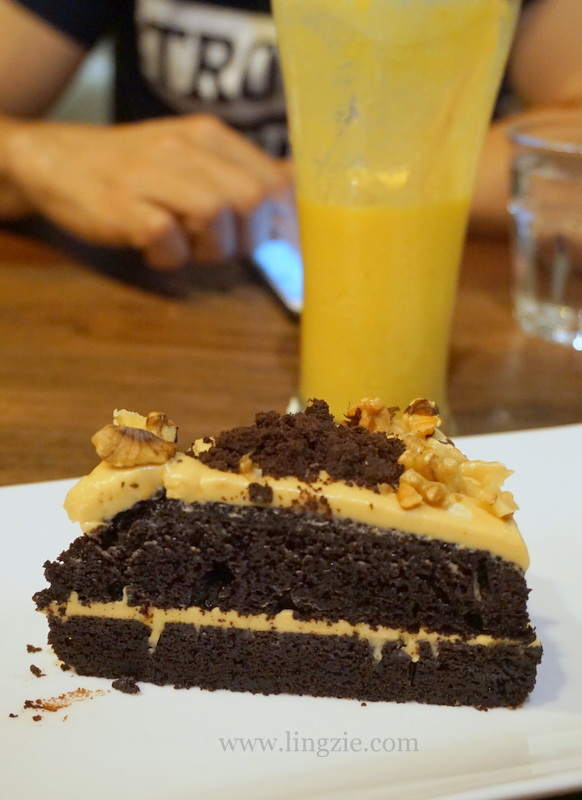 Chocolate Peanut Butter Cake RM9.90
We ended the meal with a Chocolate Peanut Butter cake which looked deceivingly simple. One bite and I was hooked. The moist chocolate cake layers melding with the nutty slightly salty peanut butter frosting was heavenly! I would definitely go back again for this cake! 😛
We had a good meal at Yin's Sourdough Pizza and my personal favourite would be the Zucchini & Eggplant Sourdough Pizza. I look forward to returning to try the lagsana (which looks really good, served in a cast iron pan) plus have another slice of that chocolate peanut butter cake!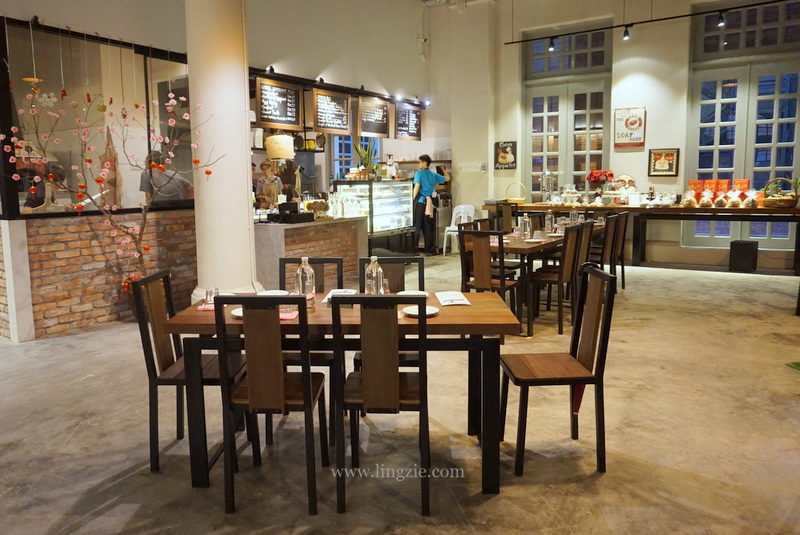 The Essentials:-
Yin's Sourdough Pizza
Wisma Yeap Chor Ee,
Gat Lebuh China
10300 Georgetown Penang
TEL: 011-2419 5118
Opening Hours: 
Mon & Tues: 8am-10pm, Closed on Wednesdays
Thurs-Sun: 8am-10pm
Yin's Sourdough Pizza Facebook Page