Much to our delight, we recently discovered some authentic Thai street food at a small cozy place in the bustling Georgetown simply named Thai Shop.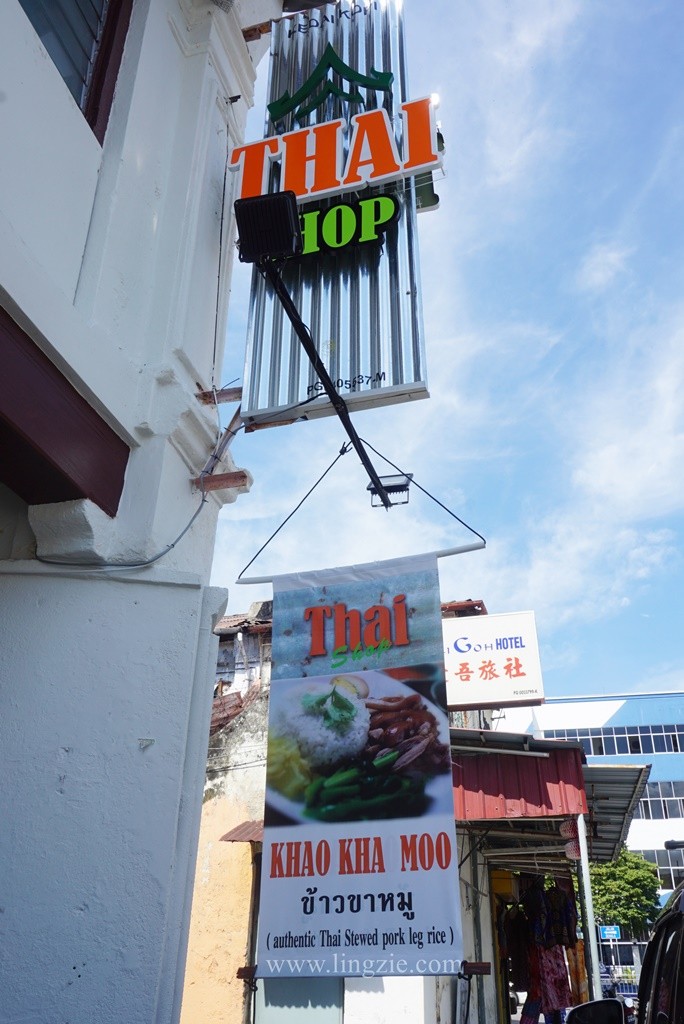 Thai Shop is located along Kimberley street nearer to the Penang Road end. We found a quaint and charming interior but since the weather was lovely, we opted to sit outside. It was surprisingly cool and comfortable. We loved the relaxed feel of the space and sitting next to an alley made the street food experience more authentic 🙂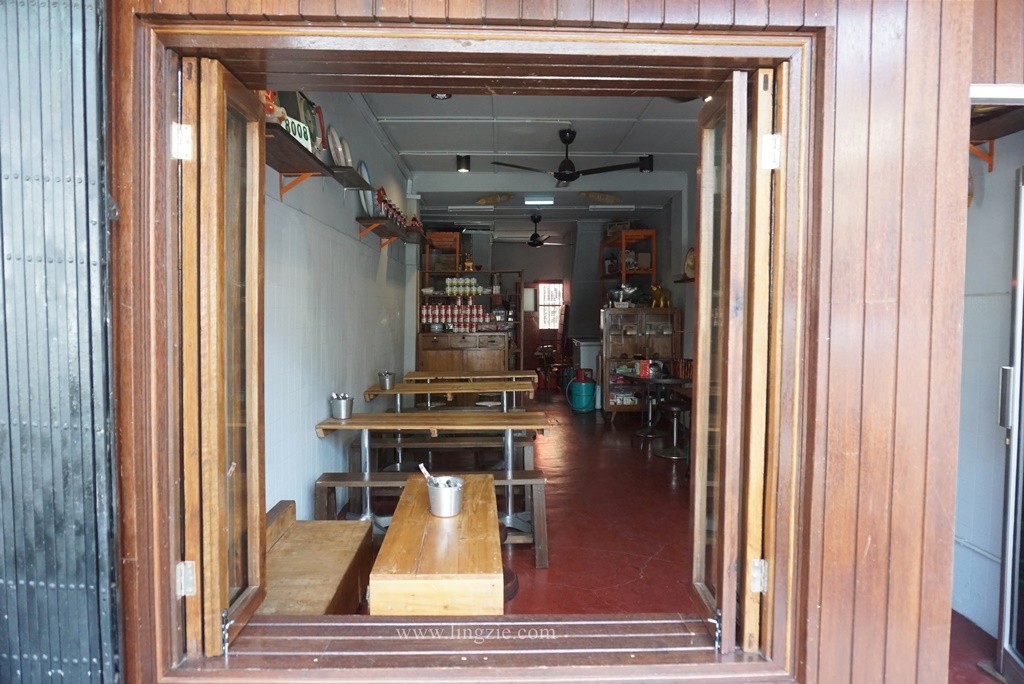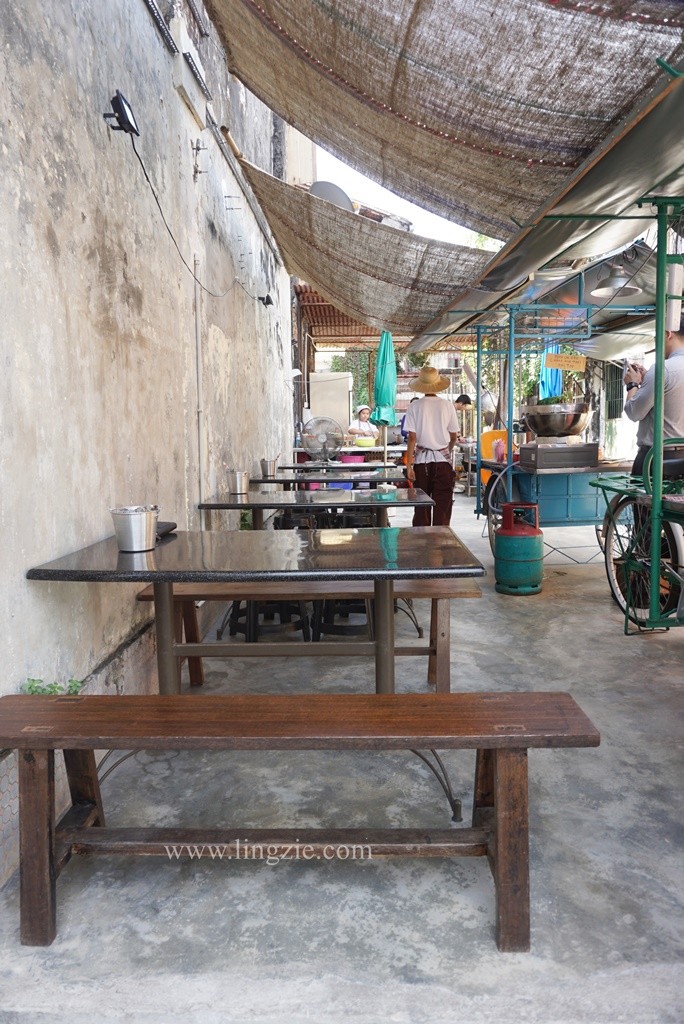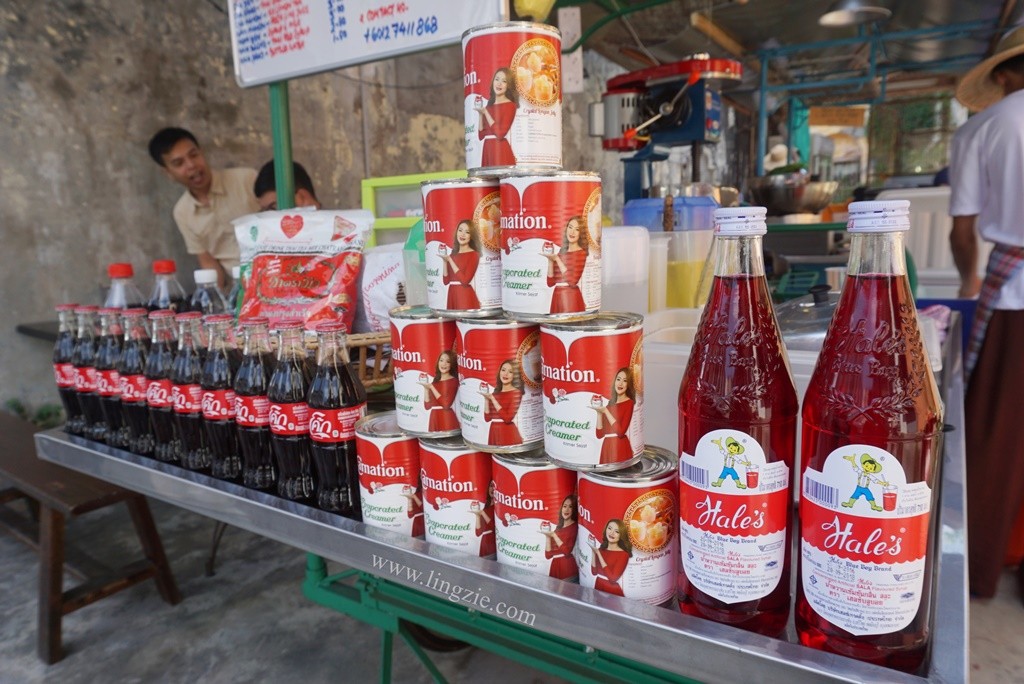 Thai Shop is new, having started operations about 2 months ago. Their current menu is small but solid. Plus, they have Moo Ping (barbeque pork fillet sticks) which was the main pull factor for me!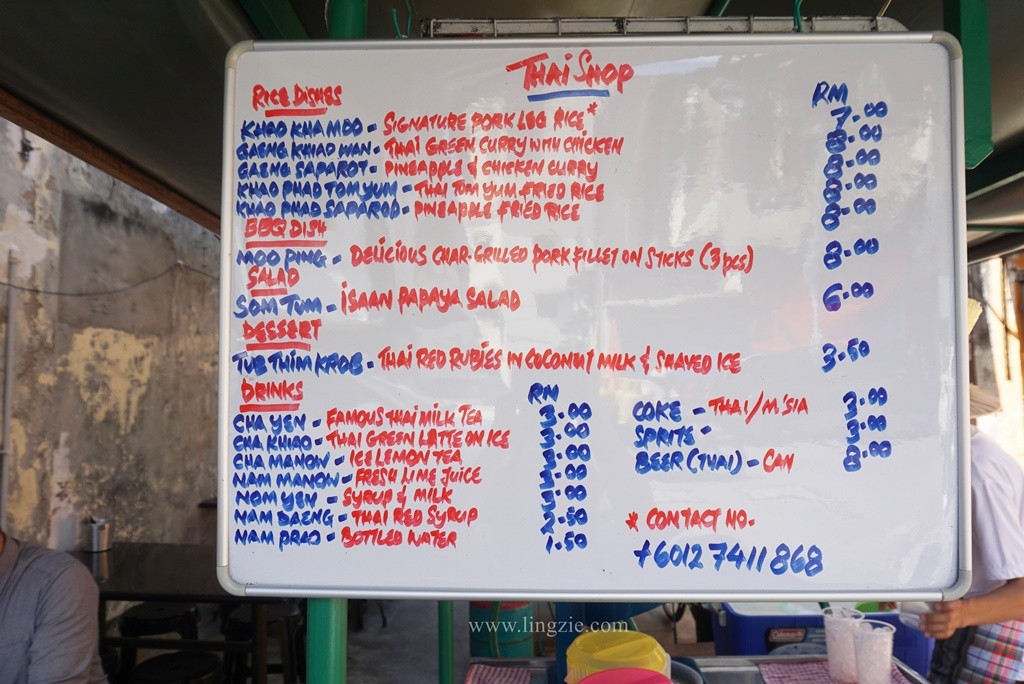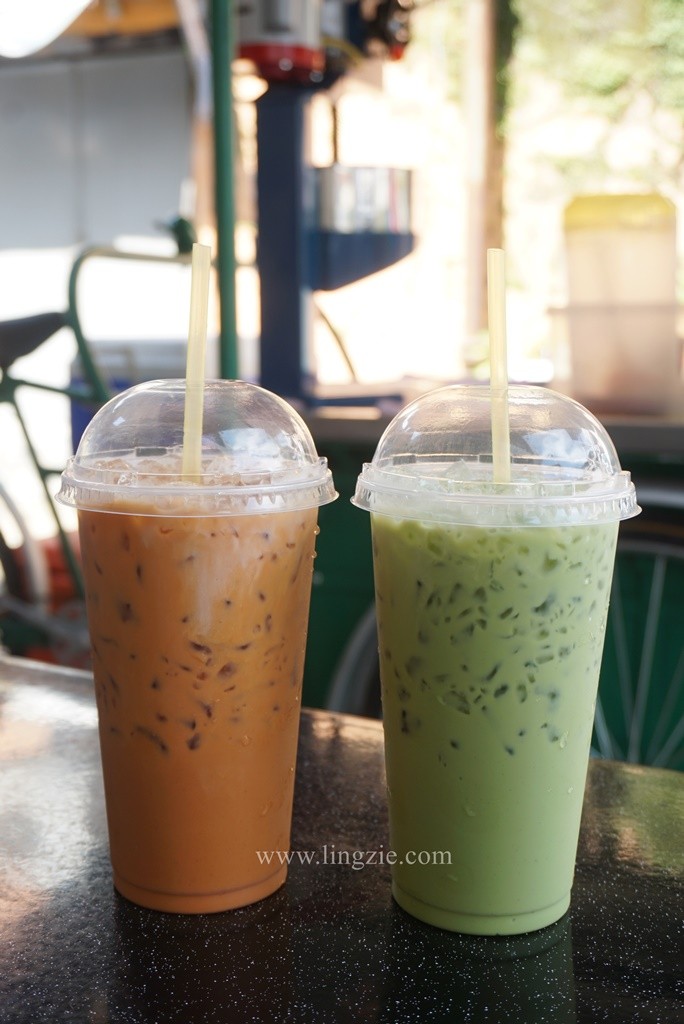 Cha Yen (Thai Milk Tea) RM3 & Cha Khiao (Thai Milk Green Tea) RM3
I had the Cha Khiao which brought me back to the streets of Bangkok… Thai Shop uses the popular and authentic Number One brand for both their Cha Yen & Cha Khiao.
I'll definitely have to try the Cha Yen on my next visit because my dining partner hoarded and finished his Cha Yen without offering me a sip! lol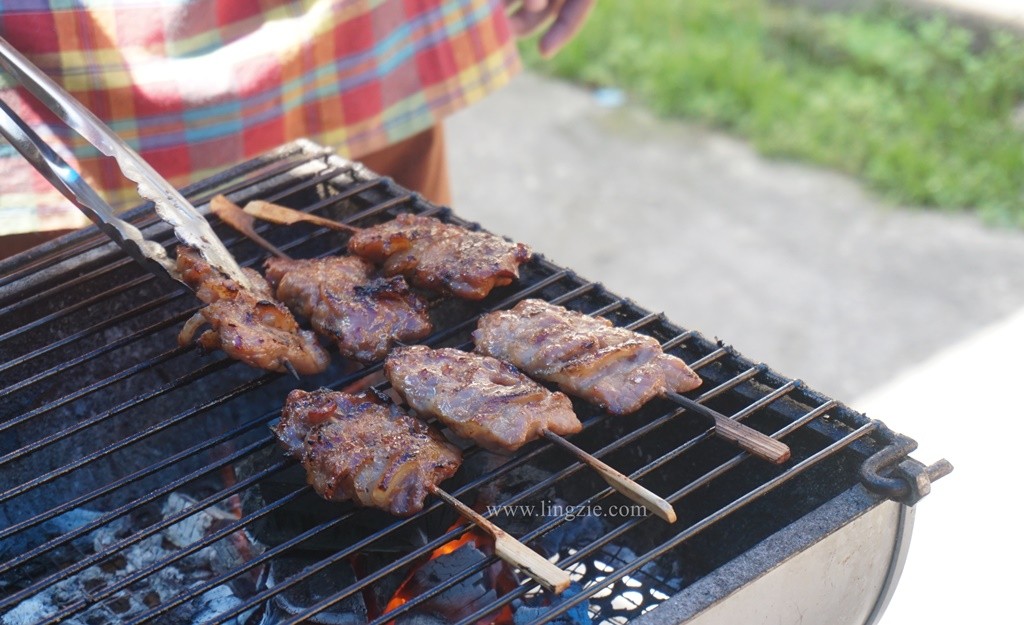 Pork fillet chargrilled over charcoal fire…  (my precious!! lol)
We immediately placed our order for the Moo Ping and the taste did not disappoint! The pork fillet was juicy and well marinated with smokiness from the charcoal fire. One bite and we unanimously agreed that we had to order another portion pronto!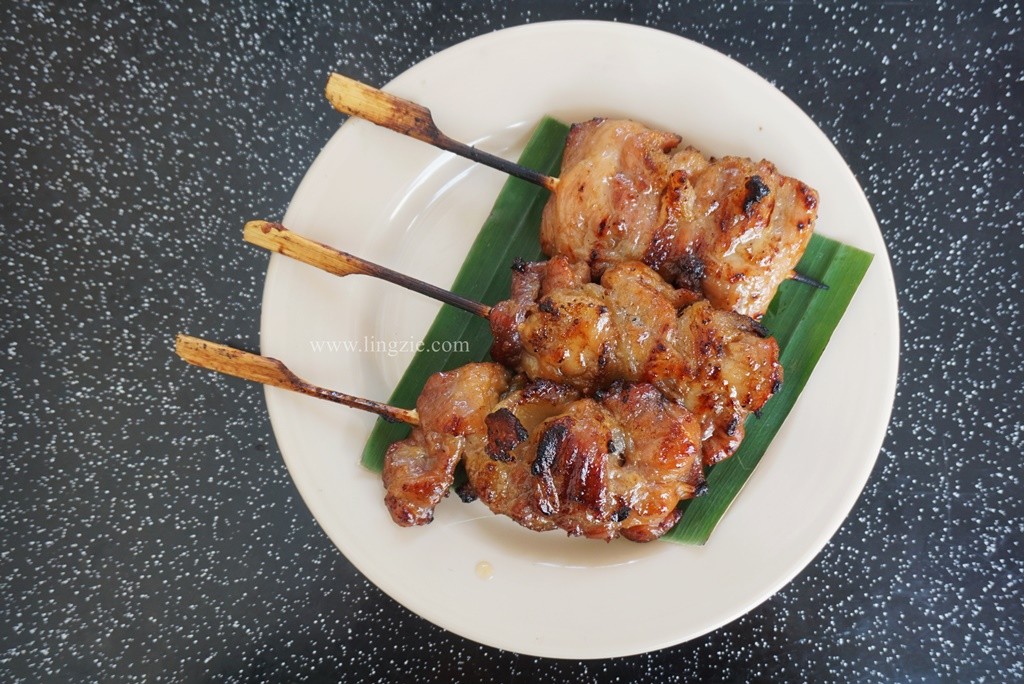 Moo Ping (3 sticks RM8)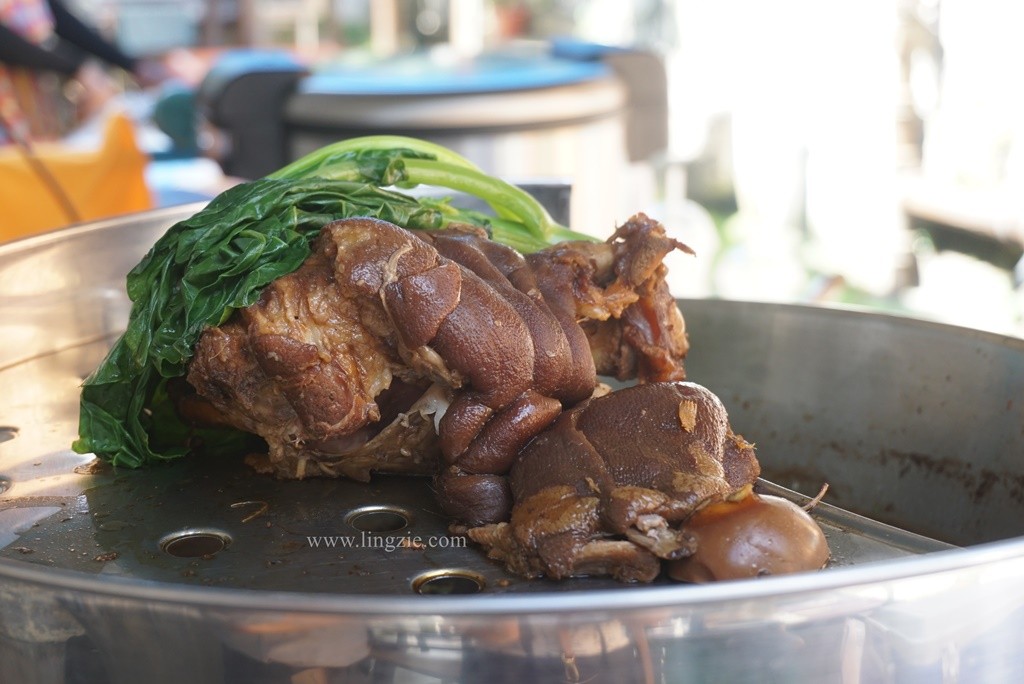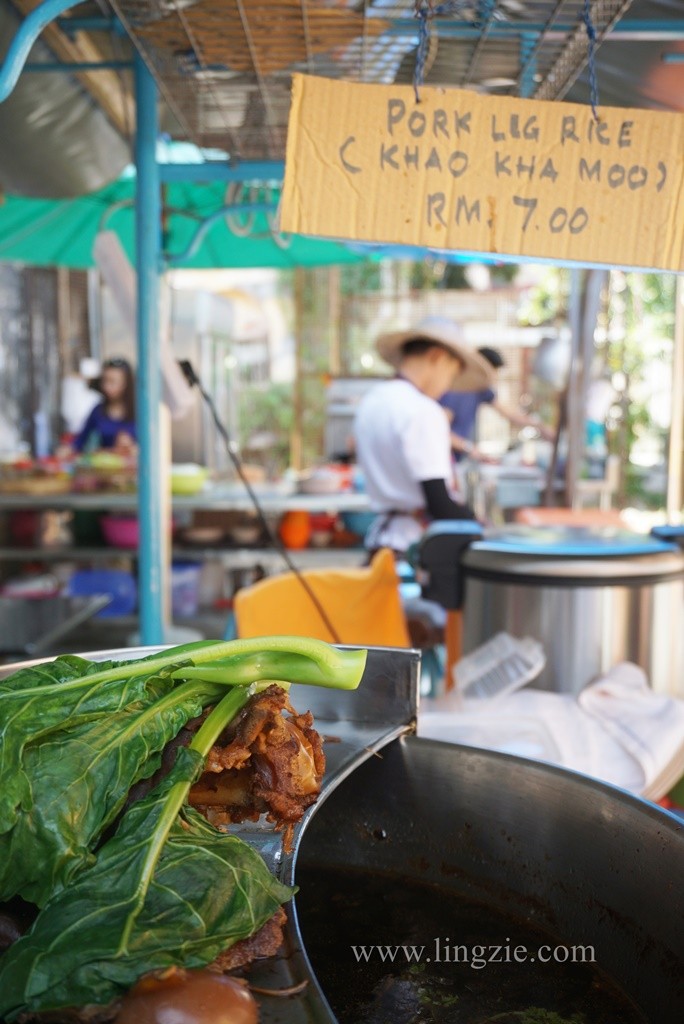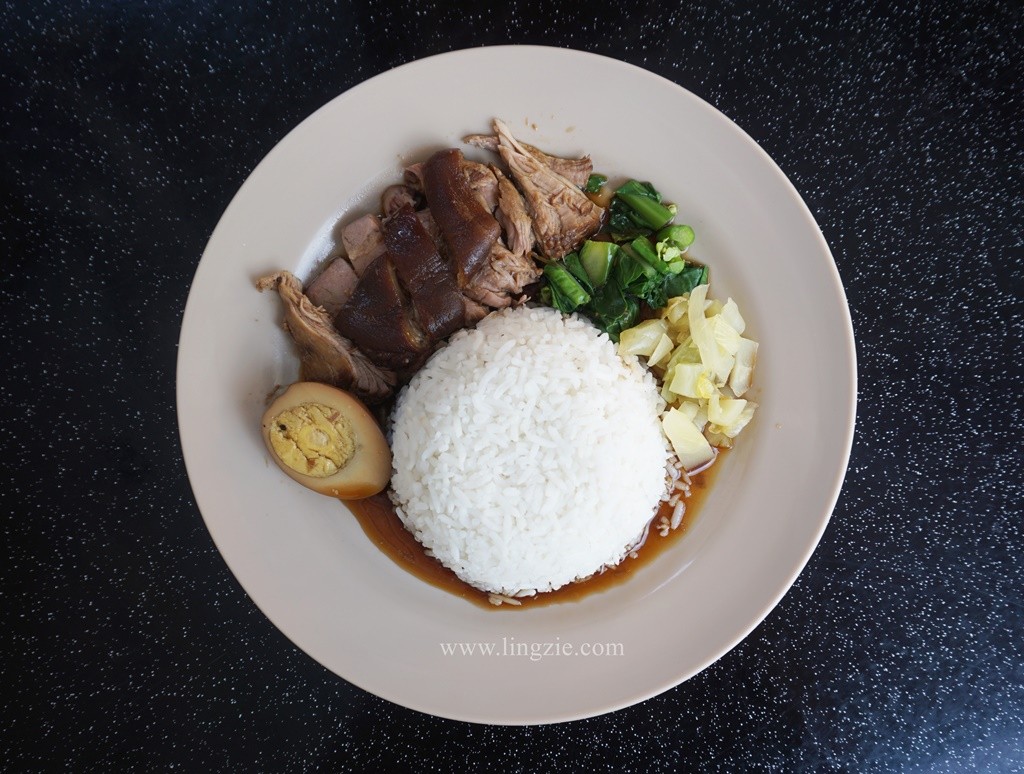 Signature Pork Leg Rice RM7
Next, we tried the Signature Pork Leg Rice. The pork leg meat was tender from braising and had absorbed the 5 spice flavour and braising liquid very well. A simple heartwarming dish that I would come back for.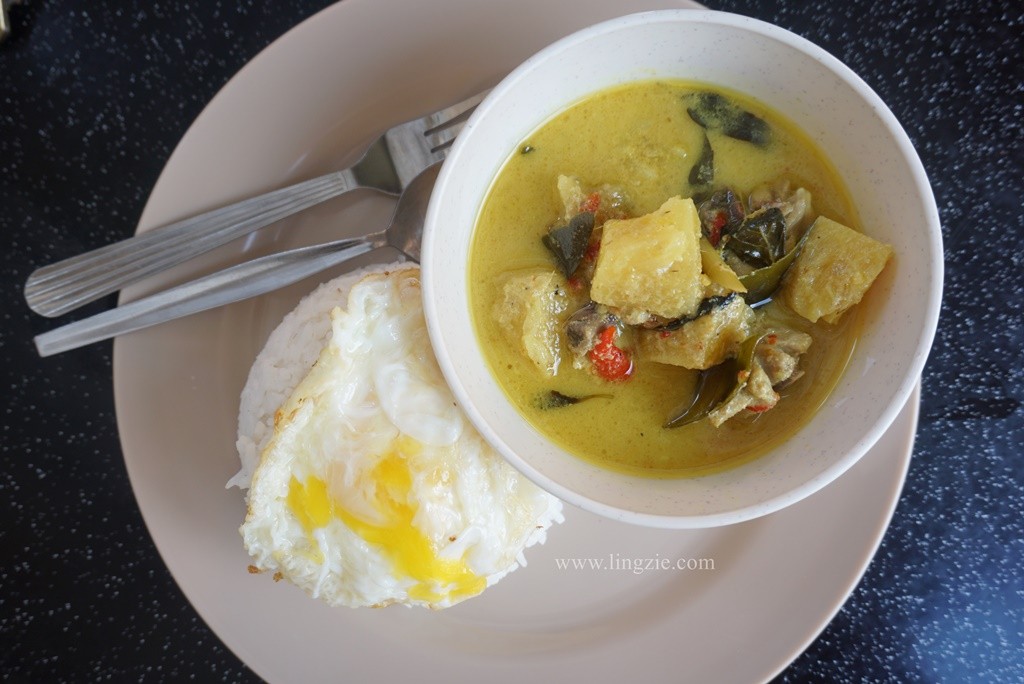 Pineapple & Chicken Curry RM8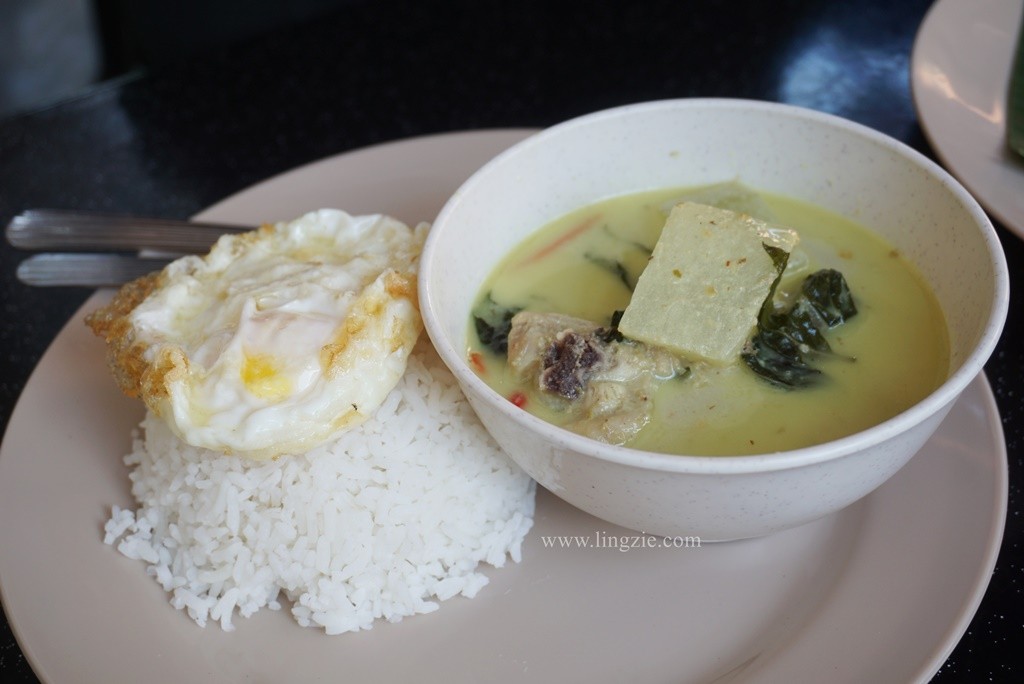 Thai Green Curry with Chicken RM8
When the curry dishes were presented to us they look simple and without any frills. But both the Pineapple Curry and the Green Curry were delicious! They packed a punch in terms of flavour and was perfect doused over white rice. Perhaps my only gripe would be the lack of a drizzle of soy sauce over the fried egg… hehe.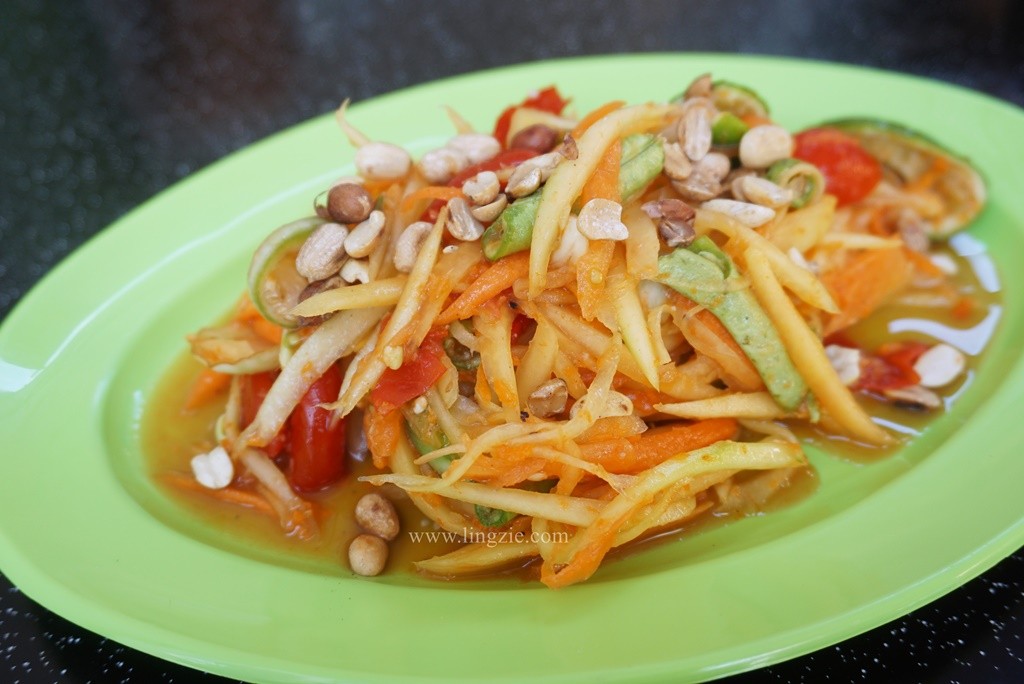 Som Tum (Isaan Papaya Salad) RM6
I've not tried Som Tum in Thailand so I couldn't really vouch for Thai Shop's authenticity for this dish. Nevertheless I did find the Som Tum here to be refreshing. The shredded green papaya had a lovely crunchy texture with a mix of spiciness and sourness from lime plus crunchy fragrance from the peanuts. I did find that the spiciness was rather subdued in this dish but it suited my palate.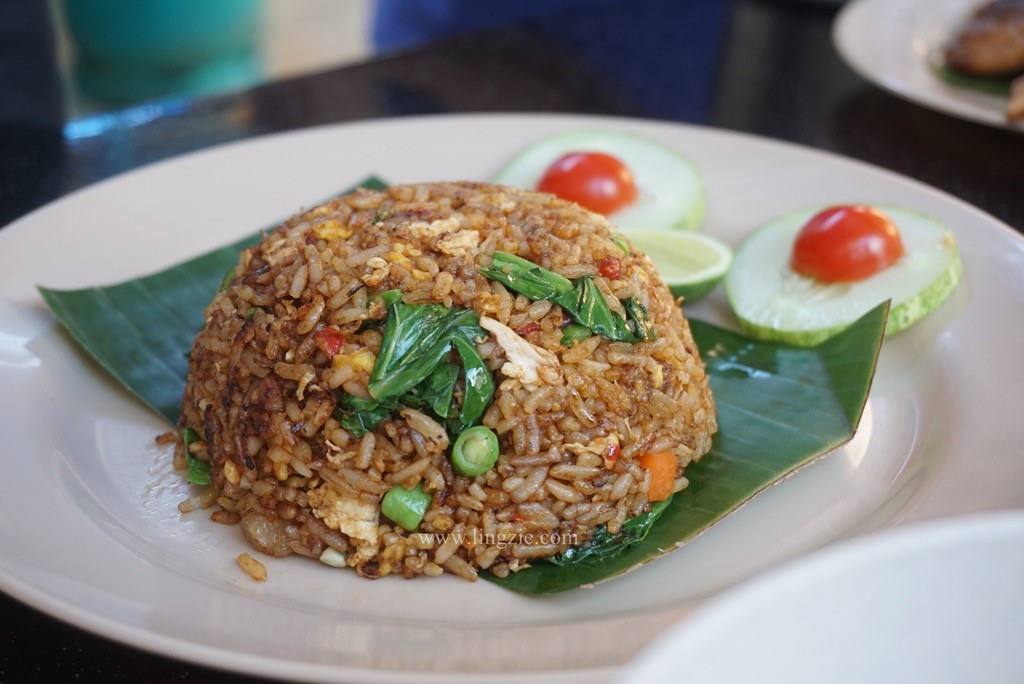 Thai Tom Yam Fried Rice RM8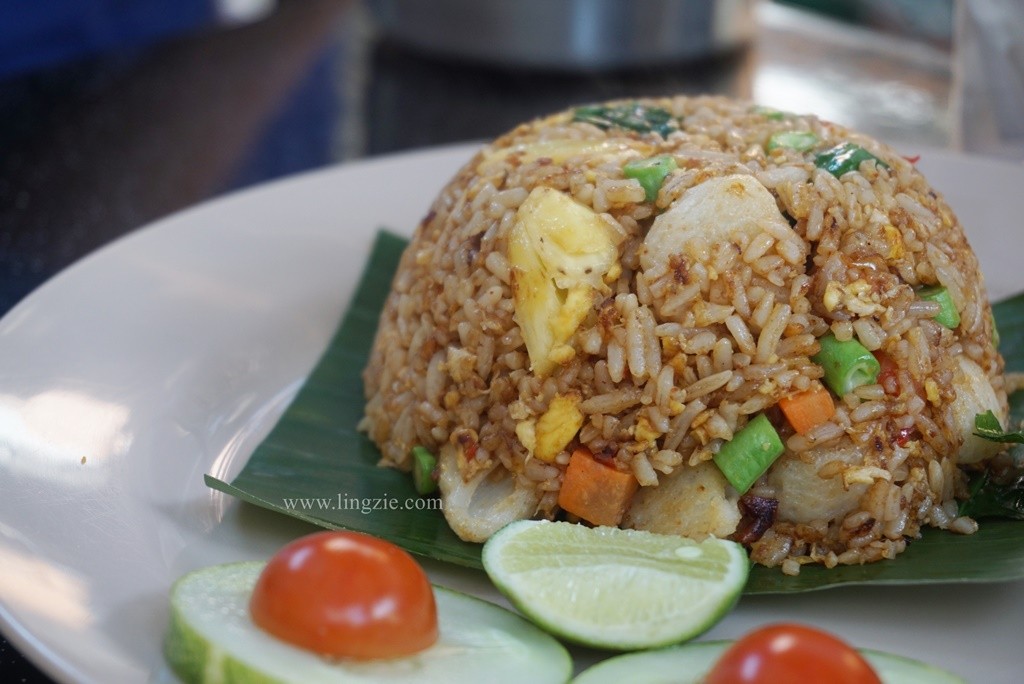 Pineapple Fried Rice RM8
Of the two fried rice offered at Thai Shop, my pick would be the Tom Yam Fried Rice. I love the slightly charred smokiness of the dish. The tomyam flavour didn't seem very strong me but nonetheless a good plate of fried rice! Meanwhile the pineapple fried rice was by no means bad, in fact it had similar smokiness albeit a lil less than the tom yam version with sweetness and tanginess from the pineapples.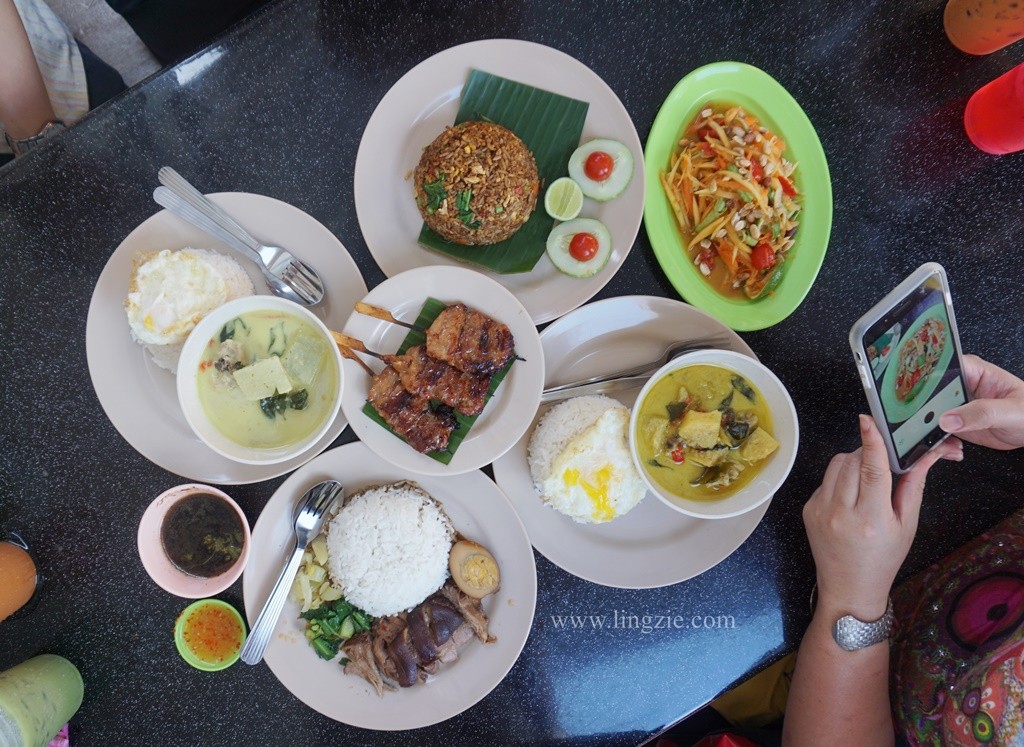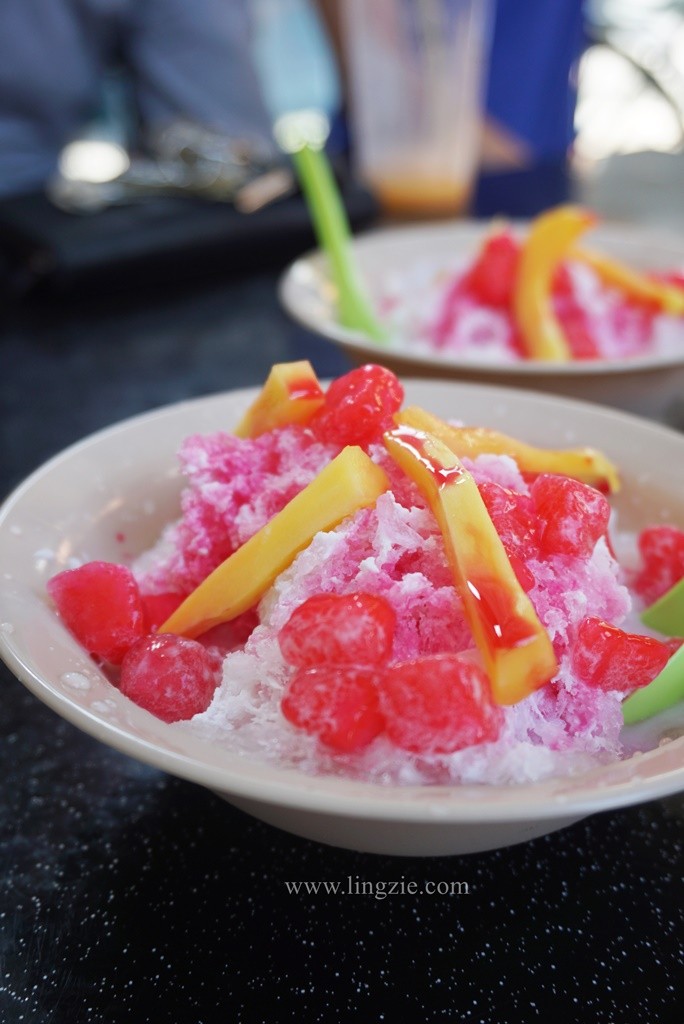 Tub Tim Krob RM3.50
And finally, we had the ubiquitous Thai dessert Tub Tim Krob (red rubies in coconut milk and shaved ice). A sweet, crunchy and milky dessert that we couldn't stop eating – it was a lovely way to end our meal at the Thai Shop.
Overall I had a very pleasant dining experience here and I'm so happy that we finally get to have some authentic Thai Street Food in Penang without having to travel to Thailand! We were told by the owner that they plan to add more items to the menu soon (yay!) I definitely can't wait to go back for more Moo Ping…
And now when my craving for Cha Yen strikes, I know where to go! 🙂
The Essentials:-
Thai Shop
257 Lebuh Kimberley
Georgetown, Penang
TEL: 012-7411868
Opening Hours: 11.30am-9.30pm DAILY