Ri Cafe at Bahari Parade along Sri Bahari Road is a fairly new cafe in the heart of Georgetown, Penang. We dined there for dinner recently and I had noticed (with much glee) a delightful looking Afternoon Tea menu. I had immediately texted my friends and told them that we should make a date to check it out soon. Perhaps it was indeed the law of attraction at work, for a couple of days later, an invitation arrived in my inbox from Ri Cafe to try their Afternoon Tea!
Afternoon Tea makes my heart sing (and I'm sure this is also the case for most girls, hehe). There is something enchanting and indulgent about whiling the afternoon away over small bites of food, either in the quiet company of oneself or in the exuberant company of friends.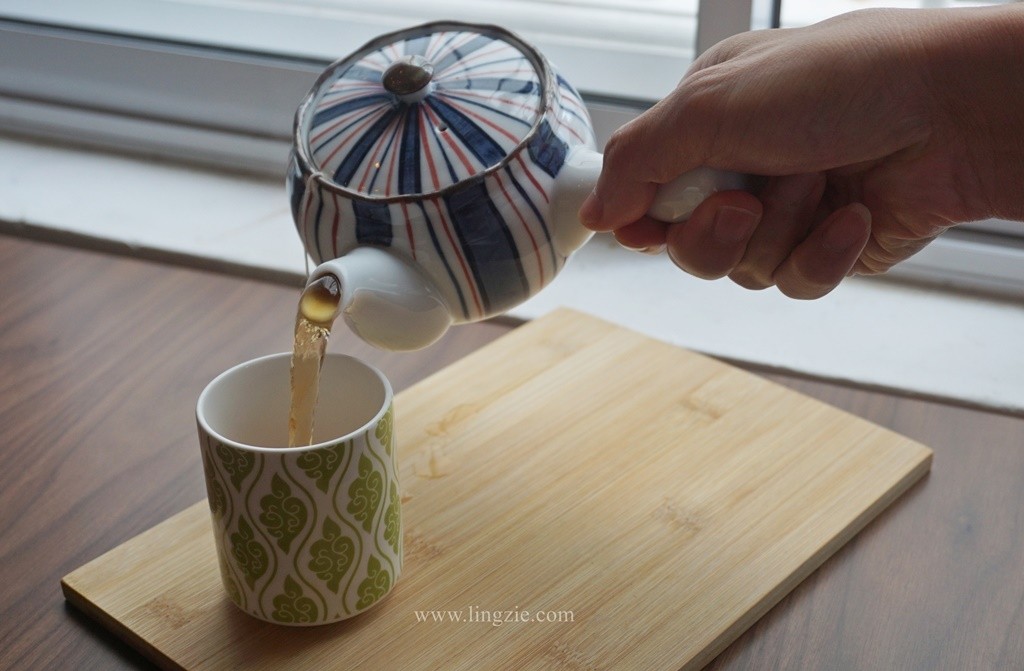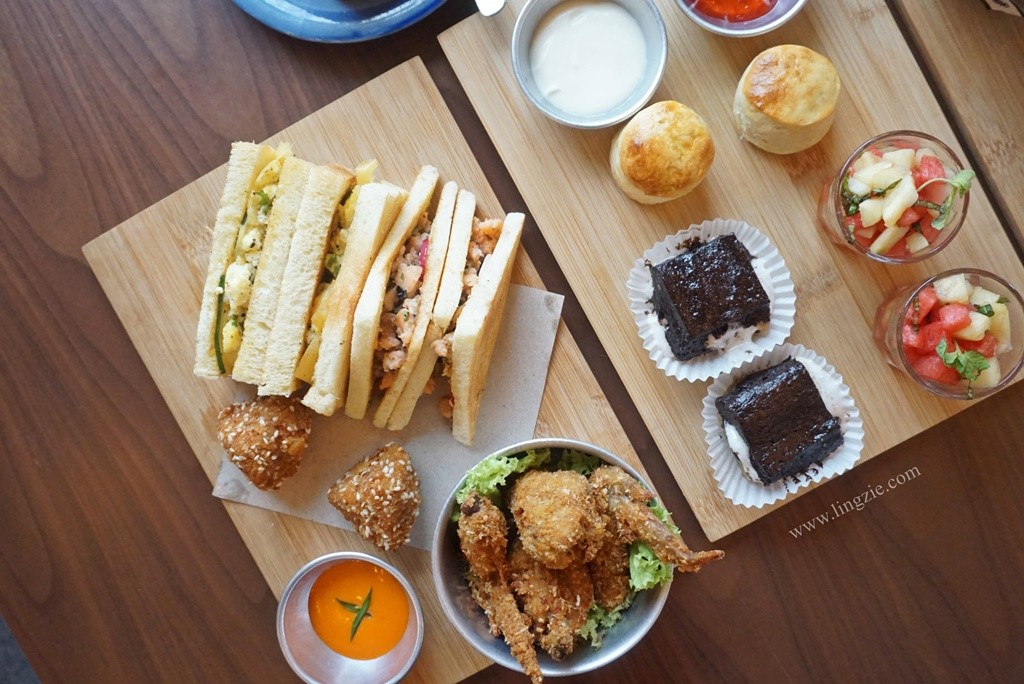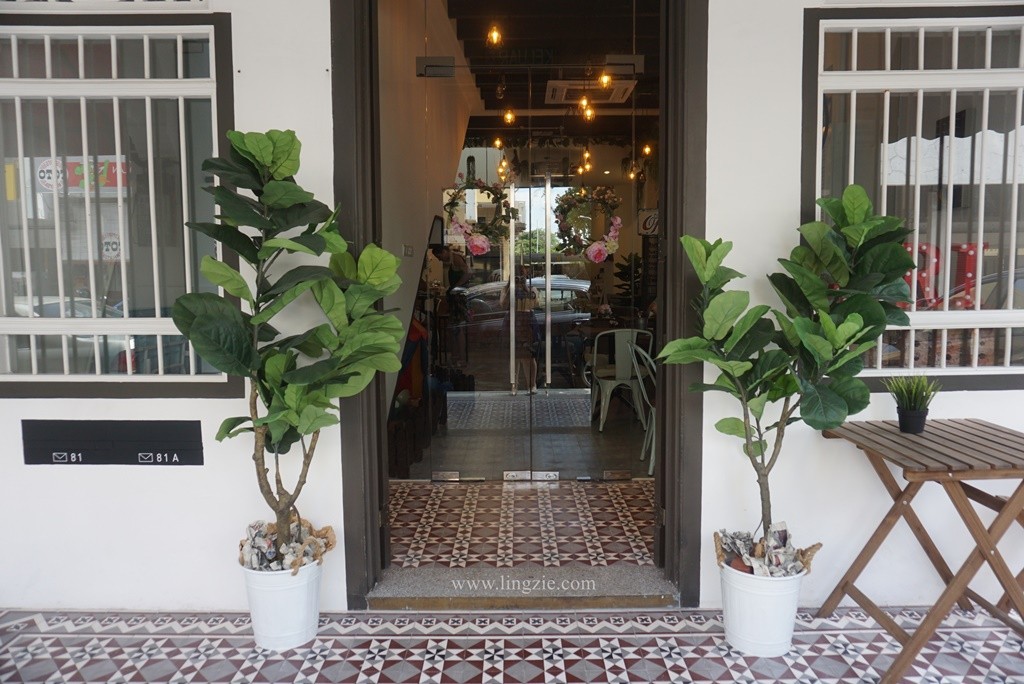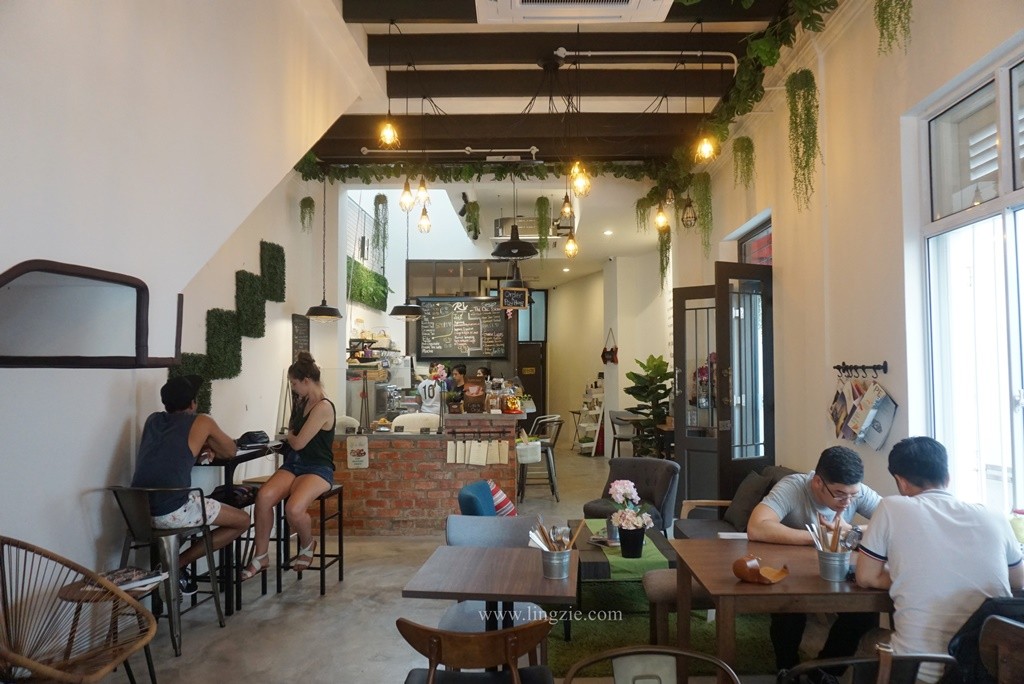 Ri Cafe's Cozy interior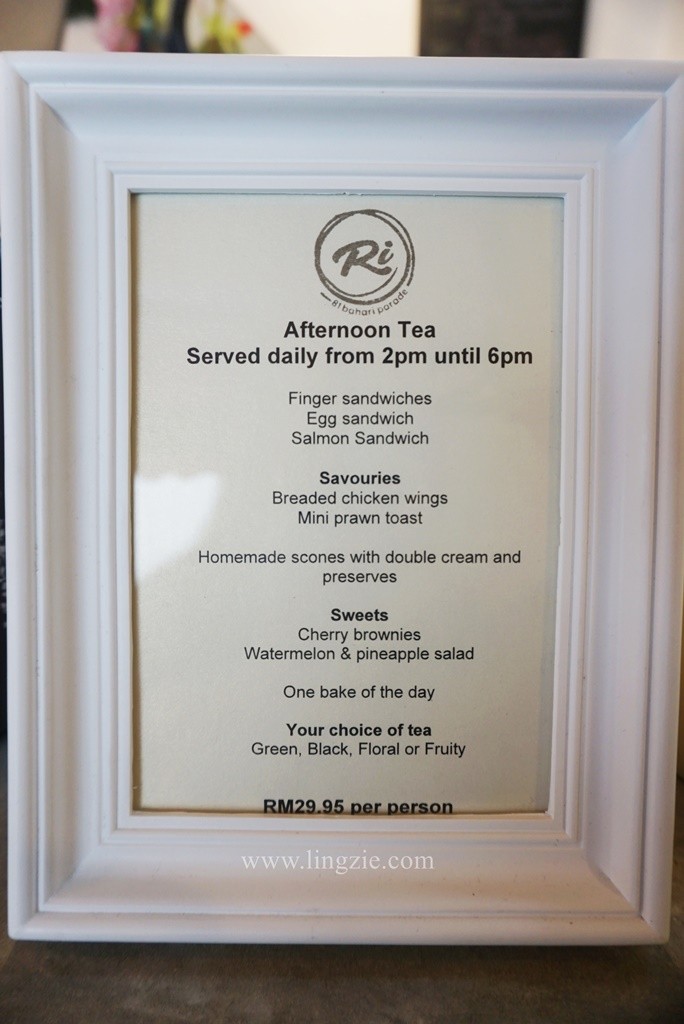 Ri Cafe's Afternoon Tea incorporates a good balance of savouries and sweet. Patrons also get to choose ONE Bake of the day (depending on availability) plus a choice of tea (Choose from Green Tea, Black Tea, Floral Tea or Fruity Tea)
Currently there are FOUR Bake of the Day options to choose from – Matcha Tart, Banana Bread, Lemon Pound Cake OR Brioche Donut. 
I was happy to note that Ri Cafe makes everything from scratch, in house – from the bread used to make sandwiches, to the luxuriously smooth custard in the brioche donuts to the tarts and cakes.
The owner of Ri Cafe, Sharina (who is a Le Cordon Bleu graduate in both culinary & patisserie fields) explained that she believes in making real food with quality ingredients. As such, she has kept her menu small but controlled in order to deliver the best food possible (visually & tastewise) It was certainly heartwarming talking to someone who has so much passion for her food!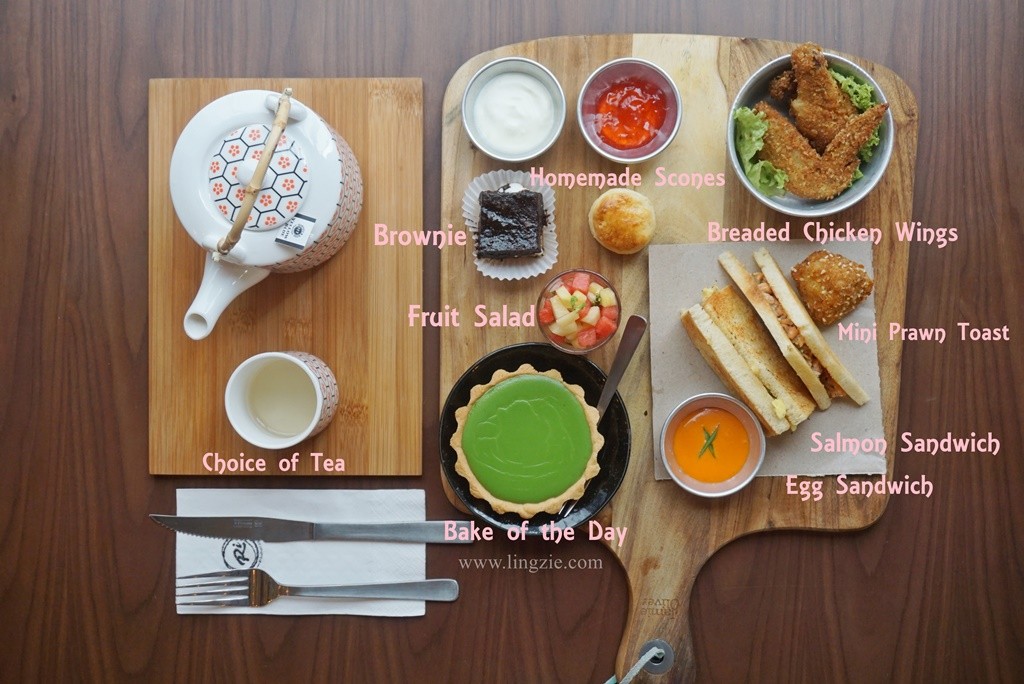 Afternoon Tea for One (RM29.95 NETT)
One would notice Ri's interesting choice of plating for their Afternoon Tea. Instead of the traditional tiered plating, Ri chooses to display the items on a flat platter (which makes for perfect flatlay photos!) matched with beautiful oriental inspired tea sets. I love the overall quirky look.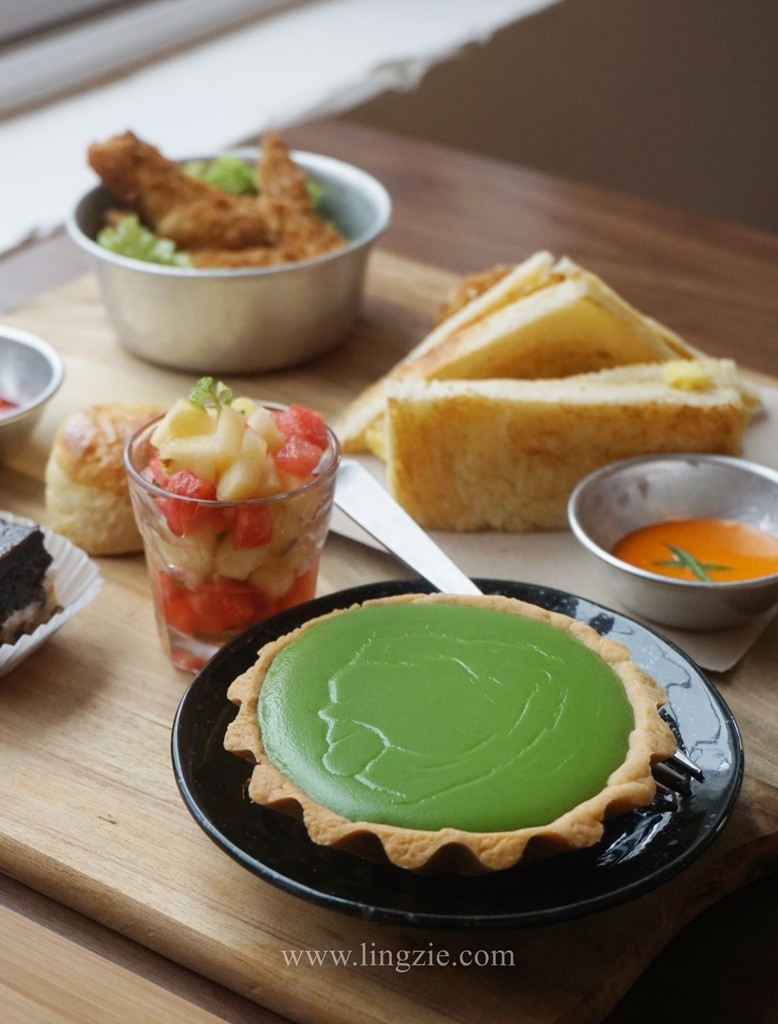 Bake of the Day Option – Matcha Tart
The Matcha tart is one of Ri Cafe's best sellers and I could see why. The luscious matcha custard was a joy to dig into, encased in a butter-y tart crust (which was neither too thin nor too thick) It was also not too sweet and just nice for my palate.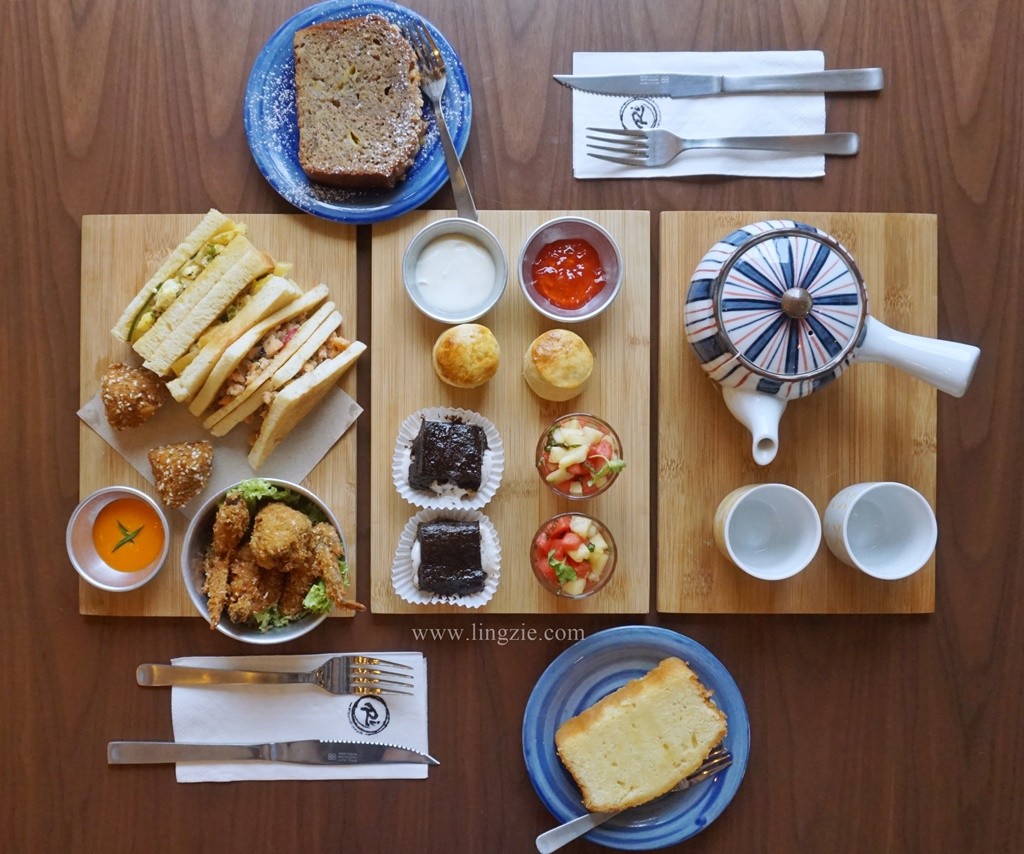 Afternoon Tea for TWO (RM59.90 NETT / RM29.95 per pax)
The Afternoon Tea for Two has double of all items (so that neither one has to fight over any of the delicious morsels!) And diners get to choose 1 bake of the day each. Pictured above are the Banana Bread & Lemon Pound Cake options. The banana bread was moist and dense while the lemon pound cake packed a punch in terms of tangy lemon flavour.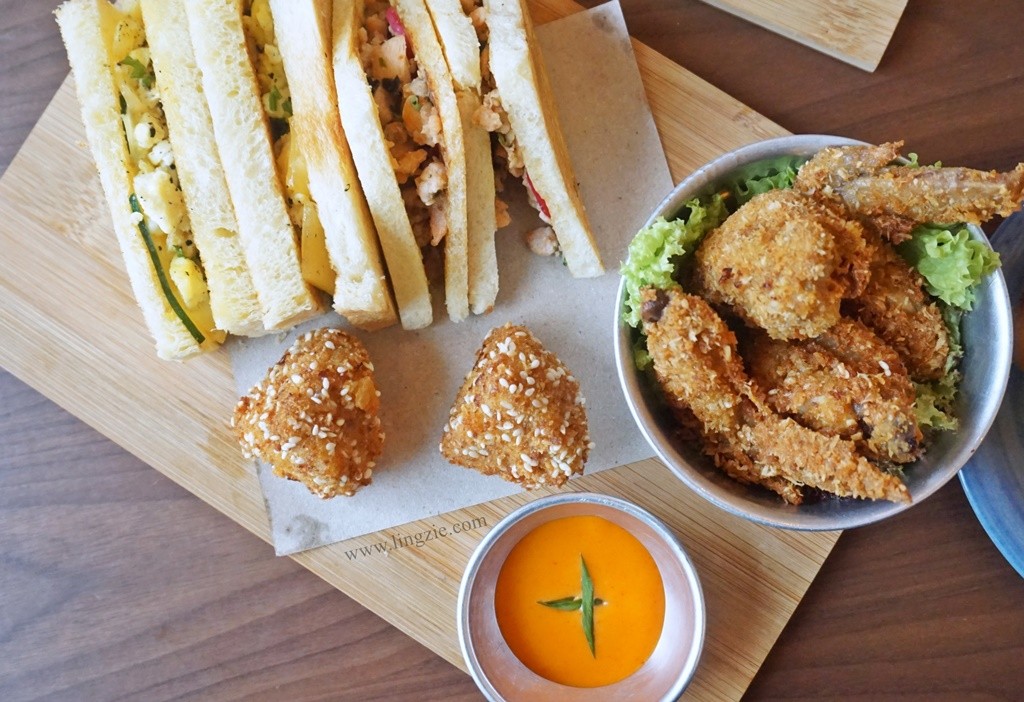 Savoury Selection – Egg Sandwich, Salmon Sandwich, Breaded Chicken Wings & Mini Prawn Toast
The savoury items were enjoyable especially the mini prawn toast with sriracha mayo. The breaded chicken wings were juicy and delectable, with some crunch and texture from the dessicated coconut. Both the breaded chicken wings and the prawn toast are available in bigger portions on their normal dinner menu.
I also enjoyed the egg and salmon sandwiches.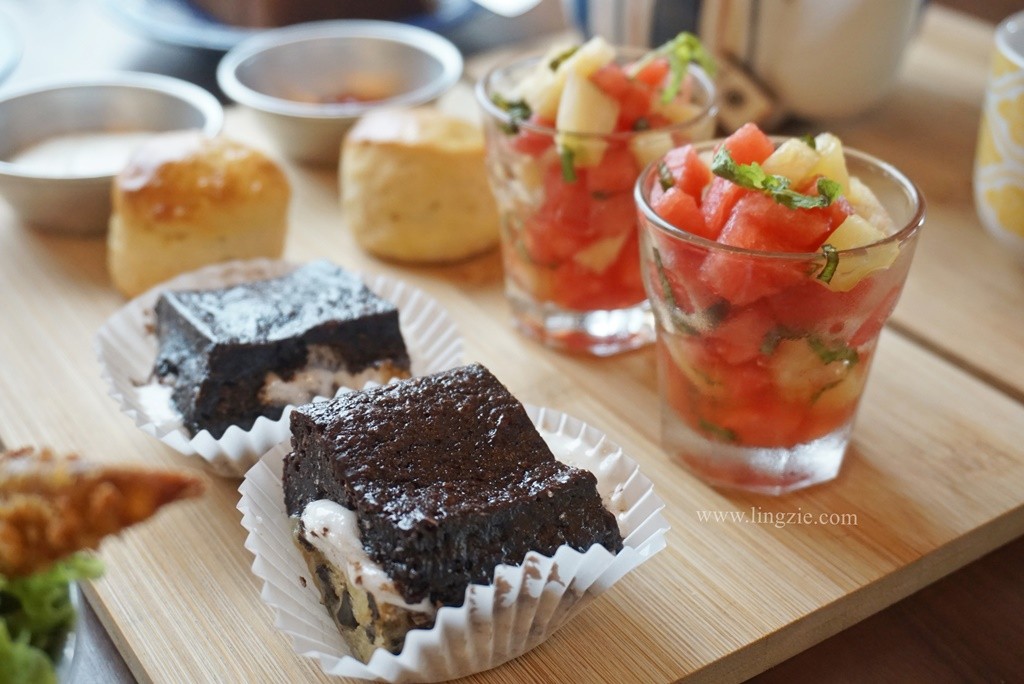 Sweets Selection – Triple Layer Brownies, Watermelon & Pineapple Fruit Salad, Homemade Scones
Moving on to the sweets, the clear favourite for me was the triple layer brownies. It was moist, fudge-y, chocolate-y rich and decadent. A perfect chocolate lover's haven!
The homemade scones are served with double cream and preserves.  Meanwhile, the watermelon & pineapple fruit salad offered a refreshing mint-y lift.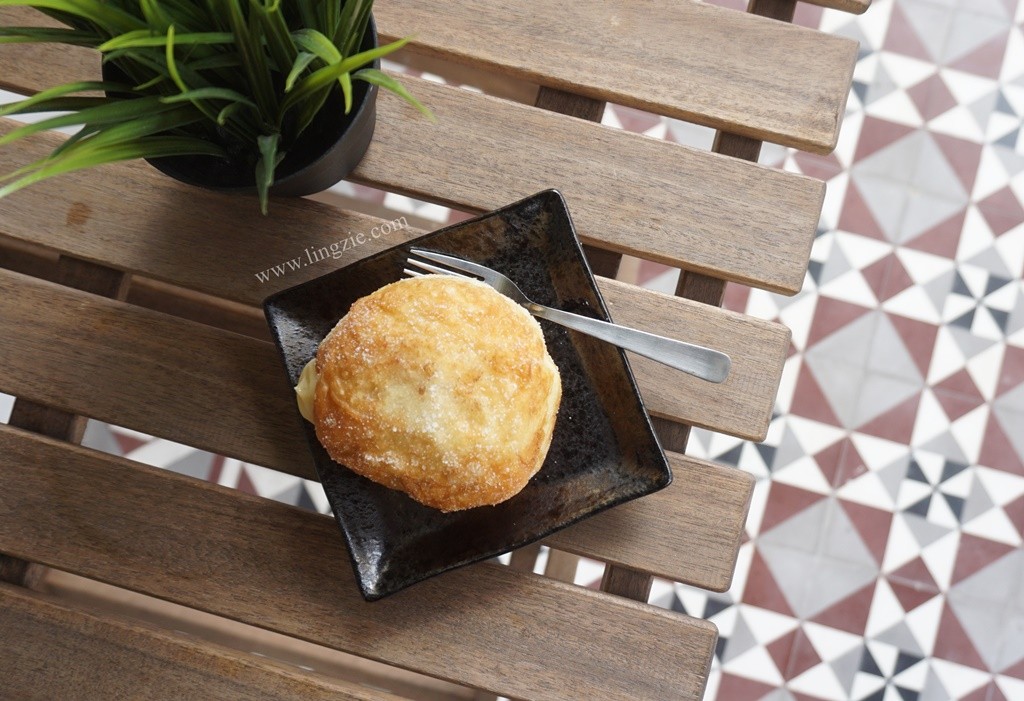 Bake of the Day option – Brioche Donut (with vanilla or chocolate custard)
The fourth bake of the day option available for the Afternoon Tea set is another one of Ri Cafe's bestseller – the Brioche Donuts. Ordinary in looks, but the wow factor was certainly there. The best thing about the donut I reckon would be the silky homemade custard stuffing inside it! I haven't had a donut in a while and Ri's version rekindled my love for it 🙂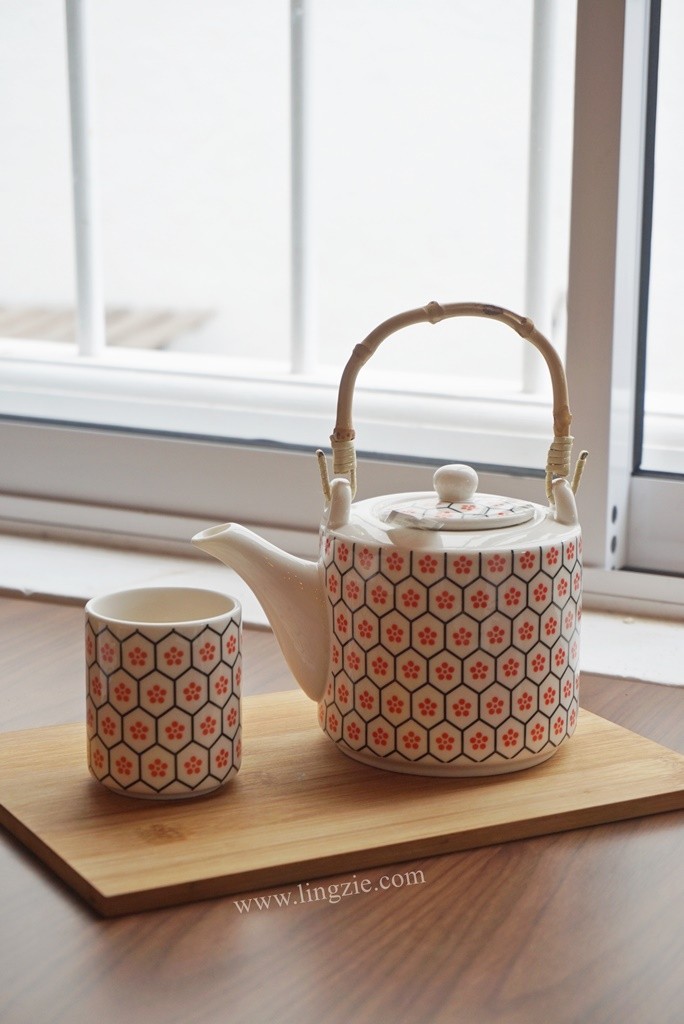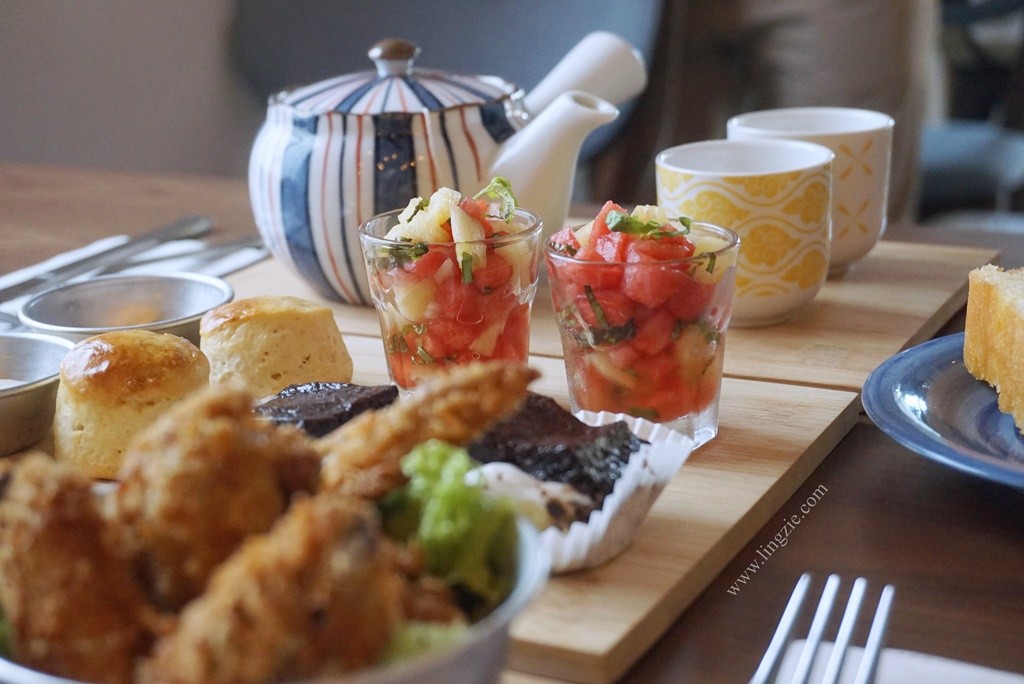 Ri cafe's Afternoon tea is available daily (except Monday) from 2pm-6pm (The cafe is closed on Mondays)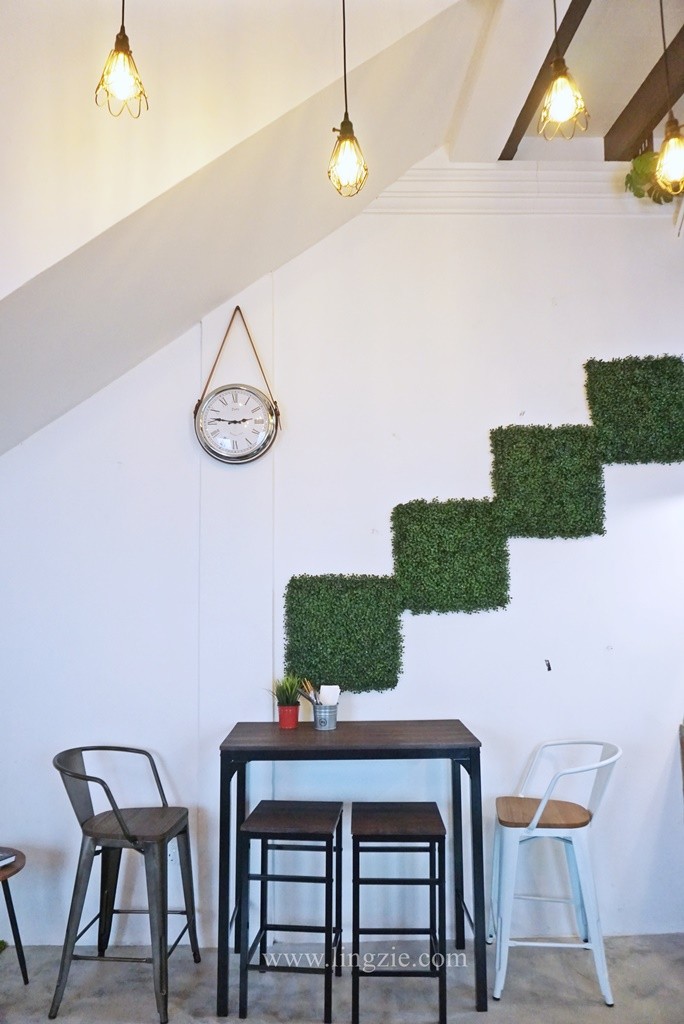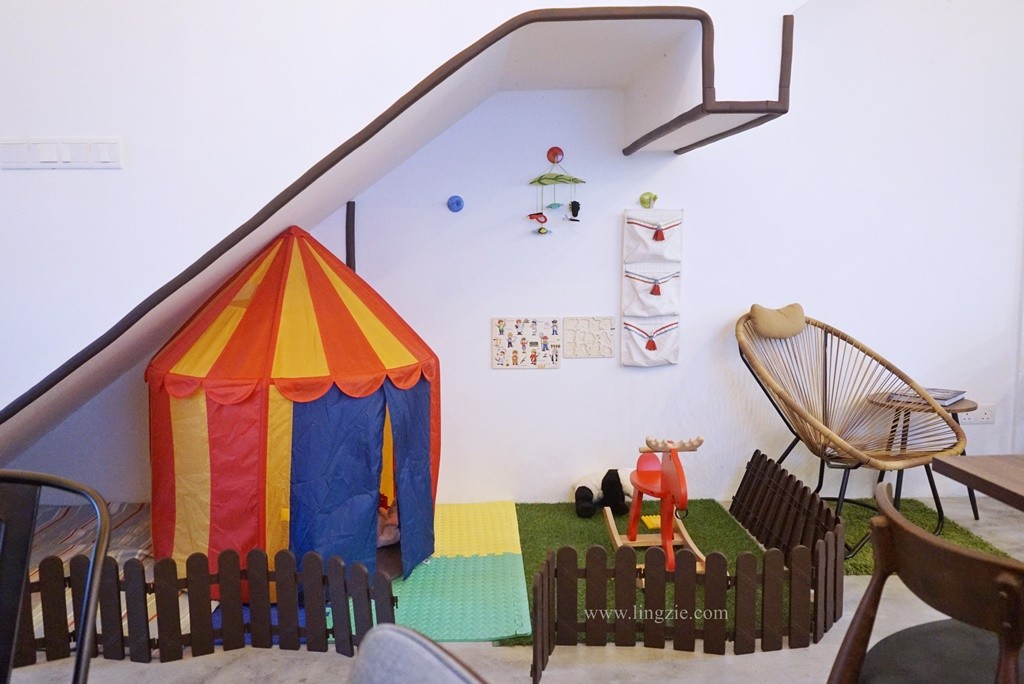 Kids Play Area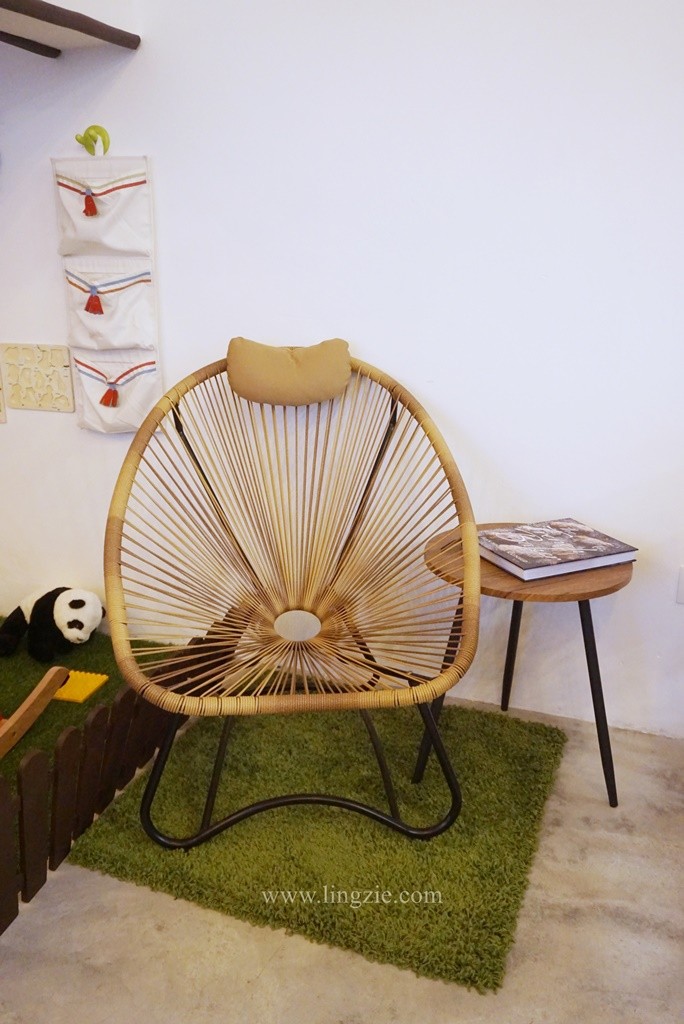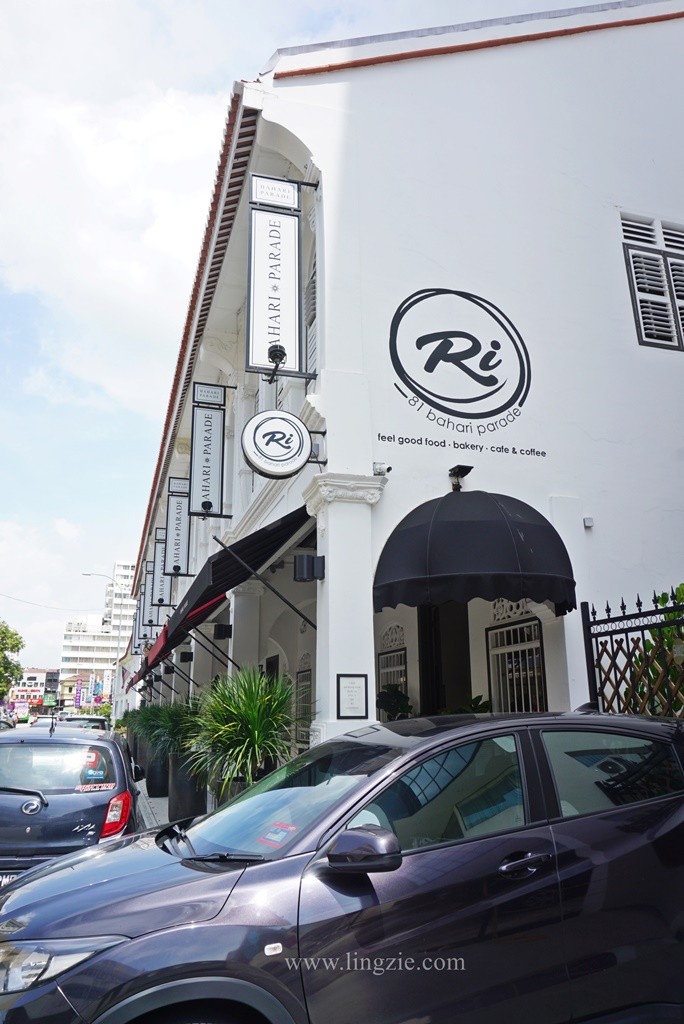 Ri Cafe is located at Bahari Parade, along Sri Bahari Road, Georgetown Penang.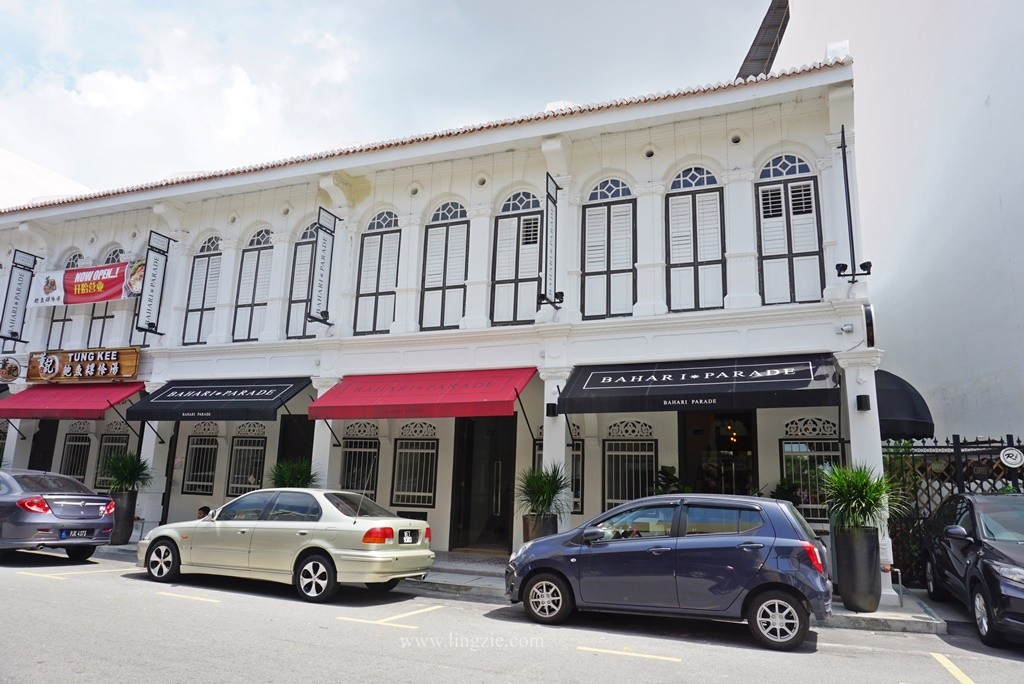 *Many thanks to Ri Cafe for extending this invitation
The Essentials:-
Ri Cafe
Address: 81 Jalan Sri Bahari, 10050 Georgetown Penang
TEL: 04-251 9069
Opening hours: 9am-6pm (Tues-Thurs); 10am-10pmm (Fri-Sun) CLOSED ON MONDAYS
Afternoon Tea is available DAILY from 2pm-6pm