Maple Palace Chinese Restaurant is no stranger to the dining scene in Penang. Maple Palace is one of the go to places whenever one looks for quality Chinese cuisine be it for weddings, company dinners, birthdays, events or even just a simple meal with family and friends.  Over the years, Maple Palace has constantly changed and revamped their menu to keep things exciting for their customers, new or returning. Special set dinner menus can also be curated based on the diners' preferences and budget.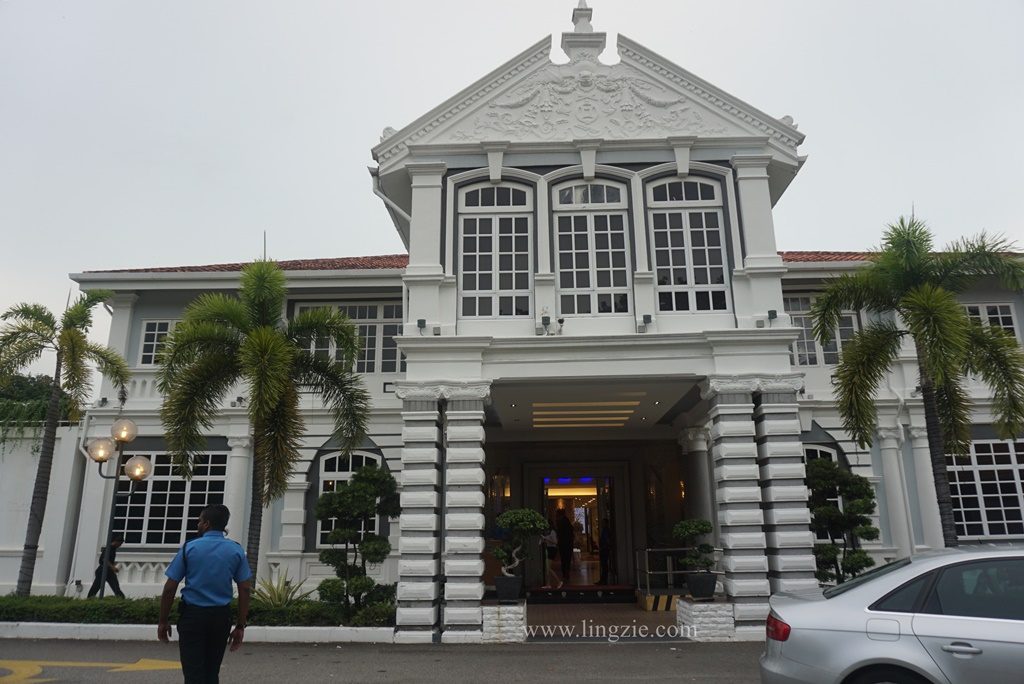 Majestic building which houses Maple Palace Chinese Restaurant
Open air car park is available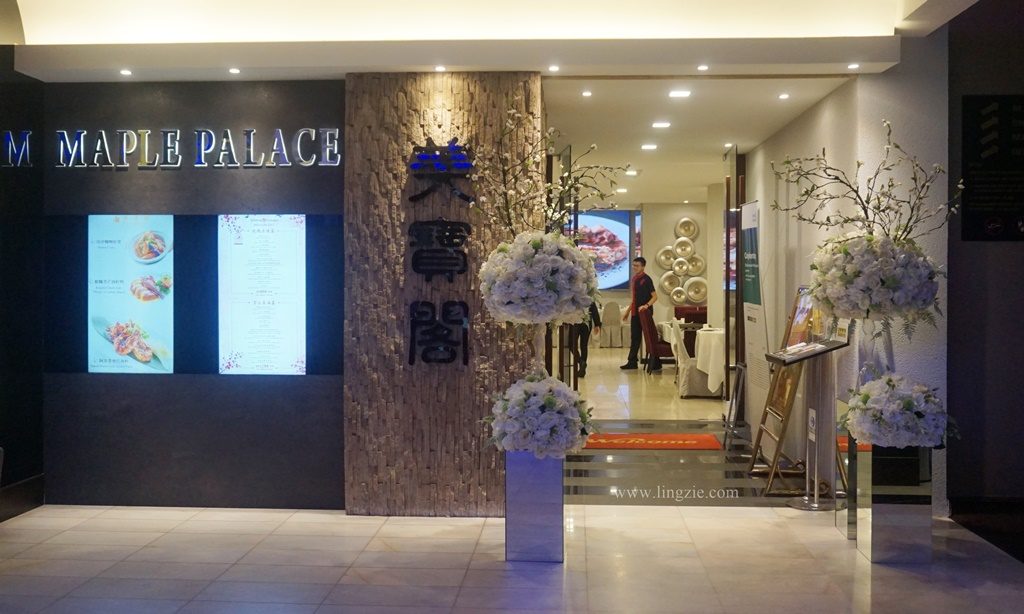 Recently, the owner and head chef of the establishment Mr Tan Loy Sin, hosted a group of us for dinner. The dinner showcased the restaurants capability and creativity, presenting us with dishes that were top notch in quality. We were definitely in for a treat!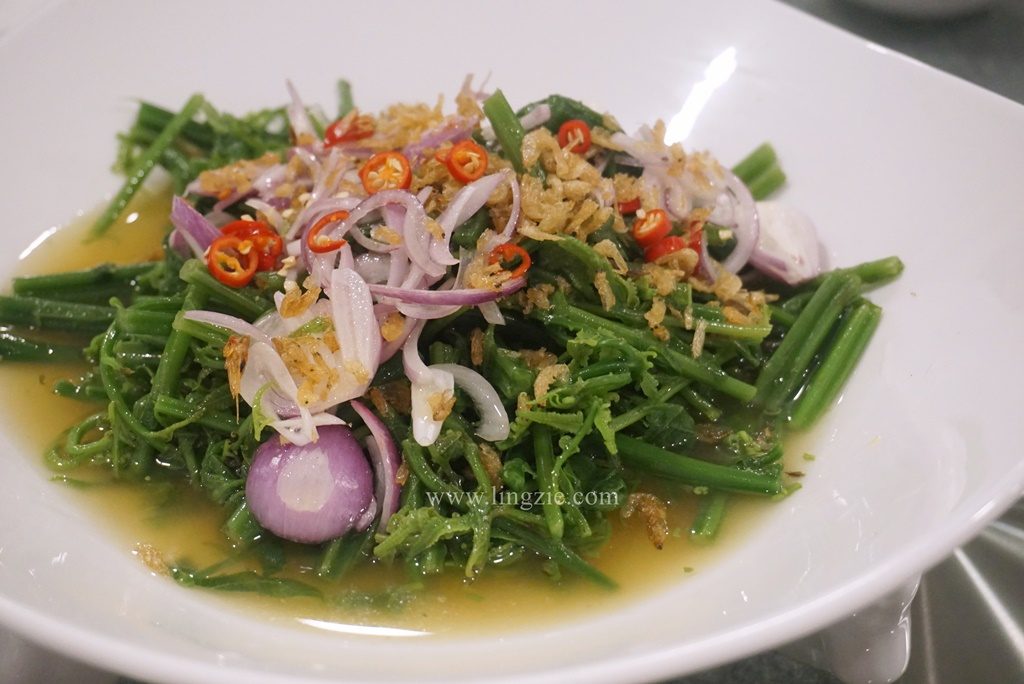 Appetizer – 'Paku Pakis' vegetable in 'Ubah' Sauce
We started off with a cold appetizer in the form of 'Paku Pakis' (wild fern) vegetable in 'Ubah' Sauce. We were indeed very lucky for they had just procured the 'Paku Pakis' the morning of the meal itself when Mr Tan went on his rounds at the wet market. A rare delicacy here in Penang, the vegetable was crunchy with its own distinctive taste and was the right vehicle to carry the sweet, slightly spicy and sour Ubah Sauce! With lots of shallots, fried dried shrimp and chilli, every mouthful was a burst of flavours dancing around in my mouth.
This dish is also served in their regular menu with a more common type of vegetable. I reckon it will still be just as good as their 'Ubah' Sauce is the key point here.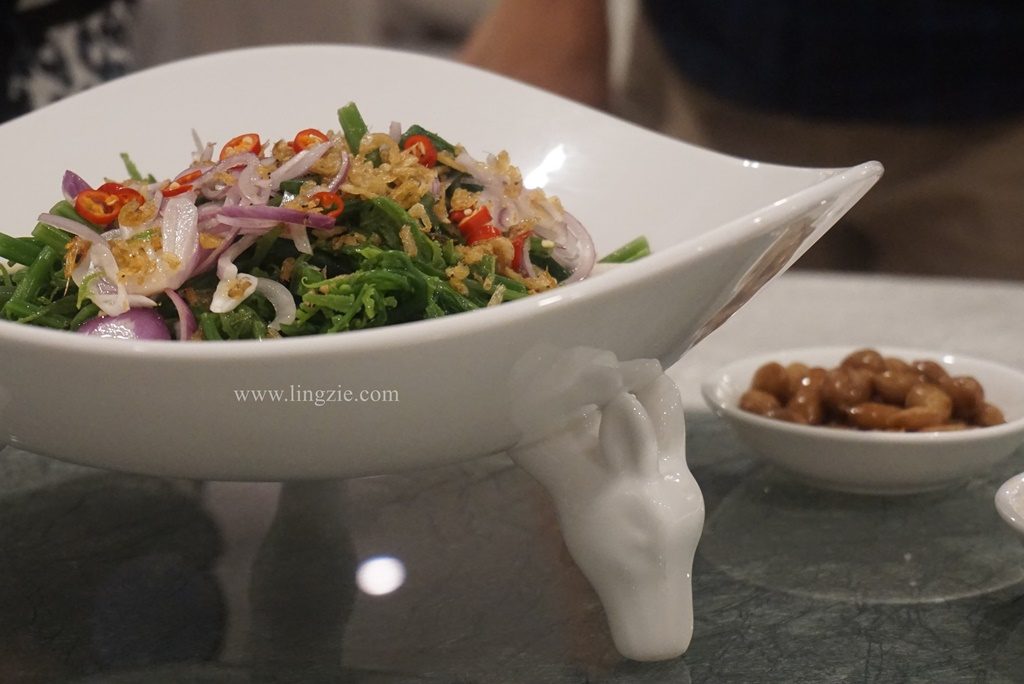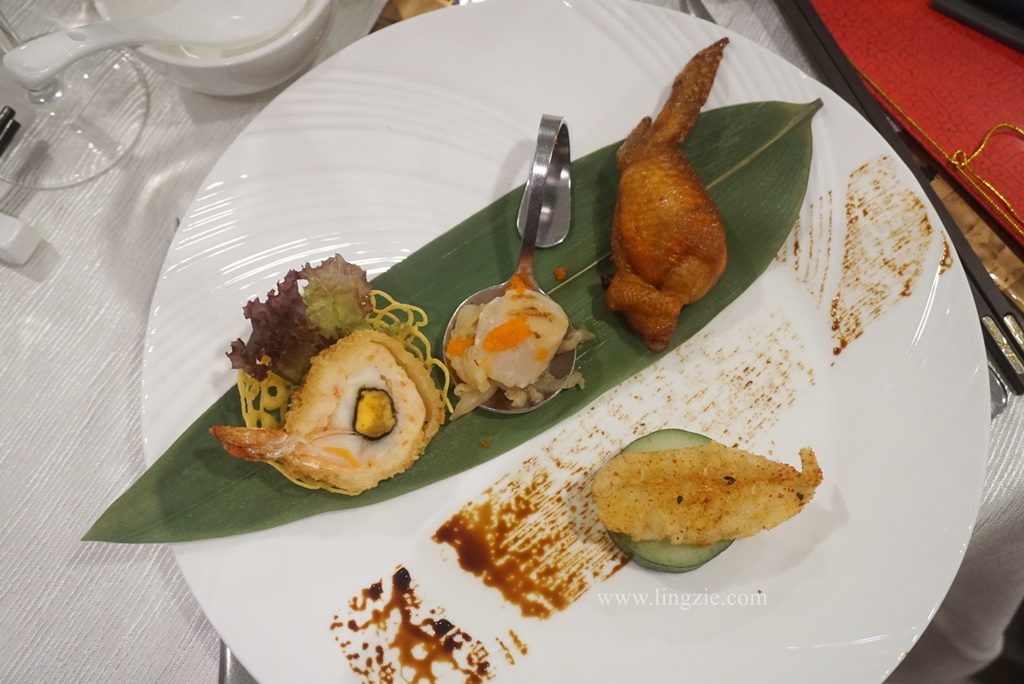 Maple Palace for hot & cold combination Platter 
The Hot & Cold Combination Platter consisted of prawn stuffed with salted egg yolk, truffle oil scallops, chicken wing stuffed with Ebiko and fried Puffer fish. I thoroughly enjoyed all four offerings on the platter. Each had its own distinct flavour and tastiness. Bur perhaps my favourite would be the delicate truffle oil scallops.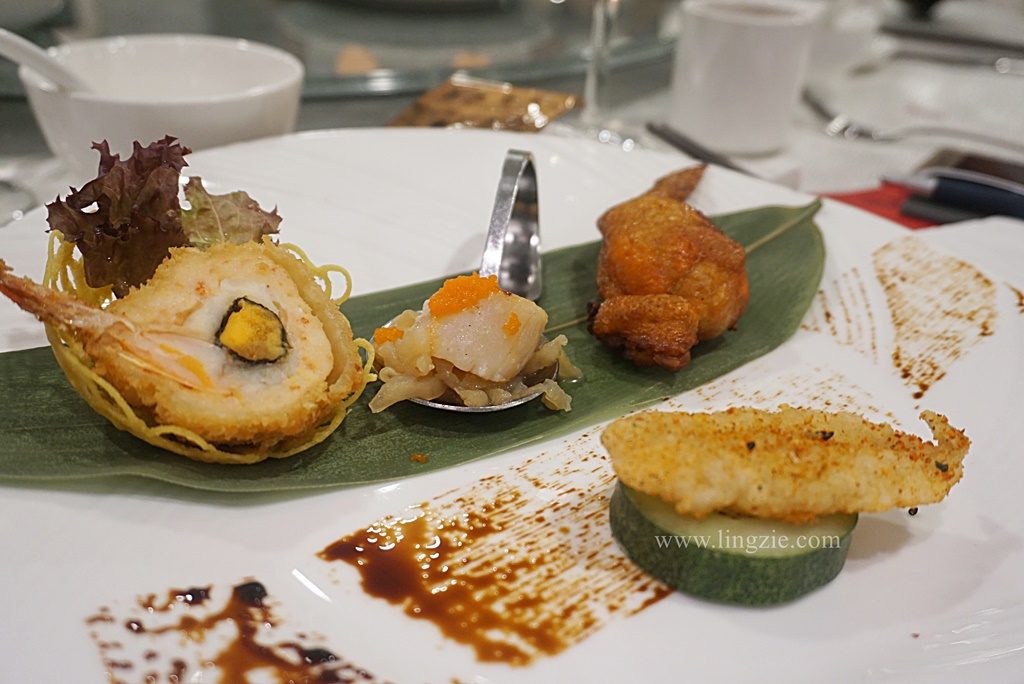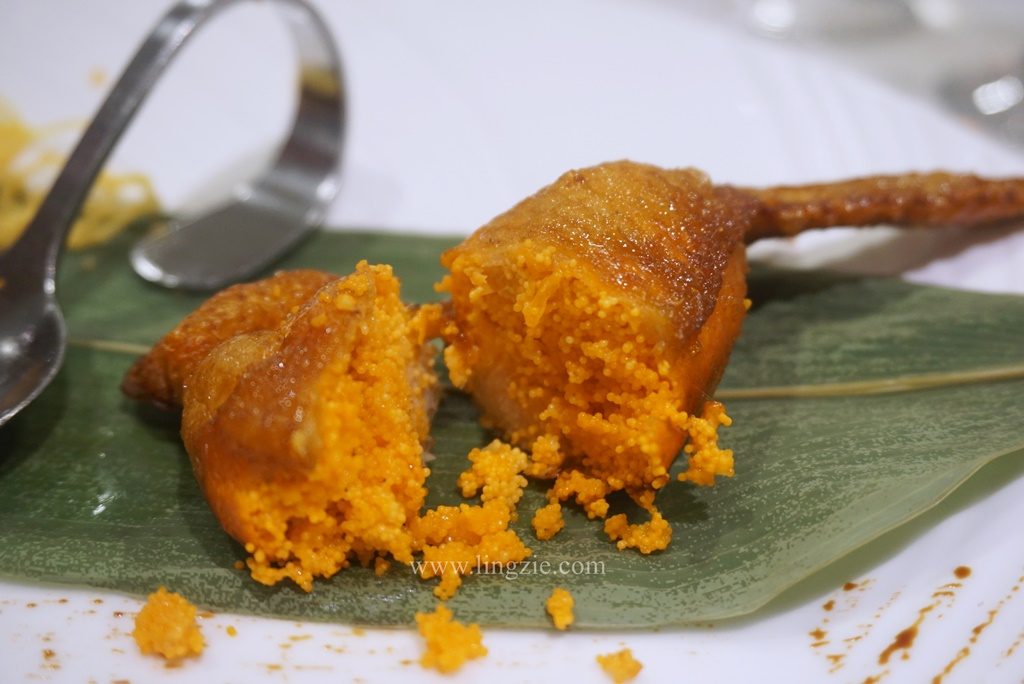 Ebiko stuffed Chicken Wings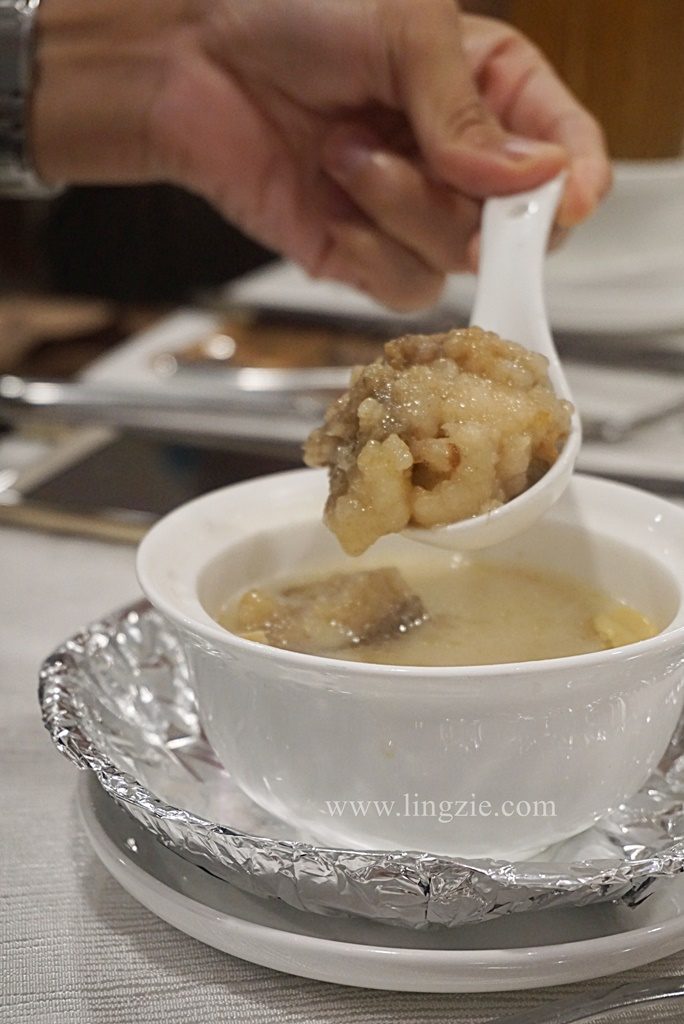 Double-boiled fish head abalone soup
We were then served with 2 different soups – one is their signature fish head soup (similar to the one used in their signature fish steamboat) with abalone added to make it more indulgent. The milky rich soup was indeed heartwarming.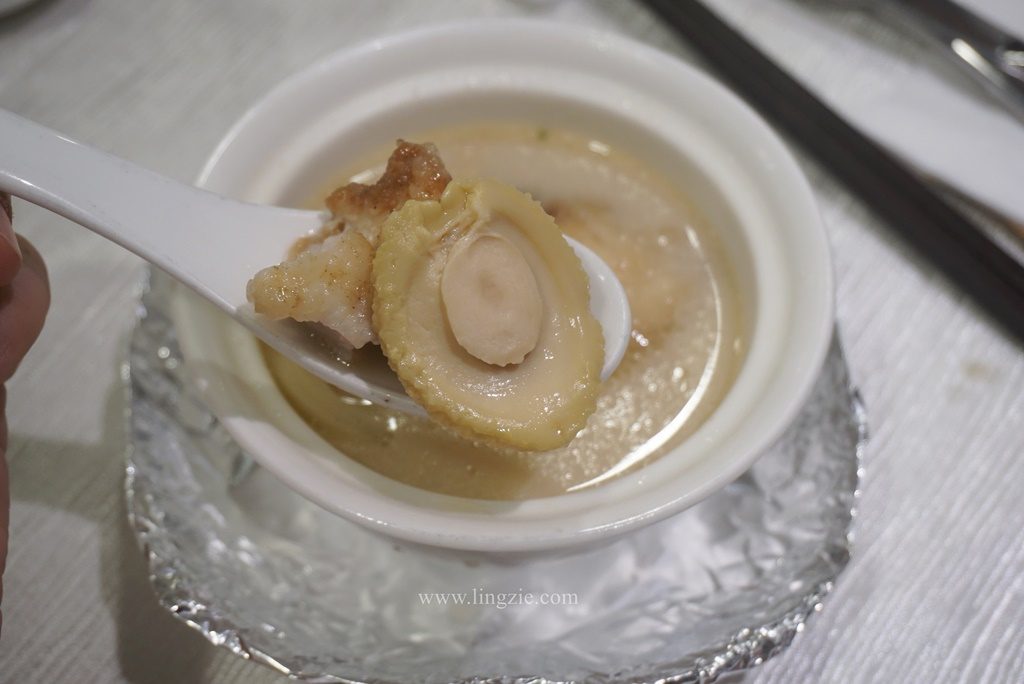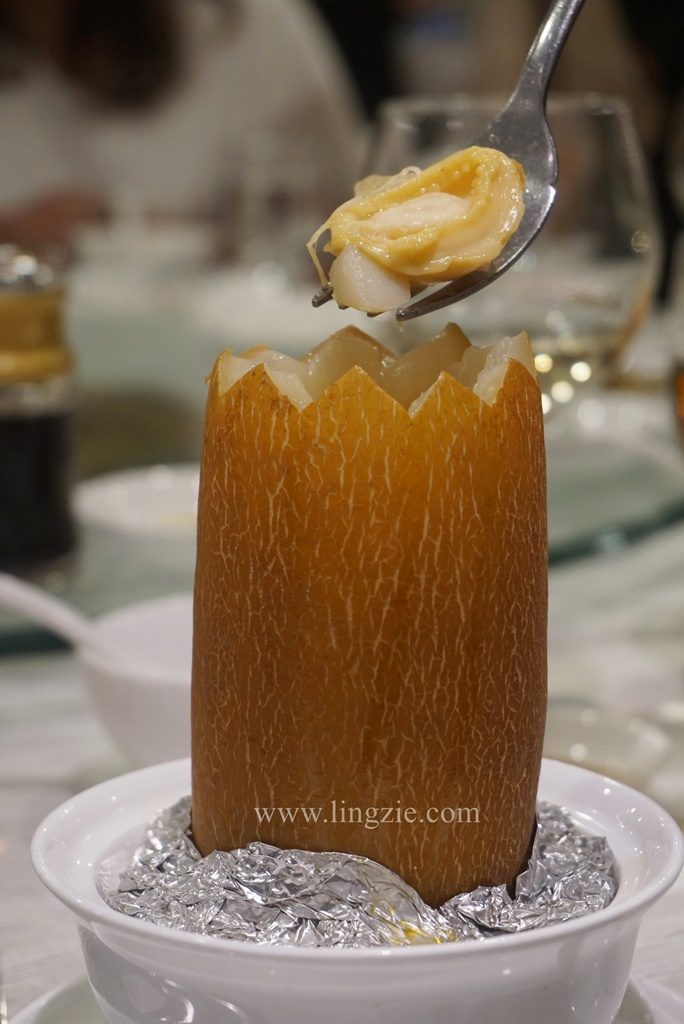 Yellow cucumber seafood abalone soup 
The second option of soup came with interesting presentation using the whole yellow cucumber as the 'bowl'. It was fun to dig into it to fish out the abalone hidden inside but some caution is needed to ensure the soup doesn't spill out. The clear soup was delicious and sweet.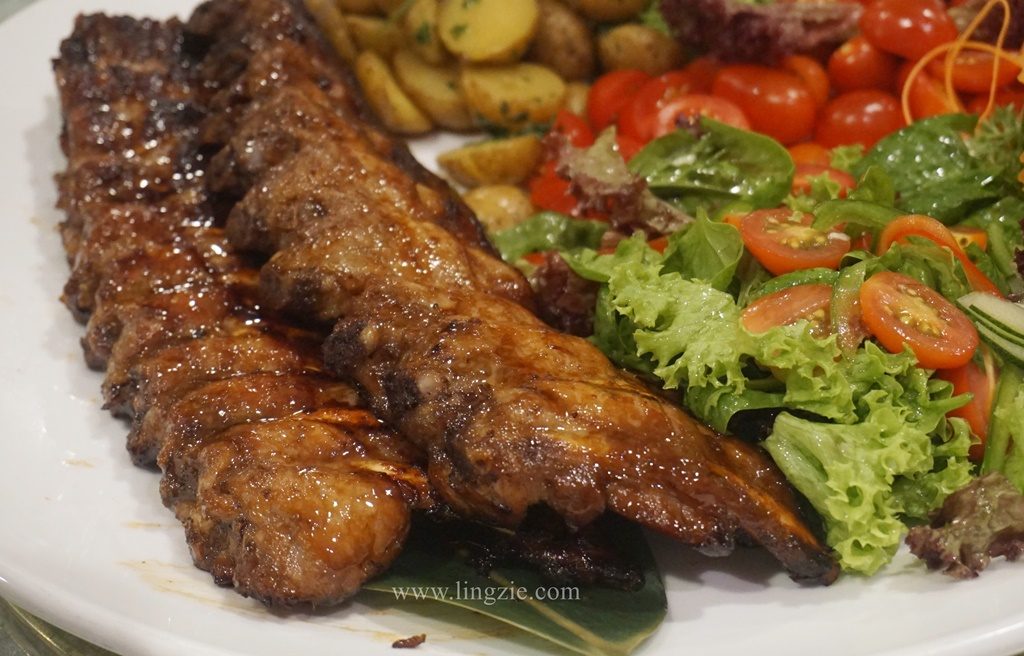 BBQ Roasted Spanish Iberico Pork Ribs
Regular patrons of Maple Palace will notice that they do have some Western styled dishes in their menu. Personally I love this mix of Western and Chinese cuisine for it makes the meal more interesting. One of the highly recommended Western styled dishes in Maple Palace would be the BBQ Roasted Spanish Iberico Pork Ribs. In the deft hands of their chef, the ribs were definitely flavourful and tender. Served with roasted potatoes which were crisp on the outside and soft on the inside, and salad tossed in truffle oil. This dish could certainly rival any other western Ribs restaurant in Penang!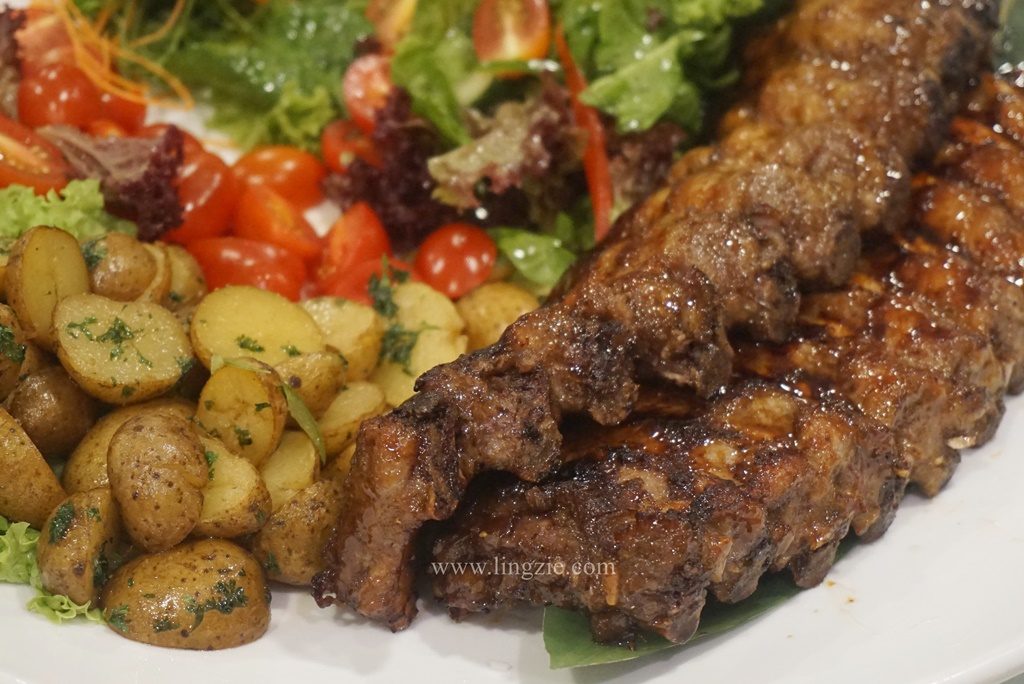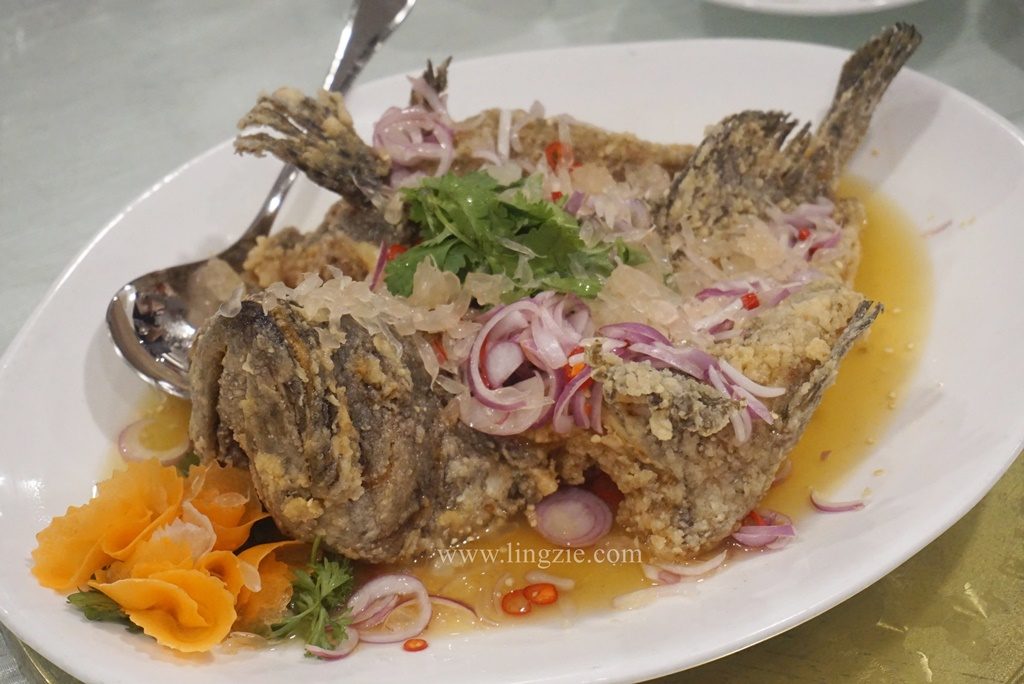 Deep-fried Estuary tiger grouper with pomelo sauce 
The next dish came in the form of a crispy deep fried tiger grouper; expertly paired with the sweet & sour pomelo sauce to cut through any oiliness. I thoroughly enjoyed this meaty fish dish.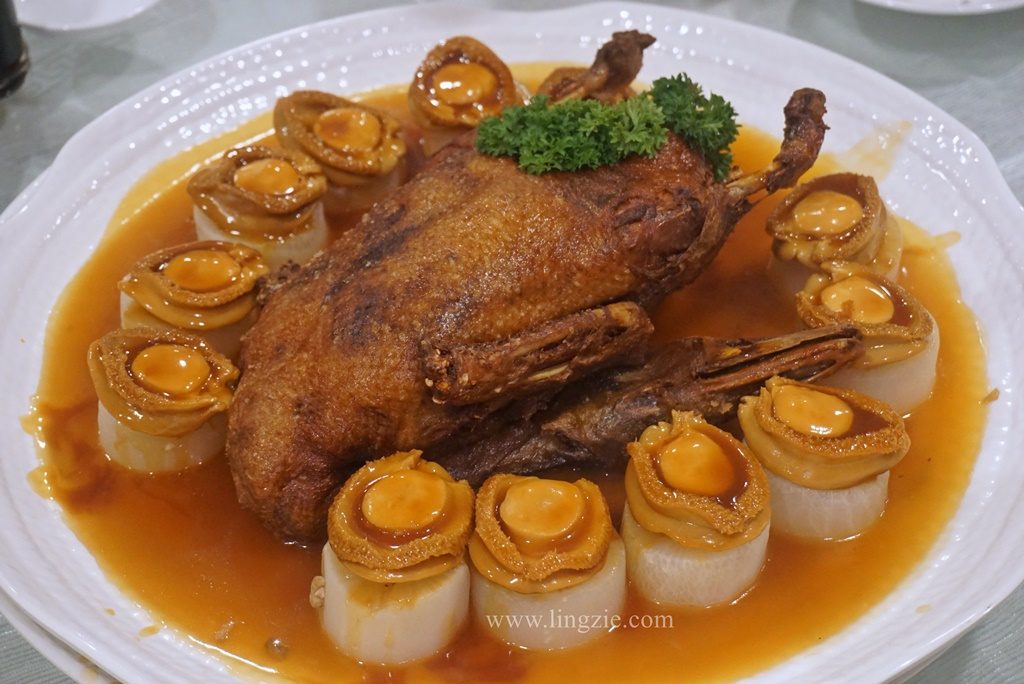 Aromatic duck with 7 head South Africa abalone
Next, we had a handsome aromatic duck dish which is a luxurious treat for our taste buds! The duck had a delightful crispy skin which made way for the juicy meat inside. When Paired with the huge 7 head South Africa Abalone, it was the best of both worlds (land & sea)! Chinese style fine dining at it's best!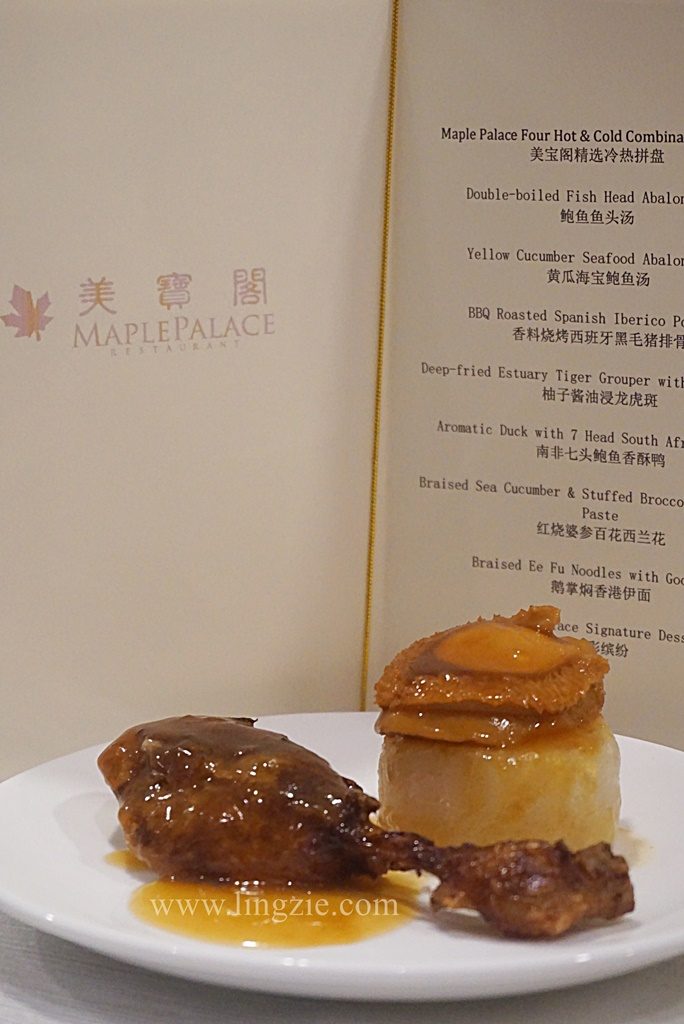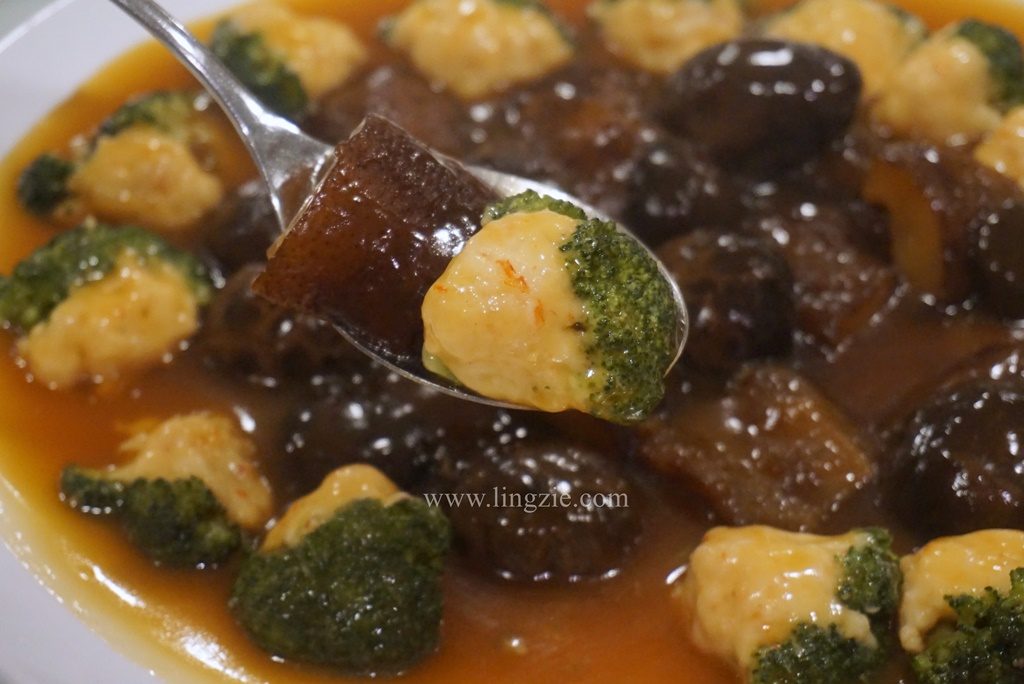 Braised sea cucumber & stuffed broccoli with prawns paste
For the vegetable course, a braised sea cucumber & stuffed broccoli dish was presented before us. This was made more interesting with the prawn paste stuffed into the broccoli.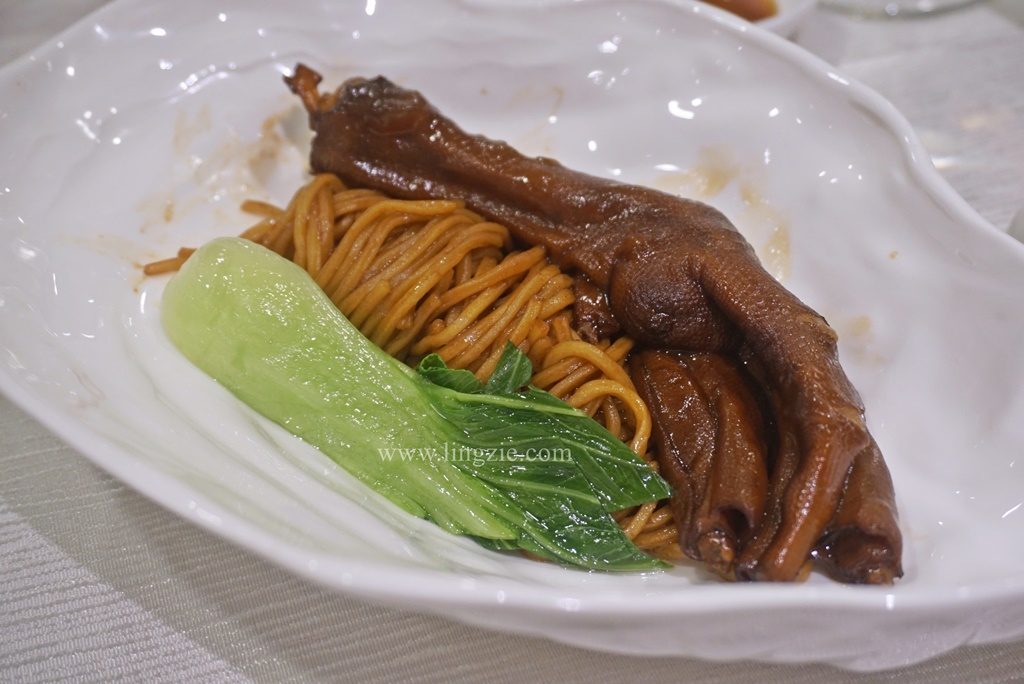 Braised Ee Fu noodles with Goose Web
Finally, to end the savoury part of the meal, we were served Braised Ee Fu noodles with Goose Web. I was initially rather apprehensive about the Goose Web for I don't take chicken feet either (because I don't quite enjoy the texture). However, since the Goose Web is a delicacy, I gingerly took my first small bite of it. And was wow-ed by its deep rich flavours. The texture was not as rubbery as I had imagined and I had polished off the Goose Web in no time! The premium imported Ee Fu noodles meanwhile had a wonderful springy texture and bite to it. Personally, this dish was a new taste adventure for me which I enjoyed immensely.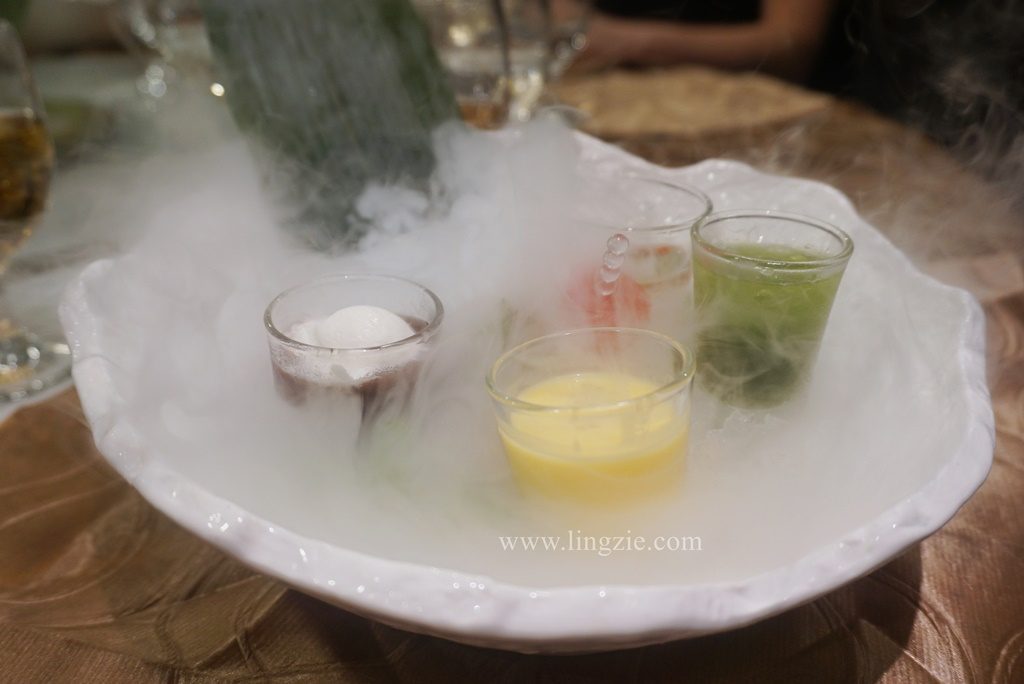 Maple Palace signature dessert
We were curious what the Maple Palace Signature Dessert would bring, and we were not disappointed! A platter of smoke and lights was placed before us with much fanfare and wow factor. It consisted of small shots of their signature desserts including a special "green drink" which had us all guessing what it was made out of. It had a lovely sweet and tangy flavour which most identified as pineapple. But because it was green, we tried to guess what else was added. It turned out that all our guesses were wrong! For it is actually a combination of pineapple, Choy Sum vegetable and honey. A lovely and refreshing way to end the sumptuous meal!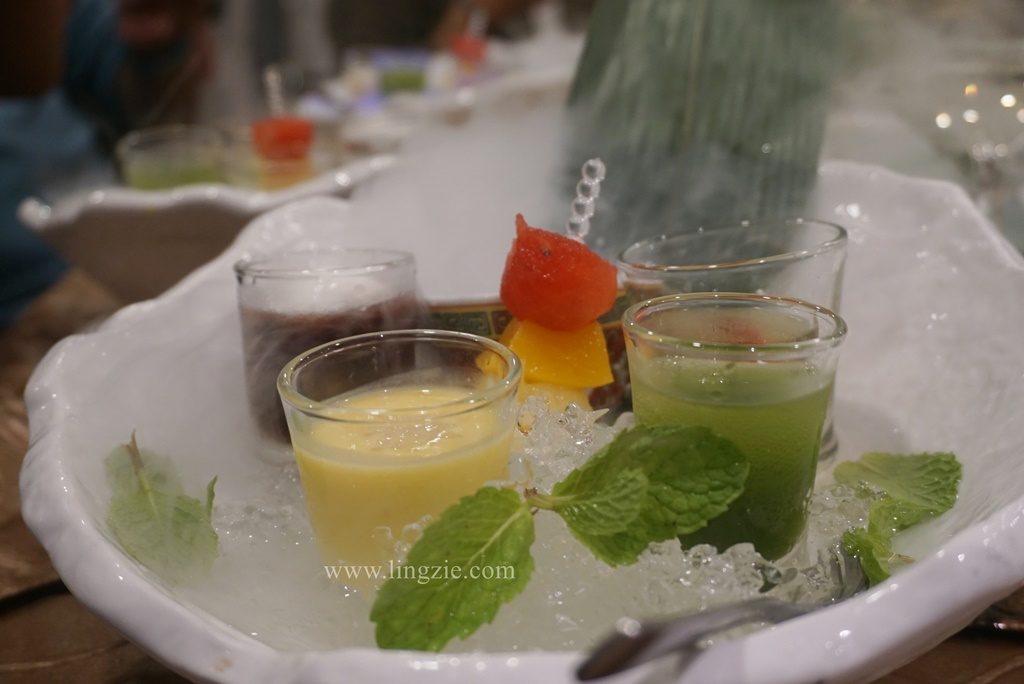 Overall, Maple Palace does indeed push the boundaries when it comes to Chinese Cuisine in Penang. They can cater for a wide range of palates from simple family dinners to luxurious events. But one thing for sure is that it is a place diners can come back time and again for a good meal.
Maple Palace Restaurant
Address: 47 Jalan Sultan Ahmad Shah, 10050 Penang
Tel : 04 – 2279690
Operating Hours: Lunch: 12noon – 2.30pm
Dinner: 6pm – 10pm