This Chinese New Year, celebrate the season of Spring and togetherness at G Hotel Penang. Both G Hotel Gurney and G Hotel Kelawai are offering their mouth watering Chinese New Year 8-course dinner from 26th January – 28th February 2019. 
Two different packages are available:-
Prosperity Package at RM1688nett
Longevity Package at RM1888nett
I had the opportunity to sample the dishes in the Longevity Package (RM1888nett) which I thoroughly enjoyed.
The 8-course dinner starts off with the Lucky Fresh Salmon Yee Sang, with lots of fun tossing for prosperity, good luck, good health and more auspicious blessings for the new year. The Yee Sang was enjoyable without being overly sweet and a good balance of sauce.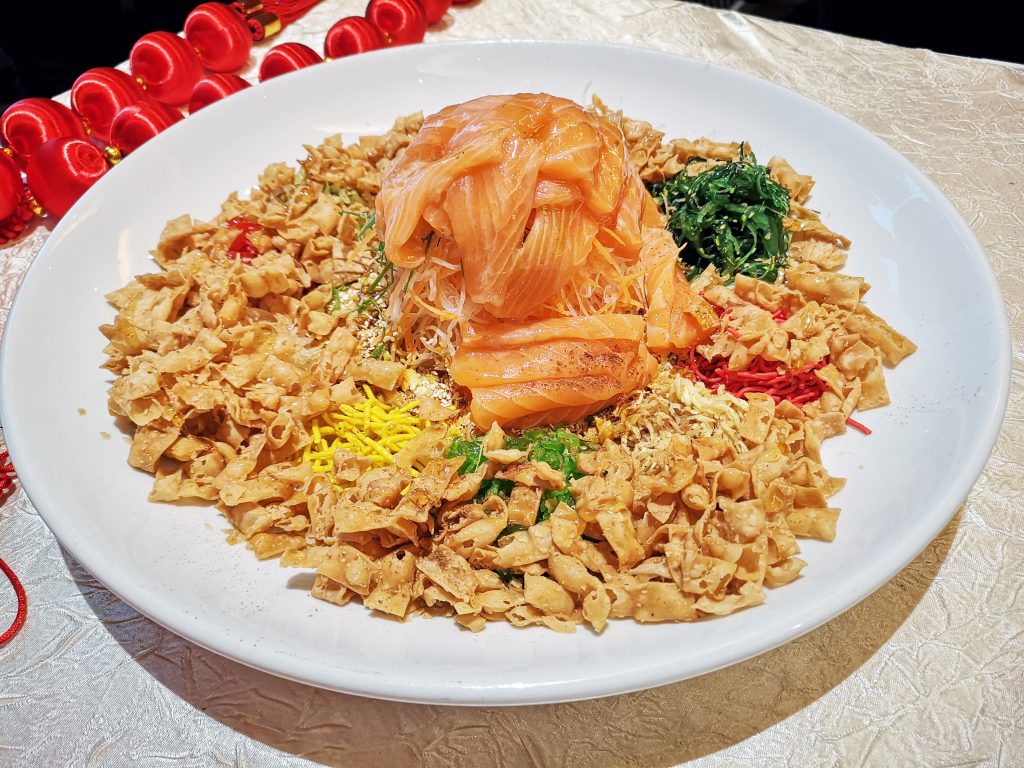 Lucky Fresh Salmon Yee Sang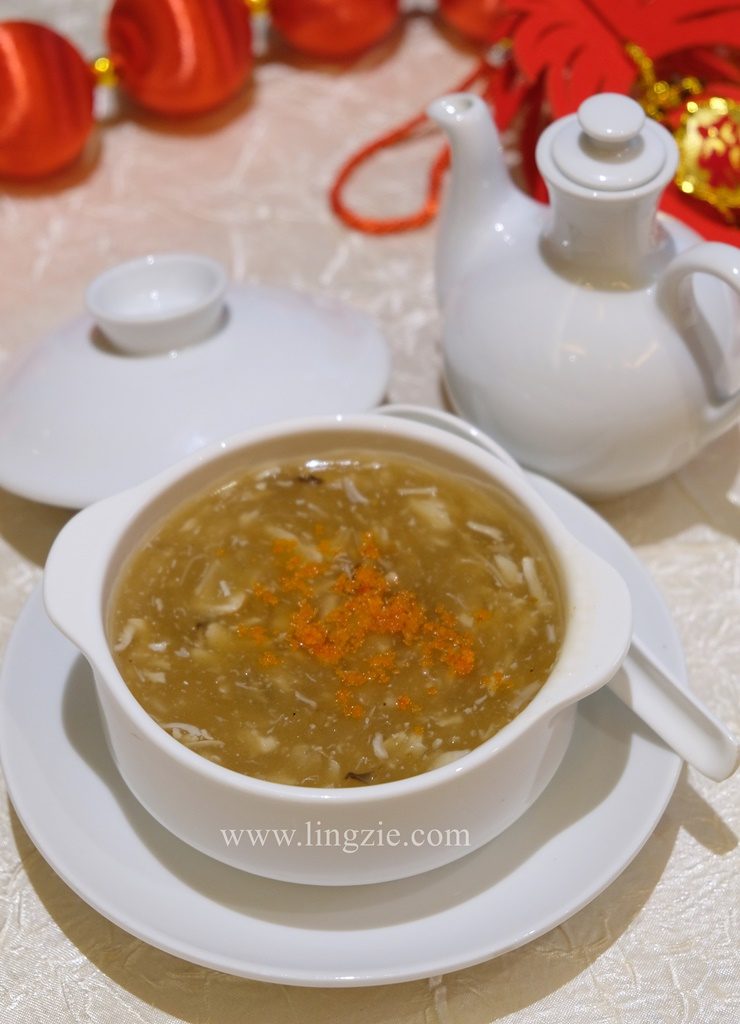 Braised Seafood Soup with Dried Scallop
Next, tuck into a bowl of heartwarming Braised Seafood Soup with Dried Scallop. Normally I am not a fan of these type of soups as they tend to be very starchy. However, G Hotel's version won me over, having the briny sweetness of the various seafood used to cook the soup. The hint of sesame oil rounded off the soup very nicely.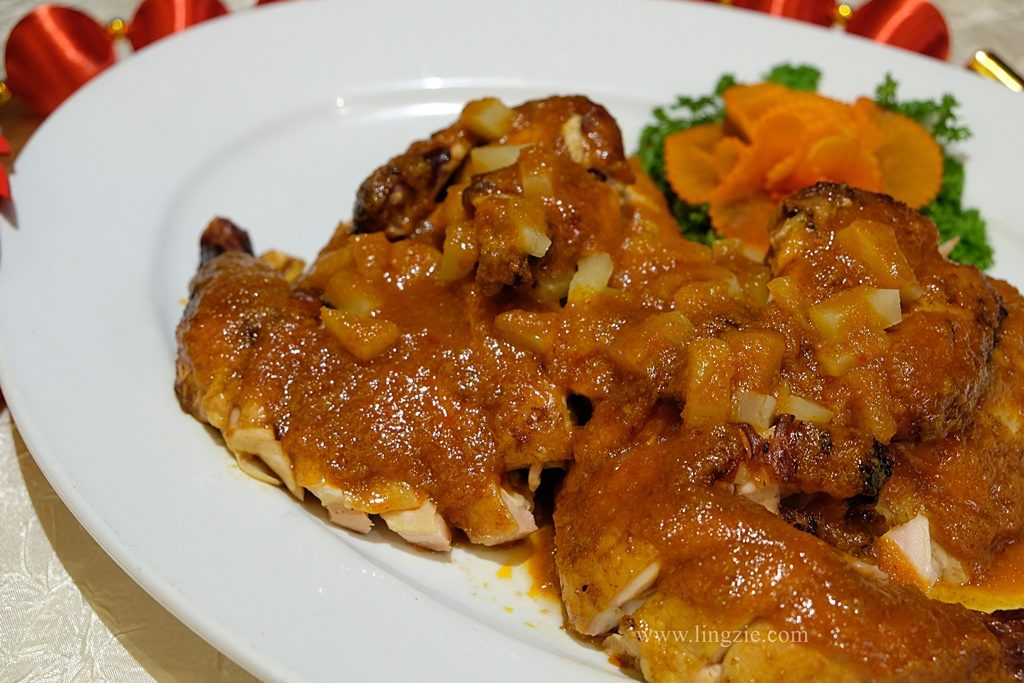 Baked Whole Chicken in Spicy Pineapple Sauce
The following course – Baked Whole Chicken in Spicy Pineapple Sauce may look rather ordinary but was far from it in taste. Pineapples were specifically used in this dish to bring a natural sweetness, hence no sugar is used in cooking this dish. The spiciness level was also mild, making it a dish that can be enjoyed by young and old. The baked chicken itself was tender and juicy, holding much savoury flavour.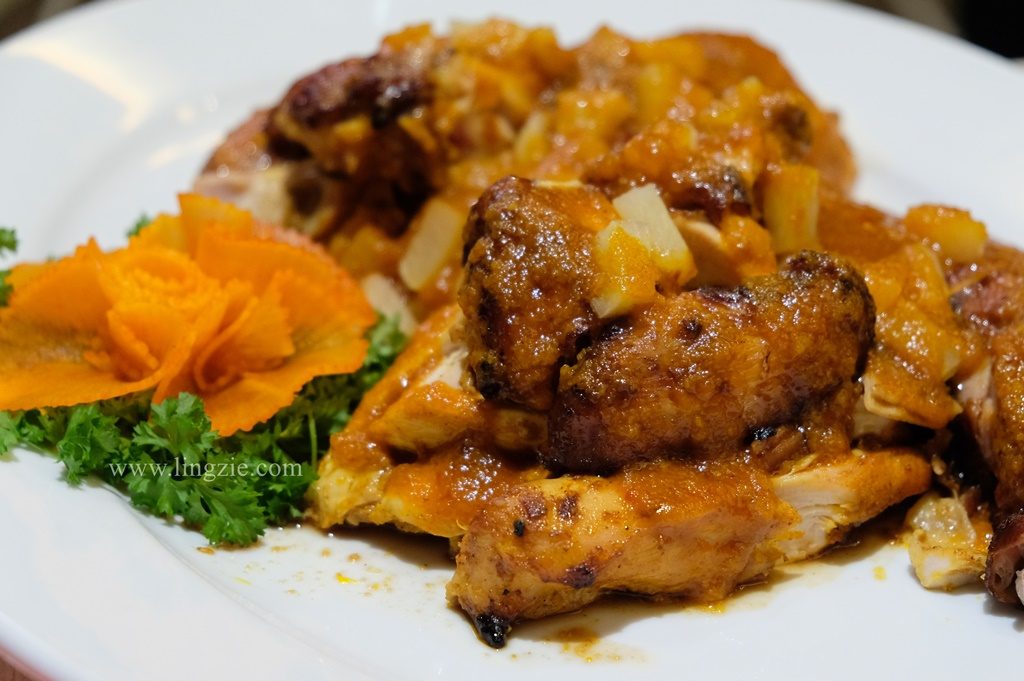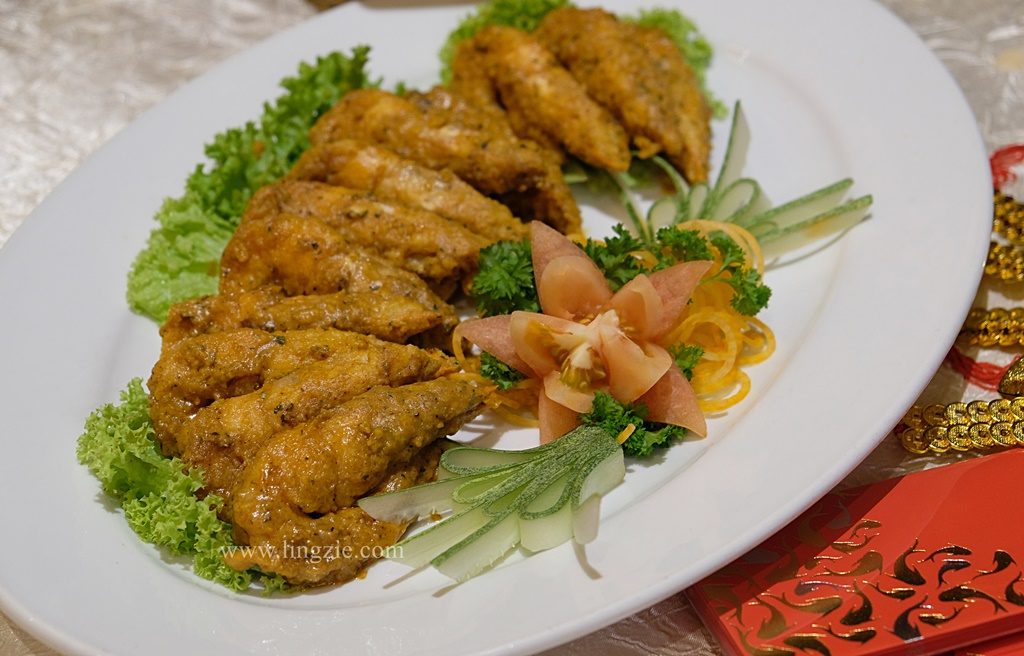 Deep fried King Prawn in Golden Salted Egg Yolk
Chinese New Year dinners would not be complete without prawns. G Hotel's version follows the current trend of salted egg yolk dishes. It did not disappoint. This was easily one of my favourite dishes of the night, the king prawns were crunchy and well coated with the salted egg yolk sauce. I found myself reaching for second helpings of this dish!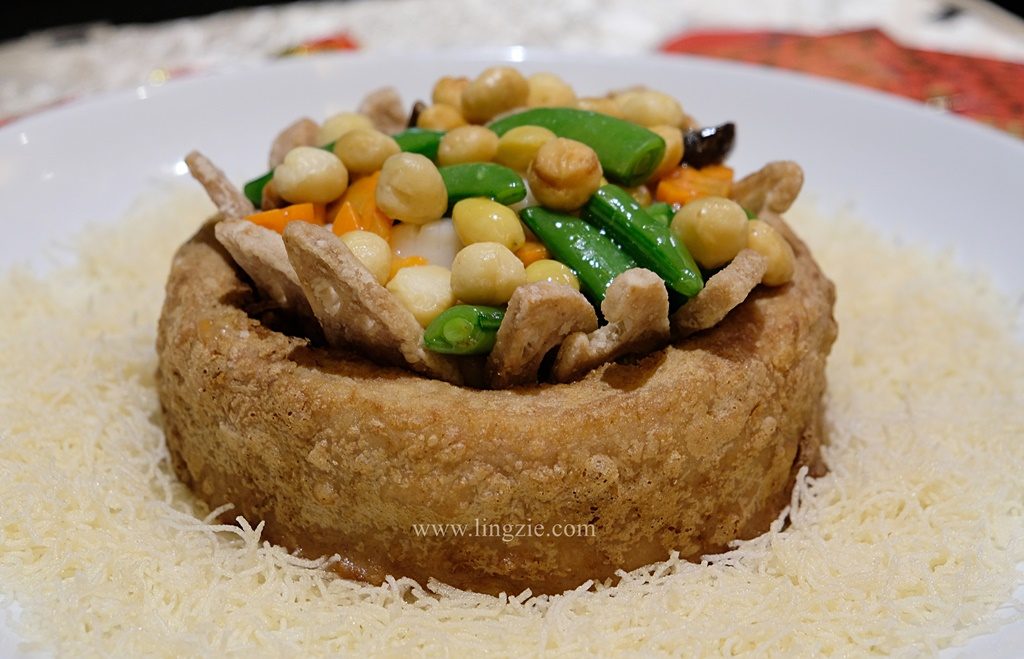 Sauteed Fresh Scallop in Yam Ring & Lotus Roots
I was delighted to see the next dish – Sauteed Fresh Scallop in yam ring and lotus roots, as I am a huge fan of root vegetables. G Hotel's rendition of this classic dish easily won me over. The yam ring was my favourite part of the dish with an outer crisp layer revealing a creamy center on the inside. The vegetables were crisp and plump, with the macadamias adding even more texture to the dish.  Fans of yam would not want to miss this dish.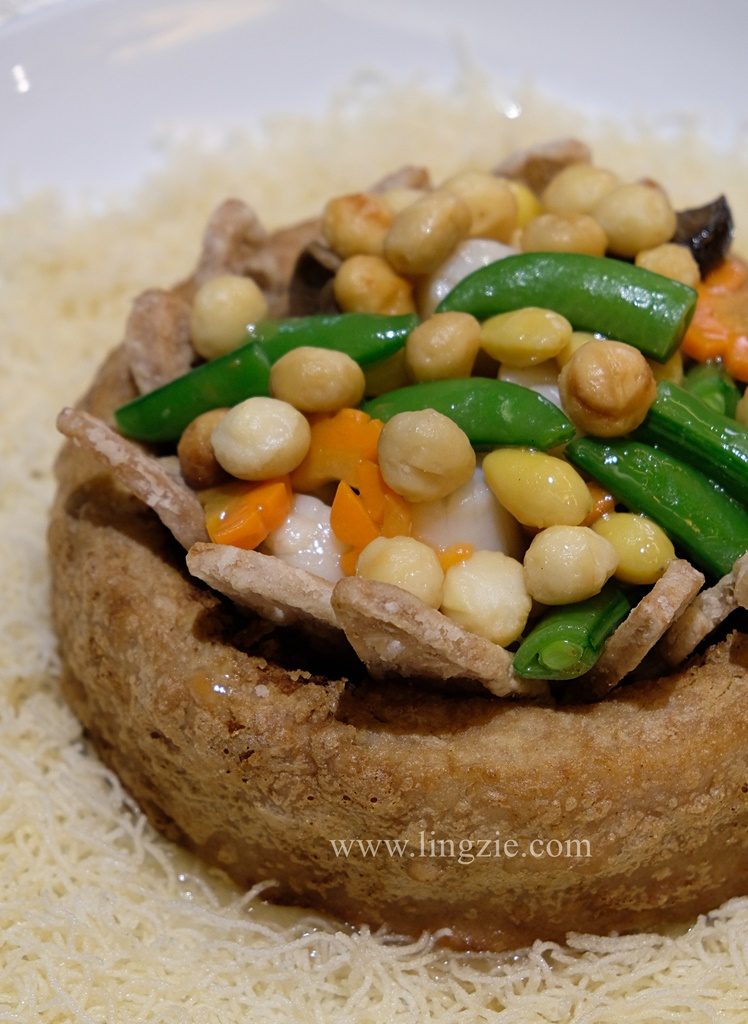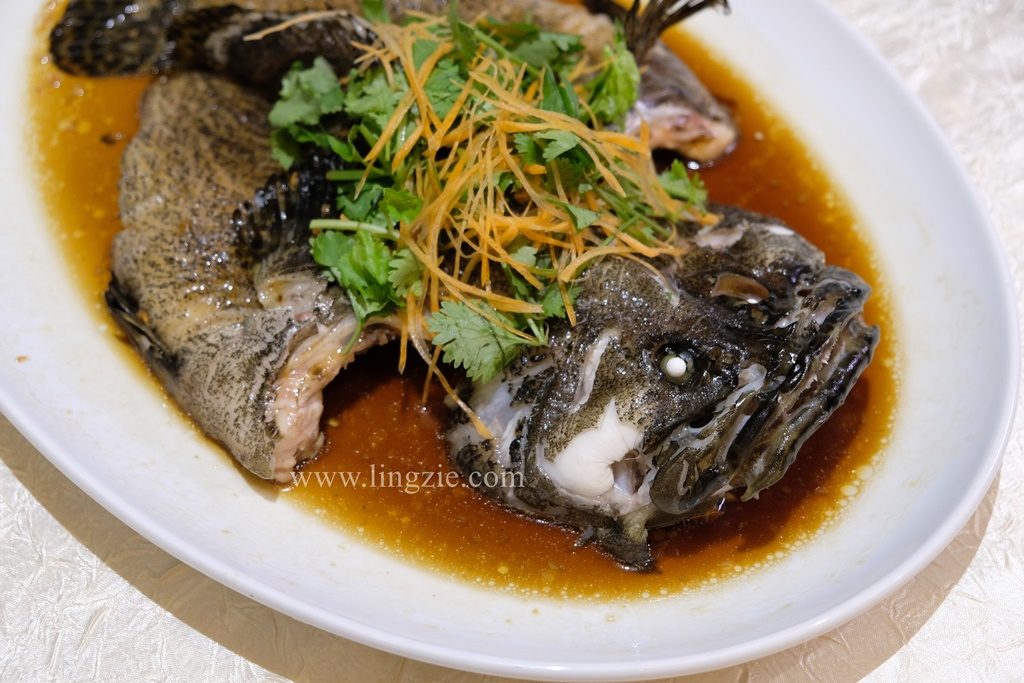 Steamed Pearl Garoupa Fish in Supreme Soy Sauce
Steamed pearl garoupa was also enjoyable with its robust flesh. The fish cooked in supreme soy sauce had a delicate smokiness which I was fond of.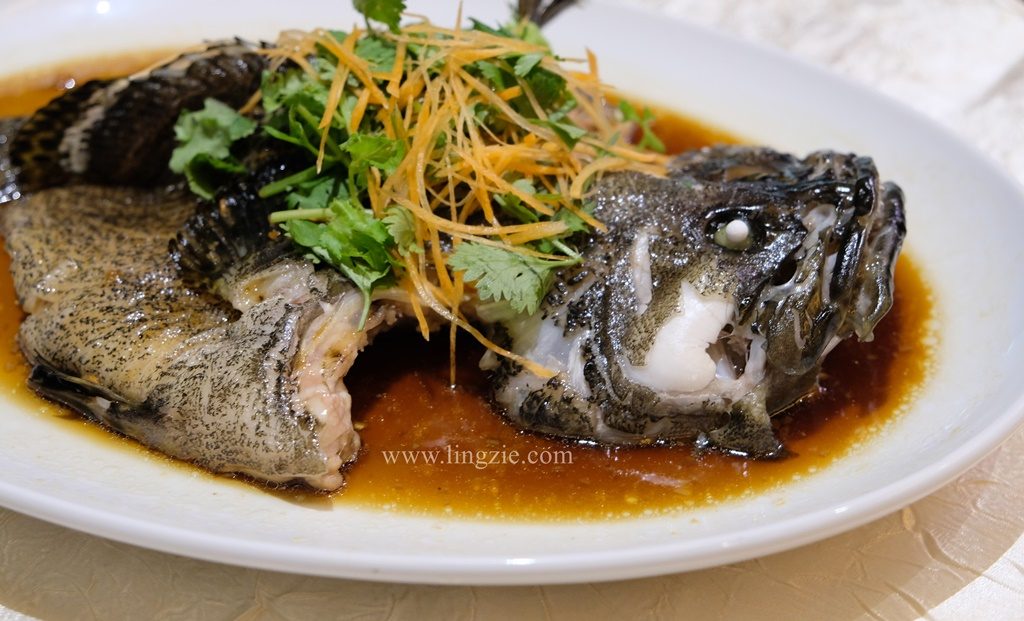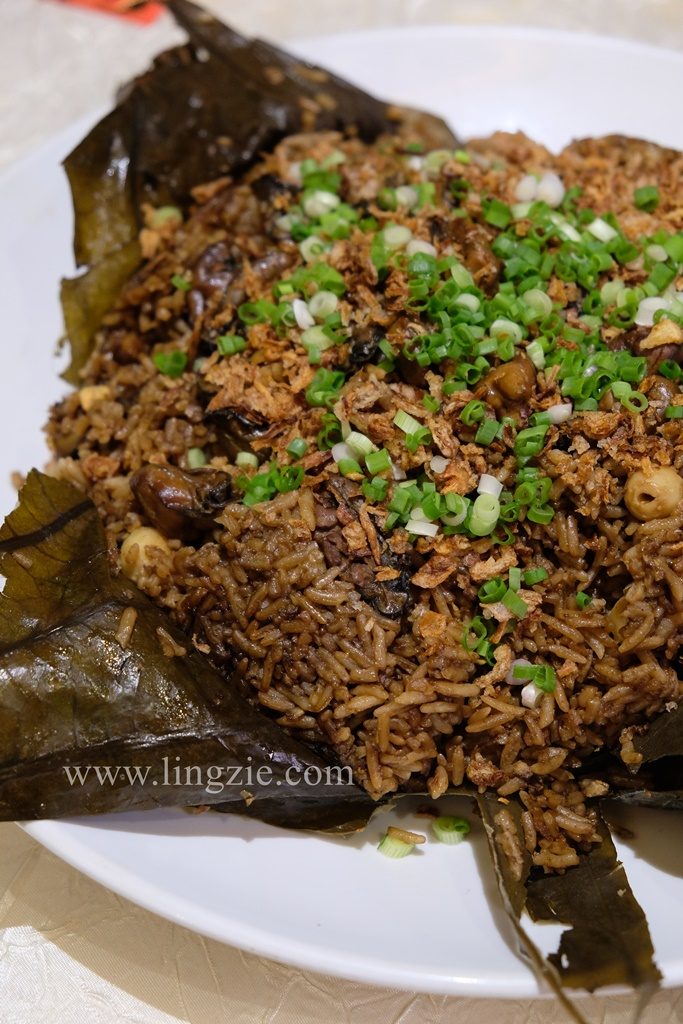 Steamed Lotus Leaf Rice with Dried Oyster and Lotus Nuts
We rounded off the dinner with Steamed Lotus Leaf Rice with Dried Oyster and lotus nuts. Its generous serving left us stuffed to the brim.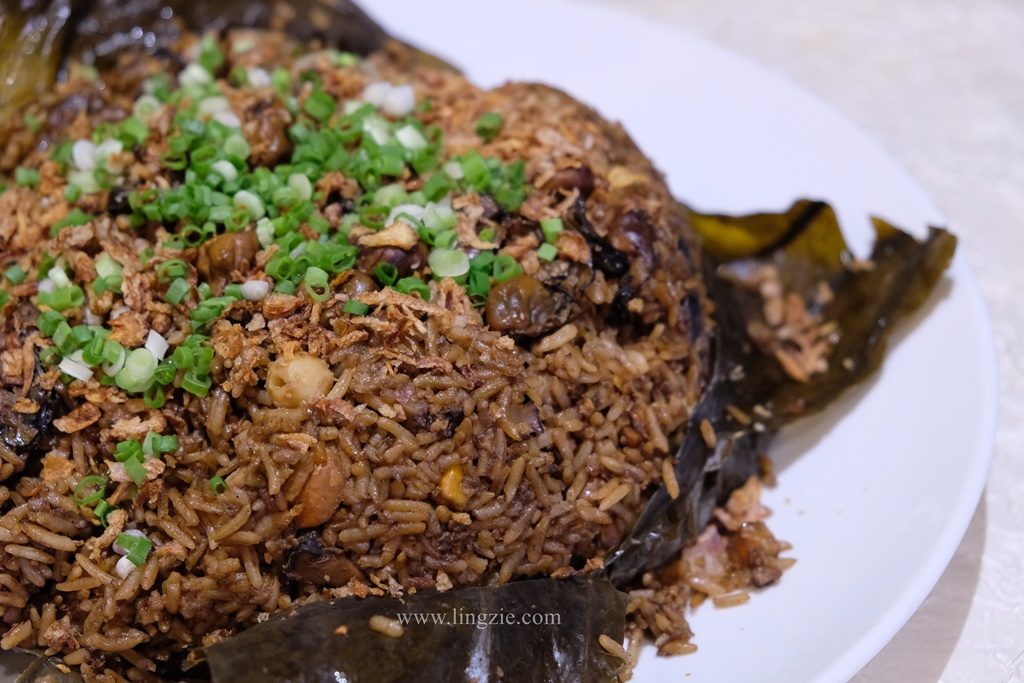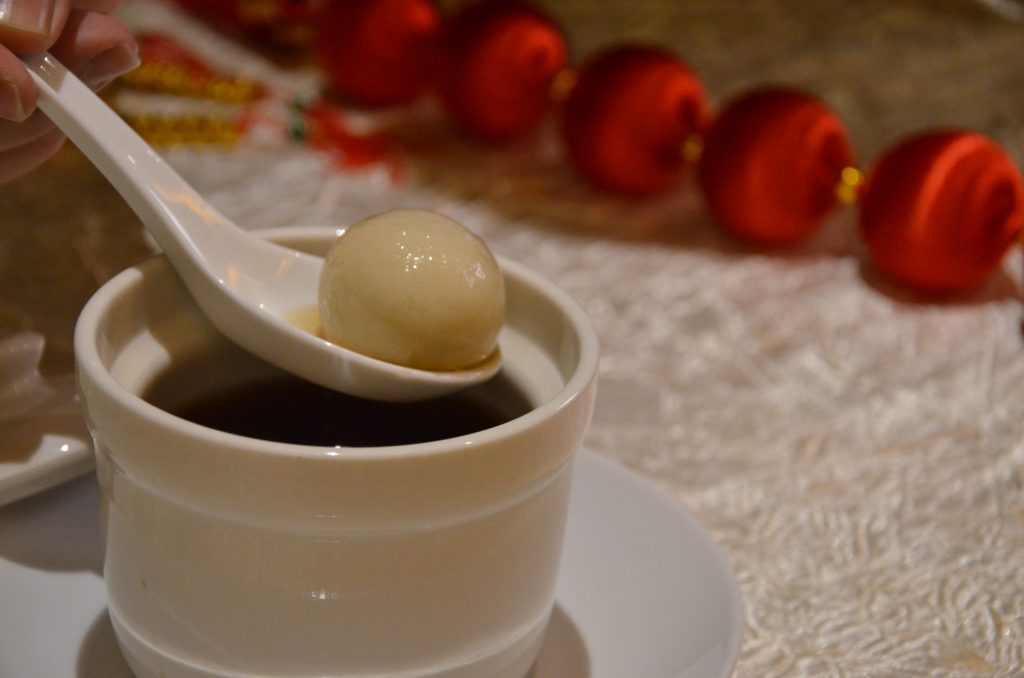 Sweetened Longan Tea with Glutinous Rice Balls
Finally, for dessert the sweetened longan tea with glutinous rice balls, was just right. Not overly sweet, the dessert is sweetened using the natural sweetness from dried longans. The glutinous rice balls had black sesame filling, my favourite kind!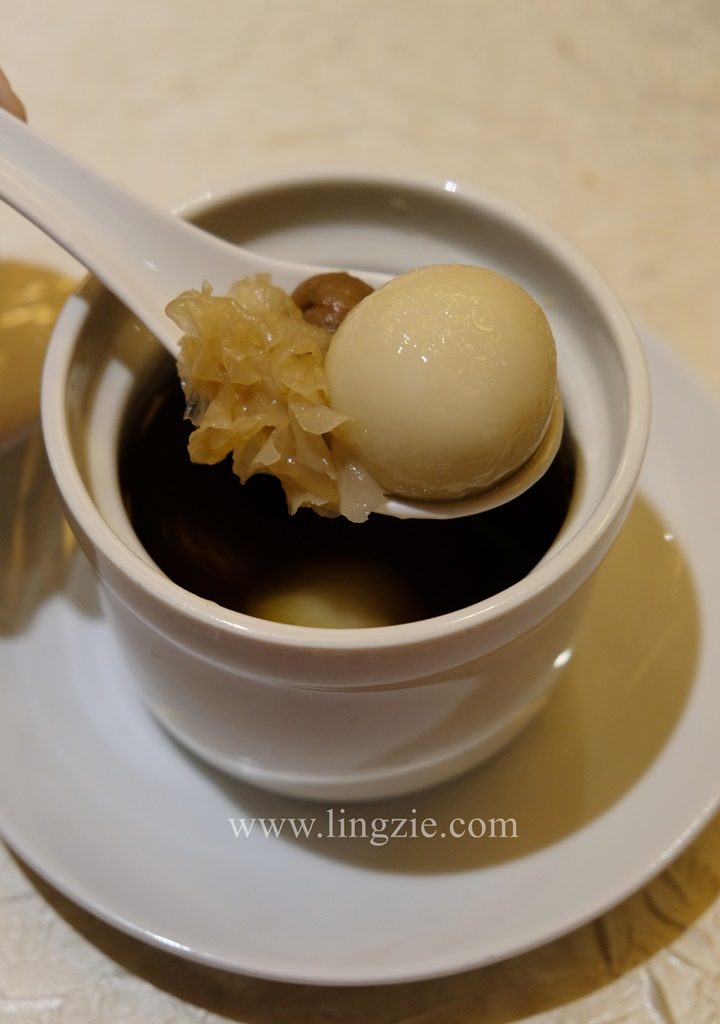 This 8-course meal makes up the Longevity Package at RM1888 nett. It is available from 26th January – 28th February 2019 at both G Hotel Gurney & G Hotel Kelawai. Price includes free flow of chinese tea. The dinners will be served in the various function rooms so that diners can enjoy dining in a private environment.
The dishes for the Prosperity Package (RM1688 nett) include:-
Lucky Fresh Salmon Yee Sang
Braised Pumpkin Soup in Dried Scallop & Pearl Fish Maw
Stewed Duck with Lotus Nuts in Aluminum Foil
Sauteed Diced Chicken and Lotus Roots in Yam Ring
Braised Dried Oyster, Kwai Fei Abalone, Lion Mane Mushroom and Sea Moss with Broccoli
Deep Fried Red Snapper Fish in Spicy Oyster Sauce
Crispy Noodles with Chicken and Prawn Meat
Sweetened Yam Paste with Chinese Pancake
Specially for 4th February 2019, G Hotel Gurney will have its Auspicious Reunion Dinner at the Grand Ballroom, serving up the two different 8-course dinners with live band performances, lucky draw session and appearance of the God of Prosperity to usher in a prosperous start of the year ahead.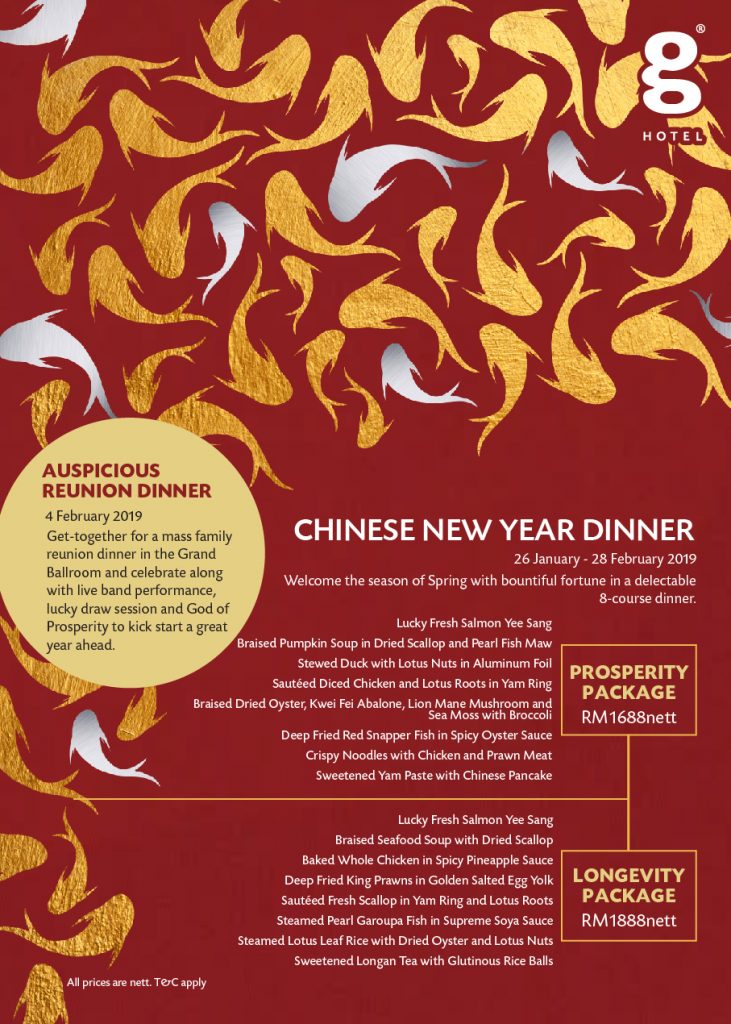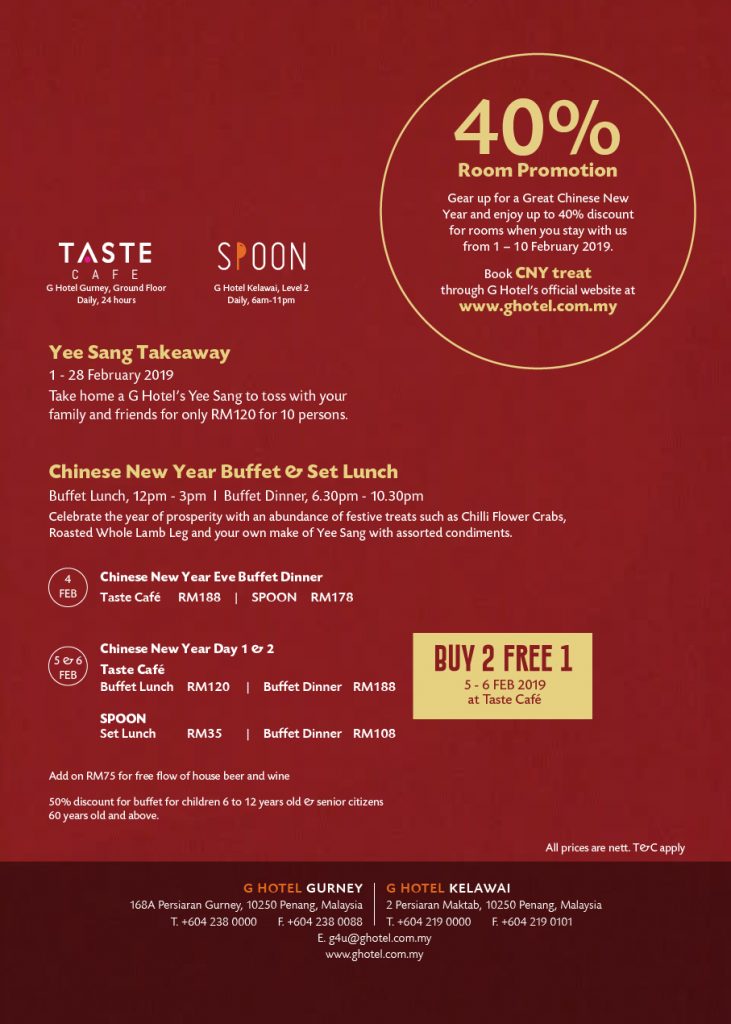 *Many thanks to G Hotel for extending this invitation.
For reservations, do call G Hotel Gurney at 04-238 0000 & G Hotel Kelawai at 04-219 0000