The remaining part of New World Park along Jalan Burmah opened its doors yesterday 1 August 2007. The earlier opened part houses the famous hawker stalls from Swatow Lane. When I heard that this newer part would play hosts to other restaurants like 600CC, Starbucks and Old Town, I thought I'd pop by during lunch today to check out the place.
The new phase of New World Park is very spacious but most of the restaurants have not opened. It promises Manhattan Fish Market, Starbucks, Old Town, Lok Lok and many other restaurants. While walking around today, we spotted 600CC, Nyonya Cafe and Rou Gu Cha King.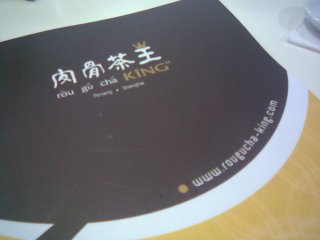 Rou Gu Cha King looked most promising and had more patrons compared to the rest, so we decided to eat there. Rou Gu Cha is mandarin for "Bak Kut Teh" (in Hokkien). The poster inside the restaurant proudly boasted that Rou Gu Cha King can be found in Shanghai and Penang.
Ok, I thought, everything seems promising.
Upon browsing the menu, we found they have a few types of 'Bak Kut Teh' – they had the normal version, the spicy (Ma La) version and even a dried version… And we could also pick and choose our own ingredients which is what we decided to do. They also have a variety of noodles.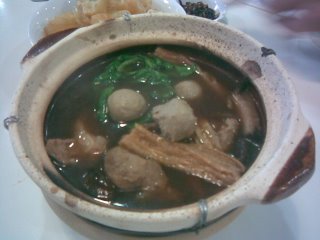 We had wanted to order the interesting looking Green Tea rice, but was told it was not available yet as the spices have not arrived from Shanghai. So we settled for the yam rice, a plate of lettuce and a bowl of chinese cruller (yau char kuei).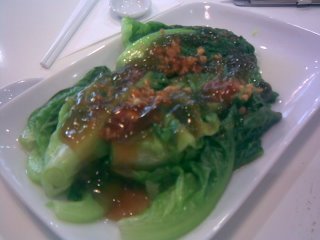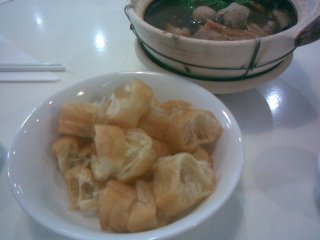 We also order the Nestum Prawns and the Chinese Pear Dumpling. Since they had tea making sets on every table, we also decided to try their teas. We had wanted to try their Rose Tea, but again were told the tea leaves have not arrived. In the end, my brother chose a tea (can't remember what it's called now) but its the first item on the tea list.
There were quite a few tables waiting but we found the food took quite long to be served. And my main gripe was that the 'Rou Gu Cha' soup was not hot enough. To me the soup should be piping hot…but it was just lukewarm but the taste was not too bad. Even when we asked for a refill of the soup, it was lukewarm.
The chinese crullers were rather dismal – quite hard and cold. But the yam rice was not too bad.
The nestum prawn was more of a fried mashed prawn paste which was normal. When the Chinese Pear Dumplings were served, they looked yummy. But it was definitely too oily for my liking, since it was deep fried with a savoury filling. We just could not bring ourselves to finish them because it was so oily.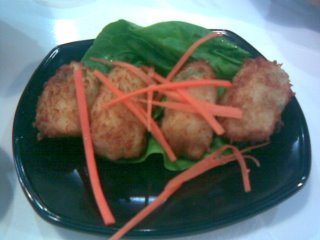 Nestum Prawn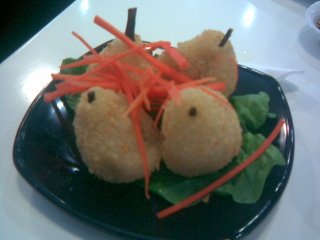 Chinese Pear Dumpling
The whole meal set us back about RM55. And in the end, I had more fun making the tea with the tea set and making jokes about the boiling pot exploding if it ran out of water before they refilled it! No, I don't think it will explode la! But it was pretty 'gan cheong' for me watching all the steam come out of the pot especially when I knew there wasn't much water left in it!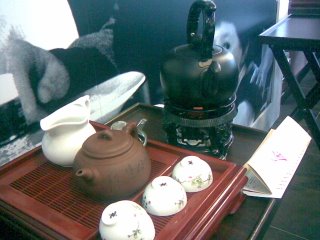 The black pot which I thought was going to explode!But otherwise, it was a really lovely tea set!
Would I come back here again? Probably. But not anytime soon. As with all new establishments, they would need some time to iron out any 'teething' problems and for all their spices and teas to arrive from Shanghai!