I'm back from KL once again, so another KL foodie entry, though this one was from my previous trip…
I think my mouth dropped open when a friend oh so casually said "Let's go to Carcosa Seri Negara for high tea' . I then proceeded to say 'Noooooo!!!', so filled with anguish…because I didn't bring my camera then!!
And so, I had to settle for taking photos of the food using my handphone camera. Nevertheless, I was very, very excited about going to supposedly KL's best kept secrets for high tea!
Upon arrival at Carcosa Seri Negara, I could feel my excitement growing even more, as the large white colonial mansion stood before me surrounded by lush greenery, taking my breath away! I could feel my heart skip a beat as we were shown to our seats by the verandah. The place was almost full and they only had 2 or 3 tables left.
We were given the menu to choose our teas. They had a very long list of teas and I finally chose the lemongrass tea. All our teas came in pretty quaint pots.
One of my friends wanted coffee instead of tea, but the waiter told us that if we took the coffee, there would be no refill, which struck us as down right odd. I mean, how difficult would it be to make coffee right? But we didn't want to argue further, so we all settled for tea.
After our teas, came the food….
The first tier held 3 different varieties of dainty sandwiches – smoked salmon, cheese and egg. And you only get one piece of everything! So if you're a big eater, you might not be used to this concept! The apple crumble served in a small cup was on the second tier.
And lastly on the bottom tier, were the petite cakes – brownies, fruit cake and lemon tart.
The brownies and fruit cake were fare. I liked the lemon tart best.
Next up came the scones with jam and clotted cream.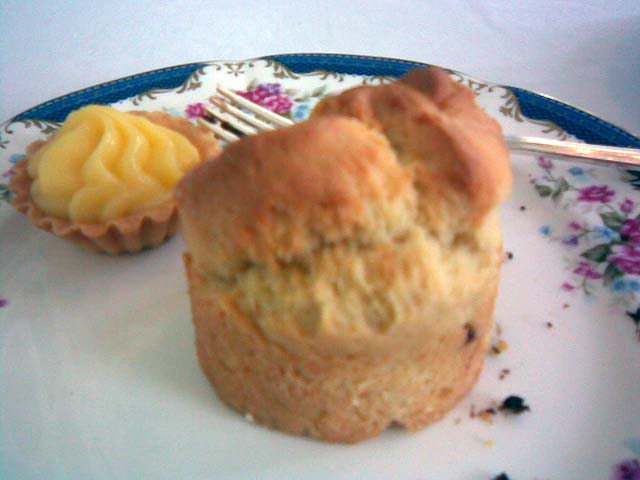 The scones come in 2 varieties – plain or with raisins. I chose the plain one to eat with the jams and clotted cream. I must say that I don't know how a good scone should taste like. But the ones here, taste pretty much like the ones you get from Coffee Bean. The supposedly home made jam tasted rather ordinary. And I expected the clotted cream to taste better.
After that, the waiters cleared our plates and served us the next item on the menu – cookies and fresh strawberries (again only one piece per person)
I found it strange that they had cleared our plates before they served us the cookies. So I asked the waiter for a plate only to have him tell me that this is supposed to be 'finger food' so no plates! (Ahem, excuse me for not being so upper class!)
I must also say that we did not have a very good experience with the waiters. They were not attentive and could not answer us properly when we asked them questions. And later on, another waiter told us we could actually have coffee with the high tea instead of tea and they would refill it! Most confusing! And worse, one of the waiters cleared our tea cups when we went to the ladies, thinking that we had finished our meal!
All in all, for a RM60 high tea, I must admit that I was rather disappointed. Maybe I had built up my expectations too high before I came. But I honestly expected more after reading so much about this place. Carcosa Seri Negara is indeed a very beautiful place. And you really feel like you've been transported back to another era where you can loiter and linger in luxury, sipping hot teas while reading a good book. However, the service I experienced during this visit failed to live up to my expectations and the food was really only so-so.