Taking a lil' break from all the food posts to blog about my recent 'hunt' for some accessories. 🙂
Friends & family would know that I have a soft spot for accessories (other than shoes & handbags…) I love how statement necklaces and chunky arm candy can jazz up a plain looking outfit or give an old outfit a fresh breathe of style.
But this time round, I've been searching for some new accessories for an upcoming beach holiday! Sunglasses and hats for the beach are essential in my book.
I've been wanting to try a pair of Aviator style sunglasses for the longest time because they look uber cool and it was not something I thought I could pull off previously. But hey, no time better than the present to try a new look right? 🙂
Besides the Aviator style sunnies, I'm also tempted by retro style cat eye sunglasses. And of course I had to check out the oversized sunglasses too (which are more in my 'comfort zone' lol)
Which would be your preferred style of sunglasses?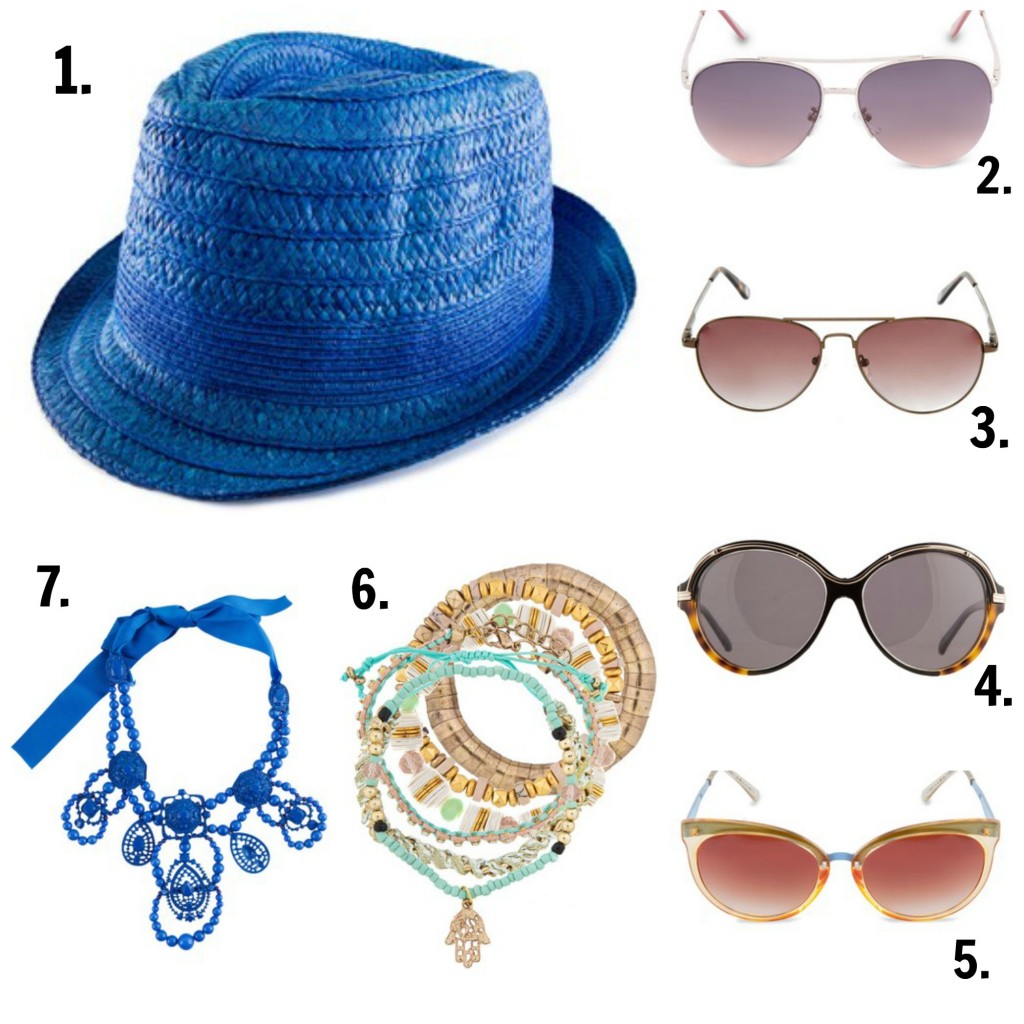 For hat options, I'm loving straw hats! Check out this unique Blue straw hat from Zalora. I love the striking colour which would definitely make a statement.
I couldn't resist checking out the necklaces and bracelets while I was browsing the Zalora website. And the Ottilie Lady Twirl Ribbon Necklace and Aldo Batista Bracelets definitely caught my eye! (total coincidence that the necklace is in a similar blue shade as the straw hat) I think my brain must be sub-consciously already at the beach by the blue ocean! lol
I wouldn't pair the blue straw hat together with the blue necklace, but worn separately, I think they would look great!
Now I just have to decide which pair of sunglasses I want and I'm all set for my beach holiday! 🙂
Photo Collage Shopping guide:-
1. Private Stitch Blue Straw Hat RM79.00
2. Mango Aviator Sunglasses RM79.90
3. Fourskin Aviator Shades RM29.90
4.XOXO Oversized sunglasses (ON SALE NOW @ RM119.40)
5. Duo Color Cat Eye Sunglasses (ON SALE NOW @ RM62)
6. Aldo Batista Bracelet (ON SALE NOW @ RM56)
7. Ottilie Lady Twirl Ribbon Necklace RM49