While cafes specializing in coffee are proliferating rapidly, patisseries are still uncommon in town. Passionis, located at Siam Road, has been quietly but diligently producing fine Japanese & French inspired desserts to placate the sweet tooths in Penang. It has been one of my favourite places to visit when I'm craving for a good dessert (their  Tarte Au Chocolate et Orange is my ultimate favourite!!)
Passionis has now increased their range of desserts and also extended their business hours on Fridays & Saturdays. With the new changes, we were invited for a unique tasting of dessert & tea pairing!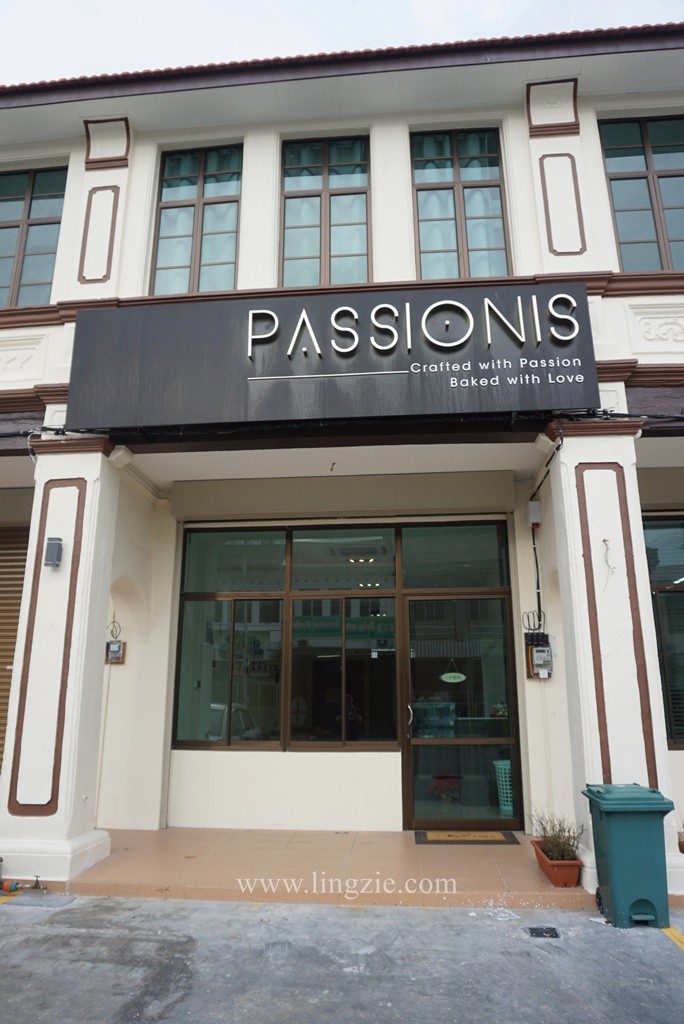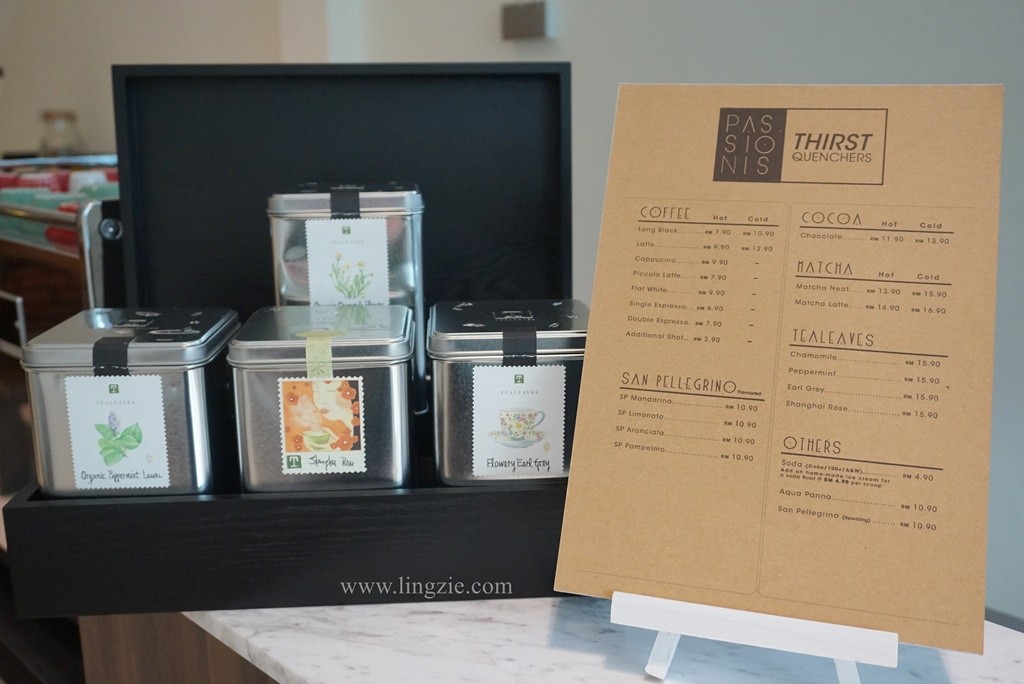 Passionis offers a range of organic tea leaves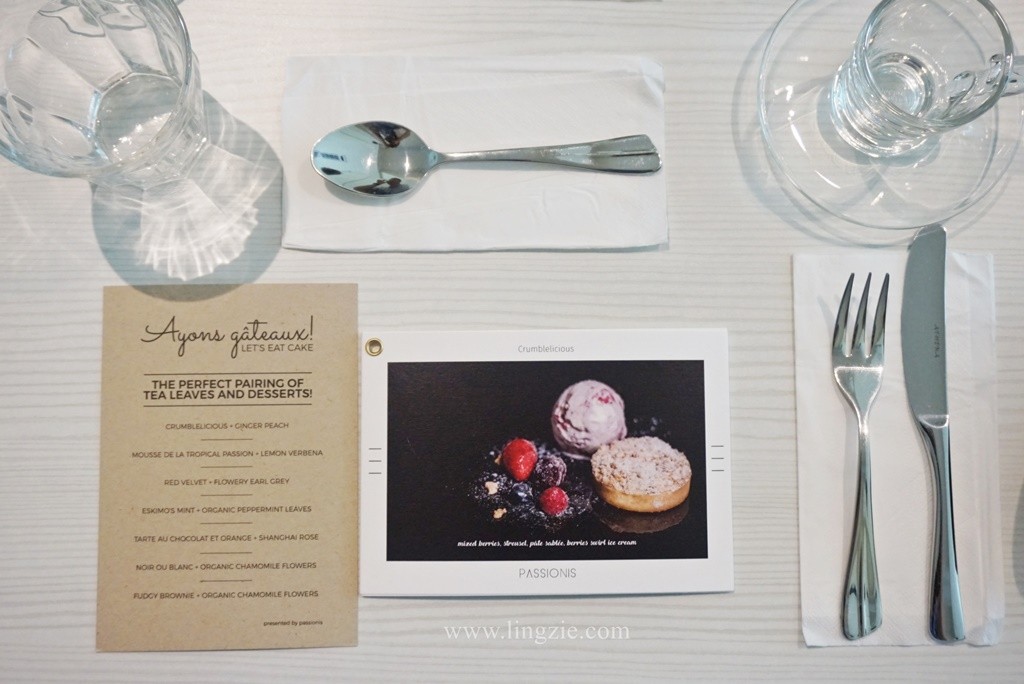 All set for the dessert & tea pairing! 🙂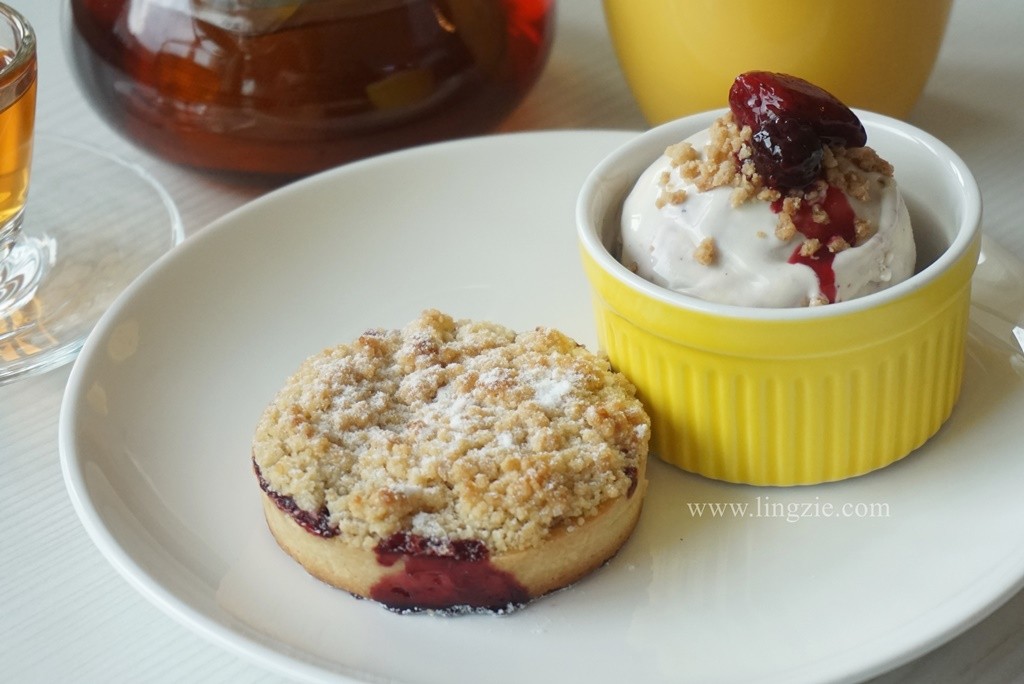 Crumblelicious + Ginger Peach tea
(RM17.90+ RM15.90)
Crumblelicious is a short crust tart with mixed berries filling topped with a buttery crusty crumble on top. The mixed berries filling had a sour tartness which paired well with the luscious berries swirl ice cream (which is made in house) resulting in a smooth, harmonious dessert. The Ginger Peach tea with slightly spicy gingery notes was enjoyable with the tart. A good start to our dessert adventure! 🙂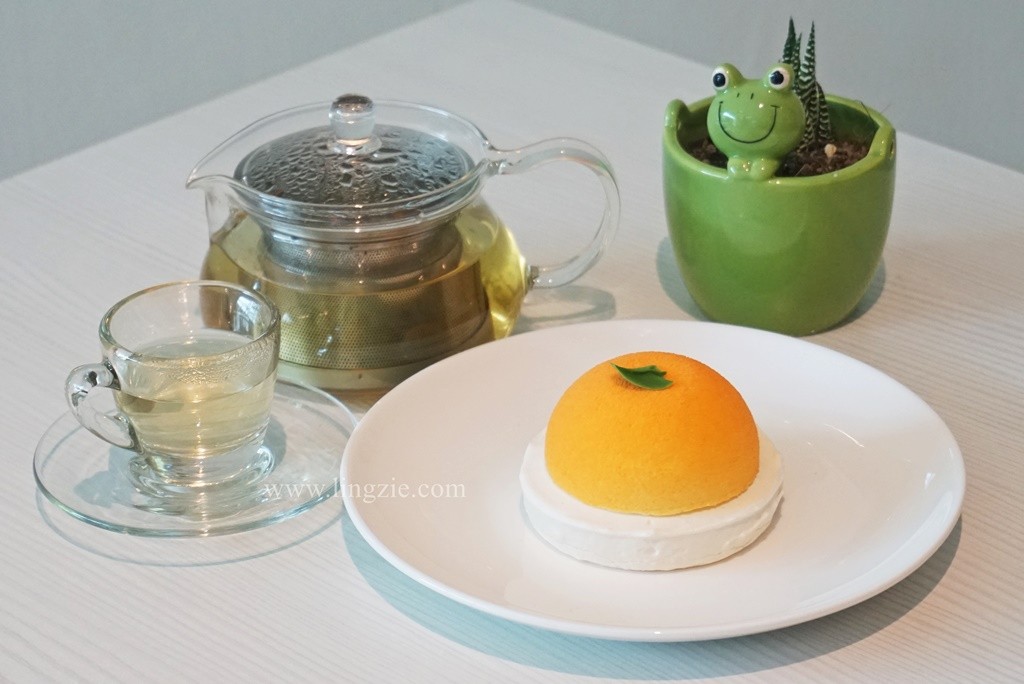 Mousse De La Tropical Passion + Lemon Verbena tea
(RM15.90 + RM15.90)
Next, we were presented with another fruit based dessert made up of a silky passion fruit & mango mousse on a meringue base. The meringue base was crispy and melt in your mouth, its sweetness balanced by the tart passionfruit and mango combination. The Lemon Verbena tea made a refreshing pairing to the dessert. Those looking for a light tropical dessert will like this combination.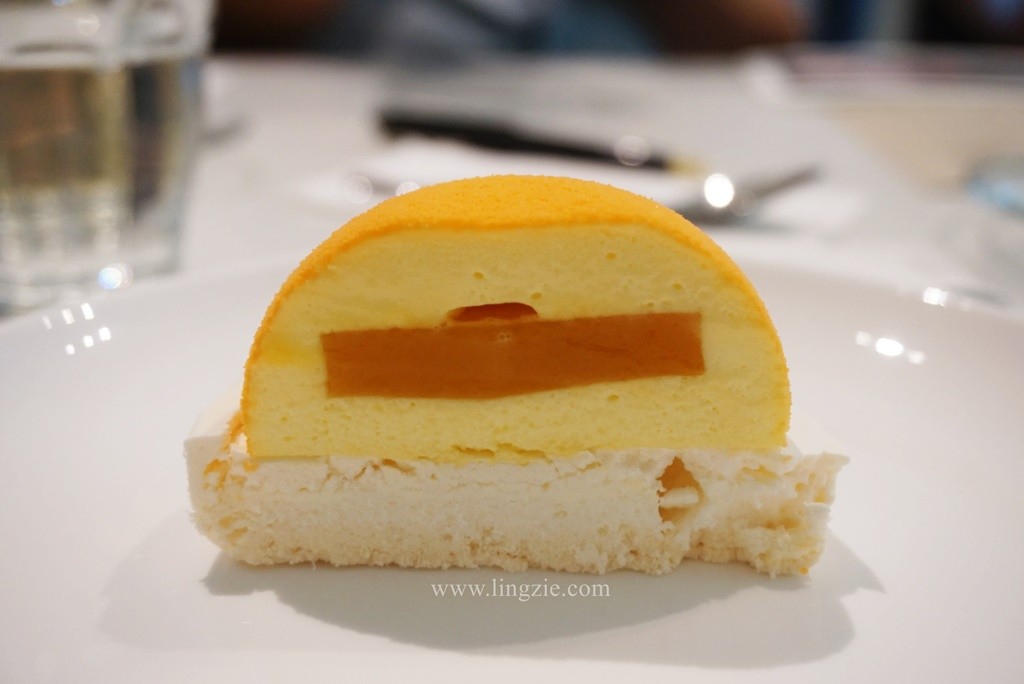 Cross section of the Mousse De La Tropical Passion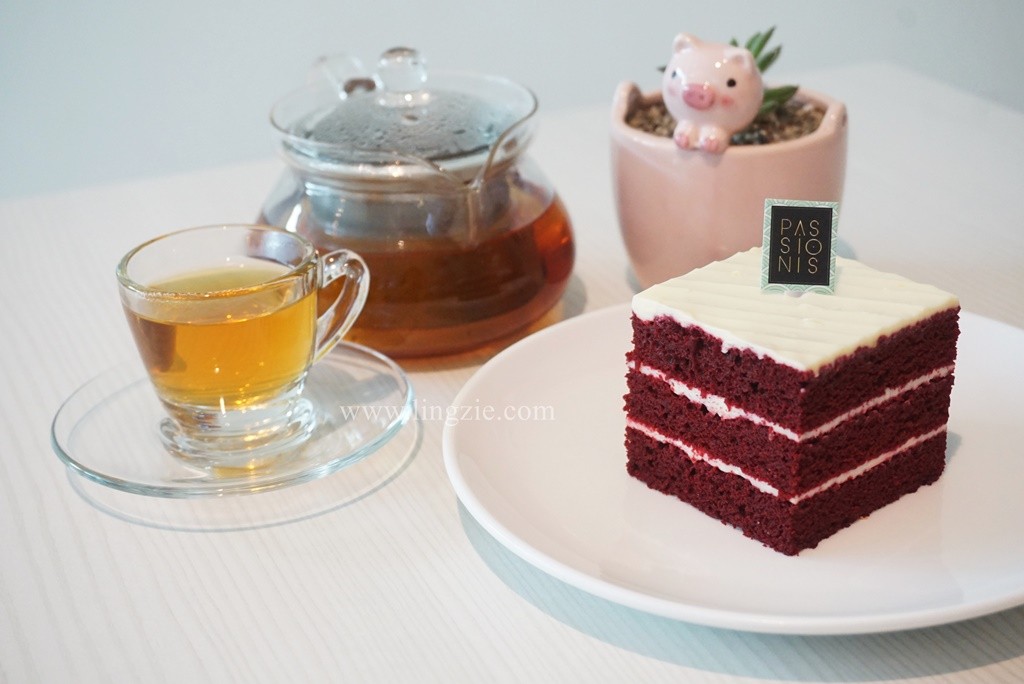 Red Velvet + Flowery Earl Grey 
(RM16.90 + RM15.90)
The red velvet cake meanwhile is made up of a chocolate vanilla sponge with cream cheese frosting. The sponge was soft and moist while the cream cheese frosting had a hint of lemon zest to lighten up the cake. The sweetness level was also minimal which would delight most palates. Earl Grey is one of my favourite teas and I never thought of pairing it with red velvet. It was indeed a good pairing. The Earl Grey served here at Passionis had lovely floral notes in addition to the tea's own distinct flavour.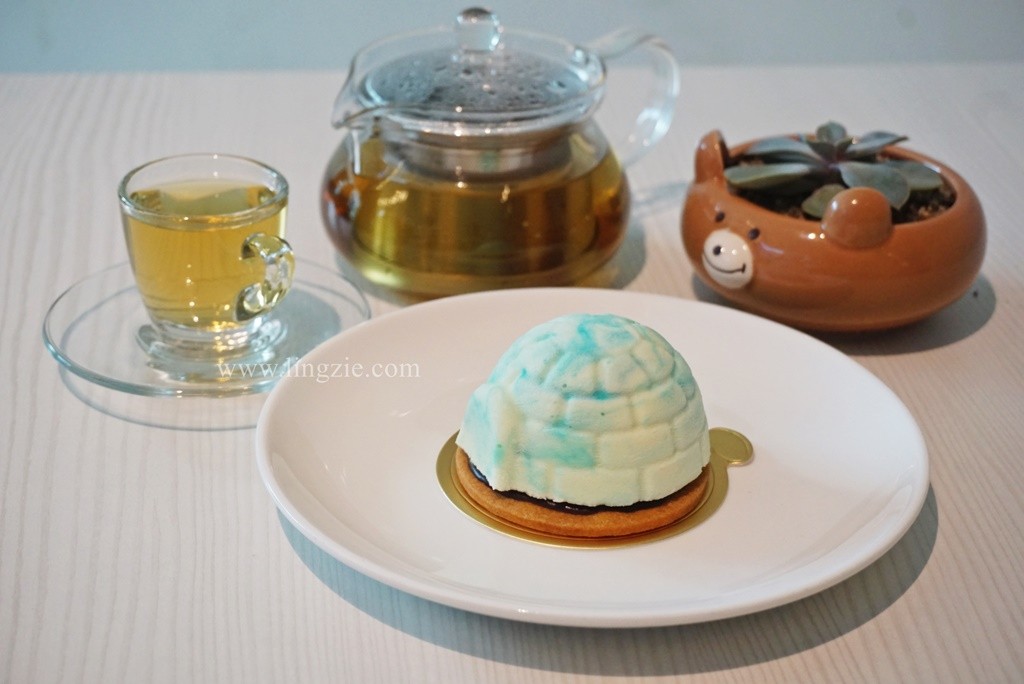 Eskimo's Mint + Organic Peppermint tea
(RM15.90 + RM15.90)
Eskimo's Mint is Passionis' take on the classic After 8 mint chocolates. I was rather apprehensive about this dessert as I'm not a fan of mint. A nod to the dessert's minty cool mouth feel, its made to look like an igloo! How cute!
The dessert itself is made up of a white chocolate mint mousse encasing a tempered chocolate disc and sits on top of a Pâte sablée (cookie-like buttery tart) slathered with 64% chocolate ganache. Whew~ what a mouthful! But it just showcases the many components of the dessert, painstakingly hand crafted with love and passion. 🙂
So did this pass the taste test? I must say that I loved it! The mint was not overpowering at all, well balanced with both the white & dark chocolates used. However, I did not quite enjoy the Peppermint tea pairing since I found it too 'minty' for my liking. But I will come back for just the Eskimo's Mint on its own.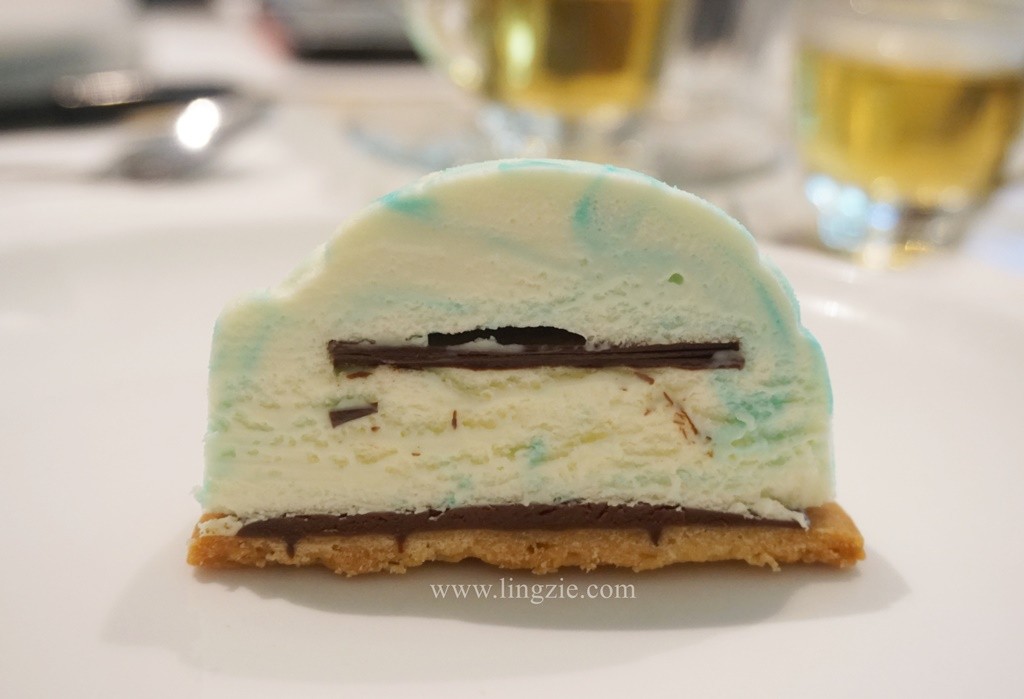 Cross section of Eskimo's Mint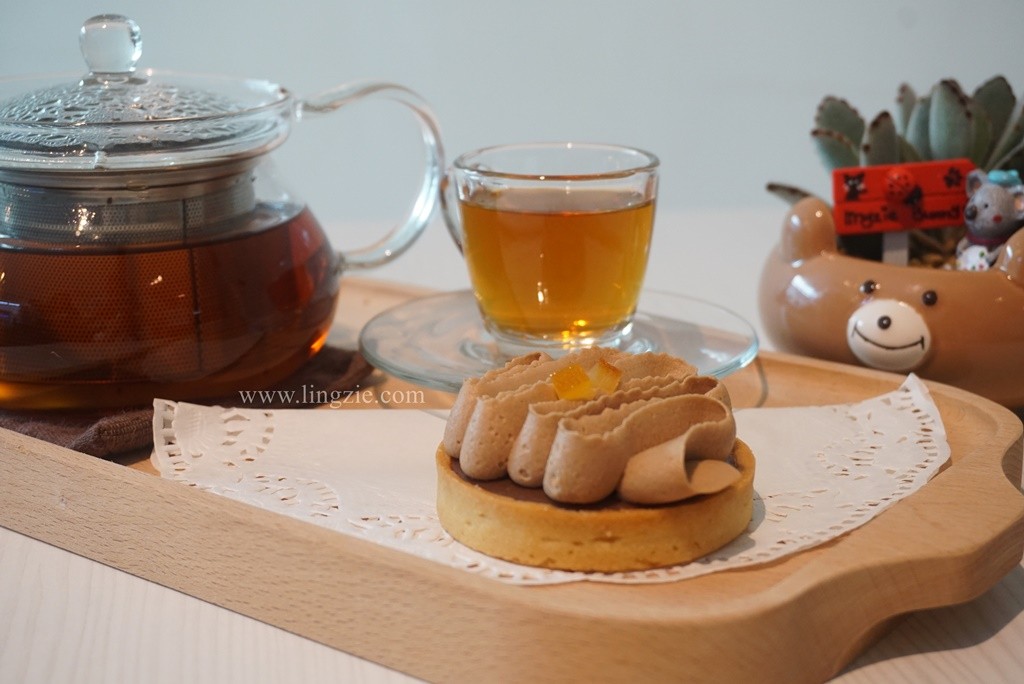 Tarte Au Chocolat Et Orange + Shanghai Rose
(RM14.90 + RM15.90)
Next up is my favourite at Passionis – their Tarte Au Chocolate Et Orange. Don't be fazed by the fancy name – it's actually an orange chocolate tart 🙂
Normally I do not like fruit with my chocolates. I've been told many times that that orange pairs well with chocolate but I've never liked that combination… Until now.
Smooth and silky orange flavoured milk chocolate ganache in a buttery tart shell, topped with whipped chocolate cream. The best thing about this tart is perhaps the imported French orange peel placed elegantly on top of the chocolate cream. Paired with the fragrant Shanghai Rose tea, this dessert is my personal slice of heaven~ 😛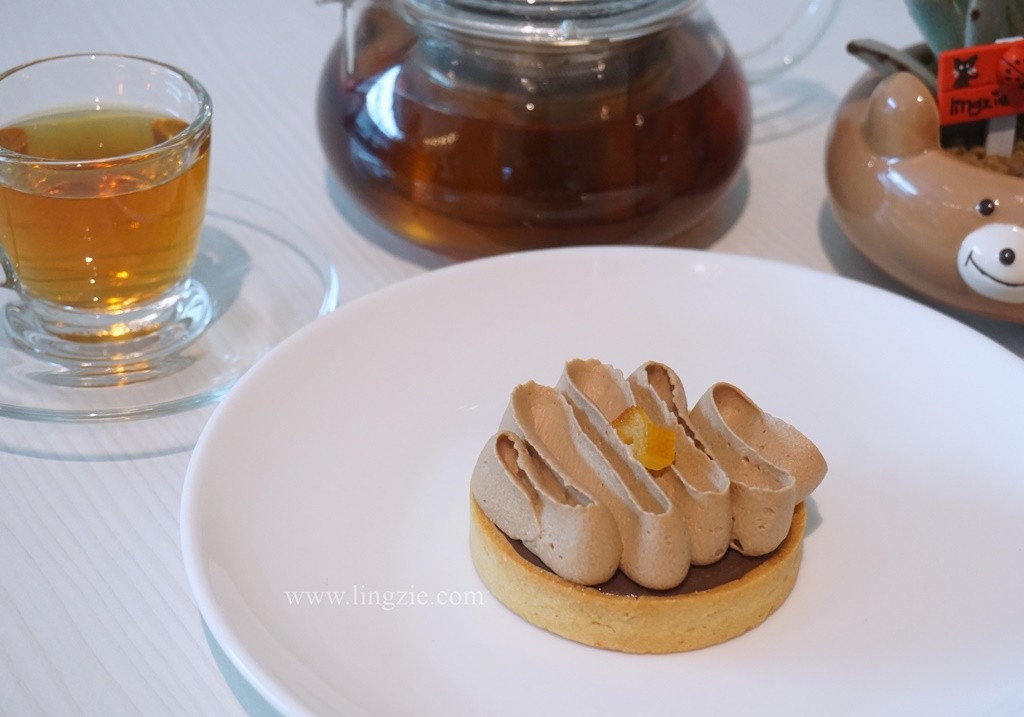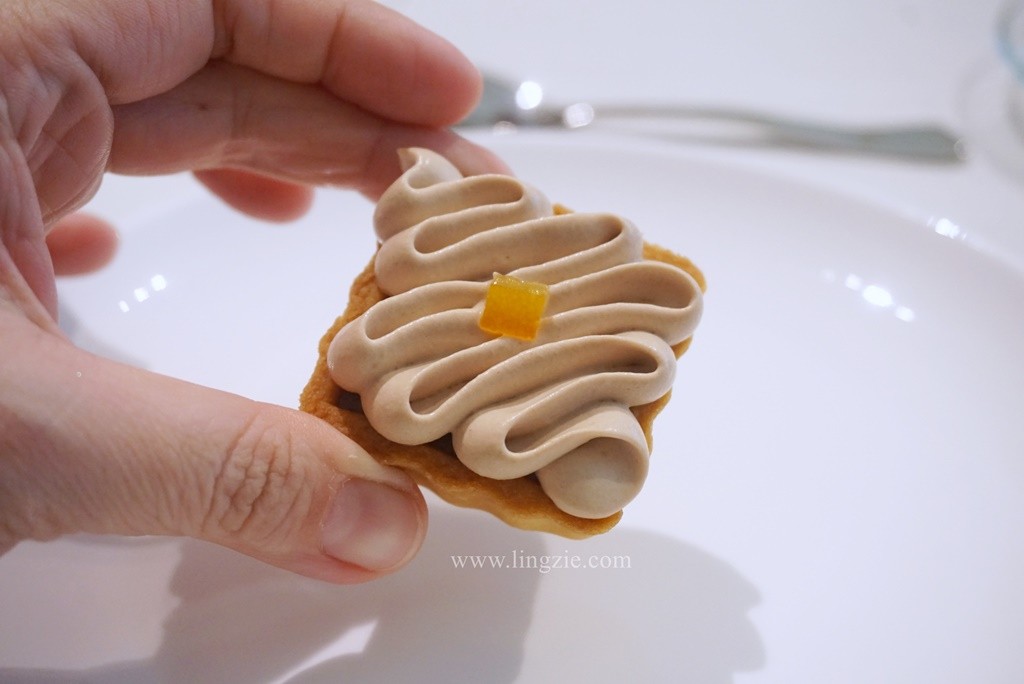 Cute mini version of the Tarte Au Chocolat Et Orange (which Passionis can specially make for events)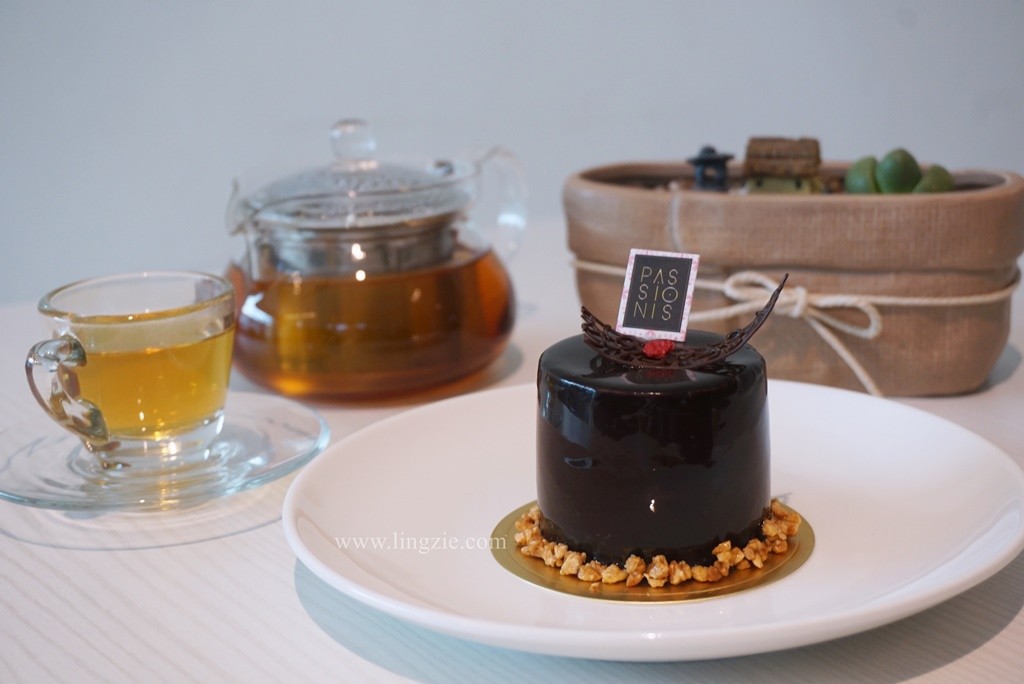 Noir Au Blanc + Organic Chamomile Flowers
(RM14.90 + RM15.90)
The Noir Au Blanc is an eye cathing dessert made up of a white chocolate mousse with pure raspberry gelee in the center and coated with dark chocolate and caramelized almond rim on the outside. I thoroughly enjoyed this dessert with its nice contrast of textures and flavours. The calming chamomile flowers tea complimented the dessert.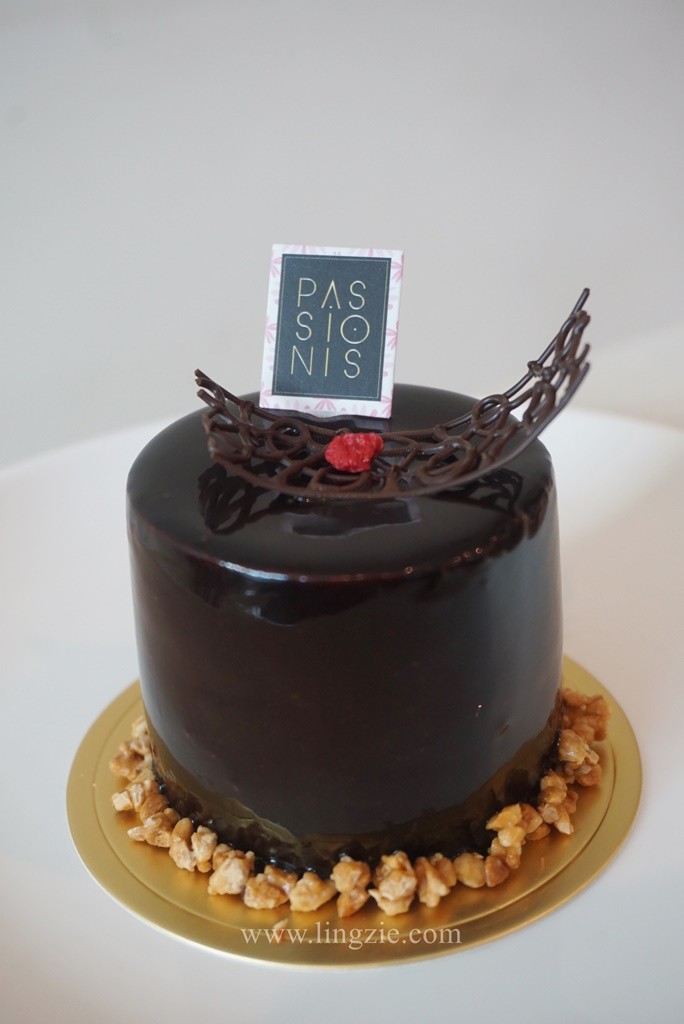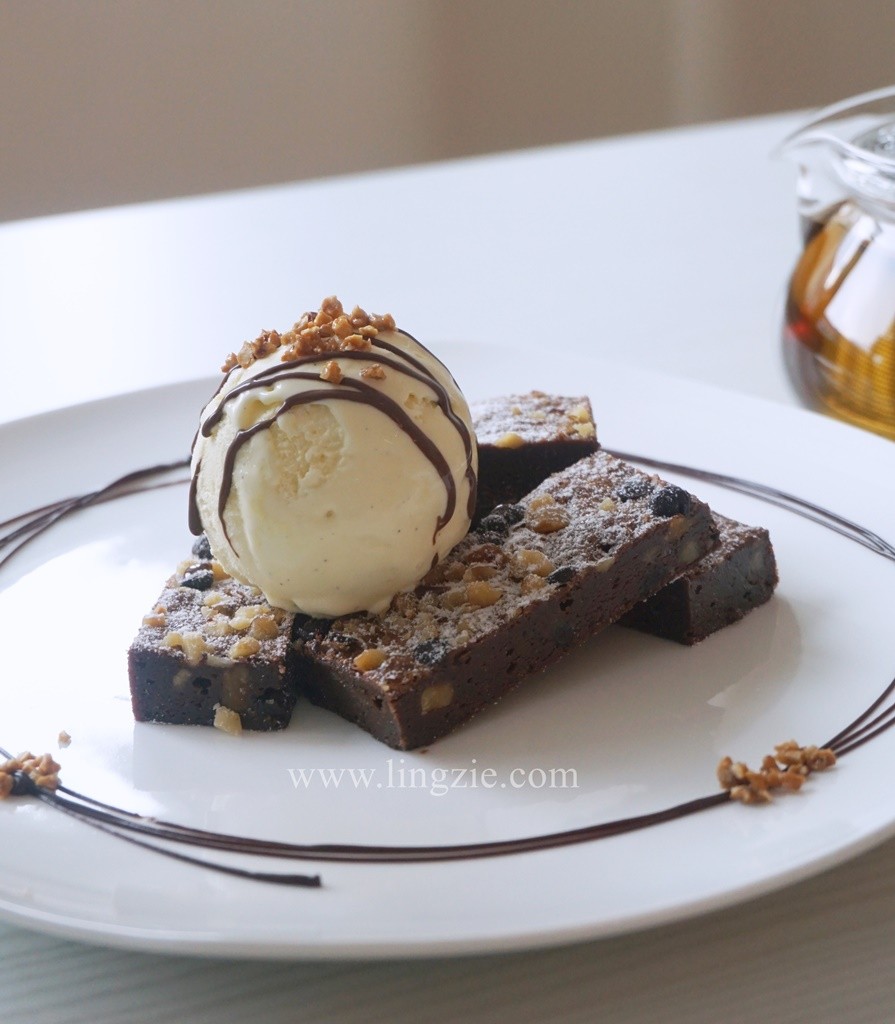 Fudgy Brownie + Organic Chamomile Flowers
(RM17.90 + RM15.90)
Next up was their Fudge Brownie served with home made vanilla ice cream. This is definitely one of the best brownies I've had in while. Chocolate lovers will enjoy the brownie's rich fudgey melt in your mouth texture and the creamy homemade vanilla ice cream, topped with almond cracklin.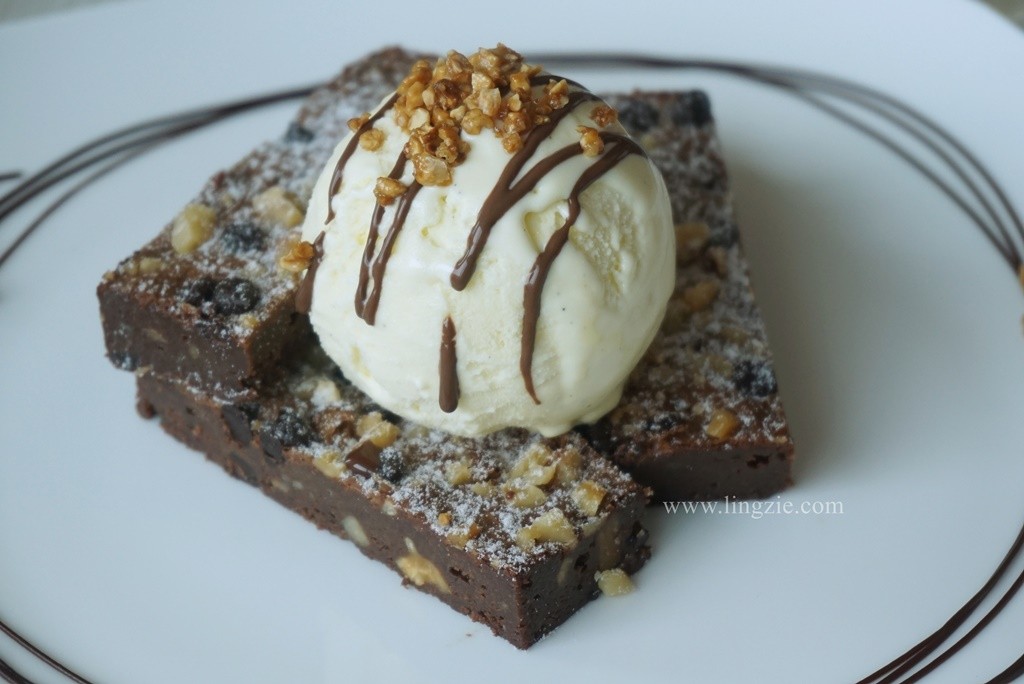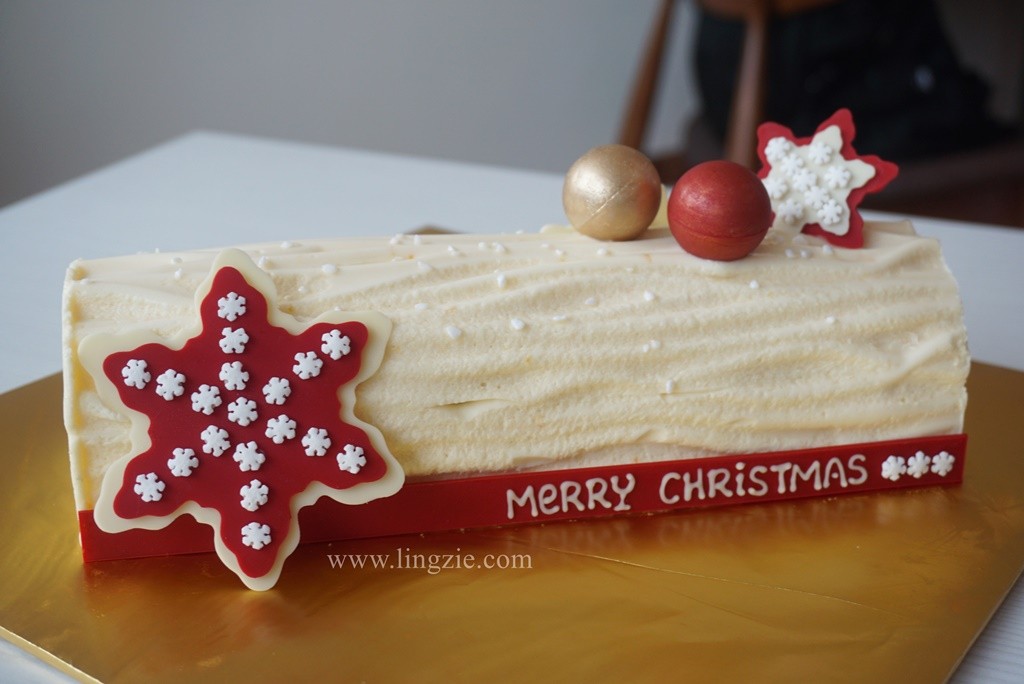 Christmas Log Cake 
1kg RM150
For Christmas this year, Passionis has also created a special Log Cake which is made up of Mascarpone cheese & orange zest, blood orange gelee, white chocolate feuilletine and yuzu jam in between a chocolate sponge. I enjoyed the zesty orange flavours and found the log cake to be not too sweet which I'm sure will appeal to most.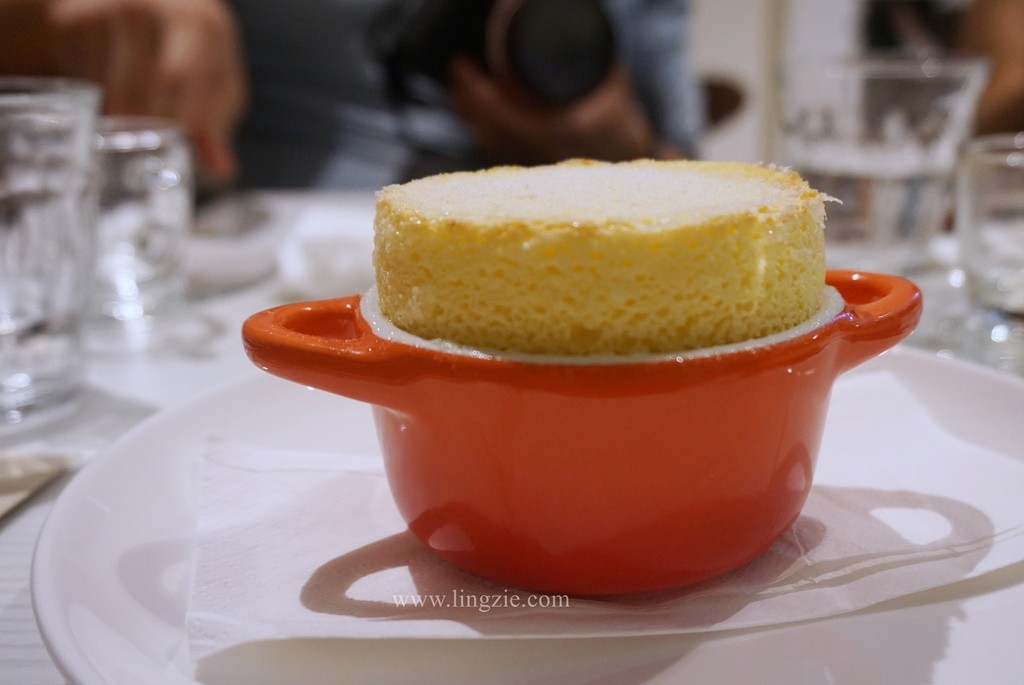 Orange Soufflé RM18.90 (NEW ITEM)
One of the newest items in their menu is the Soufflé. A light and airy egg white based dessert, this is made fresh upon order. A perfect dessert for when you want something light as opposed to a richer heavier dessert.
The Soufflé has a crisp top thanks to the caramelized sugar on top, while the inside is moist yet airy at the same time. The melt in your mouth texture is a joy to taste!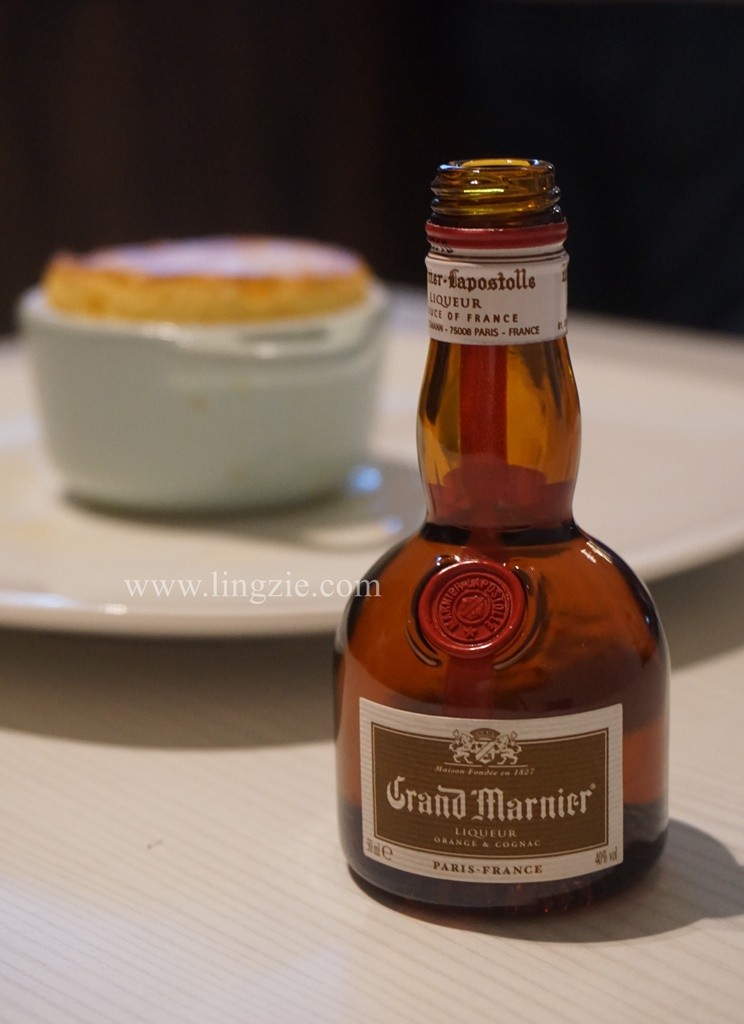 Spice up your Soufflé  with Grand Marnier!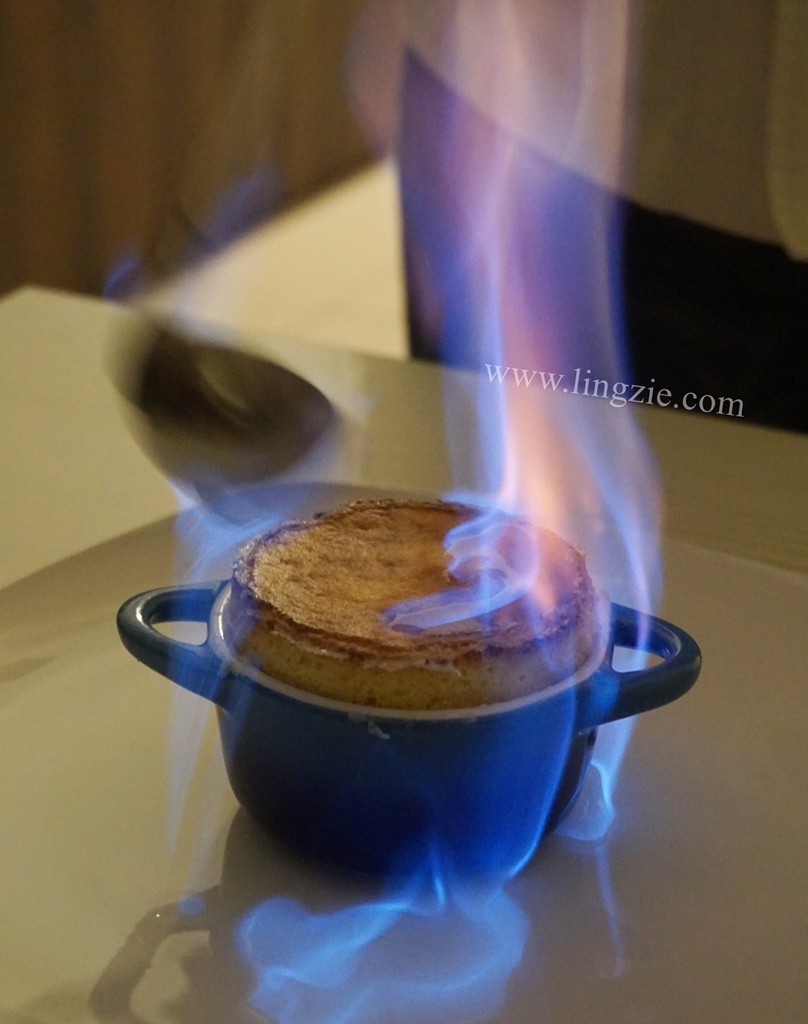 Orange Soufflé with Grand Marnier RM23.90
For a more grown up version of the Soufflé, Passionis offers a Grand Marnier version. Presented at your table, the Grand Marnier is doused over the Soufflé and lit up into flames! An exciting dessert to try for sure.
*Many thanks to Passionis for extending this invitation.
Do note that their extended business hours for Friday & Saturdays are from 12pm-11pm! 🙂
The Essentials:-
Passionis
74D Siam Road, 
Georgetown, Penang.
TEL: 04-2189314
Opening Hours:
Mon, Wed-Fri & Sunday 10am – 7pm
Friday & Saturday 12noon – 11pm