Recently I had the opportunity to visit the newly opened L'OCCITANE boutique at Gurney Paragon Mall and also to learn more about their new launch for the last quarter of 2013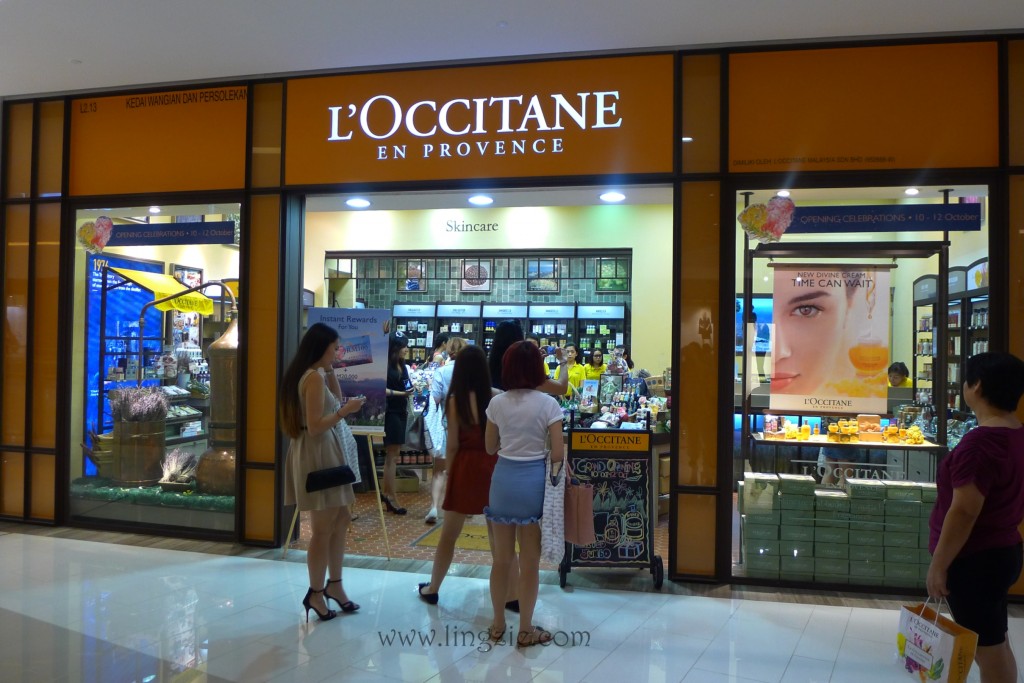 I've always associated L'OCCITANE products with using natural ingredients and I must admit the only product I've used is their really luxurious shea butter extra gentle soap (which I love and it's really good for sensitive skin too!) So I was curious to learn more about the brand and their products.
First off, how do you even pronounce this weird looking word? L'OCCITANE
Here's a cute video I found , but for those of you who are impatient lol, the pronounciation is LOX-EE-TAHN
L'OCCITANE was founded in 1976 originating from Provence, France. With Provence being the inspiration for the brand, locally found ingredients are incorporated into their products such as lavender and Immortelle flowers (pretty yellow flowers that are said never to fade – hence it would make sense to extract the essential oils into a kick-ass anti aging product right? hehe)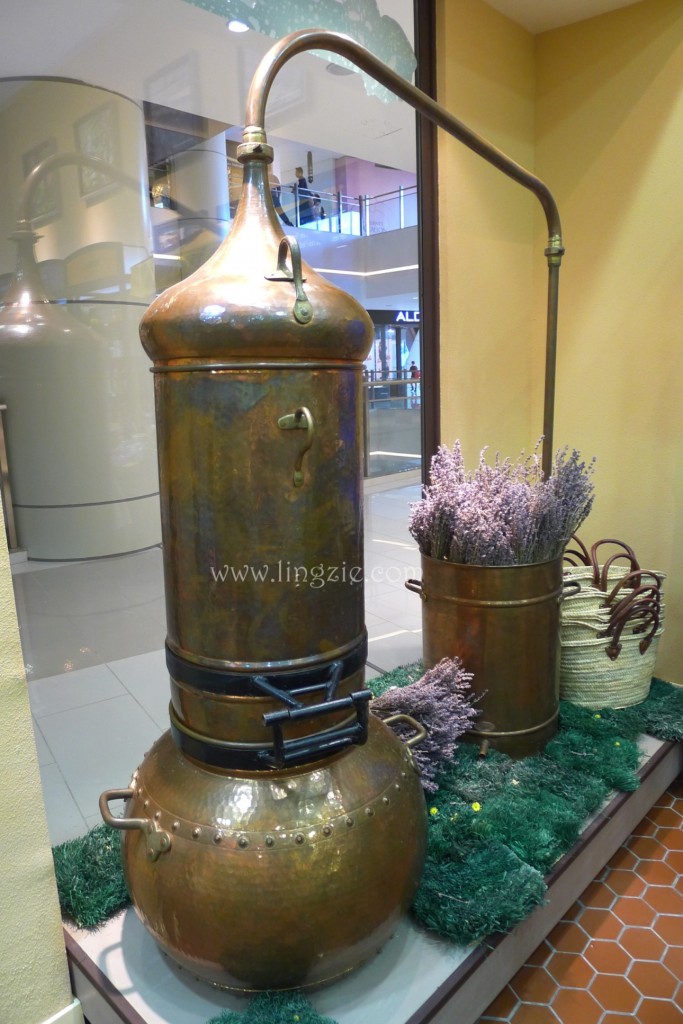 We were introduced to L'OCCITANE's new range – Immortelle Divine, a new and improved anti aging skin care range which uses the essential oils from the Immortelle flowers to restore skin's youthfulness.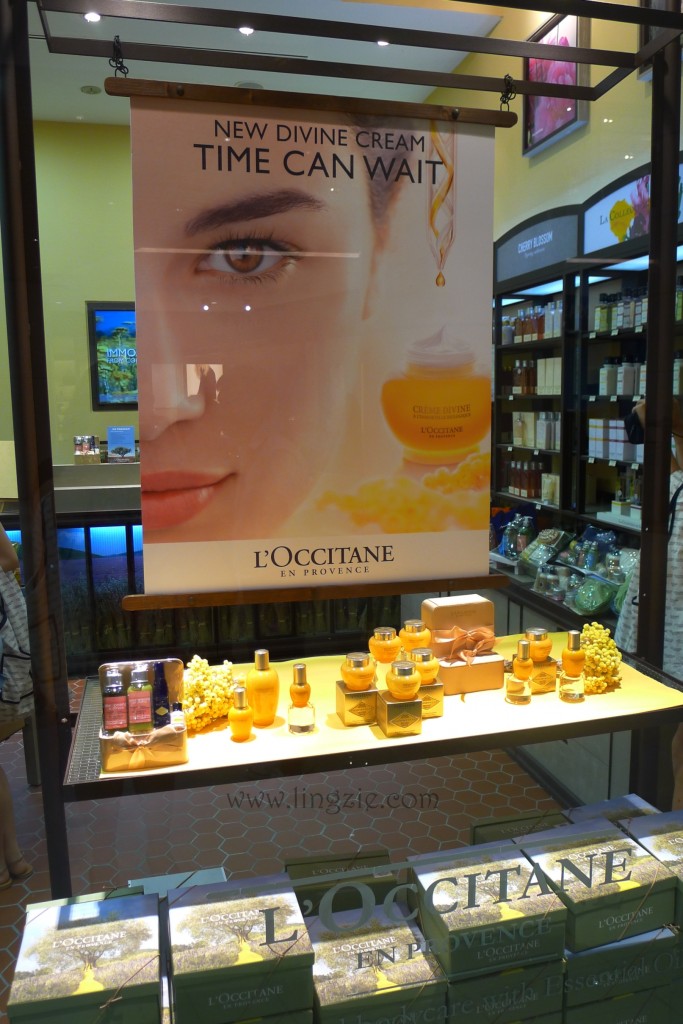 L'OCCITANE's new Immortelle Divine range consists of 4 products (features the re-launch of the previous Divine Trilogy)
1. DIVINE Extract (30ml, RM445)
2. DIVINE Lotion (200ml, RM190)
3. DIVINE Cream (50ml, RM455)
4. DIVINE Eyes(15ml, RM260)
The new formula and products are developed to combat global anti-aging which includes skins firmness, luminosity, elasticity and uniformity.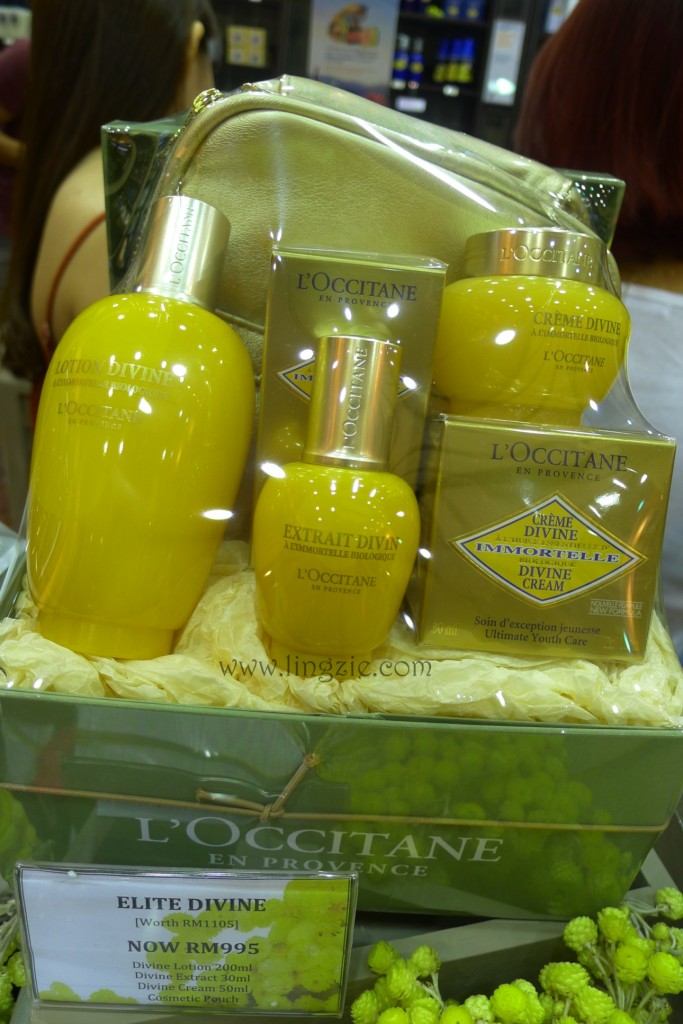 L'OCCITANE has bundled sets of the new Immortelle Divine range for those who want to try more than one product (and also get some savings at the same time)
1. DELUXE DIVINE SET RM580 (Worth RM645)
– Divine Cream (50ml)
– Divine Lotion (200ml)
2. ELITE DIVINE SET RM995 (Worth RM1105)
– Divine Lotion (200ml)
– Divine Extract (30ml)
– Divine Cream (40ml)
– Cosmetic pouch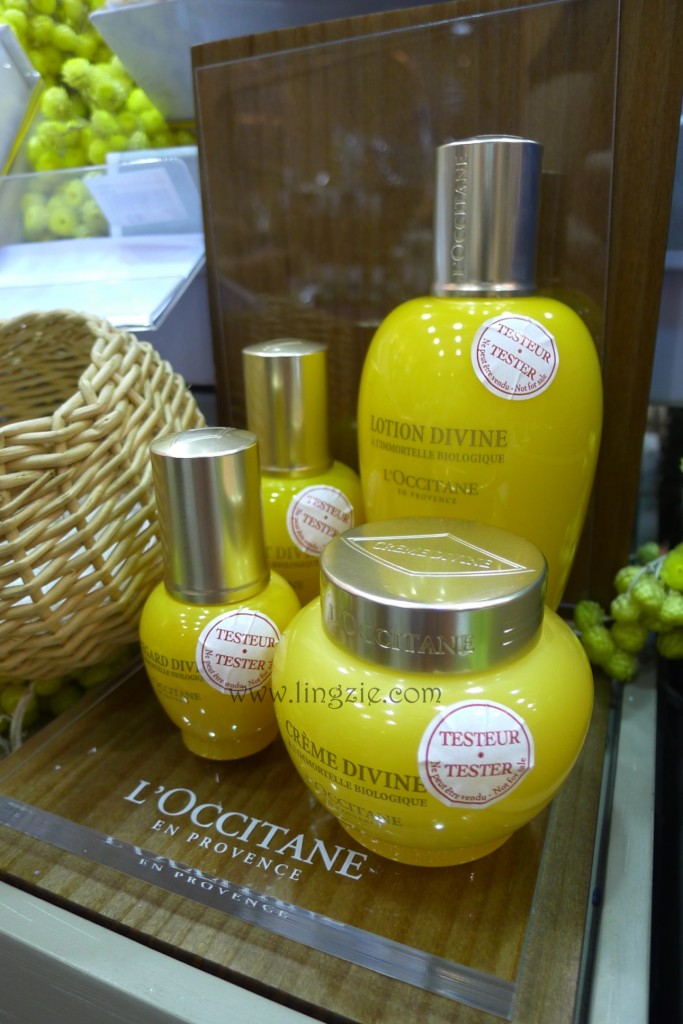 I'll be reviewing the Divine Lotion & Divine Cream in a few weeks so stay tuned for that ya! 🙂
The new L'OCCITANE boutique at Gurney Paragon Mall is bright and cheery and while it may look like any other store, a lot of care and thought has actually been put into the design in line with their initiative to reduce environmental impacts wherever possible. Thus this new boutique features a greenhouse concept for an eco-friendly shopping experience. The furniture and props in the store use silicone free paint, FSC-certified wood, energy saving electrical equipment and water based varnish.
As we explored the boutique, a few items caught my eye…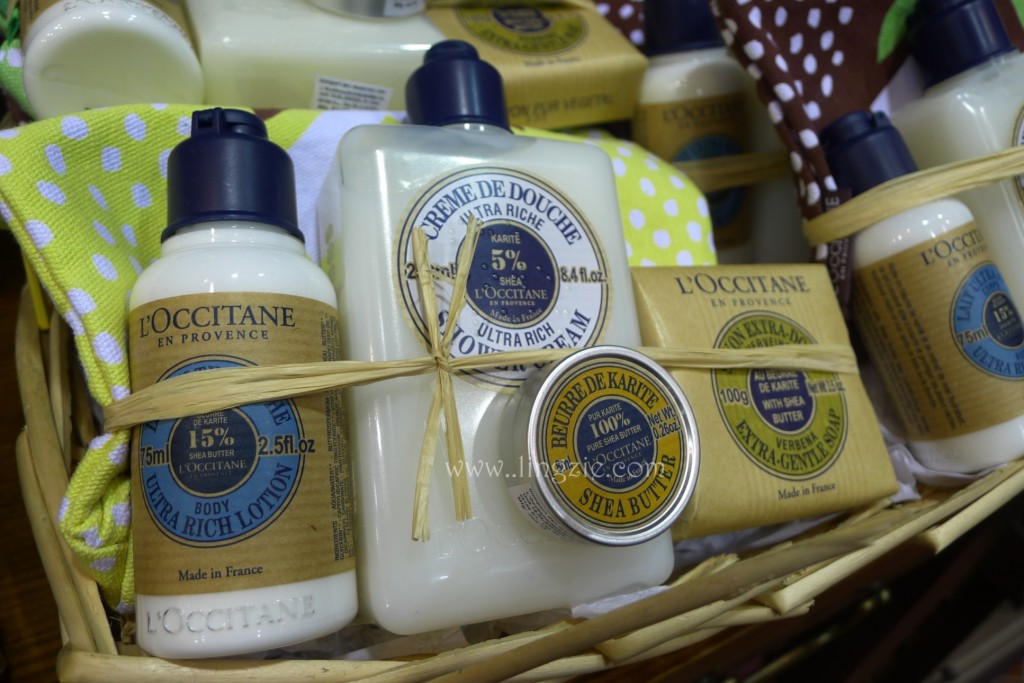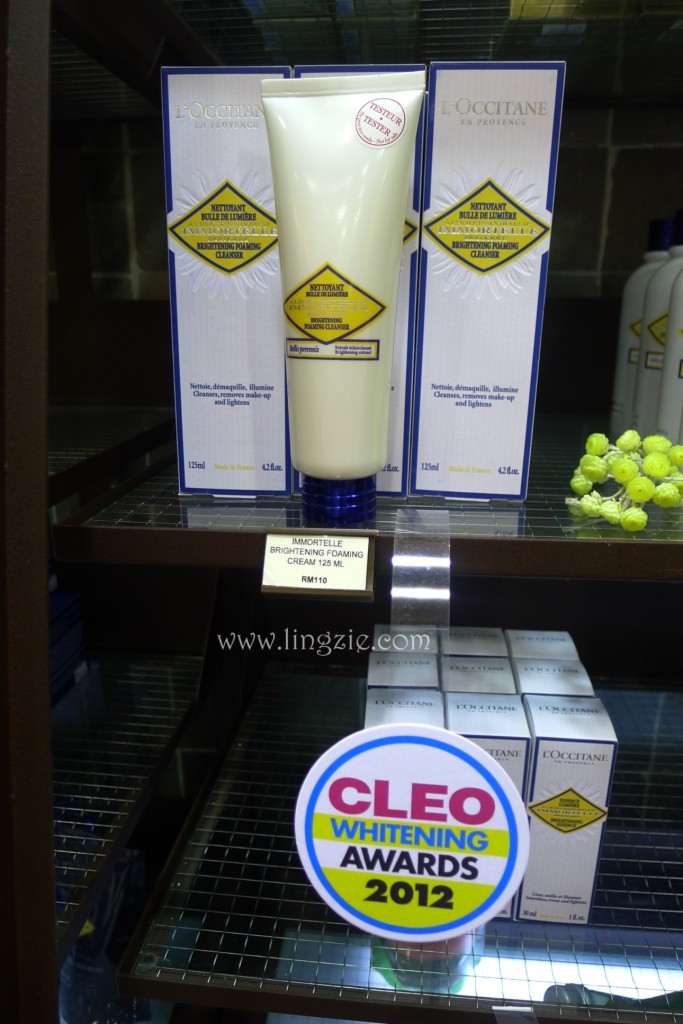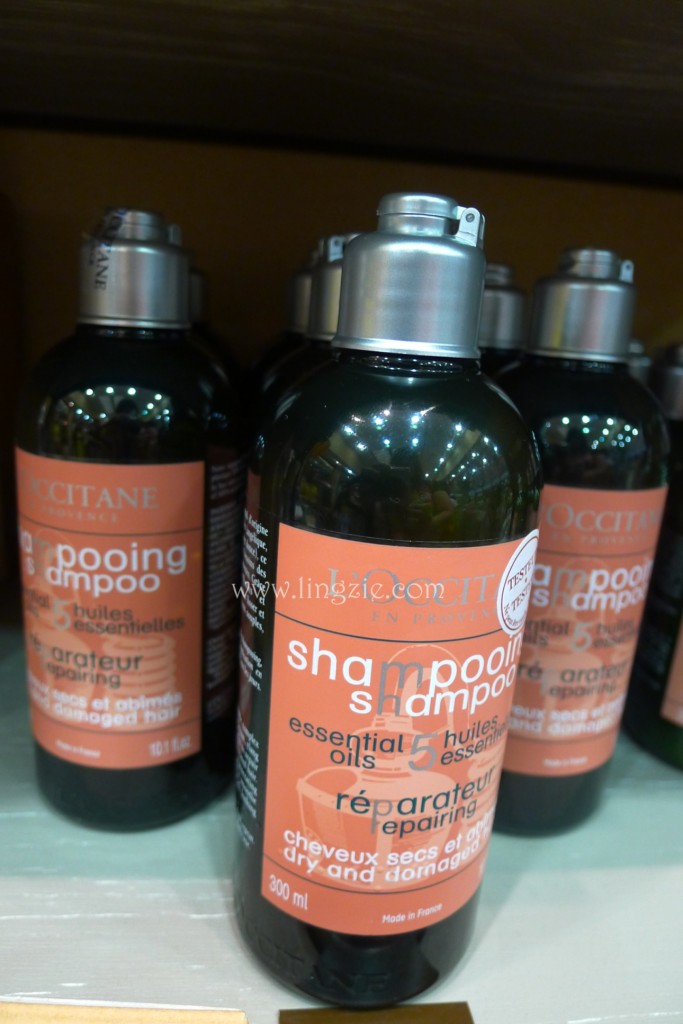 If you're not sure what's suitable for your skin or if you have any questions about the products, just ask any of the friendly L'OCCITANE staff (you can't miss them in their bright yellow Ts! lol)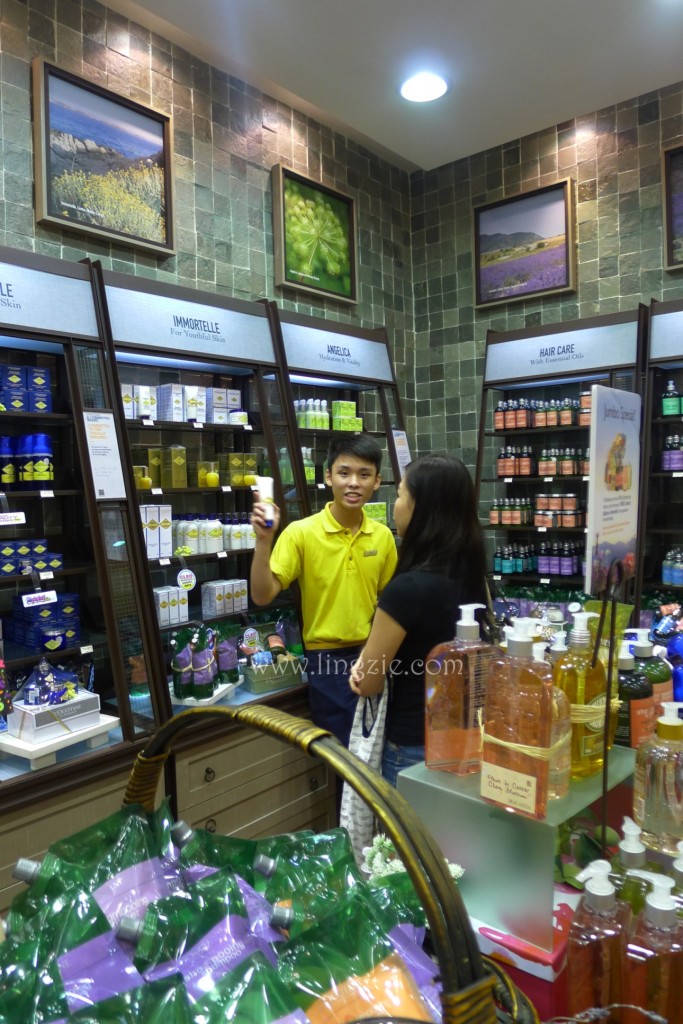 As I toured the boutique I saw these posters with L'OCCITANE's brand commitments – Eco-design, quality made in Provence, commited to natural ingredients and the two that really spoke to me were these:-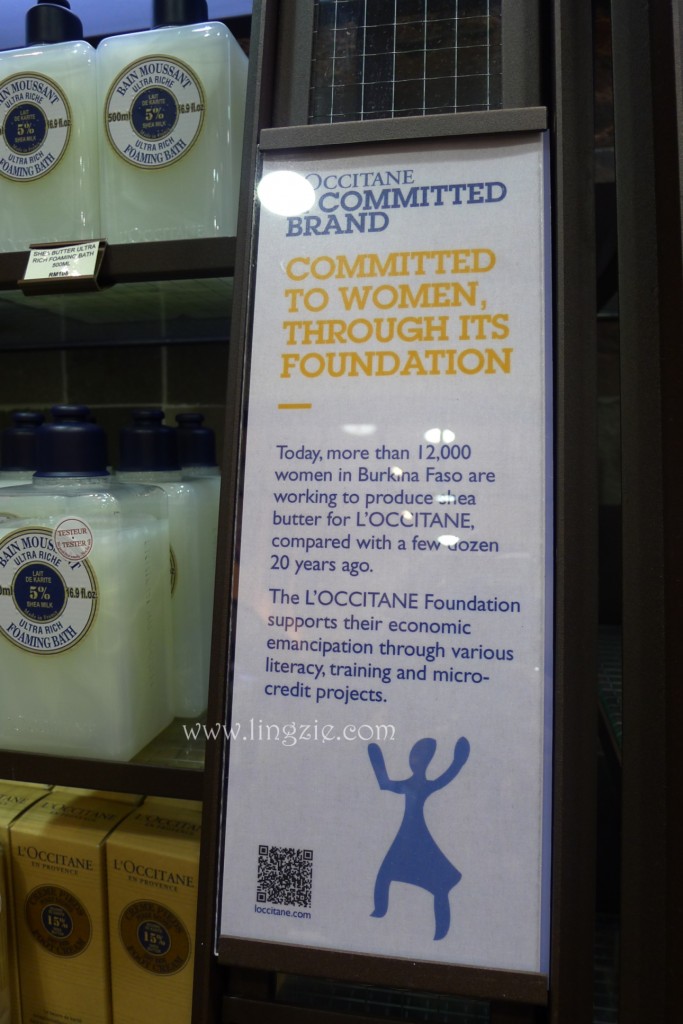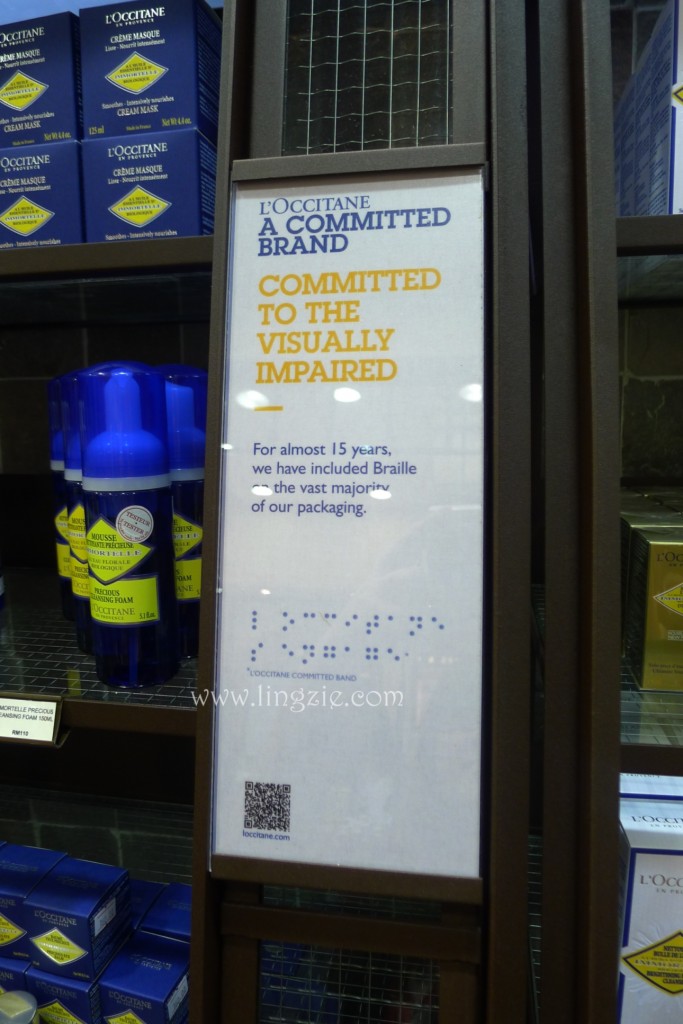 All of L'OCCITANE product ingredients are sourced from Provence with the exception of Shea Butter. The Shea Butter is sourced from Africa (Burkina Faso) where fair trade for the women in that region was introduced by the brand founder.
L'OCCITANE's 100% pure Shea butter is one of its bestsellers used as a multi-use balm to hydrate and protect skin. Suitable for men, women and children of all skin types, L'OCCITANE Malaysia will be launching again its Pure Mini Shea Butter from November-December 2013 for the Signature Charity Fundraising for the Blind (in line with their brand commitments to the visually impaired)
For Malaysia, the funds raised from the sales of the Pure Mini Shea Butter will be channeled to the Malaysian Association for the Blind (MAB) to look after the welfare of the blind. This includes set up of a training work area which will teach visually-impaired basic skills in order for self sufficiency and independence. Notice the image of the eye on the packaging of the pure mini shea butter? Cute and symbolic yes? 🙂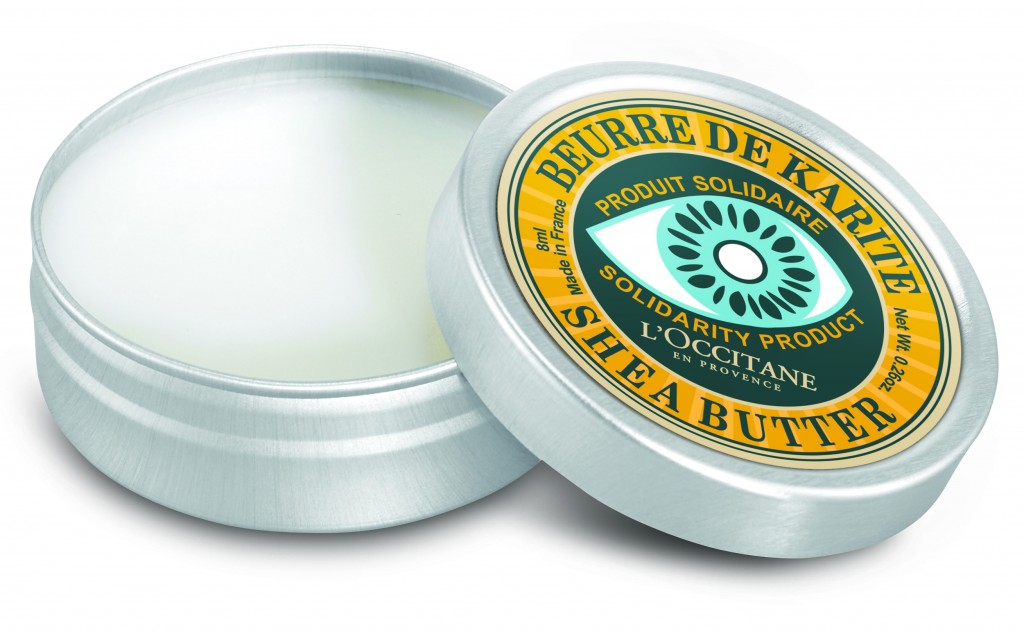 This limited edition Pure Mini Shea Butter (RM33, 8ml) will be available from 1st November 2013 – 31st December 2013 at all L'OCCITANE boutiques nationwide 🙂
Stay tuned for upcoming Christmas launches and also my review of the Immortelle Divine cream & lotion! 🙂 Have you tried the Immortelle Divine? How do you like it? Lemme know!
Many thanks to L'OCCITANE & Clarance for inviting me to this fun outing 🙂
L'OCCITANE Boutique 
 Lot 2.13, Level 2, Gurney Paragon Mall (nearer to the St. Jo's end of the mall, opposite Charles & Keith)
TEL: 04-218 9811