Coffee lovers will not fail to notice the spanking new coffee place that's taken over the iconic Gurney Tower lot which has been left vacant for a few months by it's famous predecessor. Many including myself have been curious to see what the new tenant – ECC Coffee would bring to the coffee and cafe scene in Penang.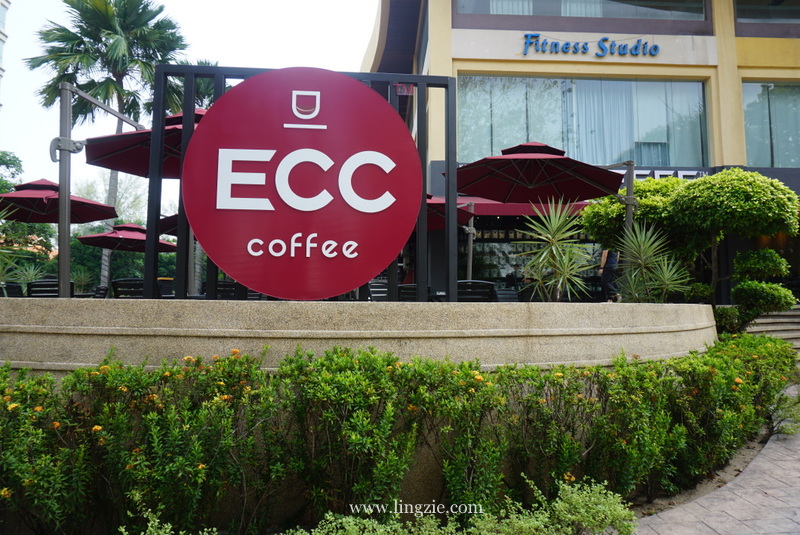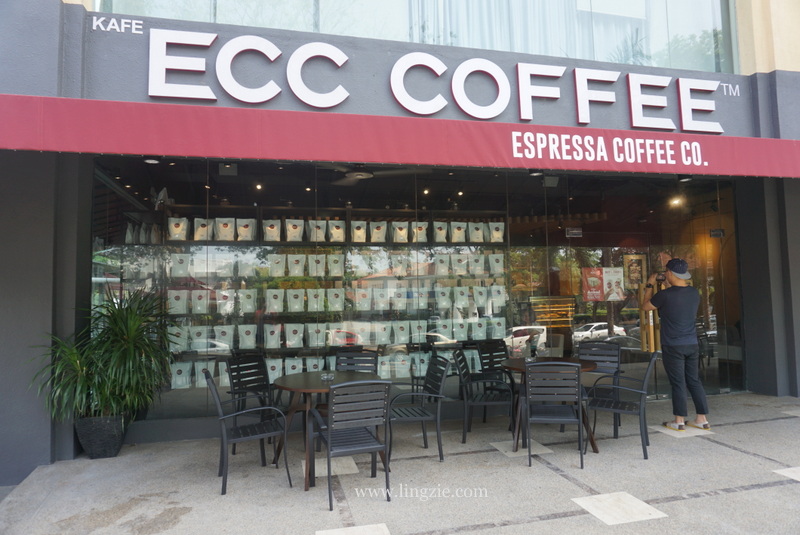 Having opened its doors in the beginning of March, I was delighted to be invited to check out the place and what they have to offer.
Many thanks to ECC Coffee for extending this invitation.
Upon entering the cafe, one is greeted with a simple but classy environment – which makes for a comfortable hang out place.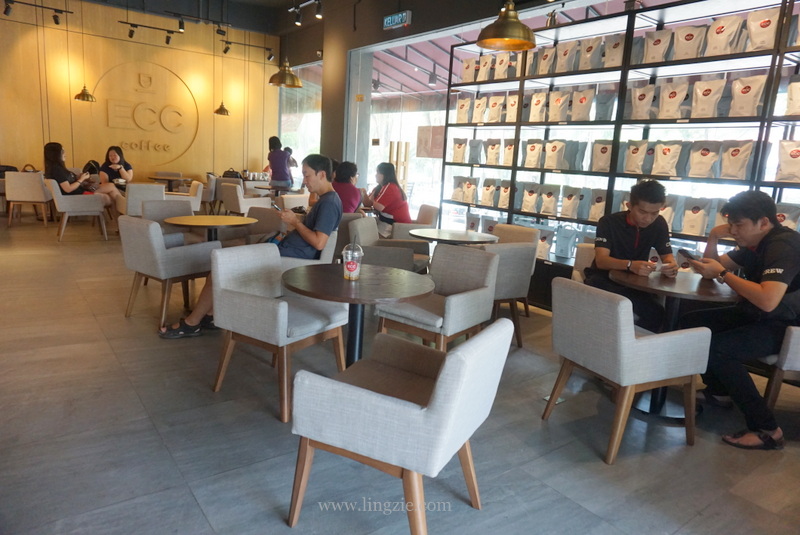 Upon checking out their extensive menu, one would immediately notice that instead of the run of the mill lattes & flat whites, ECC Coffee sets itself apart with flavoured coffees, teas and chocolate drinks.
Currently using Ethopian coffee beans for the base of their coffees, we tried the normal latte and it was very palatable to me.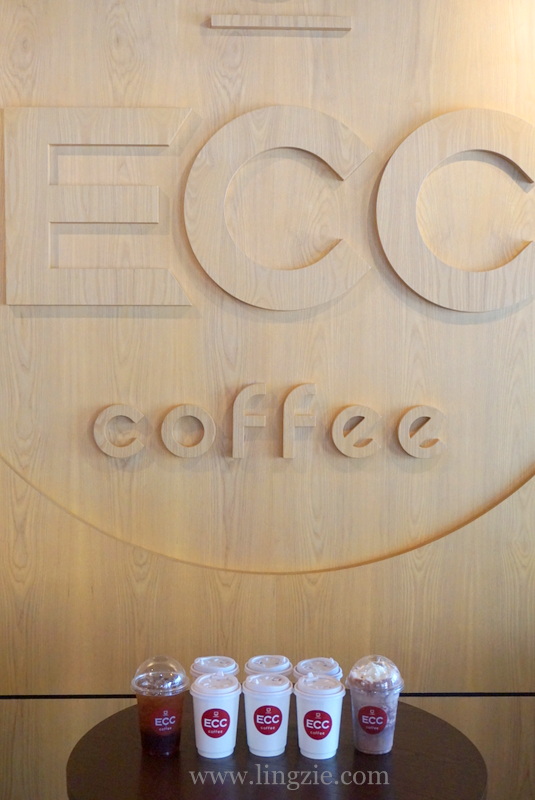 For all their hot drinks, ECC is currently using disposable paper cups. We managed to try a variety of drinks.
From their signature range of coffees, we tried the hot Limon Espressa (RM10.90) and Coconut Espressa (RM10.90). I was very curious about the how these flavoured coffees would taste and must admit that I was initially rather apprehensive. Normally I do not like any sort of flavoured drinks as I find them very artificial and weird tasting. However, I was told that the flavourings are from natural sources which eased my mind somewhat.
Upon tasting the Limon Espressa, I was pleasantly surprised. The fragrant lemon smell hits you first as you sip the coffee and the taste was surprisingly good! It actually kinda reminded me of the old skool lemon wafer biscuits I used to eat as a kid!
Meanwhile the Coconut Espressa has a stronger, bolder flavour. It actually tasted a lot like virgin coconut oil with hints of coffee at the end notes. Since I do take VCO regularly, the Coconut Espressa sat very well with me.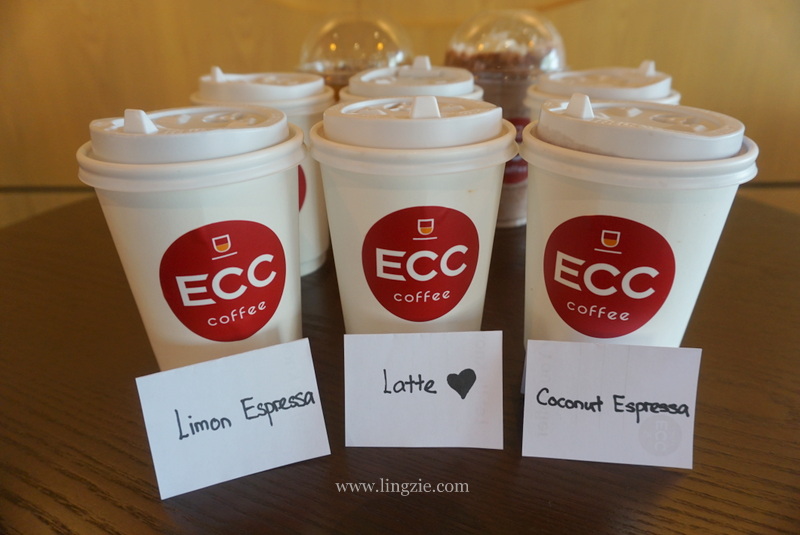 Next, we tried some teas – Te Freddo range. All of ECC's tea drinks use black tea as a base.
Kiwi Te Freddo (RM8.90) & Soursop Te Freddo (RM8.90) were both hits with us. The Kiwi Te Freddo has a milder but fragrant taste while the Soursop Te Freddo has a bolder flavour but more refreshing to me personally. Both the teas are not overly sweet as well which was a big plus for me.
We tried the teas hot but I reckon the iced versions would be perfect in this hot weather!
We also tried the hot Orange Cioccolata (RM11.90) from their Chocolate range. The drink had a well balanced flavour between orange and chocolate and again had the right level of sweetness.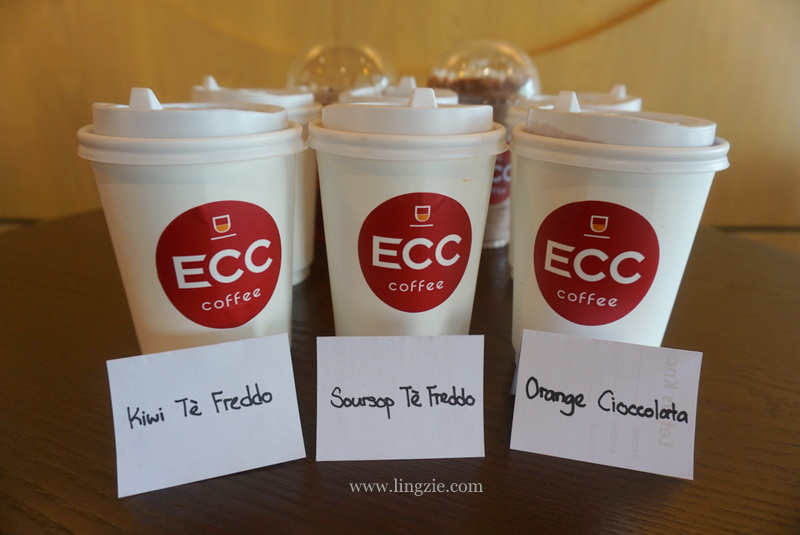 For cold drinks, we managed to try the Iced Mango Te Freddo (RM9.90) and Ice Blended Cioccolata (RM13.90)
I preferred the Iced Mango Te Freddo as it was light and refreshing with apparent Mango taste.
Meanwhile the Ice Blended Cioccolata was alright but as a major chocoholic, I would prefer something thicker and more chocolate-y. hehe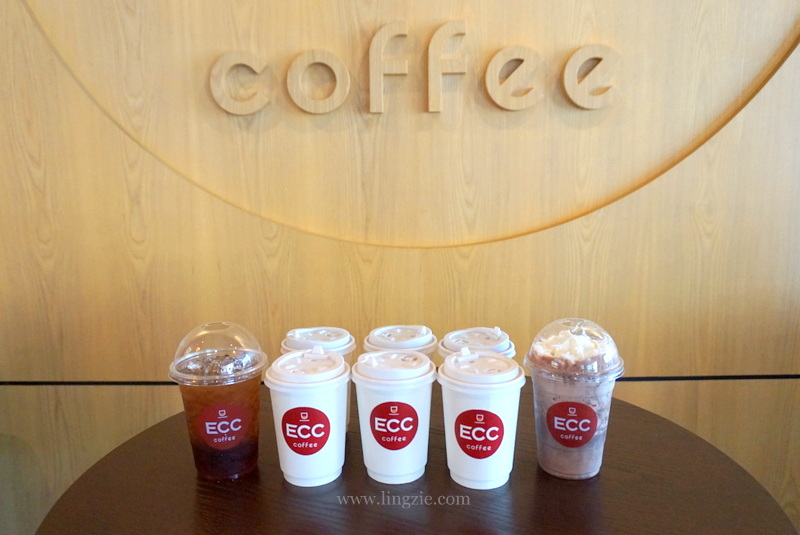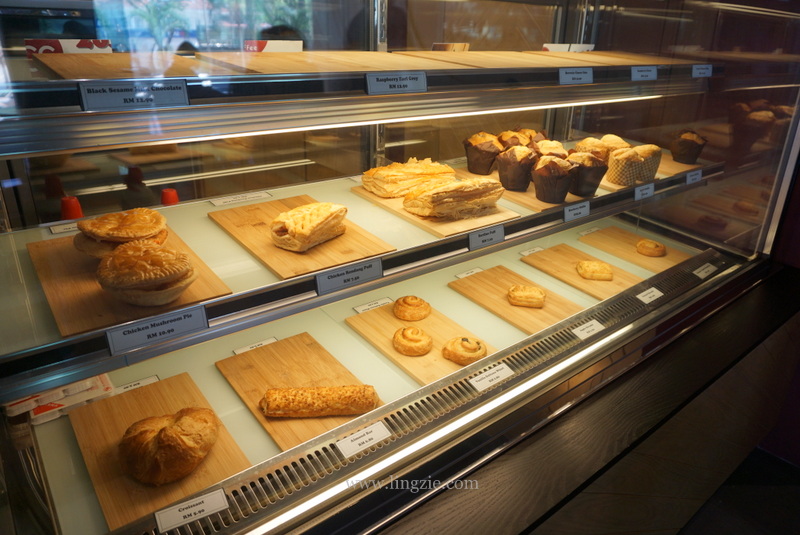 Other than drinks, ECC Coffee does serve a variety of light snacks and cakes.
I was happy to find some savoury options as I normally feel rather peckish in the afternoons and would prefer a savoury snack compared to a sweet on.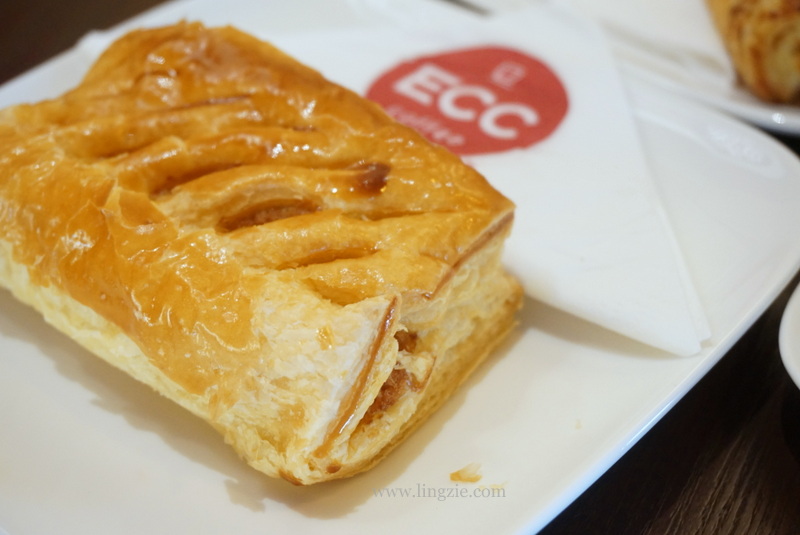 Chicken Rendang Puff RM7.50
The chicken rendang puff was delicious, not too spicy and not greasy as well.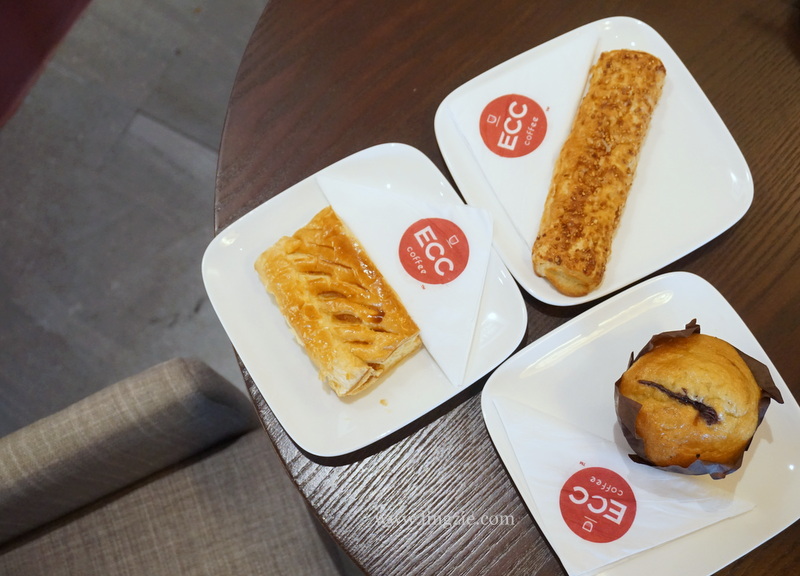 Other snacks we tried were the Blueberry Muffin (RM6.80) and Almond Bar (RM6.80) Both were equally palatable.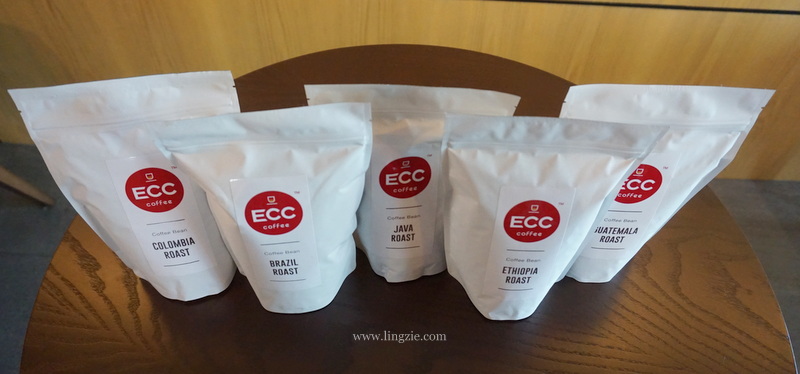 ECC coffee also produces their own merchandise created by their R&D team such as the ECC Special Mix Sachets and coffee beans. The Special Mix Sachets caught my eye as they provide the ease of making a delicious drink from the comforts of your own home. Plus the minimalistic packaging makes them perfect gifts for any occasion.
ECC Coffee beans range from RM29.90 – RM39.90
Meanwhile, their ECC Special Mix Sachets are priced at RM23.90 (for tea products), RM24.90 (for coffee products) and RM25.90 (for chocolate products)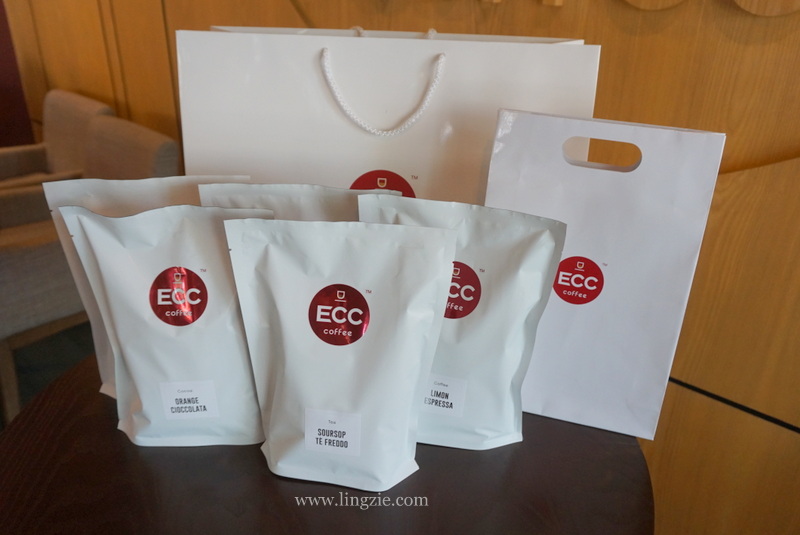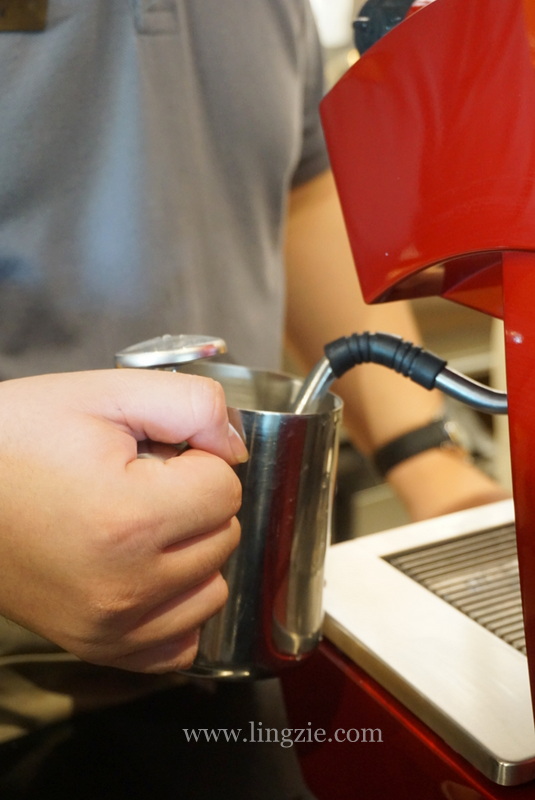 All in all, I was impressed with the quality and the taste of the drinks. Plus the cozy environments makes it a comfortable hang out place to catch up with friends.
The Essentials:-
ECC Coffee
Menara Gurney (Ground Floor) R-G-B1-2, Jalan Kelawai, 10250 Penang, Malaysia.
TEL: 04 – 227 7001 / 04 – 296 9466
Opens daily (Sunday to Thursday 8:30am – 10:30pm, Friday & Saturday 8:30am – 12:00am)