Tucked in a small nook of the very hip Nagore Square is A.Maze
It's facade does not give away much, while its sign board leaves an ambiguous hint of serving Alternative Cuisine. Whatever could that mean? Let's find out! 🙂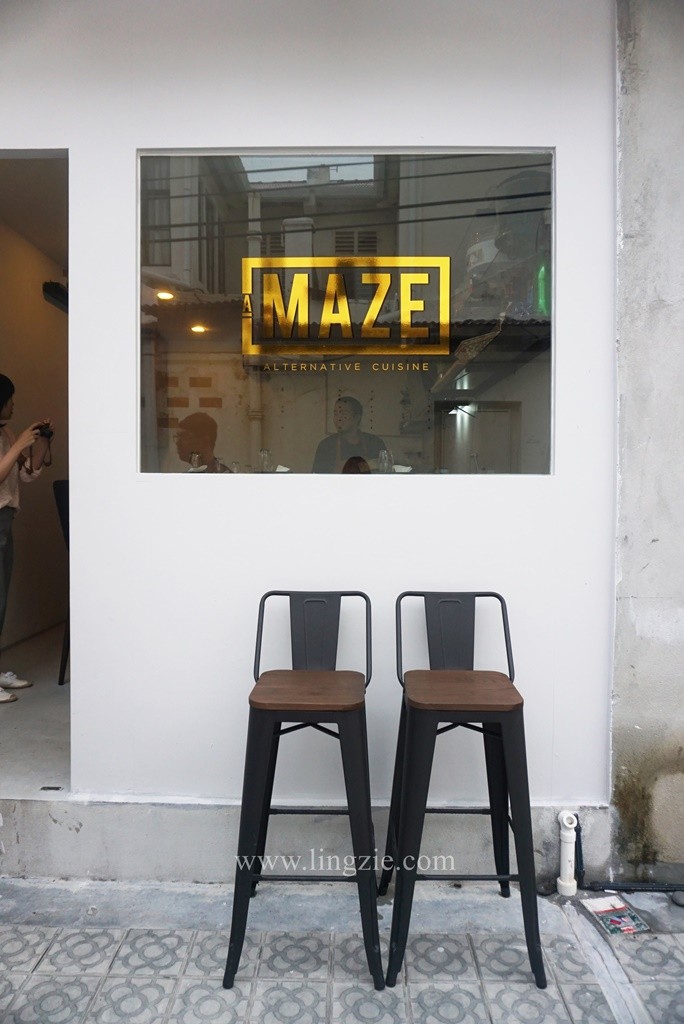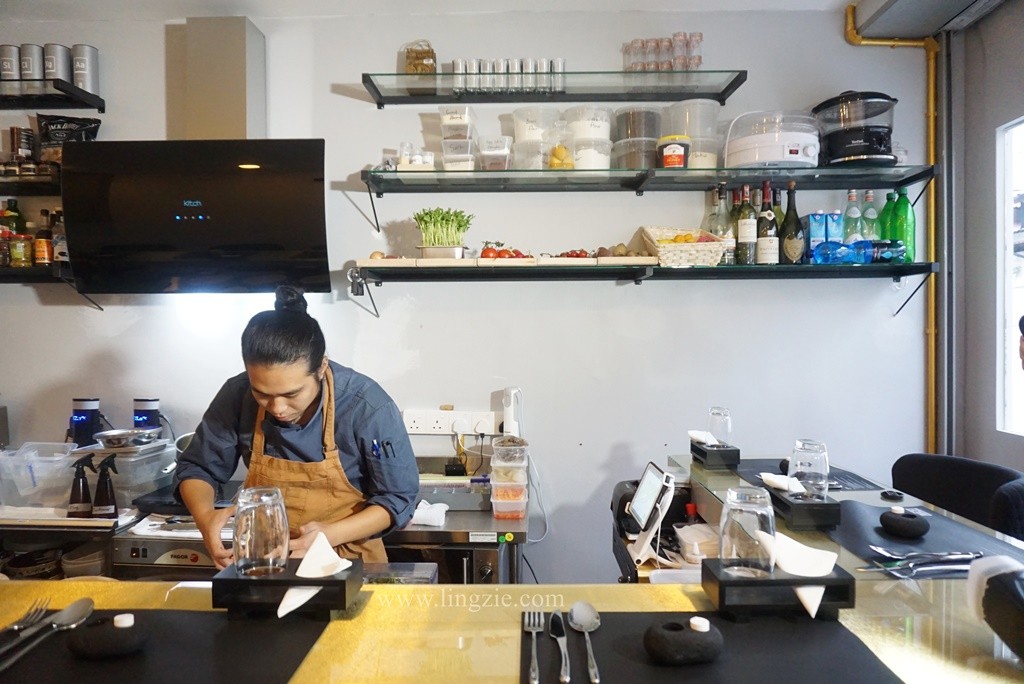 Upon arriving at A.Maze, we found that there was no menu. Instead, what we were in for was an Omakase style culinary journey, helmed by Chef Wei who has honed his skills abroad for more than a decade before returning to Penang to bring something unique to Penang's dining scene.
Basically, Chef Wei puts together a dinner menu (usually 7-8 courses) based on the freshest ingredients available. Diners then entrust their meal to the capable and adept hands of Chef Wei, who aims to not only serve good food, but also to leave diners with a memorable experience.
The course dinner menu is currently priced at RM128nett per pax and includes beverage pairing. For more updates do check out their Facebook Page.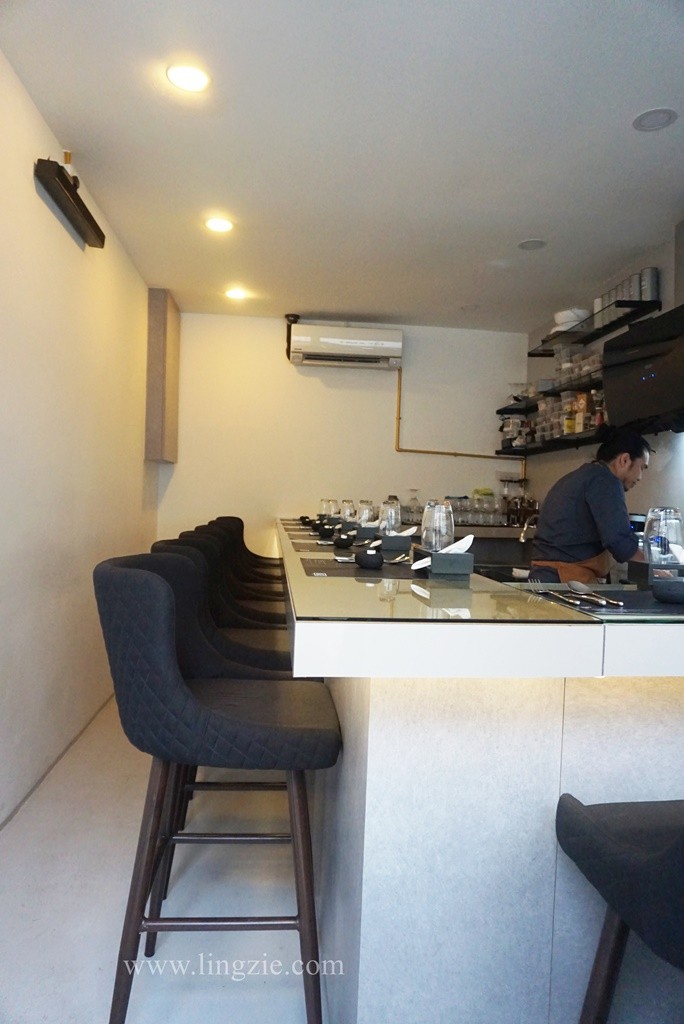 Due to the unique concept of A.Maze (and also the fact that the place only seats 8 pax), prior reservation is advisable as the chef will then ask if the diner has any food allergies/diet preferences or if they do not take certain foods etc.
I personally liked the exclusivity of A.Maze and also the fact that Chef Wei was preparing our meal right in front of us. Kinda like having a private chef cooking your meal in a cozy kitchen. We were also encouraged to ask questions should we feel curious about what he was doing 🙂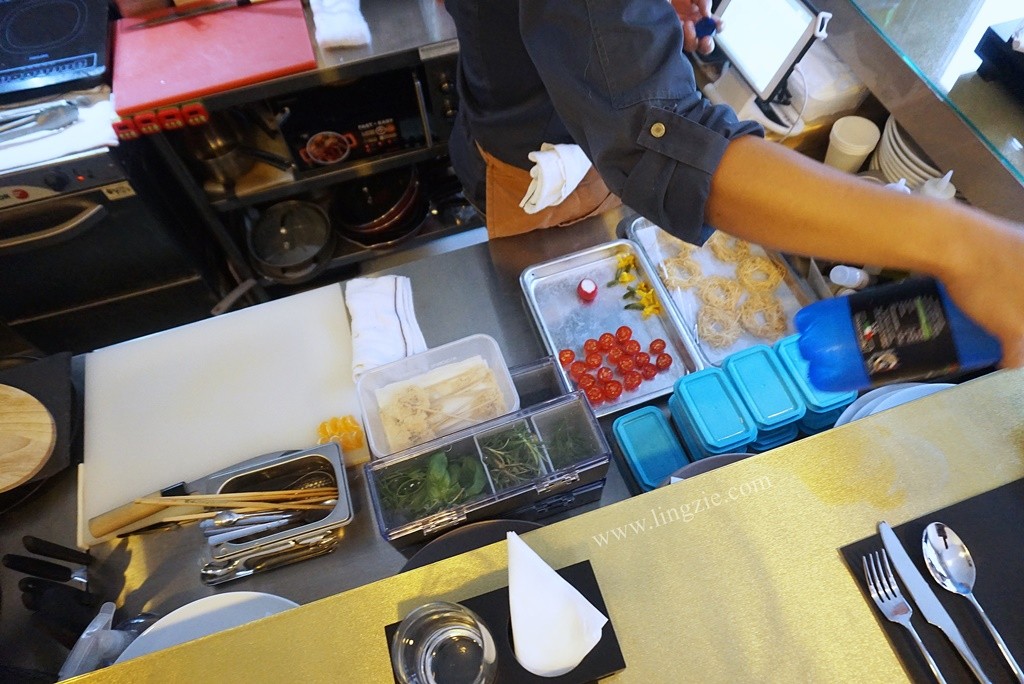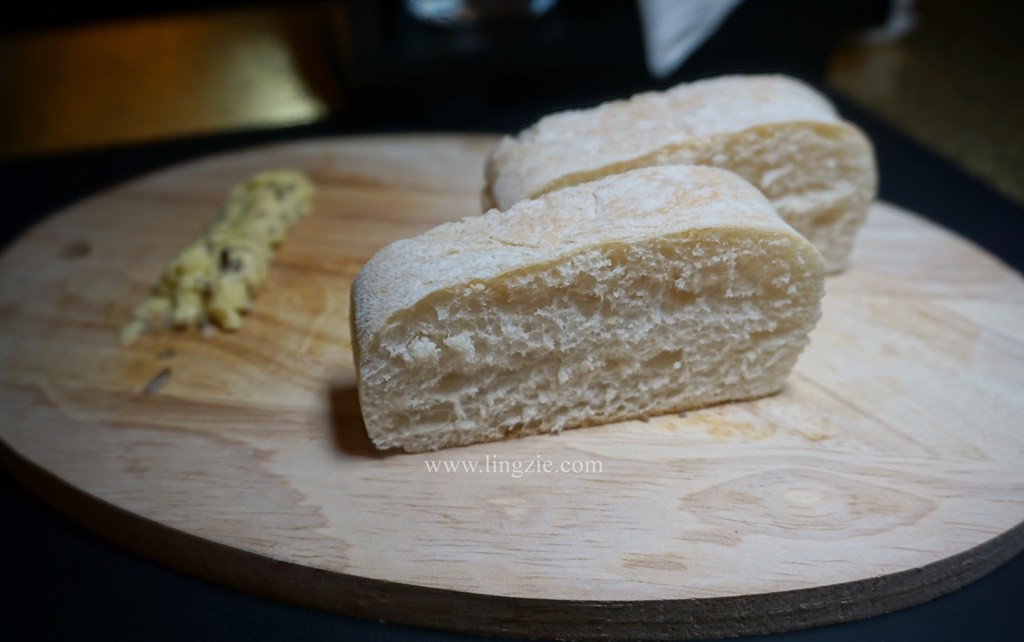 To Start – Ciabatta bread (made in house) with Mushroom Butter
I love a good bread and this ciabatta was a lovely way start to the meal. The homemade mushroom butter features a blend of 5 different types of mushroom including truffle, shitake and eryngii mushrooms.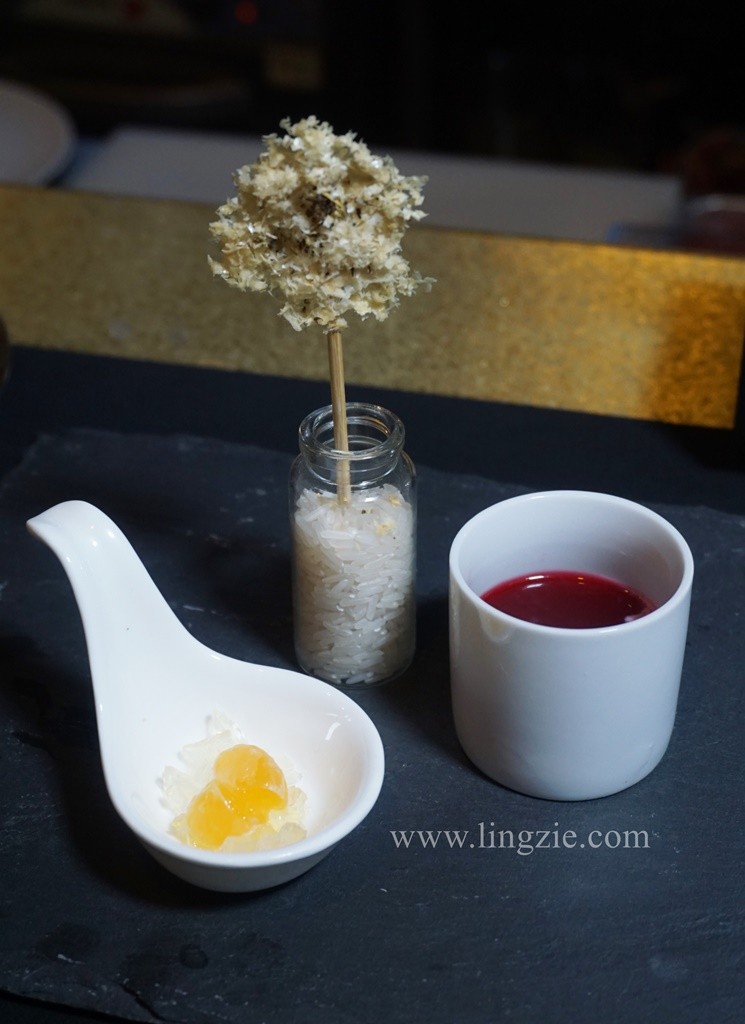 1st Course Amuse Bouche – Lemon Jelly tangerine+sea salt, Beetroot & Watermelon Consomme, Parmesan Cheese Crisp+herbs+Sichuan Pepper
The Amuse Bouche consisted of 3 different small bites and it was recommended that we start with the lemon jelly tangerine which was a citrus-y and refreshing. Next, the Beetroot & Watermelon consomme had an earthy flavour balanced by the sweetness of the watermelon. The addition of some coconut milk made it smooth and comforting. I loved the clean sweet flavours of the consomme. But the highlight of this amuse bouche for me personally was the parmesan cheese crisp, elevated by some spicy numbing hints from the sichuan pepper which excites the palate!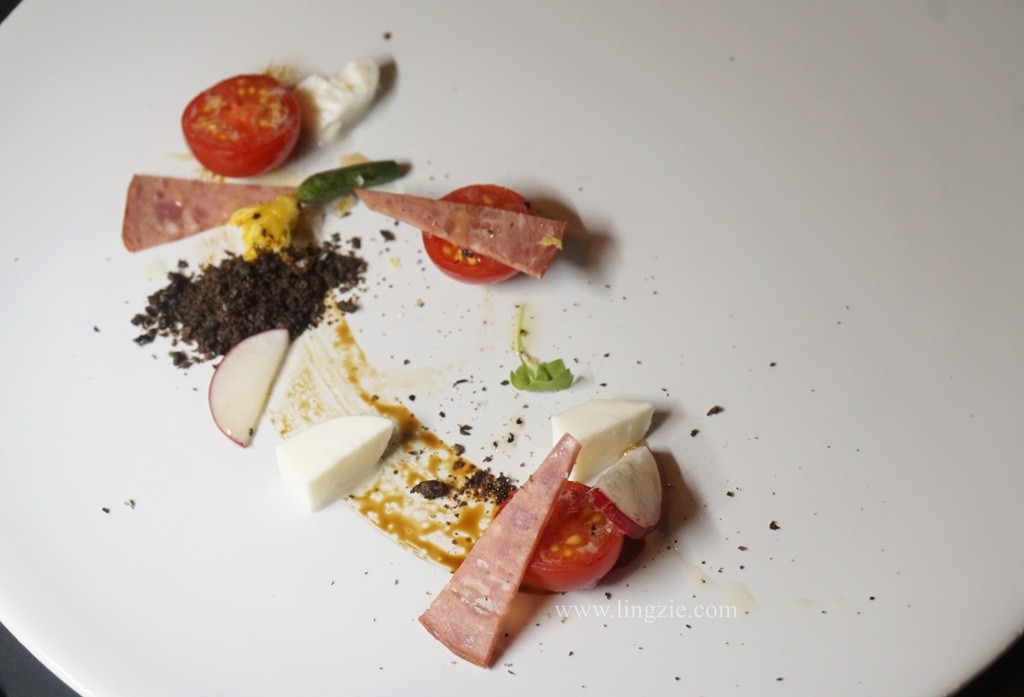 2nd Course – Beef Salami/Pork Chorizo, tomatoes on vine, baby cucumber flowers, black olive soil, buffalo mozzarella cheese with Balsamic Reduction
Next up, was a beautifully plated appetizer. All the ingredients may seem randomly thrown together, but in actuality is meticulous paired by the chef. A play of salty, tangy & sweet, crunchy, creamy and soft – sums up this dish for me.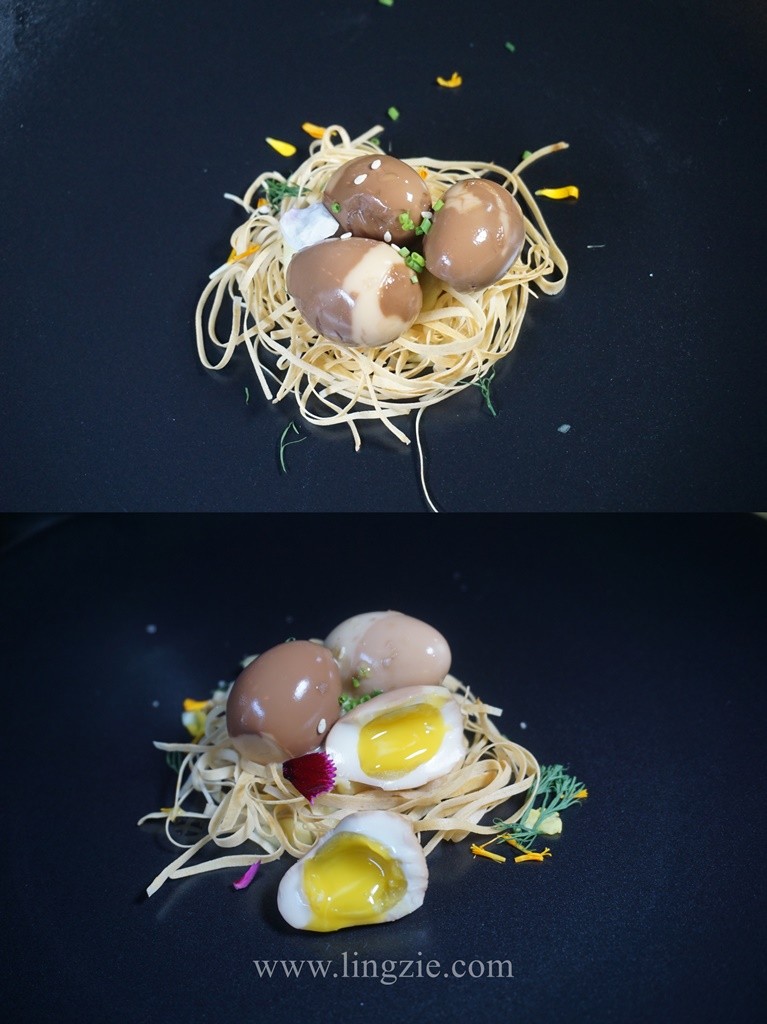 3rd Course – Warm Starter – Tea & soy sauce soaked Quail Eggs on Pastry Nest 
The warm starter was a hit among us. Quail eggs with runny yolks with subtle tea flavours on a bed of buttery crunchy pastry nest and a hint of dill. The addition of smoked sea salt heightened it's taste.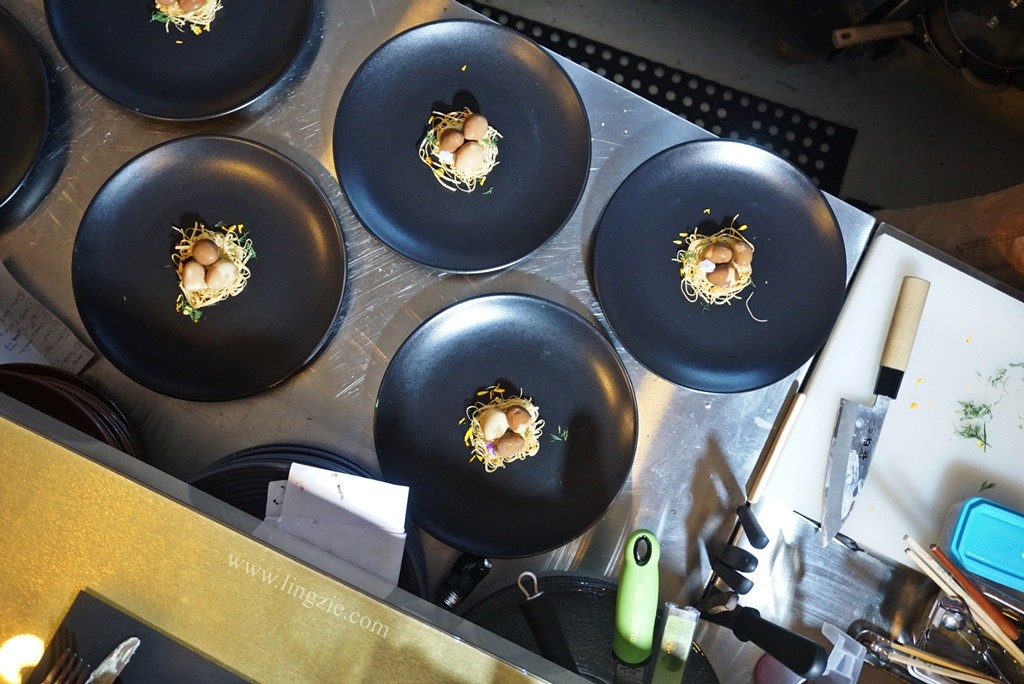 Simple & beautiful plating
We were constantly amazed at how efficiently Chef Wei worked in his small space, whipping out platter after platter to prepare each course. Plus, I lusted with envy at his super organized & functional kitchen (if only my kitchen and work space could be half as organized! lol)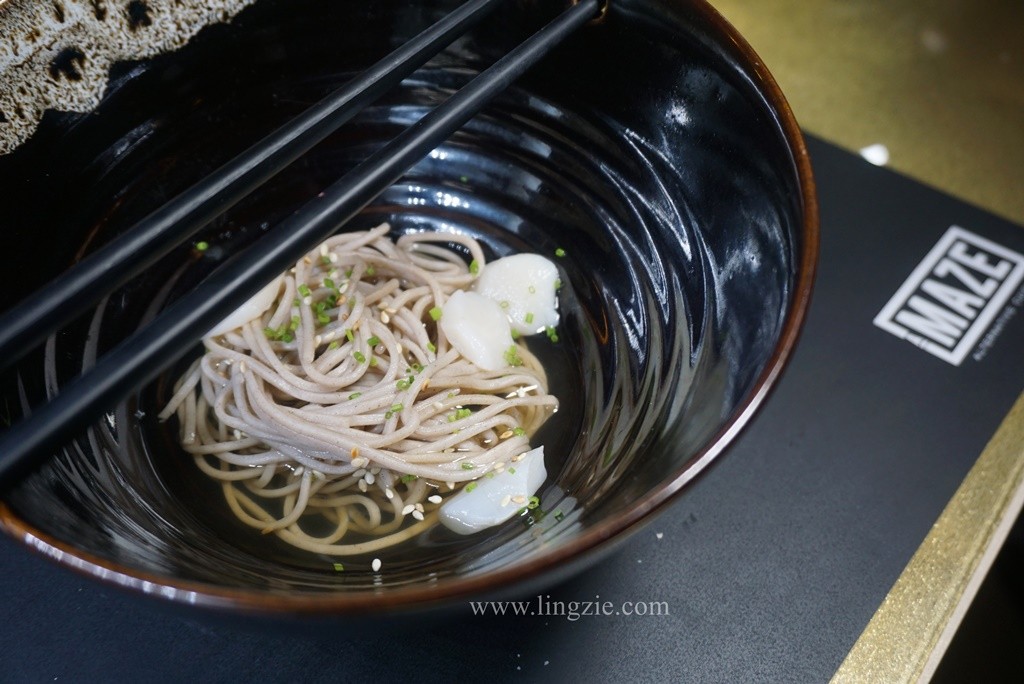 4th Course – Buckwheat Soba  & Australia Scallops in Siphon Broth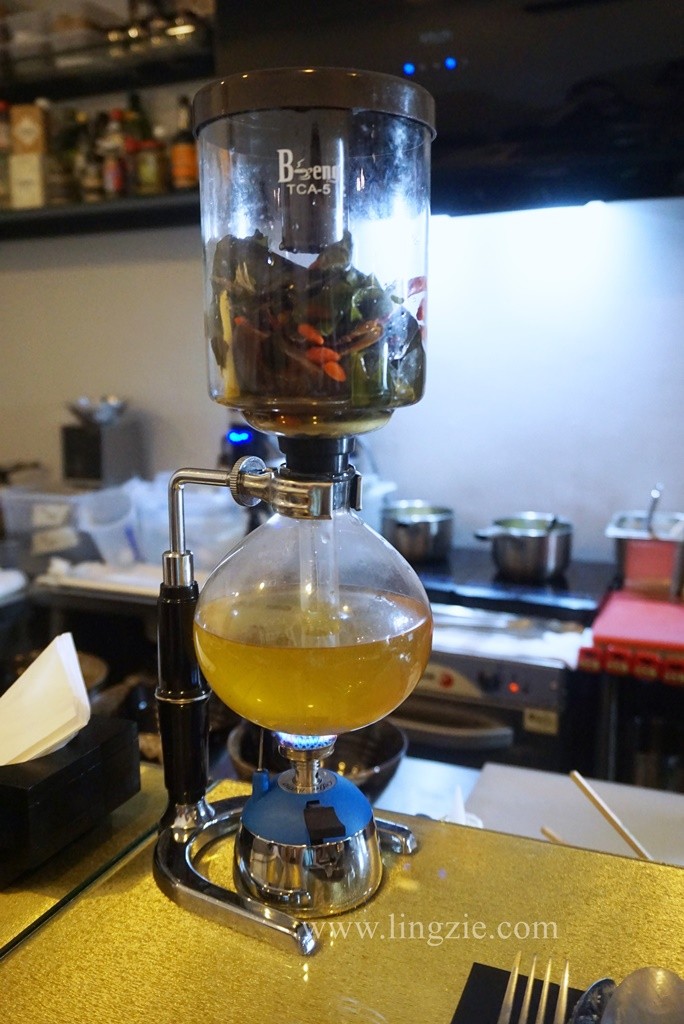 Siphon broth with umami flavour using Konbu, Wakame seaweed, Lemon, Wolfberries, Dried Shitake Mushroom, Lemongrass, Young ginger, dried chilli and bonito flakes
When Chef Wei whipped out 2 siphons we were puzzled… it's too early for coffee right? But to our astonishment, the siphons were actually used to prepare a broth for our buckwheat soba noodles. A lil' science lesson ensued as we discussed the siphons and Chef Wei shared reasoning behind using it to prepare the broth.
We were excited to taste the buckwheat soba and the broth, its flavours were subdued but one could discern the umami flavours shining through. Plus the sous vide scallops and soba were a joy to bite into.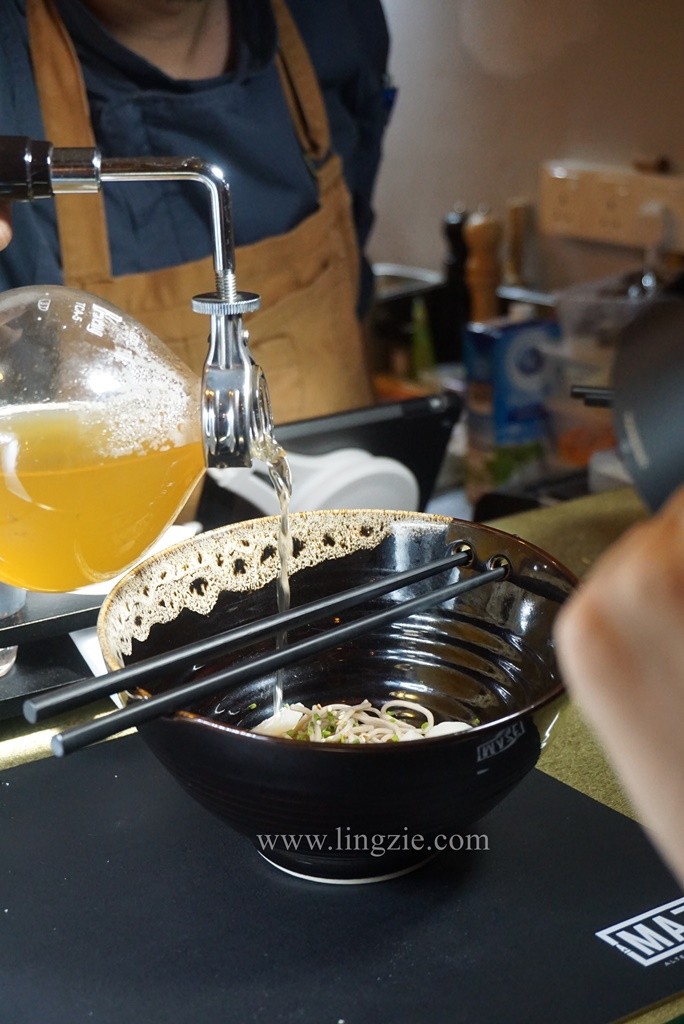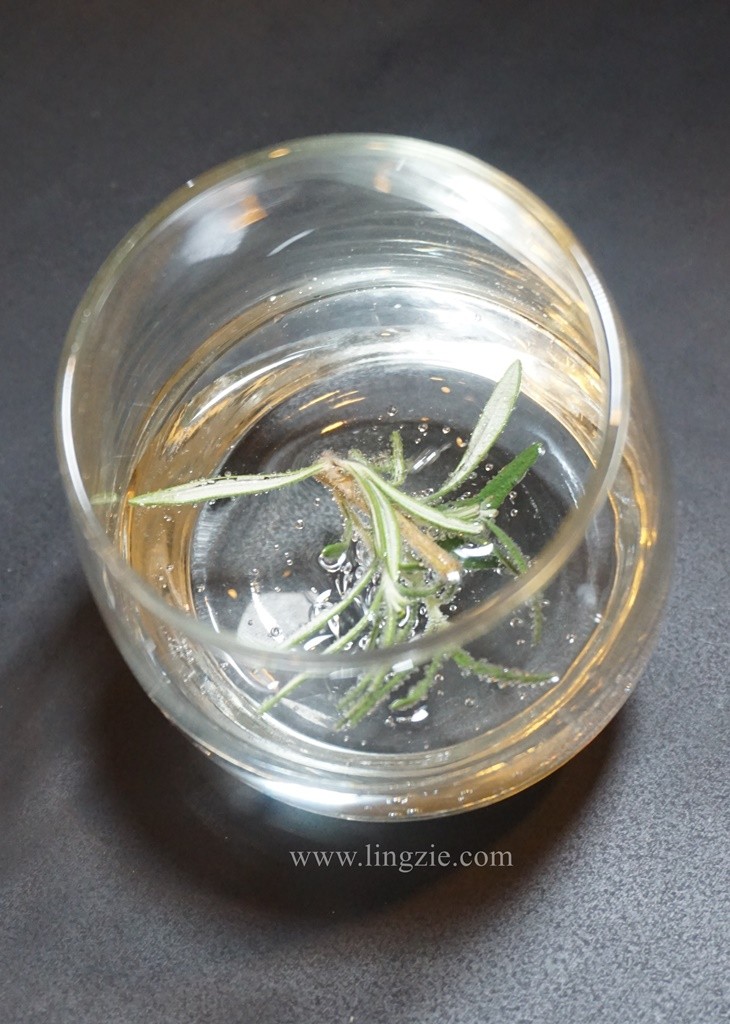 Gin & Tonic (with hint of rosemary)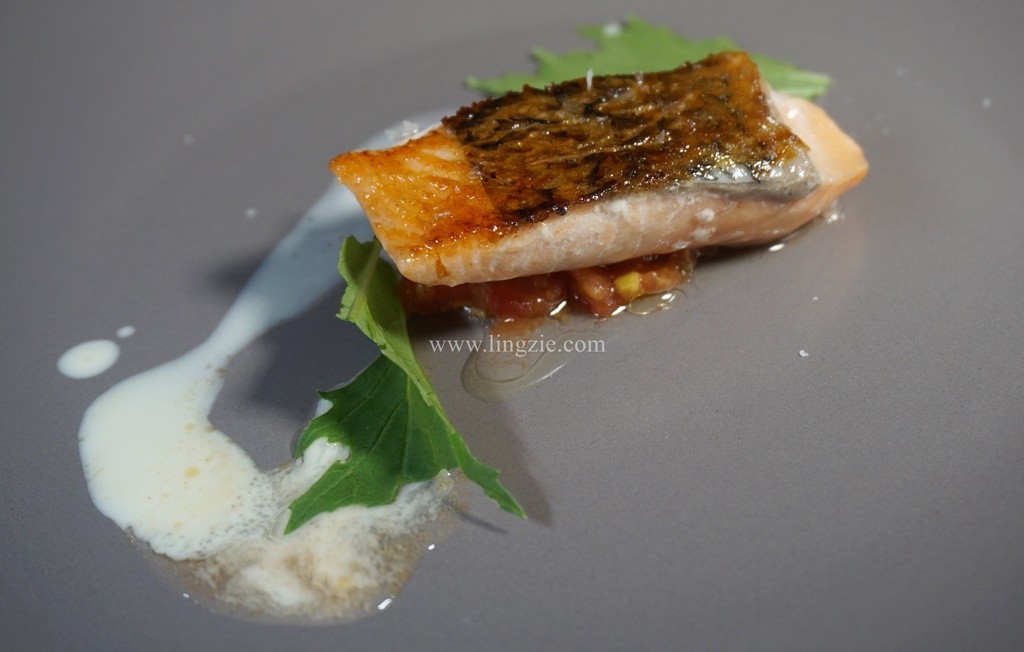 5th Course – Sous-Vide Sashimi Grade Norwegian Salmon, Mizuna leaf & Dill milk
Next came the sous vide Norwegian Salmon with mizuna leaf and dill milk. I loved the crispy skin which contrasted beautifully with the melt in your mouth texture of the flesh. The mizuna leaf was slightly peppery and pleasant. Meanwhile the dill milk paired favorably with the salmon without being overpowering.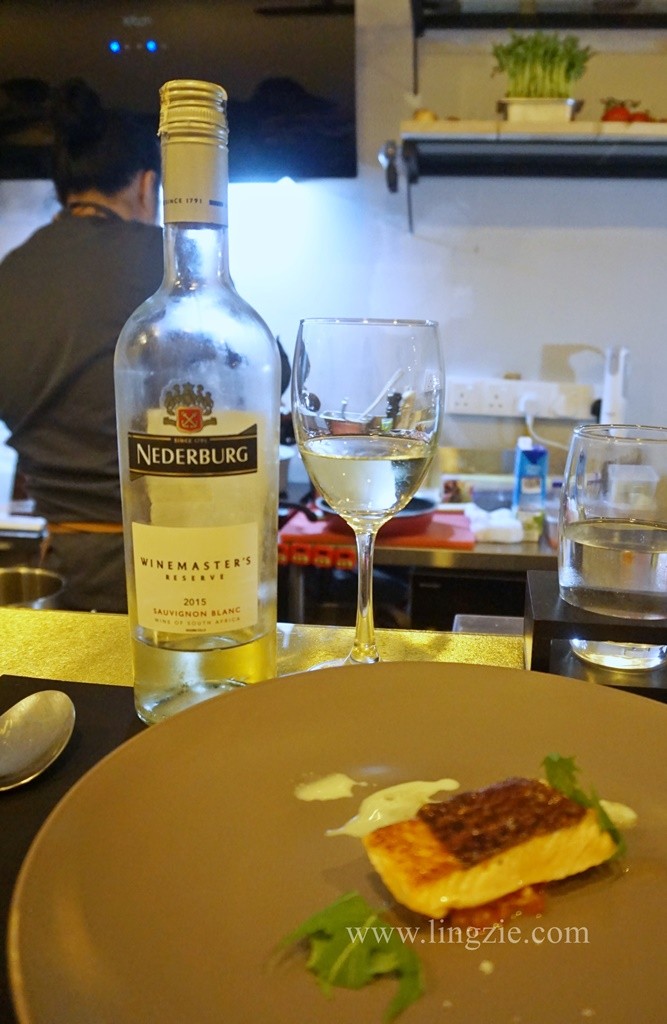 White wine pairing for the sous vide salmon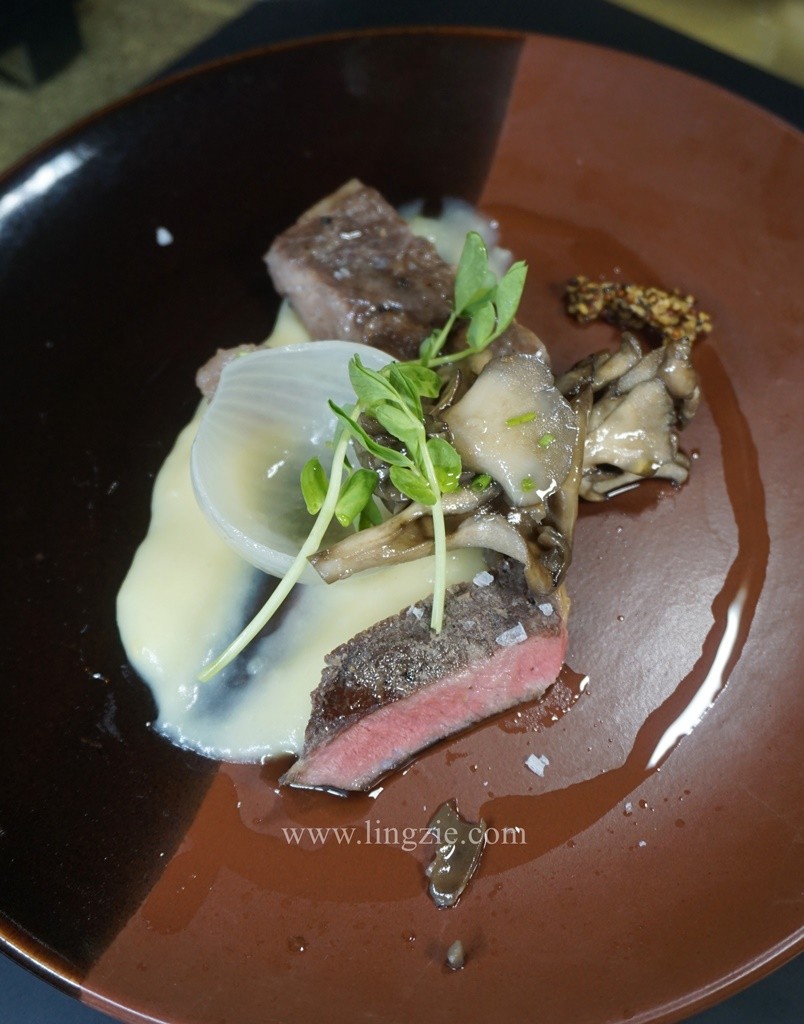 5th Course – Grain fed beef (shoulder + sirloin), Baked Onions, Maitake Mushrooms & Potato Puree. Pea shoots + Whole grain Dijon Mustard
We then moved onto the beef. Chef Wei selected two different cuts (shoulder and sirloin) and cooked the beef sous vide to showcase the tenderness of the shoulder cut using this cooking method. Both cuts were enjoyable with the classic pairing of mushrooms and potato puree which was silky smooth and sweet. The whole grain dijon mustard packed a punch in terms of flavour while the pea shoots gave the dish some crunch.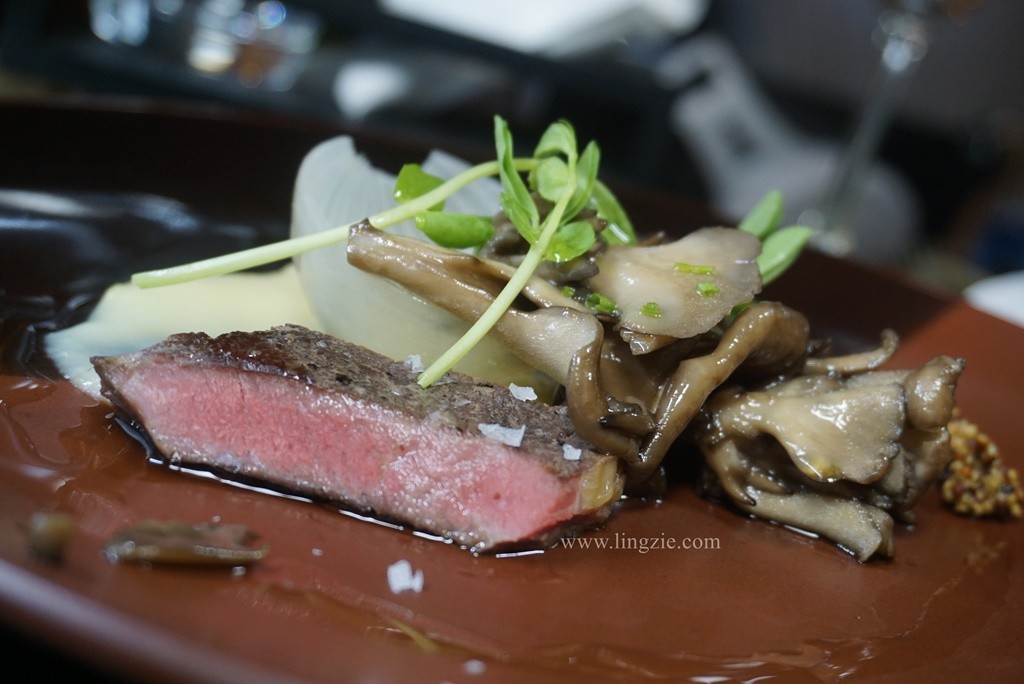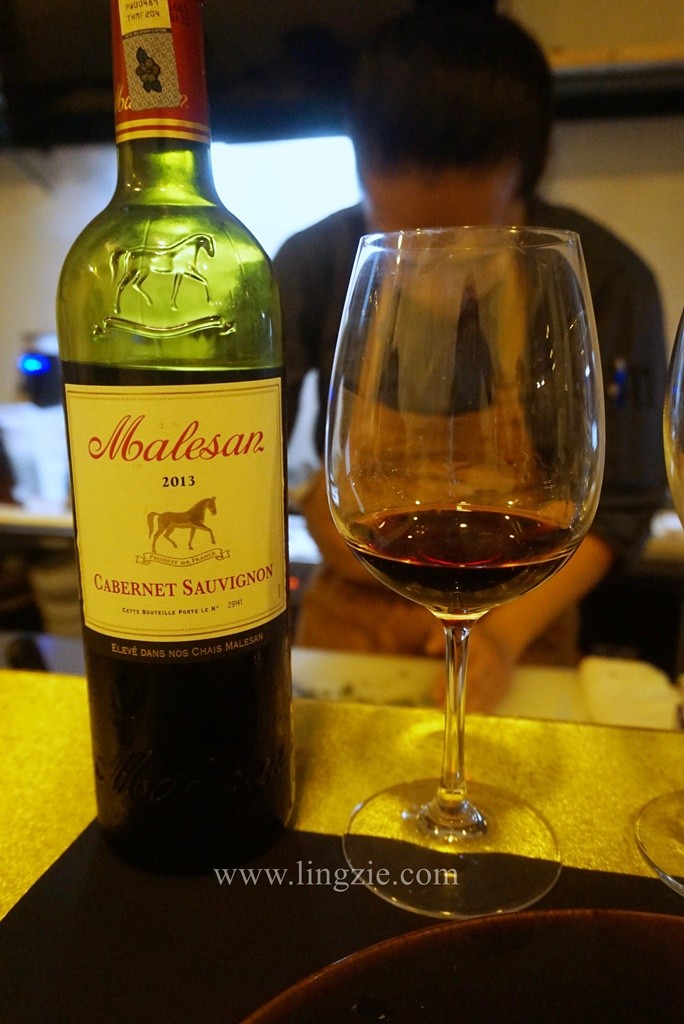 Red wine pairing for the beef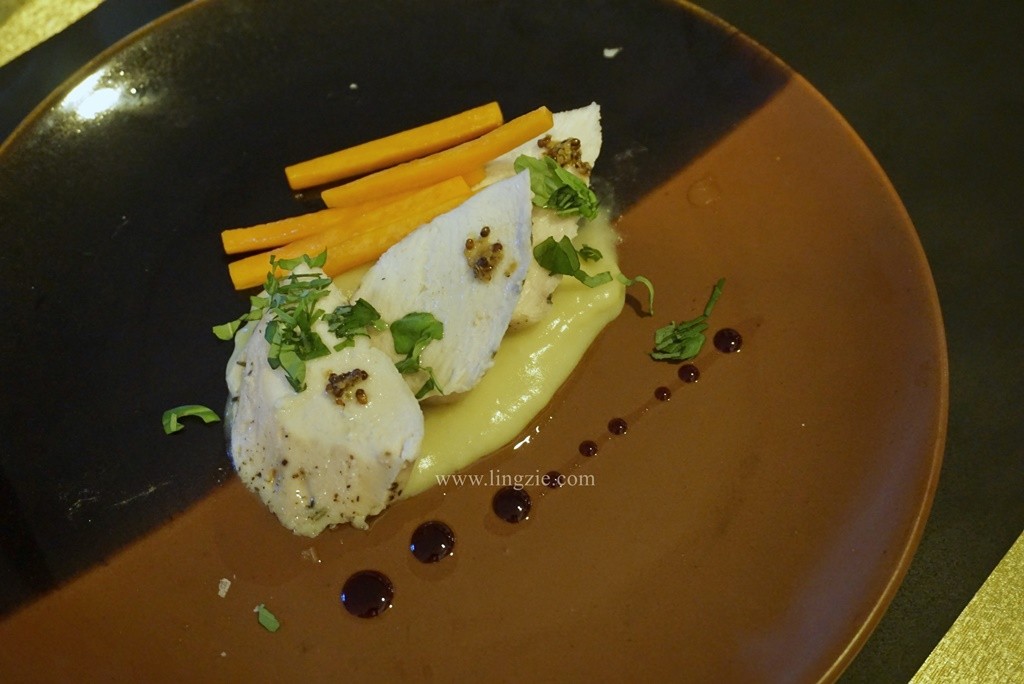 For those who don't take beef, Chef Wei prepared a sous vide chicken breast dish. Normally chicken breast is not very popular since it has the bad rep of being dry and tough. But this sous vide chicken breast was tender and juicy, and surprisingly left me wanting more.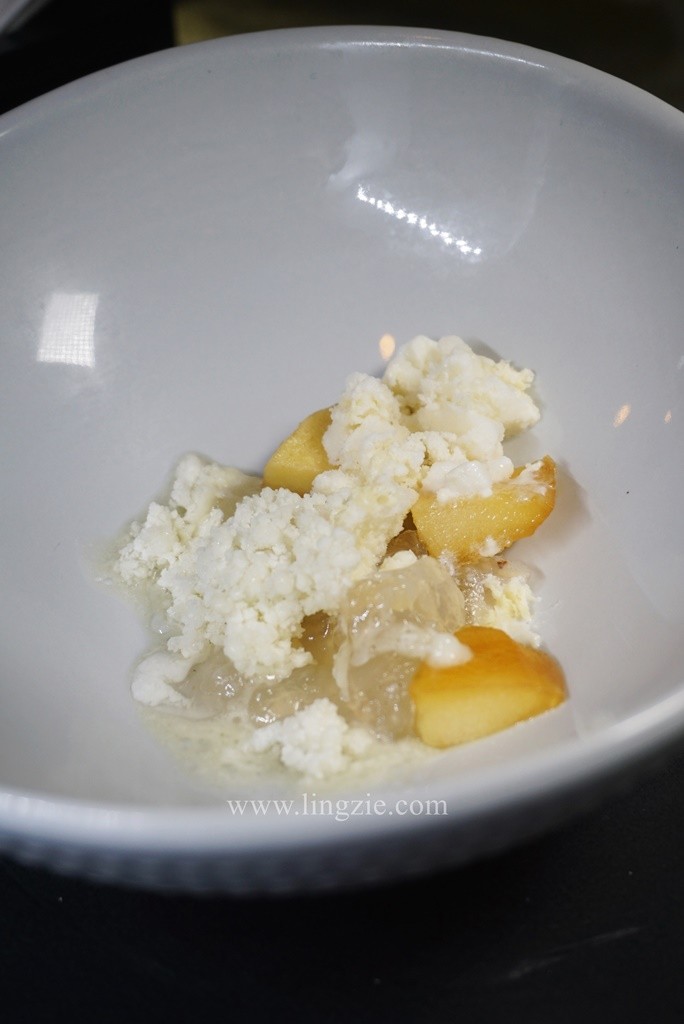 Palate Cleanser – Olive Oil Sherbet + Jasmine Rice Sherbet, Moscato Jelly & Caramelized Apples
The palate cleanser was indeed something new and unique to me. I never imagine jasmine rice could be made into a sherbet. The flavour was mild and pleasant, it actually kinda reminded me of the 'bedak sejuk' (rice cooling powder) that my late grandmother used on her face!
Somehow, the olive oil & jasmine rice combination worked with the caramelized apples adding some sweetness and texture.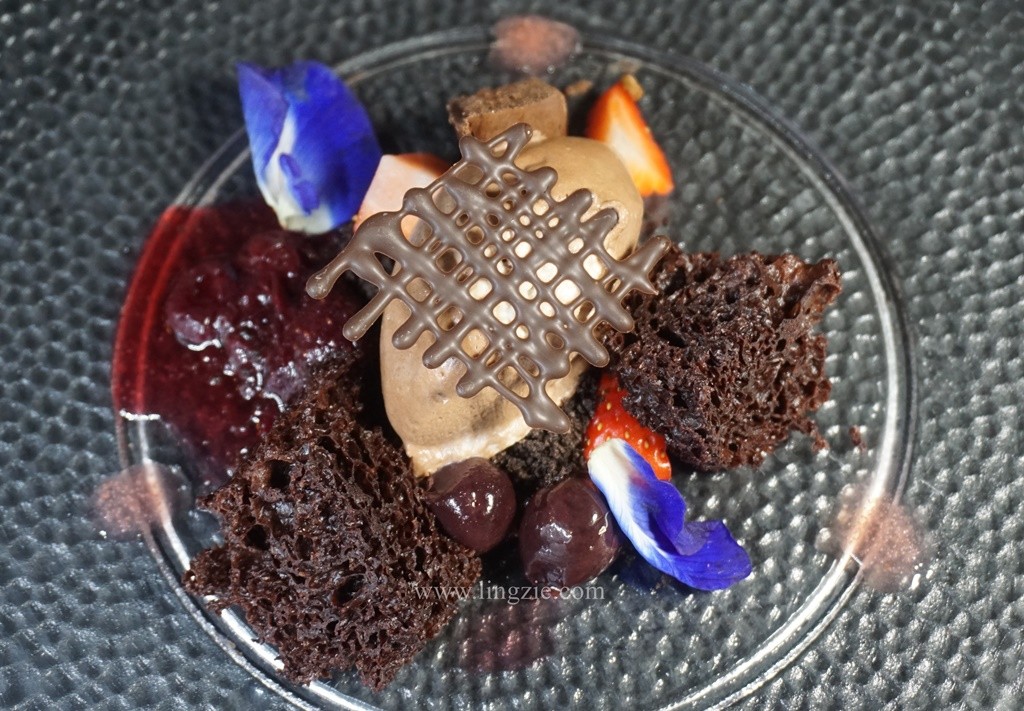 Dessert – Deconstructed Black Forest Cake – Chocolate Mousse, Air Chocolate, Berry compote, Cherries & Chocolate Sponge
Chef Wei had mentioned that he started his culinary journey as a pastry chef (much to my delight) so I had high expectations for dessert. When he mentioned it would be a chocolate dessert, I was practically squealing with joy on the inside!
We were presented with a beautiful Deconstructed Black Forest Cake. But prior to that, we watched as he made the fastest chocolate sponge cake ever using some mad molecular gastronomy skills, a paper cup and a microwave oven. Surprisingly airy and light, the chocolate sponge made the perfect accompaniment to the luxuriously silky chocolate mousse (I admit I very nearly wanted to ask if I could have more of the chocolate mousse but was saved by my dining partner who very generously gave me some from his plate…hehe).
Meanwhile, the air chocolate was a delight to bite into. The cherry and berry compote completed this classic pairing and did indeed remind me of eating a black forest cake.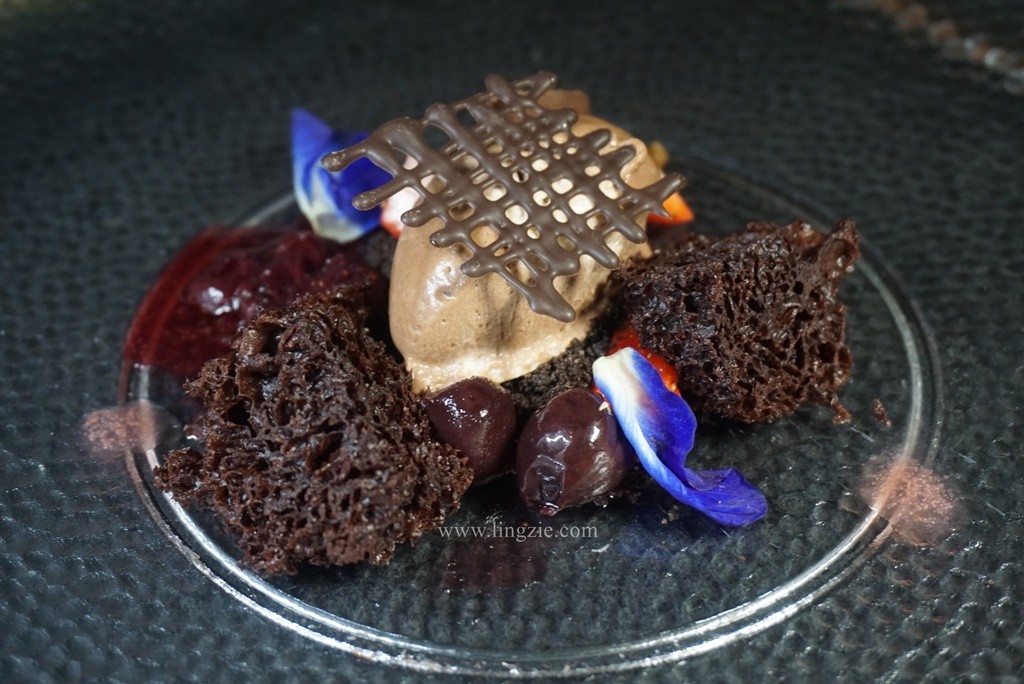 My precious~~~ 😛
We ended the dinner satiated and happy, all while learning a bit about molecular gastronomy. Every foodie should definitely give this dining experience a go! I look forward to returning soon to see what other wonderments can be found at A.maze because A.Maze certainly did amaze us 🙂
The Essentials:-
A.Maze
63A Jalan Nagore, Georgetown, Penang
TEL: 017-376 3762
Opening Hours: 6.30pm-11.30pm Closed on Tuesdays
Email: dine.amaze@gmail.com