Char Koay Teow is definitely one of the must eats when one visits Penang. And Penang is blessed with many places that serve really good Char Koay Teow, one of them being the famous (or rather 'infamous') Lorong Selamat Char Koay Teow.
This place seems to be very popular amongst tourists. And sometimes I wonder if its the koay teow thats the crowd puller, or the infamous less than pleasant aunty who wears a red beret and safety glasses while frying her koay teow!
Recently, on a Saturday afternoon, which also happened to be a public holiday, I took a friend from out of town to Lorong Selamat because she had a craving for Char Koay Teow. And we proceeded to wait in line for almost 40 minutes before we could get our order!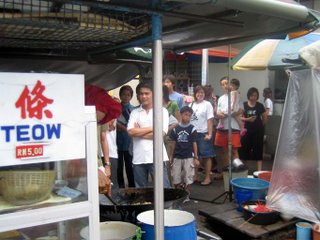 The very very long queue…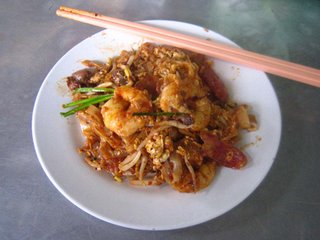 Finally! Our Char Koay Teow…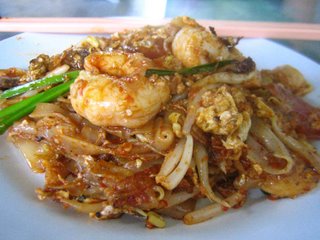 This stall's char koay teow is definitely tasty but most times I'd give it a miss because of the long wait under the hot sun. My favourite Char Koay Teow is still
Ah Leng's
. 🙂
The Lorong Selamat Char Koay Teow comes in 3 versions – RM5 for the normal version (without egg), Rm5.50 normal version with egg and RM7.50 big version with added prawns. Business hours approximately 11am-6pm, closed on Tuesdays.
And yes, the aunty is every bit like the description. She wears the red beret and the safety glasses. Doesn't talk to anyone (you order with her assistant) and she continues frying plate after plate of char koay teow with utmost concentration! Just watching her makes me feel exhausted! And…a lil something else I noticed while waiting in line…our Lorong Selamat Char Koay Teow aunty also wears Crocs Shoes!! Original one okay?! 🙂