While my work does not require me to wear makeup on a daily basis, I do nonetheless enjoy its 'enhancing effects' 😛 And since I'm guilty of not updating my make up stash for quite some time, the invitation to attend the Kanebo Kate Spring Summer 2013 Collection workshop was too good to pass up! The workshop promises an introduction to Kate's new Spring Summer collection plus a demo by Mikiya Hirai from Japan!
I arrived at the workshop venue – Manila Place as the final preparations were underway…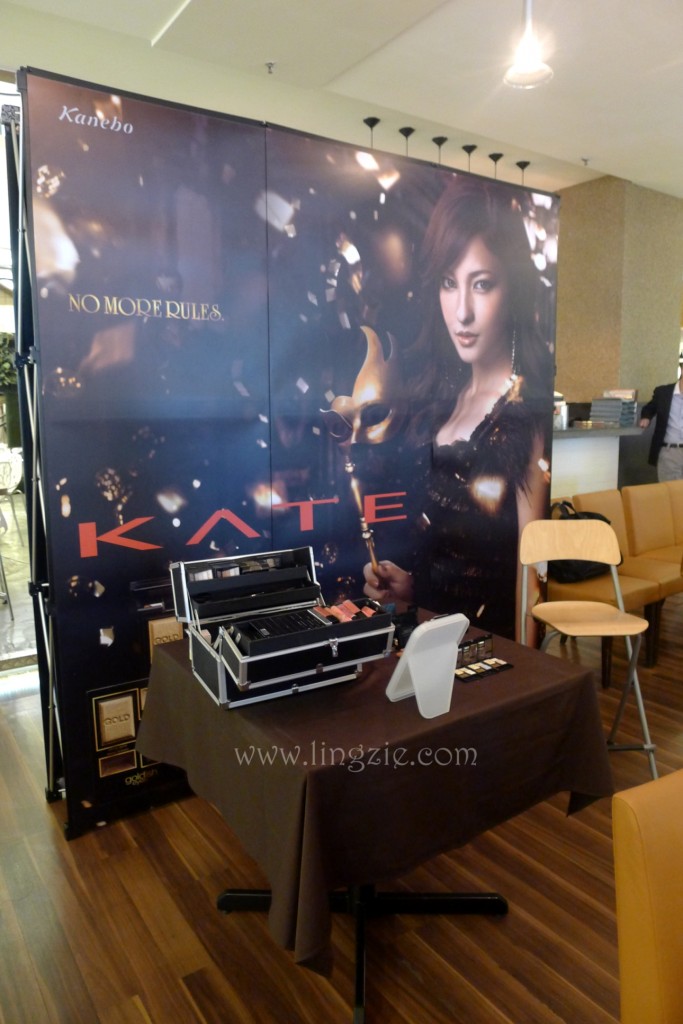 Set up of the demo station
I was delighted to find that we each got our own 'make up stations' with a handy mirror, a pack of makeup tools and a big black bag filled with Kate products!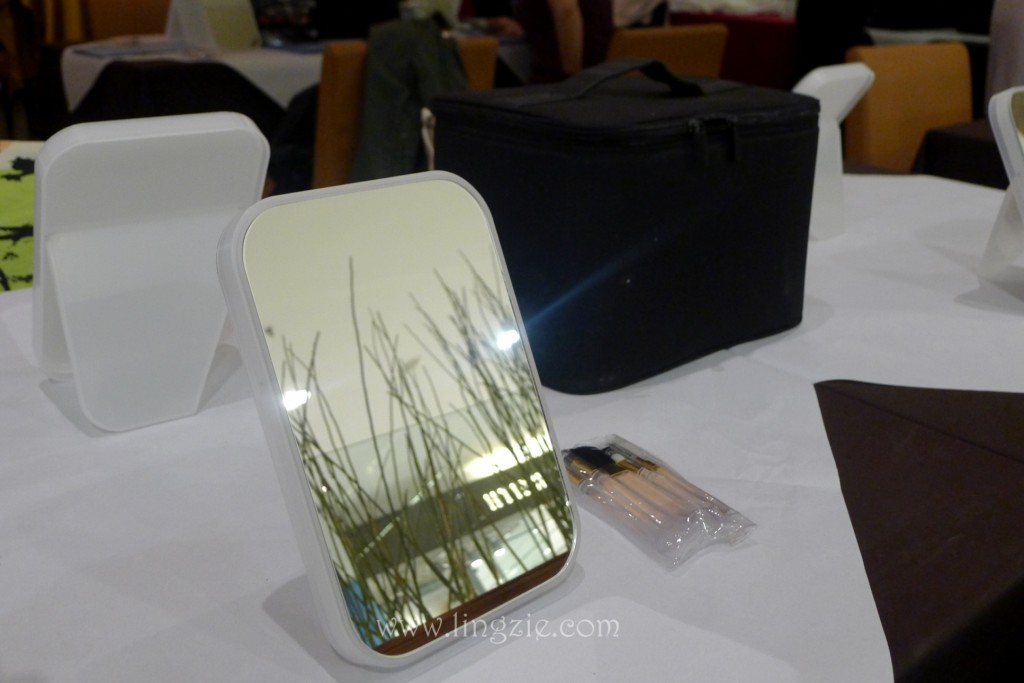 Kate's Spring Summer 2013 collection focuses on 'the gold fever' – with emphasis on eyes that shine and shimmer with luxurious gold effect.  It also features a new gel eyeliner pencil for bigger, high impact eyes. And a shiny eyelid gel eyeliner to highlight the lower lids. Now which girl wouldn't want bright, shimmery and bigger eyes right? 😛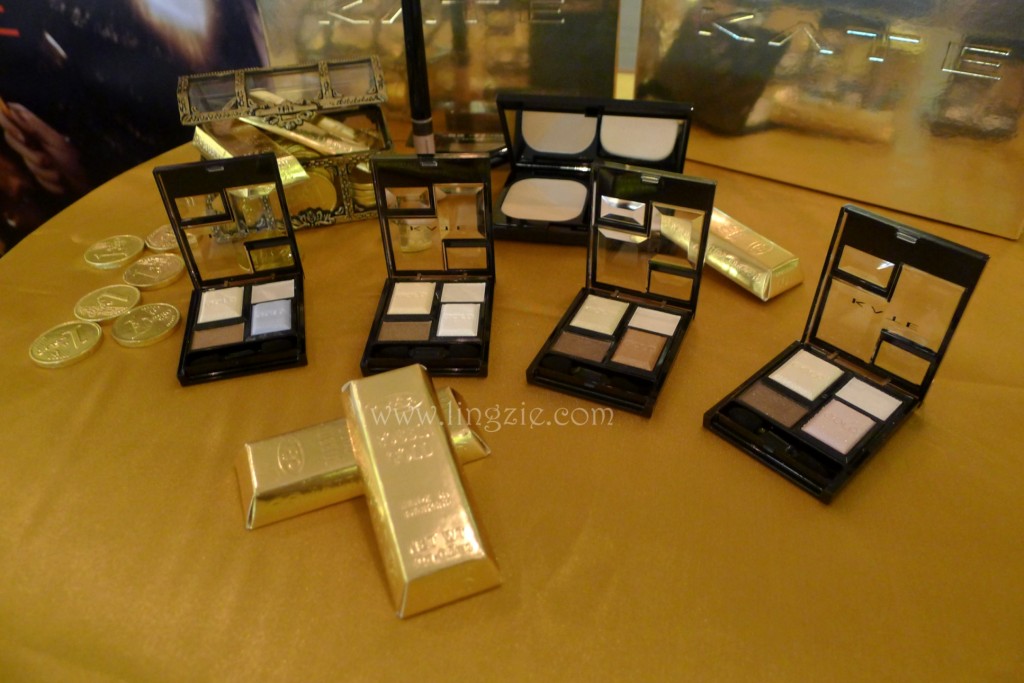 Kate's GOLDISH EYES eyeshadow palette – available in four stunning shades (The most popular one I'm told being GD-1 shade) The GOLDISH EYES eyeshadow palette contains 2 types of gold pearl – pure gold pearl powder with 0.1% 24K real gold and nuance gold pearl powder, which blends well with our skin tone to create a natural looking deep shine.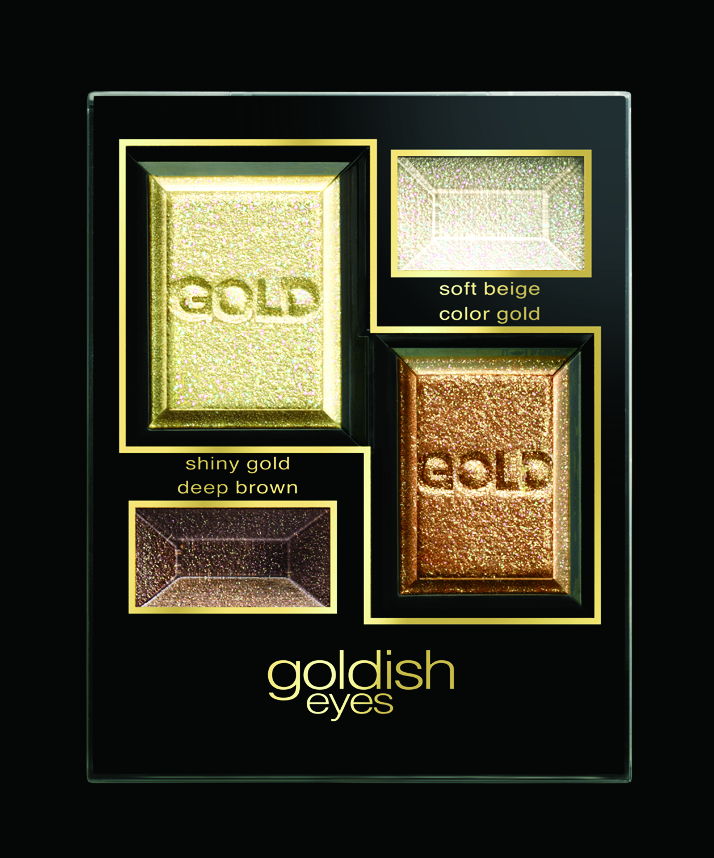 Kate GOLDISH EYES GD-1 shade (Retail price: RM59)
All workshop participants received a goodie bag which contains Kate GOLDISH EYES eyeshadow palette, Kate SLIMGEL Pencil and a full sized all in one moisturizer gel from Kanebo's latest time saving skin care range – Freshel. Needless to say, I was pretty much over the moon with the goodie bag!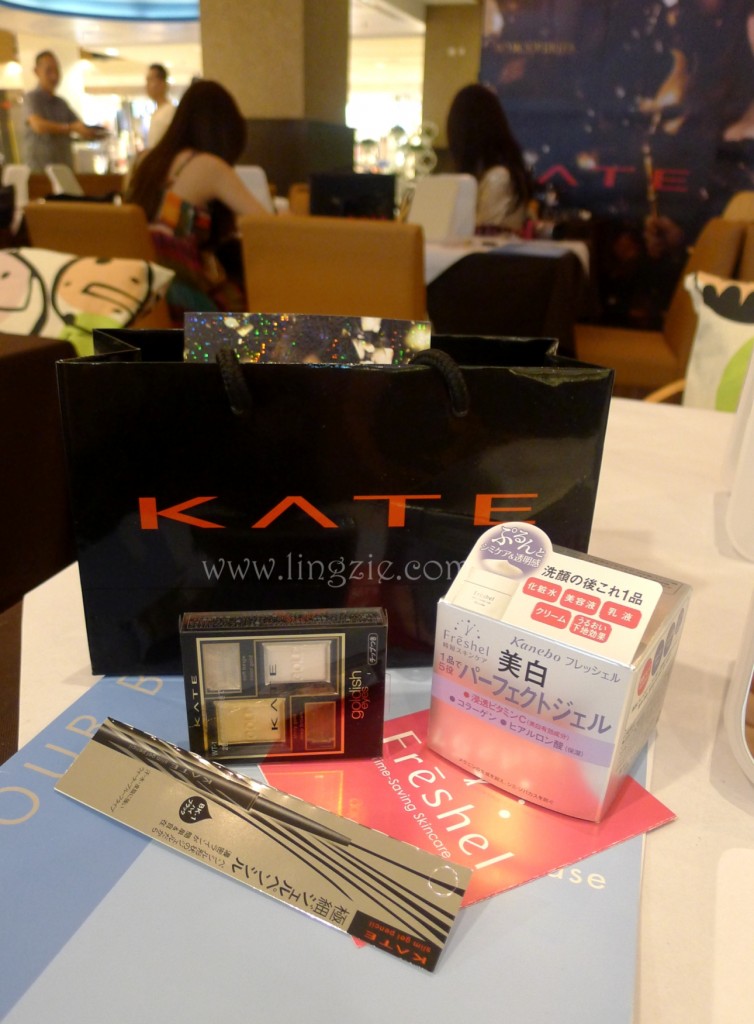 After a short introduction from the Kate representatives & Hirai-san, a volunteer was selected to be the model for the demo. Hirai-san started off doing some touch up on the foundation of the model's face and proceeded to demo the first look – the "OL" look 🙂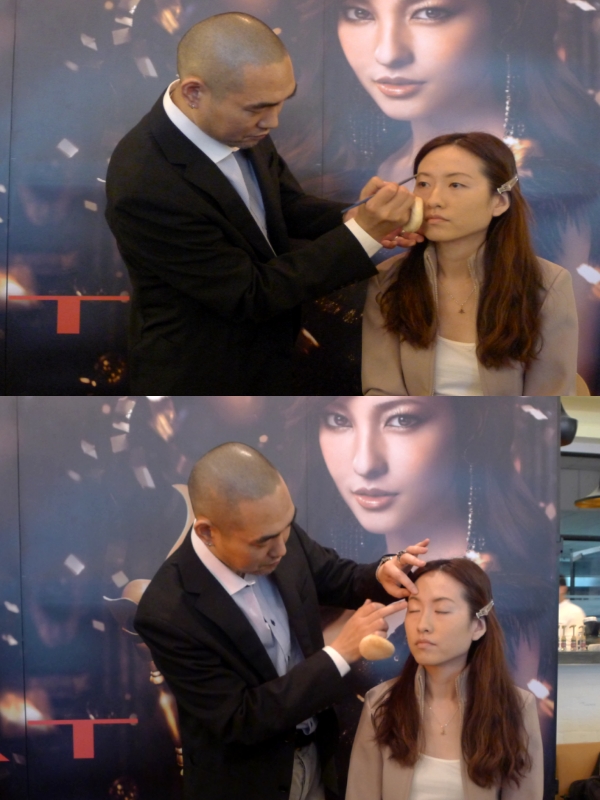 Demo in progress… shading the eyebrows with a gradient of colours and application of the GOLDISH EYES eyeshadow (GD1 was used during the demo)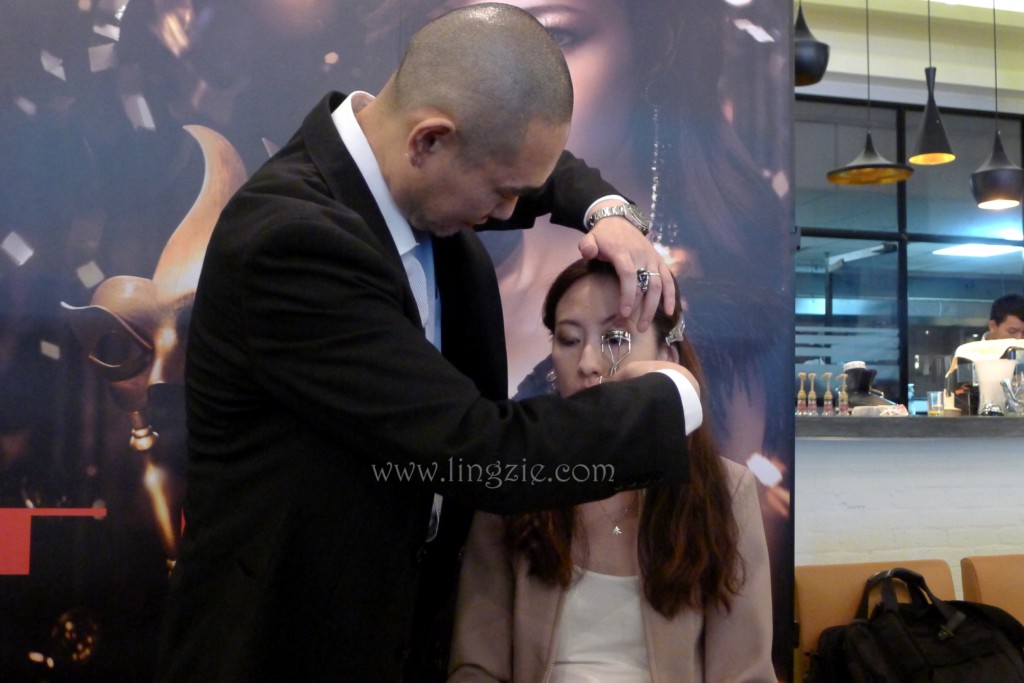 Curling lashes before mascara application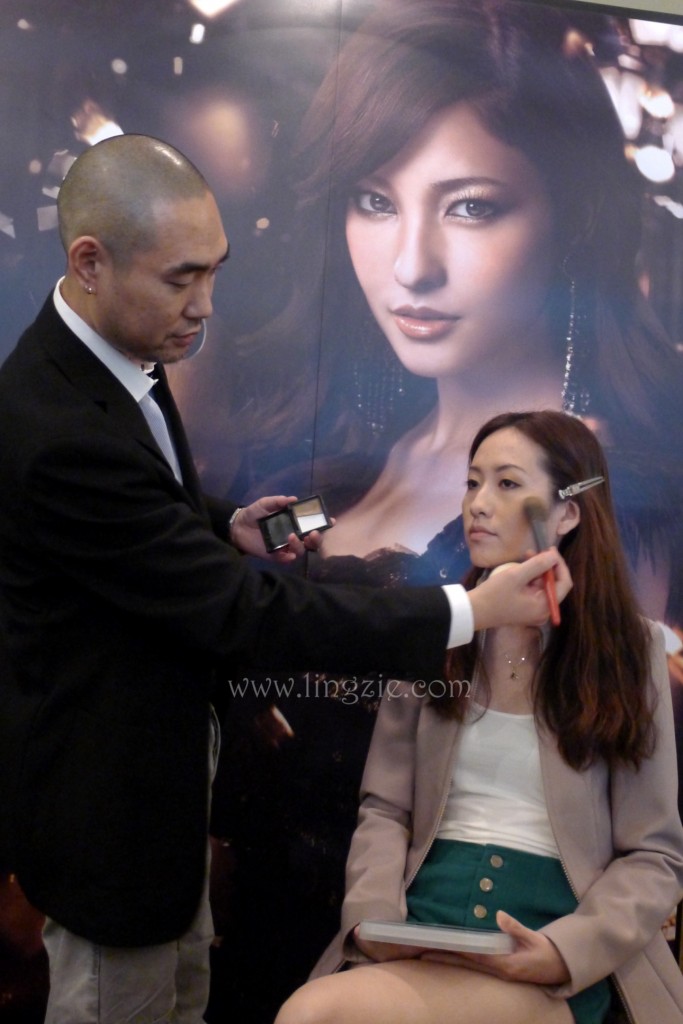 Next – shading & highlight of the face using the Kate SlimCreate powder for COVER.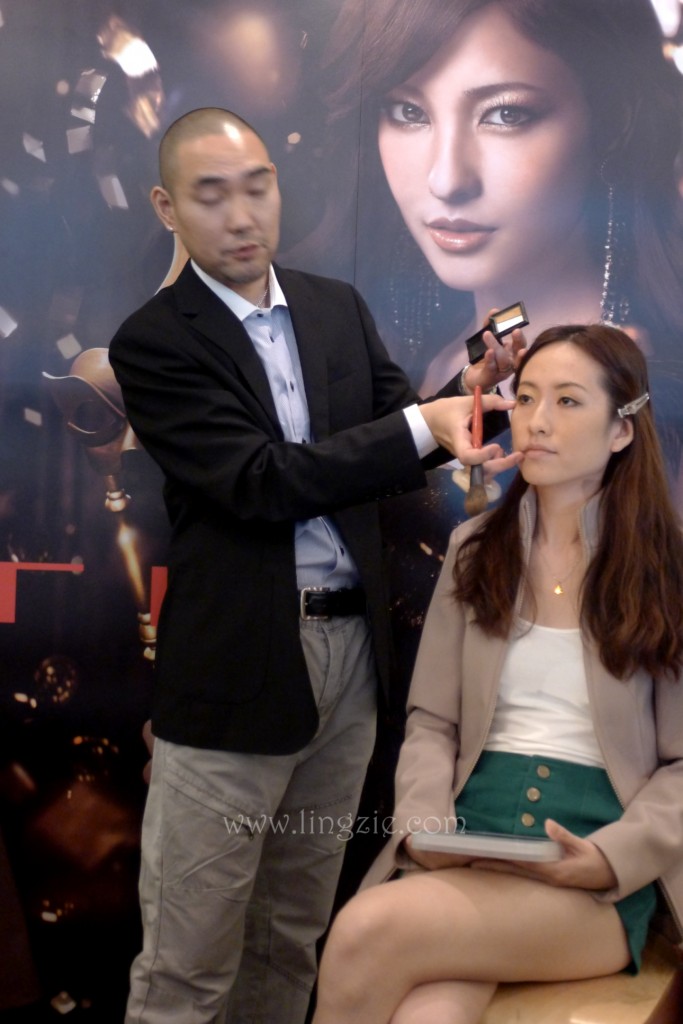 Hirai-san showing the angle to apply the shading for a slimmer face (which I was extremely interested in! Lol)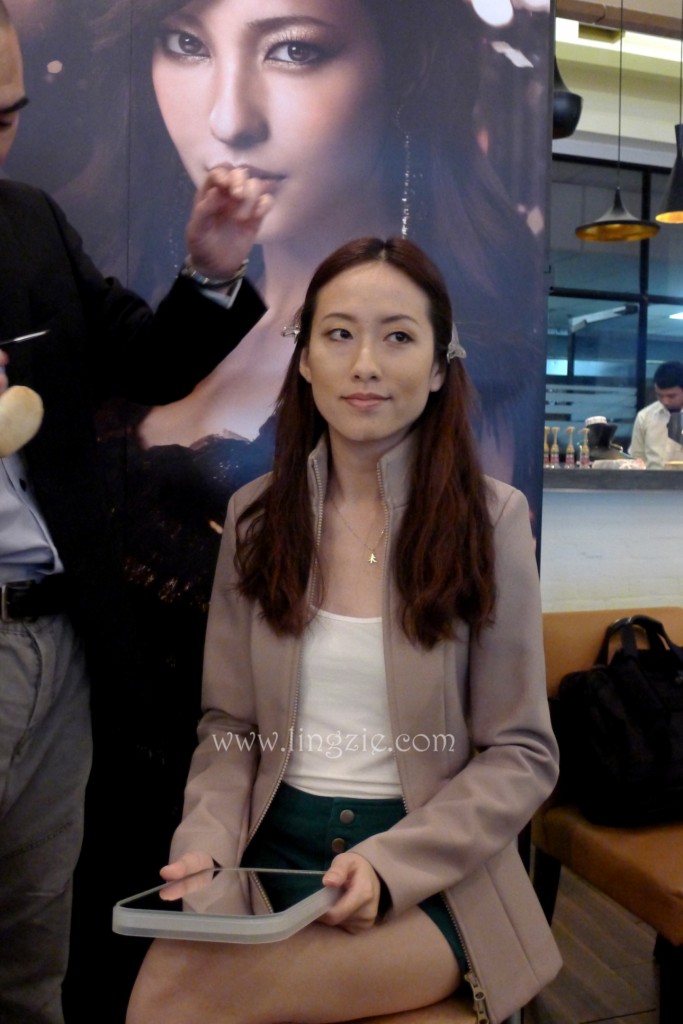 And finally… the OL day look is done
Hirai-san then proceeded to show us how to change the OL look to "Party" look for night within 5minutes! He added more intensity using the GOLDISH EYES colours, a thicker application of the gel eyeliner, more defined lip, and finally just a touch of the new Kate Shiny Eyelid Liner to the inner part of the lower lid toward the center of the eye.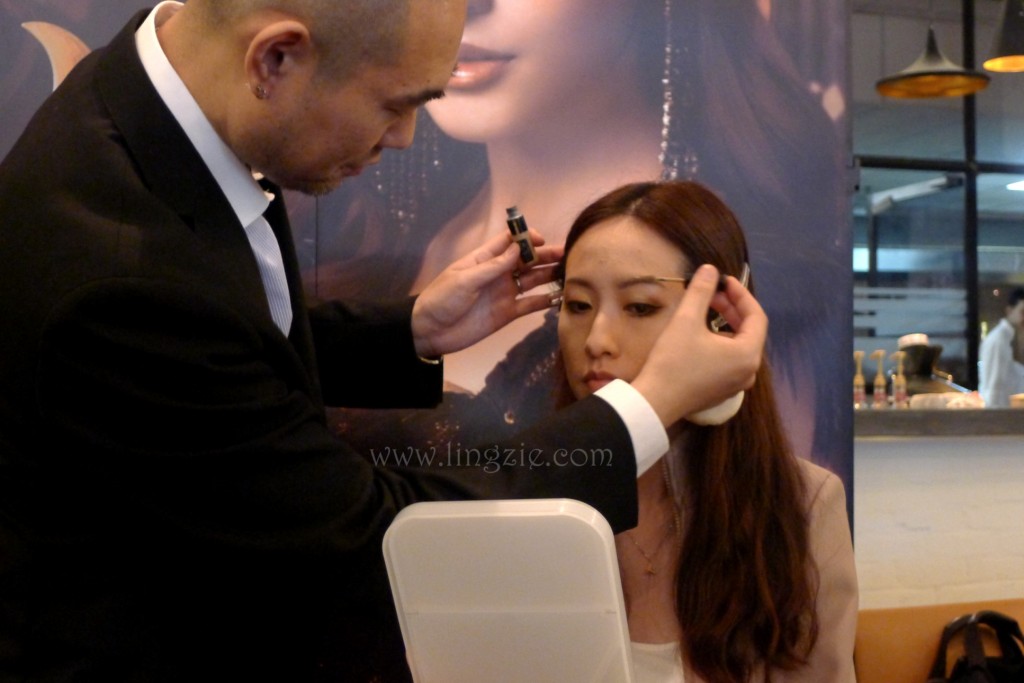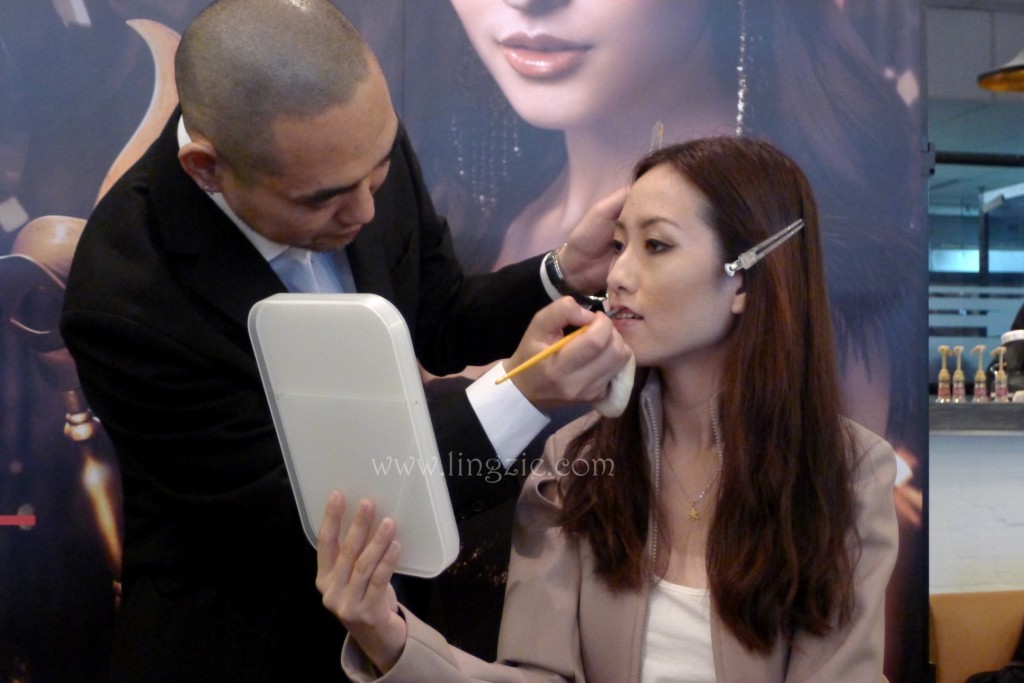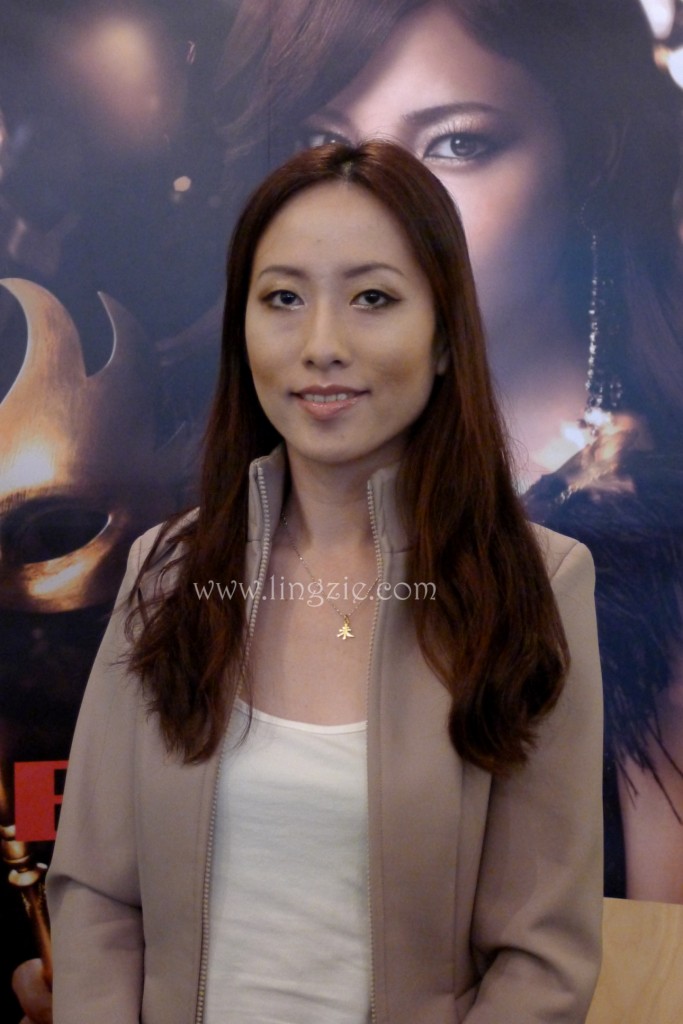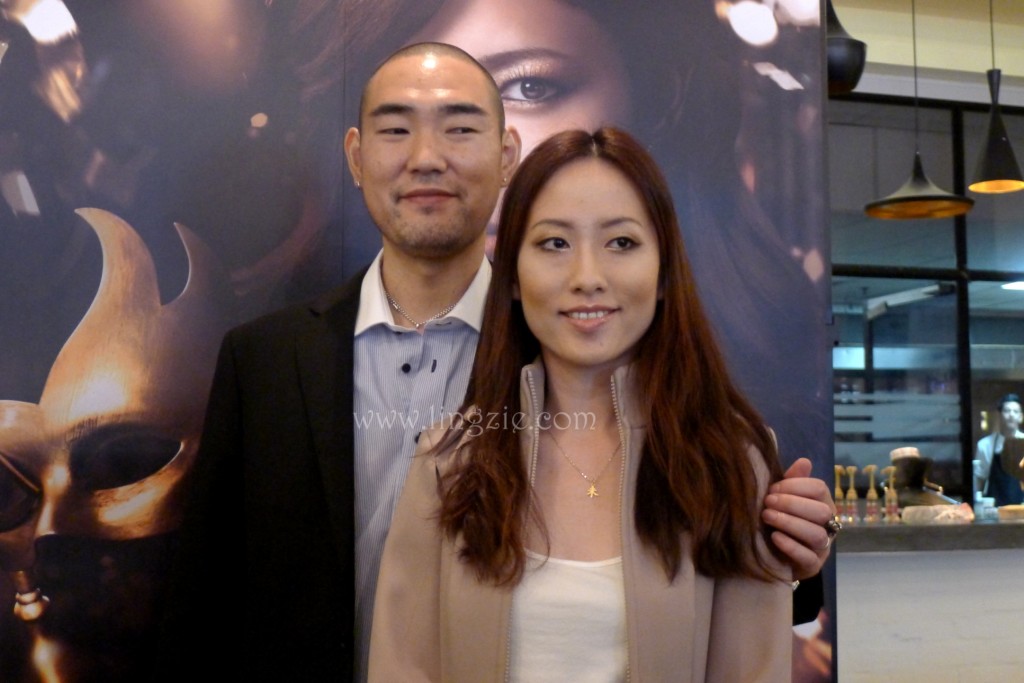 Hirai-san with the model featuring the "Party Look". Hirai-san was most generous with his tips and tricks and I learnt quite a few new things about applying make up. Definitely worthwhile knowledge to have in a girl's arsenal 😛
After the demo, we were then given the chance to play and experiment with the Kate makeup products. I was really impressed that they gave us the full range to test. They even provided make up remover for those of us who came to the workshop already wearing makeup and wanted to try on their products on a fresh clean face.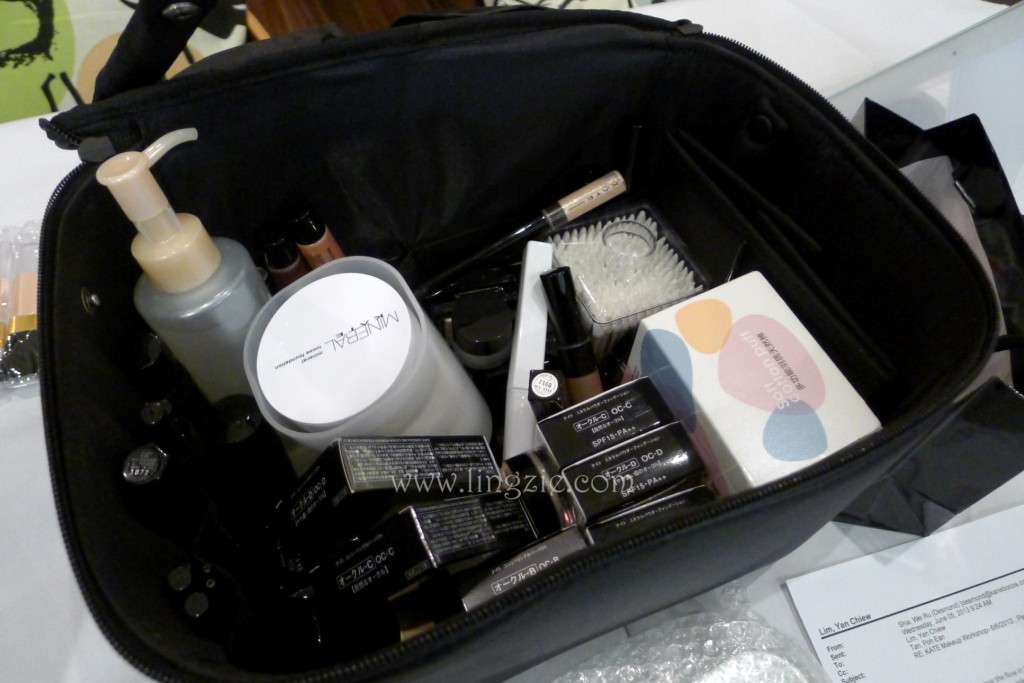 Big bag of Kate makeup goodies for us to try… it did kinda feel like Christmas! 🙂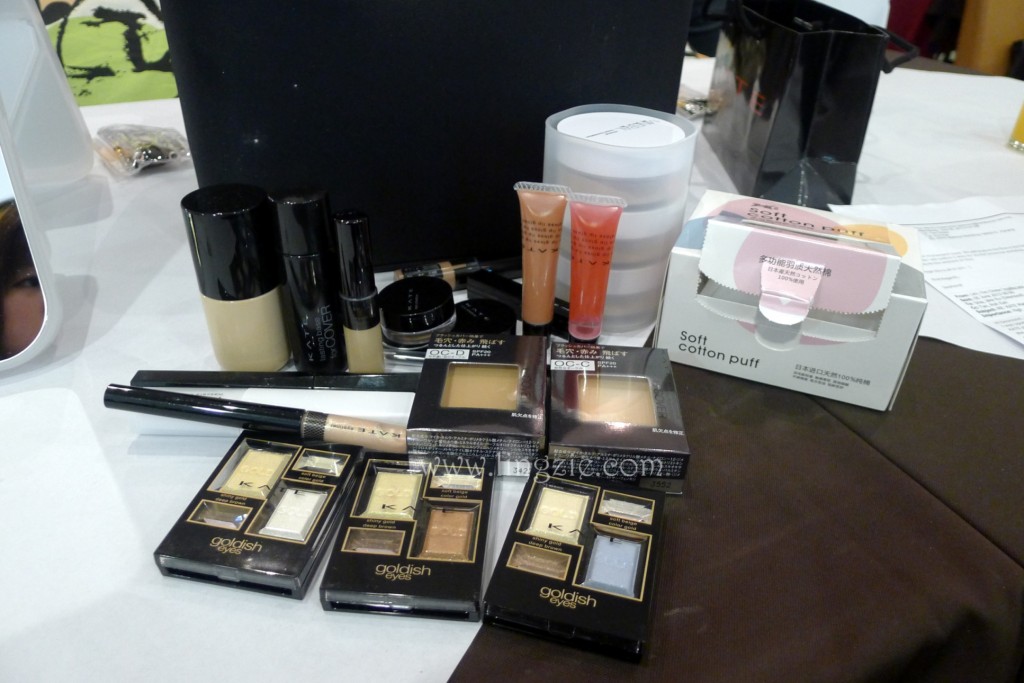 Just some of the products inside the bag which I took out (there were more inside the bag)
And so we got to spend about another hour or so experimenting and asking Hirai-san for more personalized tips to suit our face. The Kate representatives were also on hand to answer any questions we had and we all had a good time chatting about makeup & beauty trends.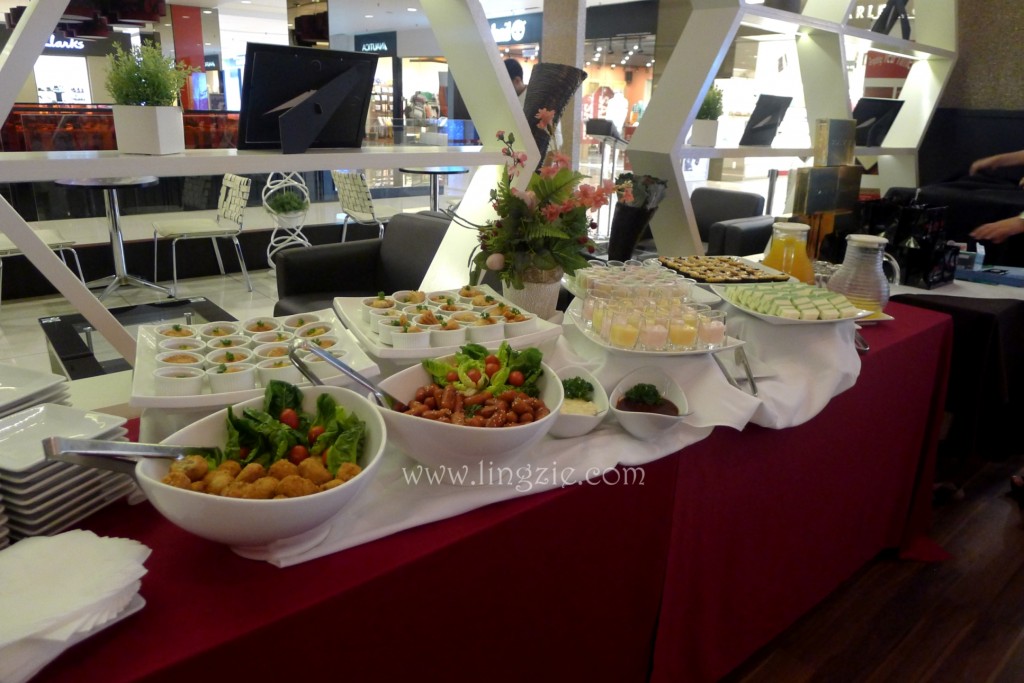 Light refreshments from Manila Place (but honestly, I think we were all too busy playing with the makeup to eat! Lol)
Other than the GOLDISH EYES palette, I also tried the following:-

Kate SHINY EYELID LINER -to be applied on the lower eyelids from the inner corner of the eye toward the center of the eye (Retail Price RM44) comes in two colours – light pink and beige. I LOVE this product and have since gone to get one of my very own from Watsons. I got the pink one. 🙂 And don't worry about it being too pink, cos it's more of a very light pastel pink shade.

Kate SLIM GEL PENCIL – Waterproof and fade resistant. I loved this product because I'm currently already using a gel eyeliner (that comes in a pot and needs to be applied using a brush, which I find quite tiresome cos I'm always worried that I'll lose the brush!) So I really liked that this was in a convenient pencil form. I've tried numerous other eyeliners and always end up having panda eyes by the end of the day! But the Kate SLIM GEL Pencil eyeliner stayed put where it should til the end of my day when I tested it. Yay!
The only thing to note is that the pencil is NOT RETRACTABLE. So do be careful not to twist it up too much. (RETAIL PRICE RM44)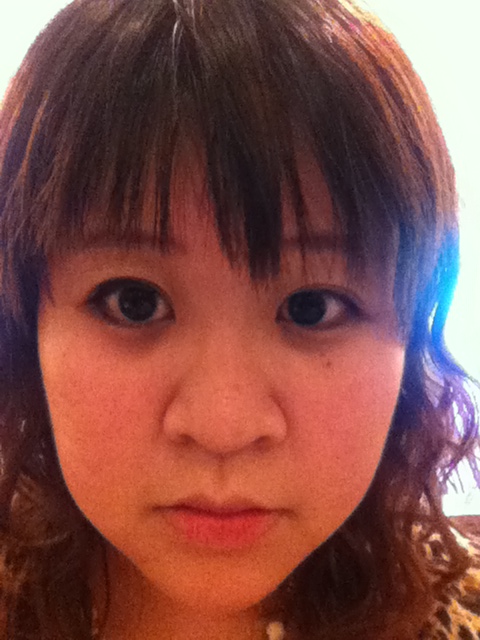 Me at the event with makeup applied on one eye… it's pretty obvious that my 'makeup-less' other eye is smaller! Makeup enhancing effects at work here… 😛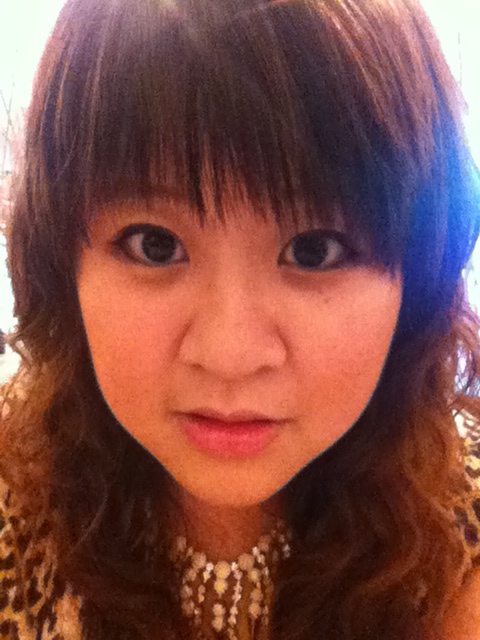 After makeup at the workshop 🙂
For more information and a full range of the Kate 2013 Spring Summer Collection, check out Kate Malaysia's Facebook Page
Kate makeup is available at Watson outlets, or check out this link to see where to buy:-
https://www.facebook.com/katemalaysia/app_397451737002077
When I got home later, I tested the Freshel whitening gel moisturizer (Retail Price RM67) that was in the goodie bag. Freshel is Kanebo's new time saving skincare range made 'for busy people who want to stay beautiful'. Sounds good to me!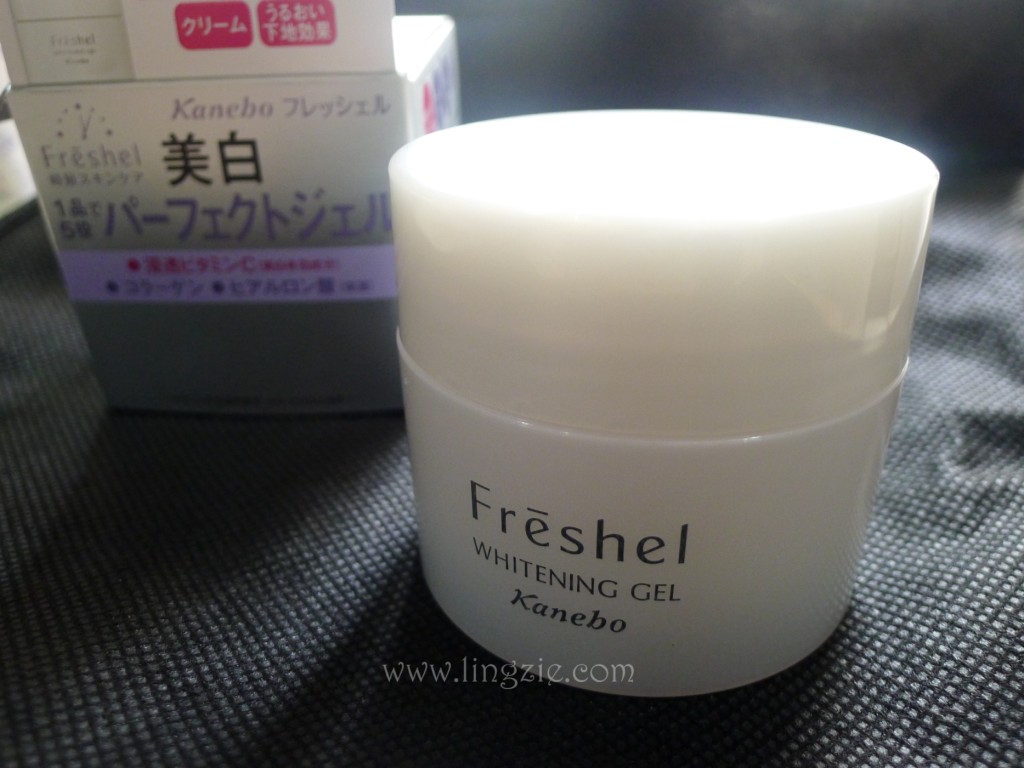 The Freshel whitening gel is said to be a 5 in 1 item which acts as a:-
1. Lotion
2. Essence
3. Emulsion
4. Cream
5. Moisturizing make up base
It's made to have brightening, whitening and anti aging properties.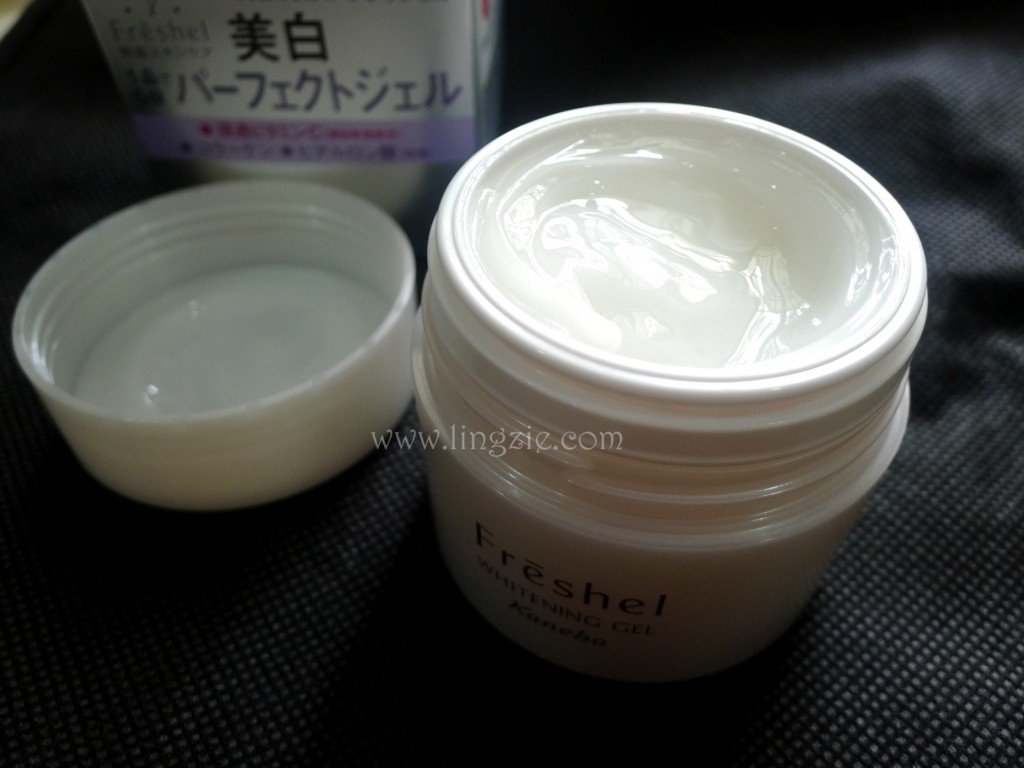 I like that the whitening gel has a light, non greasy texture and it absorbs quickly into the skin.
Freshel also has a range of Mineral BB Creams and cleansing products. For more info, visit Freshel's facebook page
And Where to Buy:-
http://www.facebook.com/FreshelMalaysia/app_508010182566457
Thank you to Nuffnang & Kate Malaysia for extending this invite! 🙂