Have been toying with the idea of starting a food blog for a while..and what better time to start than the new lunar year? So here goes….

Our family reunion dinner this year was more posh than usual, because my dad decided to have it at the Spice Market Cafe at Shangri-La's Rasa Sayang Resort & Spa. This would mark my second time eating at the spice market with its open style kitchen, and I am still overwhelmed by the sheer variety of food they serve at the buffet! There's the sushi bar, the salad bar, the cold cuts, the soups and breads, the noodle station, the chinese herbal/sharkfin soups, the chinese dishes, the roast station, the action station, the tandoori & satay section, the western dishes and the scrumptious delectable dessert section… whew!!Plus, the decor and ambience of the place still delights me!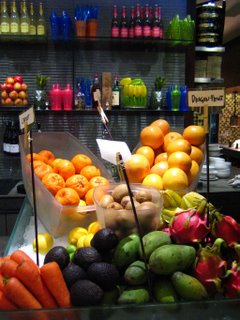 Another favourite section of mine at the Spice Market Cafe is the juice/wine bar. The colourful fruits and bottles of wine/liquor lined up along the walls make for a very pleasant vibrant display! Unfortunately, fresh juices are not part of the buffet and is chargeable.