I have been wanting to blog about this lovely bakery, and just as I was thinking about it sometime back, 5Xmom beat me to it! 🙂
So finally, here's my entry about Ritz Bakery…This bakery is one of my favourites as they make some of the best-est cakes in Penang, in my opinion. Definitely better than Secret Recipe too! (never really like the cakes at Secret Recipe) They have a variety of beautiful, unique cakes and I love picking something different to try every time I visit. They also have new offerings every now and then and on a daily basis they have cheesecakes going at special (cheaper) prices.
My favourites at Ritz include green tea cake (it has layers of green tea and creamy red bean), Tiramisu and their cheesecakes. On this visit, we selected 4 different cakes.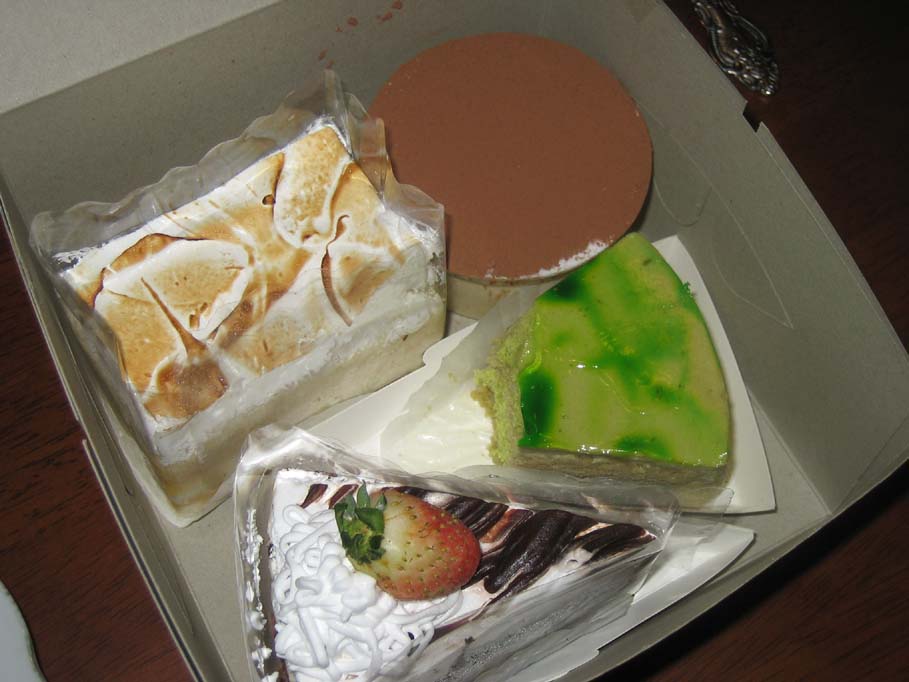 Tiramisu (the round one), New cake – Green Tea Cheese Cake (some of it missing because I greedily took a bite before remembering that I haven't taken a photo!), Black and White (layers of white chocolate, dark chocolate and cake) and Lemon Meringue.
I LOVED the green tea cheesecake – the cheese taste blended very well with the green tea, not too sweet and not too rich. The tiramisu is of course lovely, but I do think that its a tad expensive and you can get better value buying the equally tasty Tiramisu from Bella Italia.
The Lemon Meringue takes a bit of getting used to, as its sour-y sweet.
I had tasted the Black and White cake previously, and this time I noticed they changed the recipe a lil. Previously, the cake was all made up of white chocolate and dark chocolate cream. I had wanted to order a larger (2kg) Black and White cake previously and was told that couldn't make it. Something about it melting… so now, they've added some sponge cake layers into it so that it doesn't melt so easily.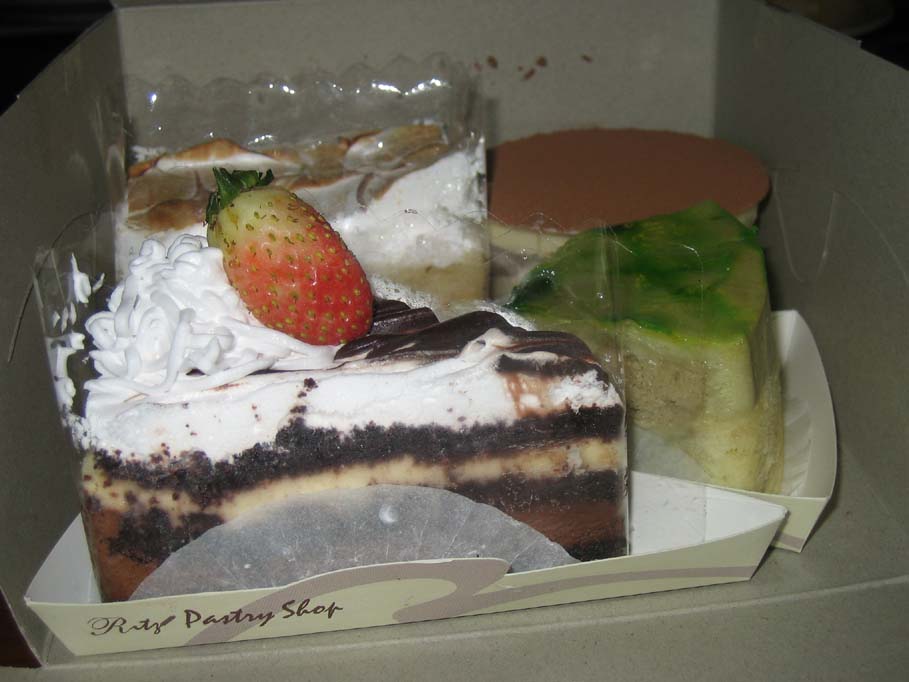 So, the next time you're in Fettes Park/Tanjung Bungah area, do pop by Prima Tanjung and pay Ritz Bakery a visit (Its a small very dignified looking shop a few doors away from CIMB bank and 7-Eleven).
Updated: I've received many requests for Ritz Bakery's phone number… So here it is 04-8991254  🙂