I know I've been guilty of neglecting this blog lately. How time flies when you're caught up in a whirlwind of activity and when you're having fun!
The first gust of wind came when I decided, that this year, I would cook Chinese New Year reunion dinner! ~faints~ I had no idea what came over me when the thought entered my mind and refused to budge. Perhaps I was getting bored of eating outside food all the time. Perhaps I was tired of the long waiting time and the horrid traffic jams. And so I pictured a quiet, leisurely dinner at home. After all, how hard would it be to cook a dinner for 7 ?
Little did I know what cooking an actual reunion dinner would entail! First off, my kitchen was barely a functioning kitchen! All I had was a microwave oven, a confectioner's oven and gas. No wok, no pots, no pan, very little utensils and no rice cooker! The fridge held little except fruits, the odd bottle of juice, ice cream, bread and some yoghurt.
Thus began the whirlwind of sprucing up my kitchen, trips to the morning market, wok and rice cooker hunting and more trips to the market!
Finally last weekend, my brother and I had a trial run of the dishes we had intended to cook (just to make sure we didn't poison anyone). And therefore, I proudly present to you the very first dish to come out from my born again kitchen!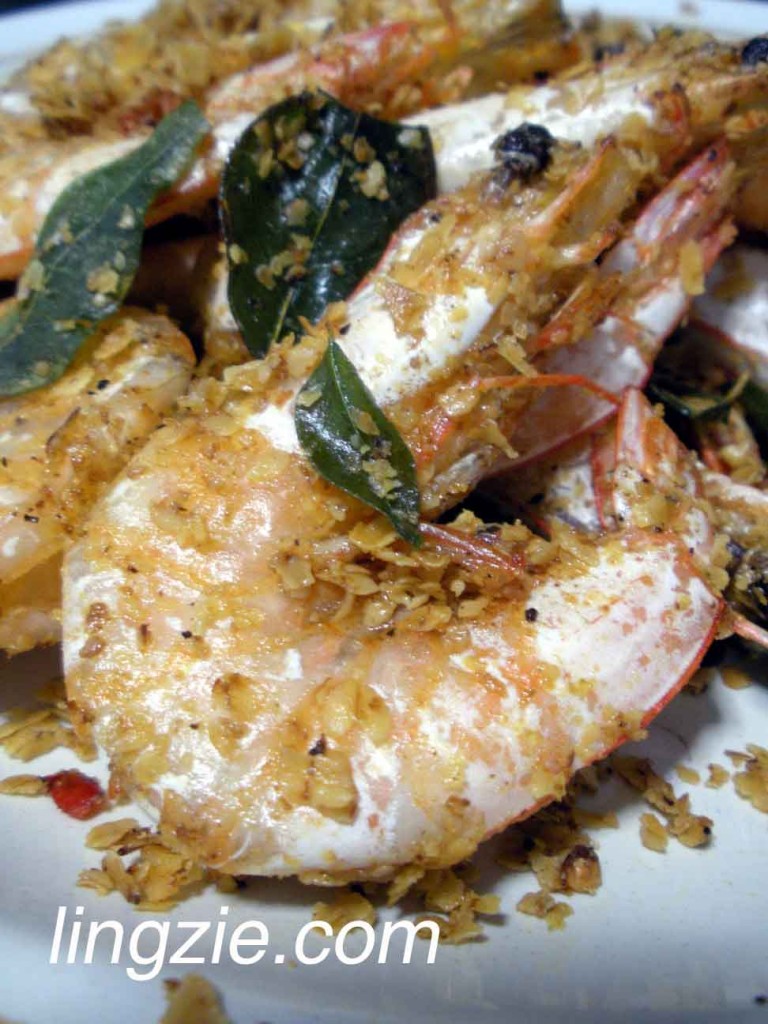 I was very set on having a prawn dish for Chinese New Year. Prawn symbolizes happiness and all of us could surely use plenty of that!
It actually looks pretty good right? Needless to say I'm so proud of myself! Haha! Now, I'll just have to re-enact this for Sunday's dinner! 😛
Deep Fried Butter Oats Prawn Recipe (adapted from this recipe book I bought from Popular)
Ingredients:
600g fresh prawns
2 teaspoons Tapioca Flour
1 chopped red chilli OR 2-3 chopped bird's eye chilli (chili padi) – I used red chillies cos I forgot to get chili padi from the market
4 sprigs curry leaves
4 tablespoons butter/margerine
6 tablespoons fried oats
2 pinch sugar
2 pinch salt
Cooking Instructions:
1. Clean prawns and cut off antennae and tail. Sprinkle tapioca flour over the cleaned prawns and mix evenly.
2. Prepare fried oats – add in oats in a hot wok and fry til the oats turn a shade darker. Remove and set aside.
3. Heat up oil in a pot enough for deep frying. Once the oil is hot, deep fry prawns until golden brown. (Be careful of oil splattering!) Set aside.
4. Place butter/margarine in a hot wok, add in red chillies/chilli padi and curry leaves. Fry til fragrant.
5. Add in prawns, sugar and salt. Finally add in the fried oats and stir  till even.
6. Serve! And tuck in! 🙂