Some time ago, blog hoppers might remember a slew of reviews about a certain extra long snack… also known as the longest 'yew tiao', longest deep fried Chinese cruller or "Te Chang Yew Tiao Wang" to be exact (translated from Mandarin to Extra Long Cruller King). Well, Lingzie's Tummy Treats is here to jolt your memories once again of these delectable fried snacks!
Thanks to Criz, we ventured out on a hot sunny afternoon to a lil unasumming stall in Paya Terubong, Air Itam. Blink and you might not notice it, but if look out for the bright colorful banners and you'll spot it just by the side of the main road.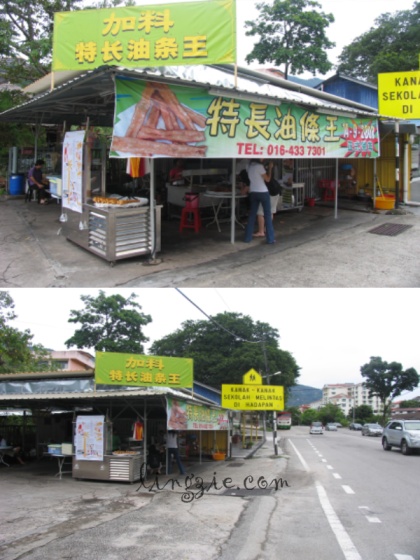 Needless to say we were all very excited and curious to see that extra long Chinese Cruller. And when we arrived, the owner Mr Tan was already busy preparing the 'yew tiao'.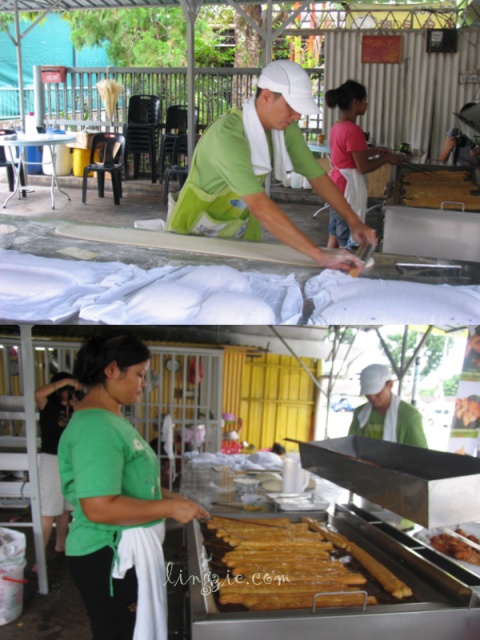 Frying the 'yew tiao' in a custom made aluminium stove….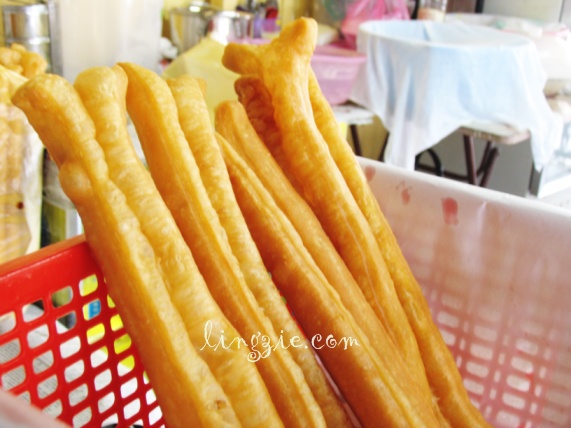 14 inch Deep Fried Chinese Crullers (Yew Tiao) – RM1 each
Finally, those yummy crullers were ready to be eaten! See how golden and crisp they look? Best eaten while still hot!
Now, you would think that there's noting special about this 'yew tiao', except that its extra long – all 14inches long. But you'd be wrong.
For they don't only serve plain ol 'yew tiao' here. At "Te Chang Yew Tiao Wang", you get yew tiao with different kinds of filling! Both savoury and sweet!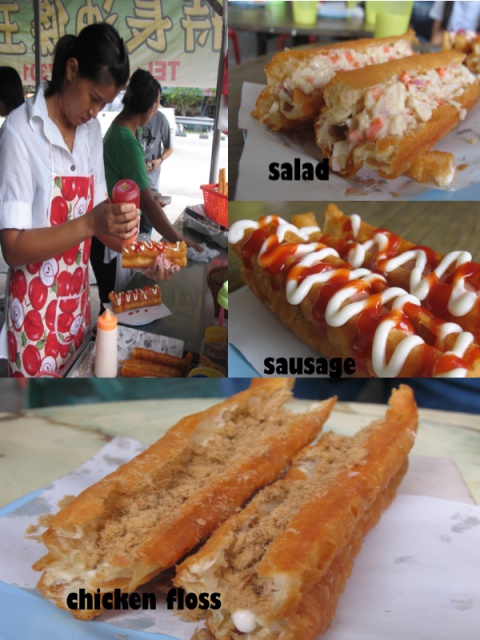 First, we tried the savouries… with a choice of Salad & Tuna Mayo (RM2.50 each), chicken floss & mayo (RM2.50) and sausage (RM3). After ordering, they immediately proceeded to cut the 14 inch plain cruller into 3 sections, then snip the center open and then stuff the filling inside.
My favourite of the 3 would be the chicken floss just simply because I love chicken floss! Plus the addition of mayo gave the snack some moisture so it wouldn't taste too dry. The sausage is quite filling so if you're looking for a something heavier, then the sausage would be a good choice. Meanwhile, the salad tuna mayonnaise was also delightful but me thinks would need a bit more tuna in the filling.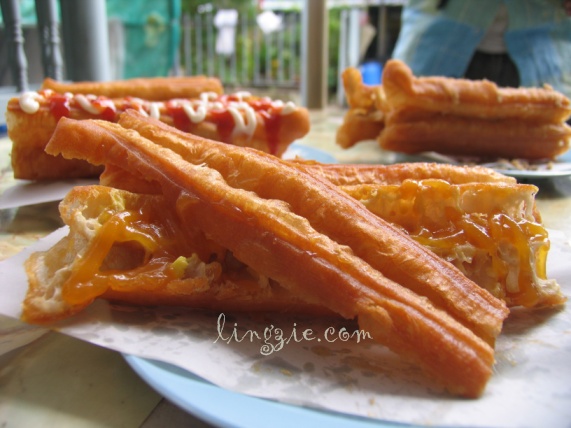 Kaya & Butter Filling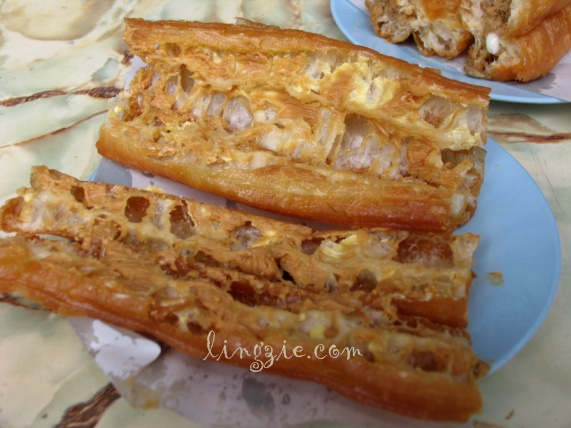 Peanut Butter & Butter Filling
Next came the sweets… again there are 3 selections to whet your appetite – Butter & Kaya (sweet coconut egg jam), Honey & Butter, and Peanut Butter & Butter (all RM2 each). I must say that I prefer the sweet fillings to the savoury ones but that's probably because I have a sweet tooth! All 3 sweet fillings sat very well with me and if I had to choose, I'd say my favourite was the Butter Kaya, followed by Peanut Butter and then Honey.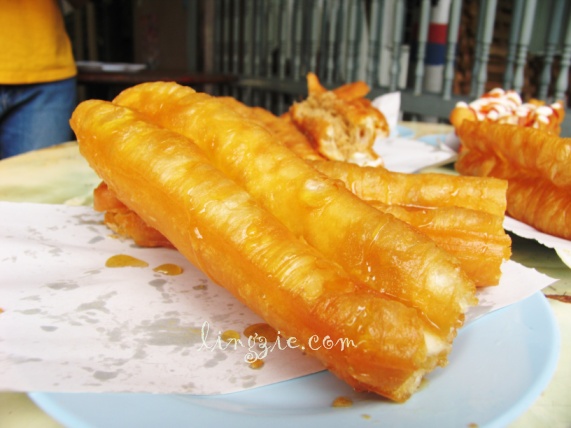 Honey & Butter Filling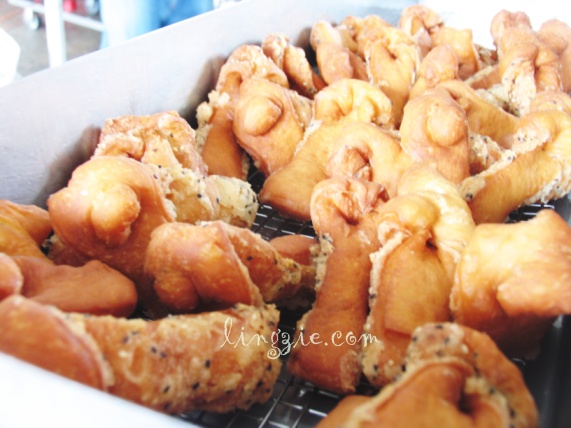 Other than 14 inch long Chinese Crullers, there's also the very tasty Black & White Sesame Twins (3 for RM2) which was one of the highlights for me. Had to refrain from polishing off the plate lest I looked like a glutton in front of my peers 😛
Te Chang Yew Tiao Wang also serves Black Soya Bean drink (either hot or cold) @ RM1 per glass to go with the yew tiao. The drink was lovely! Not too sweet! Usually one would take it hot and dip in the yew tiao before eating, but since it was so hot, most of us opted for the cold version. And I had two glasses!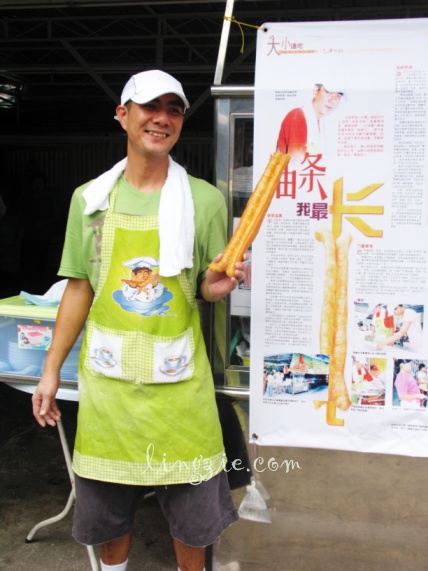 Te Chang Yew Tiao Wang indeed makes for a great snack! To get to this place, go towards the famous Air Itam market laksa stall (near to Kek Lok Si Temple), but instead of turning right into the road where the laksa stall is, go straight and after a few minutes, you'll spot the Te Chang Yew Tiao stall on your right (next to Lau Foo Zhi Bak Kut Teh stall which operates at night)
Te Chang Yew Tiao Wang
1250-A, Jalan Paya Terubong,
11600 Pulau Pinang.
Tel: 016-4337401 (Mr TH Tan)
New Business Hours: 6am – 6pm (Closed alternate Tuesdays)