Fronting the facade of Gurney Paragon, one would not be wrong to think that the new Morganfield's outlet probably has the most strategic location of the place. The owners of Morganfield's spared little expense on creating a rustic 'industrial' look for the outlet. And I must say that it has certainly paid off. Stepping into the new outlet, I am instantly impressed by its high ceilings and warm cosy ambiance, its wall's adorned with funny tongue-in-cheek old school posters (like 'No Trespassing. Violators will be offered a shot' :P)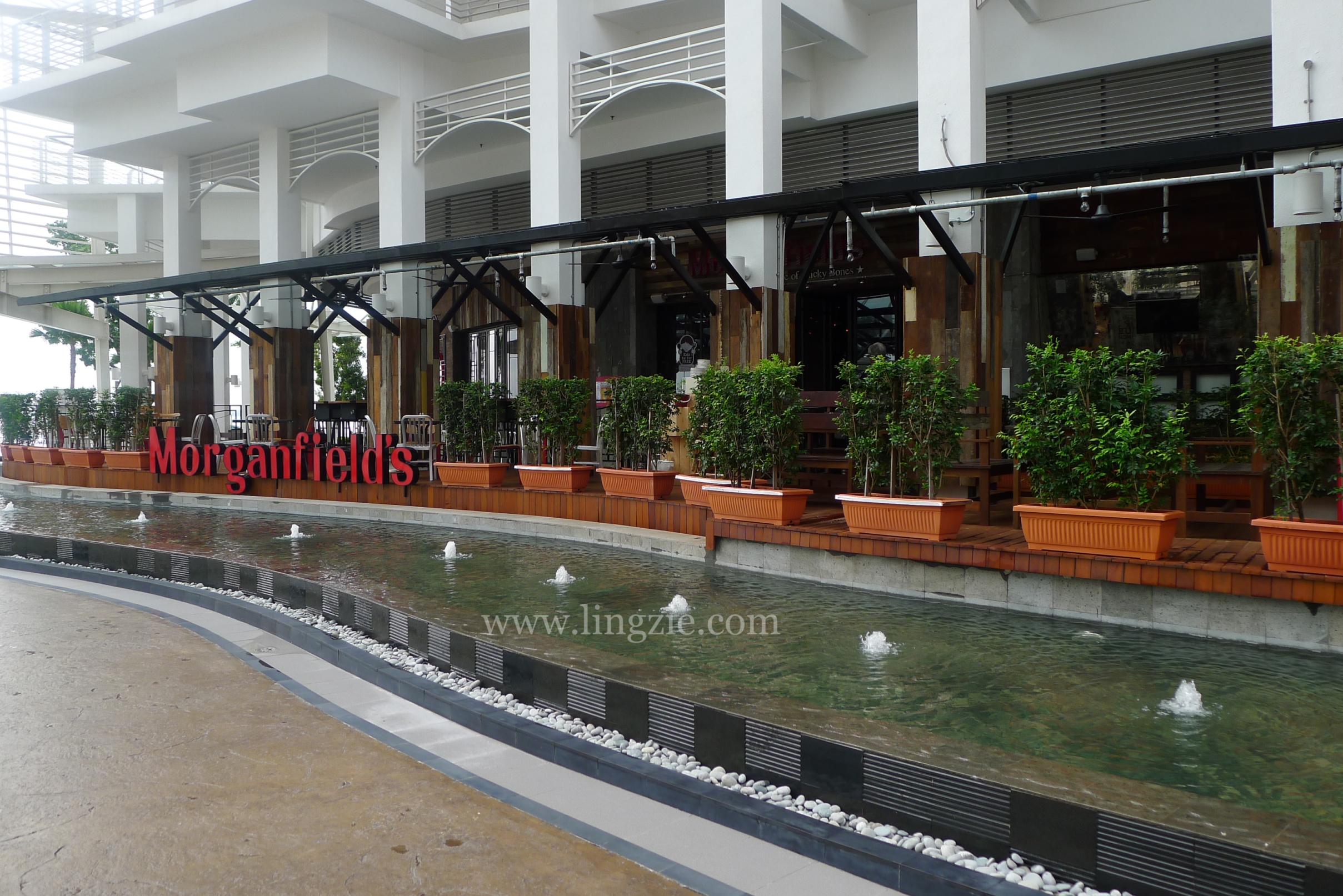 Outdoor seating overlooks the fountain…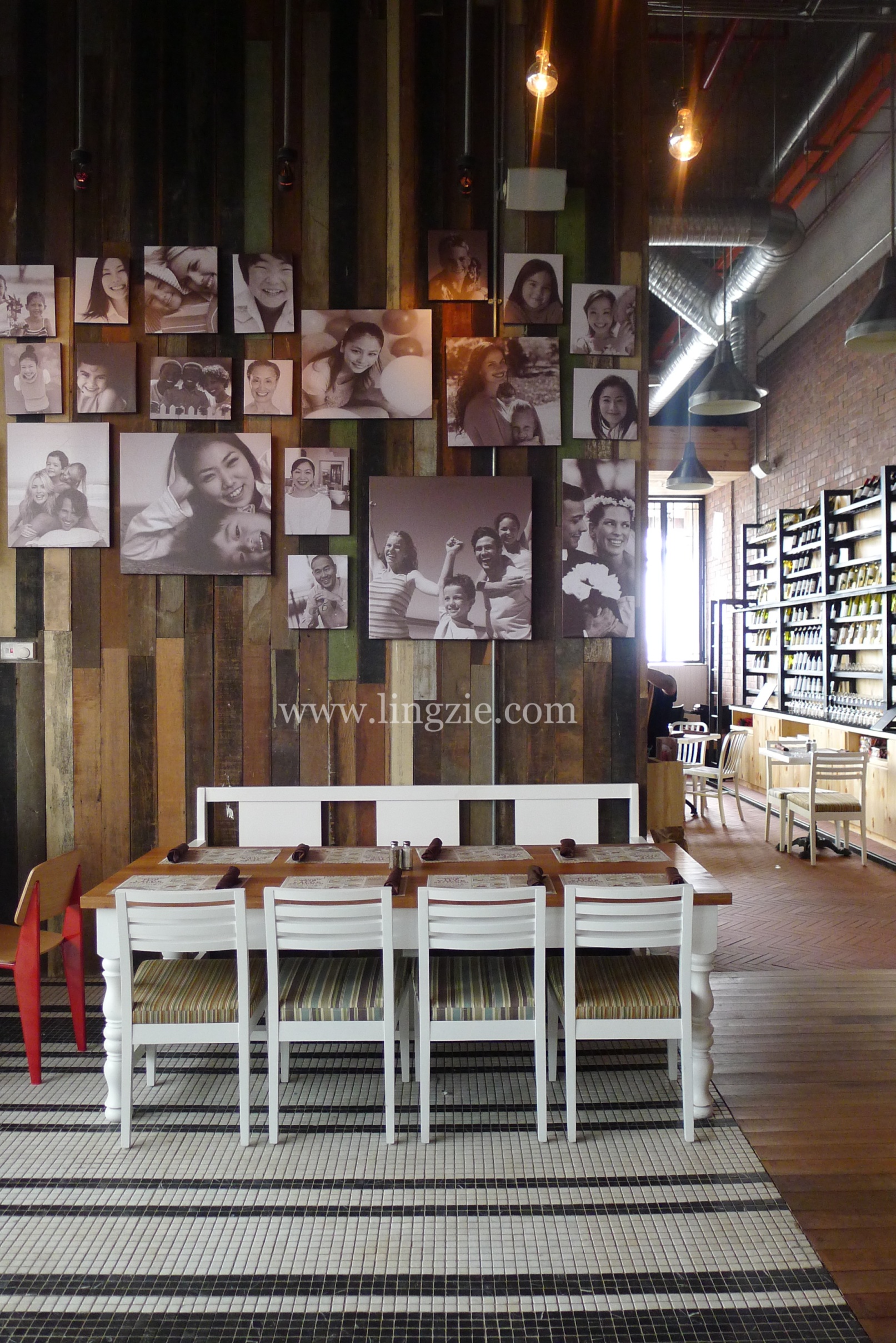 My favourite seat in the house! Love the wooden feature wall. This particular outlet uses recycled wood that's 40-60years old.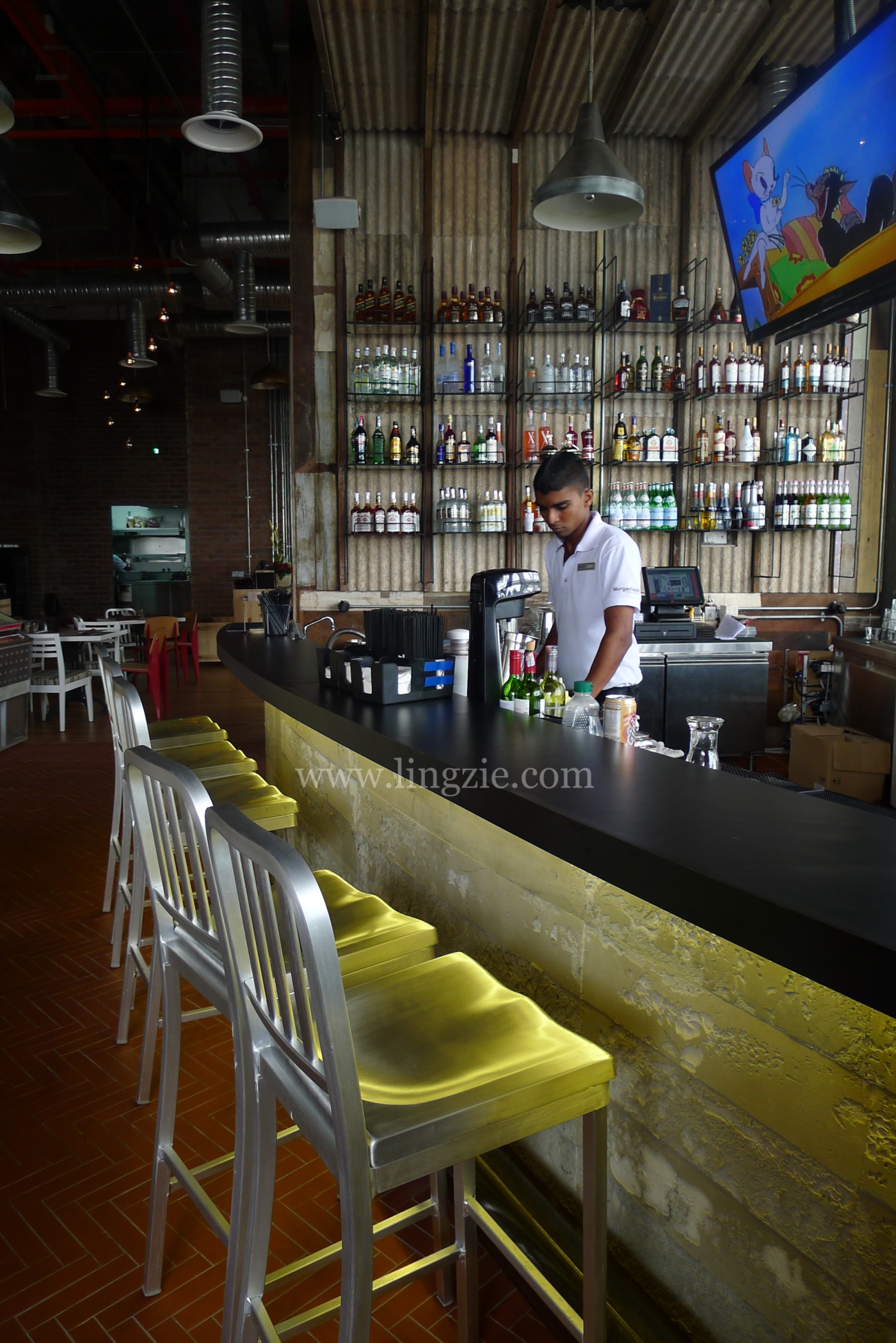 The bar…. the zinc wall adds on to Morganfield's 'industrial' look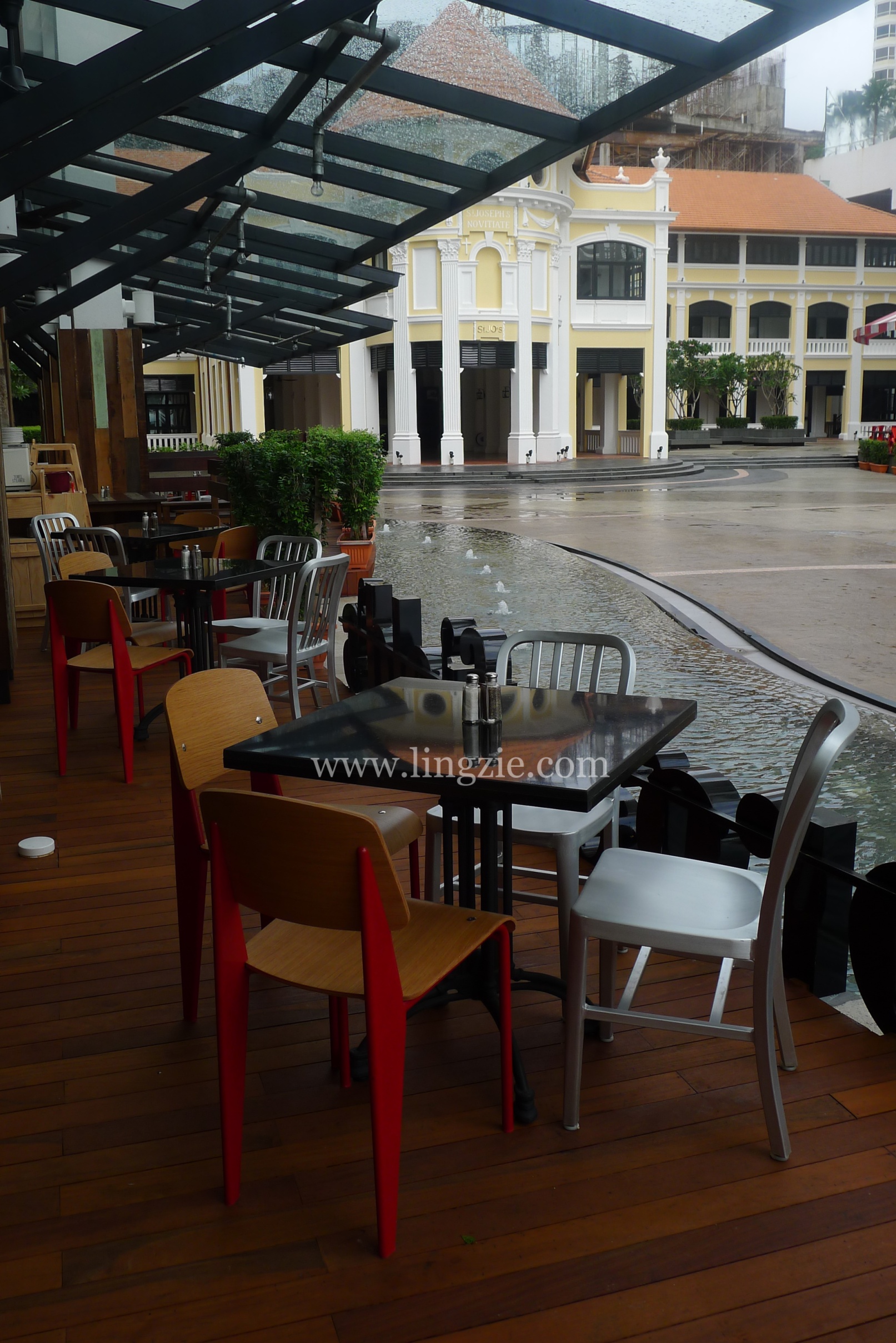 The beautiful outdoor seating area, overlooking Gurney Paragon's St Jo's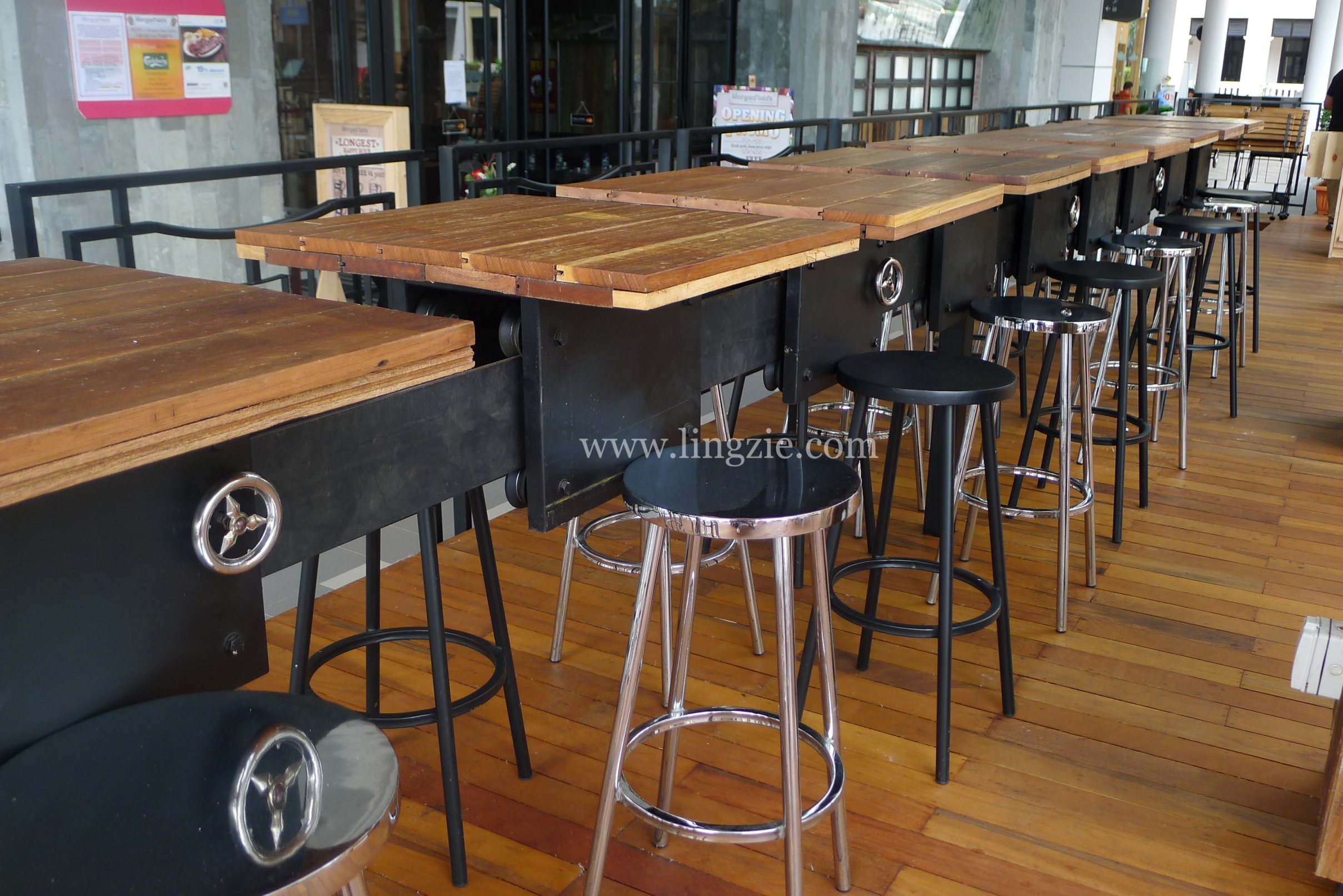 Also at the Alfresco dining area is this unique looking table, specially designed by Morganfield's to make it easier for them to change up the seating arrangements. 🙂
Ok, Ok, now before you wonder if this post is gonna feature any food…. yes it is! (will show you more photos of the beautiful place after that :P)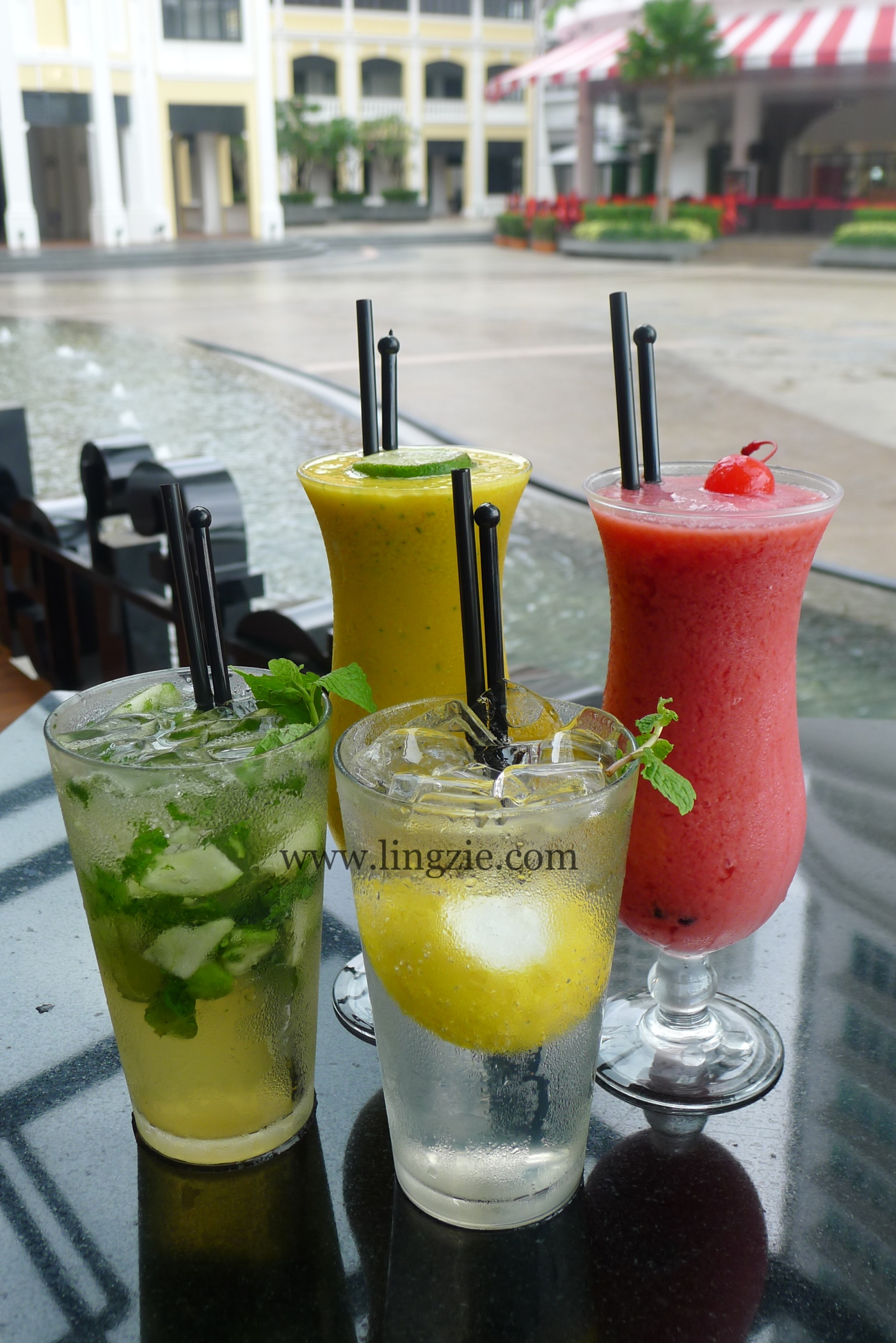 Various drinks we tried on that day – Ice Cold Lemonade – a refreshing drink of fresh lemons and soda (RM9.90), Virgin Apple Mojito made with fresh apples, limes and mint leaves (RM13.90),  Mango & Lime Lassi made with mango puree, yoghurt, lime and lemon (RM14.90) and the very interesting Lipstick – a blend of strawberry banana and cream of coconut (RM14.90). I loved my Ice Cold Lemonade – simple yet refreshing especially on a hot day!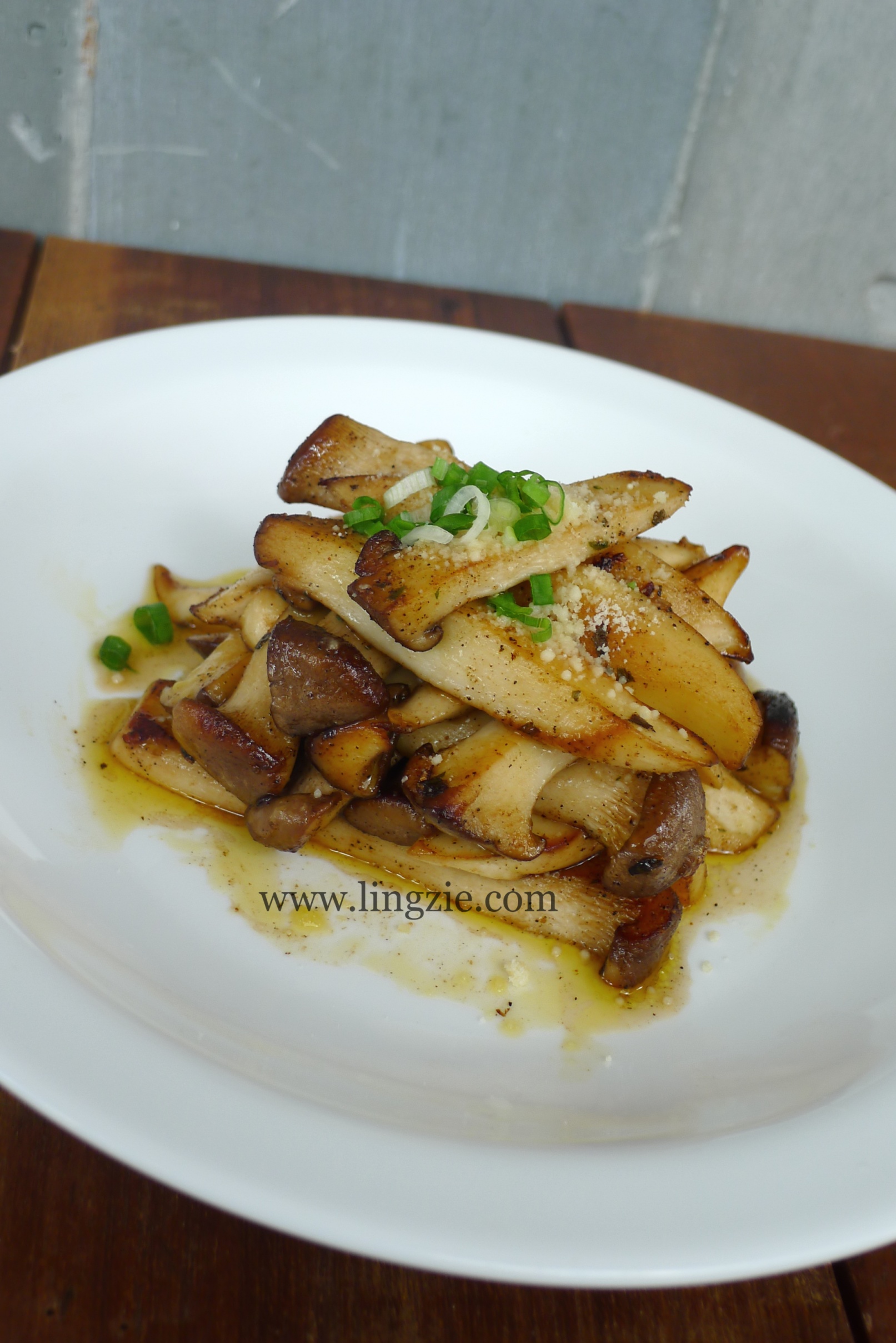 To kick start our meal, we had the opportunity to try some appetizers, the first of which being the Sauteed Mushrooms (RM14.90) I was very pleased to find that its made up of Eryngii Mushrooms! The mushrooms were buttery, juicy and fragrant with a hint of smokiness. Garnished with some parmesan cheese, this was near perfection.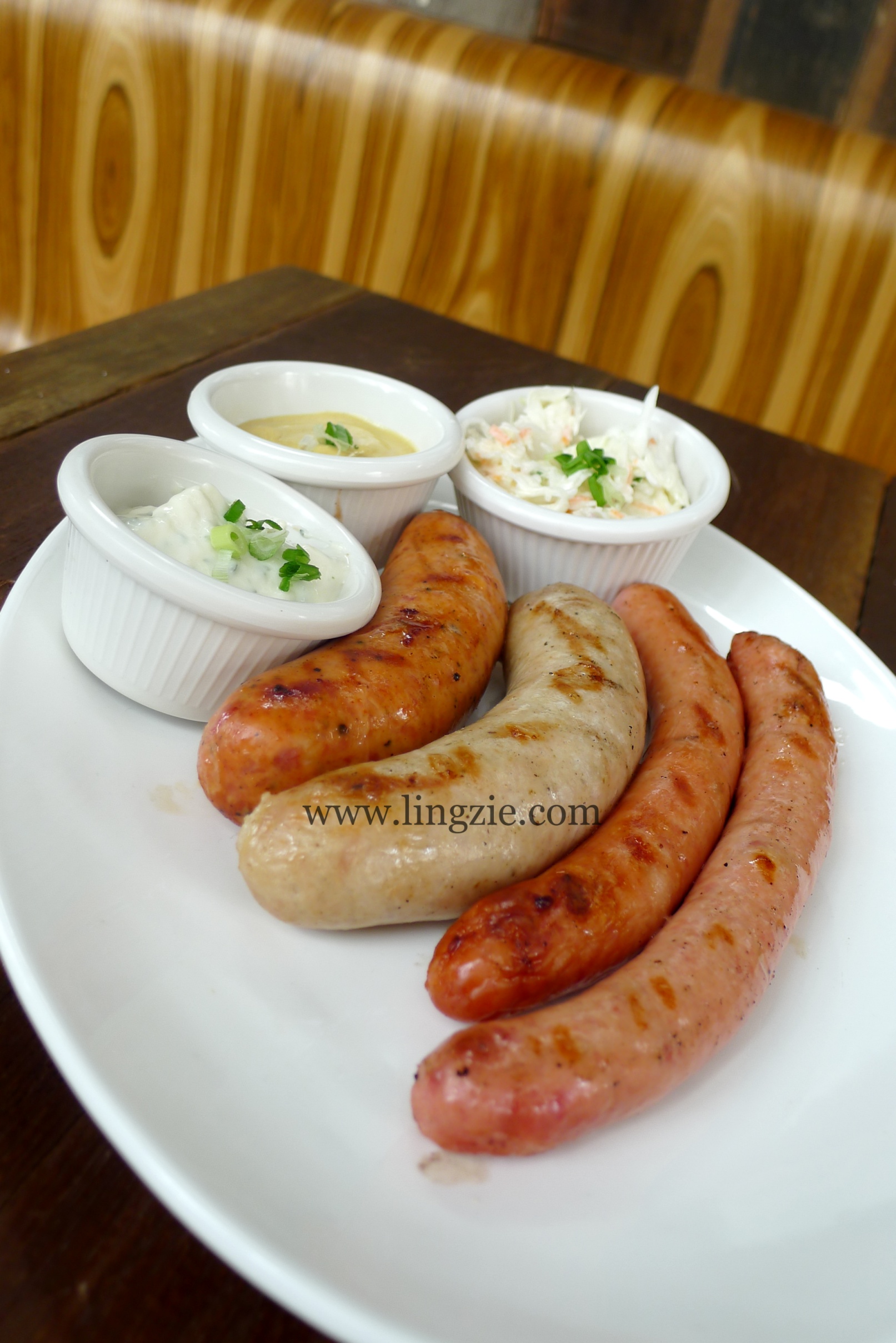 Next up was the Pork Sausage Platter (RM32.90) – four different sausages including a Spicy Hungarian, Cheese sausage, German Bratwurst and Smoked sausage. I particularly liked the Smoked sausage and Cheese sausage. The platter comes with a side of coleslaw (cold and crunchy!) with two dipping sauces – Dijon mustard and house Garlic Aioli. I adore the Garlic Aioli sauce. It is rich, creamy and garlicky and pairs really well with the sausages. With a bit of heat from the mustard to cut through the richness of the garlic aioli and the saltiness from the sausages – indeed a perfect bite! 🙂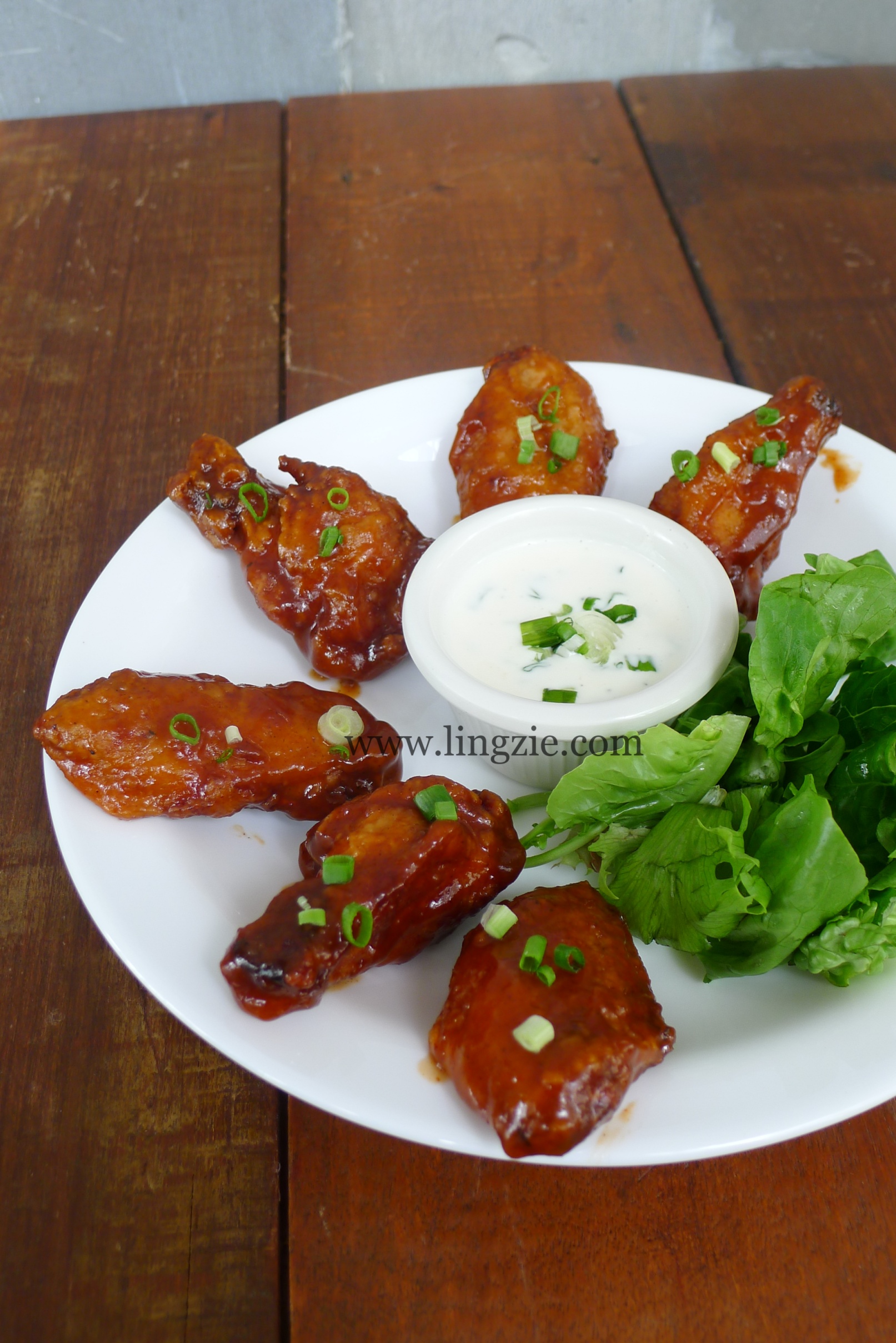 Next appetizer was the Chicken Wings (RM16.90) with a smoky BBQ sauce and served with ranch sour cream dressing. These were delicious to snack on!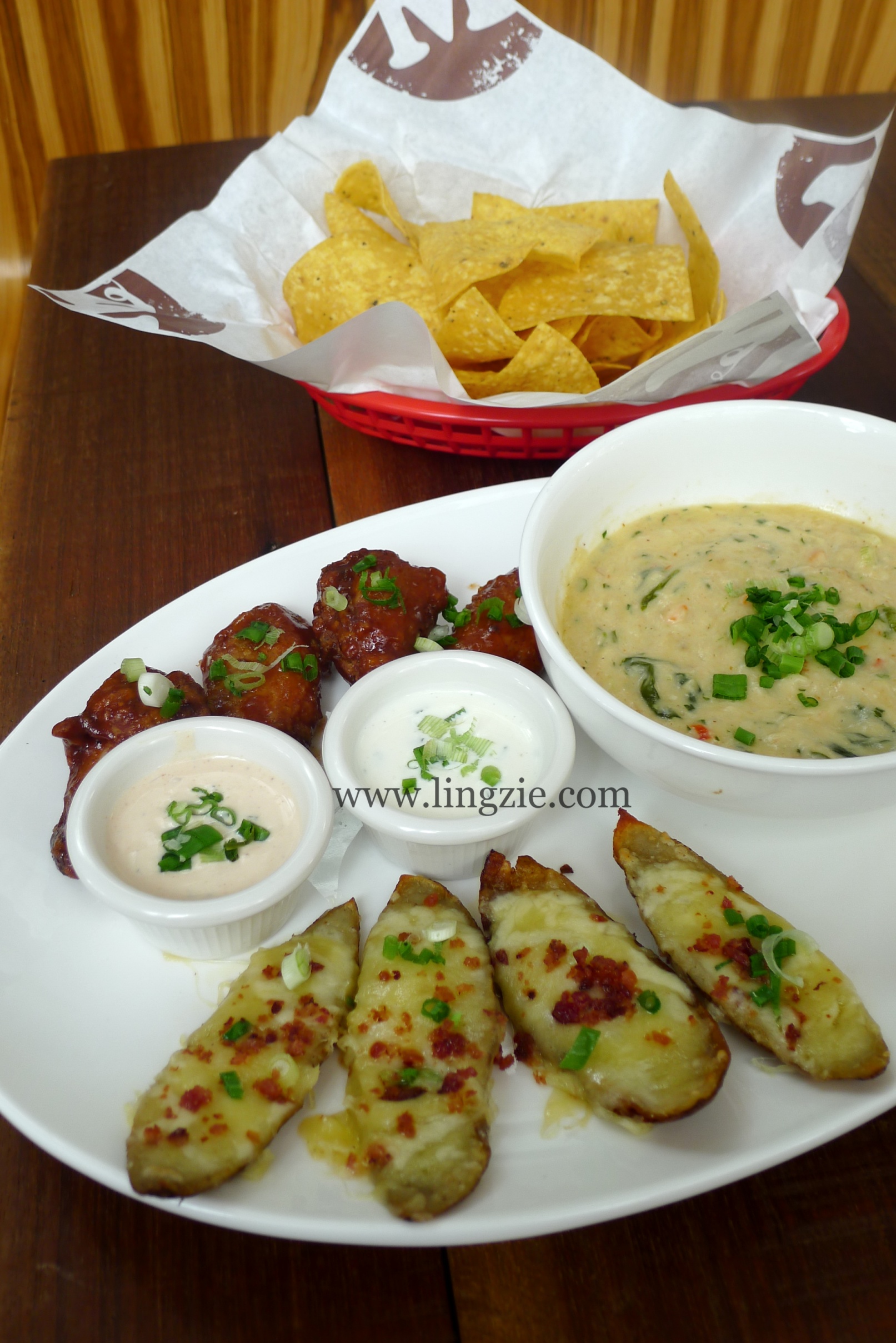 Next up was the Appetizer Platter (RM34.90) which features the chicken wings, baked potato skins with cheese & bacon bits and a big serving of nachos – with either a crabmeat spinach dip OR chilli concarne.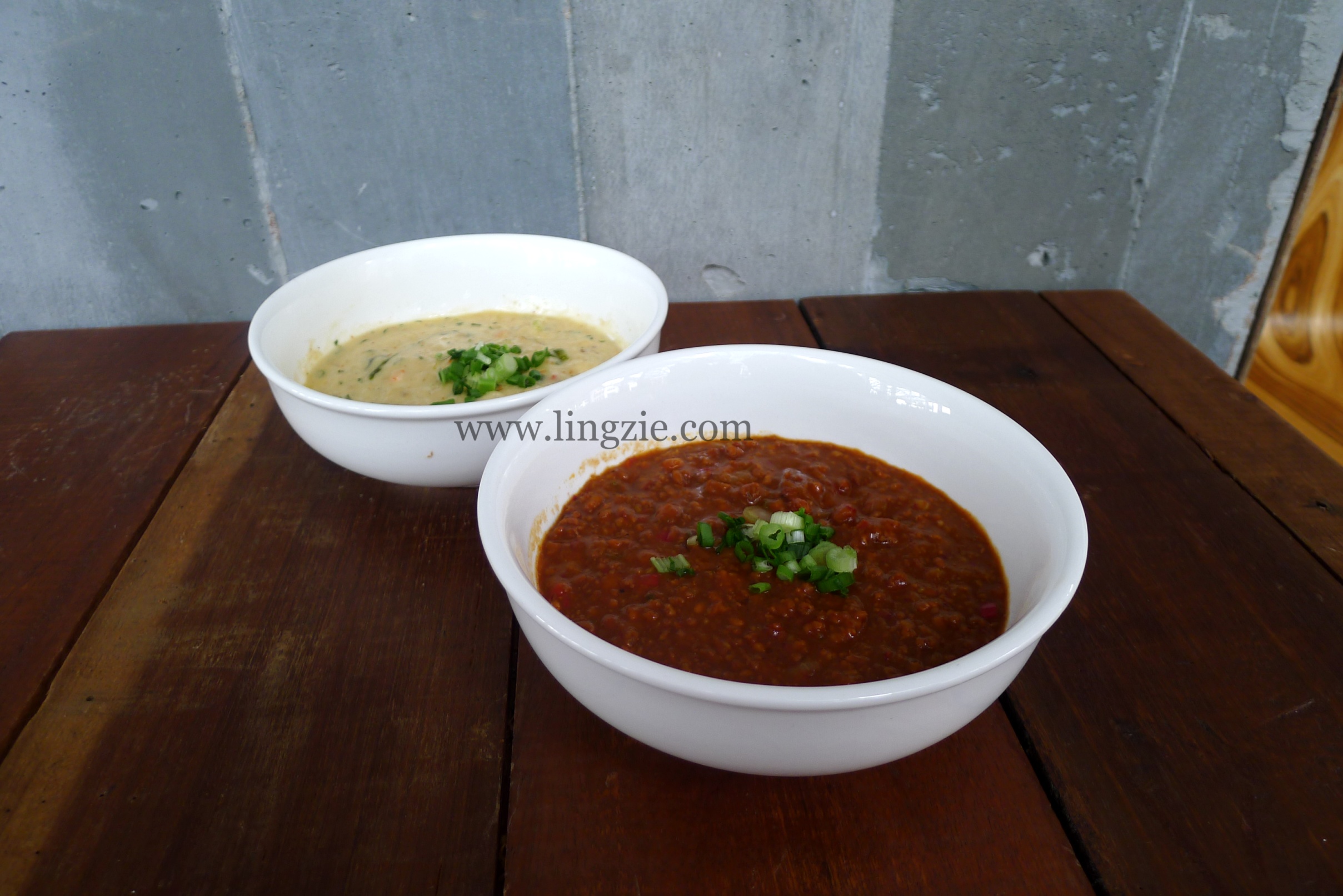 Choices of dip for the Appetizer Platter – Chilli Concarne  (minced pork sauce with tomatoes and various herbs) OR Crabmeat Spinach dip (a creamy cheesy dip, best eaten when served hot) Out of the two, I would personally prefer the Chilli Concarne.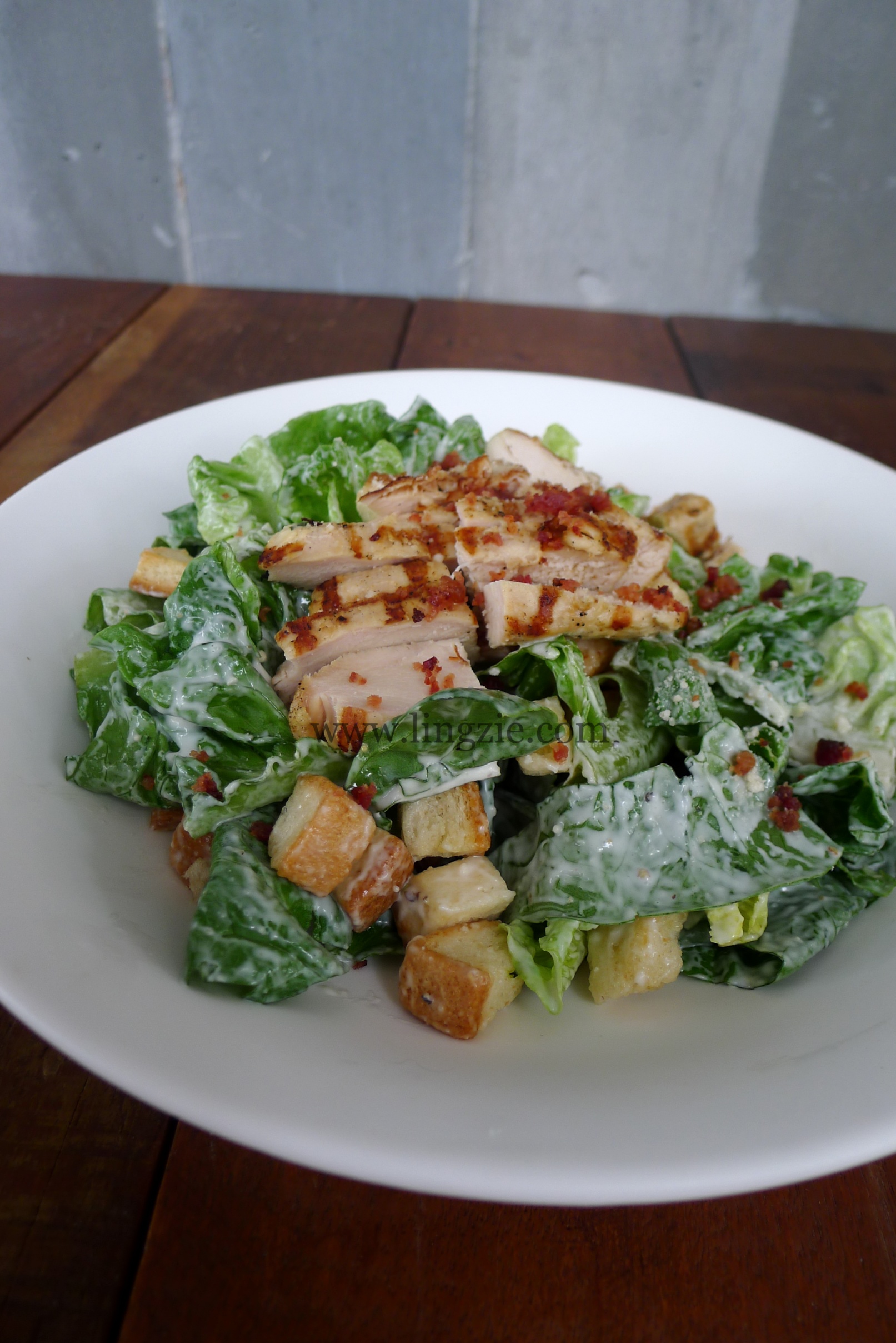 Next, we had some veggies to 'lighten up' the meal – Chicken Caesar Salad (RM19.90) This was a classic caesar salad with crunchy romaine lettuce, tossed with a home made egg yolk dressing. I especially loved the grilled chicken – it was tender and flavourful, making this a possible meal on its own (if that's the way you roll :P)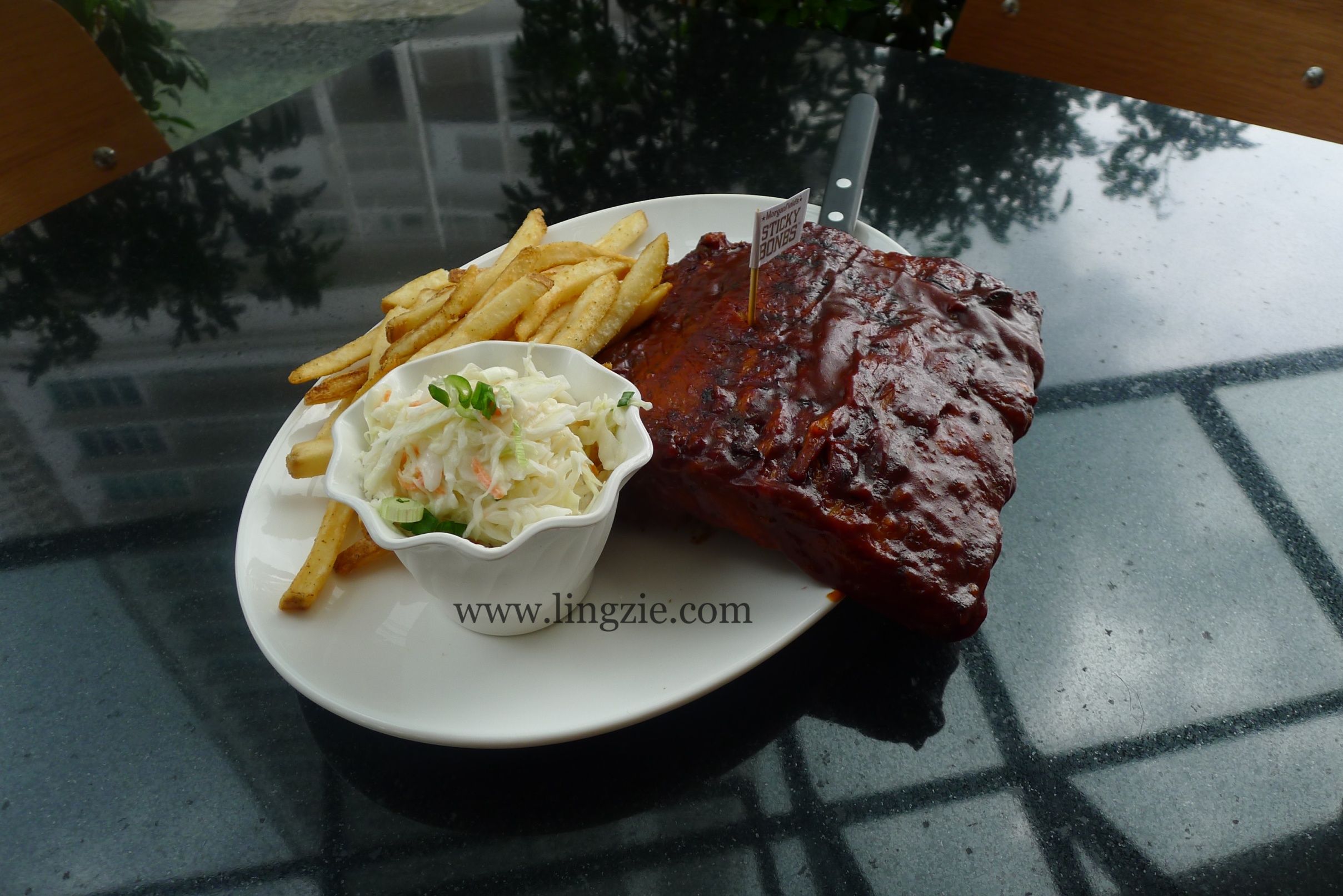 Then came Morganfield's best seller – their trademarked Sticky Bones! Half rack of smoky, succulent, tender, meat falling off the bone Spare ribs!! Porky goodness to the max! I couldn't wait to get down and dirty and enjoy the ribs with my hands! We had the half rack Hickory BBQ version – look at the size of it! (RM38.90), Full slab at RM68.90. Morganfield's sources their pork ribs from Holland, Spain, Belgium and Germany to ensure its quality.
Two other flavours available including Tuscan Baked Spicy Spare Ribs and Smoked Peppercorn Spare Ribs.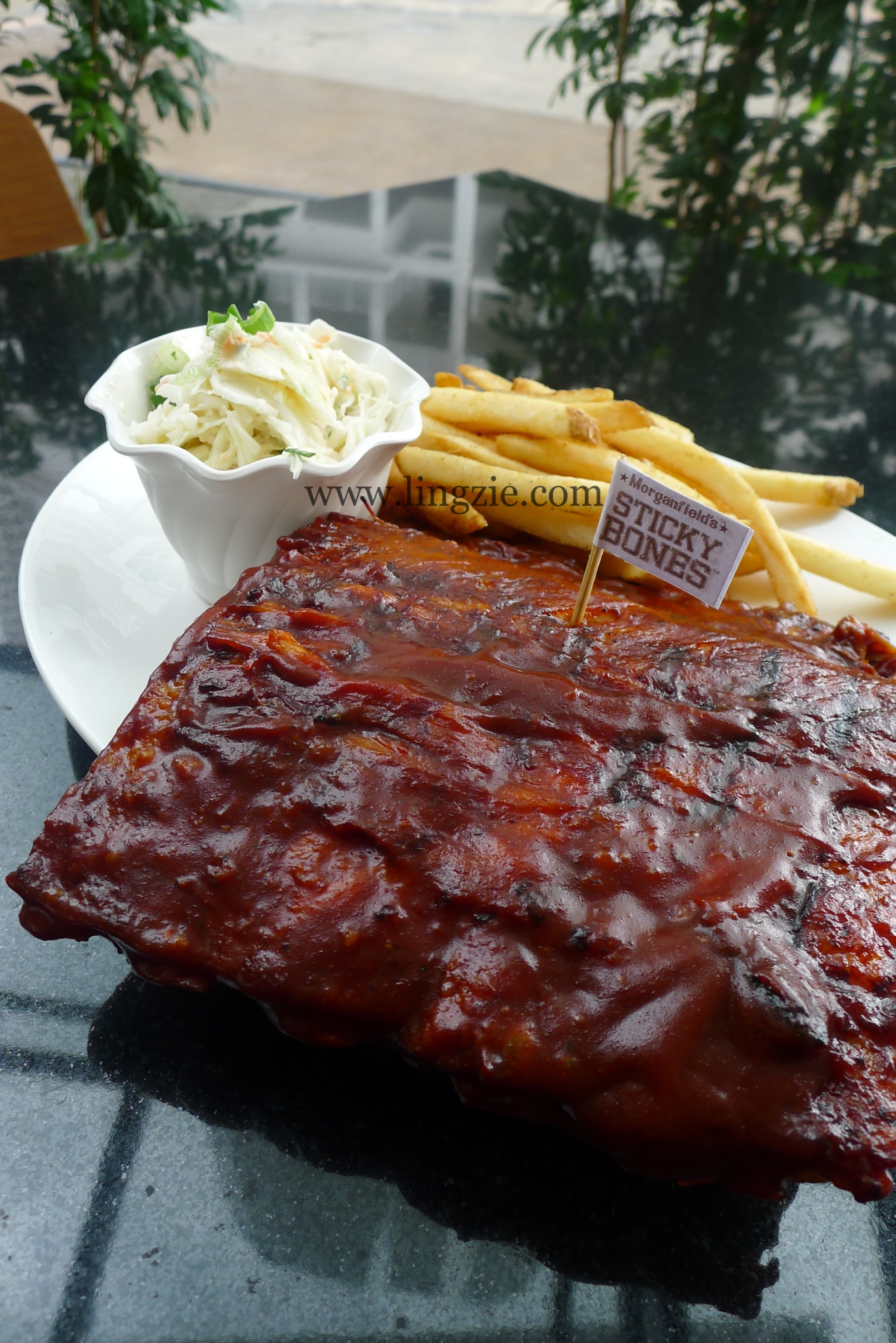 Another look at the Hickory BBQ Sticky Bones…. ~drools~ comes served with a side of coleslaw and fries (PS: they taste great with the garlic aioli dip from the Pork Sausage Platter! :P)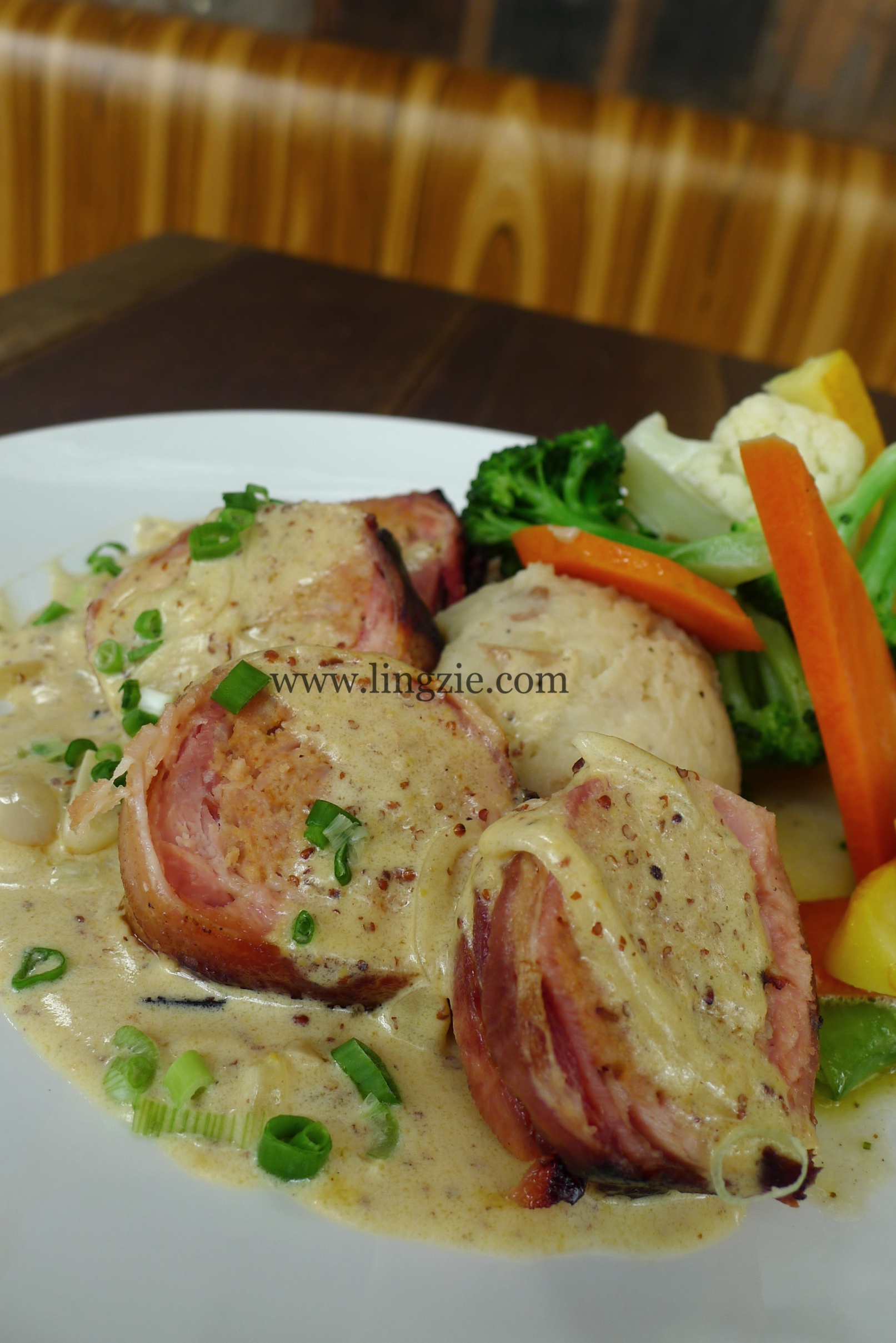 For chicken lovers, Morganfield's also offers a delectable Chicken Roulade (RM32.90). Strips of chicken thigh is stuffed with a mince pork & sausage stuffing and then wrapped with bacon (~heart~) and served with a creamy mustard sauce. Served with veggies and potato mash (made from red skinned potatoes that taste sweeter than regular potatoes). I loved the rustic style potato mash and the mince pork stuffing in the chicken roulade was excellent. Definitely a good alternative if you're not feeling like pork for that meal.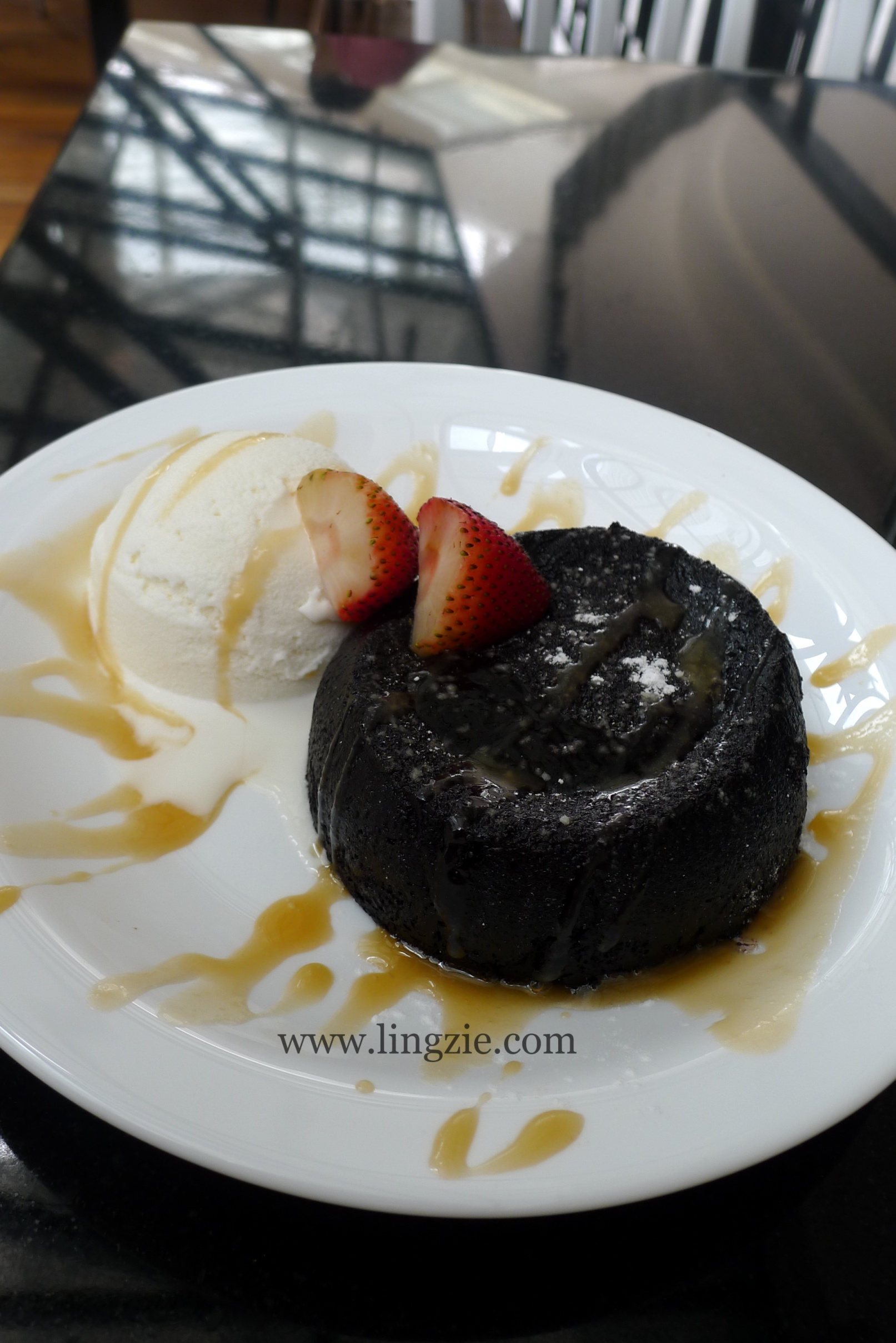 And finally… there is dessert! Now I know, judging from the portion sizes on the appetizers and the mains, you might not have much room left for dessert. BUT! Please do leave room for dessert because… they are A-MA-ZING! Normally at outlets like these you would find their desserts rather lack lustre. But not at Morganfield's. Their Chocolate Lava (RM14.90) is a must try! (and they only make them at limited quantities too) Look at how dark the chocolate cake is – made from semi sweet dark chocolate, it is indeed a chocolate lover's dream. And wait! there's the molten lava of chocolate inside too!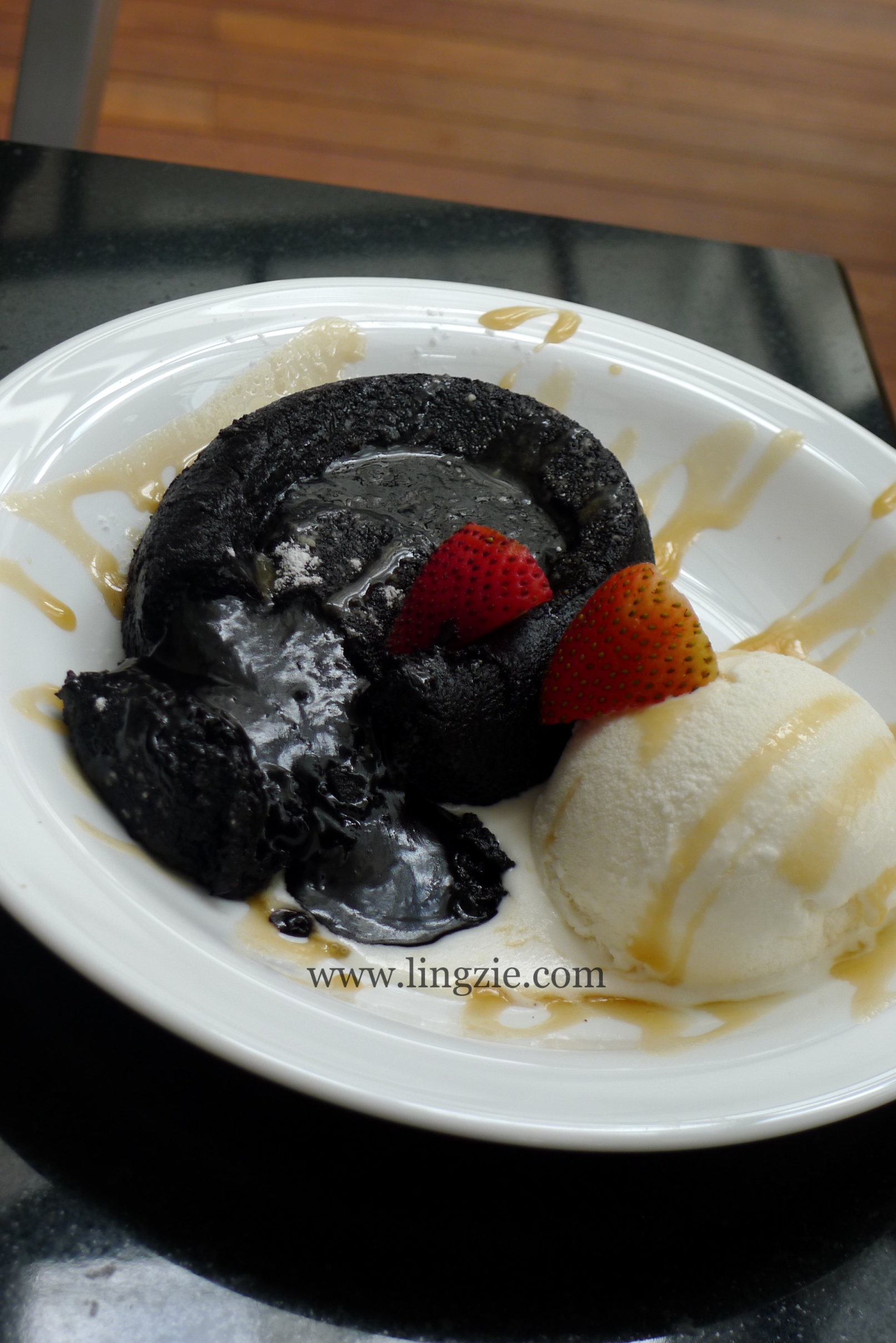 Warm chocolate lava paired with cold vanilla ice cream and a lil drizzle of caramel sauce – heaven! If you love chocolate, then you have to try the Chocolate Lava! Be warned – it is RICH!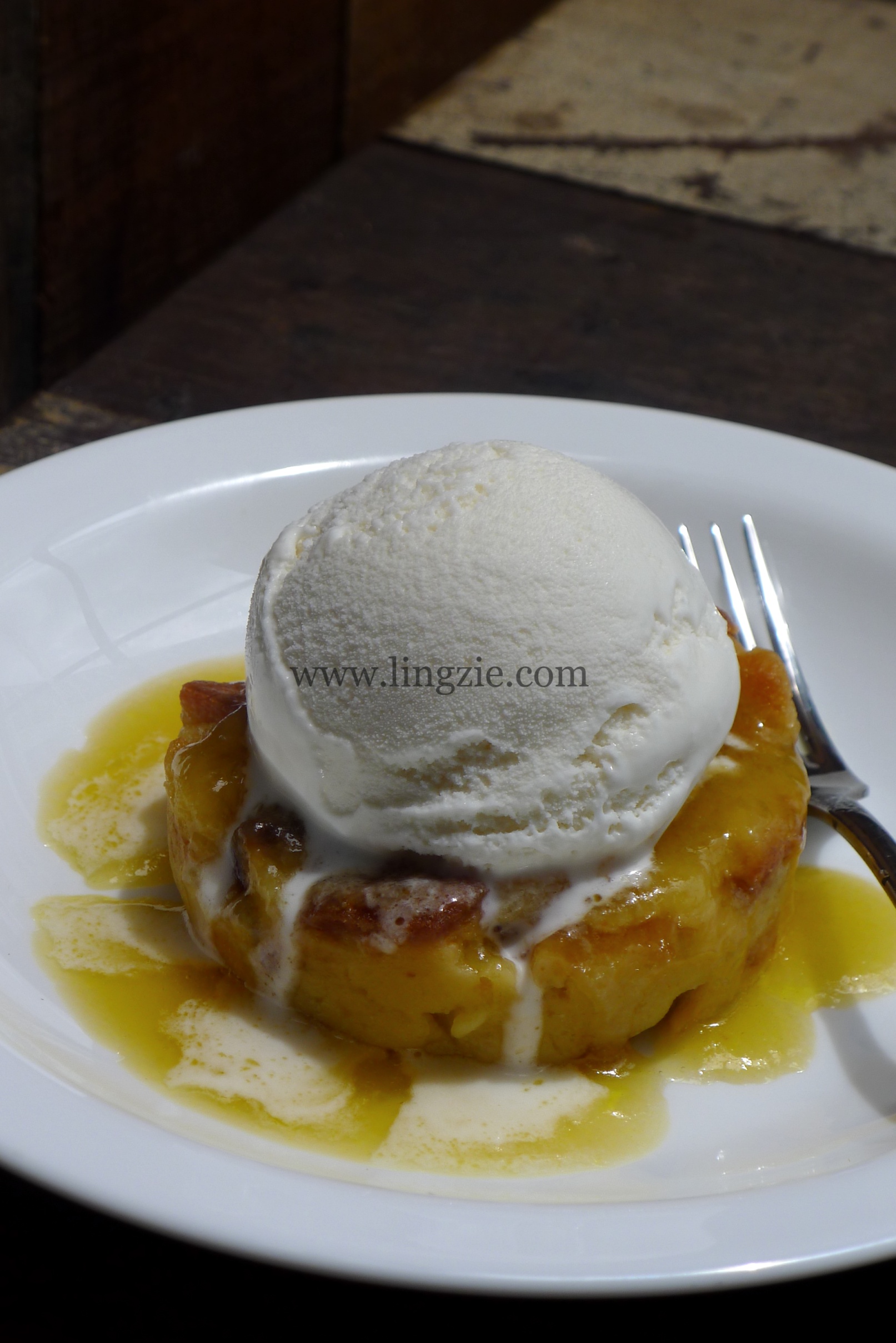 Now when I heard that we were having Bread Pudding (RM12.90) for the next dessert, I wasn't too impressed. Don't get me wrong, I love a good bread pudding, but I was silently wondering if a filling bread pudding would be worth the stomach space since there were so many other goodies to try at Morganfield's (not to mention the calories! :P) But after the first bite, I was SOLD. Totally and wholeheartedly SOLD. Why? Because this Bread Pudding has a 'secret' – whiskey sauce! Which totally brings this simple dessert to a whole new level. If I have to nit pick, I would say an added crunchy element would make this perfect! But then again, I would be nit picking 😛 Served with vanilla ice cream, this dessert again plays with the hot/cold sensation. I actually found myself eating more of the Bread Pudding than the Chocolate Lava (and that says A LOT, given how big a chocoholic I am!)
All in all, I thoroughly enjoyed the meal at Morganfield's and have been back two more times since then 😛
The Essentials:
Morganfield's @ Gurney Paragon Mall, Persiaran Gurney, 10250 Penang
TEL:  04-2262487
Opening hours: 11am-12am
Facebook Page: https://www.facebook.com/morganfieldsmalaysia
Must trys (in my humble opinion :P): Hickory BBQ Spare Ribs, Pork Sausage Platter, Sauteed Mushrooms, Chocolate Lava & Bread Pudding
And now… more photos of the outlet (you would know by now that I am as much an 'ambience' girl as a foodie right? hehe)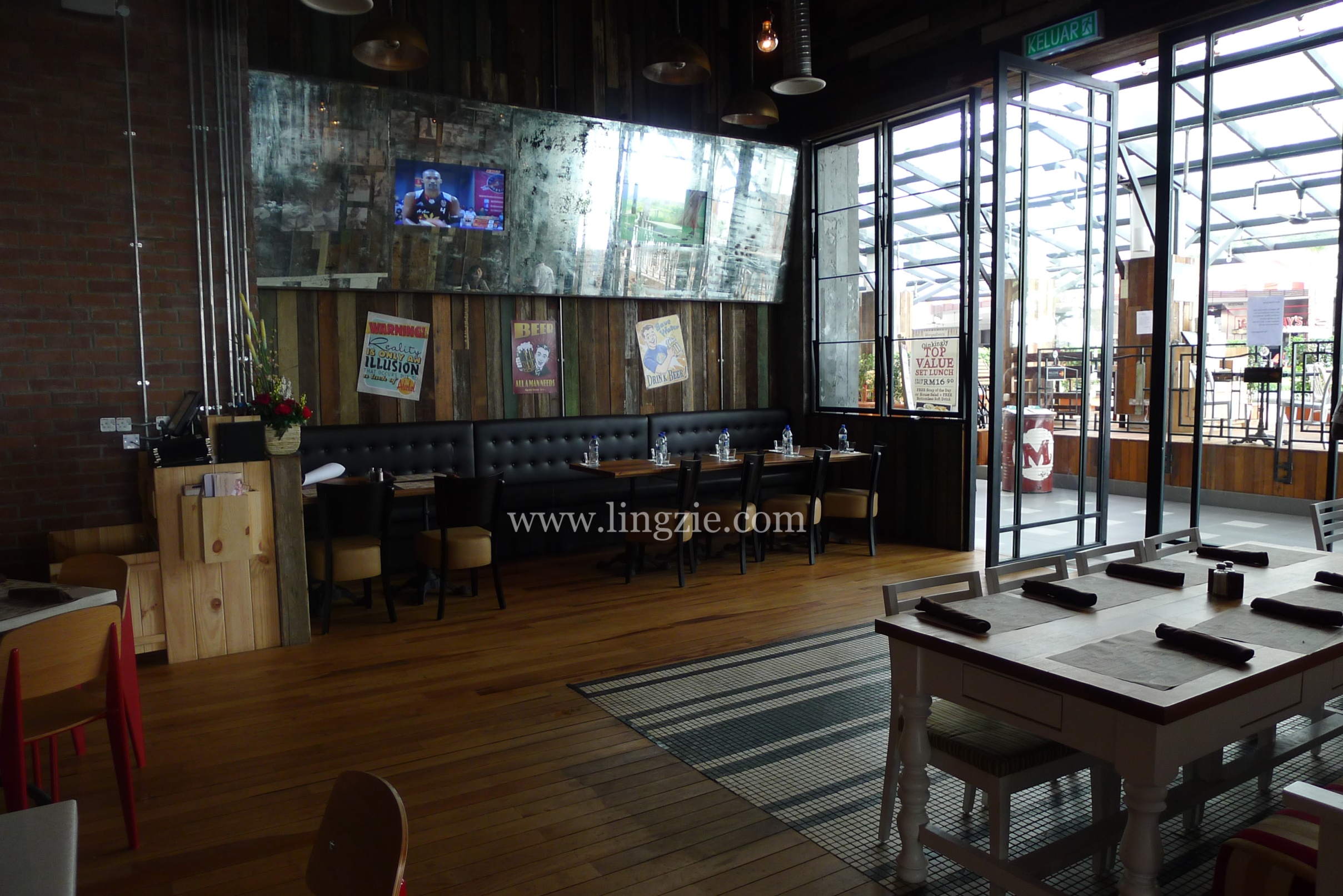 Morganfield's interior with specially etched mirrors to give it an 'aged' look. The TVs at Morganfield's is tuned to only the Sports channel and cartoons (Tom & Jerry and Mr Bean) to help their patrons unwind after a long stressful day.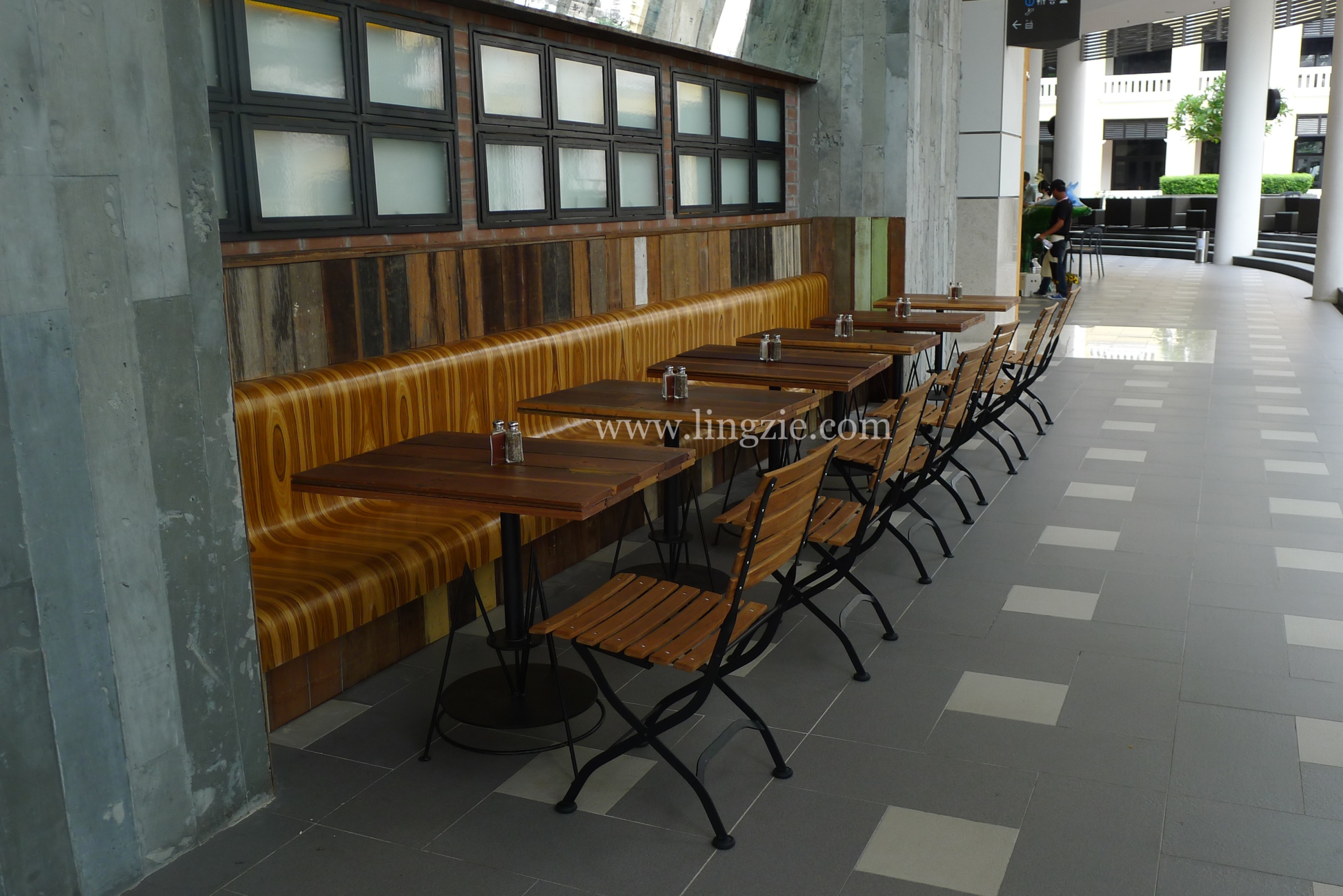 Exterior seating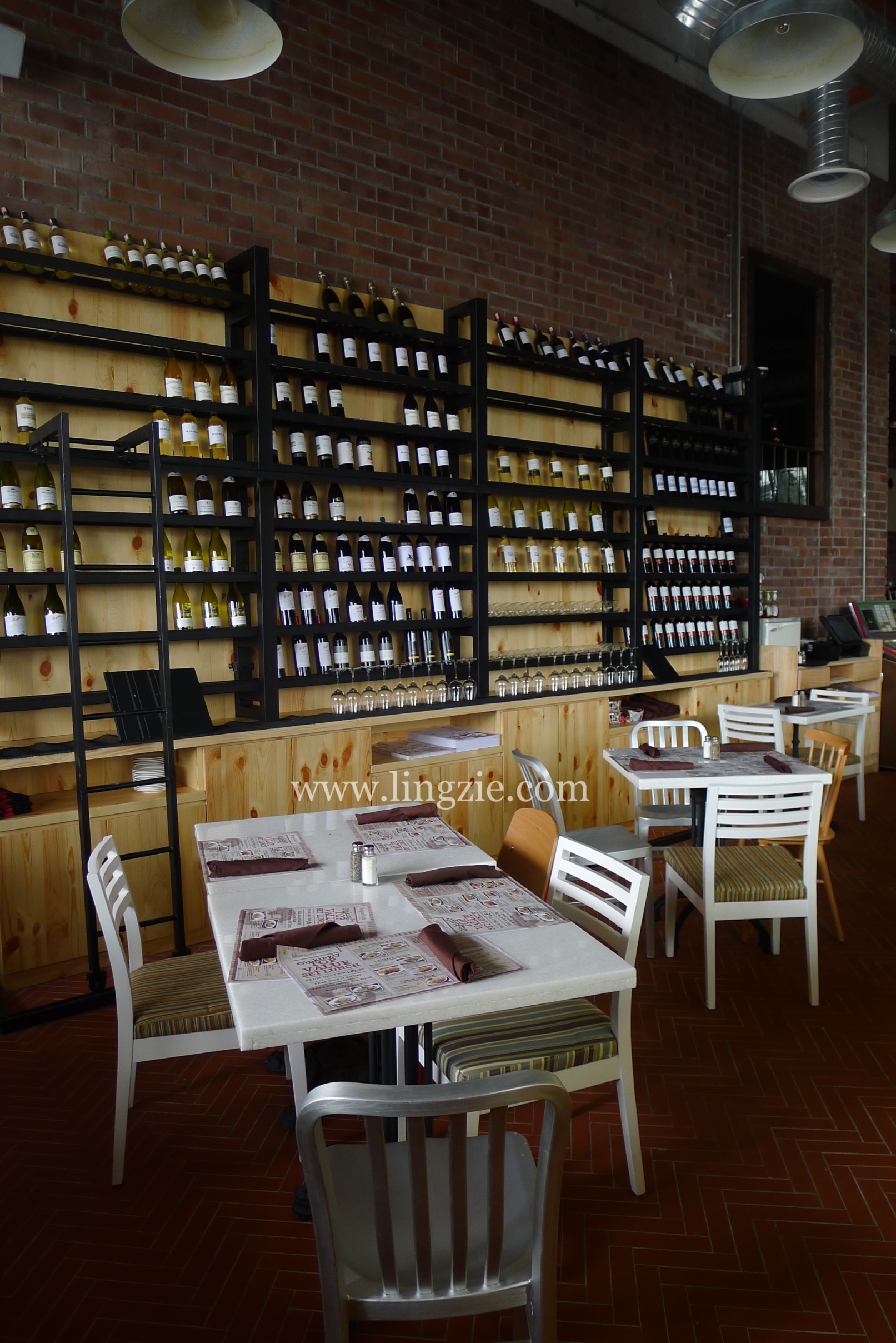 They also serve a variety of wines…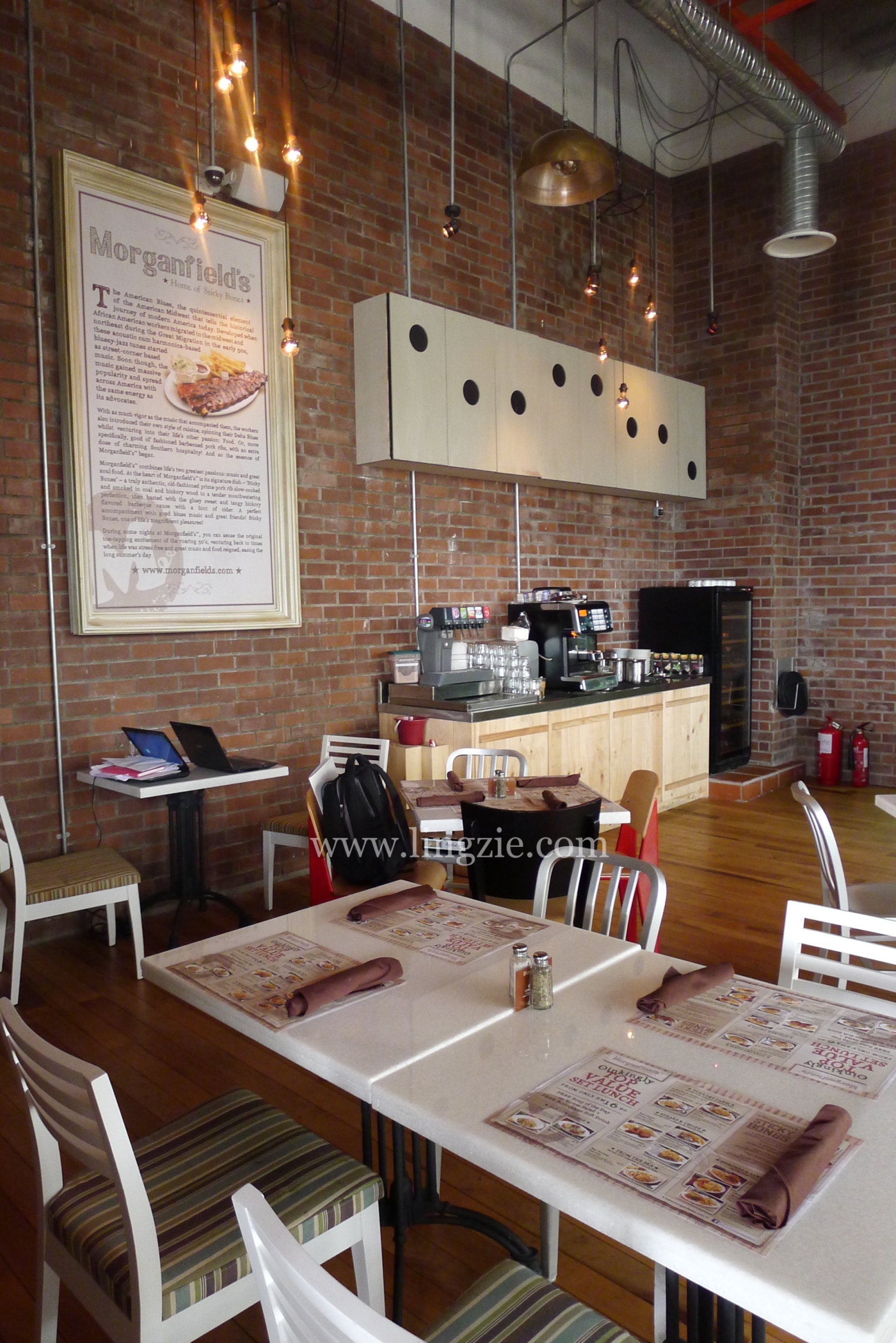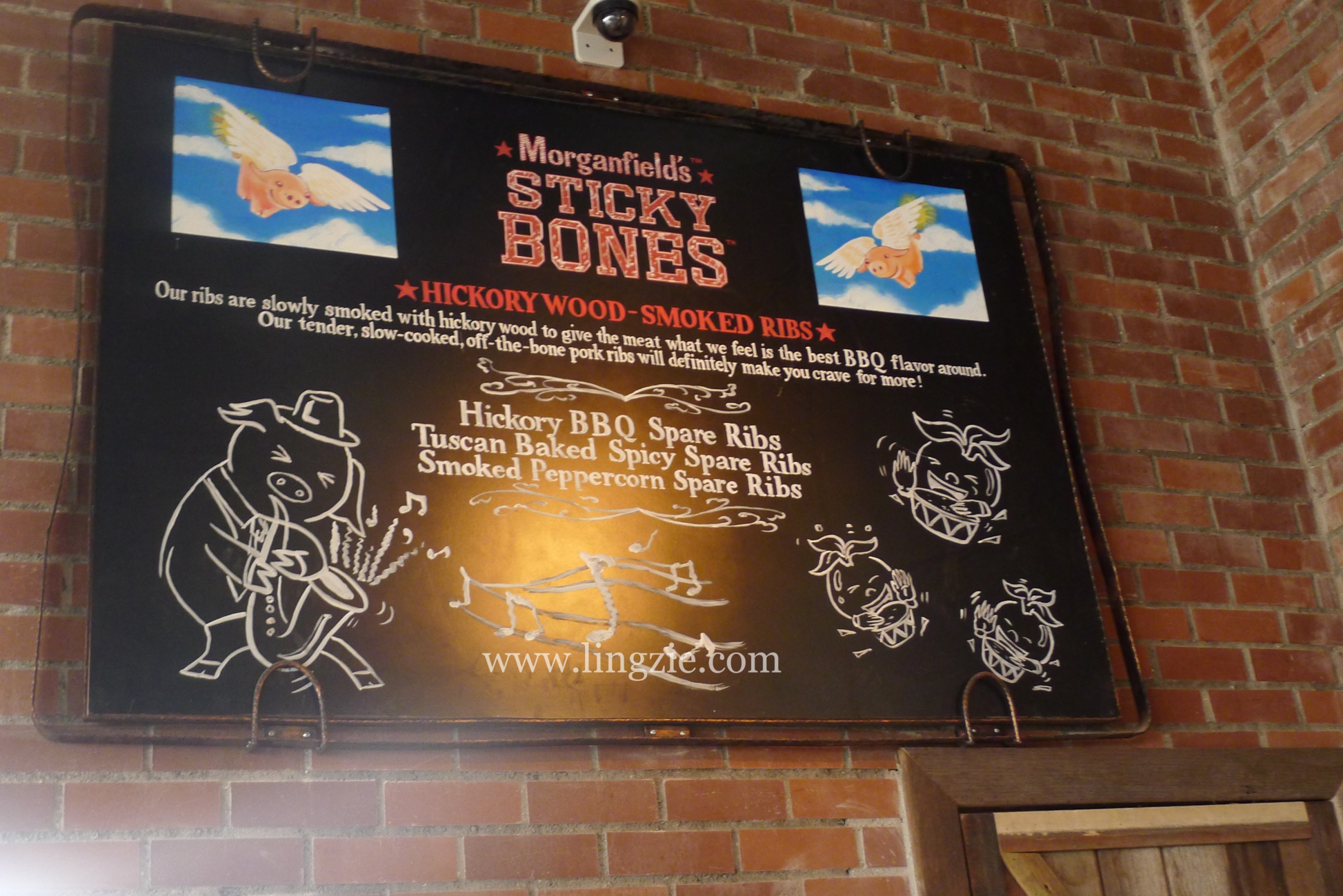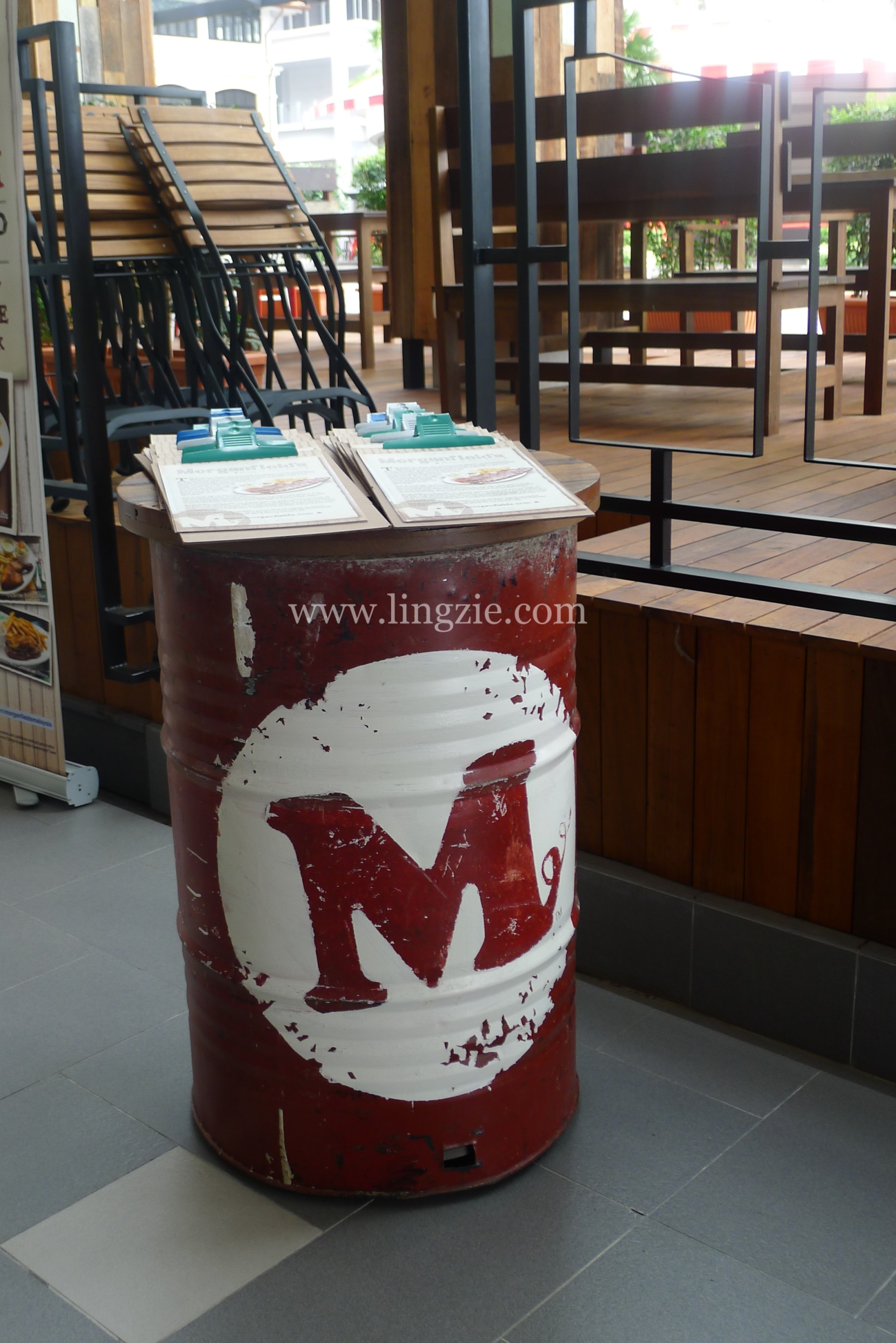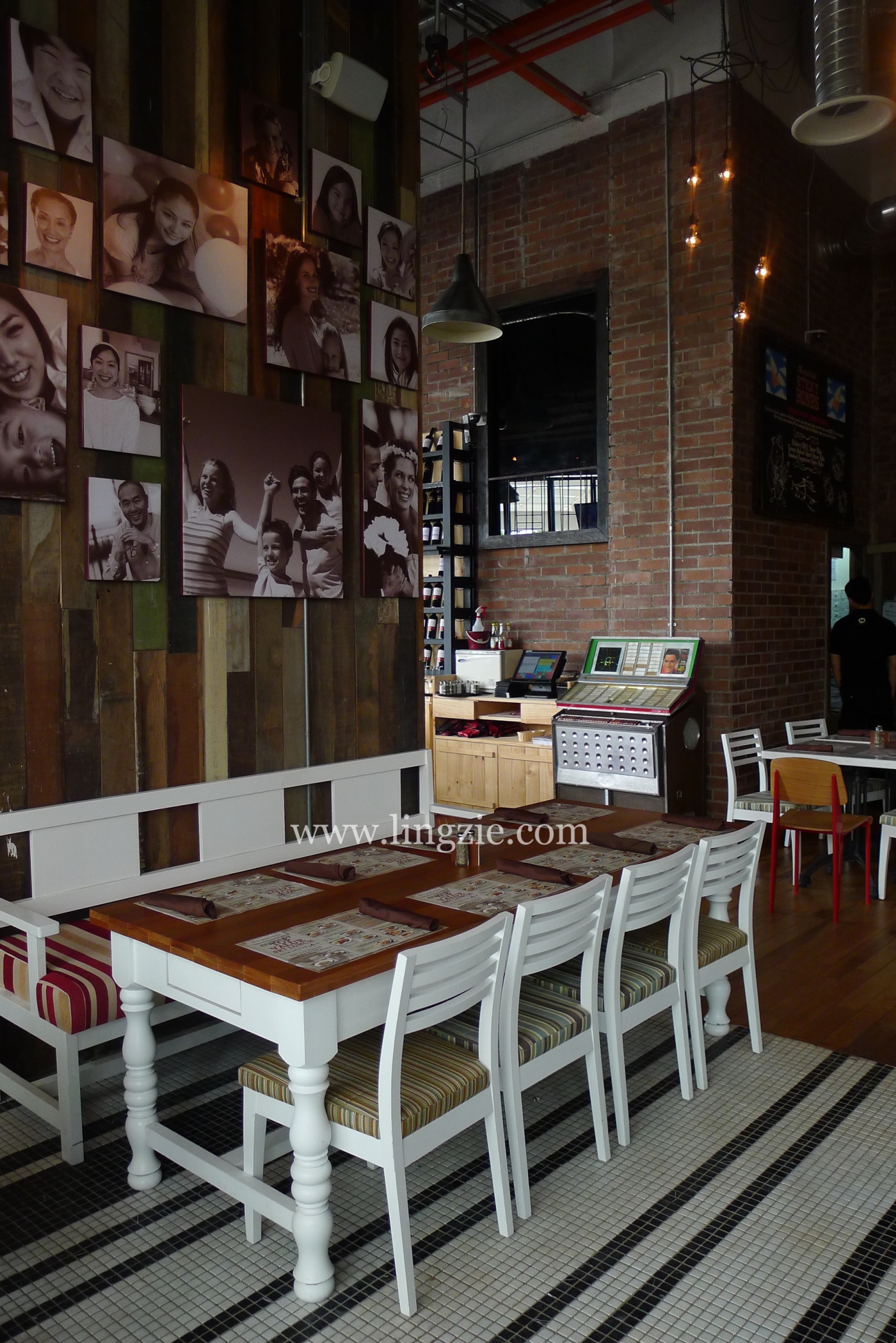 Another look at my favourite seat in the house! Notice the old juke box at the back?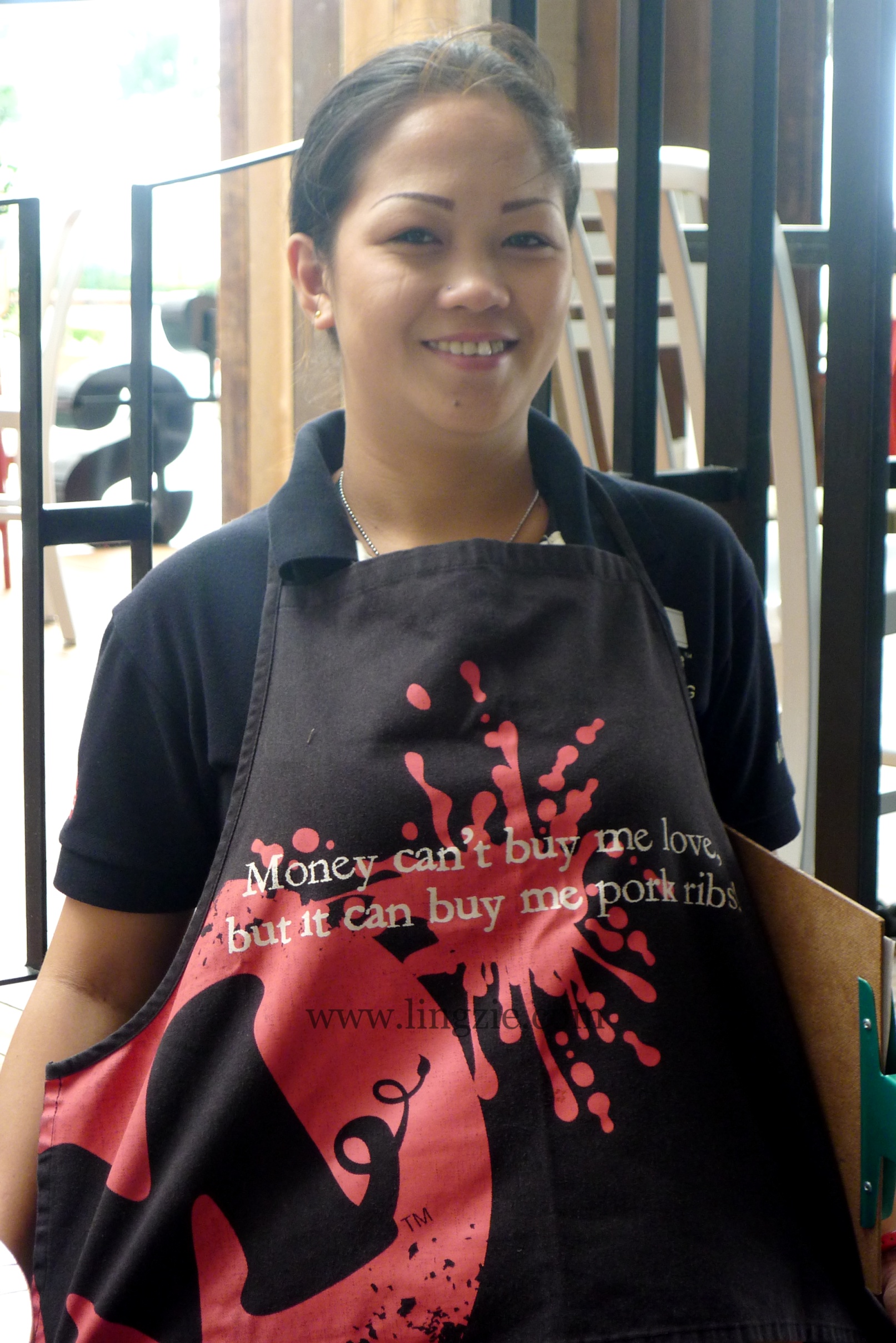 Cute aprons that patrons can wear while eating their Sticky Bones… this one says 'Money can't buy me Love, But it can buy me Pork Ribs'
Hear ye! Hear ye! 😛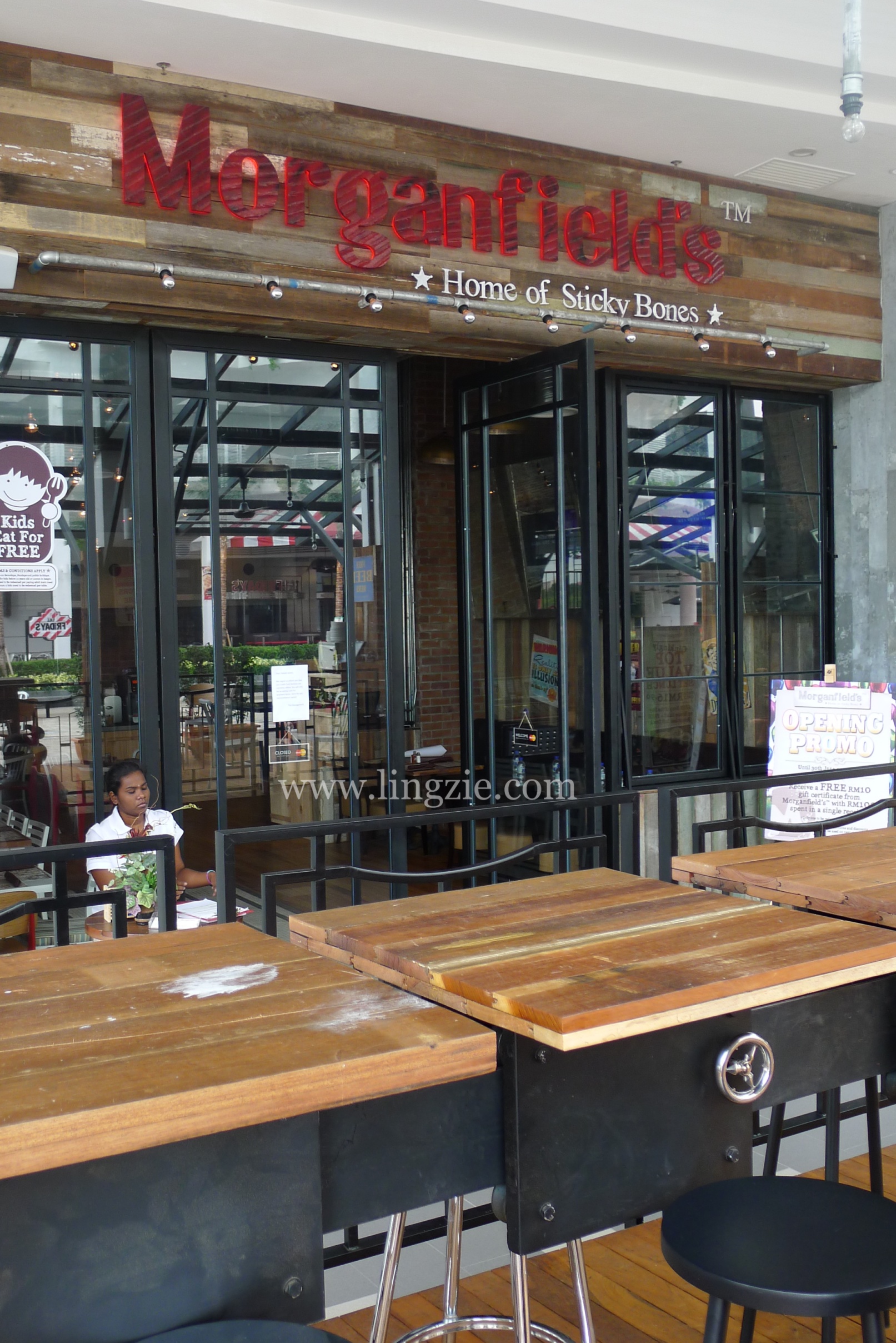 Morganfield's Home of Sticky Bones… I'm so glad you've decided to grace our shores! 🙂