Having a busy day at work? No time to cook? No time to go out to grab a bite and the fridge is empty? Or are you feeling just plain lazy to get out of the house but your tummy is growling for some nourishment?
I'm sure many of us have been faced with these feelings at one time or another. I definitely have. Which is why I am grateful for food delivery services! While previously only pizza and fast food joints offered delivery (and sometimes you just don't feel like having fast food right?), we now have a better choice of cuisines available for delivery right to your doorstep with the arrival of Foodpanda!
I've been using Foodpanda's delivery services for a few months now. And so far the service has been great!
So how does one peruse Foodpanda's services? You can either order online or download their new Foodpanda app to your smartphones!
For this post, I'll be testing their Foodpanda app 🙂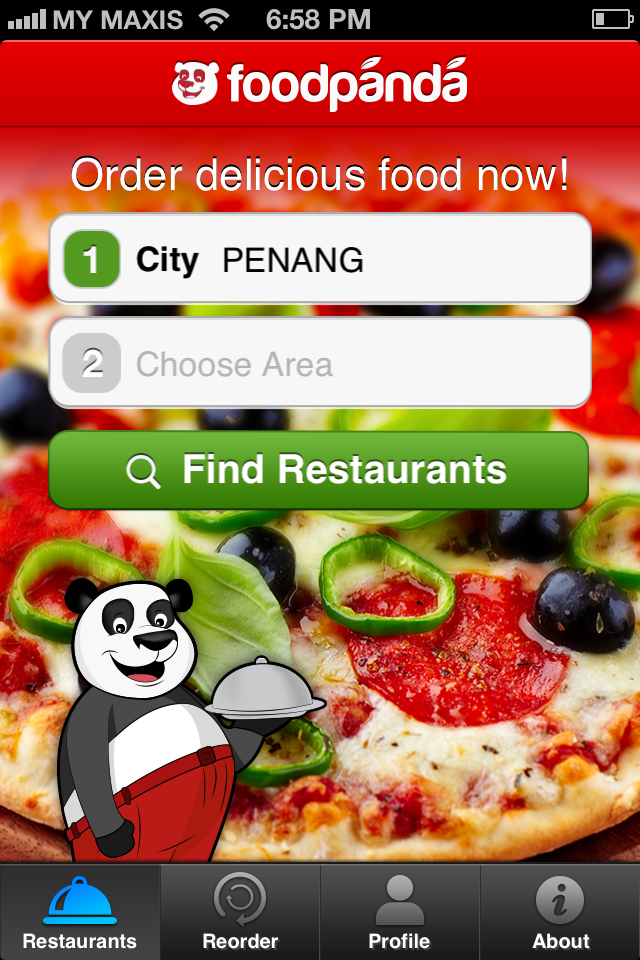 It's got a bright & cheery interface plus its a breeze to use. First you select your city and the area. And just click find restaurants near you.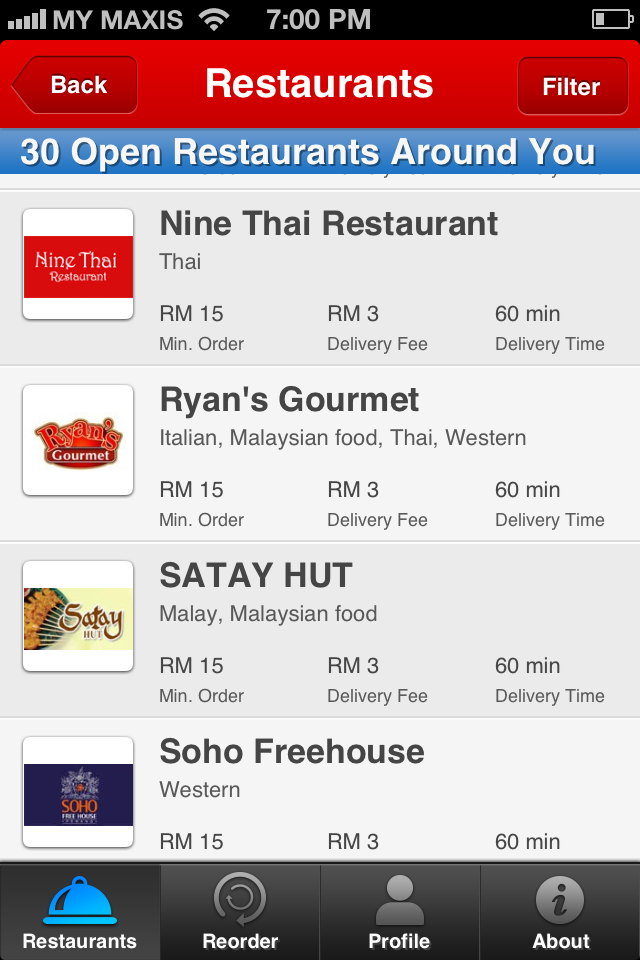 You'll then be shown a list of restaurants that Foodpanda can deliver from which are open. There is a minimum order of RM15 for each restaurant. Plus a delivery fee of RM3.
It also shows the estimated delivery time and also if the restaurant is Halal or not (look out for the Halal logo on the top right corner of each restaurant info column)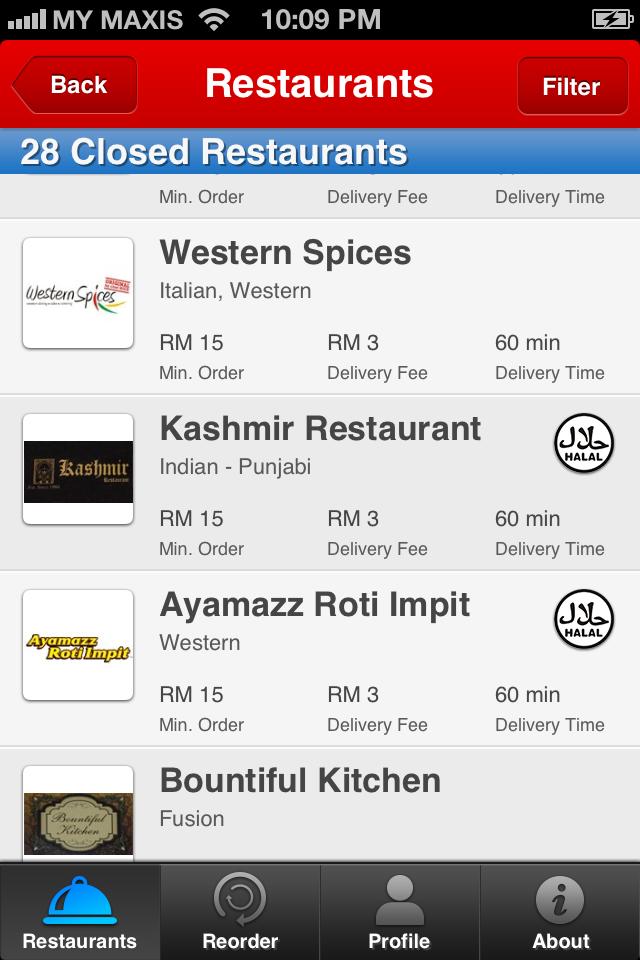 Once you see something you like and want to place an order, its best to create a user account and log in so that all your delivery addresses & details are entered into the system to ease the ordering process. (I already have an existing account – so I could just log in straight away)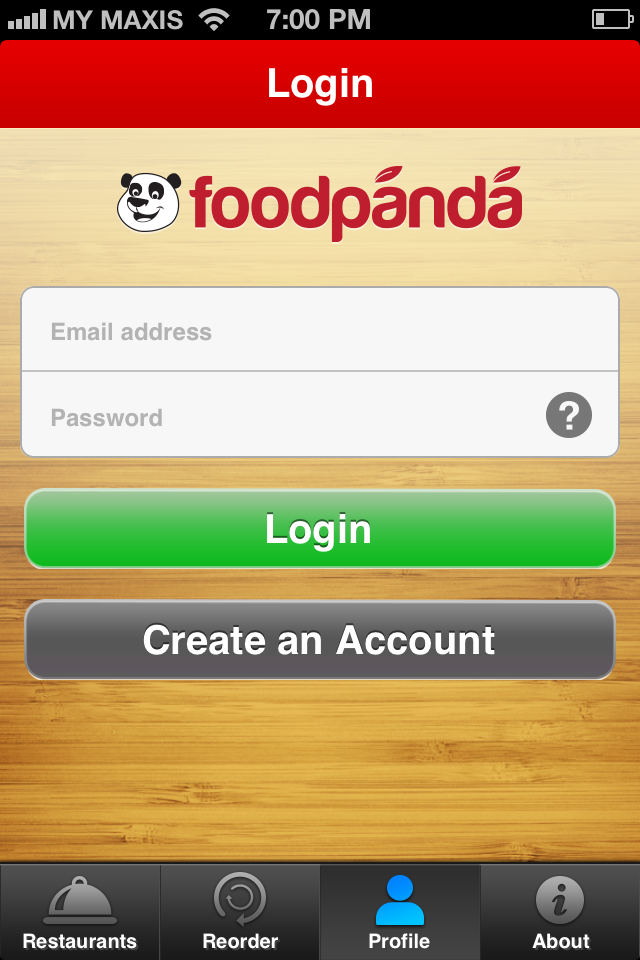 After logging in, you can go back to the list of restaurants and click on the restaurant  that tickles your fancy to browse the menu. In this case I chose Satay Hut.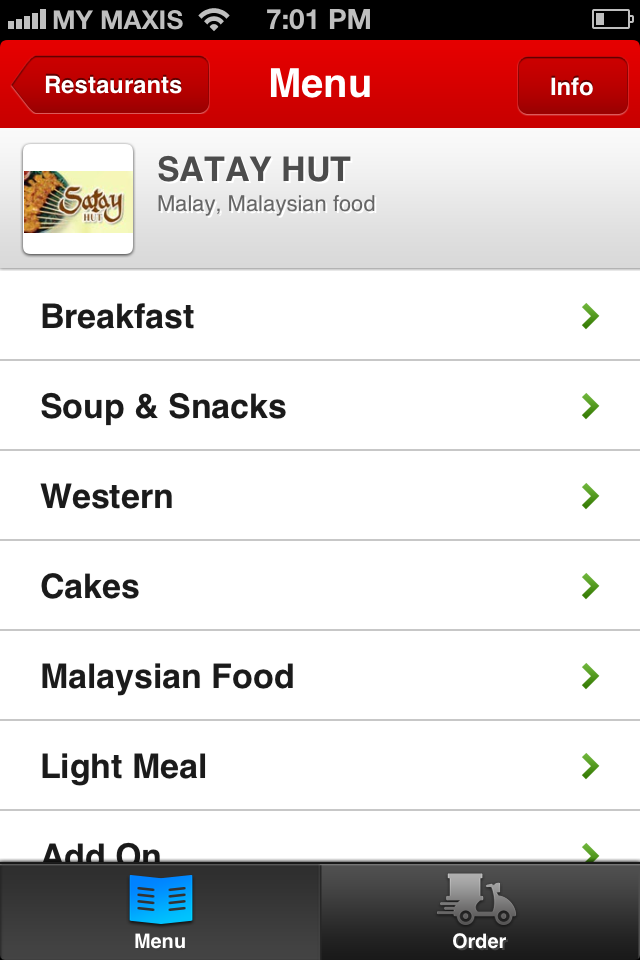 You can then place your order and proceed to checkout.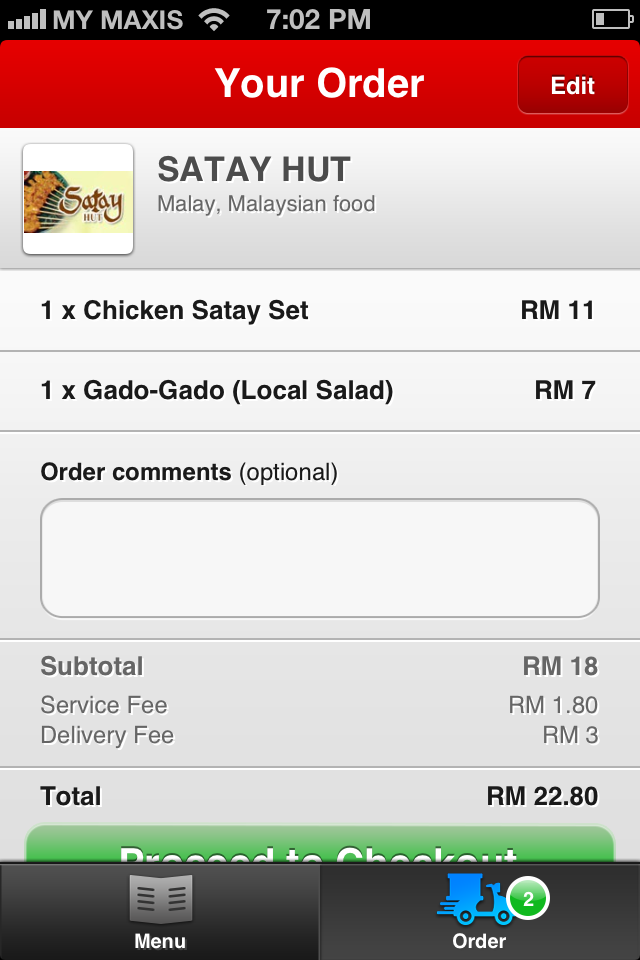 After that you'll be shown a screen to verify your delivery address and mobile number. At the Check Out Page there is a also a column for you to enter Voucher Codes (for special discounts) Now pay attention here! Cos there'll be a little voucher code for lingzie.com readers at the end of this post! 🙂
Also note the payment option – Cash on Delivery.
After verifying all the details just click on "ORDER NOW" and you're done!
You'll receive an SMS verification shortly from Foodpanda. And within the estimated delivery time, you'll received your food/drinks!
The standard delivery time is 60mins. But from the few times I've ordered, the food usually gets here in under 60mins (around 40-45mins or so). Once the delivery guy arrives, hand him the cash and you'll get your food/drinks 🙂 Bon Appetit! 🙂
Now remember the Voucher Code I just mentioned? Well for lingzie.com readers, you'll get a special RM10 off your order for all NEW Foodpanda customers! Just enter this code at the check out page – FP@Lingzie
This RM10 off voucher code is valid from now until 7 Nov 2014 (That's ONE YEAR VALIDITIY y'all!)
So go check out Foodpanda today for fast, efficient & user friendly delivery service today! 🙂 Please feel free to share this post and take advantage of this deal! (Oh and also remember to check out their "deals of the week" where certain restaurants will offer FREE DELIVERY) 🙂