Coconut Palms Delicious Seafood opened its doors about 2 months ago, taking over the large bungalow house that was previously Audees Cuisine (and before that I think it was some restaurant serving Australian cuisine?).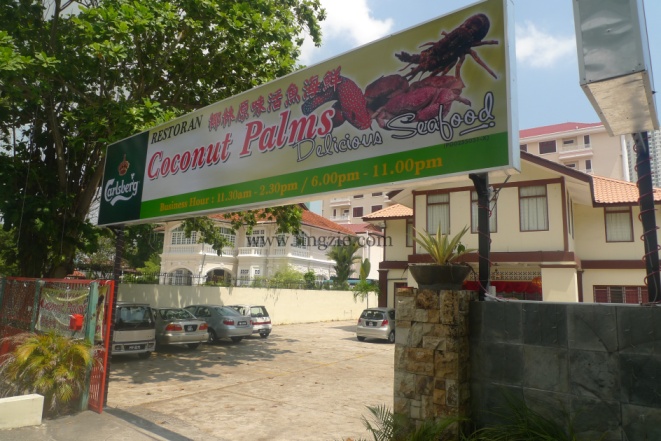 At first we had our reservations about Coconut Palms, but having drove past the place and seeing it's car park packed to the brim (more than once!), we decided to check the place out recently.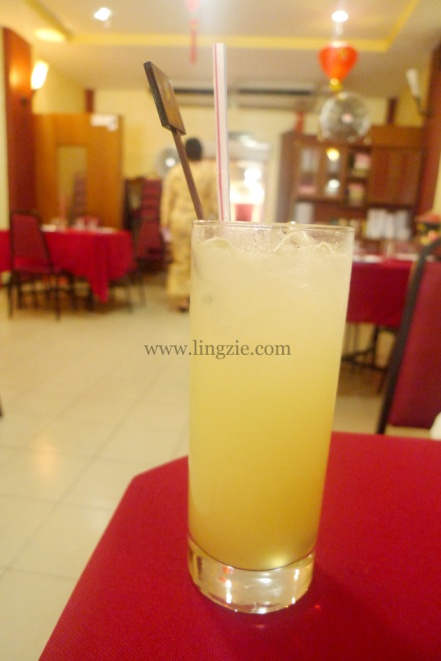 Fresh Lemon Juice (RM3) – sour  and refreshing enough for an instant pick me up! Would have liked it with more ice though…
The interior of the bungalow is pretty much the same as before, but little red lanterns now adorn the walls (for Chinese New Year perhaps?) and the back of the bungalow has also been converted to more seating area, though this place would be non air-conditioned. Also there's now a small area for fish tanks containing live seafood. And instead of fine dining western food Audees was previously serving, Coconut Palms is now dishing up Chinese dishes and seafood.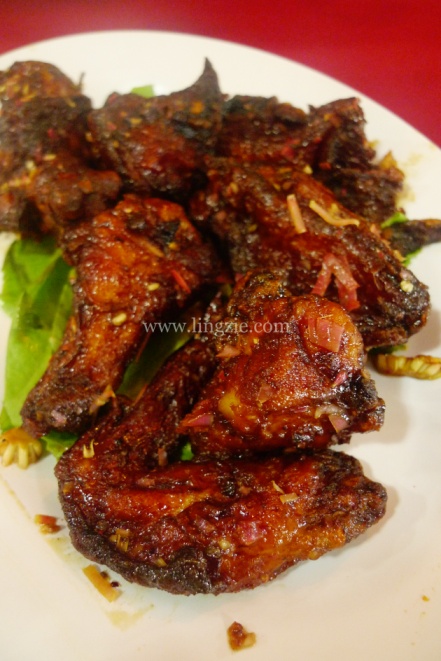 We were recommended the Bangkok Chicken (RM10) which is their house specialty. The chicken came fried and coated with a thick sauce tasting of lemongrass, tumeric and ginger torch flower. Fragrant, interesting and tasty! Not bad for a house specialty! I was thankful that the Bangkok Chicken wasn't just chicken stir fried in generic Thai chilli sauce. Not that there's anything wrong with Thai Chilli Sauce mind you, for that is one of my all time favourite dipping sauces. But I'm just glad that the chefs at Coconut Palms showed some ingenuity. Too many a time have I encountered chicken stir fried in Thai Chilli Sauce and passed off as 'thai style chicken'!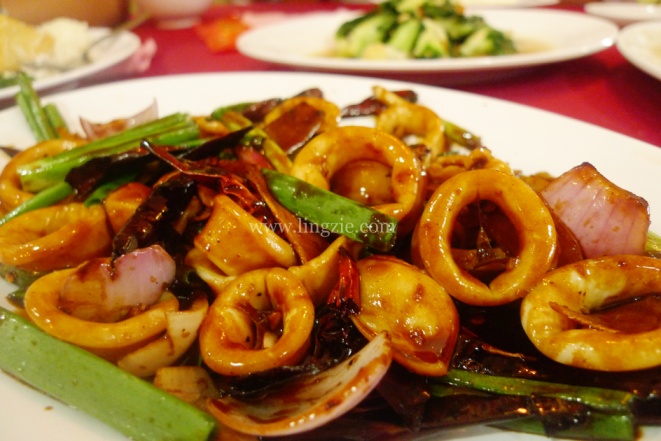 Next, we tried their Stir Fried Squid with dried chilli (RM8). This was simple but pretty good! Squids were cooked just right and the seasoning wasn't overpowering.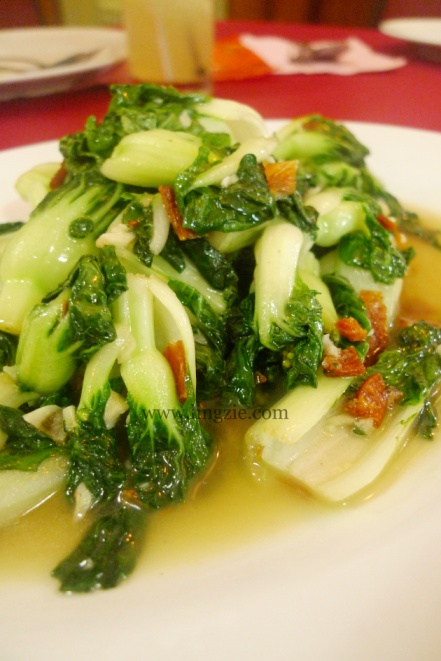 We had to have an obligatory vegetable dish and opted for it to be stir fried with 'pi hu' (dried fish) – RM8. The vegetables were fresh and crisp, not over cooked, so I was happy with it.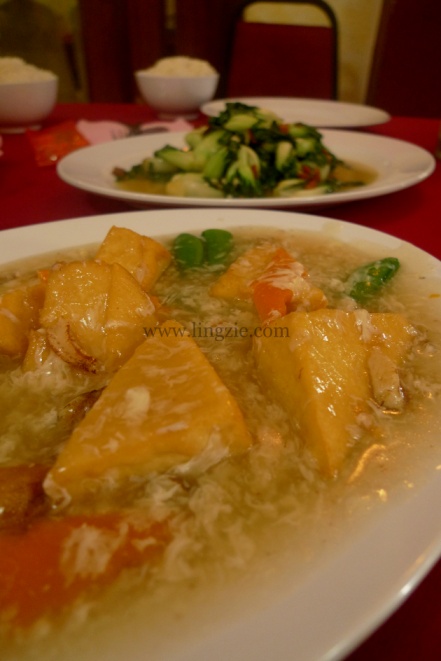 Next up was another simple dish – Beancurd with Crab Meat sauce (RM8). A rather standard dish for all chinese style 'chu char' (cook & fry) places. One thing you would notice about the food here is the price. Portions sizes are not very big, but the prices are very reasonable. Plus, dishes are served pretty quickly too.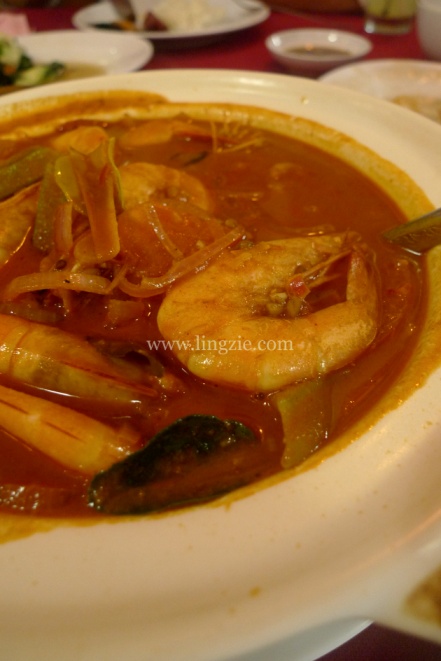 Finally, we had their Curry Prawns (RM20). The curry is worth a try here. It is thick and flavorful, no curry powder tasting curries here! Plus we were surprised to find quite a lot of prawns in this dish, about 10 prawns! And I love the ladies fingers (okra) in the curry, they were soft and had absorbed most of the curry too making them very tasty. Not a lot of ladies fingers in the curry though, so I would ask them for more next time 😛
Total bill for the 4 of us came up to RM83.70 (including 3 other fruit juices, nuts, rice and a takeaway fried noodle). I would say that the place is Ok – not much of an ambience, but the food is pretty good and at reasonable prices to boot. So it would be good for a quick satisfying meal that won't break the bank. The dishes are a lil heavy on the taste though (based on the few dishes we tried), so might not suit those who prefer a lighter taste.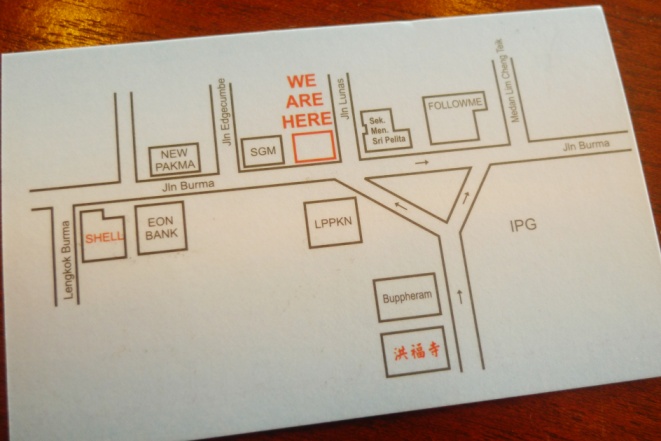 Coconut Palms Delicious Seafood is located at 188 Jalan Burma, 10350 Georgetown, Penang. Tel: 04-227 6686, 012-455 8236 (Mr Thor – Exective Chef) Opening Hours: 11.30am-2.30pm, 6pm-11pm
For location map of Coconut Palms Delicious Seafood, refer to the photo above. Coconut Palms is located next to the Sokka Gakai Association along Burma Road, near to Sekolah Menengah Sri Pelita and IPG College.