Downtown Art Heritage is a cafe situated at  the corner of Jalan Masjid Kapitan Keling and Armenian Street in the heart of the Georgetown UNESCO Heritage Site. What sets it apart is its unique menu that includes local Asian food with a twist.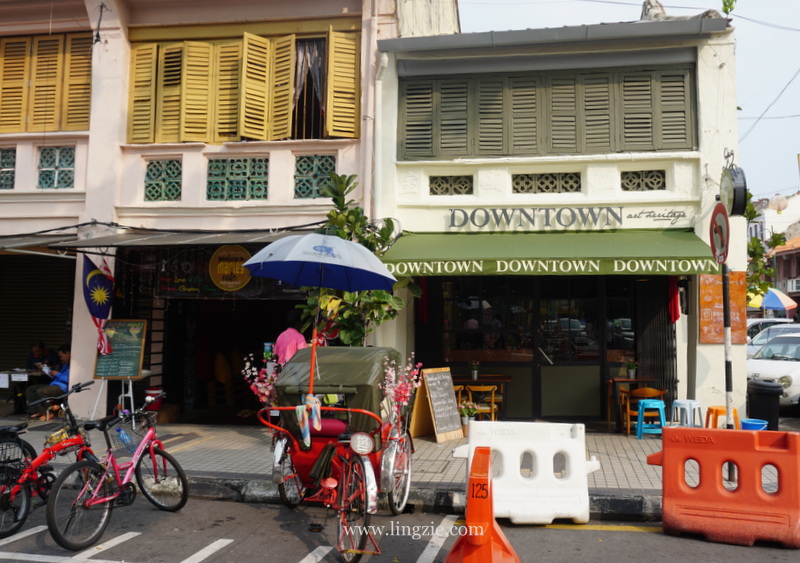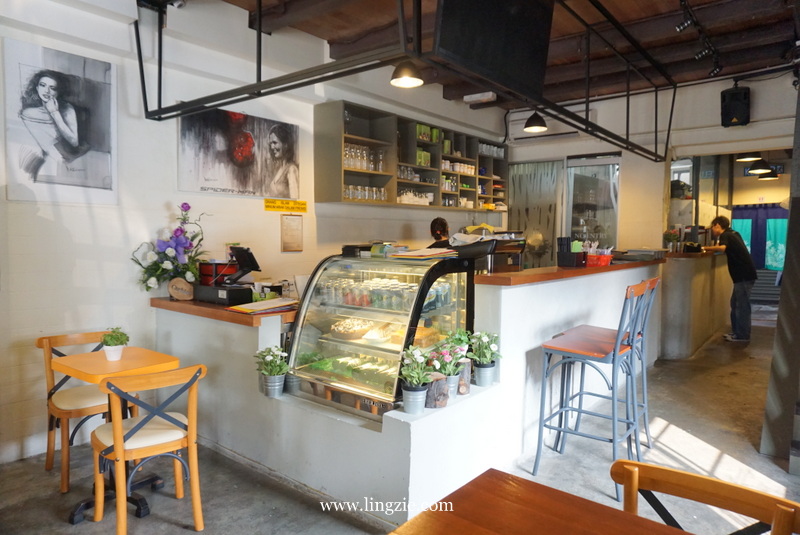 We kicked off our meal with a few drinks from their menu.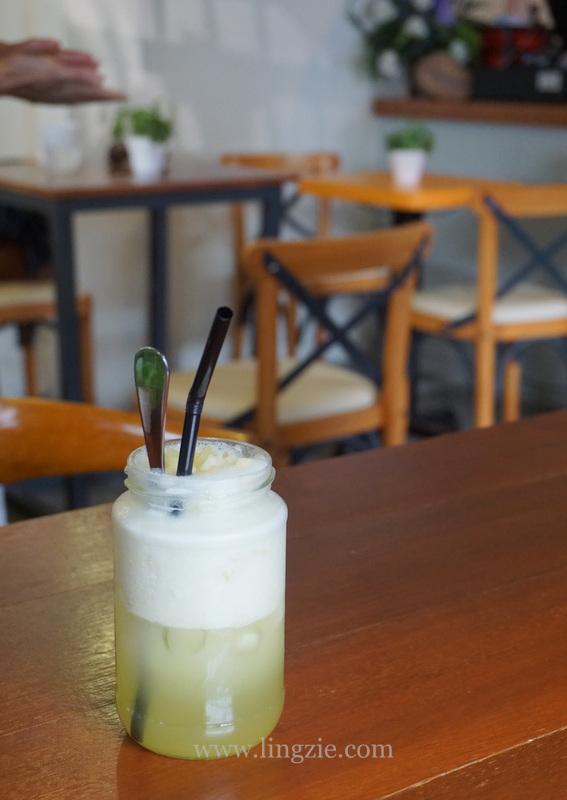 Honeydew Float RM10
I personally loved this drink as it was sweet and refreshing, with some finely chopped honeydew bits to give it some texture. The addition of a scoop of ice cream also made the drink creamier.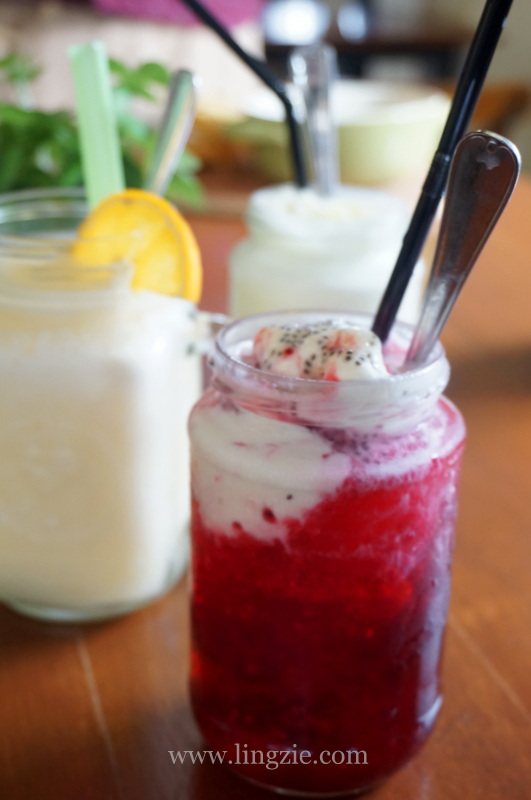 Rose Syrup with Vanilla Ice Cream with Basil Seeds RM7
The Rose Syrup with Basil seeds drink is Downtown Heritage's version of the local favourite 'Ais Tingkap'. I appreciated that they came up with their own version to introduce it to a larger crowd and tourists.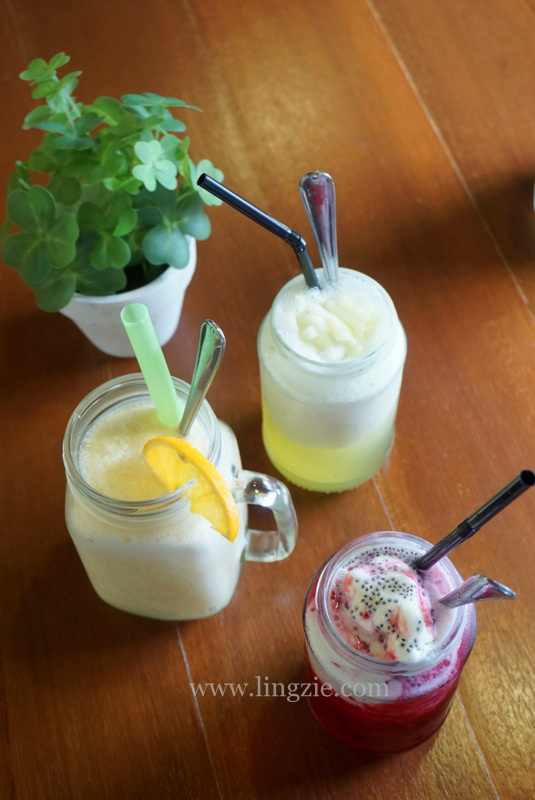 Drinks Trio – including the very refreshing Orange Lassi RM16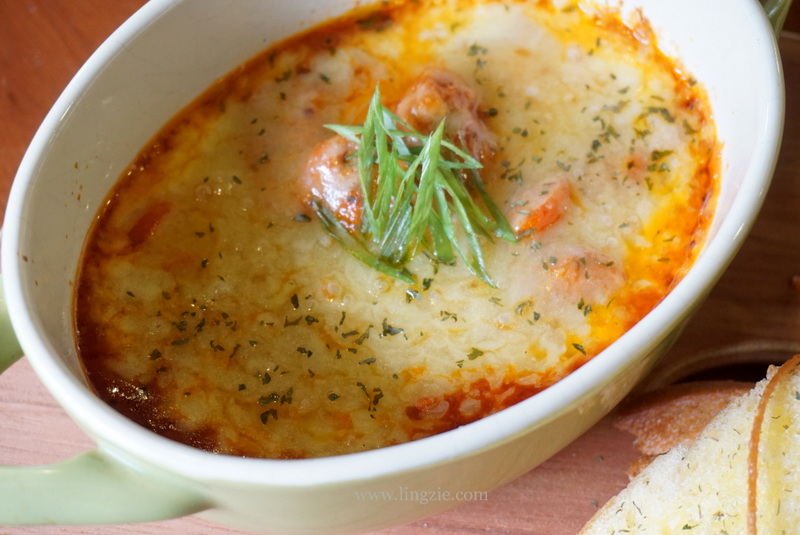 Italian Sausage with Tomatoes Baked RM18
To kick start our meal, we had the Italian Sausage with Tomatoes Baked. This came served with a side of well toasted garlic bread. The dish reminded me of a thick pasta sauce. The cheesy tomato base was not overpowering and had sweet undertones. They were also generous with usage of herbs which I liked. The savoury Italian sausages were delectable with the pasta sauce and made for a comforting dish.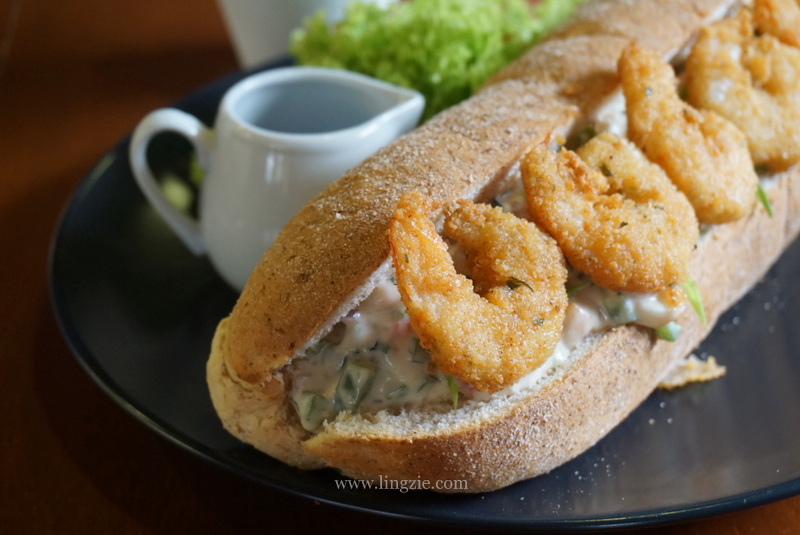 Four Cheese Shrimp Sandwich RM16
Next came an impressive looking dish. The Shrimp sandwich not only has fried shrimps on the outside, but also has finely diced shrimp meat in the filling! The sandwich filling was a winner for me as it had finely diced bell peppers and cucumbers in addition to the sweet shrimp meat. The herb-based bread was also well made, I would have preferred it slightly toasted though. But overall, a hearty dish which is unique as I've not seen many Shrimp Sandwiches being offered elsewhere. The sandwich is served with a side salad and a tangy vinaigrette.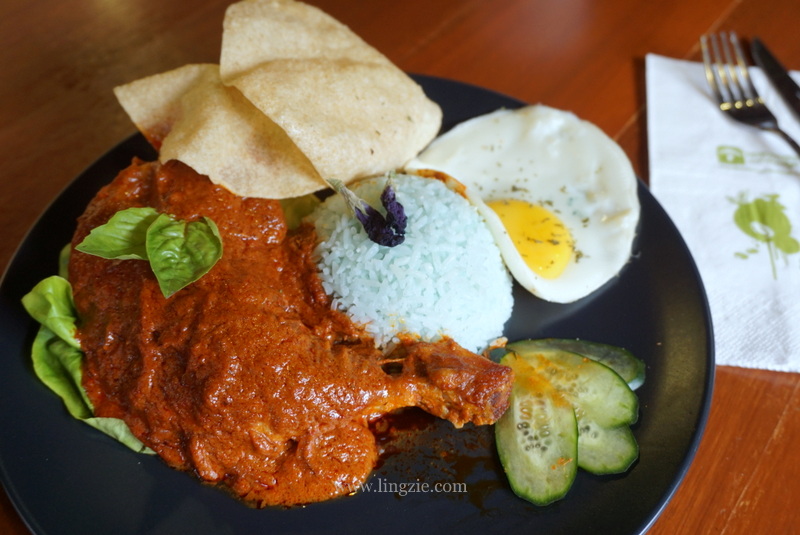 Signature Nasi Ketuk RM25
We then had Downtown Heritage Art's signature dish – Nasi Ketuk. The blue rice is tinted blue from blue pea flower and has a delicate fragrance from the blooms. Served with chicken rendang, fried egg and crispy papadam crackers on the side. We found the chicken to be a generous portion indeed. The rendang was thick and fragrant. It had the right level of spiciness which would make it a perfect dish for those who can't take too spicy foods.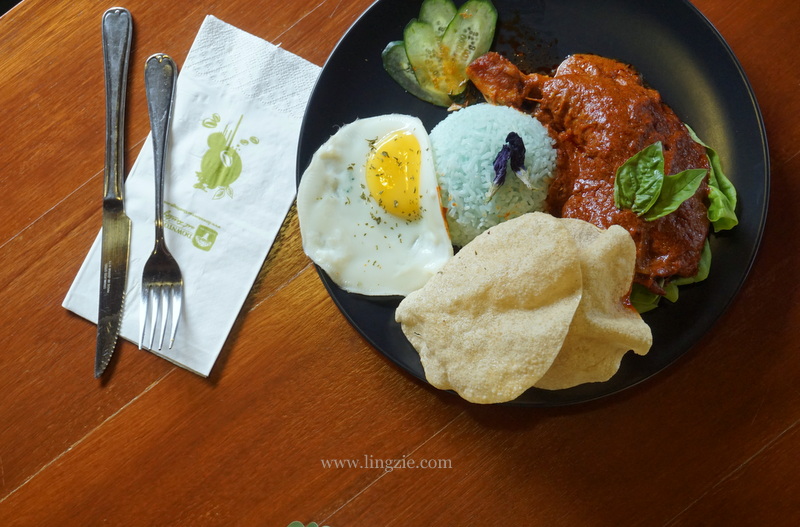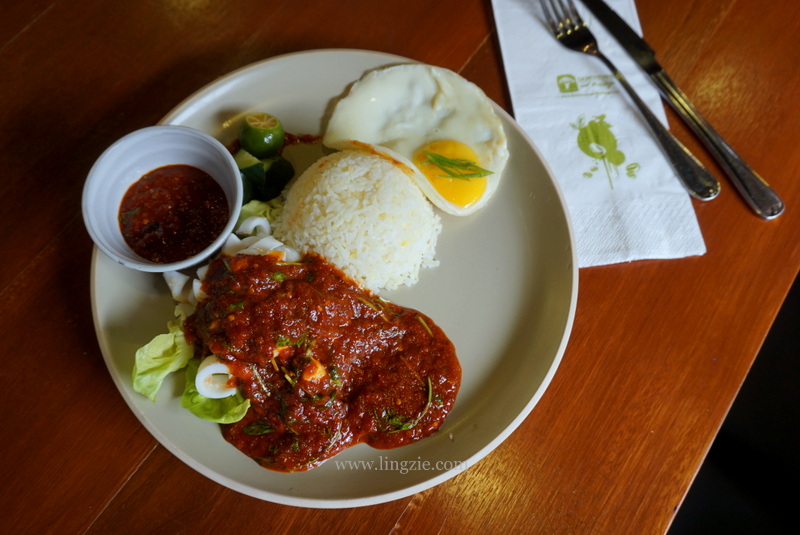 Nasi Lemak Sotong RM14
We then dived into the Nasi Lemak Sotong – we were surprised to find that the 'nasi lemak' is not the usual rice cooked in coconut milk. Instead, Downtown Art Heritage uses ginger and lemongrass to cook the rice to give it a nice zing. The omission of coconut milk also lightens the whole dish and makes the rice the perfect accompaniment for the fiery hot squid.  The squid is blanched lightly and still maintains its spring-y texture. Coated in the spicy 'sambal' sauce that is robust and flavourful, this dish had me reaching for me despite its spiciness.  A must try if spicy food is right up your alley.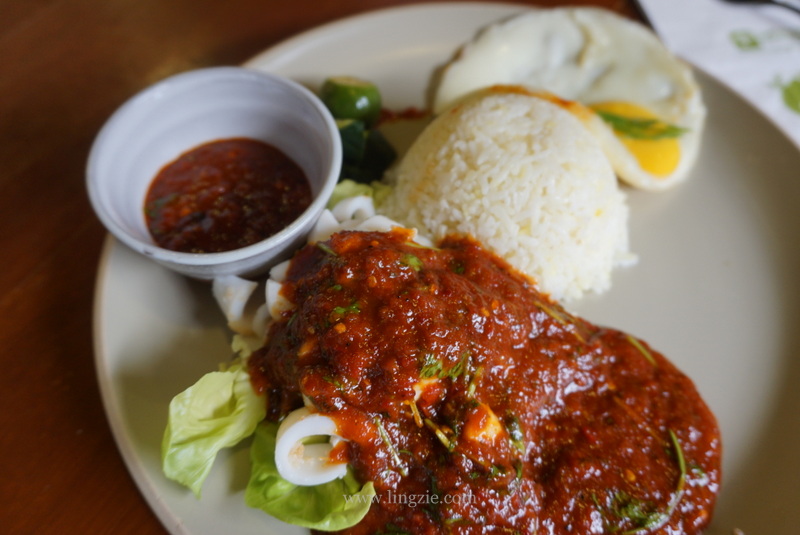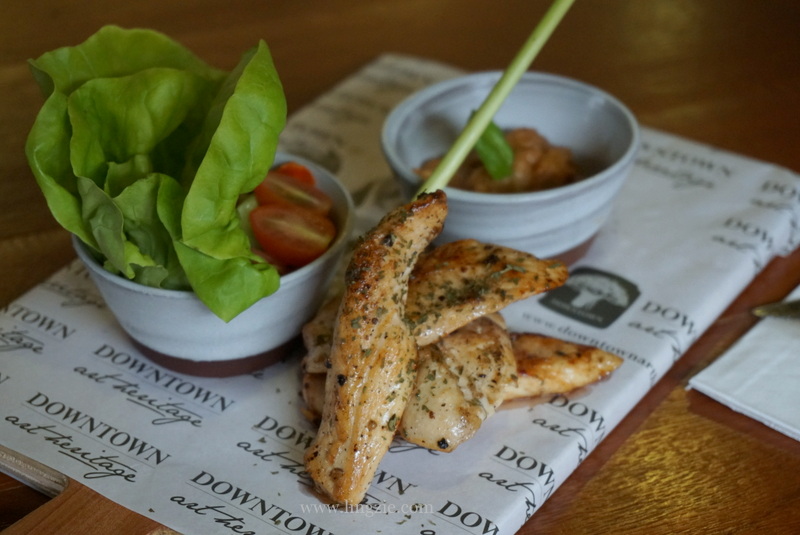 Finally, we had a lighter and healthier main meal – Lemongrass Chicken RM12
Inspired by 'satay', this dish came with grilled chicken strips to be eaten with a homemade peanut sauce and butter lettuce. While I found the lemongrass flavour on the chicken to be very subtle, I really enjoyed the homemade peanut sauce. It was savoury with a slight sweetness, and a hint of spiciness. This would be a great dish for those watching their waistline.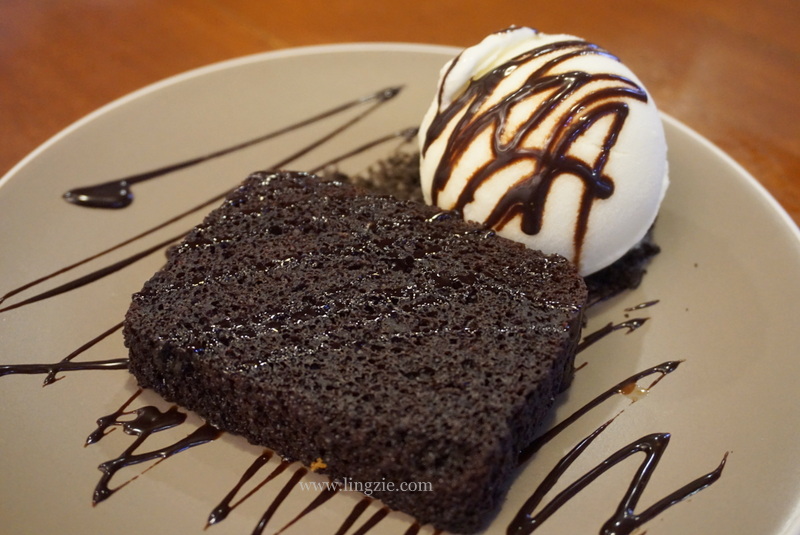 Homemade Chocolate Brownie with Ice cream RM13
For dessert, we dug into the moist and chocolate-y brownie. Served slightly warmed, it was lovely with the cold ice cream.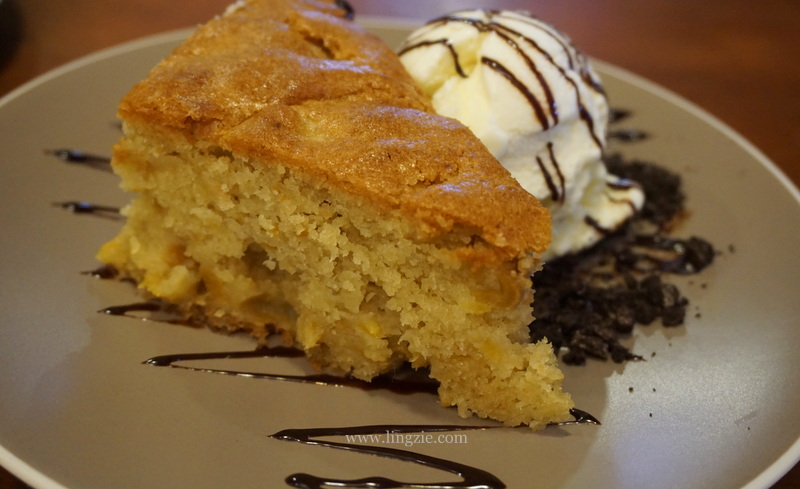 Cempedak Cake with Ice Cream RM13
Another unique dish at this cafe would be the Cempedak (Jackfruit) Cake. I'm a big fan of cempedak so this was definitely a must try. I'm glad that I was not disappointed. The cake had a strong cempedak flavour and was moist and buttery at the same time.
Overall I would say that the dishes at Downtown Art Heritage was impressive. I would definitely be returning soon for more. 🙂
In addition to being a cafe, there is also a space upstairs that doubles as a function room and an art gallery. Small parties can be hosted in the space upstairs.
Many thanks to Downtown Art Heritage for hosting us!
The Essentials:-
Downtown Art Heritage
149 Jalan Masjid Kapitan Keling
Georgetown Penang
TEL: 012-5661172
Opening Hours: 10am-6pm