Doutor Coffee is a brand new addition to Gurney Plaza's F&B scene and it's located at the bustling Al Fresco area. Doutor Coffee is the first Japanese coffee chain in Malaysia, this outlet being the chain's 4th outlet in Malaysia. Founded in 1962 as a roaster, the brand started their first coffee shop in 1980. Their concept is a 'high quality coffee shop from Japan' and they currently have over 1200 outlets worldwide which practices their '3 FRESH' philosophy – freshly roasted, freshly ground and freshly brewed.
They pride themselves in providing freshly brewed coffee and freshly prepared food. We recently checked out what Doutor Coffee has to offer. For a brand new outlet (when we visited, it was less than a week old), the place got packed with customers really quickly!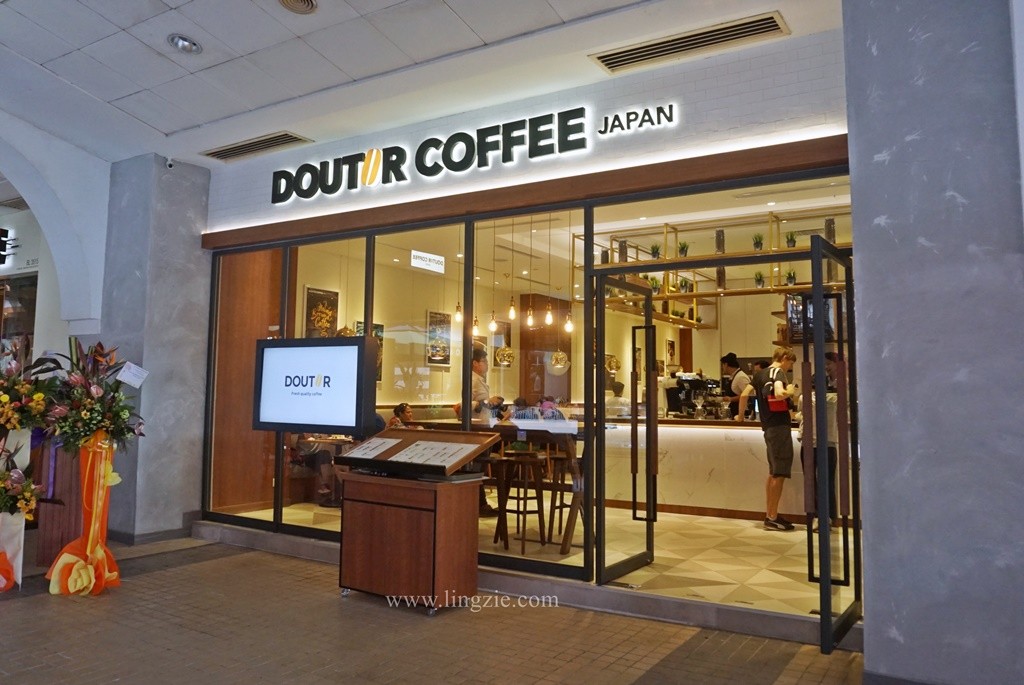 Doutor Coffee at Gurney Plaza Al Fresco area, Ground Floor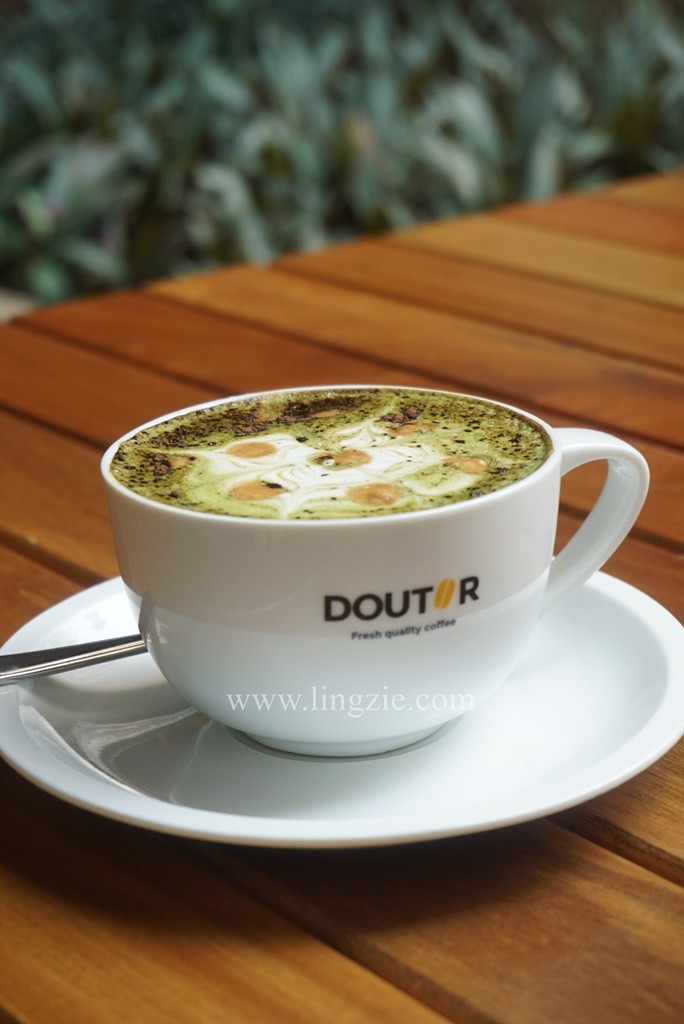 Military Latte RM15.90
The Military Latte is one of Doutor Coffee's Signature drinks. With its unique name, it is actually a blend of matcha, espresso, cocoa and of course milk. A very interesting drink indeed with all flavours blending pretty well and not overpowering one or the other.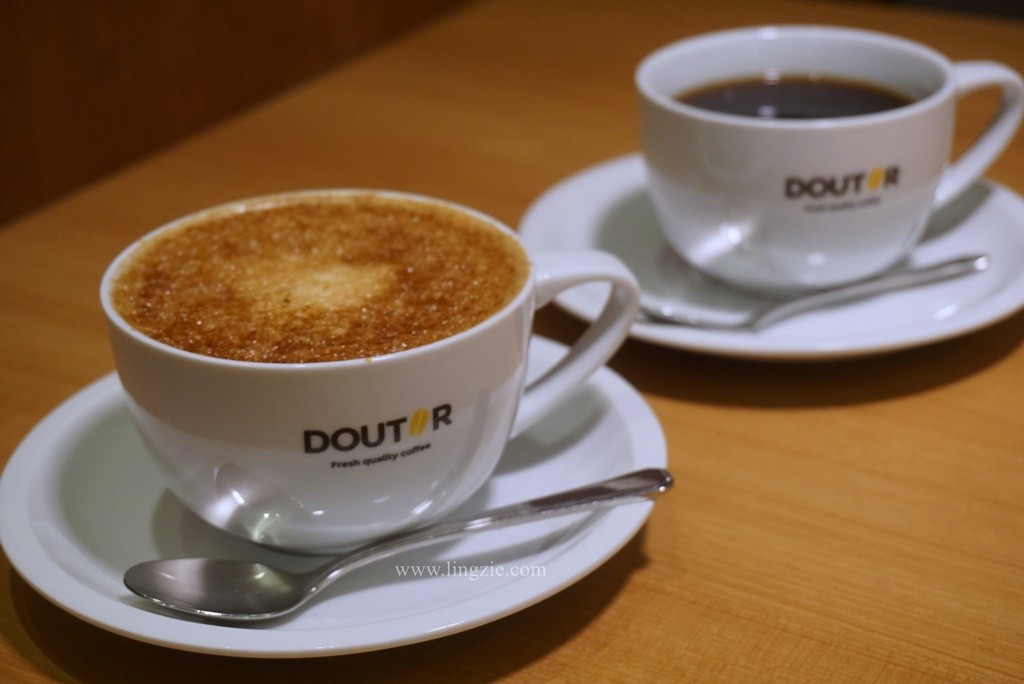 Creme Brulee Latte RM15.90 + Hand Brewed Coffee (Blend) RM8.90
Another signature drink is the Creme Brulee Latte with has a burnt sugar coating on top of the latte. While the latte itself was enjoyable, I didn't particularly fancy the burnt sugar layer. Perhaps because it tasted a bit grainy. I personally preferred he Military Latte more. 🙂
We also got to their the freshly hand brewed coffee – a blend of 3 types of coffee beans. I actually liked this the best amongst all 3 drinks! The hand brewed coffee was smooth and light with a slight fruity taste. I enjoyed this coffee paired with Doutor's lovely desserts! Like this stunner of a french toast below…. (but more on that later)!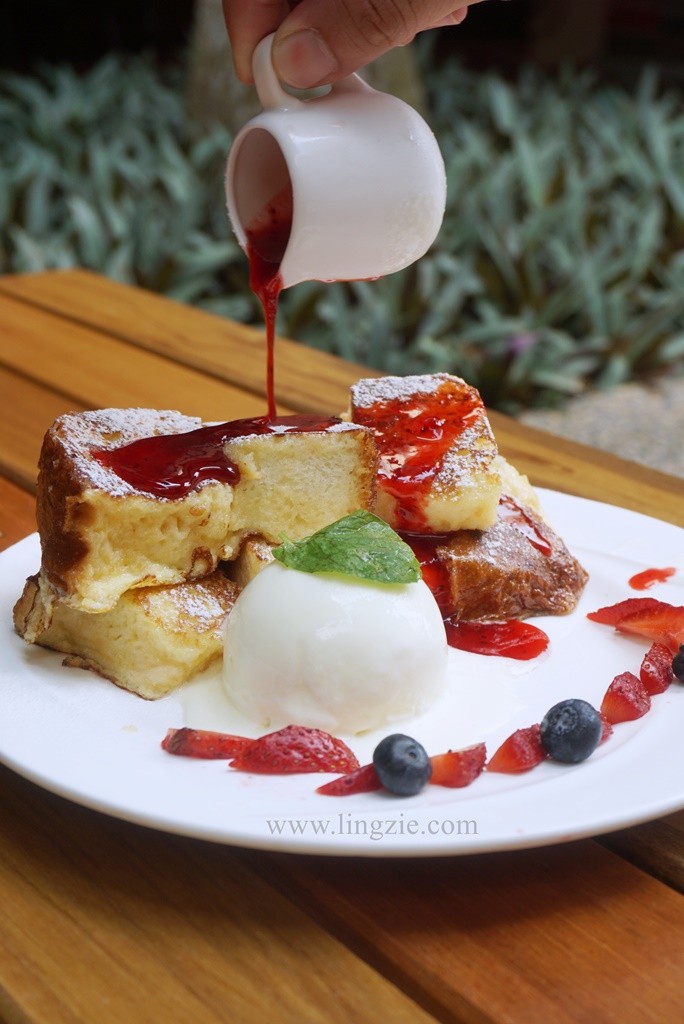 Before we detour to dessert… let's have a look at Doutor's hot food & savoury menu. Doutor Coffee offers a range of salads, sandwiches, pastas and rice.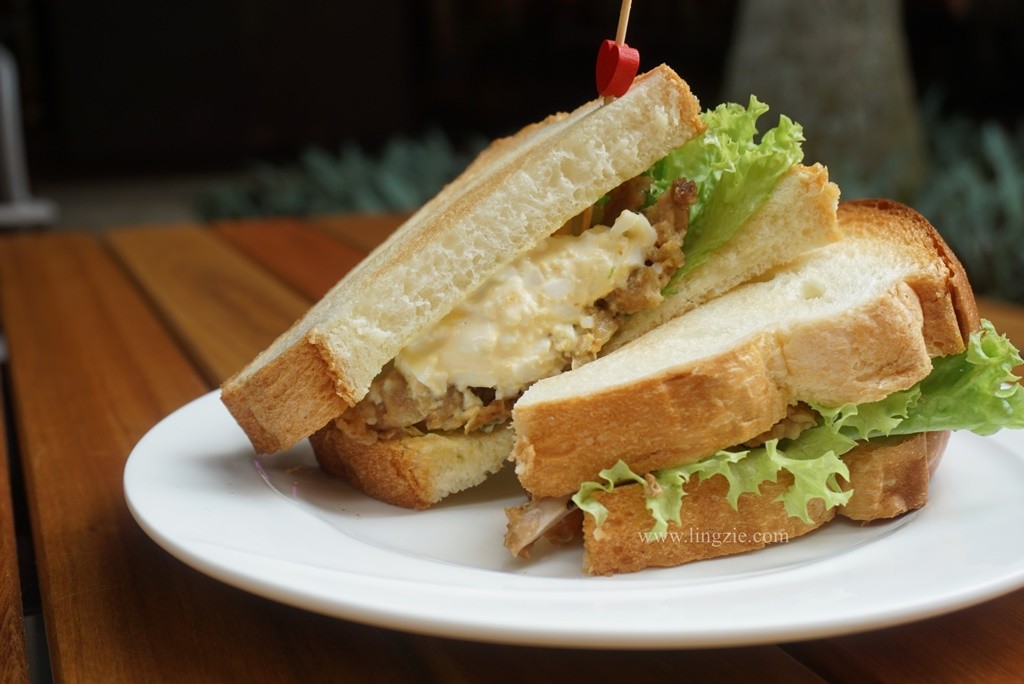 Teriyaki Chicken Sandwich RM12.90
The teriyaki chicken sandwich comes with a lovely rich egg mayo, slices of teriyaki chicken, vegetables and a wasabi mayo sandwiched by an incredibly light and fluffy toasted brioche loaf. The teriyaki chicken meat itself was not overly sweet and I found the teriyaki flavour to be mild. Similarly I couldn't quite discern the wasabi taste in the mayo. But this makes the sandwich super kid friendly and suitable for anyone who can't take spicy food. I loved that the sandwich was generous with it's fillings. And that brioche loaf was delicious.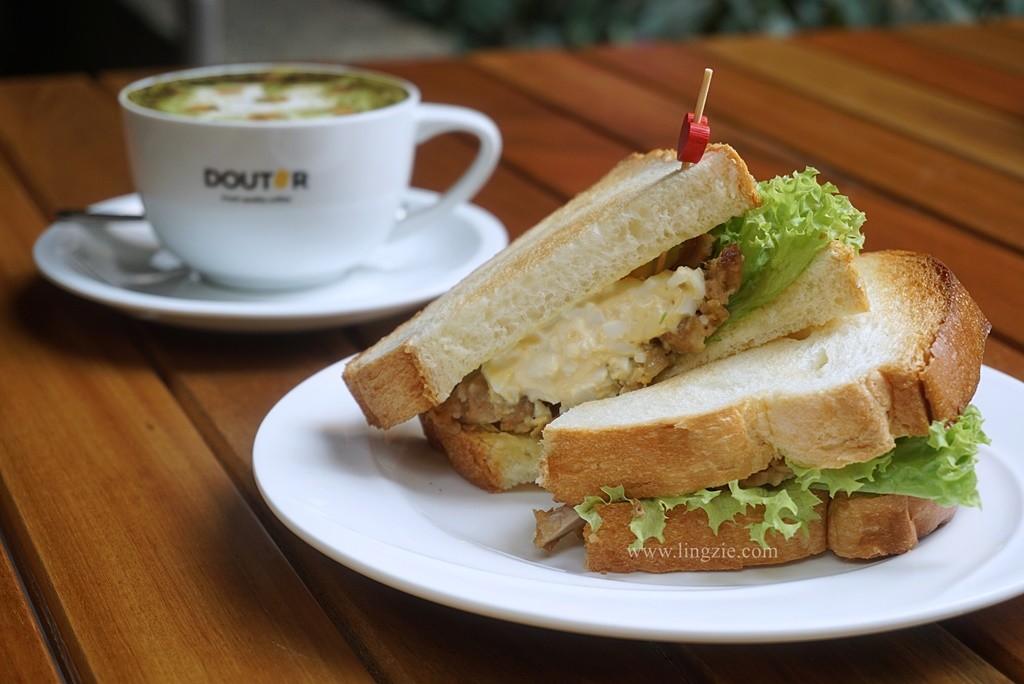 Check out the cute heart shaped food pick to hold the sandwich together! <3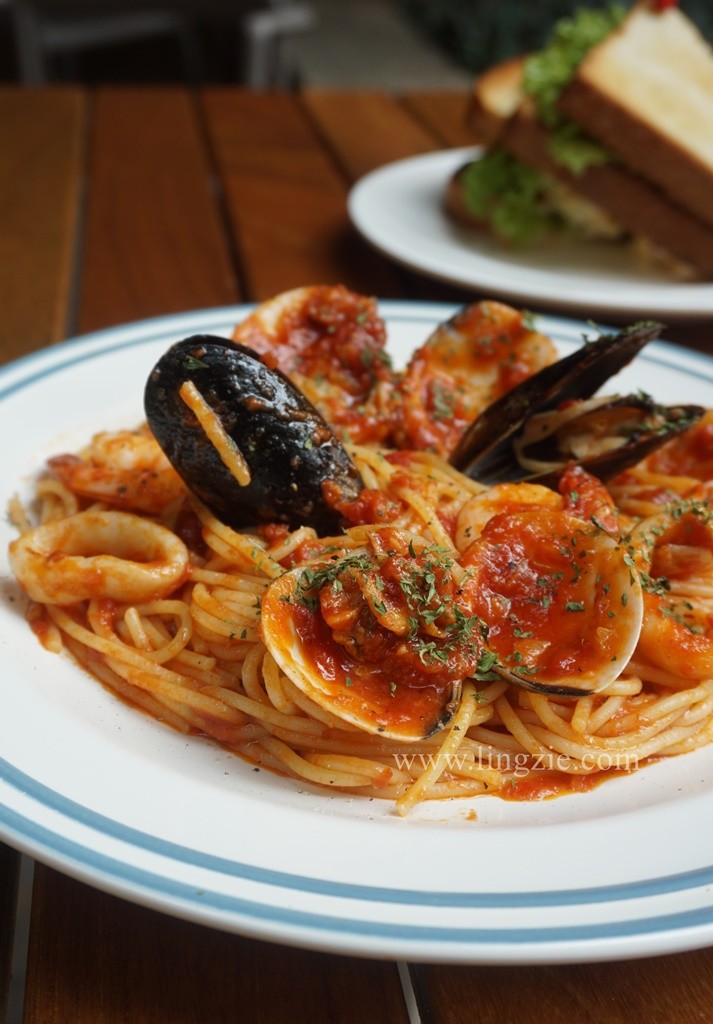 Seafood Tomato Sauce Spaghetti RM16.90
For the pastas, we got to try the Seafood Tomato Sauce Spaghetti – assorted seafood in a pomodoro sauce. The spaghetti texture was a lovely al-dente. Meanwhile the pomodoro sauce was well balanced, not too sweet nor overly sour. Personally, since I'm rather impartial towards tomato based pastas, I found this dish fare. Because my heart (and my stomach) got blown away by the next pasta dish…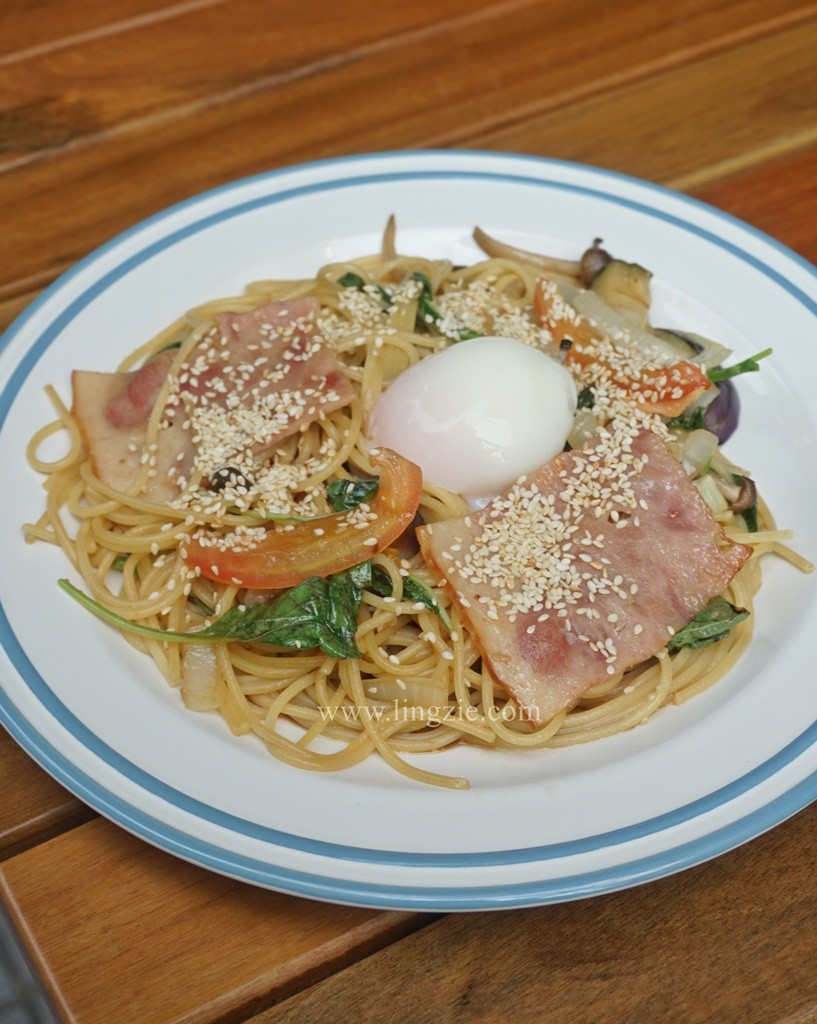 Signature Spaghetti RM14.90
Doutor Coffee's Signature Spaghetti indeed deserves to be named as their 'signature'. While it may look rather ordinary (with abundant ingredients – chicken ham, shimeji mushrooms, sausage, onsen egg, spinach and tomatoes), the taste was oishii~~~!!! I would chalk the deliciousness up to its signature Japanese mix sauce. The whole dish came together beautifully and brought me back to my first experience eating Japanese style pasta years ago. This is a dish I would definitely order again!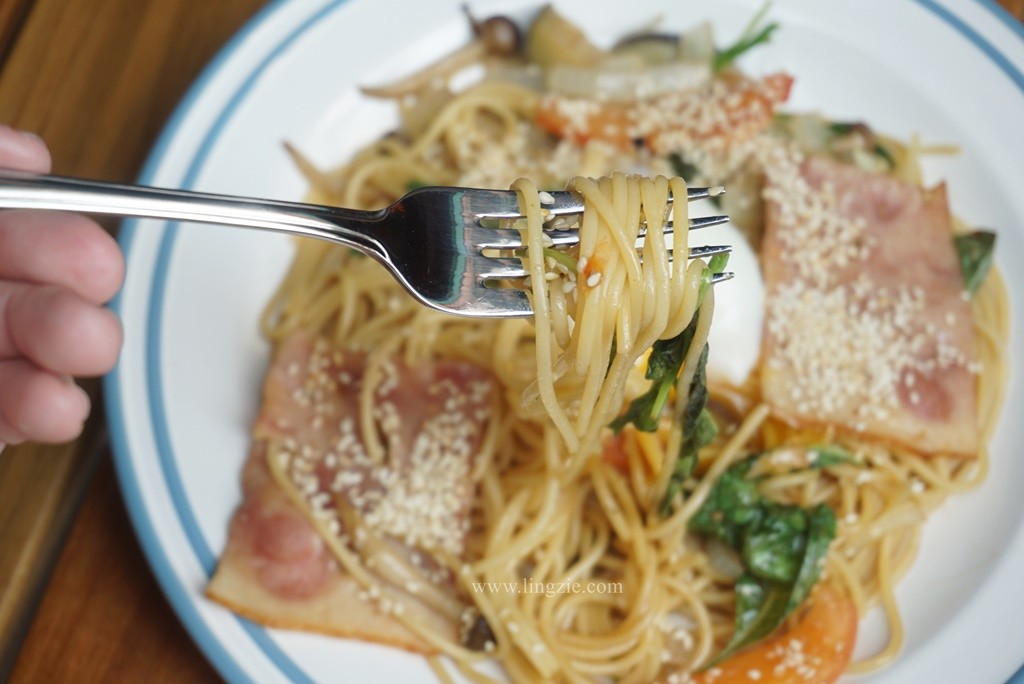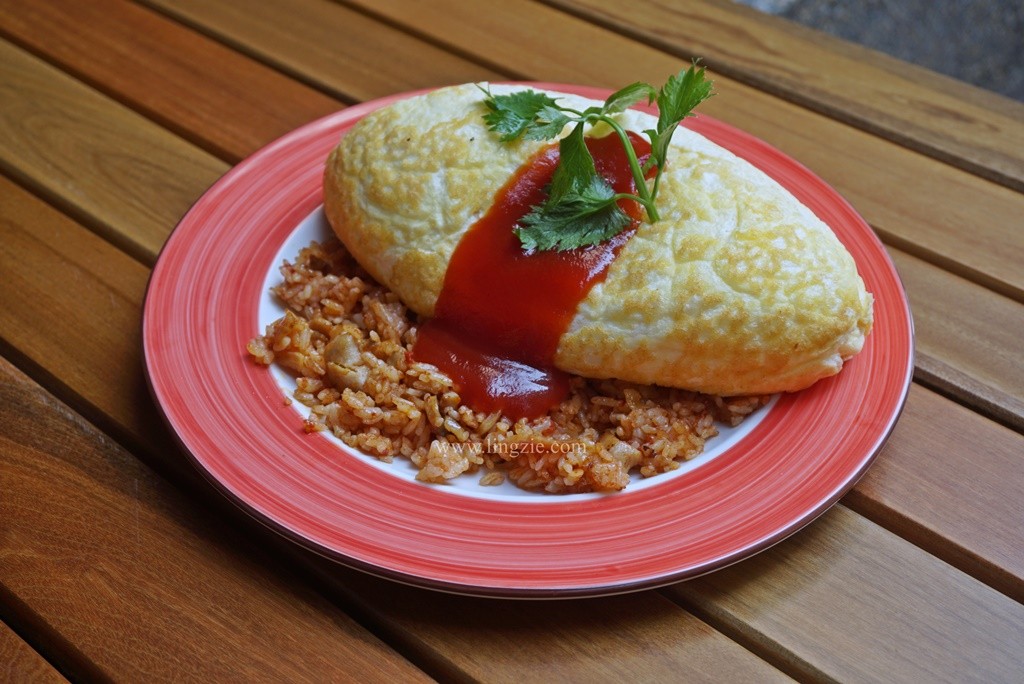 Fluffy Omu Tomato Rice RM17.90
If you take a close look at their menu, Doutor Coffee has a section called 'Fluffy' 
Now this brings up images of soft pillow-y clouds and fluffy cute bunnies…. and that is kind of what it feels like to bite into the Fluffy Omu Tomato Rice (not that there are any bunnies in the rice!hehe) But the fluffy soft egg is enough to send one up to cloud 9! Perfect combination with the tomato rice.
I absolutely loved this dish! It had a comforting feel to it, and somehow the fluffy egg brought me back to my childhood when my family and I ate Hainanese Macaroni Pies during special occasions. (For those who are not familiar with Hainanese style Macaroni Pie, they are served with a similar fluffy egg white topping)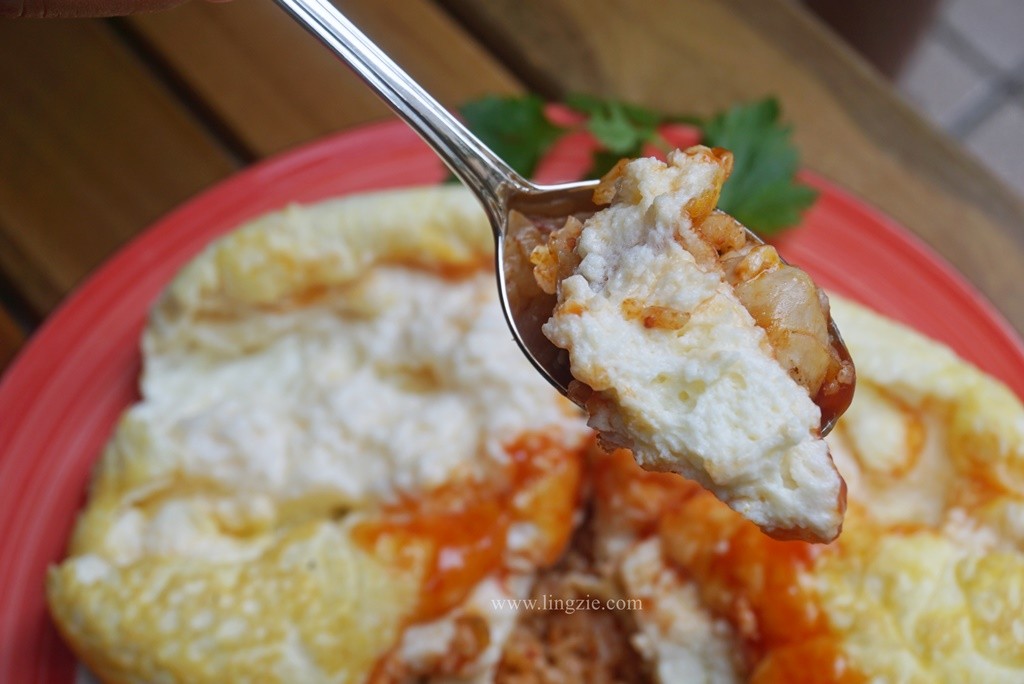 So Fluffy~~~ <3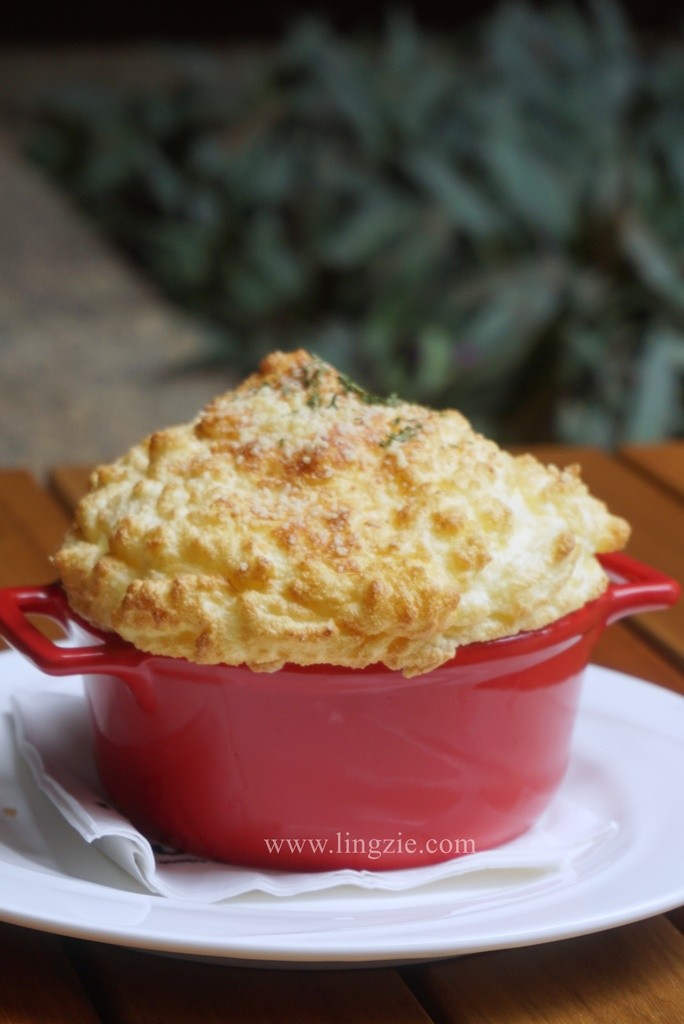 Fluffy Souffle Doria RM19.90
Another item on their Fluffy menu is the Fluffy Souffle Doria. I would say this is kind of like an upgraded version of the earlier omu rice. Sauteed tomato rice, topped with fluffy souffle eggs, parmesan cheese and parsley. Again the souffle eggs are perfectly fluffy soft and light. But this time, there is a crispy savoury cheese crust on top. Thus making this dish richer in taste.
Do note that this dish requires about 20mins prep time as there is a delicate process to whip up these fluffy eggs!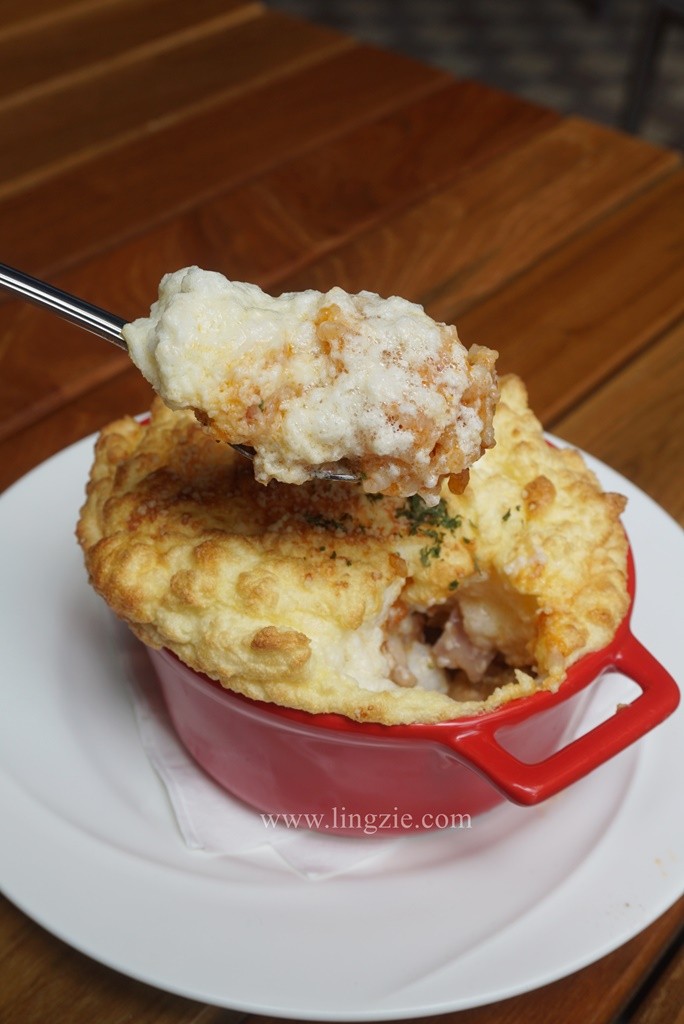 Fluffy goodness!
And now its finally time for dessert…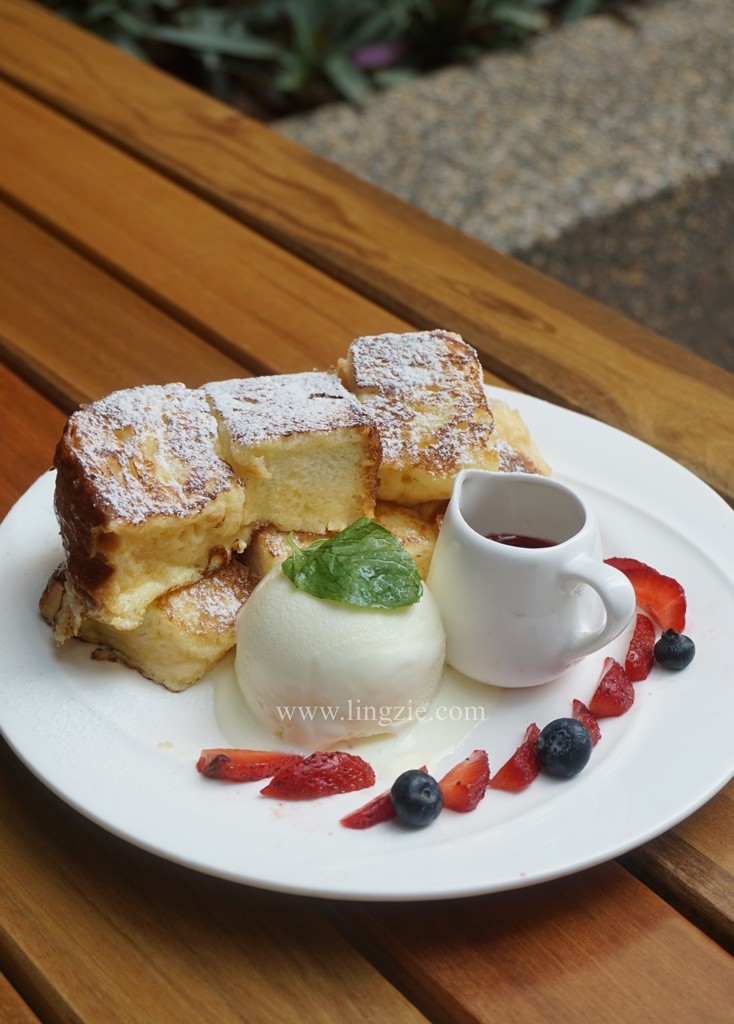 Strawberry French Toast RM15.90
The Strawberry French Toast is plated beautifully!
As most Western style Japanese desserts are light and airy, Doutor's version of the french toast boasts these fluffy and light qualities. The brioche loaf is egg-y and soft. But the magic in this dish is their homemade strawberry sauce that is neither too tart nor too sweet. And definitely not artificial tasting!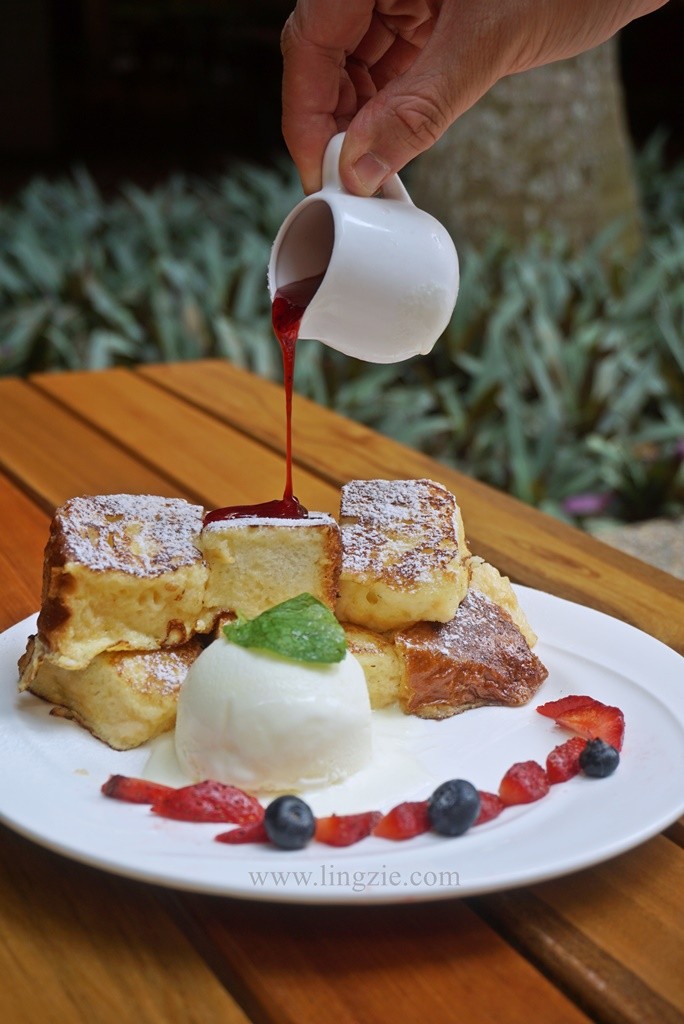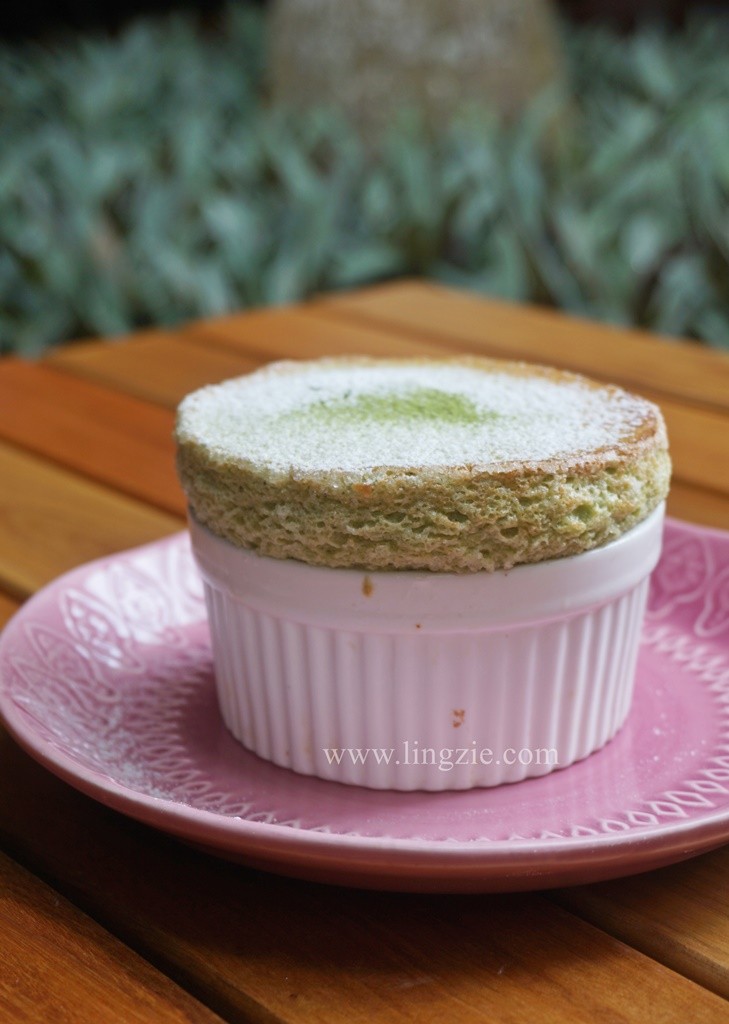 Matcha Souffle RM8.90
Next, we tried the Matcha Souffle… which is priced at RM8.90 (an unbelievably affordable price!!) When we dug into the souffle, we found that it was rather wet and so we asked if it was undercooked. However, we were advised that that is the intended texture. Much to our surprise, the Matcha Souffle was awesome! It had a delectable sweet crust on the outside which contrasted beautifully with the airy and melt in your mouth filling inside. The matcha flavour was apparent but not bitter. Overall a definite must try!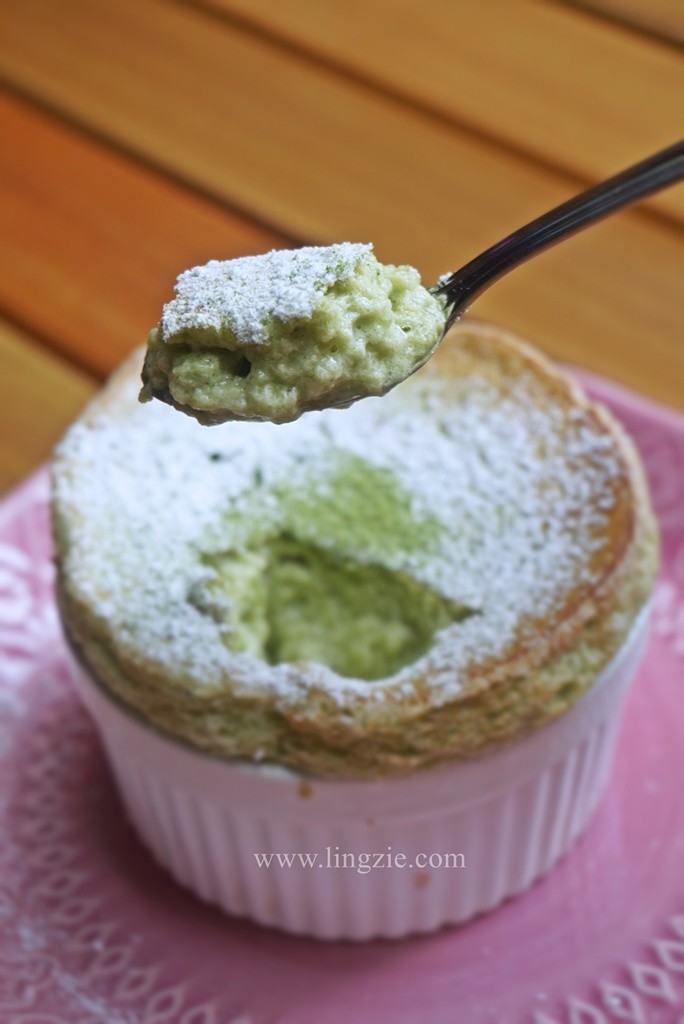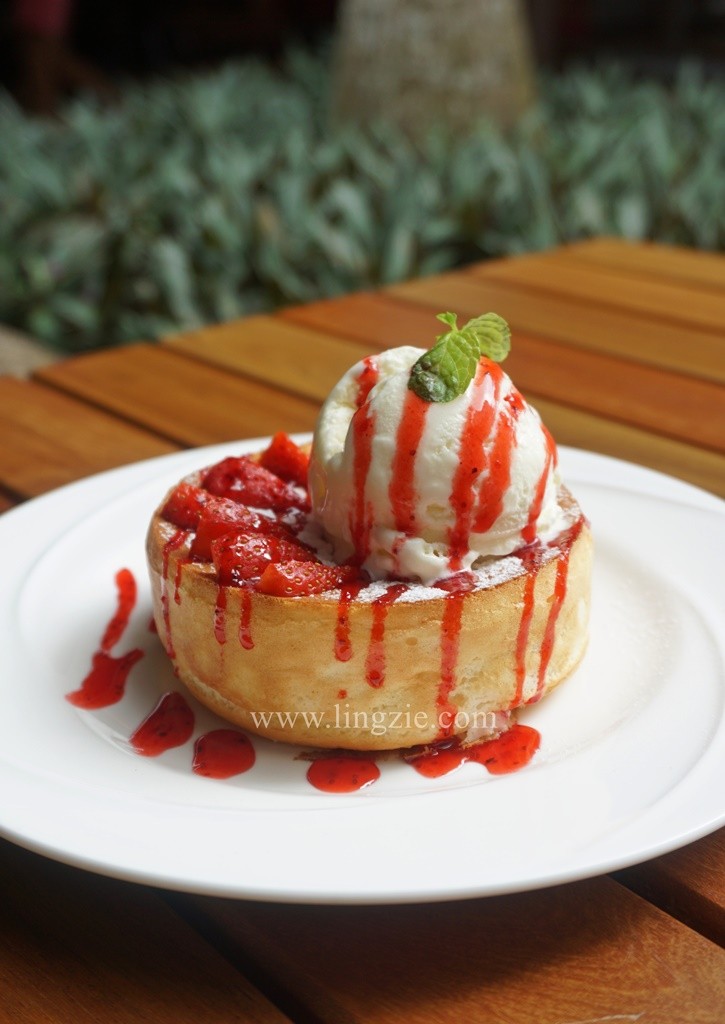 Vanilla Souffle Pancake RM13.90
Finally, we tucked into Doutor Coffee's Vanilla Souffle Pancake. Again, the pancake texture was impressively light and fluffy (I know, this post has kinda over-used the word fluffy, but seriously that's the only word I can use to describe the food here! lol) Their luscious homemade strawberry sauce makes it's appearance here again and I had no complaints.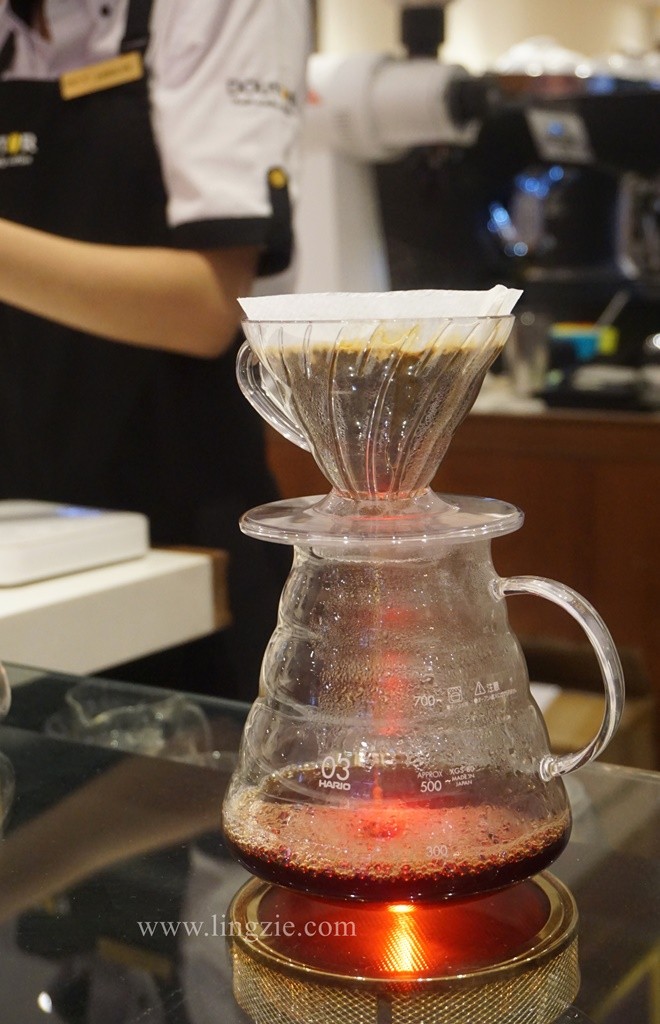 Hand Brewed Coffee – freshly brewed with Hario V60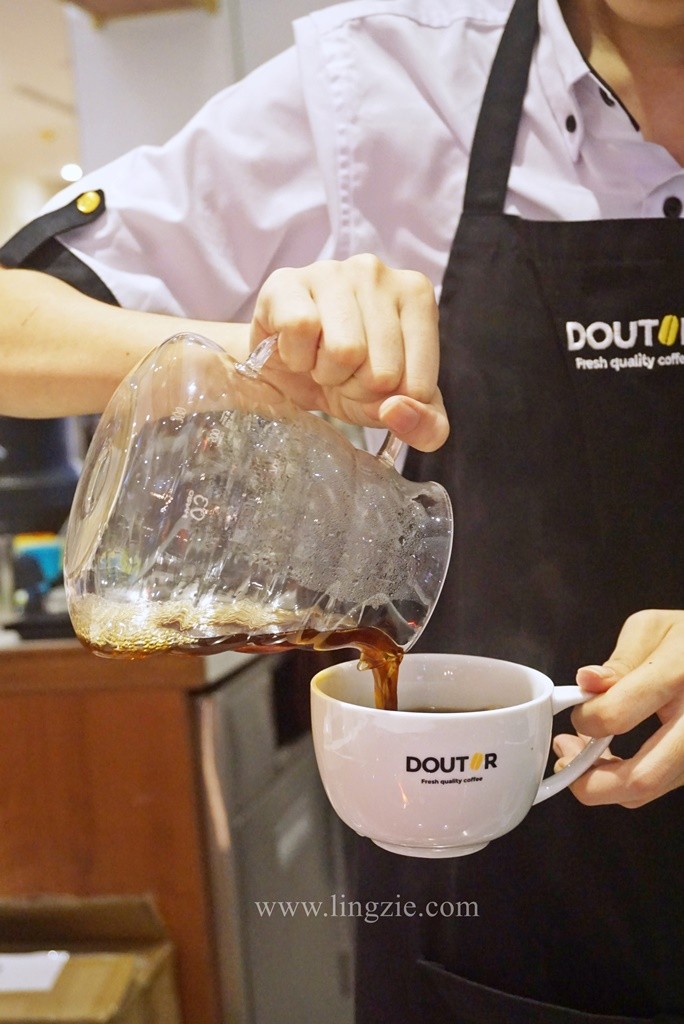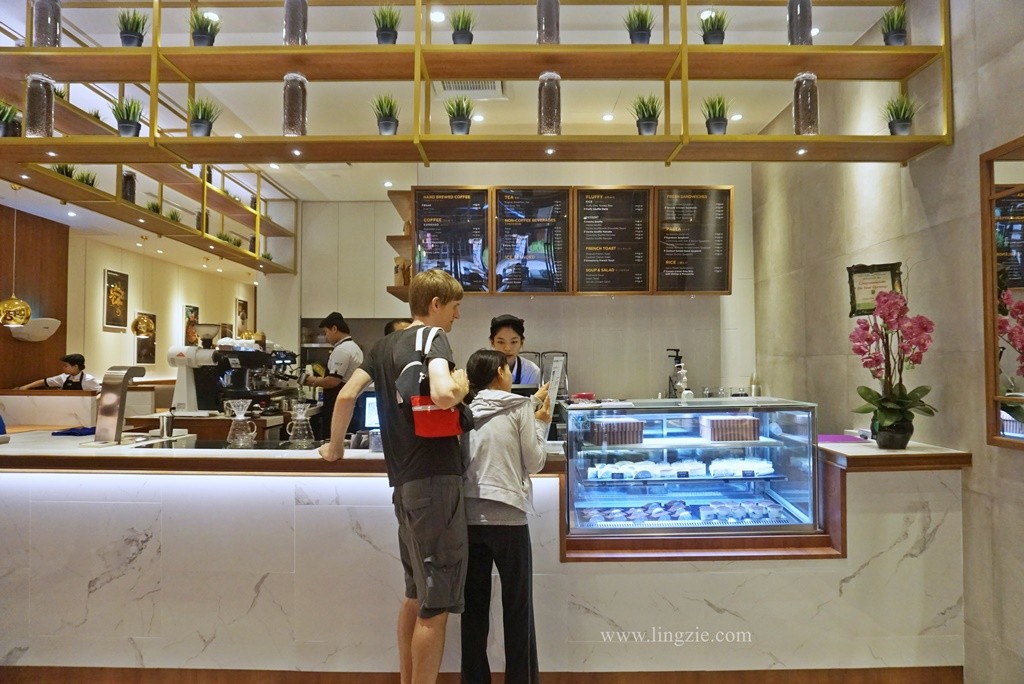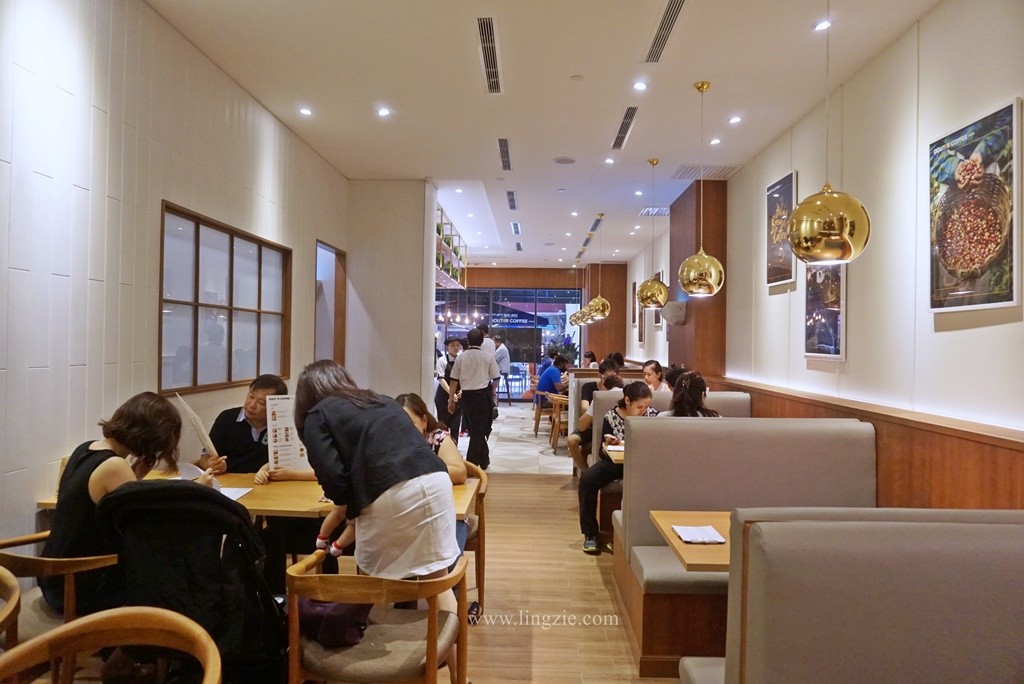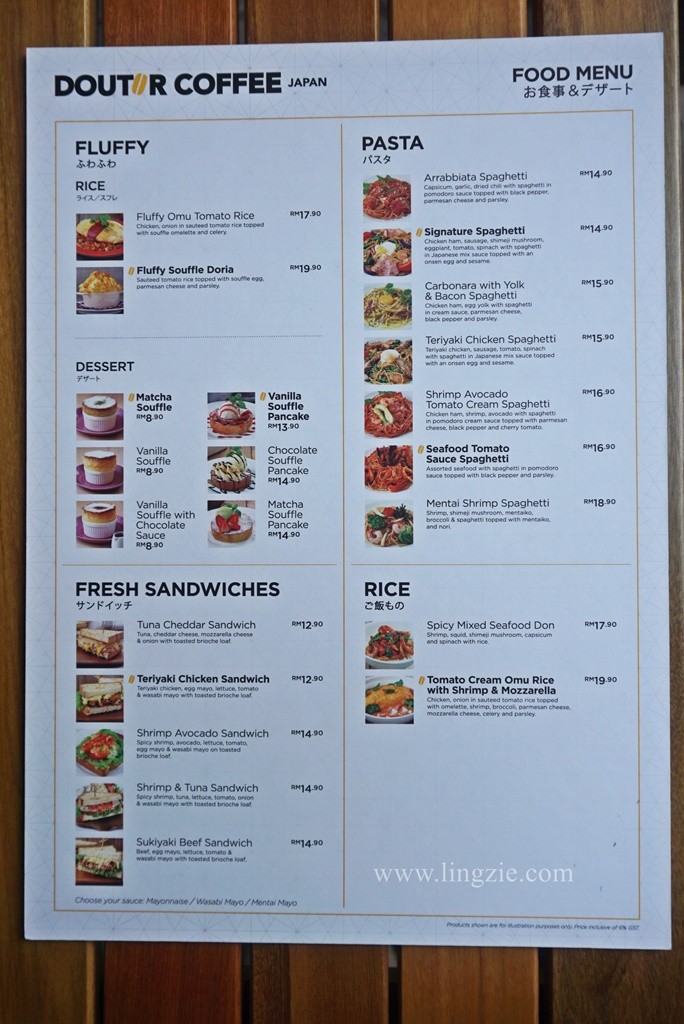 Doutor Coffee Menu
Doutor Coffee currently has 4 outlets in Malaysia – 2 in Klang Valley, 1 in Tebrau Johor and 1 right here in Penang. One thing to note is that the Penang Doutor Coffee outlet is the only outlet with a full hot menu since this outlet has a fully equipped kitchen. Hence everything is prepared à la minute upon order.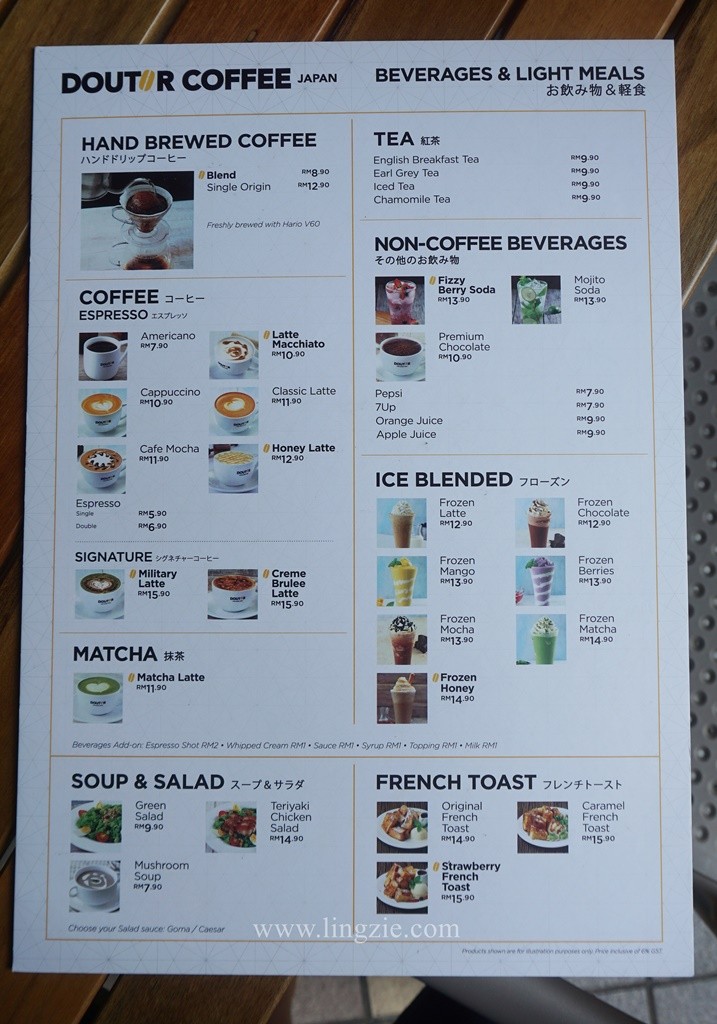 Overall, I walked away thoroughly impressed with the food quality and the affordable prices (which are NETT!). Some of my favourites and must haves include their Hand Brewed Coffee, Fluffy Omu Rice, Signature Spaghetti, Strawberry French Toast and Matcha Souffle. I foresee that I shall be returning very soon to check out the rest of their menu!
*Many thanks for Doutor Coffee for hosting us
The Essentials:-
Doutor Coffee
170-G-41 Ground Floor (Alfresco area)
Gurney Plaza, 
Persiaran Gurney, 10250 Penang
Opening Hours: Sun-Thurs 10am-10pm, Fri-Sat 10am-11pm
ALL PRICES ARE NETT