This trip marks my first ever time setting foot in Hatyai! I was super excited to say the least. So… lesgo! 🙂
DAY 1 – Departure from Penang 
Depart Penang 5am (Van Pick Up) ~yawn~
The group of 6 of us decided to charter a private van to drive us to Hatyai. The van (10 seater) was RM800
Immigration & Passing through to Thai border
After about 2.5hours drive, we arrived at the Bukit Kayu Hitam (Malaysia) border check point around 7.30am. We had to get off the van and join the queue to get our passports stamped at the Malaysian Immigration counter. At this hour, the queue was bearable with about 3-4 tour buses ahead of us. If you are driving personal car, then you need not get out of the car – just drive to the various counters to get your passports stamped.
We then moved on to Thailand Border Immigration (Danok Checkpoint). Once again we had to get off the van,  join the queue up to get your passport checked and stamped by Thai immigration officer. The whole process took us about 40mins despite our early start. So if you're planning a trip on weekends, I suppose it would be advisable to leave Penang roughly the same time we did (5am)
Now we're good to go! It takes another 45mins-1hr to Hatyai town itself. So right after clearing the Immigration, we stopped over at 7 Eleven (to buy SIM card if you wish and if you cant live without the Internet & social media, hehe) We also got some snacks and drinks to tide us over, since the 7 Eleven in Thailand is awesome!! Cheese sausage, bacon wrapped sausages, frozen shrimp burgers (which they can heat up for you), Dutchie Bio yoghurt, Double Black Soy Milk, Meiji milk drinks… <3 <3 <3 basically it was snack heaven!
Breakfast 8.30am (local Thai time)
1. Qing Jie Restaurant – Braised Pork Leg Rice + Pork soup With Salted Vegetables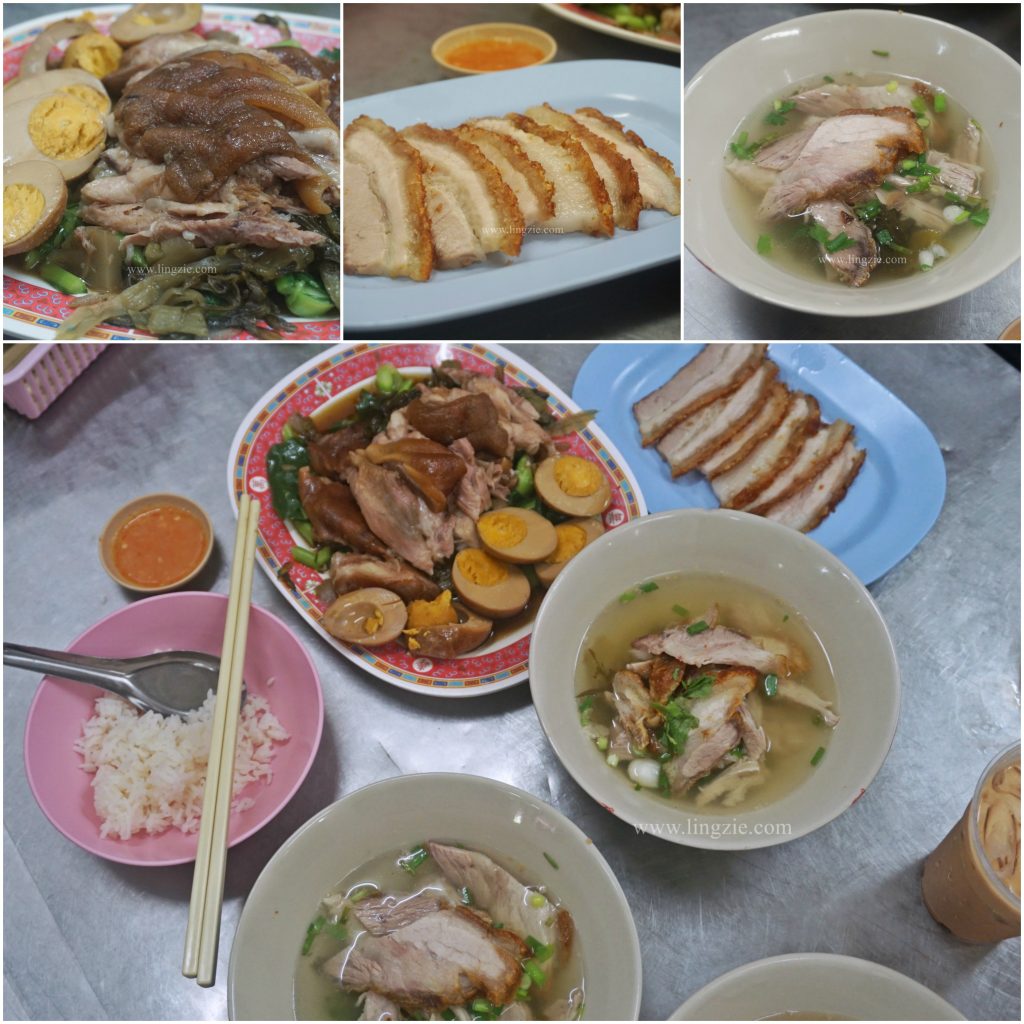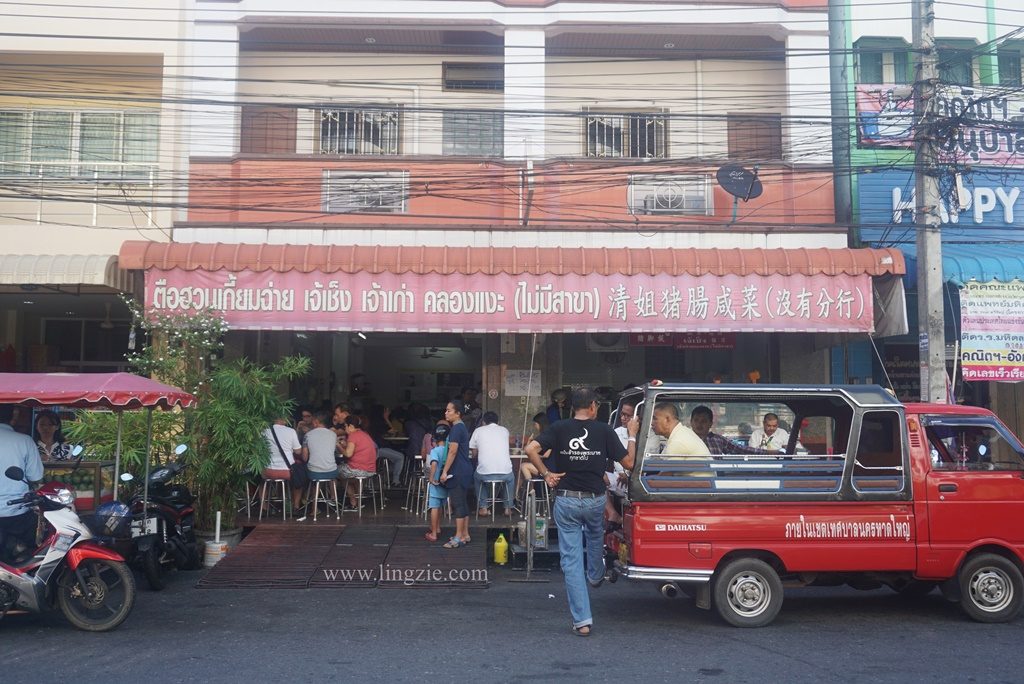 Our first stop was for pork leg rice with super crispy roasted pork belly and a side of pork & salted vegetable soup. While I enjoyed the roasted pork belly and the salted vegetable soup, I found that the price was not exactly cheap. Our meal for 5 pax cost us 900Baht (5 bowls of salted vegetable & pork soup, 2 plates of roast pork, 1 pork leg, 3 bowls of rice & 5 drinks)
Address: Few doors away from Chok Dee Dim Sum (on the oppposite side)
Opening Hours: 7.30am – 2.00pm
2. Chok Dee Dim Sum + Bak Kut Teh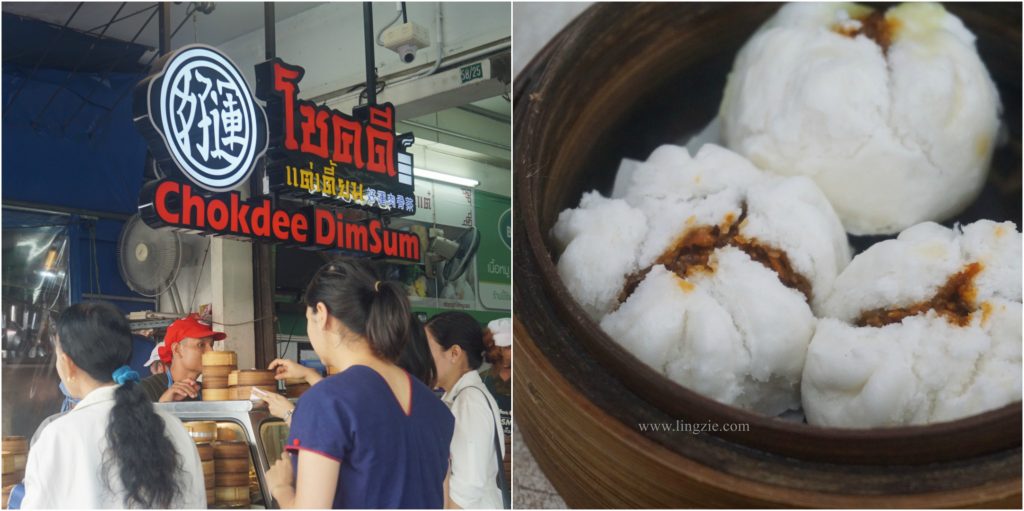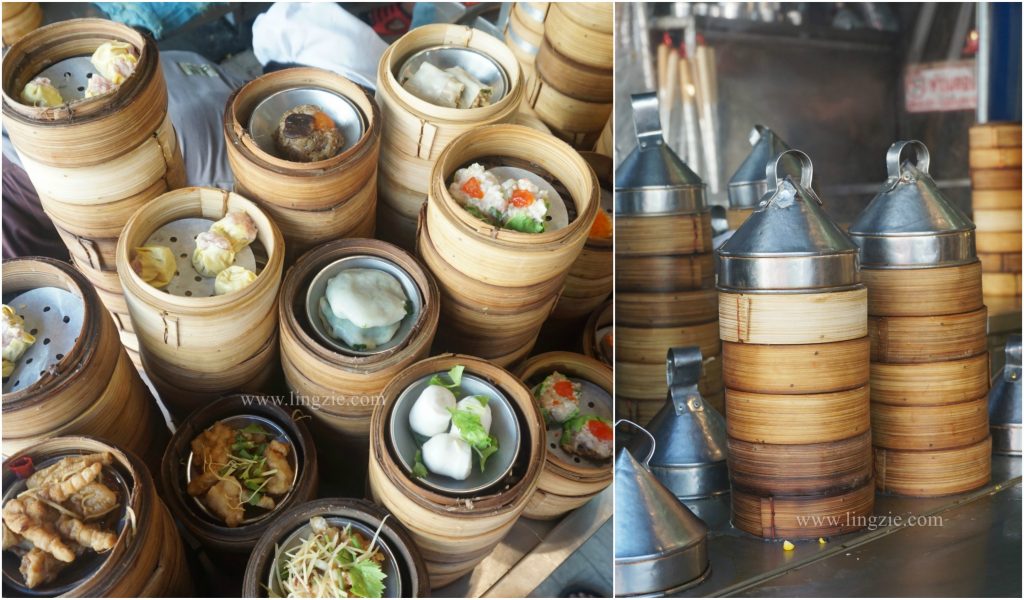 Chok Dee Dim Sum is another super famous must go place to eat when one is in Hatyai. The best part about this place is that all the items are steamed only after you place your order hence ensuring its freshness. Also the sheer variety of dim sum items is dizzying and overwhelming at the same time. Pretty decent tasting and you can even have Bak Kut Teh with your dim sum as well.
Address: 58/25 Lamaisongkrew Road
Opening Hours: 6am-12noon; 5pm-10pm
3. Local Wantan Mee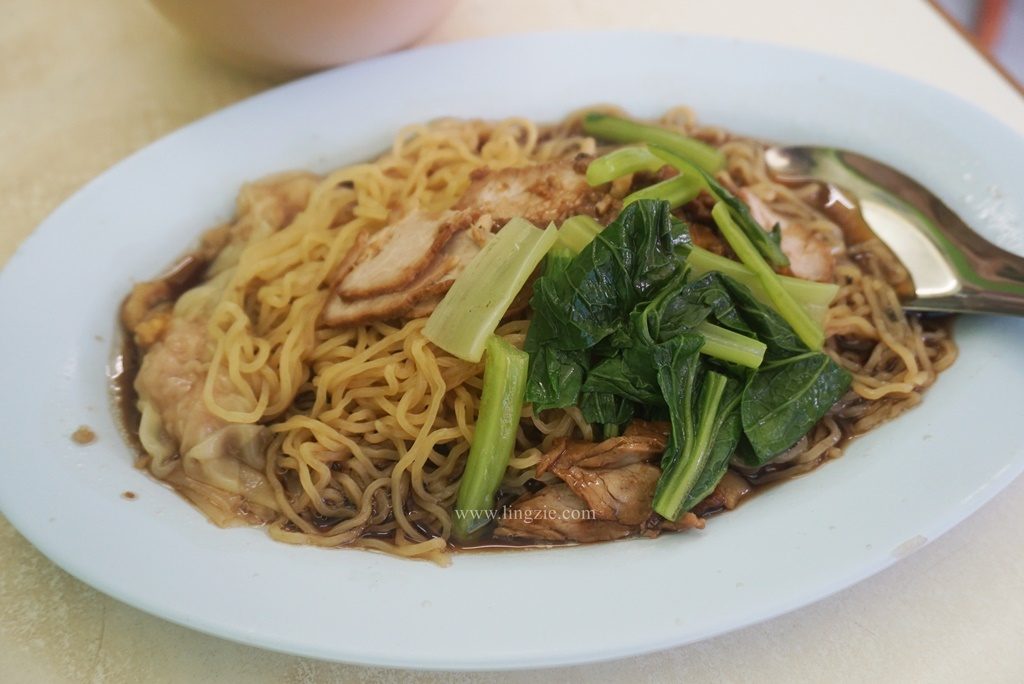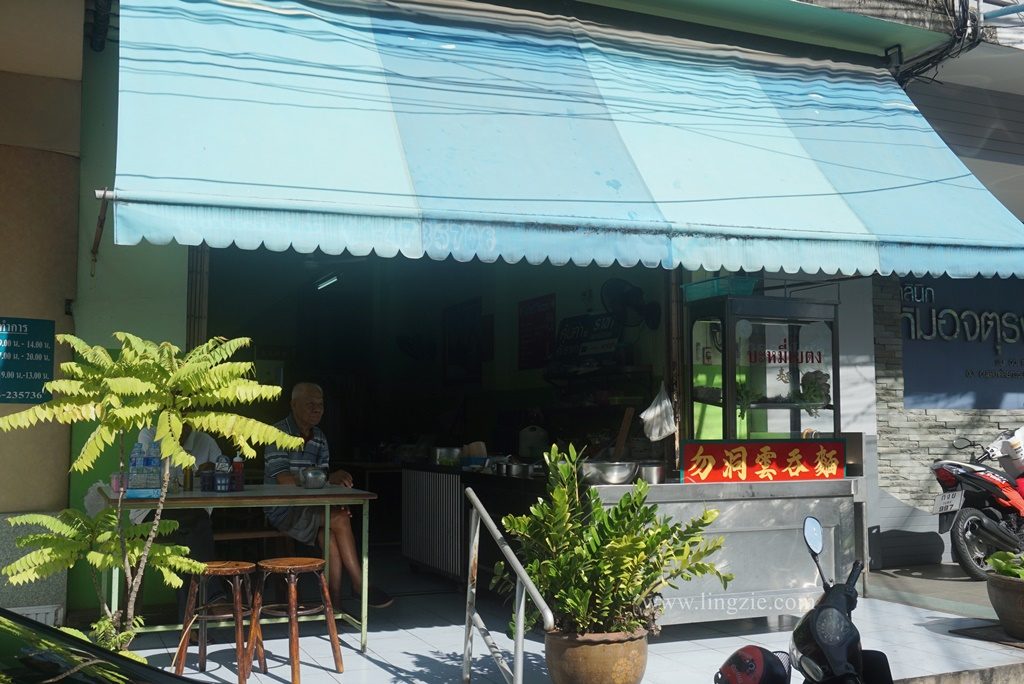 Just opposite Ching Jie, we spotted a small shop selling local Wantan Mee (50Baht) and curiosity got the better of us, so we checked it out. It was a fare plate of noodles with strong lard taste. I reckon I prefer my usual Carnarvon Street wantan mee! hehe
Opening Hours: 6am – 12.30pm Closed on Thursday
Hotel Drop off Luggage/Check In 9.30am – Buri Sriphu Boutique Hotel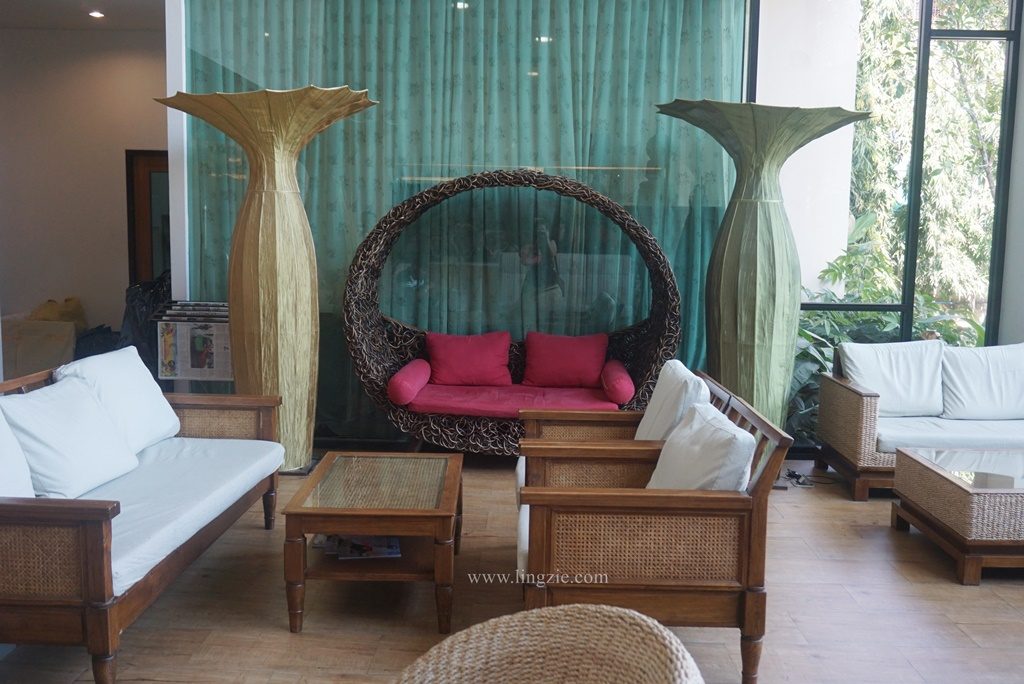 One of our friends booked us into Buri Sriphu Boutique Hotel since it was walking distance to the night markets (Asean Market/Greenway Night market) It set us back about RM200/night (with breakfast – omg the green curry chicken in the breakfast spread was AMAZING!) which it pretty premium I suppose for Hatyai but I had no complaints. The hotel was clean, beds were comfy and I passed out for 9hrs straight after all the eating & shopping!
Buri Sriphu Boutique Hotel
Address: Sripuwanart Soi 16/1 Rd, Tambon Hat Yai, Amphoe Hat Yai, Chang Wat Songkhla 90110, Thailand
Shopping 10am – Lee Garden/Ocean Fashion Mall
We were a bit too early since we got to Lee Garden area just before 10am so the shopping malls were just about to open. We wondered around the lively street for a bit before checking out Lee Garden & Ocean Fashion Mall. Honestly I didn't find anything special about both places. Ocean Fashion Mall kinda reminds me of Yaohan in Komtar back in the 90s! hehe
Anyway since there was nothing much to do, we got attracted by the Mango ice cream at Swensens… which was surprisingly good… now if only they gave us more glutinous rice! Honestly the glutinous rice in Thailand tastes so much better!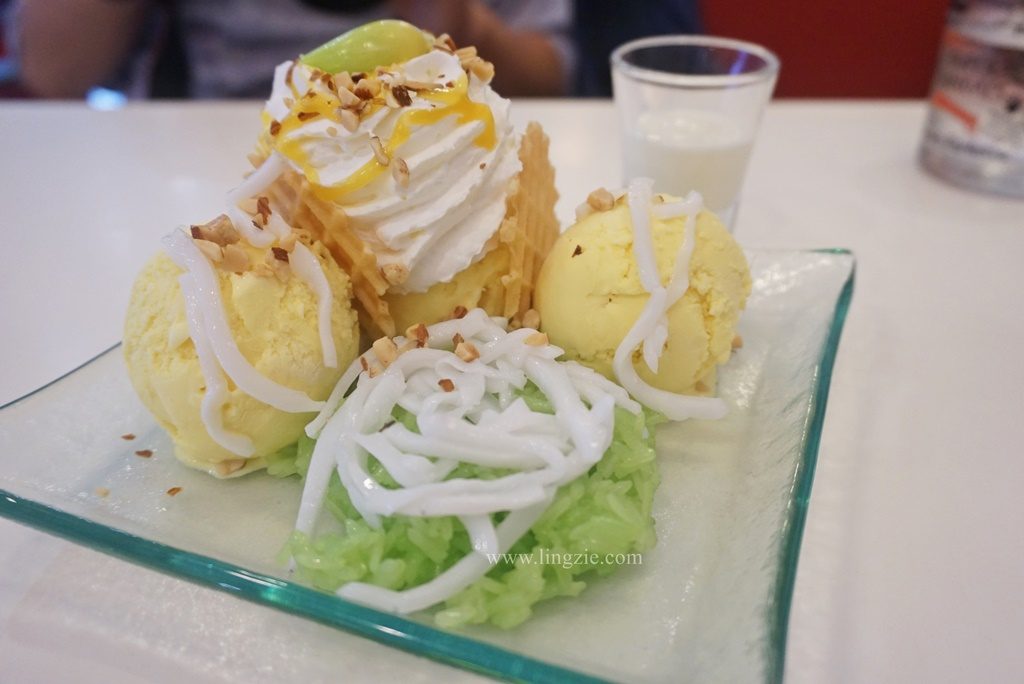 Mango Trio 189 Baht
Shopping/Lunch 12noon – Central Festival Mall
Next stop – Central Festival Mall! Hatyai's newest shopping mall…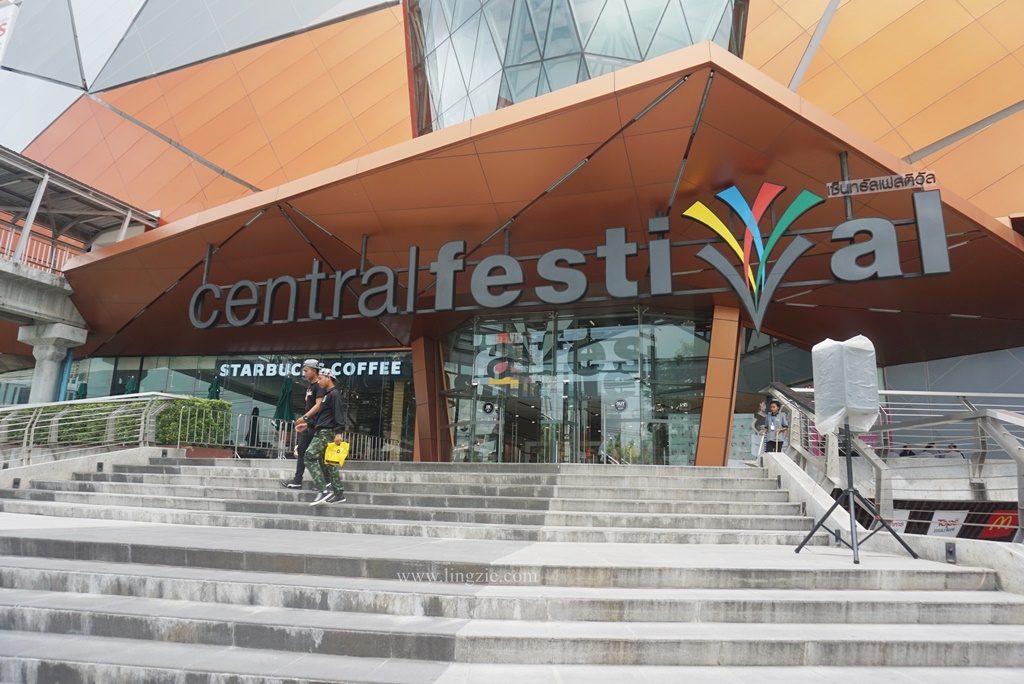 4. Central Festival Mall food court/McDonald's/KFC Portugese Egg Tarts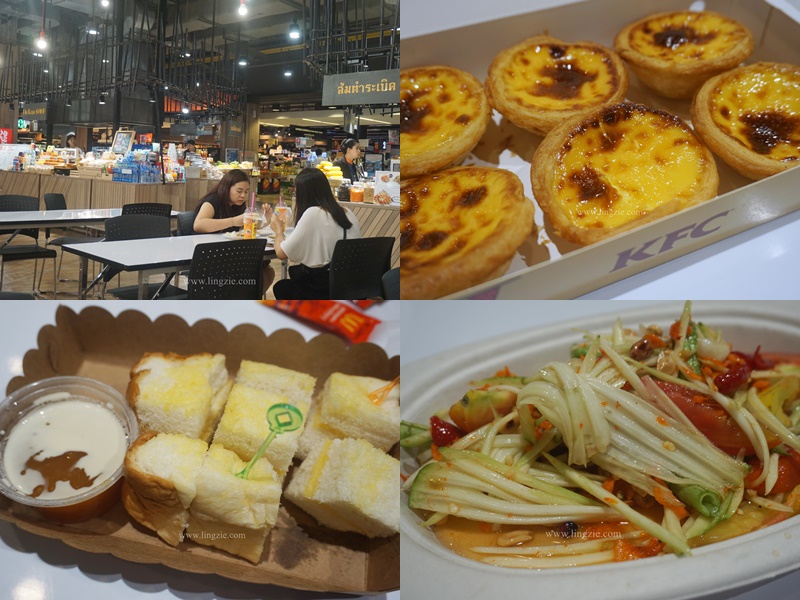 First stop at Central Festival Mall was to eat.. yet again… lol We checked out their food court at the basement where KFC & McDonald's are located too. So we got some som tam, Portugese egg tarts from KFC and also steamed bread with kaya (which was recommended by a friend to try at night) However, since I spotted it at the food court, I decided to eat first, think later. lol  The steam bread was indeed lovely – super soft and warm with the Thai version of kaya.
5. Eat Pot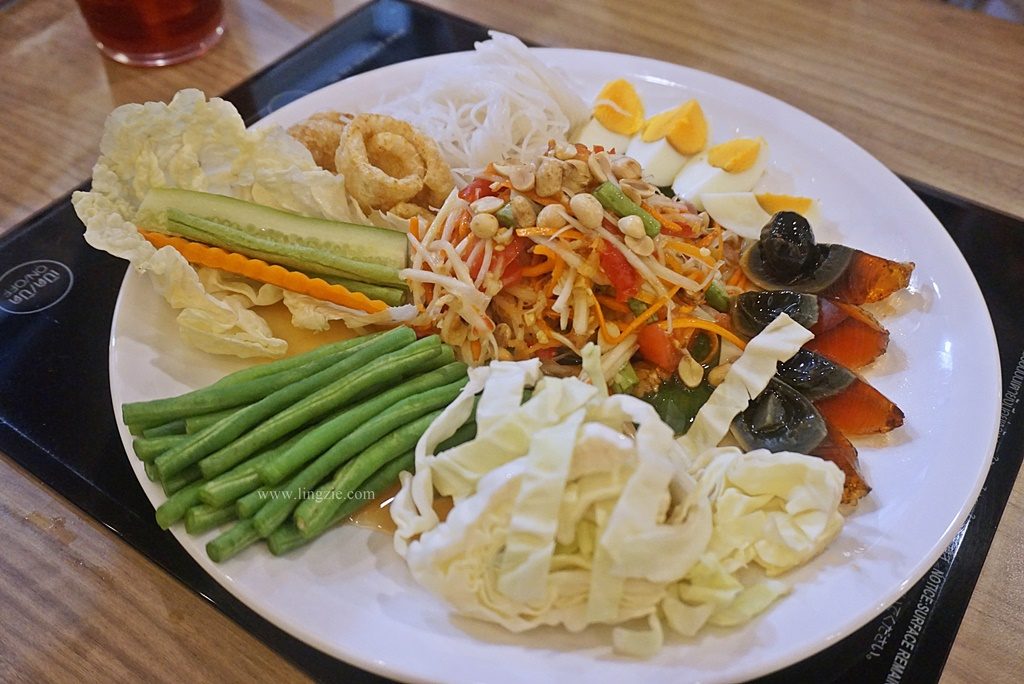 We then wondered around the mall and one is definitely spoilt for choice when choosing a restaurant – Japanese, Korean, Western… but we wanted something Thai, so we popped into Eat Pot and had this salad thingy with crunchy pork rinds which was pretty good. I don't really eat century eggs but my friends raved about them and it seemed like the best thing on the plate!
6. Hokkaido Purity of Milk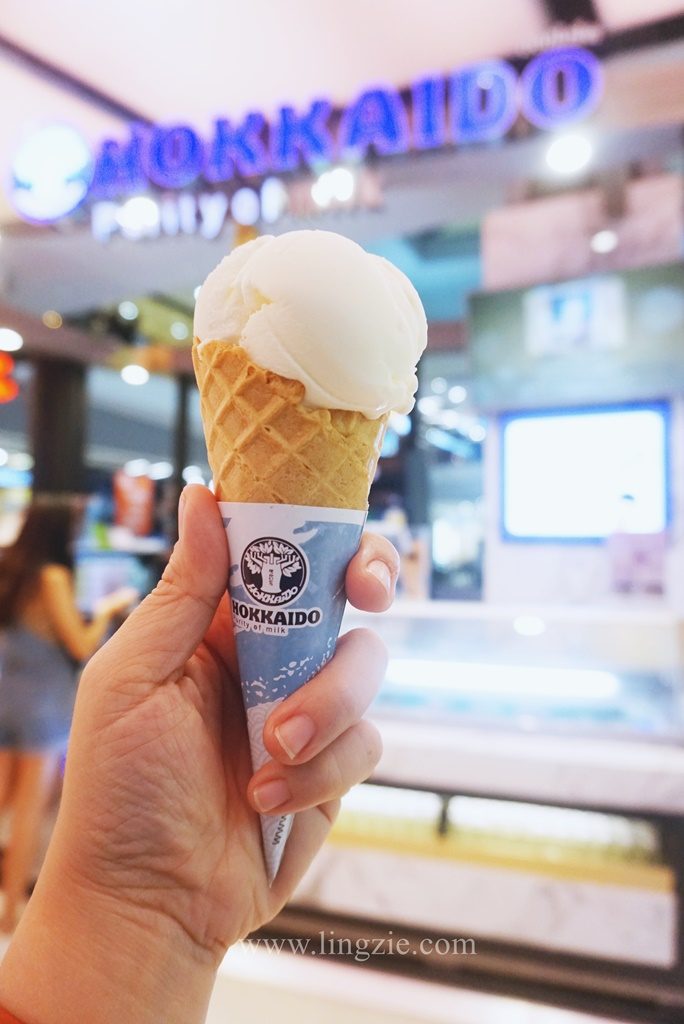 THIS! omg so good!!! Hokkaido milk ice cream…. I was super stuffed by then but when I spotted this, I just had to have it! Totally worth the calories. A must try!
7. i-Kitchen Dessert Cafe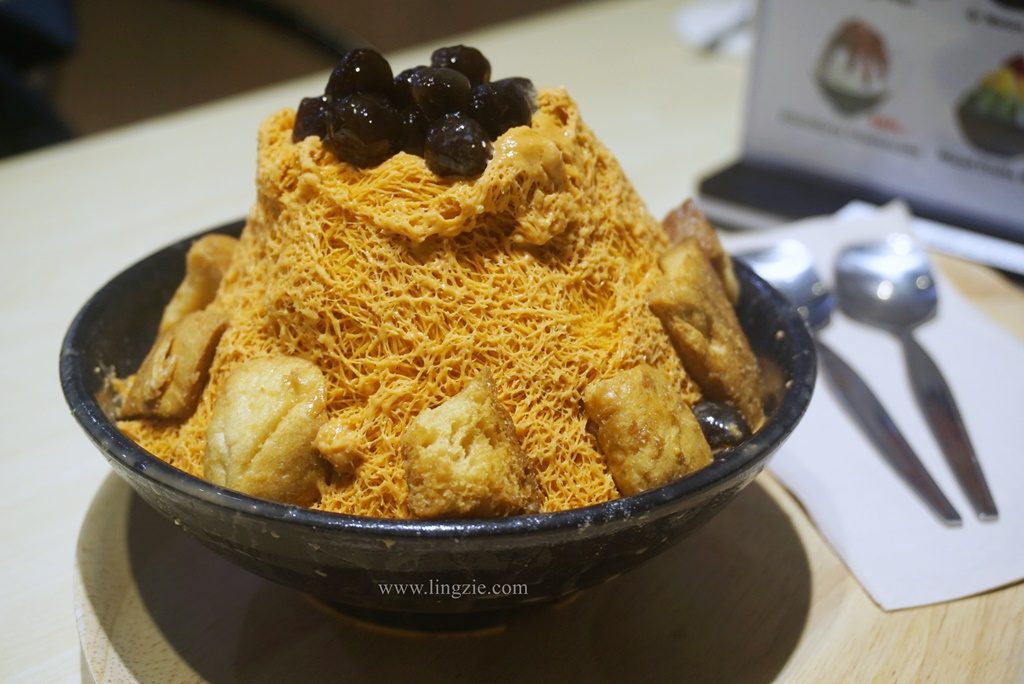 Thai Milk Tea Bingsu (with salted caramel croutons!!!) 145Baht
And then we spotted this Korean dessert place and found that they have Thai Milk Tea bingsu AND Mango Sticky Rice bingsu!!! But because our tummies were bursting by this point, we decided to pick only one (sobbbbbbb~)
The Thai Milk tea bingsu was a delight! The Thai tea flavours were robust, the ice shavings were super fine and melt in your mouth, the salted caramel croutons were crunchy… the combination worked and the best thing was that the bingsu was not overly sweet. The only odd thing we found were cubes of bread at the bottom of the bowl, which I didn't really fancy.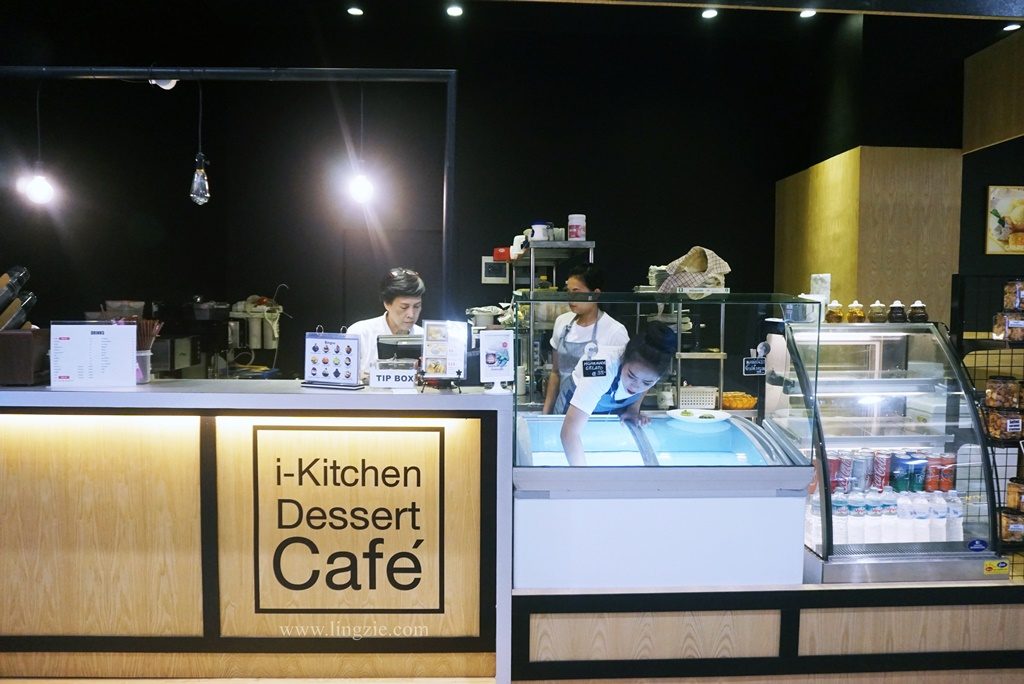 Central Festival Mall
Address: 1518 Kanjanavanich Rd, Tambon Hat Yai, Amphoe Hat Yai, Chang Wat Songkhla 90110, Thailand
Our initial plan was to visit Floating Market in the afternoon, but the heat was too much to bear and so we headed back to the hotel for a catnap & freshen up before dinner.
Dinner 6pm
8. Somtam ChaBa Restaurant  
Somtam Chaba is relatively 'unknown' to most tourists which suited us just fine. The place is patronized by locals, hence do expect a menu with no English (but thankfully lots of photos) Our friend took the liberty of ordering for us. Portion sizes are not too big so the 6 of us had about 10 plates of food!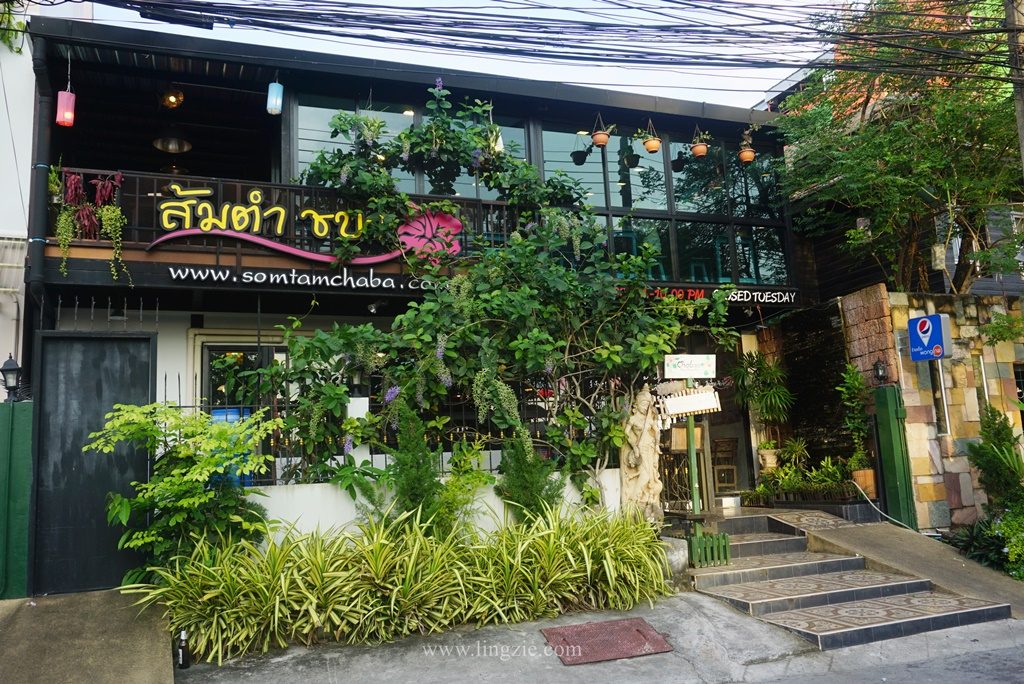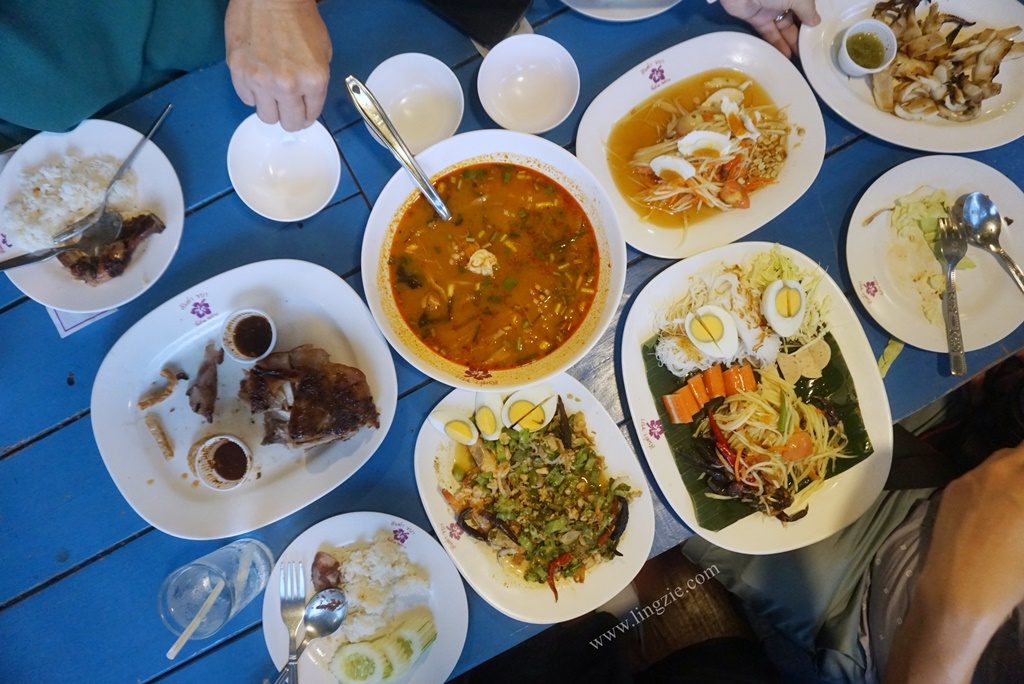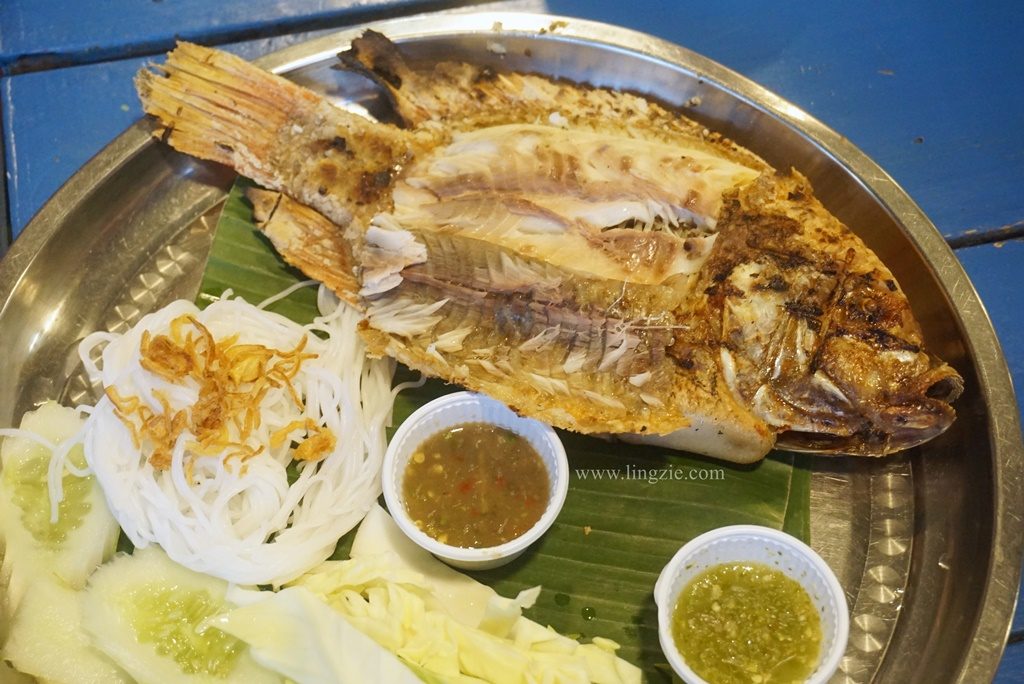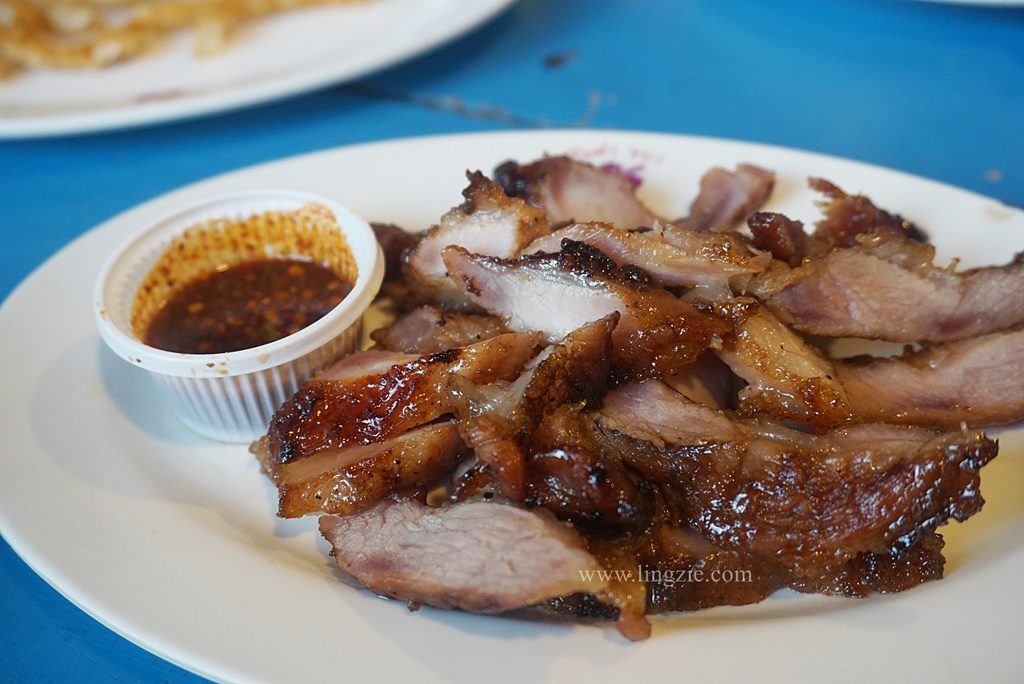 We had grilled meats (grilled pork, chicken & squid) which were the best items we had in my opinion. The tomyam was fare but a bit different from what we are more used to. We also had lala, som tam, salt baked fish and more.
Prices were very agreeable on the wallet. Our whole dinner cost us 1100baht! (compared to our pork leg rice breakfast at 900baht, this dinner was way more value for money)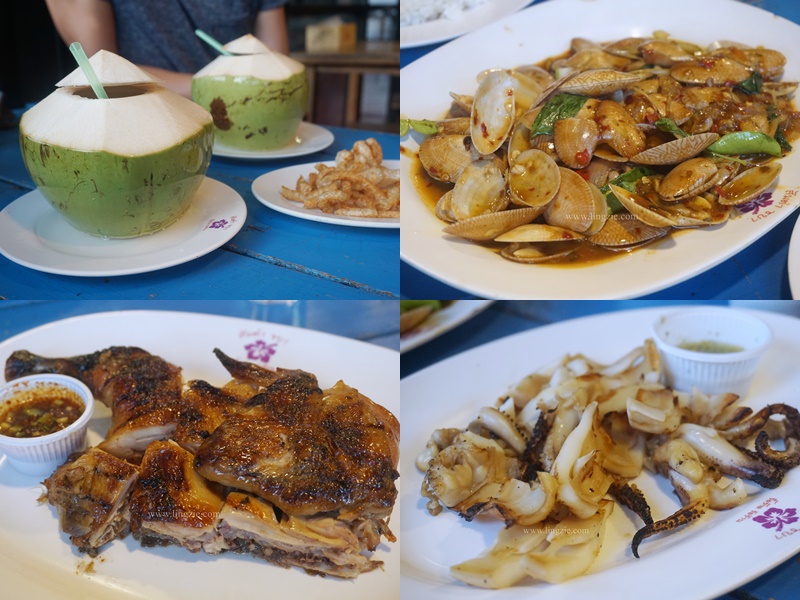 Address: 234/4 Soi 4, Sukkosin Road, Hatyai, Thailand, Songkhla Province 90110
TEL: +66 74 225 315
Website: http://www.somtamchaba.com/ 
Opening Hours: 11am-11pm Closed on Tuesdays
Shopping 8pm
9. Asean Trade Market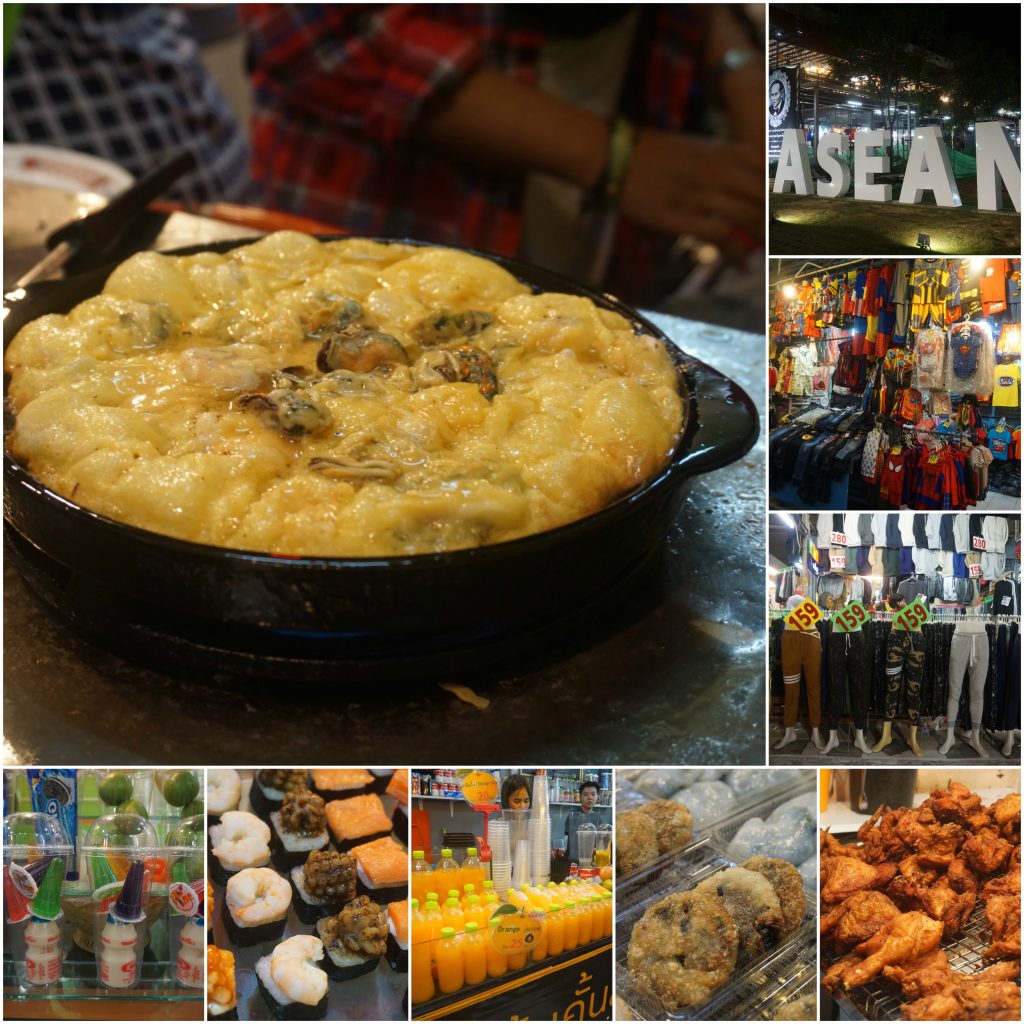 Next, we headed off to the night markets… first stop was Asean market which is a HUGE market packed to the brim with clothes, shows, bags, knick knacks and of course food. However, the market felt very hot and stuffy to me, so we didn't stay long.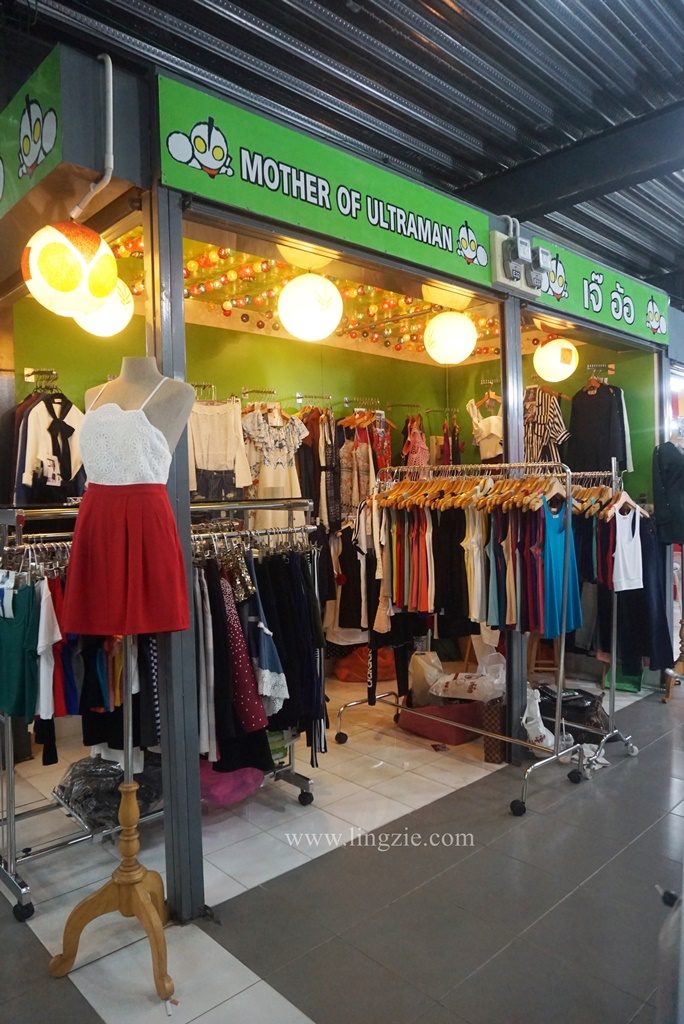 Spotted this clothes shop – Mother of Ultraman & couldnt help but burst of laughing at the name (why would you want to look like Ultraman's mom??hahahaha).
ASEAN Market 44, 46 Chotwittayakul 5 Rd., Hat Yai 90110, Thailand
Opening Hours: Wednesday – Sunday 5pm-10pm
10. Greenway Market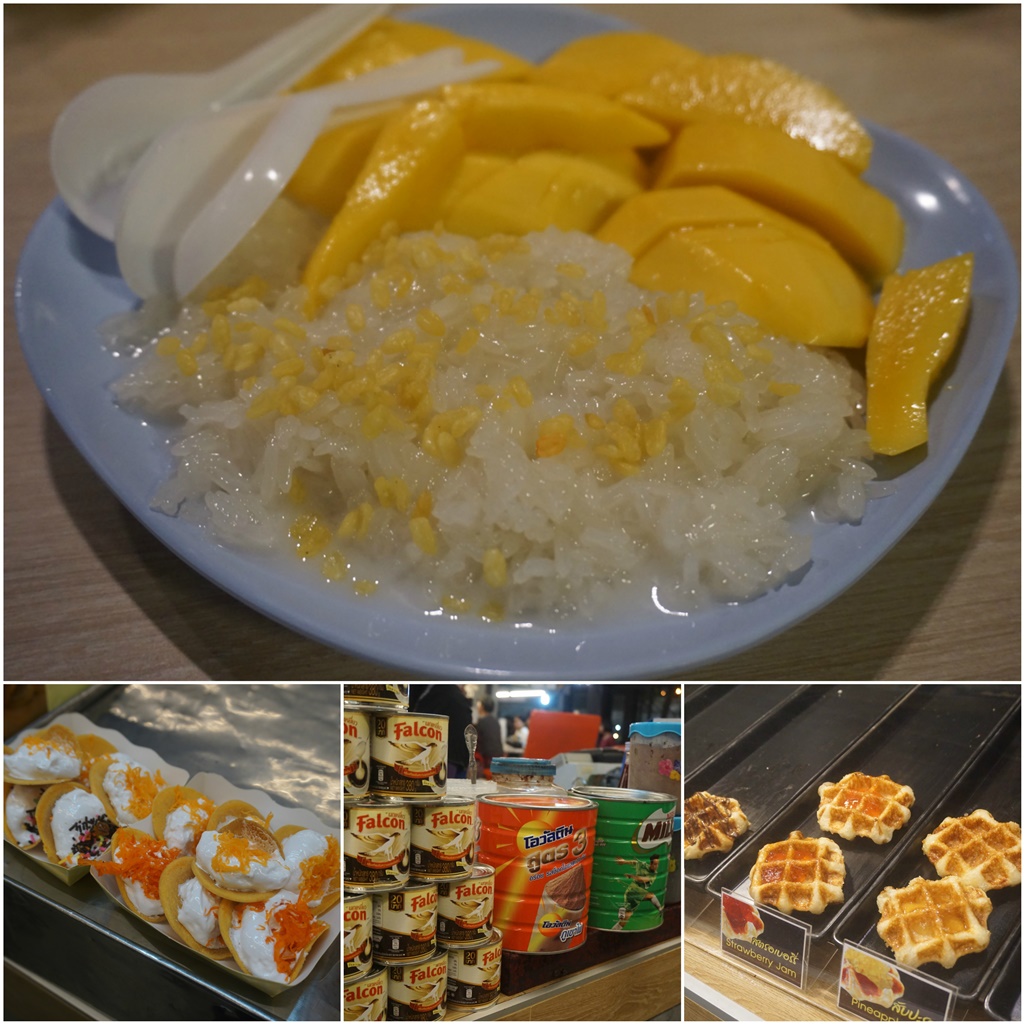 The Greenway Market is nearby to Asean market (about 15mins walk) and I found this market more comfortable to roam around in. The layout is less humid & stuff since there is an open air market. We naturally gravitated to the Greenway Food Station which is newly built. The spacious food court is airy with both upstairs & downstairs seating. This place uses cash card for all food purchases. And I got my mango sticky rice fix here! 🙂
Greenway Market 1406/3 Kanjanavanich Road.
Opening Hours: Wednesday – Sunday 5pm-10pm
11. HY Square (New!)  
Right opposite Greenway Market is a new market – HY Square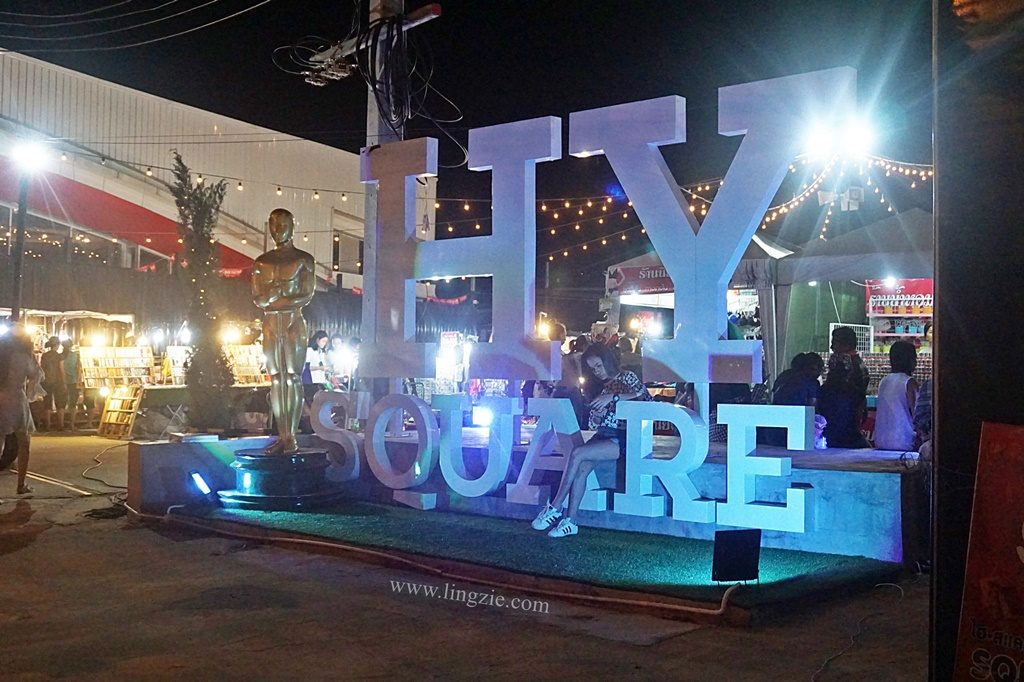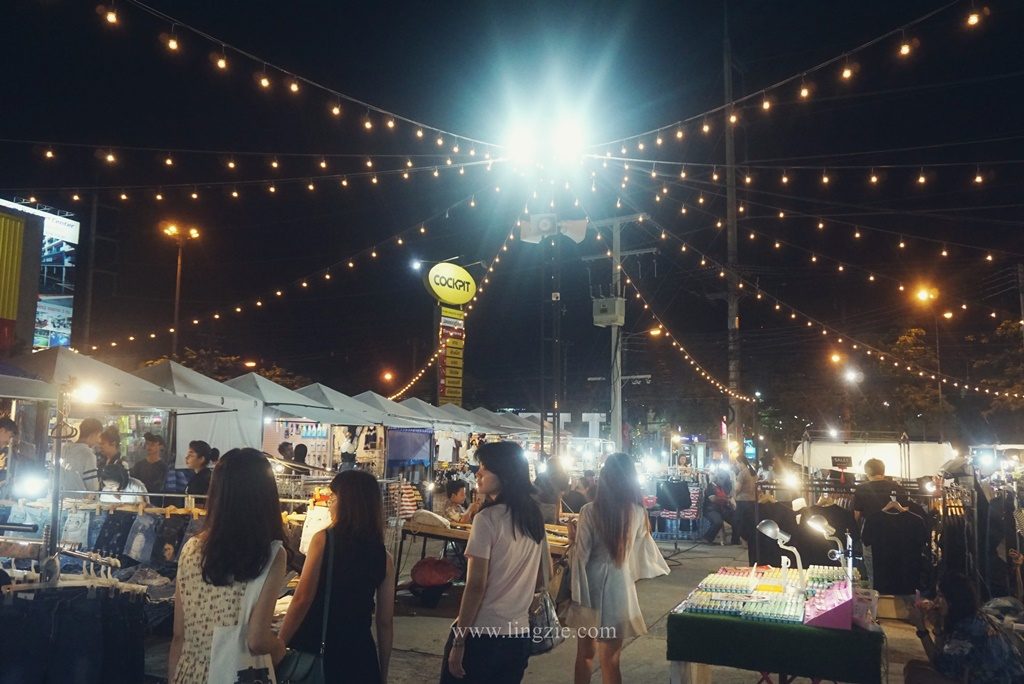 The vibe here is more hip and arts-y with lots to see and of course food galore.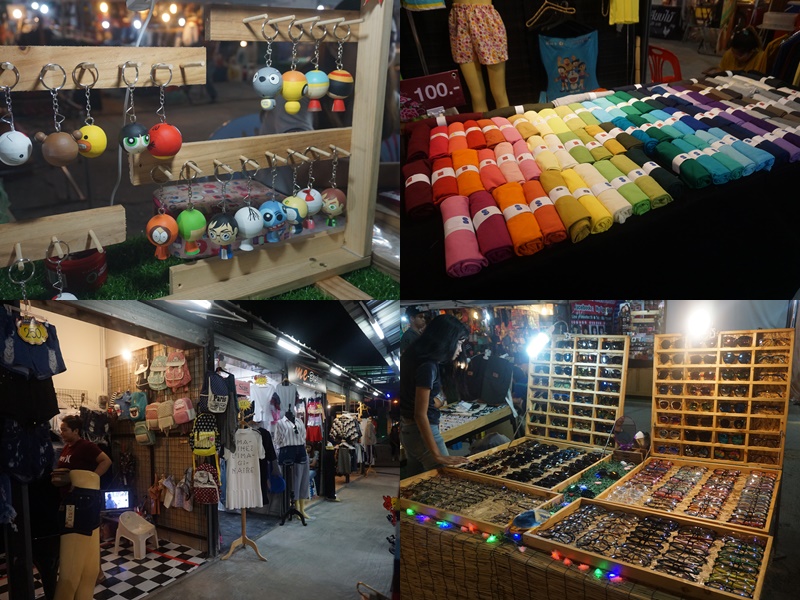 HY Square Phet Kasem Rd, Tambon Hat Yai, Amphoe Hat Yai,
Opening Hours: 5pm-1am Closed on Wednesday
END OF DAY 1
DAY 2 – Breakfast 7am at Hotel
Market visit 8am 
12. Big Market
Bright and early the next morning, we headed off to the Big Market to buy some local snacks, nuts and also Zebra pots & pans! The shop selling the Zebra pans is a few doors away from the market entrance (do note that if you purchase Zebra pots/pans, you will most likely be taxed at the Malaysian border checkpoint)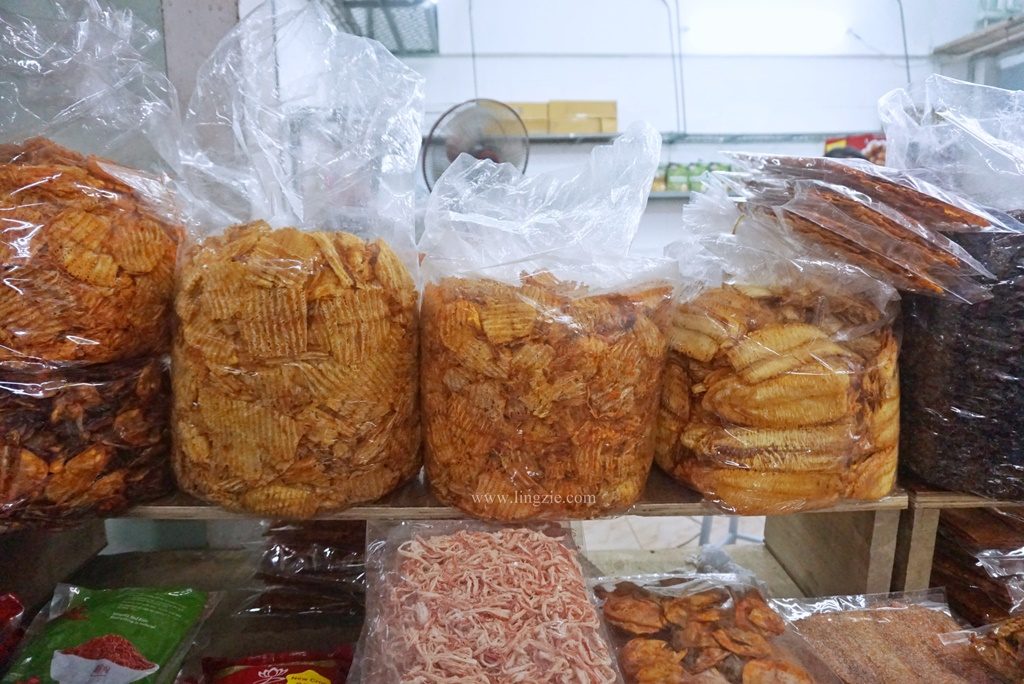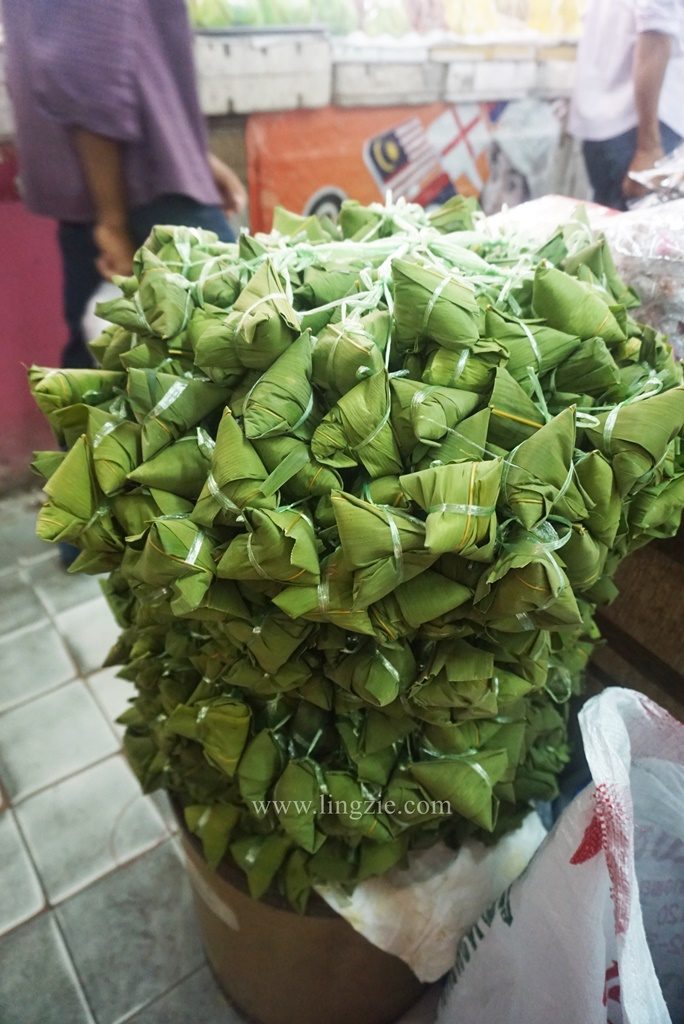 "Kee Zhang" (Lye water rice dumplings)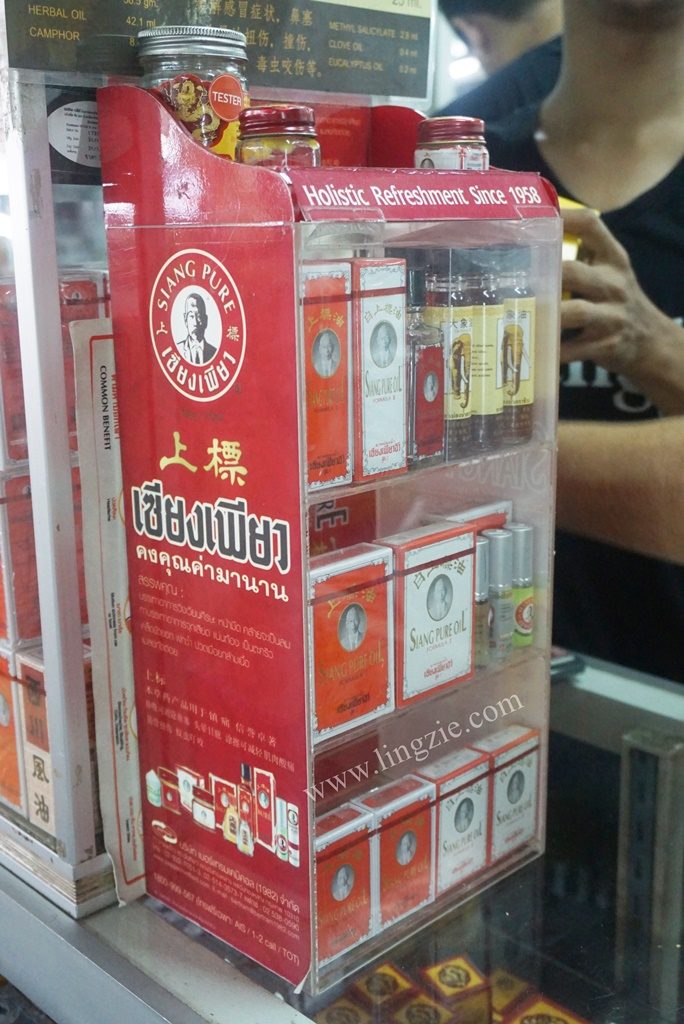 Wind Medicated Oil ("Fong Yao") – Apparently very effective and famous. There were people buying boxes of these!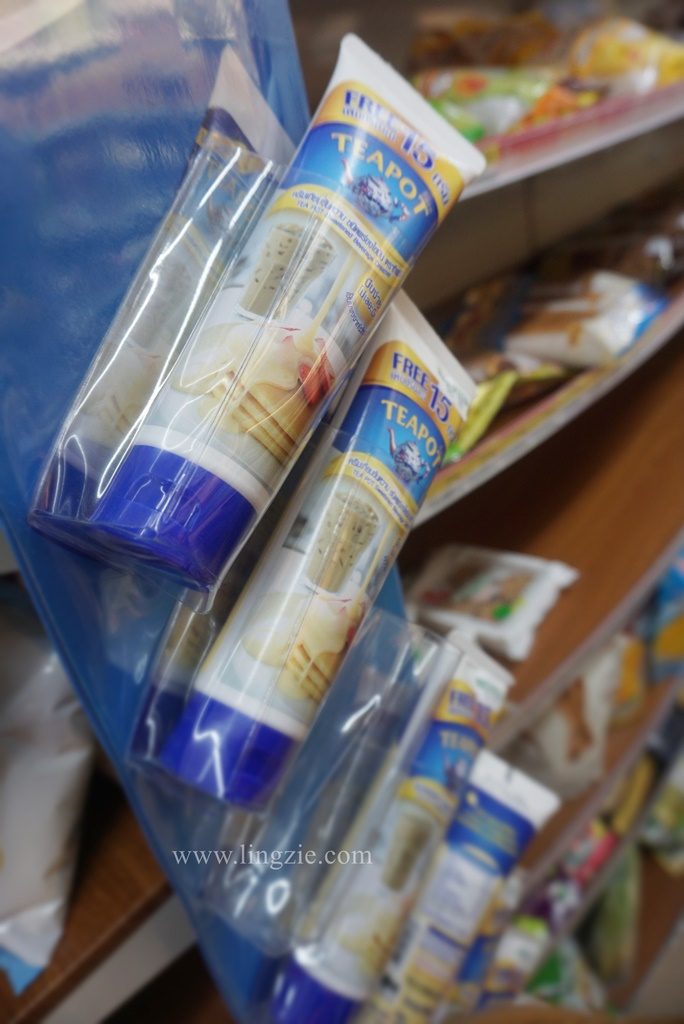 Random things that got us excited – Teapot Condensed Milk in a tube! (spotted at 7-11)
13. Gim Yong Market
Next, we headed to Gim Yong Market for fruits (mostly to buy mangoes) I was a happy clam admiring all the flowers…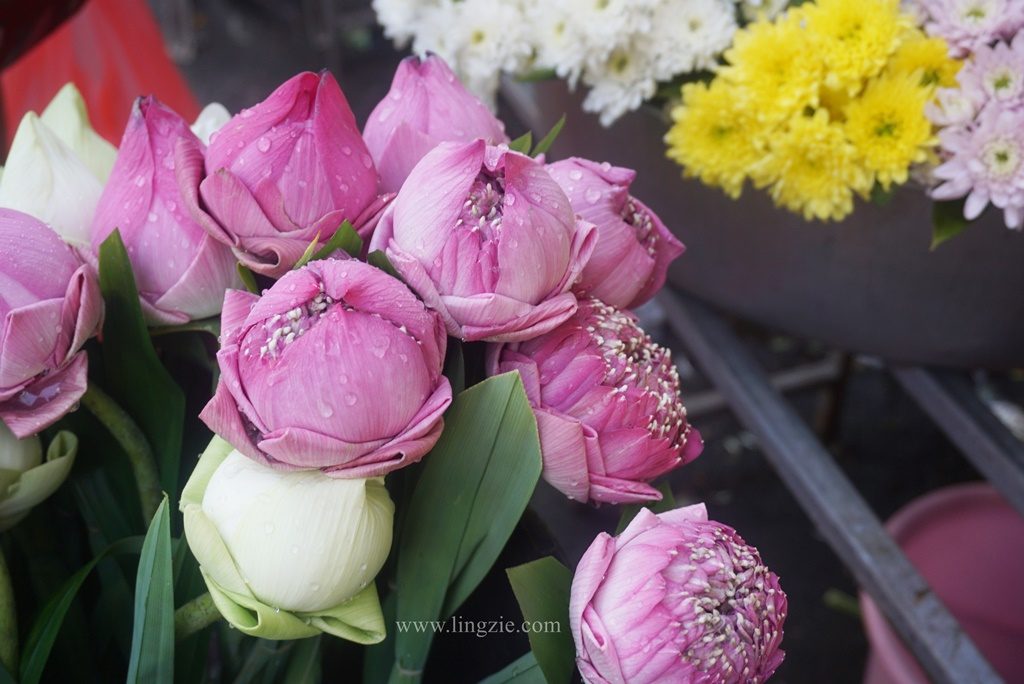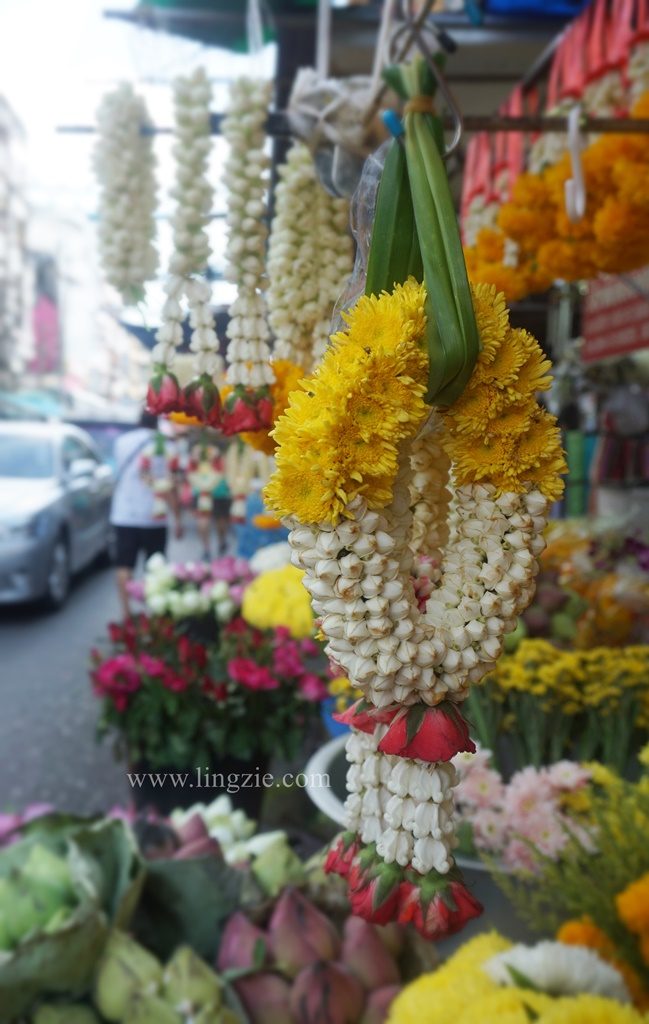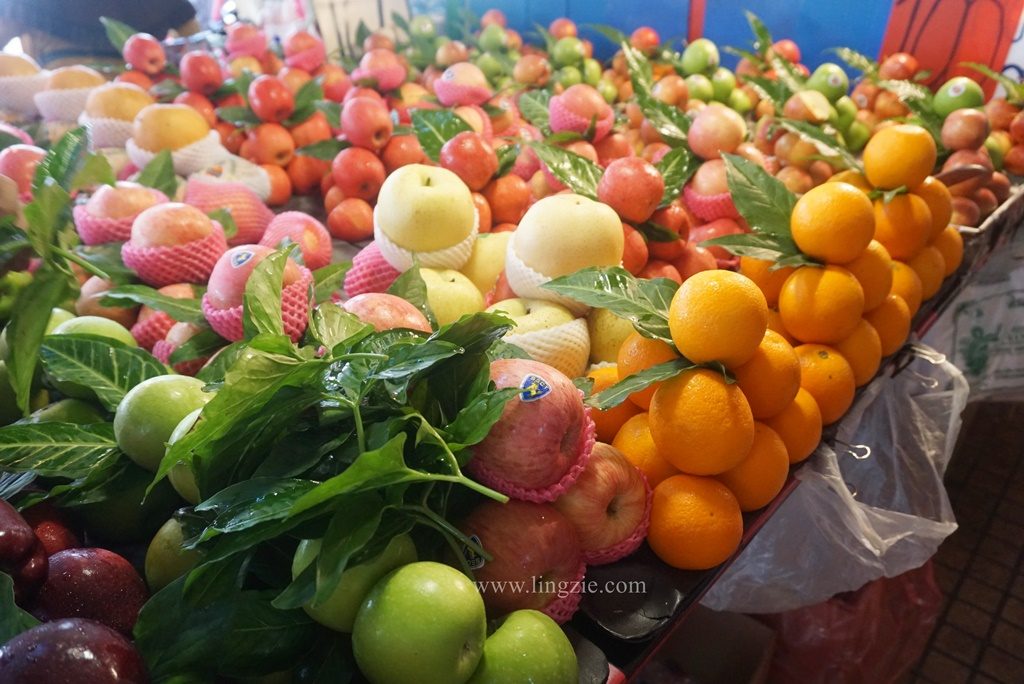 Hotel Check out 11.30am
LUNCH 12noon
14. Bankampu Hatyai for Crabs
For lunch, we headed for the very popular Bankampu for crabs – that you don't have to peel because they do it for you!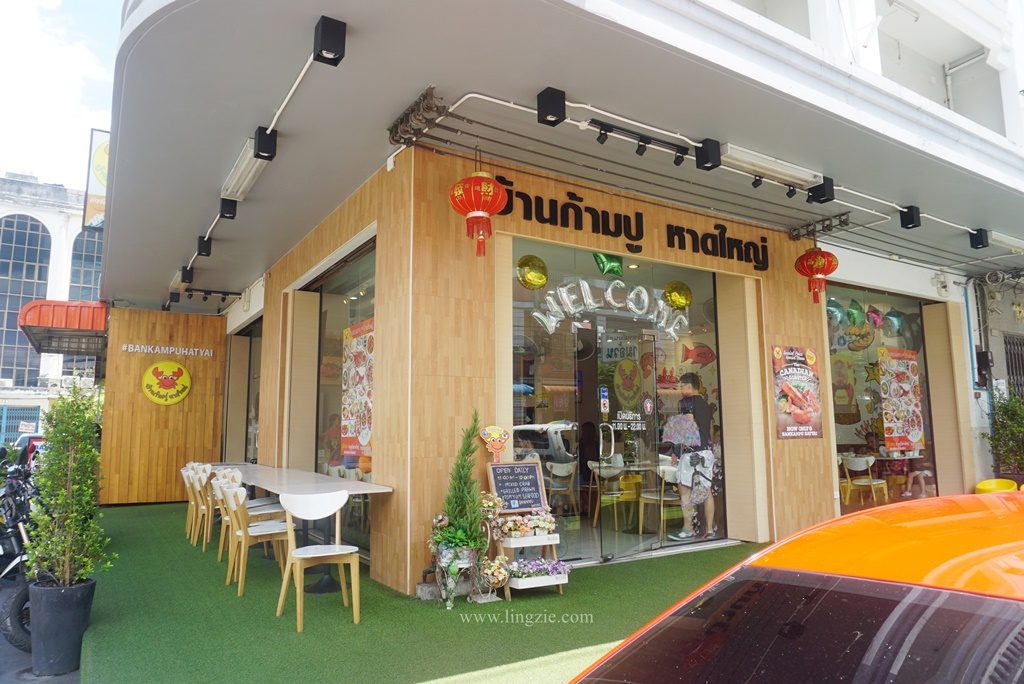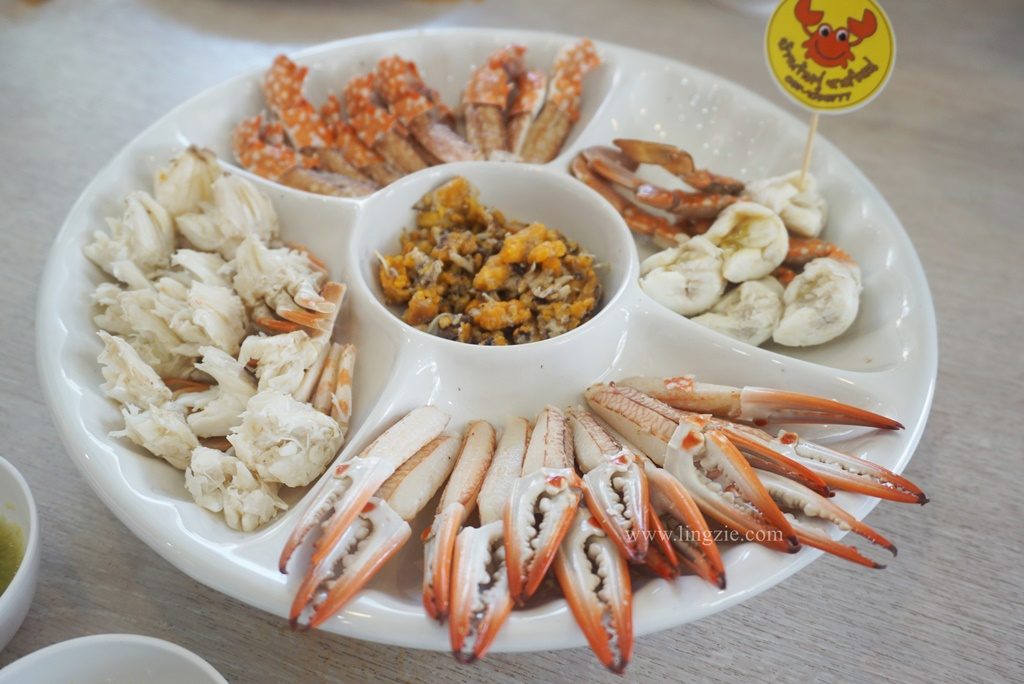 Mixed Crab Platter 450Baht
The signature dish here is the Mixed Crab Platter which looked impressive on paper. However the real thing was a bit of let down. Portion was small and while it was very easy to eat (since all the peeling has been done for you), the sweet seafood taste of the crabs were lacking. What I did like though was the fiery spicy green chilli dipping sauce.
We had other dishes as well which were pretty decent though not as wallet friendly as our dinner place the night before. We all agreed that the Fried Rice with crab was good (& not greasy) Our lunch set us back 2100Baht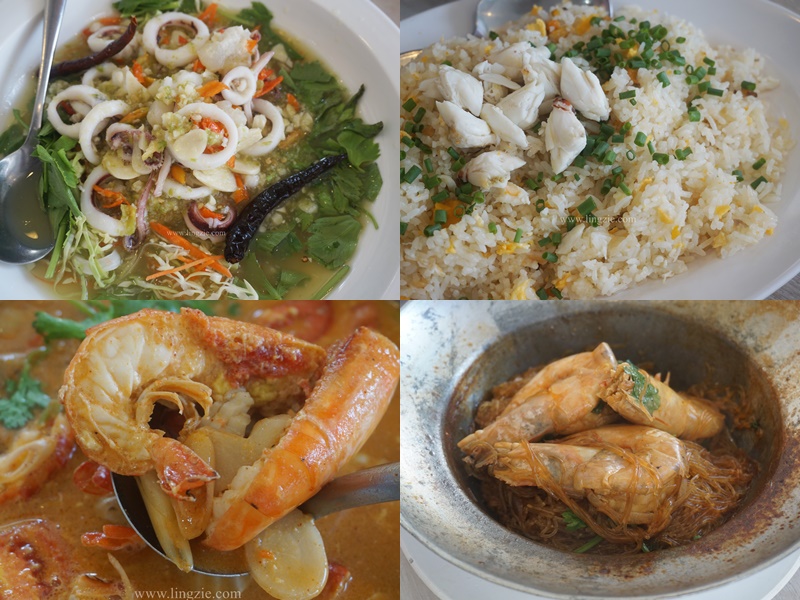 Address: 22/4-5 lamaysongkoa, Thailand
TEL:+66 87 109 8777
Opening Hours: 11am-10pm DAILY
Final Shopping for Snacks 2pm 
15. Big C
Finally, before leaving Hatyai, we stopped over at Big C (like the local Tesco) to buy snacks & last minute shopping.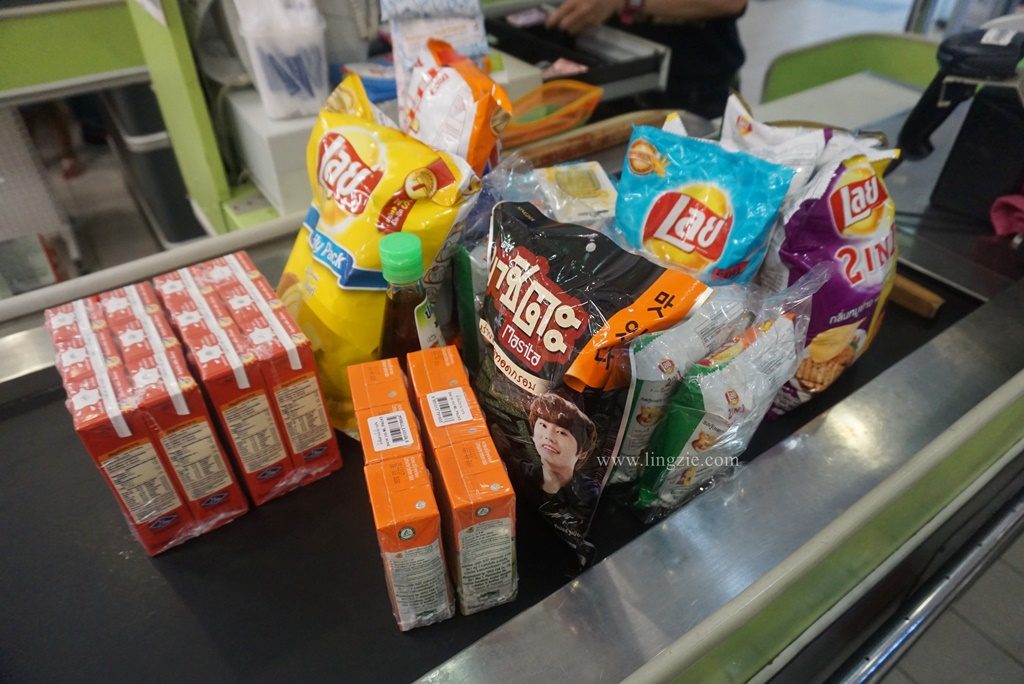 Bought a lot of 'nonsense' – Lays chips, Thai orange juice, Ovaltine!! <3, fish sauce etc…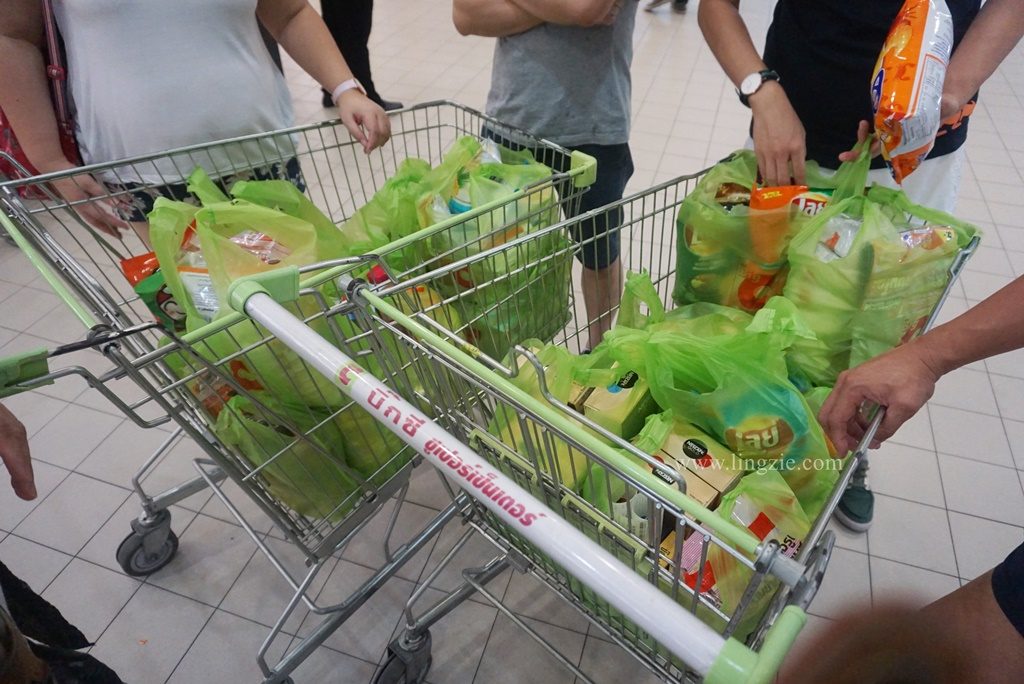 Everyone's 'nonsense'! lol
We then bid Farewell to Hatyai. Our van driver took us through the Padang Besar border exit route which had fewer people and relatively hassle free to pass through.
Dinner at Jitra 6.30pm (local Malaysian time)
16. Restoran 5 Utara
Along the way back to Penang, we stopped by Jitra for dinner at Restoran 5 Utara specializing in Thai Malay food. It was a hearty dinner with some hits and misses (the Thai Otak-Otak was rather dry), but overall a satisfying dinner. The squid paprik, cha om omelette and Thai style bee hoon were my favourites! The dinner was around RM180 (8 dishes) for 8 of us (we treated the driver & his wife to dinner too)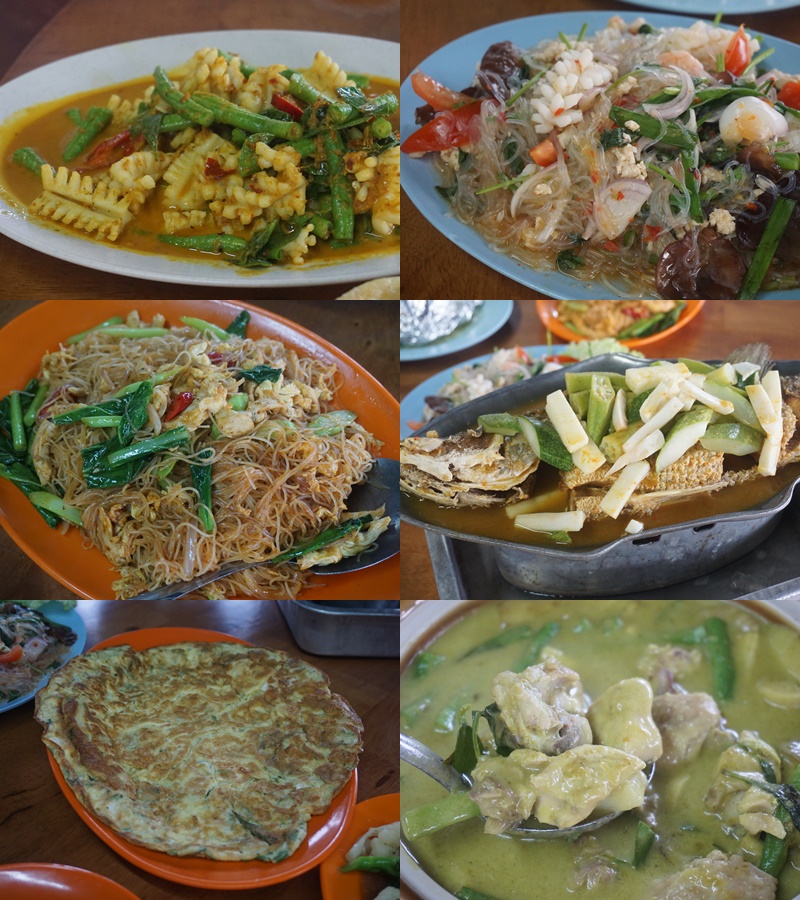 Restoran 5 Utara
5 Taman Ehsan, 06000 Jitra, Kedah. 
TEL: 04-9172155 
Opening Hours: 11.30am-11pm Daily (Pork Free)
8.30pm Reach Penang Bridge. Home Sweet Home~
**Edited: Since many have been asking for the contact number of the van driver… here is it…
Billy 012-4902599
Happy visiting Hatyai!