A friend in the UK sent me this recipe for Chocolate Guiness Cupcakes a while back, saying that they were really popular in London.
I first had my doubts. For I am not really a fan of the bitter tasting Guiness. The only time I ever had a bottle of Guiness (with mouthfuls of Kampai to cover the bitter taste, weird combo, I know) resulted in me getting a lil tipsy and my trusty girl friend grabbing onto my arm to guide me back to the car.
But, the recipe called for chocolate AND cream cheese frosting! Which makes it awfully tempting indeed. So, when I received an invite to a friend's birthday get together, I knew this would be just the perfect chance to try out the recipe.
Rushed home Friday evening and baked away…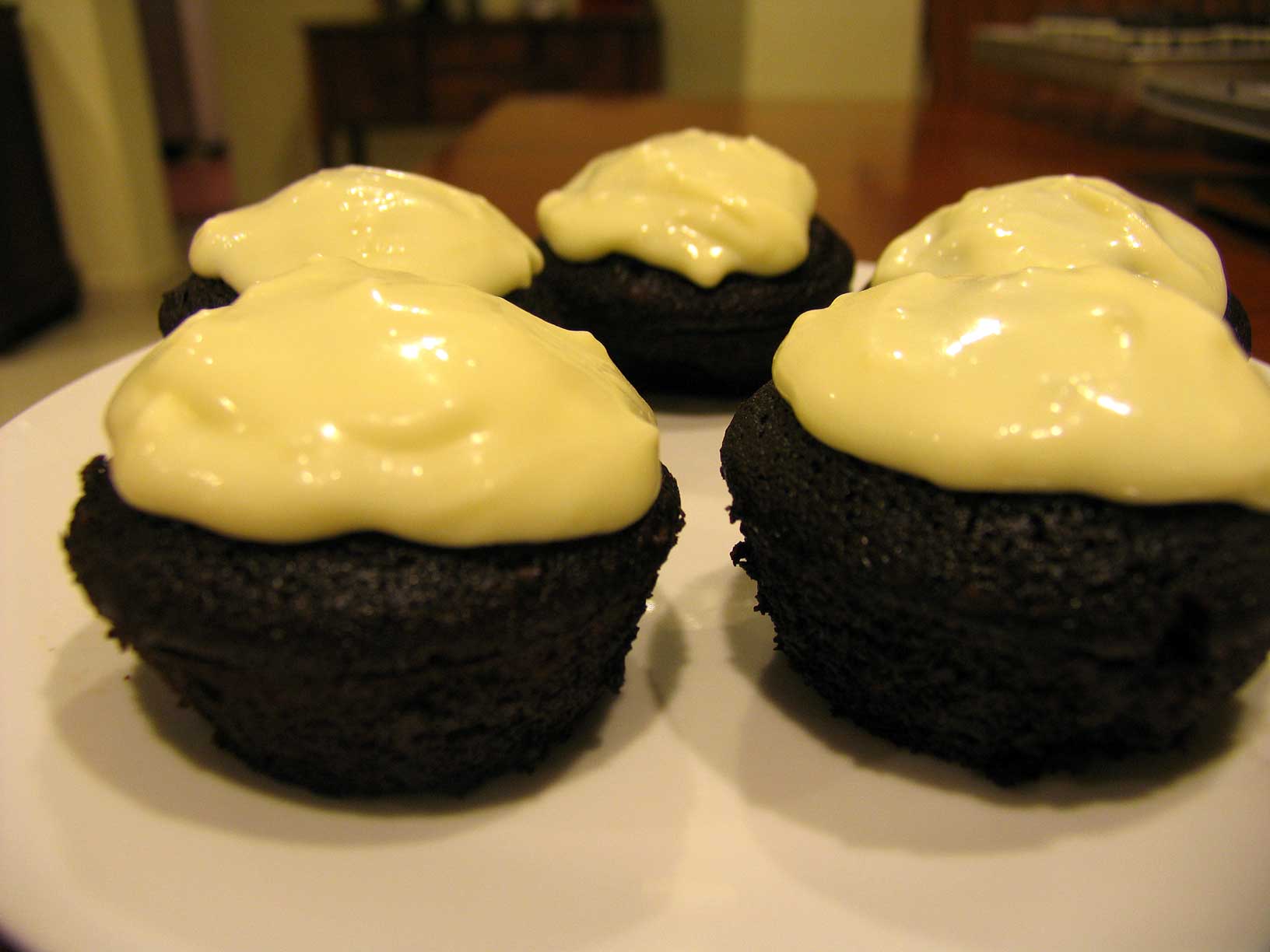 Took me about one a half hours to get everything together, including cooling the cupcakes and frosting them. Found my cream cheese frosting a little too runny though. Perhaps I need to cut down on the liquid portion a wee bit.
The verdict? Everyone loved them! 🙂 🙂 🙂 Rich chocolatey yummyness with just a hint of Guiness, topped with sweet cream cheese frosting… bliss!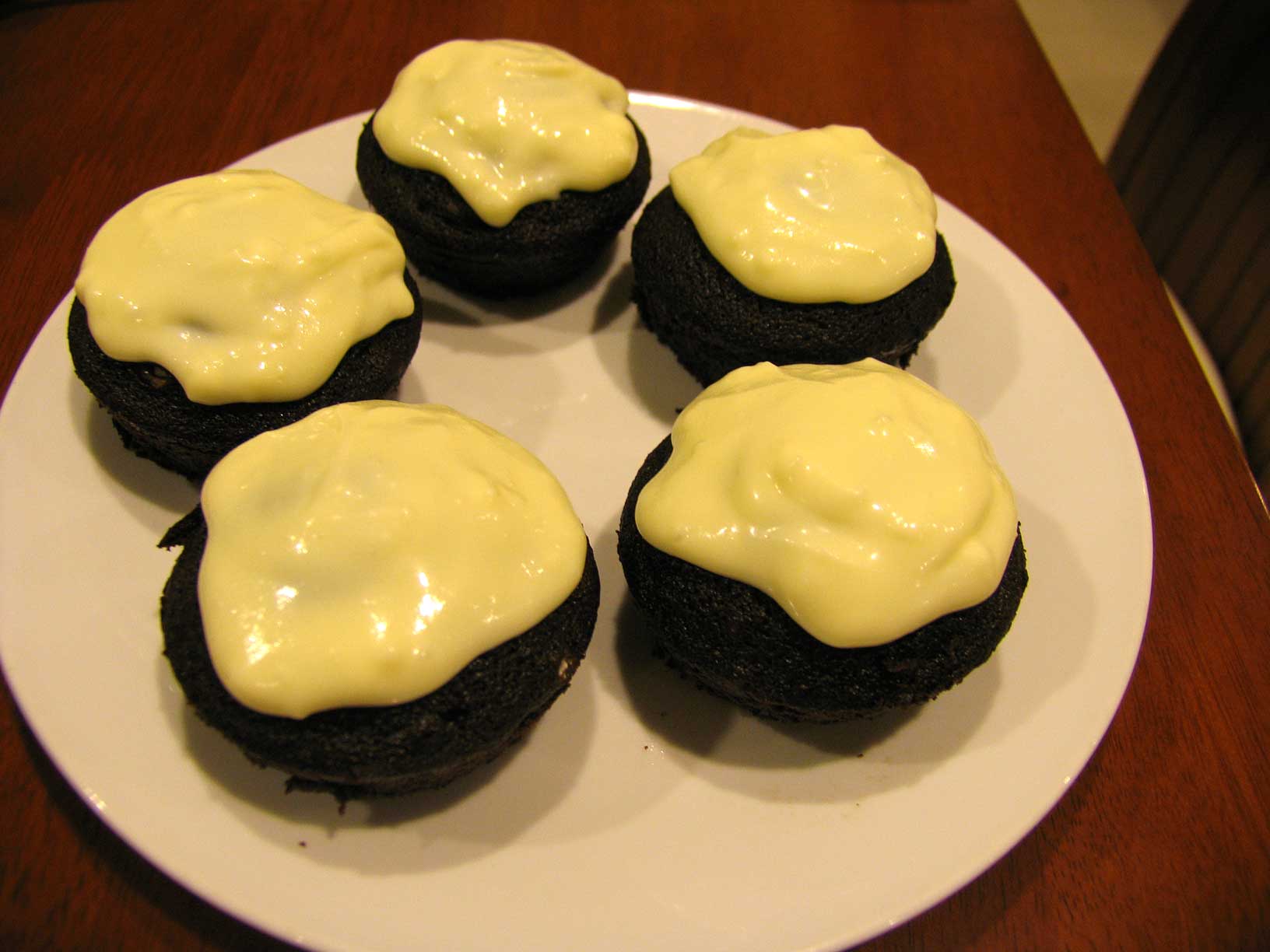 And now…the recipe for these delicious morsels, taken from this site (the owner of UK's first mobile chocolate bar):
Doesn't a mobile chocolate bar sound really cool?! 🙂
Ingredients:
250ml Guiness (I bought a 320ml can, and didn't want the remainder to go to waste, so I added in the whole can!)
250g slightly salted butter
80g cocoa
400g caster sugar
142ml pot of sour cream
2 eggs
1 tablespoon vanilla extract
270g plain flour
2 1/2 teaspoons bicarbonate of soda
Cream Cheese Frosting:
300g cream cheese
150g icing sugar
150ml double cream
Method:
1. Preheat oven to 180°C.
2. Line 2 X 12 hole muffin tins
3. Pour the Guiness into a large saucepan. Add butter in small pieces and heat until it all melts together. Turn off heat.
4. Whisk in cocoa and sugar.
5. Beat sour cream, eggs and vanilla extract. Mix into the pan.
6. Finally, whisk in flour and bicarbonate of soda, little by little to avoid lumps of flour in the batter.
7. Divide the mixture between muffin tins using either a piping bag or a jug as the mixture is pretty wet.
8. Place muffin tins in oven and bake for 18-20mins or until they are nicely puffed up.
9. Cool and racks and remove muffins from the tins when they're firm/cool.
10. To make cream cheese frosting, whisk together cream cheese, icing sugar and double cream with an electronic whisk. Whisk until you get a good, thick consistency.
11. Ice the cakes  – nice big, billowing slathers to give the illusion of a small, sweet, edible Guiness.