Ardent fans of buffets will be happy to know that one the best buffets in town by Shangri-La's Rasa Sayang Resort & Spa is now better than ever! Why? Because
No.1 – They now feature an award winning Guest Chef's cooking, and
No 2. – They've got discounts galore! (more on that at the end of the post!) hehe
Spice Market Cafe has recently launched it's 6 in 1 Promotion featuring mouth watering dishes from Guest Chef – Chef Seth Shantanu. Chef Seth Shantanu is the Chef De Cuisine from Naan, Flavours of India which is located at Shangri-La's Rasa Ria Resort, Sabah. Naan, Flavours of India, helmed by Chef Seth Shantanu, was awarded Best Indian Restaurant in the 18th Malaysia Tourism Awards 2012/2013.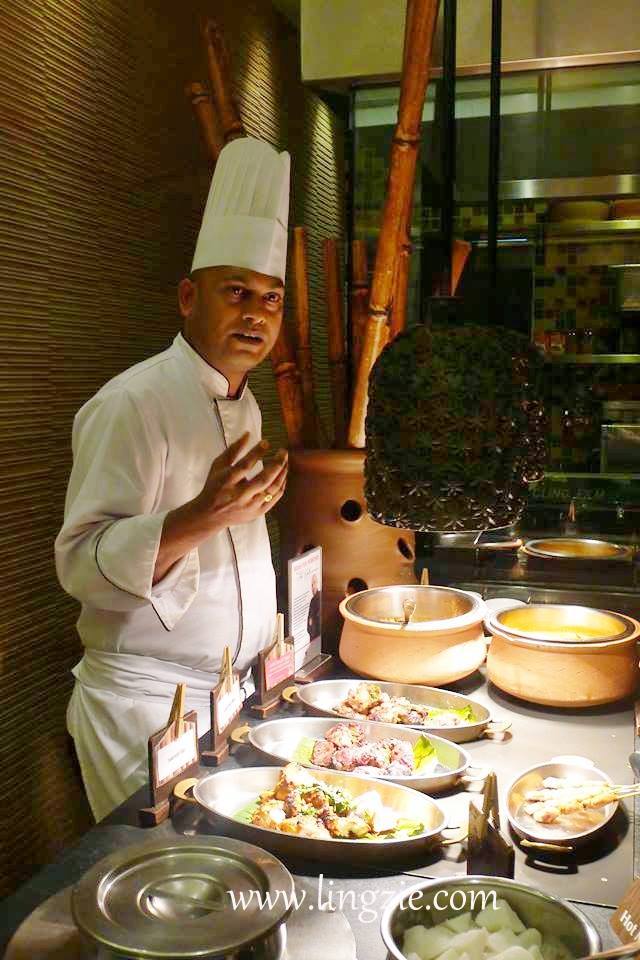 Therefore, indian food lovers would be spoilt for choice as Chef Seth will feature a number of his signature dishes at the Indian Section of the buffet. The dishes would be served on a rotation basis at the buffet. It is Chef Seth's hope to introduce Indian dishes that are less mainstream, in addition to the dishes that we are more accustomed to such as his traditional butter chicken.
Chef Seth Shantanu's cooking will be available at the International Buffet @ Spice Market Cafe from 25 May to 26 June 2014.
When we were there for the review, we had the pleasure of sampling a few vegetarian as well as non vegetarian dishes by Chef Seth.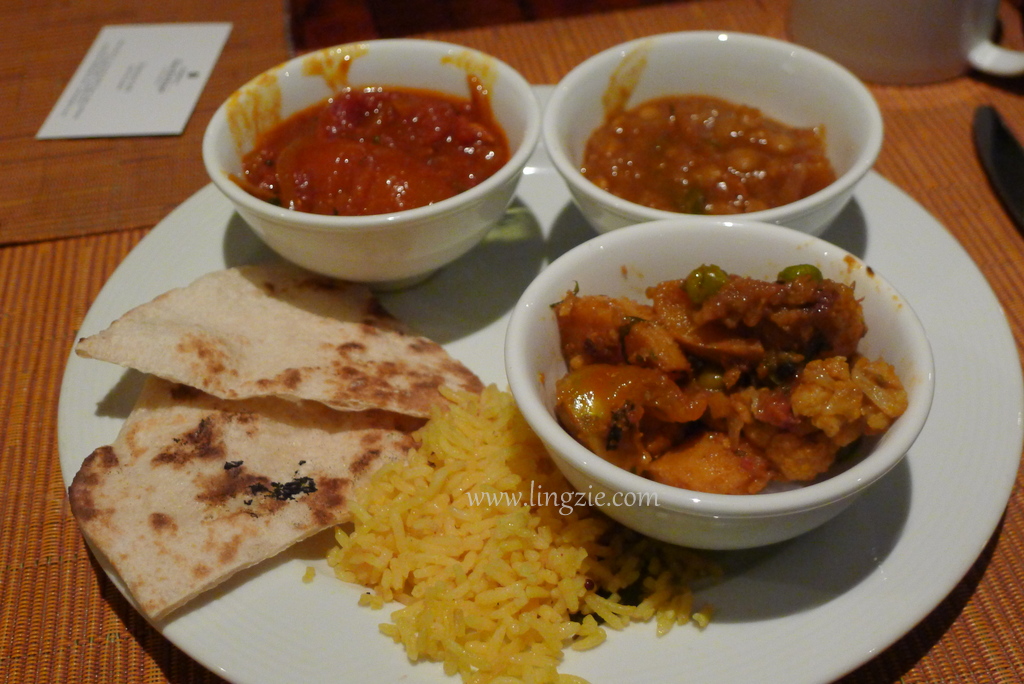 Some of Chef Seth's specialties – (From Top left) Tamatar Ka Kut, Sambhar & Aloo Gobi Matar. Accompanied by freshly made Naan & Lemon Rice
For vegetarian offerings, we sampled the Tamatar Ka Kut, a Hyderabadi specialty which consists of tomatoes with curry leaves, mustard and tamarind. This is was not spicy but had great flavour, slightly sourish from the fresh tomatoes.
The Aloo Gobi Matar meanwhile consists of potatoes, cauliflower and green peas stir fried with onions and tomato.
While the Sambhar (a South Indian Lenthil preparation) was my favourite vegetarian dish from Chef Seth. I loved the lenthils cooked to perfection and the spices rendered the dish very flavourful. Again this dish is not spicy, rather mild so it would suit most palates.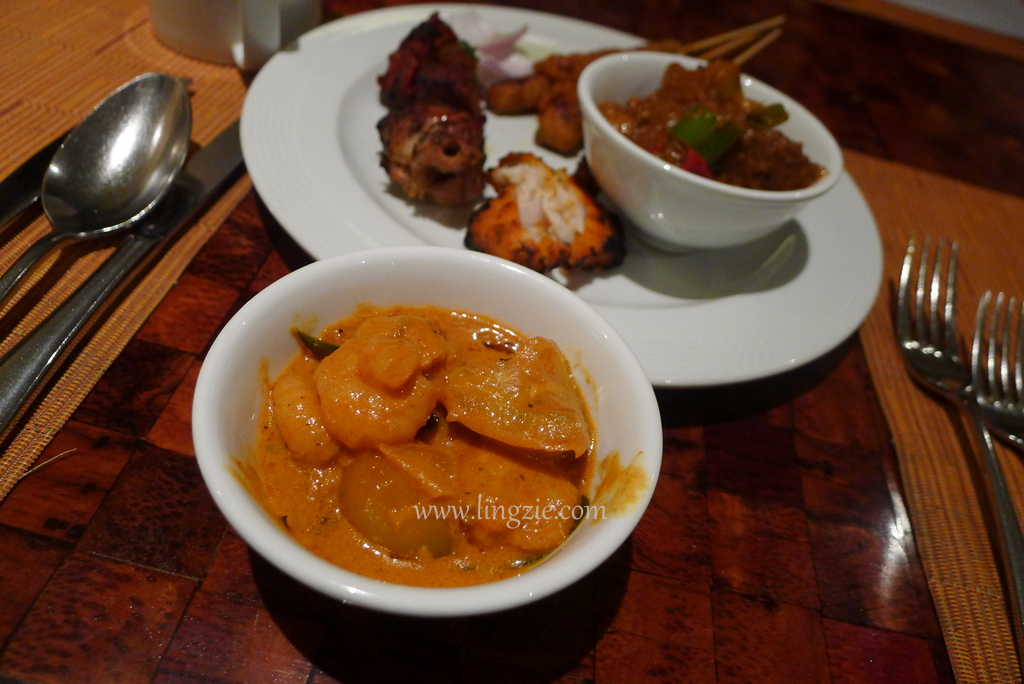 Malabari Prawn Curry (Spicy Prawn Curry from the coastal Malabar region)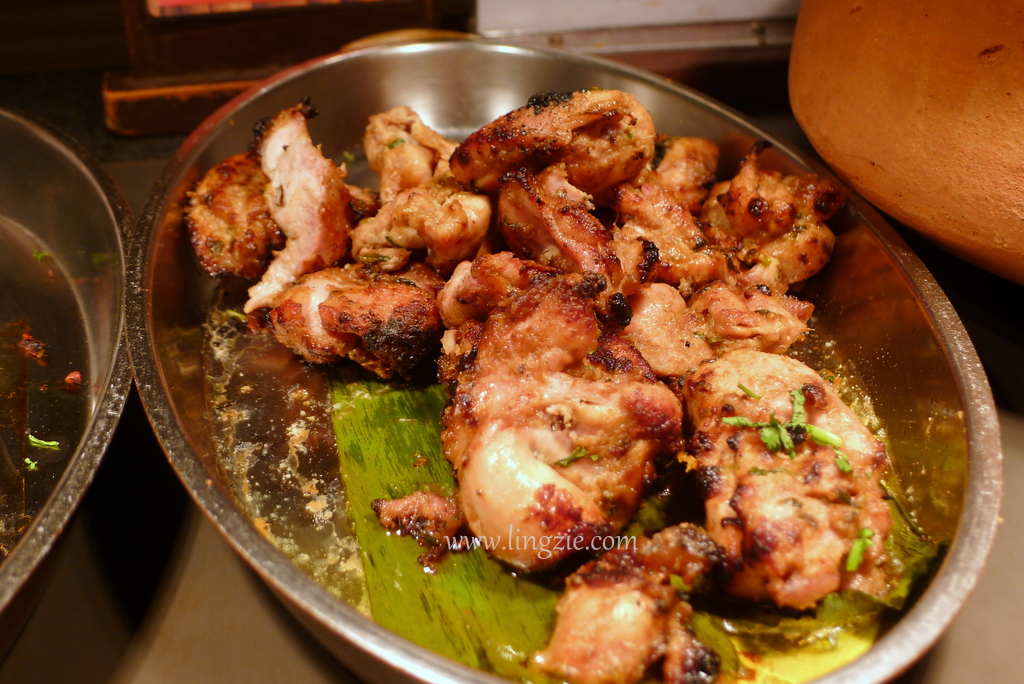 Murg Malai Tikka (boneless chicken in youghurt, cashew nut and cream marinade)
The Murg Malai Tikka was delectable – juicy and tender boneless chicken infused with the aroma from the tandoor oven. One of my favourite dishes at the buffet.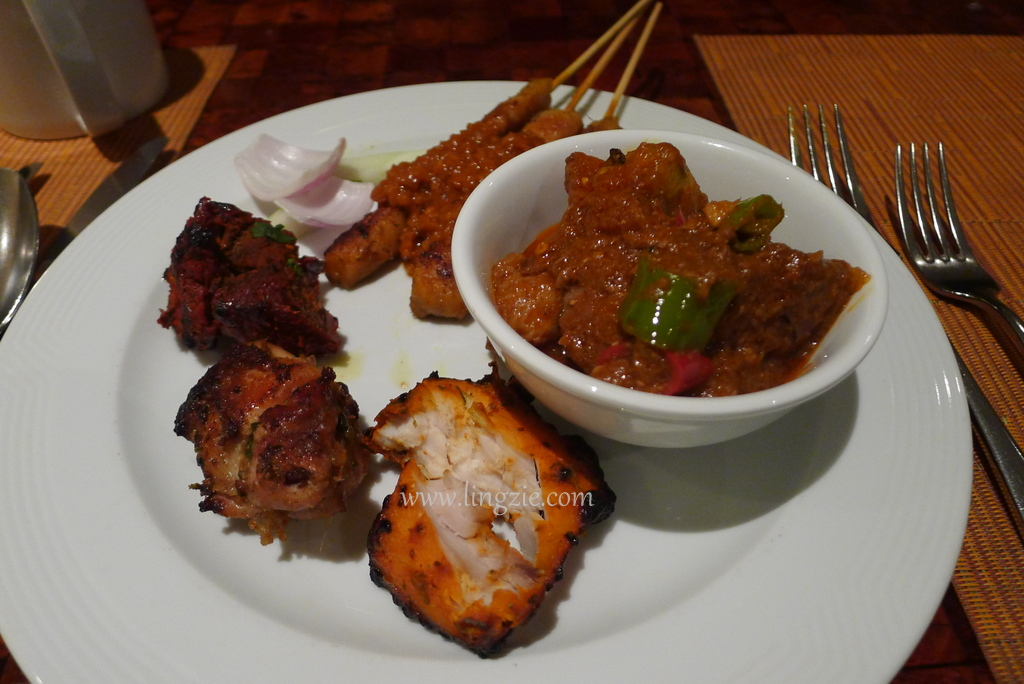 Laal Maans (Signature lamb dish from Rajasthan) together with some tandoori meats & satay
The star dish of the night in my opinion was the Laal Maans. I managed to have a quick chat with Chef Seth (who was very friendly and obliging, by the way!) and he described the Laal Maans dish as a traditional dish cooked by the warrior clans. So it is a very rustic dish and traditionally very spicy (helps provide some heat as well as fieriness to the warriors apparently, lol) But Chef Seth did tone down the spiciness of the dish to cater to a wider audience. I absolutely loved the tender, flavourful morsels of lamb. The curry had a delicate smokiness to it which I really appreciated. I threw caution into the wind and had 2nd and 3rd helpings of this dish! 😛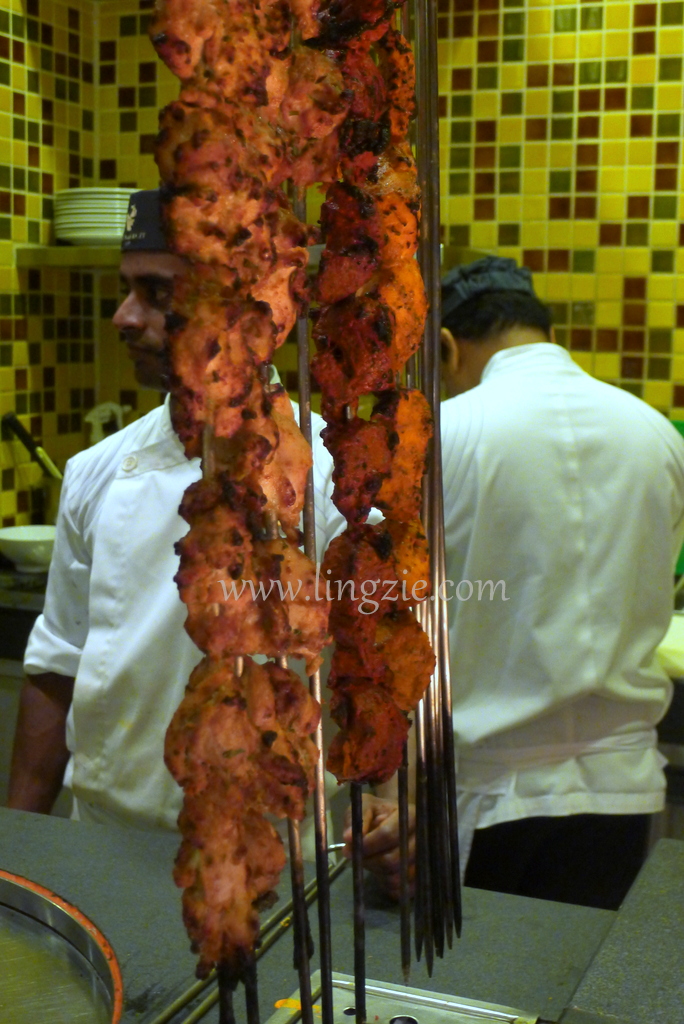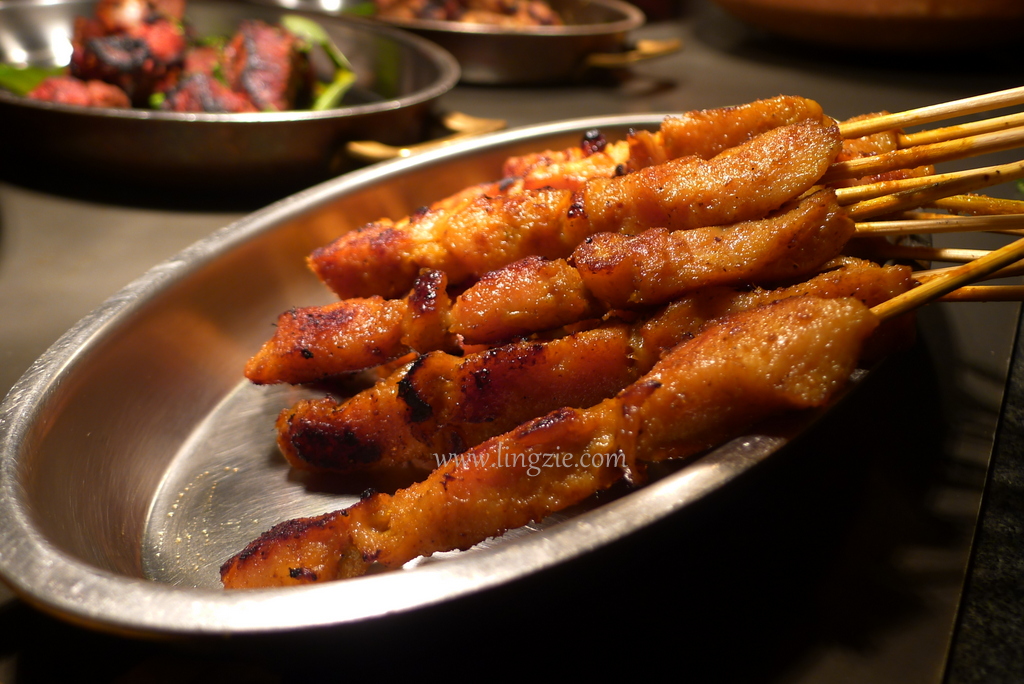 The International Buffet also features dishes from five other specialties (other than Indian food) – comprising of Japanese, Western, Chinese, Malay and desserts. There was the usual fresh seafood spread…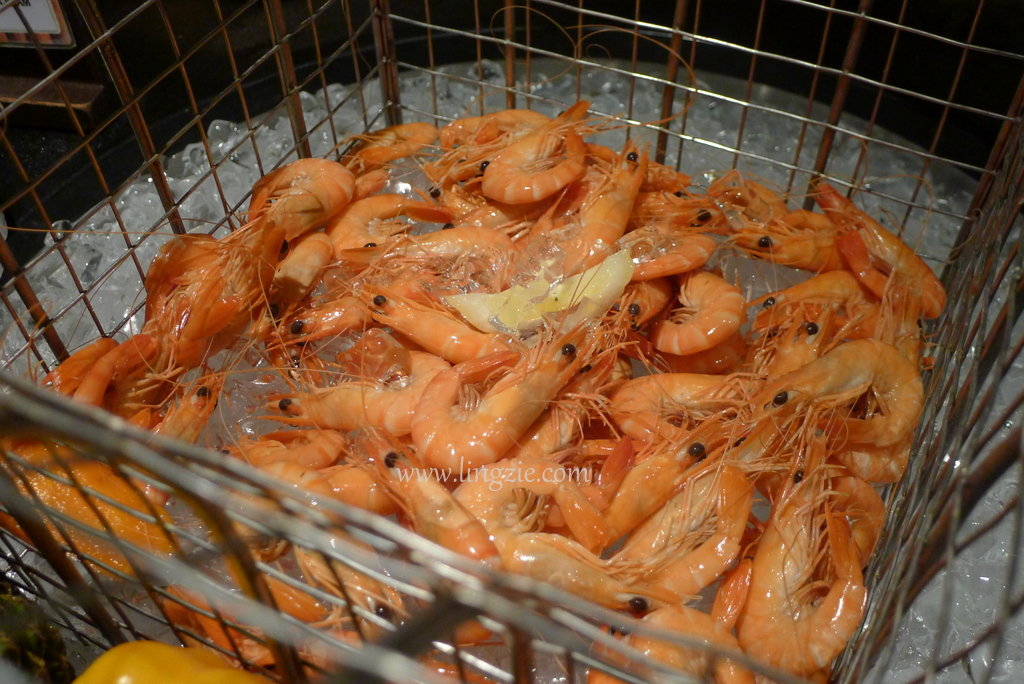 Prawns Galore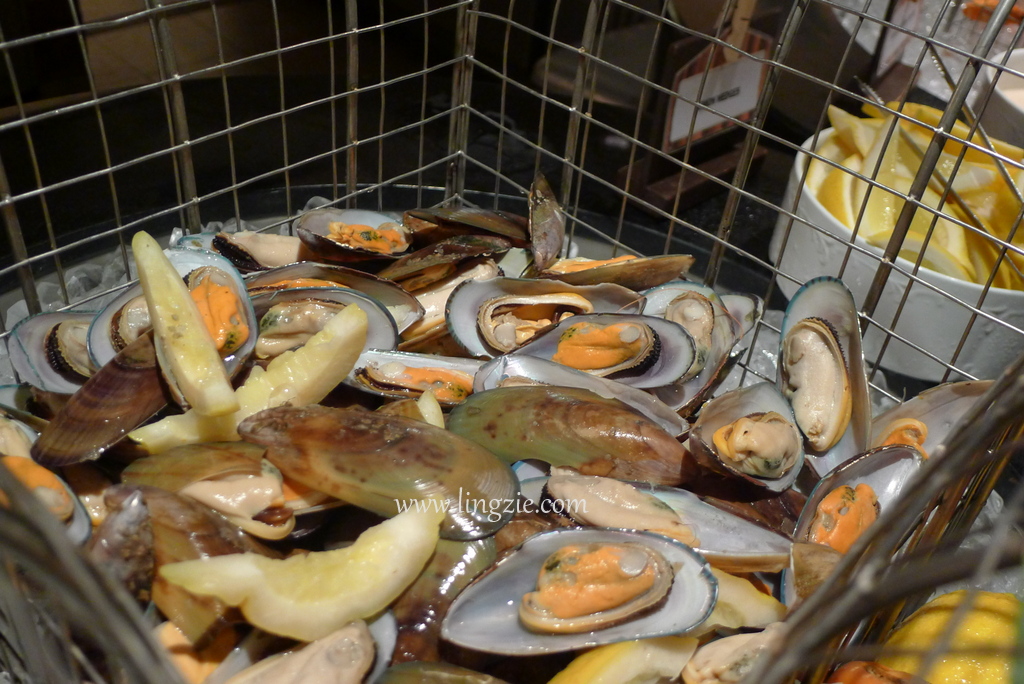 Mussels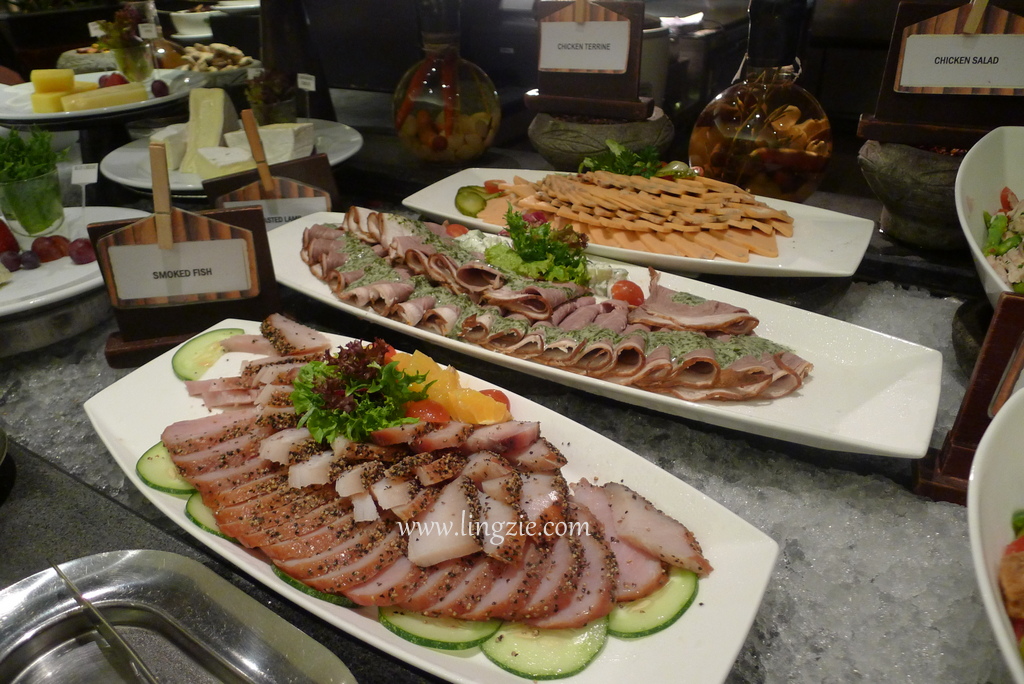 Cold cuts and appetizers – Smoked Fish & Chicken Terrine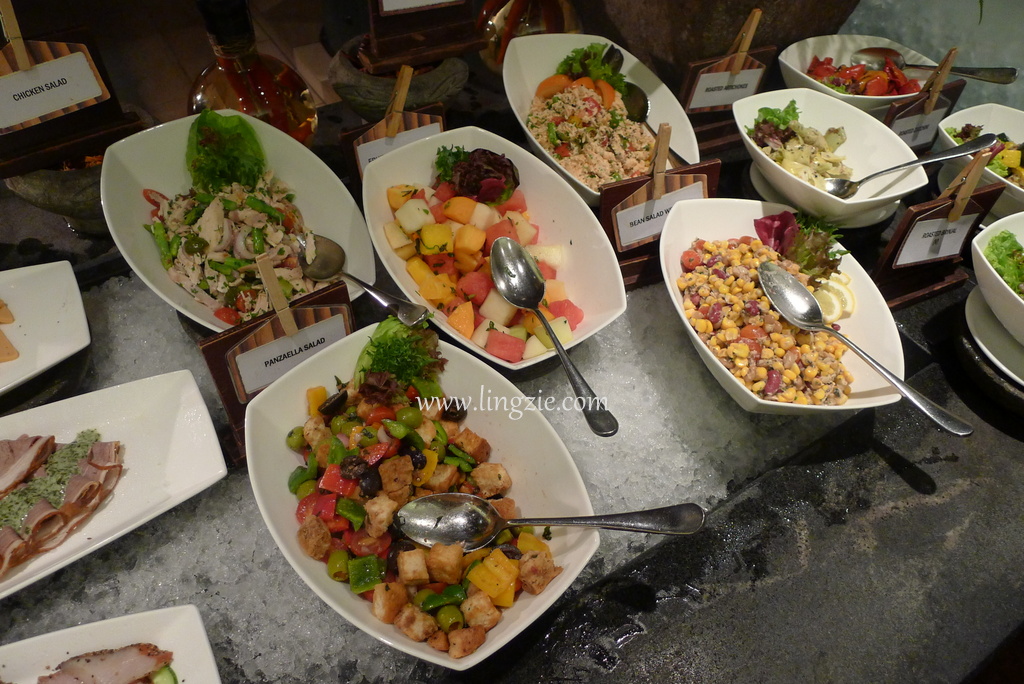 Array of Salads & Appetizers
I was happy to note that there were quite a few interesting dishes amongst the appetizers – Panzanella salad & Roasted Arthicokes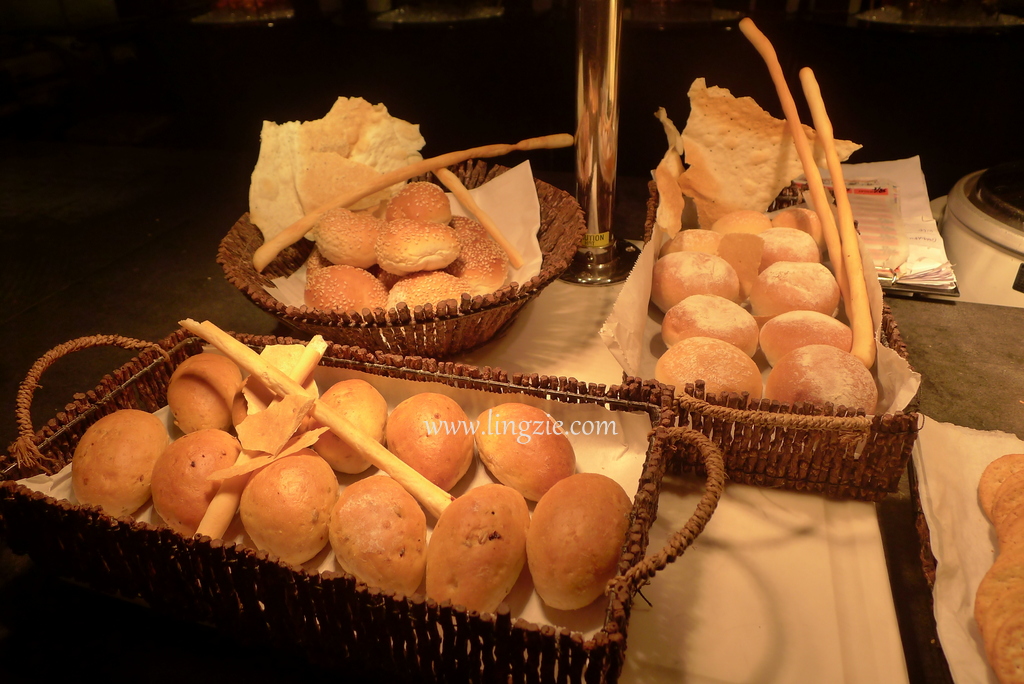 Bread counter~ yum~~~ I always have to restrain myself from eating their breads and buns (in order to save stomach space) but they are so good!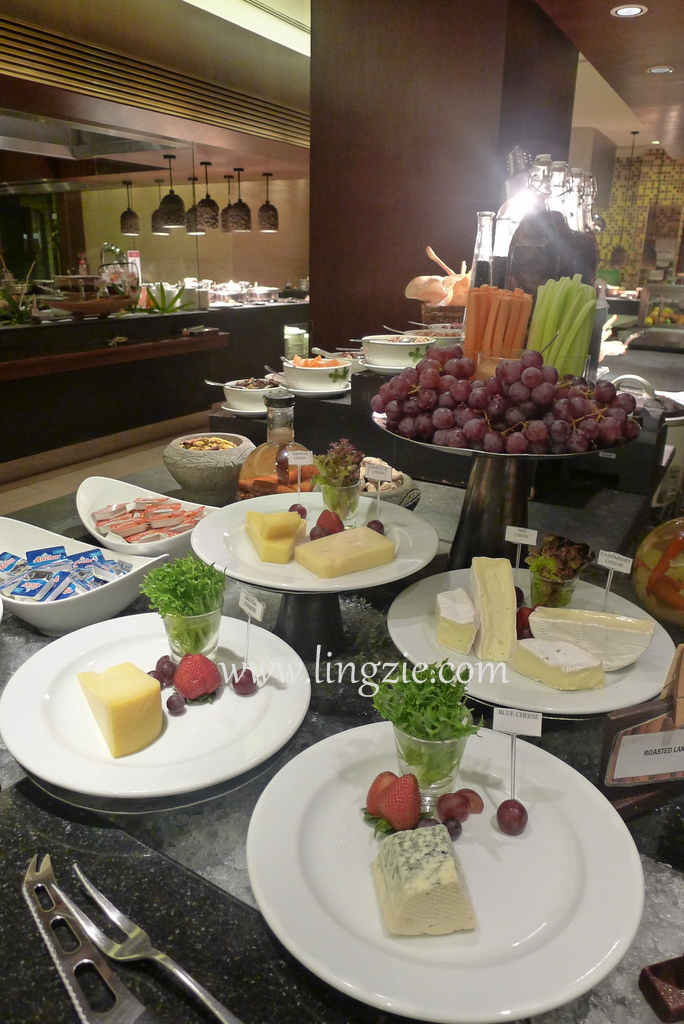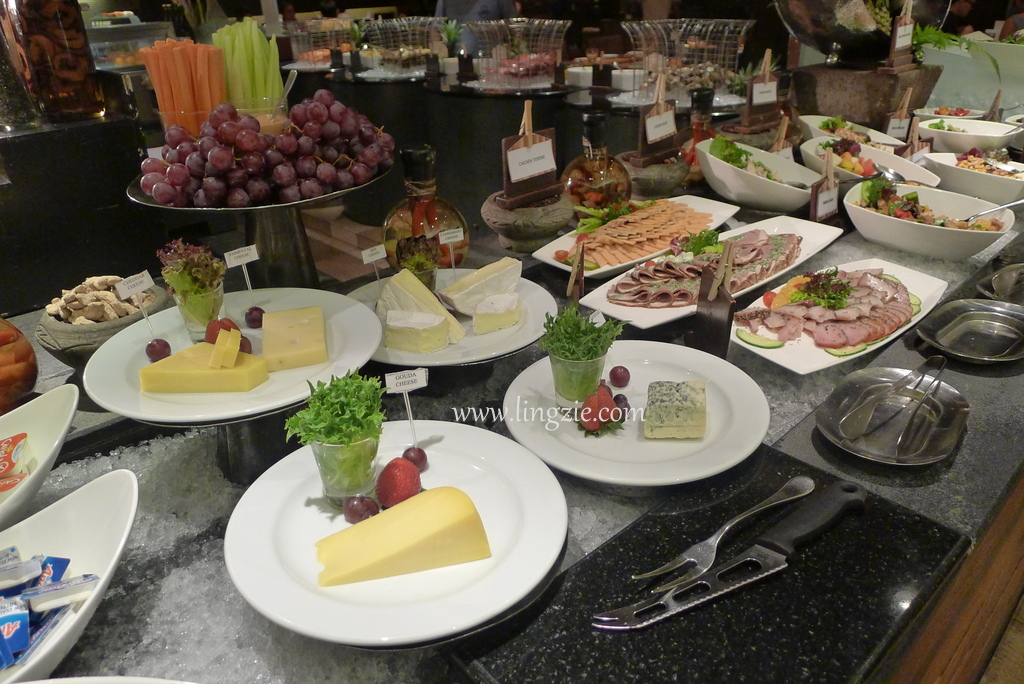 Cheese fans would be pretty happy with the cheese platter – blue cheese, brie, cheddar, gouda & camembert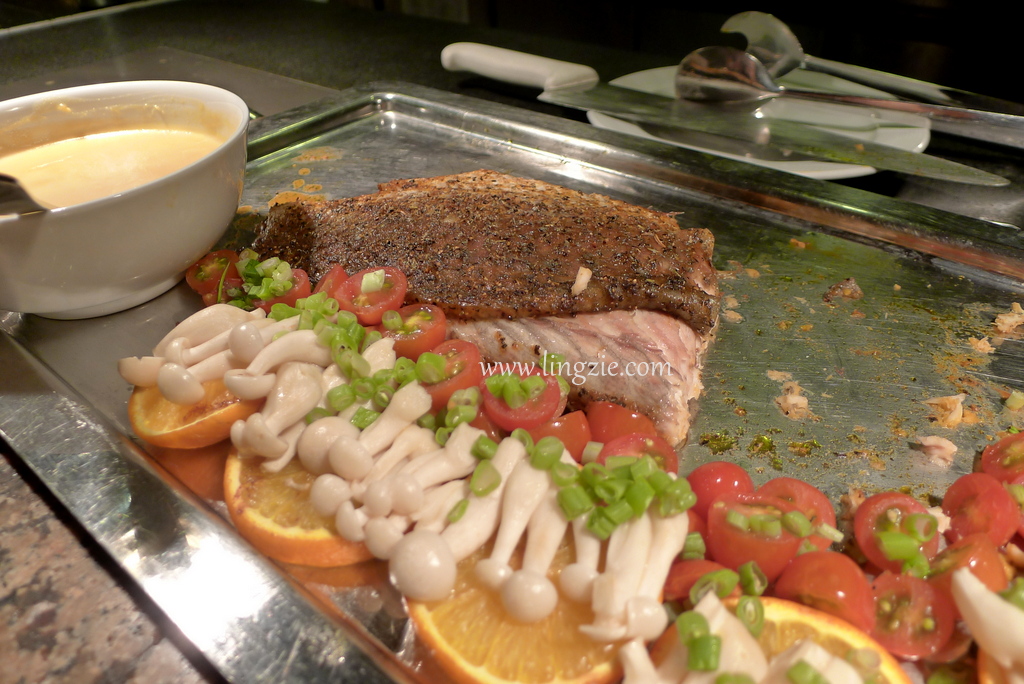 Cajun Scented Fish Fillet
Cajun Scented Fish Fillet was an enjoyable dish. This fish was meaty and fresh and tasted better when paired with the citrus cream sauce.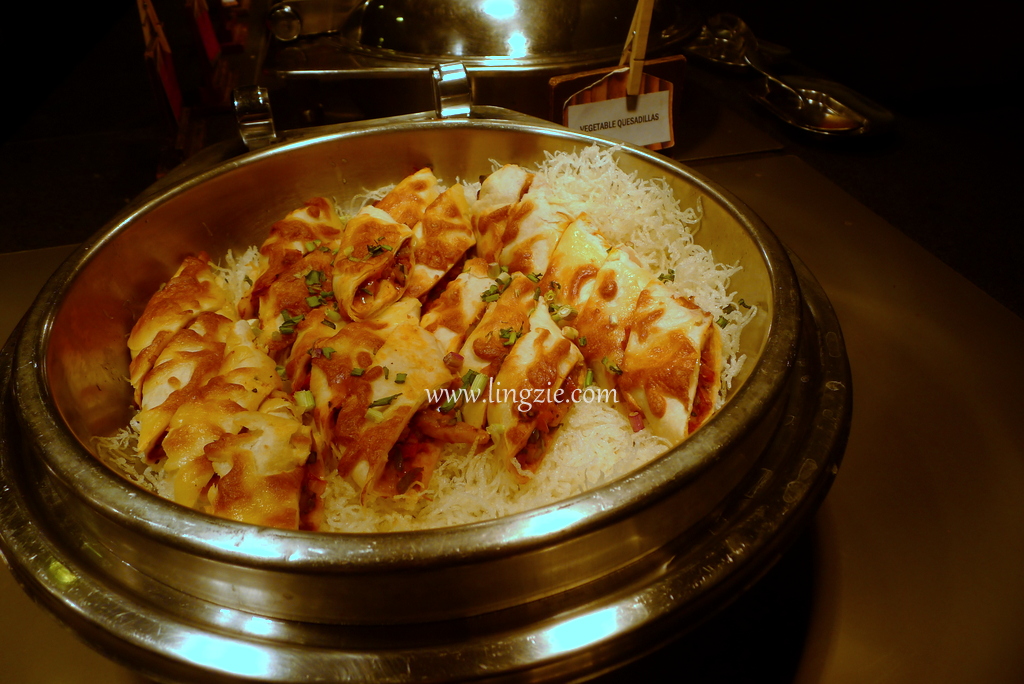 Vegetable Quesadillas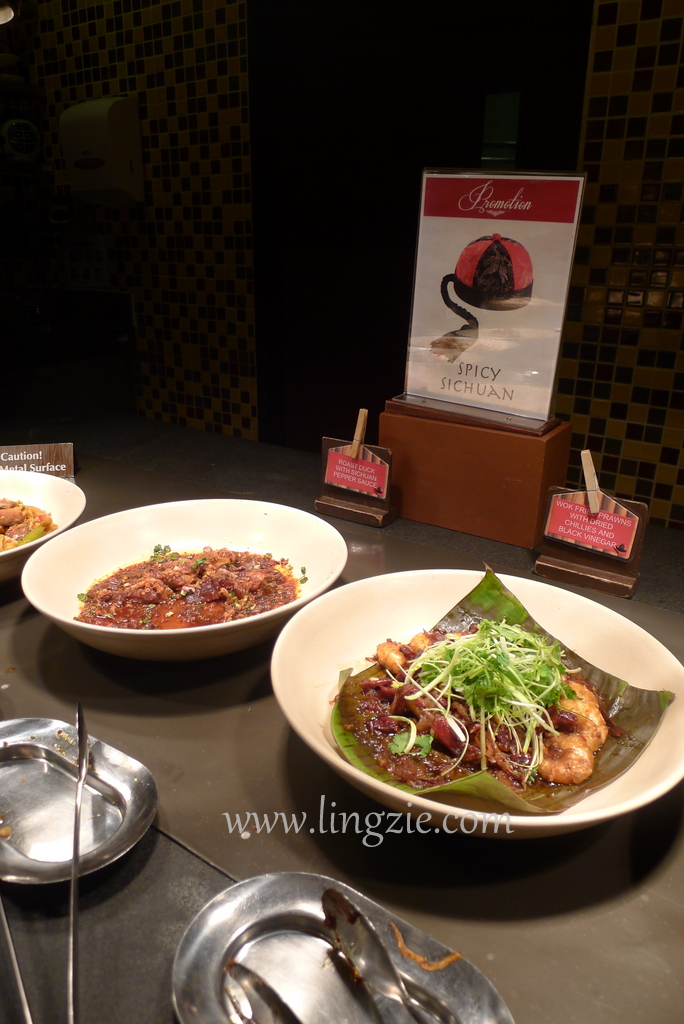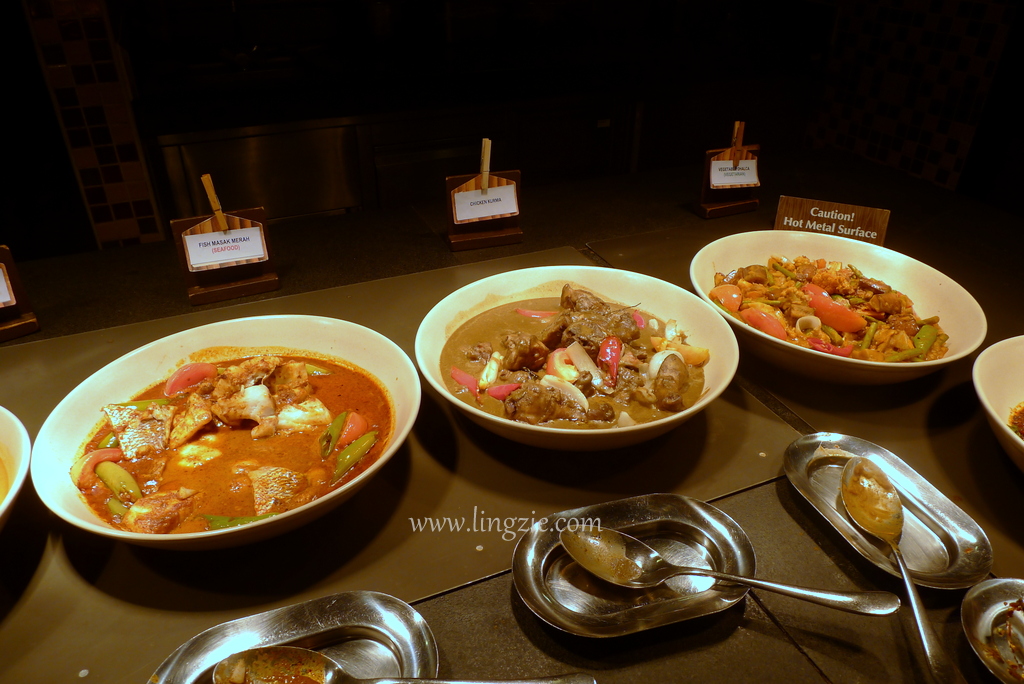 Various Malay dishes – Fish Masak Merah & Chicken Kurma
I thoroughly enjoyed the Fish Masak Merah, very flavourful and the fish was cooked just right.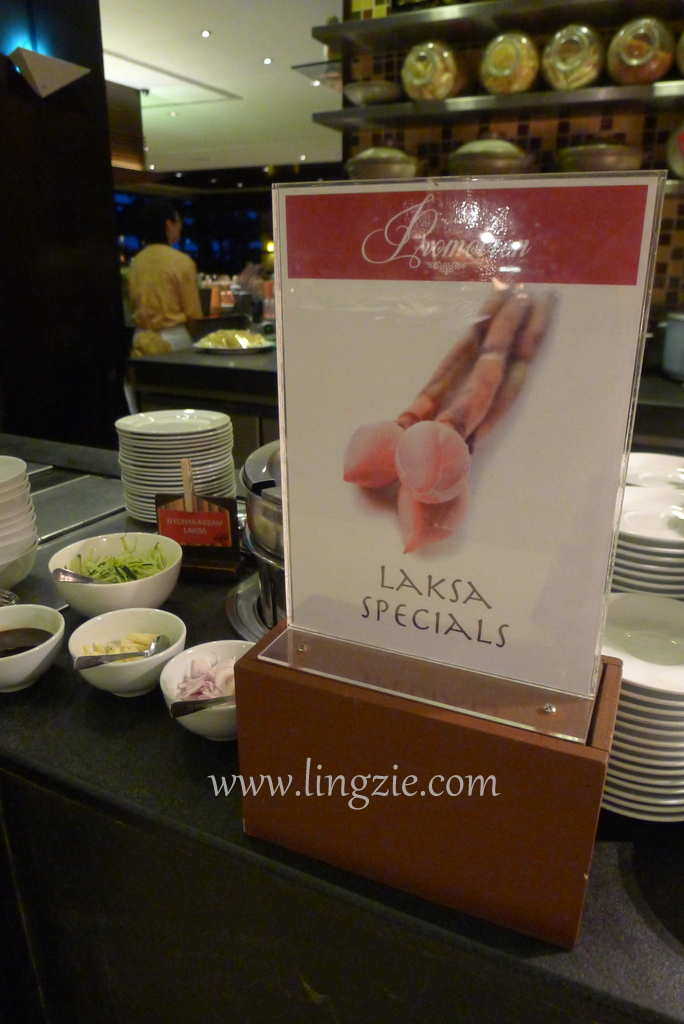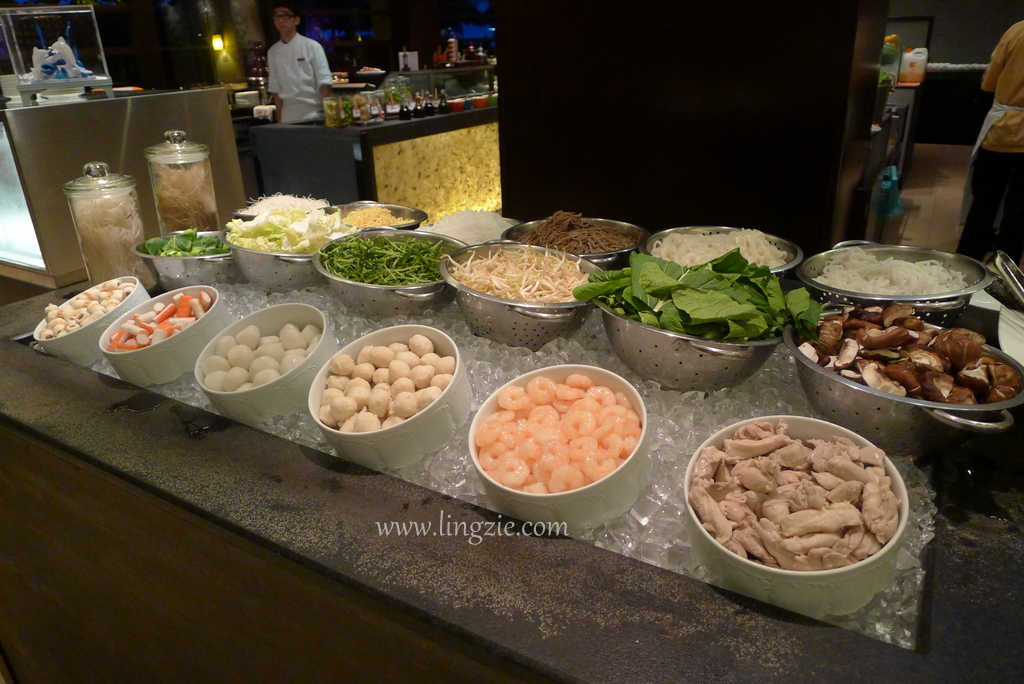 And on to dessert~ my perennial favourite part of any buffet (though I must add that in this instance, I was still thinking of the Laal Maans lamb dish when I headed over to check out the dessert spread)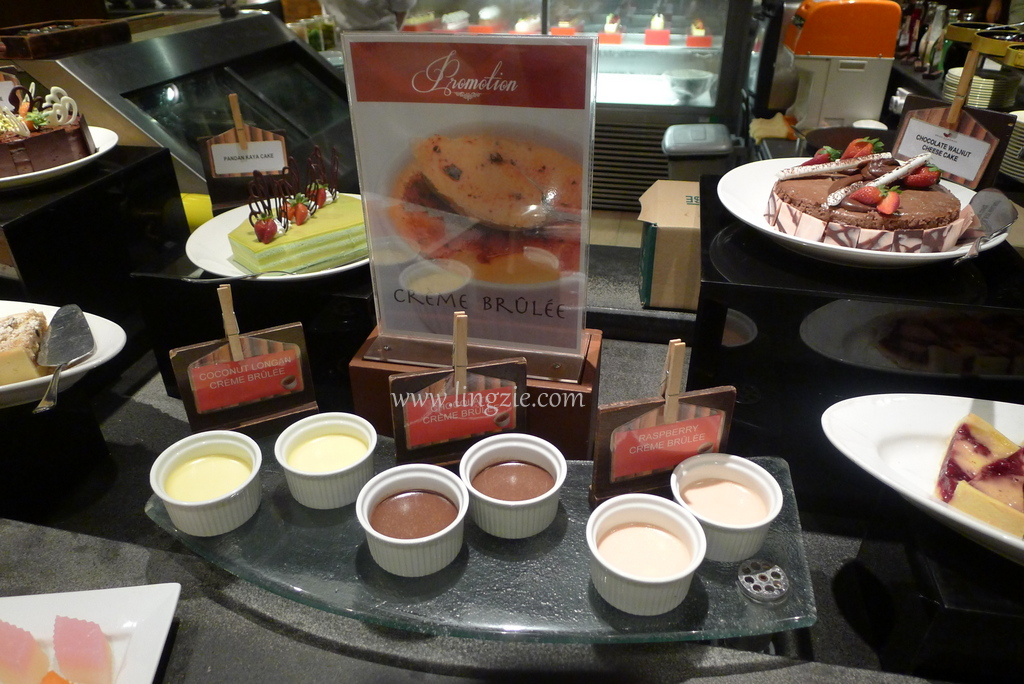 This time round, the highlight was Creme Brulee – Coconut Longan, Chocolate and Raspberry. I was really tempted to try all 3! But finally decided on two (after much deliberation :P) We had the Coconut Longan and the Chocolate Creme Brulee. Out of the two, I definitely preferred the Chocolate – it was rich and luxurious. Unfortunately the Coconut Longan didn't really win my favor. I personally felt the coconut overpowered the whole dessert and couldn't taste the longan flavour.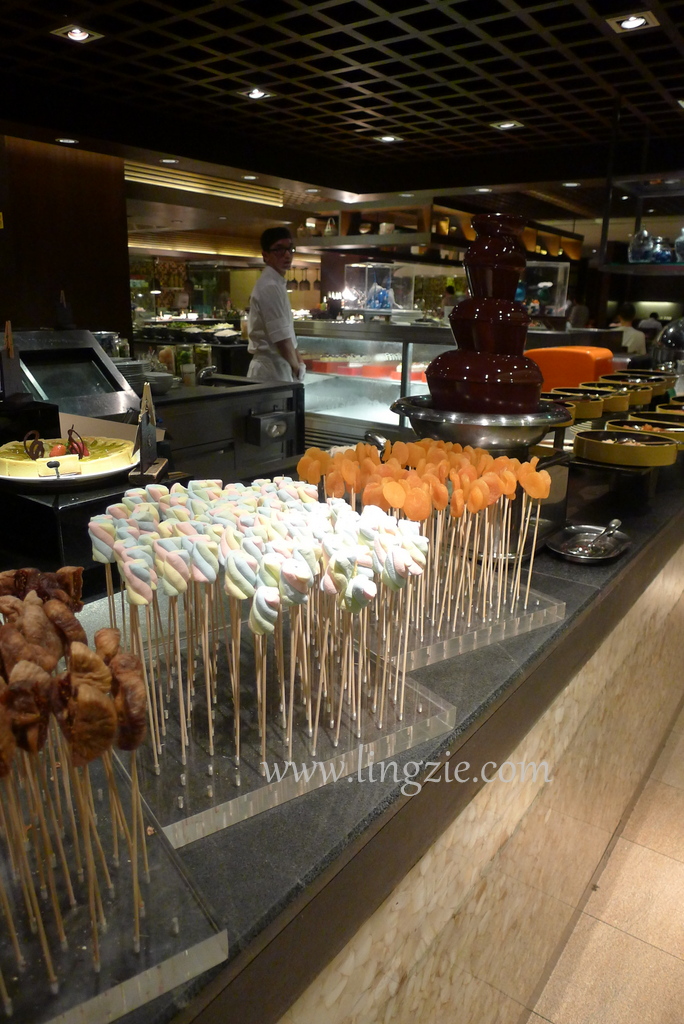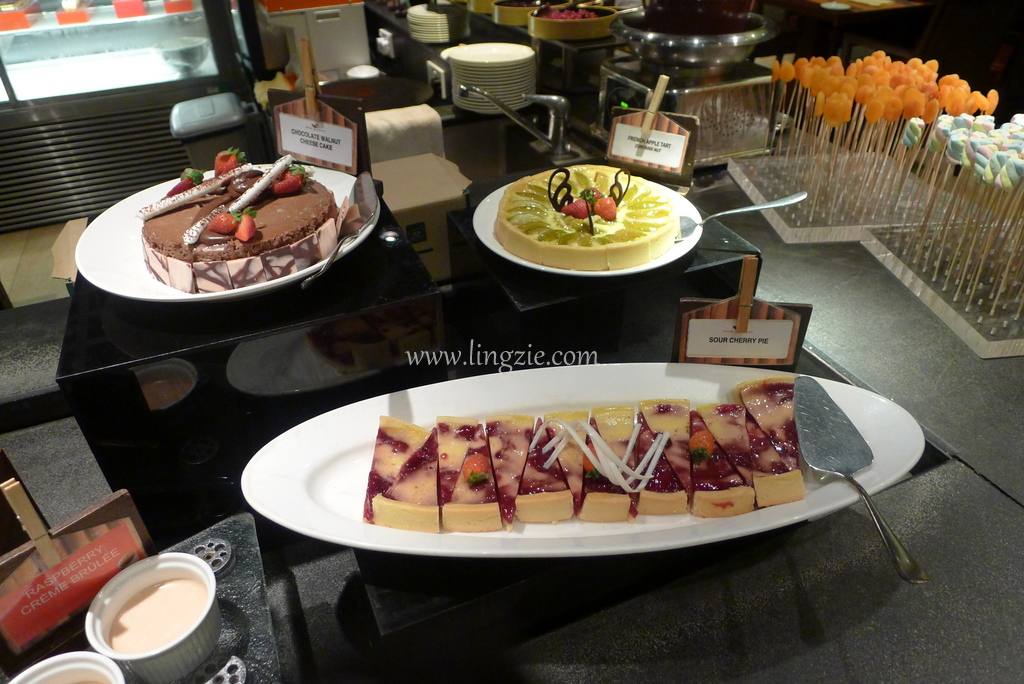 Patrons will also be happy to note that there is a small kid's section at the buffet complete with plastic plates & cutlery. I found it very cute indeed!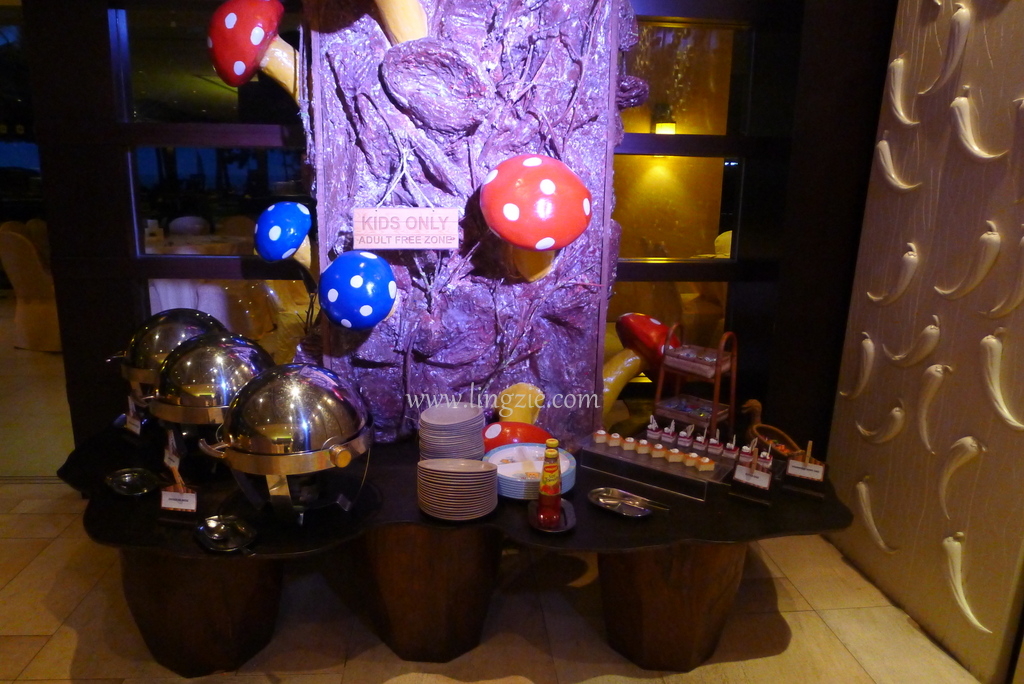 The Kids Section had Sausage Puffs, Potato Frittes and Chicken Milanese. While for dessert, there was Butter Cake & Strawberry Short Cake.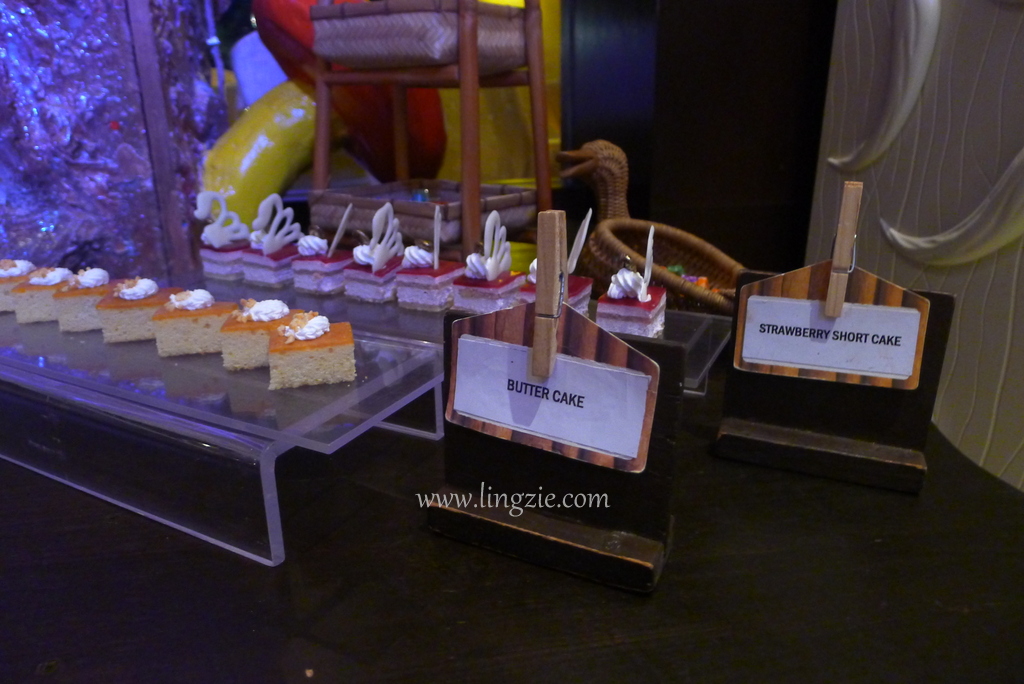 Remember the discounts I mentioned right at the beginning of the post? Well here's the lowdown…
Spice Market Cafe's International Buffet Dinner is available from Sundays –  Thursdays 
Priced at RM128++ (adults) and RM64++ (child) 
P60 promotion for Mondays & Tuesdays (meaning you only pay 60% of the actual price) So that's a 40% discount!
P70 Promotion for Wednesdays (meaning you only pay 70% of the actual price) 
P80 Promotion for Thursdays (meaning you only pay 80% of the actual price)
This promotion is on-going until early December.
For more info & reservations, do call Spice Market Cafe at 004-888 8788.