When I received an invitation to check out a new pizza chain store in town AND visit a new mall in Penang, I simply couldn't pass up the opportunity. I wasn't aware that the AEON Mall had moved from its previous location to Bukit Mertajam in Alma. Plus I was also curious to check out Vivo Pizza that already has 13 outlets in Malaysia, but is now expanding up north with its first outlet in the Northen region at AEON Mall Bukit Mertajam.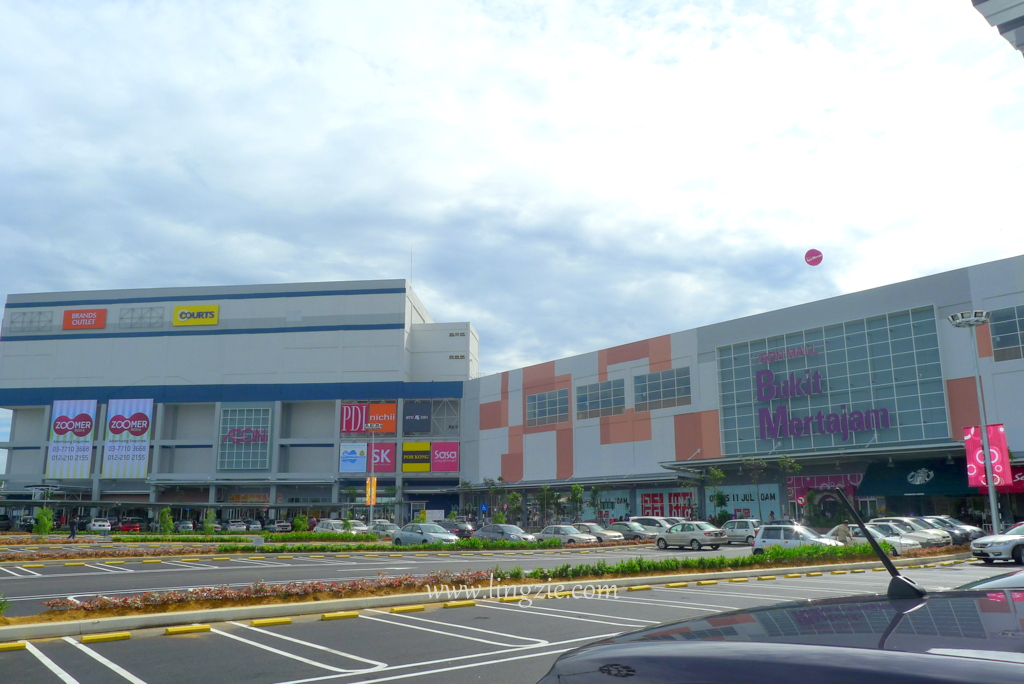 First look at the new AEON Bukit Mertajam, Alma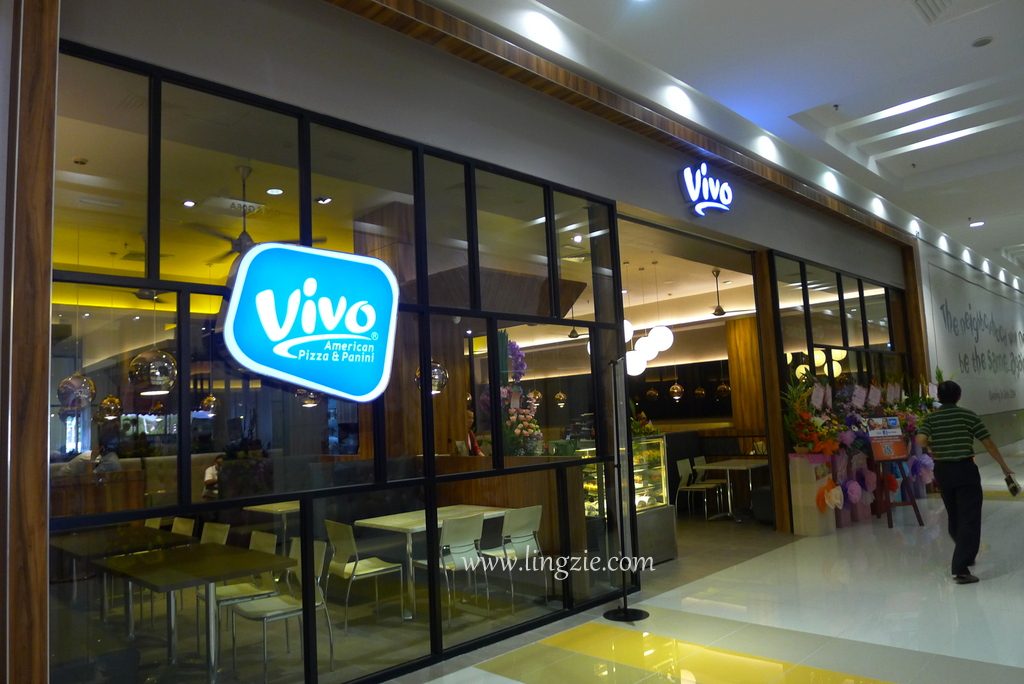 Vivo Pizza @ AEON Bukit Mertajam (located on the Ground Floor near to the soon to be opened Uniqlo!) Vivo Pizza is Halal certified.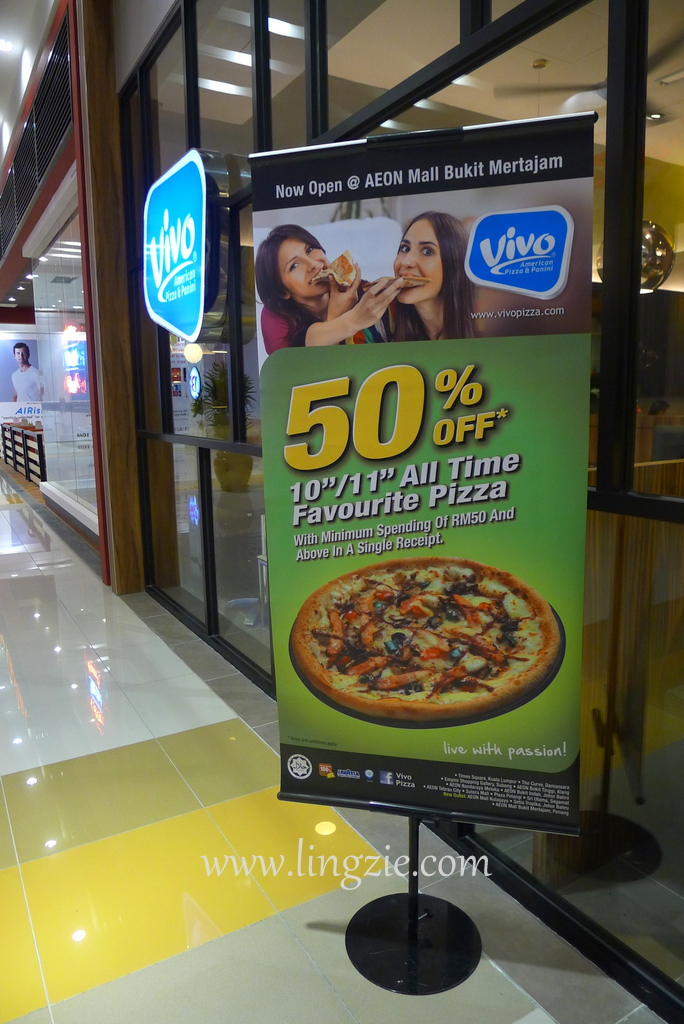 Opening Promos! 50% off! (Discount vouchers to be given away to lingzie.com readers too! More info at the end of the post!)
The Vivo Pizza outlet is spacious, with comfortable seating. I was pleasantly greeted and the first thing I noticed upon browsing through their menu is this fact…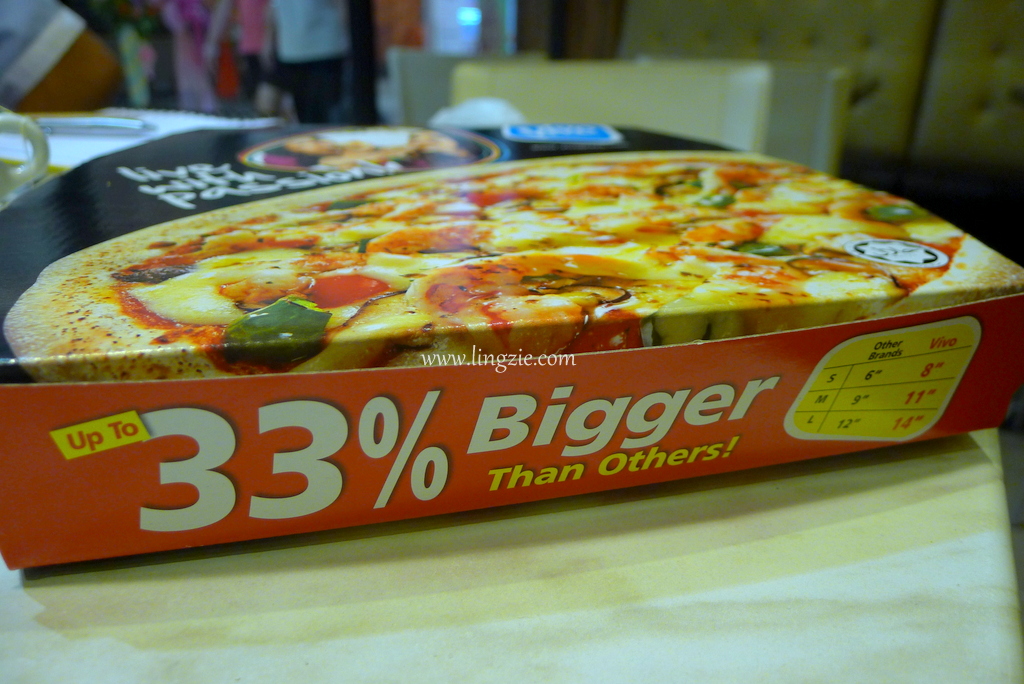 Yep, one of the selling points of the pizzas at Vivo Pizza is that they are 33% BIGGER than other brand pizzas!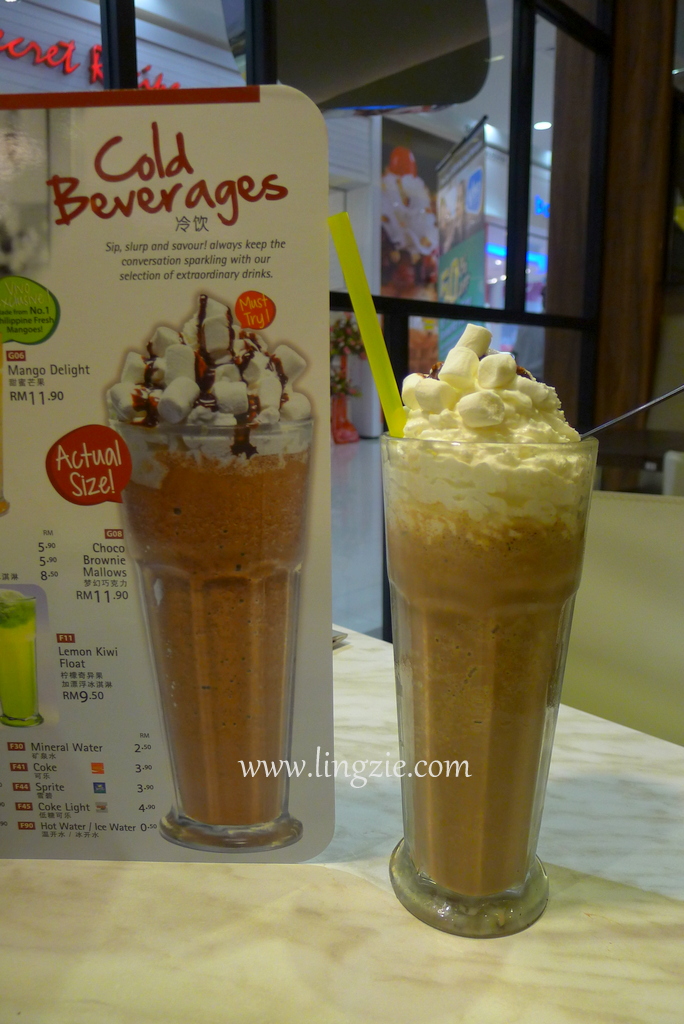 Also, they have this huge size drink that is the same size as what's advertised in their menu.
This is the Choc Brownies Mallows (RM11.90)  For non chocolate lovers, there is also a Mango Delight option (using fresh mangoes imported from Phillipines)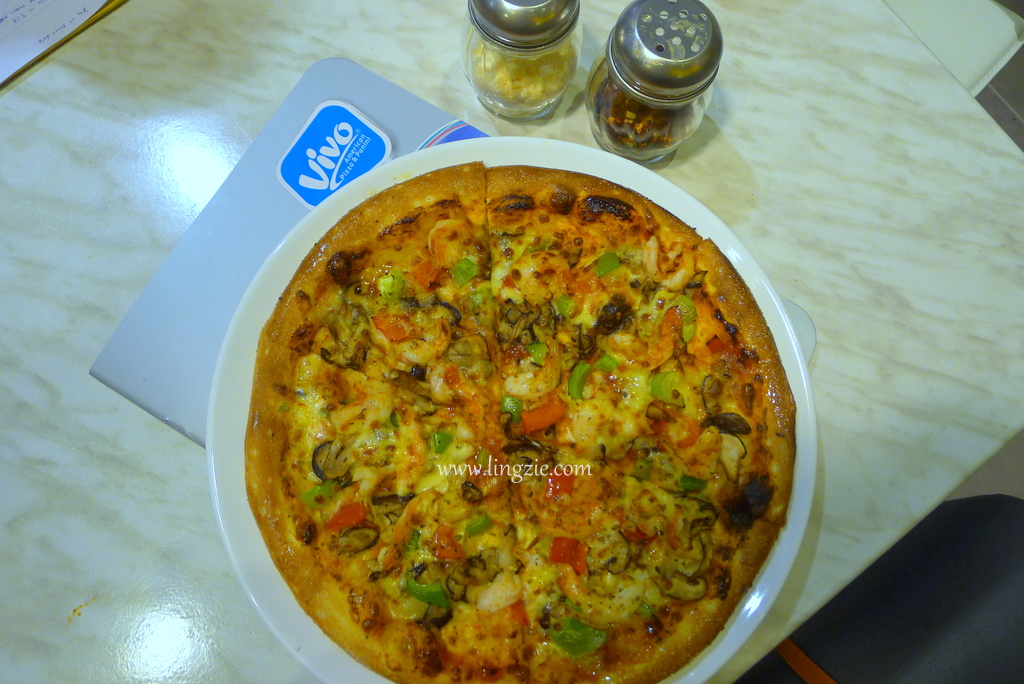 Now onto the serious stuff… the food!
Vivo Pizza's menu has a signature top 10 list at the very first page of their menu for new customers who aren't sure what to try. I found this very helpful.
I was surprised to find a Prawn Pizza on the menu. At first I wasn't too eager to try it as I thought that surely they would use frozen prawns. But I was advised that they only use fresh prawns on their prawn pizza. So, I was sold! Prawn pizza it is!
The Prawn Pizza is part of their Premium Pizza range and we had the large thin pizza – a whopping 14 inches!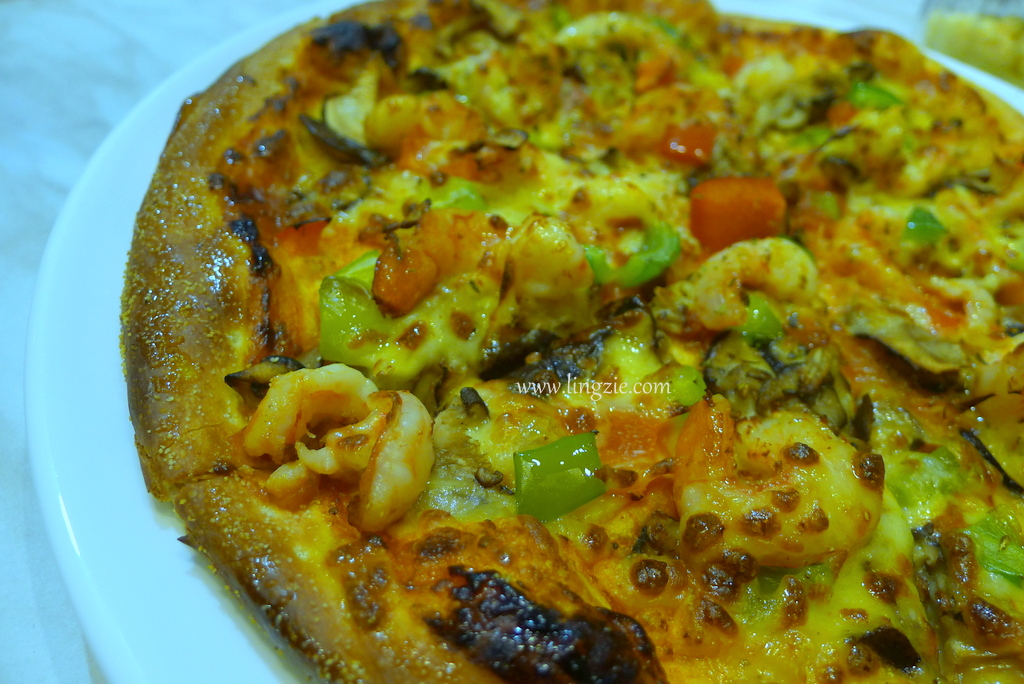 I found the pizza crust texture to be just nice – not overly thick and not oily. The Prawn pizza featured fresh prawns, capsicum, shitake mushrooms and Vivo Pizza's signature sauce and extra virgin olive oil. Overall, I found the pizza to be delicious. But it may be a bit bland for those who prefer something stronger in taste.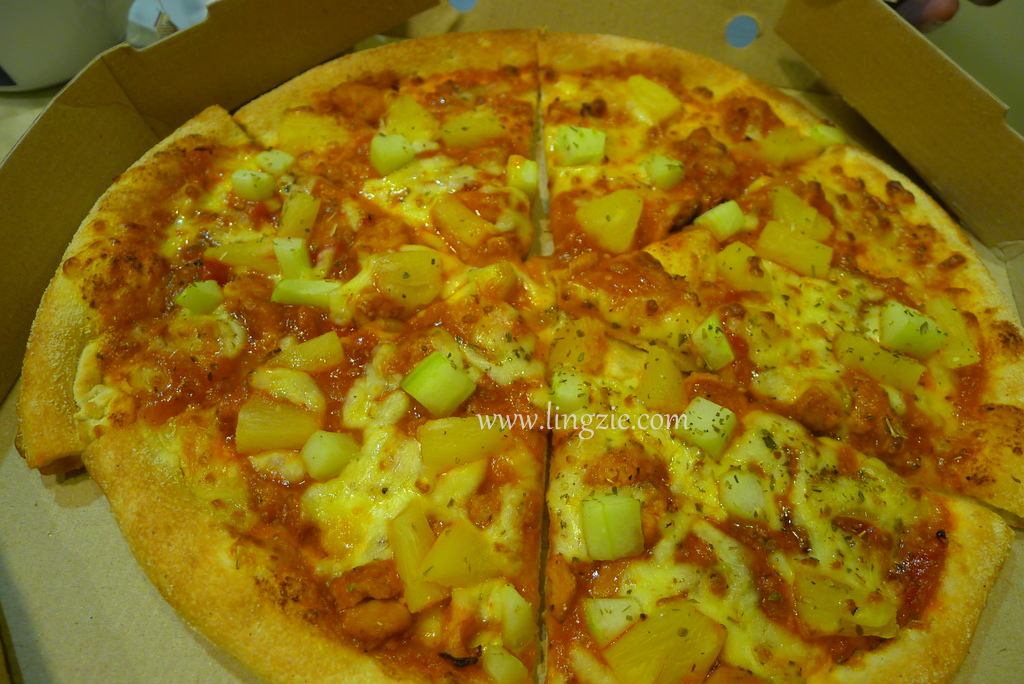 For those who prefer something spicy and stronger in taste, Vivo Pizza has an awesome Oriental Chicken Pizza. Once again I opted for the thin crust (medium size this time). The Oriental Chicken Pizza had a lovely spicy sauce with a sweet undertone. I thought the addition of chopped cucumbers helped to tone down some of the spiciness so that the overall pizza is not too spicy. A winner in my books. 🙂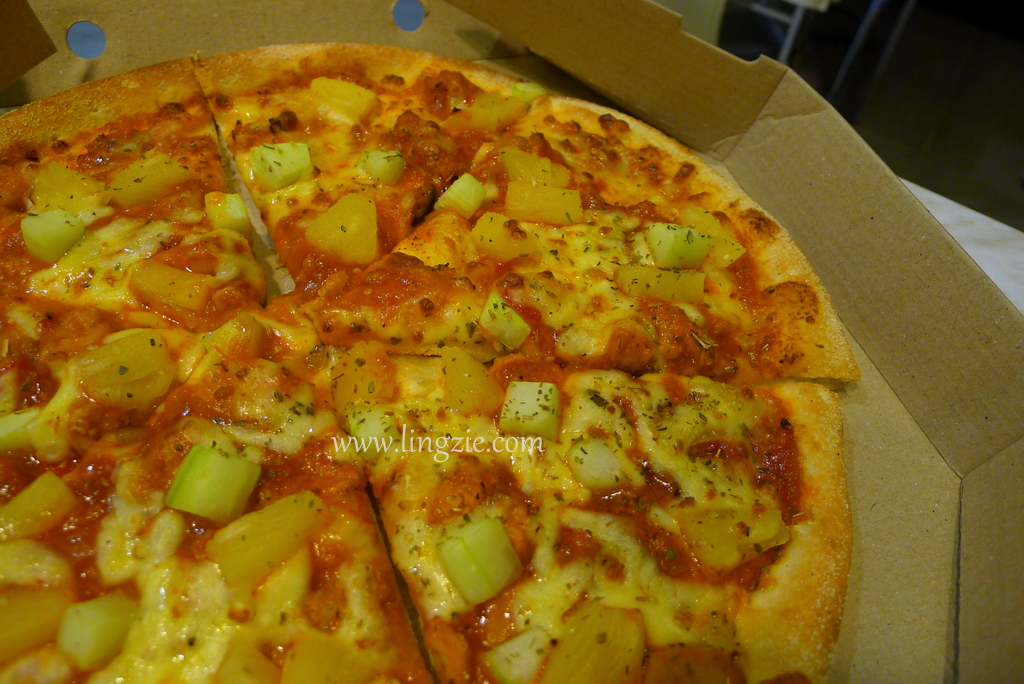 Oriental Chicken Pizza (from their All Time Favourite range of pizzas) RM23.90 for regular medium size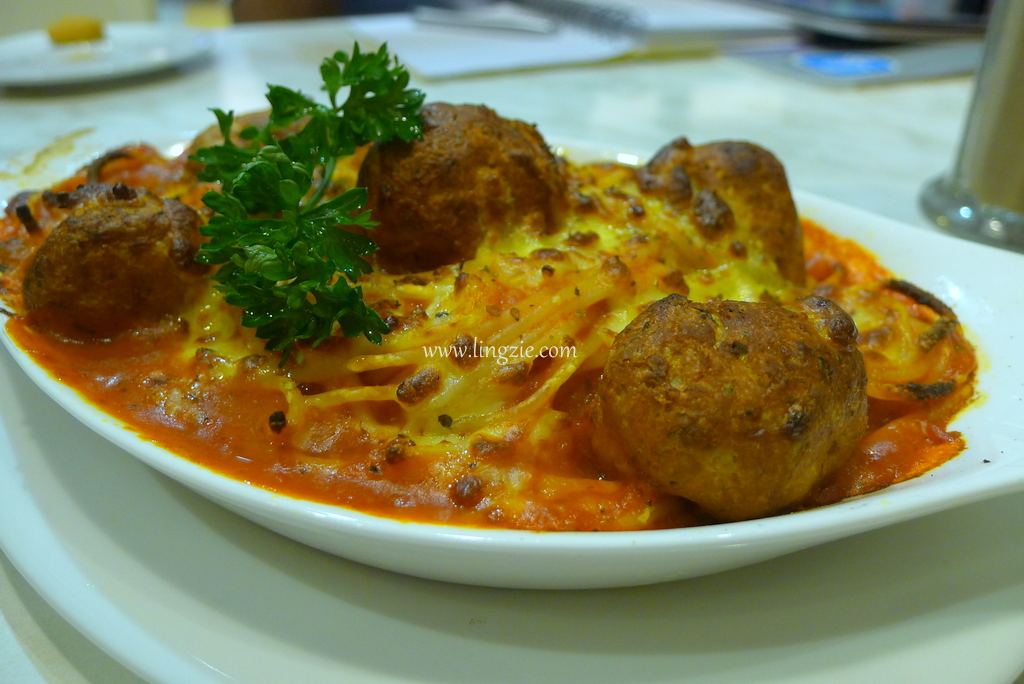 Other than pizzas, Vivo Pizza also has various other foods available such as Western food (chicken chops, norwegian salmon etc). They also have a few pasta options. But the one that caught my eye was the unique baked spaghetti.
I tried the Baked Meatball Spaghetti (RM17.90) as it looked very inviting on the menu. Once again I was pleased that the dish came out looking like what the menu had pictured. The baked spaghetti was good, and I found the tomato based sauce to be not overly sour (the main reason I avoid tomato based sauces for pastas actually) So I was pretty happy with the dish. Plus the chicken meatballs were very flavourful.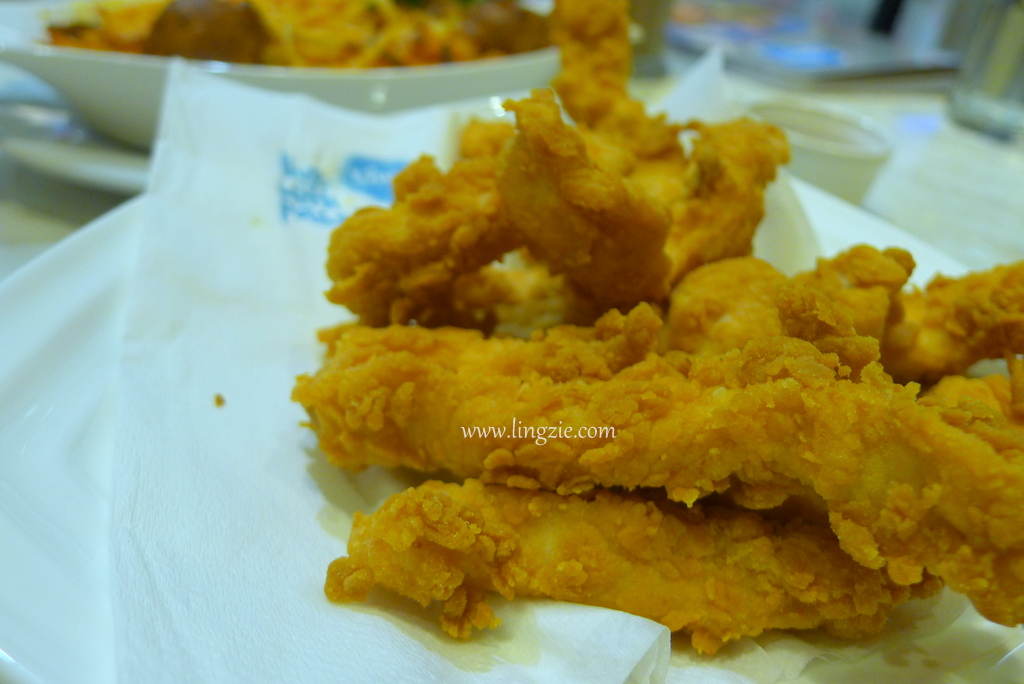 For those who prefer something to nibble on, Vivo Pizza also offers a range of snacks. I tried the Crispy Crumbed Chicken Tenderloin RM9.90.
This was another winner in my books, I liked the fact that they use actual chicken meat instead of processed chicken nuggets. These yummy crispy tender morsels of chicken were a delight to eat!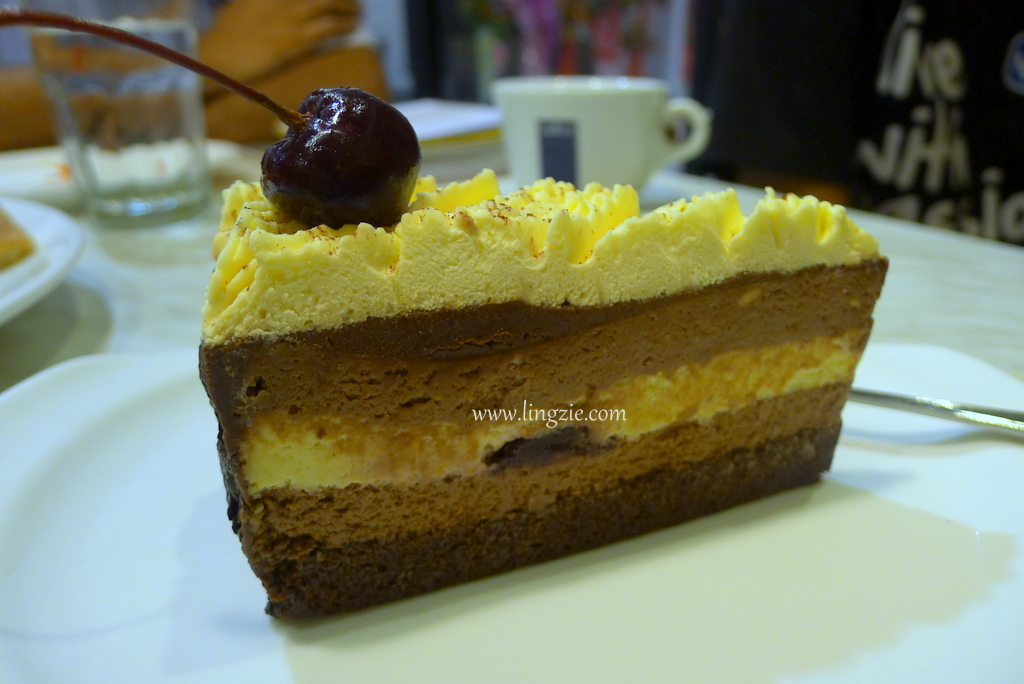 Black Forest Cheesecake RM7.90
On to desserts! Now normally I wouldn't expect to have good desserts at a Pizza place, but Vivo Pizza proved me wrong. First up in their dessert repertoire was the newly launched Black Forest Cheesecake. It was competitively priced at RM7.90 a slice. And the best thing is the cakes are made fresh in house. The cheesecake was pretty good, value for money I'd say.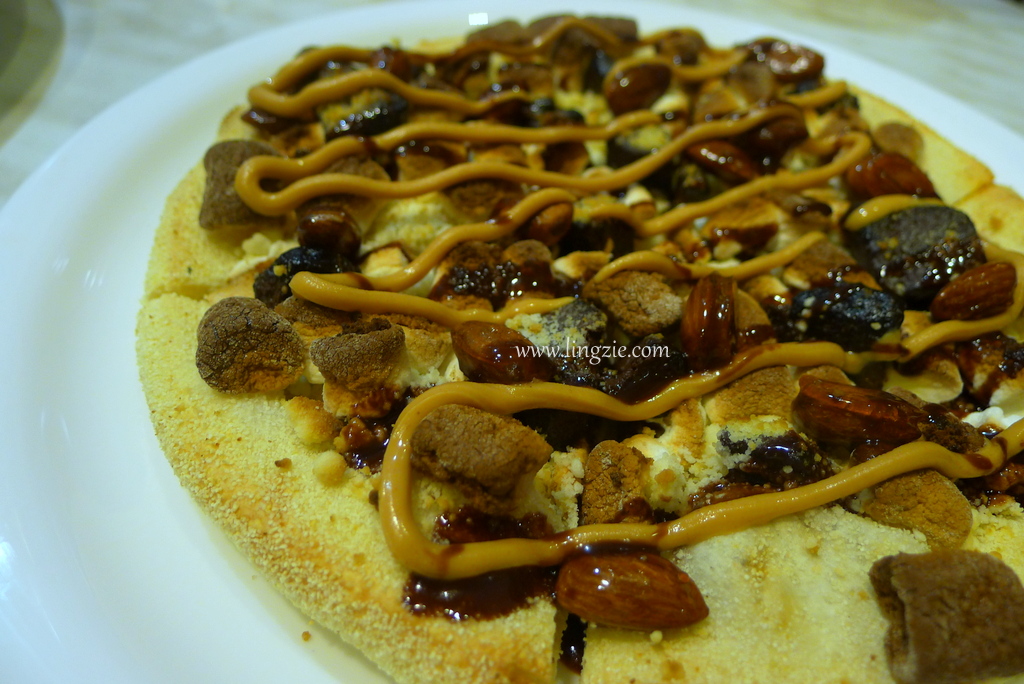 Dessert Pizza – Choco Almond (RM15.90)
But what really caught my eye in their dessert section is the Dessert Pizzas! I tried the Choco Almond because it looked too good to resist even though I was already full to the brim.
No regrets though because this dessert pizza is DIVINE! Chocolate brownie, caramelized roasted almonds, toasted marshmallows, chocolate sauce and topped with peanut butter…. omg! Sinful but really really good! It was sweet and salty at the same time (due to the peanuts and the peanut butter). Plus the toasted marshmallows gave the pizza a nice crisp. While the roasted almonds brought the dish up to another level. Definitely a must try!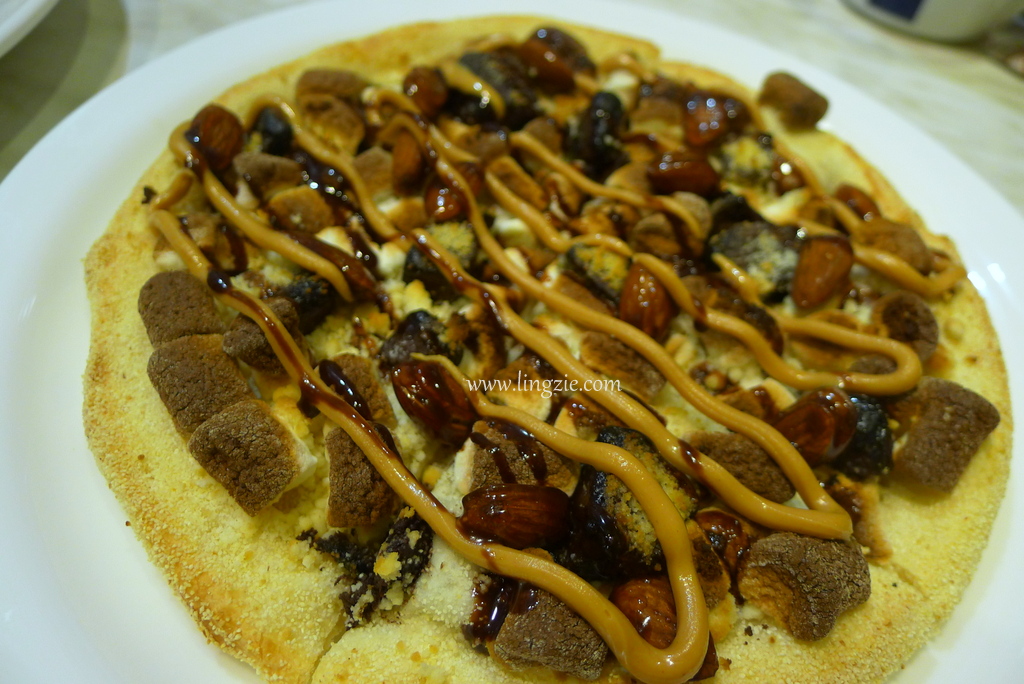 Another look at the Choco Almond Dessert Pizza – you must save stomach space for this! Another option for dessert pizza is the Blueberry Pizza with Ice Cream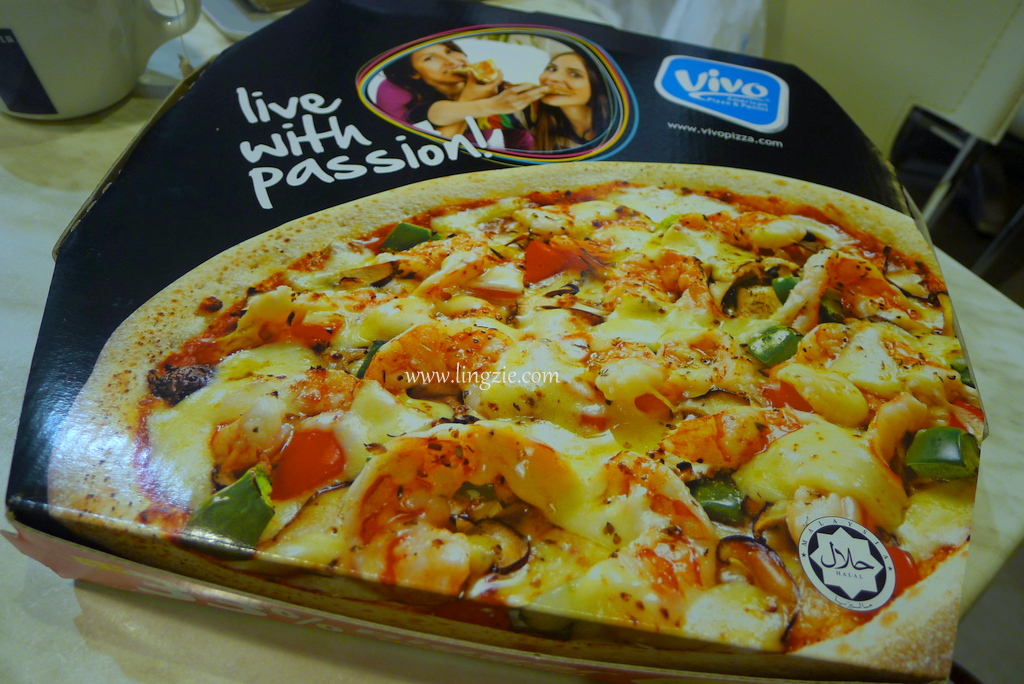 Vivo Pizza – delivery available via FoodPanda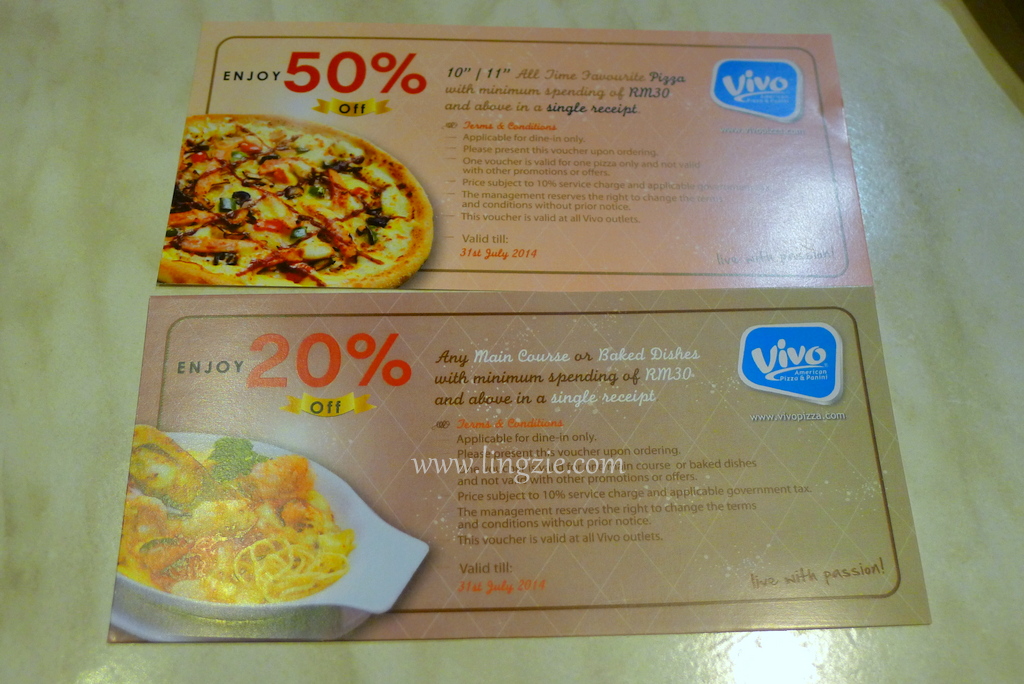 I did mention earlier in the post about some freebies right? Here's the lowdown…
VIVO PIZZA GIVEAWAY:-
I have FIVE sets of the above vouchers (that's 2 vouchers per set – one 50% off and another 20% off) to be given away! Here's how to win… Just LIKE lingzie.com's Facebook page AND Vivo Pizza's FB page. And comment below after liking – please include your email as well when leaving comments so I can reach you, and no emails wont be visible on the post, just visible to me… 🙂
That's it! Easy peas-y. So chop chop. Giveaway ends  June 26th 2014!
If you can't wait for the vouchers, Vivo Pizza @ AEON Mall Bukit Mertajam also has offers for OFFICE WORKERS Special – Bring along 3 of your colleagues (so that's 4 ppl in total) show your Staff ID or wear your office uniform and get a FREE 8″ pizza. Valid for dine in only.
Vivo Pizza @ Aeon Mall Bukit Mertajam
Lot 10 Ground Floor, 
Aeon Mall Bukit Mertajam
Jalan Rohzan, Alma
Bukit Mertajam, Pulau Pinang.
Opening Hours: 10am-10pm Mon-Sun