Regular patrons to Kampung Malabar would have noticed a seemingly ordinary shop with "Claypot Porridge" written on it's bright yellow signboard (lots of other Mandarin words written on there too which this 'banana' over here can't read! lol)
However, do not be fooled by its ordinary facade, for fresh seafood claypot porridge (cooked upon order) awaits….
Many thanks to Claypot Porridge for the invitation! 🙂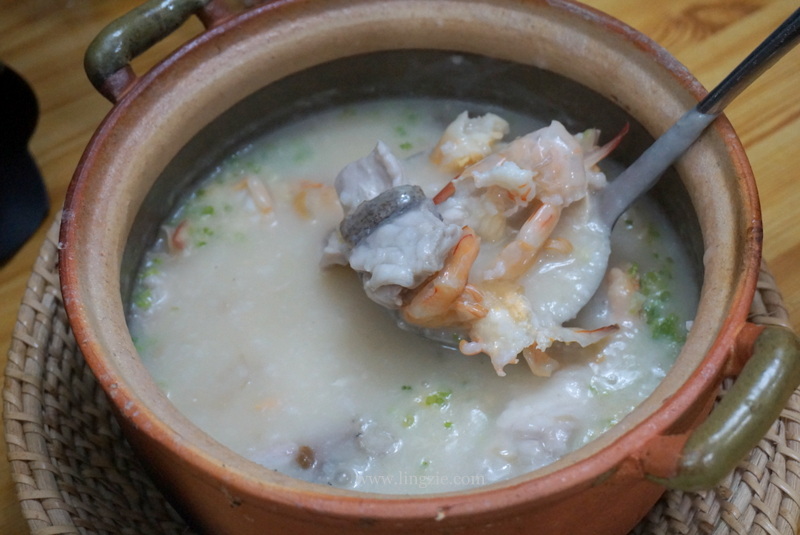 Fish & Prawns Porridge (RM12 per 100 grams of Fish, RM12 per 100g Sea Prawns) RM 72 for this portion 
Claypot Porridge serves authentic Guang Zhou style porridge with fresh seafood. The proprietors insist of using fresh seafood (except for the sea prawns) wherever available to enhance the flavours of their porridge. Diners have the option to choose various types of seafood to be cooked together with the porridge, but normally they would recommend at least 2 types of fresh seafood for a tastier meal. Price of the porridge will depend on the seafood chosen.
We kicked things off with their fresh fish slices & prawns claypot porridge. The porridge base itself was very smooth.  Meanwhile, preserved cabbage and pickled radish added depth to the flavour of the porridge.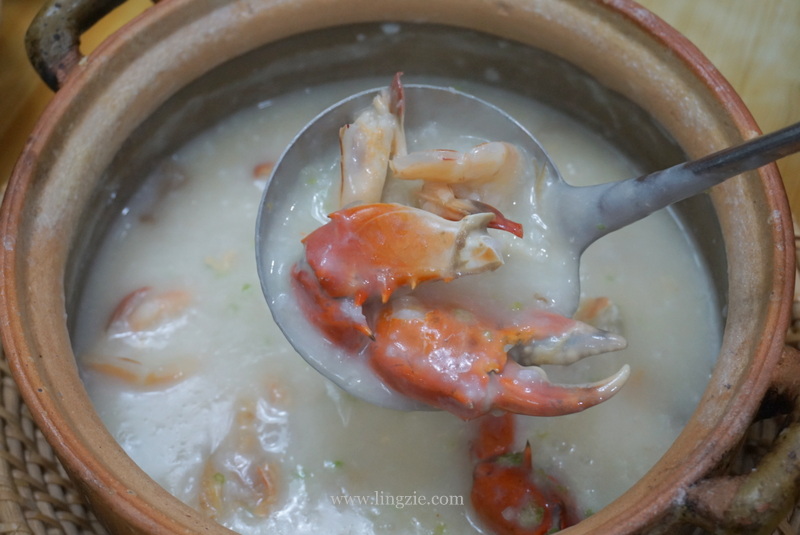 Crabs & Sea Prawn Porridge (RM12 per 100g Crabs, RM12 per 100g Sea Prawn) RM96 for this portion
The next offering, the Signature Crab & prawn porridge was an instant hit. Due to the addition of the crabs, the porridge was much sweeter. And we found that the porridge texture was somehow thicker than the previous fish & prawn combo.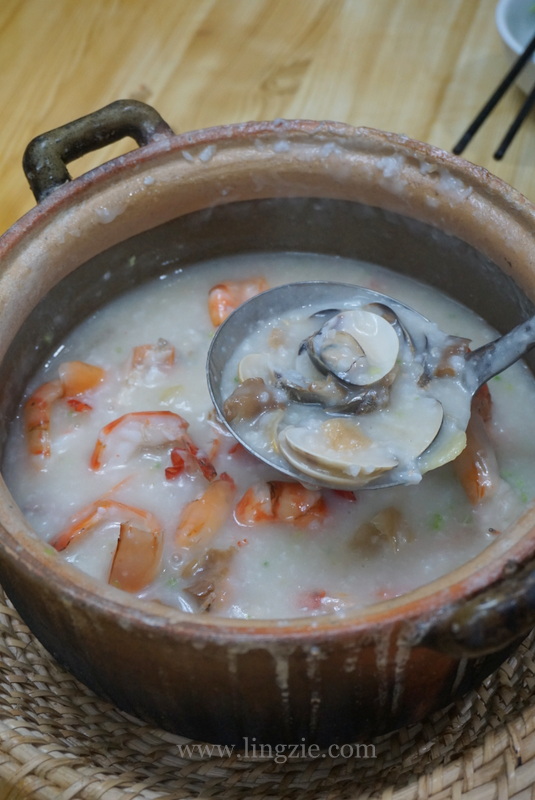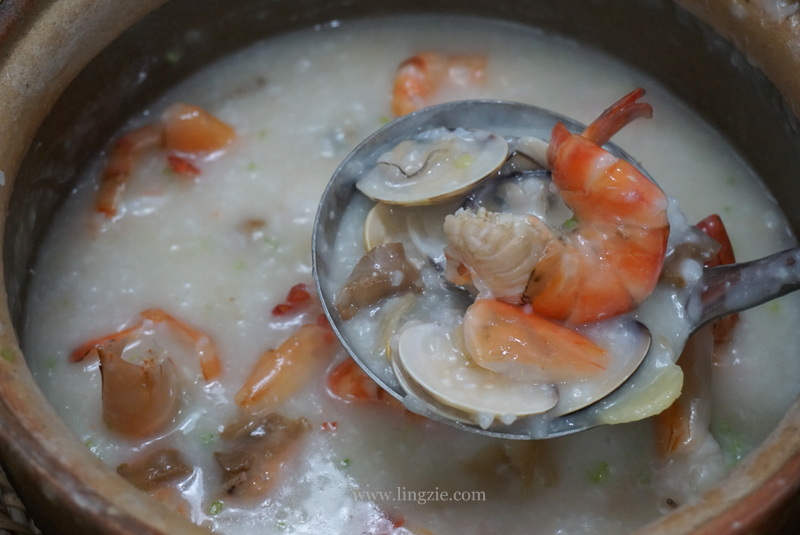 Clams & Live River Prawns Claypot Porridge (RM16 per portion of clams, RM10 per 100g river prawns) RM51 for this portion
Next, we tried something rather unusual – Clams (kappa) & Prawn (live river prawns) claypot porridge. This combination was a surprising hit as the briny flavour of the clams really permeated through the porridge. The live river prawns further added sweetness to the dish making it a winning combination in our books.
All 3 claypot porridge dishes had a piping hot and smooth porridge base. A perfect and soothing dish, especially on a cold rainy night.
Do note that each claypot porridge dish is cooked upon order and usually requires about 35 minutes waiting time. While waiting for the porridge, one can either peruse their wifi service (for social media & phone addicts), have a good old fashioned chit chat with your dining partners, or dig into their other 'side' dishes as an appetizer…
Loh Bak RM10 
A tasty appetizer especially when dipped into the accompanying chilli sauce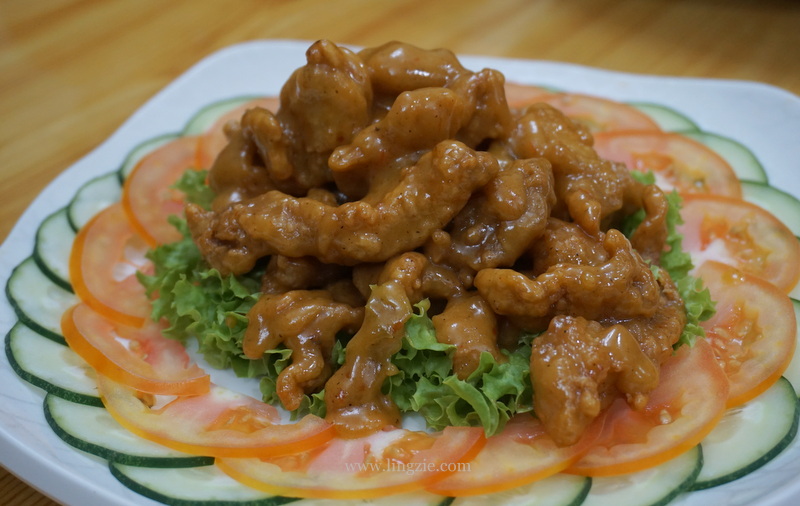 Mongolian Pork RM15 (chicken version also available)
The Mongolian Pork is a delectable dish with a cheesy tasting sauce. The pork pieces were also not overly fried and still retained some of its juiciness.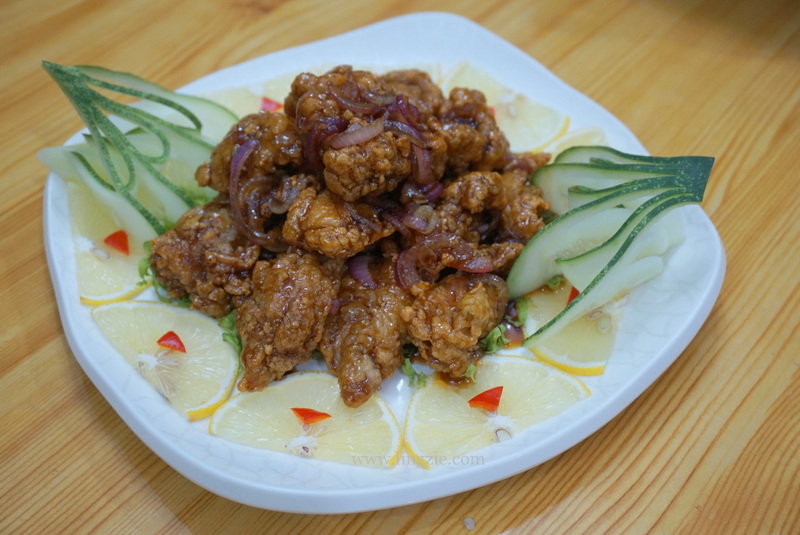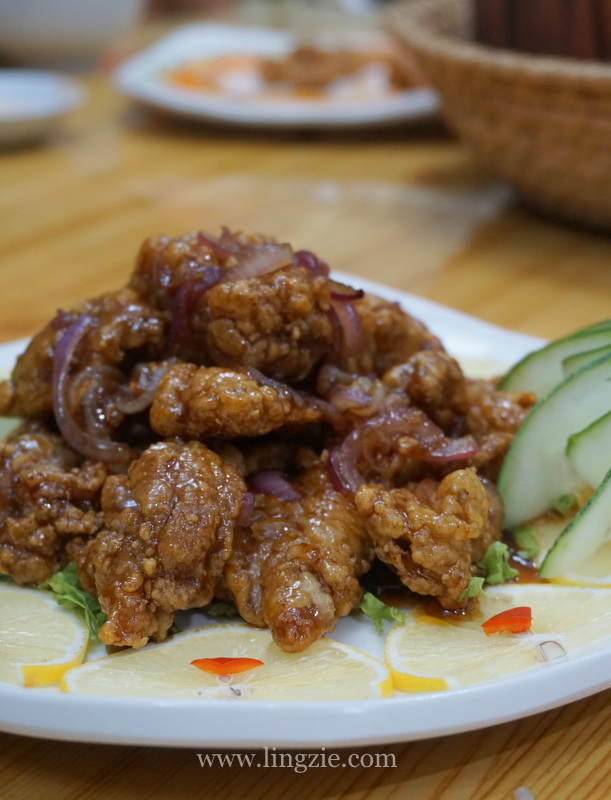 Zhen Jiang Chicken RM18
The Zhen Jiang chicken is another signature dish at Claypot Porridge. The sauce, which is their own concoction is sweet, savoury and tangy at the same time, clings onto the fried nuggets of meat. Served with caramelized onions, this makes for an addictive snack. I could not stop reaching out for more.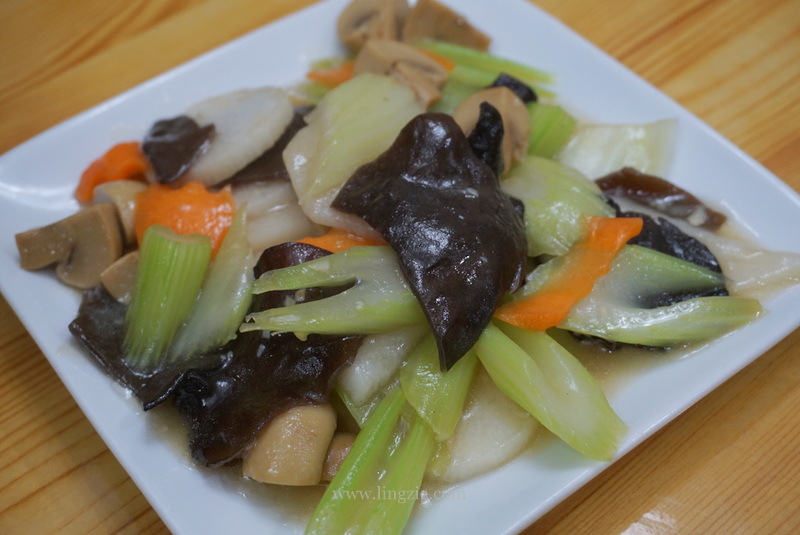 Stir fried vegetables RM15
A combination of celery, carrots, mushrooms and black fungus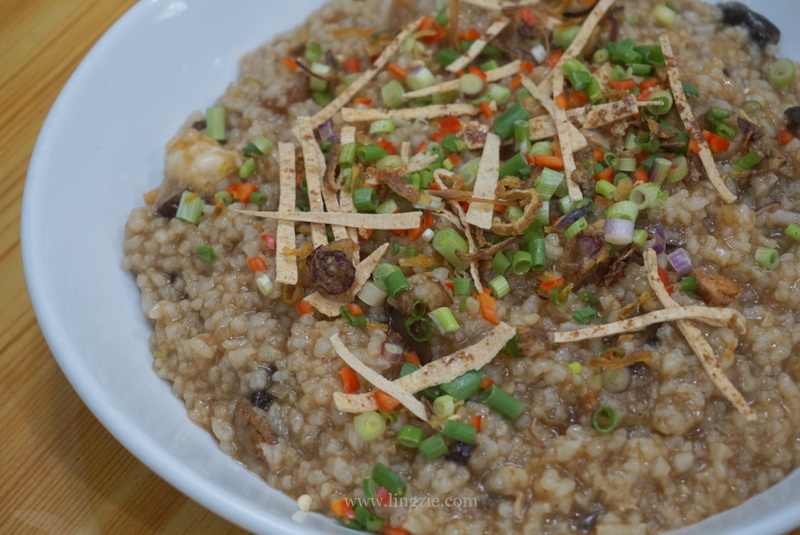 Fried Porridge RM15
The Fried Porridge at this place is another must try. I was pleasantly surprised with the depth of flavour in this dish and the 'wok hei' it possessed. The porridge texture was rather sticky and chewy, kinda like glutinous rice. The flavours were robust. Highly recommended!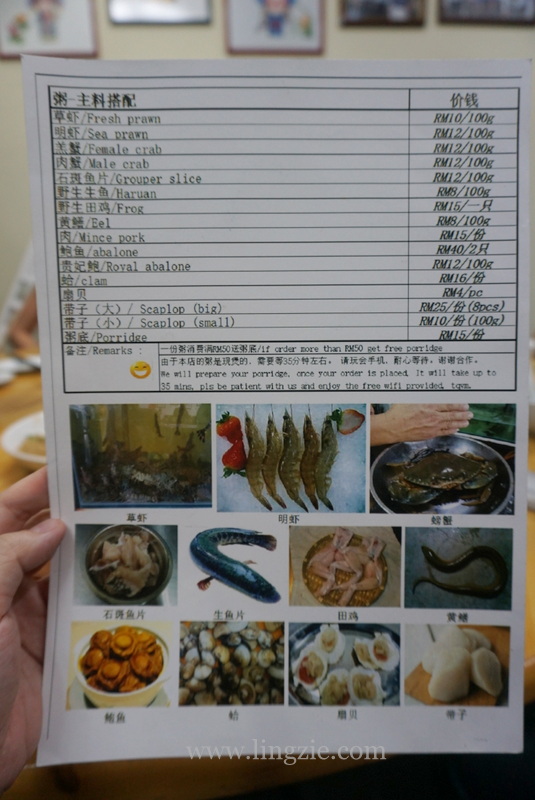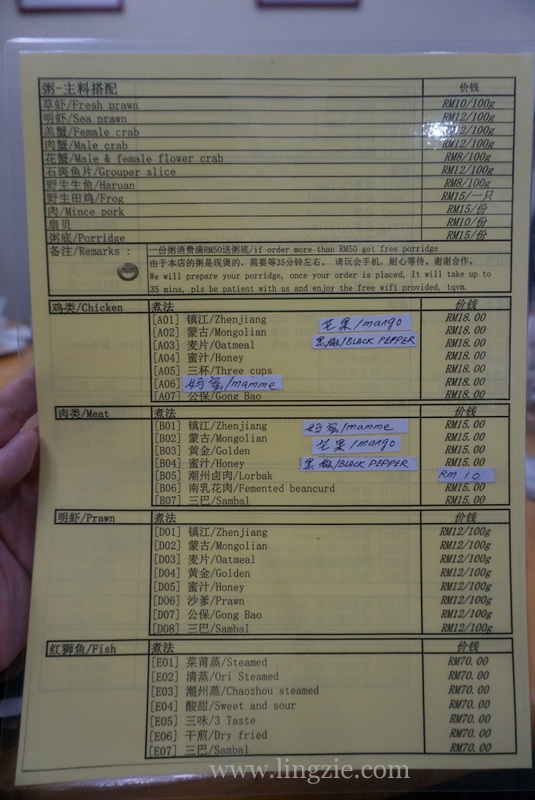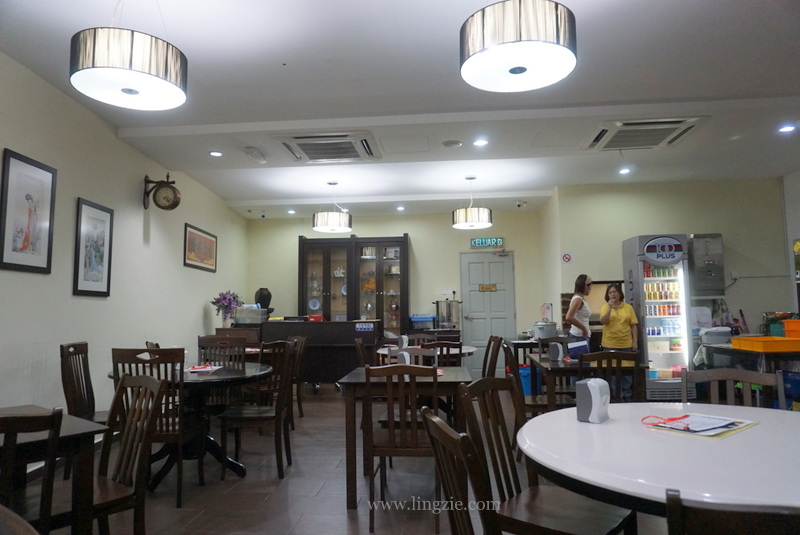 Essentials:–
Bao Zhou Po Claypot Porridge
51-G Kampung Malabar, 10100 Georgetown, Penang (next to Hon Kei)
11am-2.30pm, 5.30pm-10.30pm
TEL: 04-2626799
Closed on Wednesdays