*Important note: Roll the jam into small balls before proceeding to make the pastry. This will make your life much easier. Trust me.
Pineapple Tart Pastry Recipe (adapted from Nyonya Food)
500g butter (I used SCS) – let butter soften to room temperature
130g icing sugar
4 egg yolks
1 tablespoon Crisco/shortening (optional)
650g all purpose flour
1 tablespoon corn flour
2 tsp baking powder
1 tsp salt (optional) -skip this if using salted butter
1 tsp vanilla essence
Egg wash – 1 egg yolk mixed with 1 tbs water
Directions:
1. Preheat oven to 150° C.
2. Cream butter and icing sugar til light and fluffy (the color will lighten as you cream)
3. Add egg yolks one at a time, beating a lil after each addition.
4. Add in Crisco/shortening and vanilla essence. Beat for about 1 minute.
5. In a separate bowl, mix together all purpose flour, corn flour, salt and baking powder.
6. Gradually fold in the flour mixture into the butter/yolk mixture (you can do this manually or use the lowest speed on your mixer). Avoid overbeating.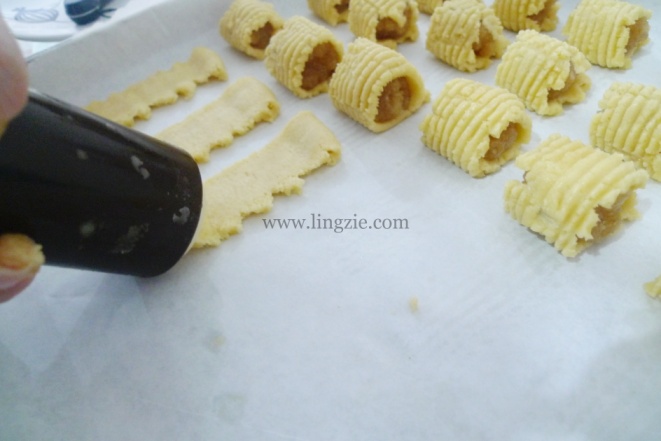 Pumping out the strips of pastry – albeit rather un-uniformedly. But, practice makes perfect!
7. Place the dough into the cookie/nastar press and press out strips of about 2-3inches each.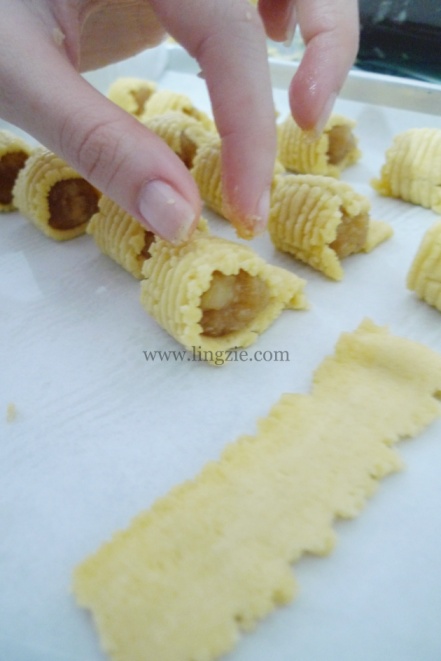 Rolling up the tart gently (no those dainty fingers don't belong to me either!)
8. Place the ready rolled balls of jam onto each strip. Roll them up gently.
9. Finish rolling tarts for the whole tray. Brush tops with egg yolk wash.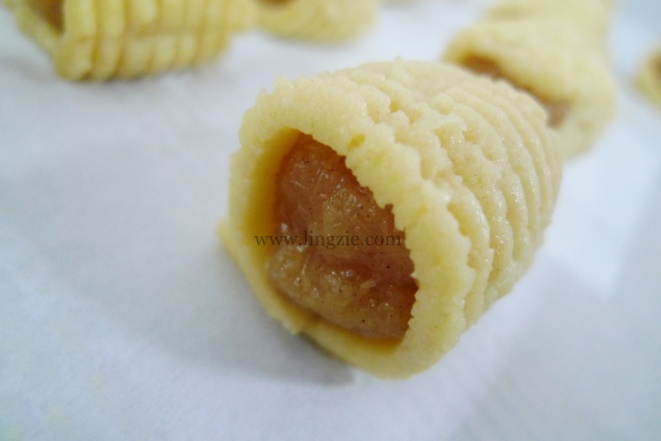 Tada! Pineapple tart – all rolled up and ready for baking! 🙂
10. Place in oven and bake for about 30minutes (or until the tarts turn a lovely golden brown).
Notes: This recipe results in quite a lot of dough which was OK for me, as I had a lot of jam. From this amount of dough, we made about roughly 200 pieces of tarts. In addition, I found the dough to be very soft and difficult to press out and roll. I completely ruined the 'pattern' on the roll the first few times I tried rolling them. But after chilling the dough in the fridge, I found it much easier to work with. 🙂 So, chill your dough people! This dough is totally worth it, because it results in a crumbly, melt in your mouth, orgasmic pastry!!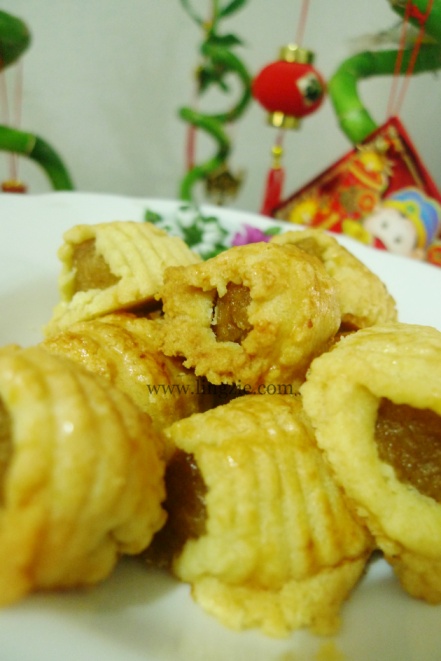 Pineapple tarts!! All the hard work really paid off. The jam wasn't as fibrous (the only to way get that would be to grate the pineapples! ~shudder~). But I was most pleased with the pastry – all crumbly and melt in your mouth. The best gauge if the pineapple tarts were a success? Well, after the first batch came out of the oven and cooled, I took one piece into my grandpa's room for him to try. He ate it, and I came back out to continue working on them.
Shortly thereafter, he came out into the kitchen himself and took 3 more off the plate! heeheehee… You can probably tell, I am soooo pleased with myself 😛 (the head 'kembang' 3 sizes liao, even though I still need a lot more practice on shaping them nicely) Of course, I couldn't have done it without the brother's gf's help. She was definitely a pro at pressing out the pastry. 🙂
More Pineapple Tarts recipes here and here.  So why wait? Make your own pineapple tarts this year! 🙂 Happy baking!
UPDATED 26 Jan 2010: After too much 'kembang-ing' of my head, I've comed home yesterday from work,  happily expecting to eat my yummy crumbly pineapple tarts, only to discover that…. they've gone soft!!!!!!!! NOOOOOOOOoooooooo!! The tarts came out of the oven incredibly crumbly and stayed that way for the day. But now they've gone soft!! They still taste good. But what a blow to my ego. 🙁 Back to the drawing board!
PS: Any ideas why they've gone soft?