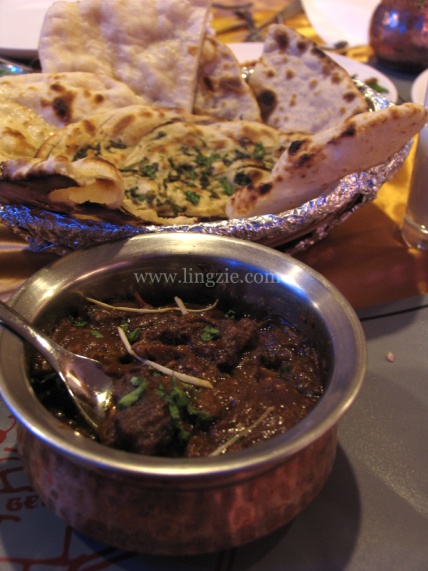 The Mutton Vindaloo (RM22) again uses local mutton for optimum flavor, and was cooked with reduced spiciness, for Vindaloo is known to be a fiery hot curry. But upon our request, it was toned down a lil. 😛 I thoroughly enjoyed this dish, the meat was tender and flavorful.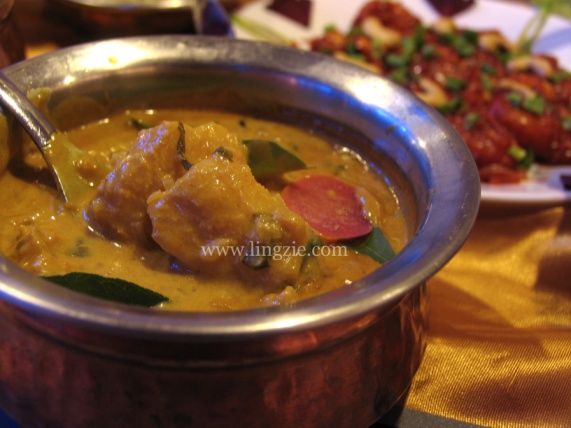 Next, we tried the Fish Moilee Kerala Style (RM15.90) which is fresh fish fillets cooked in a rich creamy masala curry. The curry was creamy and tasted buttery to me. The fish fillets were soft and had absorbed the spices well. It is very rich though so I would recommend sharing this dish amongst a few people as one couldn't possibly finish this by oneself!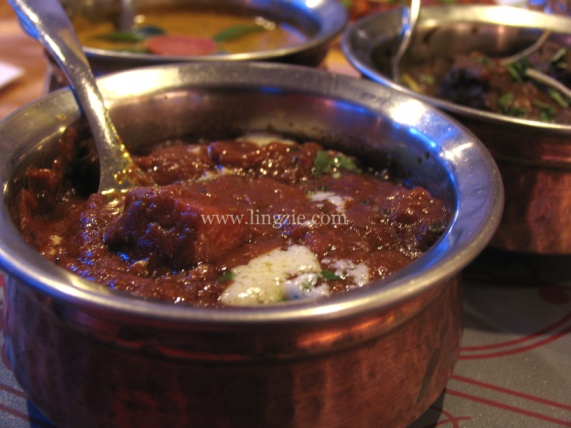 I was delighted when I got to try this Palak Butter Masala (RM10.90). I've seen this homemade cheese dish before in Indian restaurants and have always been curious about it. This particular dish is cooked in a mild spicy sauce and the I actually didn't know it was cheese at all! The home made cheese had a firm texture akin to tofu. But it was definitely delicious and rich and safe to say, my favourite dish of the night!
The Hyderabad Chicken (RM13.90) is a special of the day that's not on the menu. Pity though, for it is indeed a palatable dish! I thoroughly enjoyed this dish which was rivaling the Palak Butter Masala for first place as favourite of the night! lol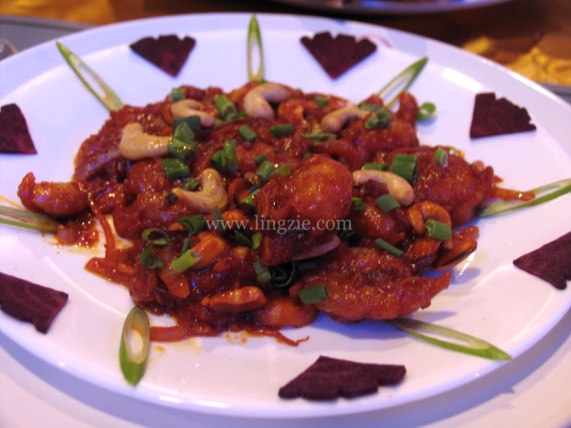 The Dragon Prawns (RM24.90) had Oriental inspirations, with the Chef's special tomato based sauce which reminds me of sweet and sour sauce Chinese style. The prawns have their skins removed, battered and then cooked in the sauce.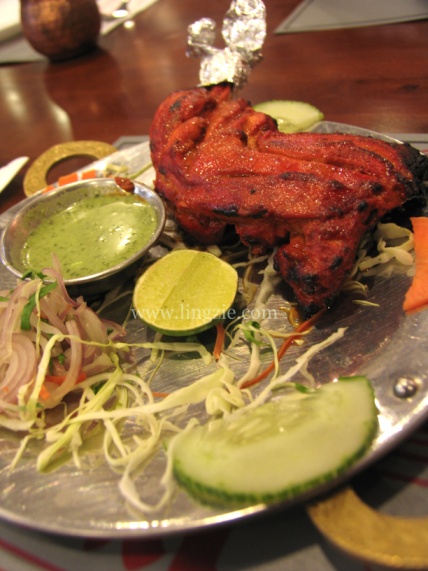 On my return visit to Gem Restaurant a few days later with my family, I managed to try the Tandoori Chicken (RM9.90) which was tender and most flavourful!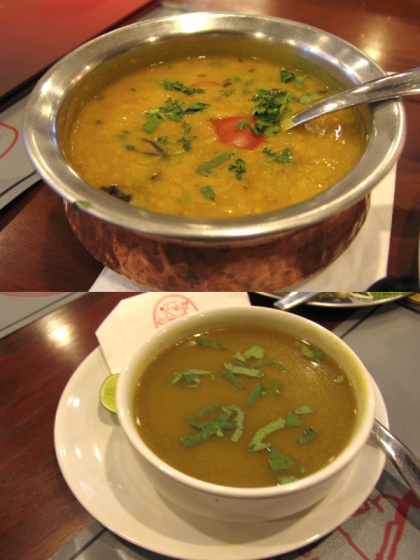 My family and I also tried the Melagu Thany Soup (RM5.90). This soup is one of my grandfather's favourite soups which is rather hard to find these days. The Melagu Thany Soup here at Gem Restaurant gets a stamp of approval. It is a peppery soup with surprising bits of rice at the bottom.
We also tried the Dhal Makhani (RM6.90) which is a non spicy curry of yellow lentils cooked on slow fire. Gem's version is buttery, thick and fragrant, and my family enjoyed it immensely!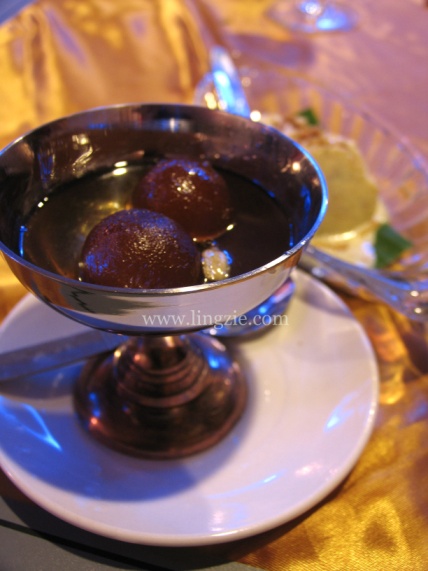 For dessert, Gem Restaurant offers the traditional Gulab Jamun (RM3.90) – dumplings of milk powder served in a sugary syrup. I personally find this too sweet for my liking though the dumplings remind me of donuts! lol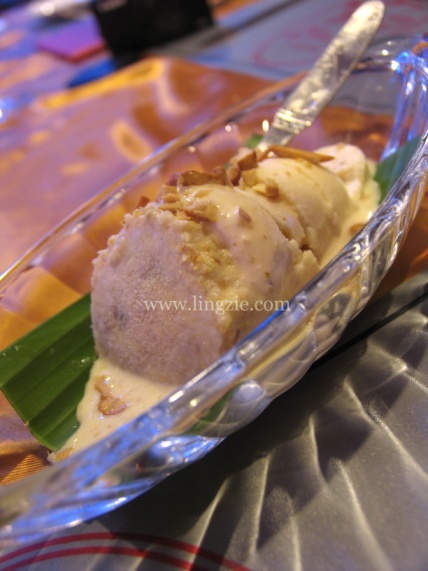 My dessert of choice at Gem Restaurant would be their divine Kulfi (RM9.90)!! This home made ice cream is like an ice cream version of nougat – packed with almonds and deliciously sweet and creamy. Definitely a must try!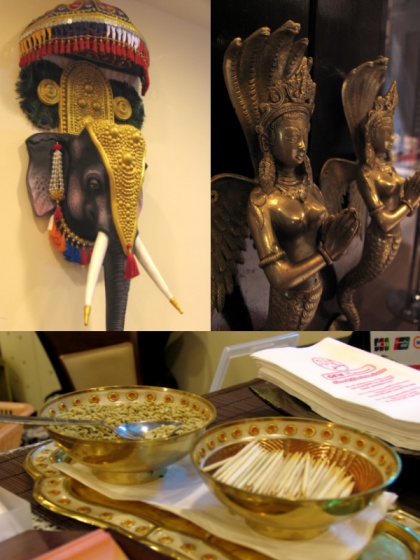 Notice the seeds in the bowl next to the toothpicks? These are actually fennel seeds which is presented to you at the end of the meal. Consuming these fennel seeds help to aid digestion after a heavy meal and also acts as a mouth refreshener! I tried some of these seeds and they have a sweet after taste. Peculiar, but interesting!
Gem Restaurant currently also offers set lunches (vegetarian sets from RM7.90 and non vegetarian Briyani sets at RM12.90)
Gem Restaurant House of Fine Indian Cuisine
66 Bishop Street
10200 Georgetown, Penang.
TEL: 04-262 4070
Opening hours: 11am-12am Daily (Kitchen closes at 11pm though)
My favourite must trys so far: Mixed Vegetable Pakora, Palak Butter Masala, Hyderabad Chicken, Mutton Sheekh Kebab, Tandoori Chicken, Dhal Makhani, Pulao Rice, Melagu Thany Soup, KULFI!! 😛